Weekly Meal Plan: June 7th – 13th
This weeks meal plan is from my cookbook!! I put together a list of 7 awesome recipes from my book that I think you are going to really enjoy this week. If you don't have a copy yet, you can click here to buy it off Amazon where it's currently 45% off!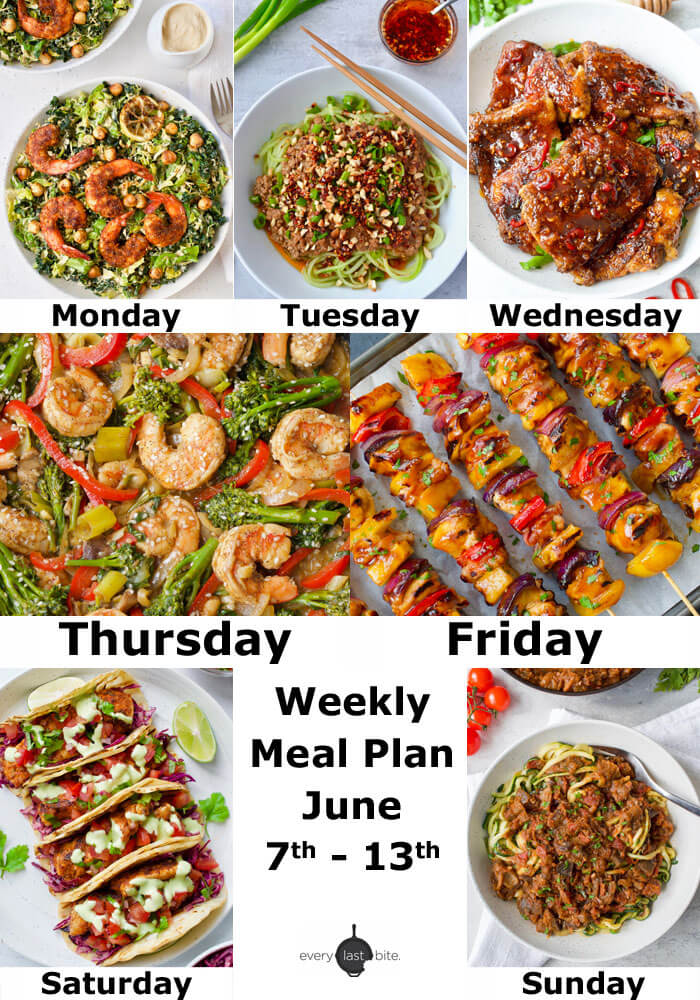 Click here to download the shopping list for the week. 
---
Monday – Cajun Shrimp Caesar Salad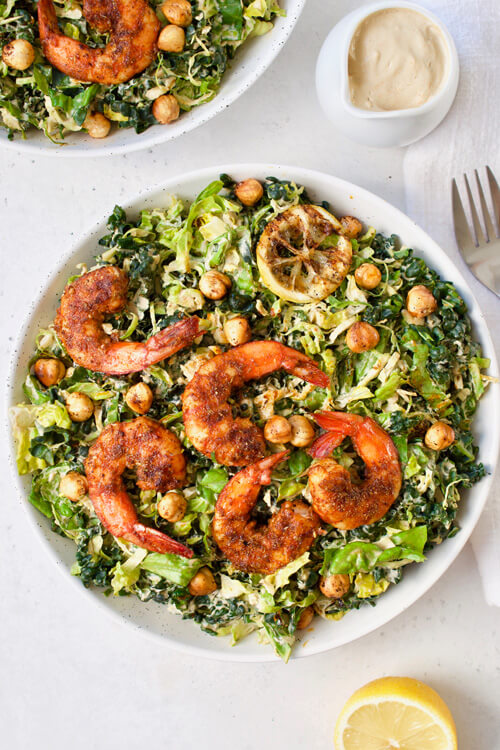 I love Caesar salad but wanted to come up with a recipe for one with a unique spin. I switched up the base by using finely shredded kale, Brussels sprouts, and romaine lettuce; this combination gives the salad a lot more texture (and more places for the dressing to coat!). The dressing, which is made with tahini, has a deliciously creamy consistency, and it's lighter and less oily then traditional egg- or mayonnaise-based Caesar dressings. Finally, the salad is topped with spicy Cajun-spiced shrimp and crunchy hazelnut "croutons" that really pack a punch.
Get the recipe on page 130 in my cookbook. 
Tuesday – Dan Dan Noodles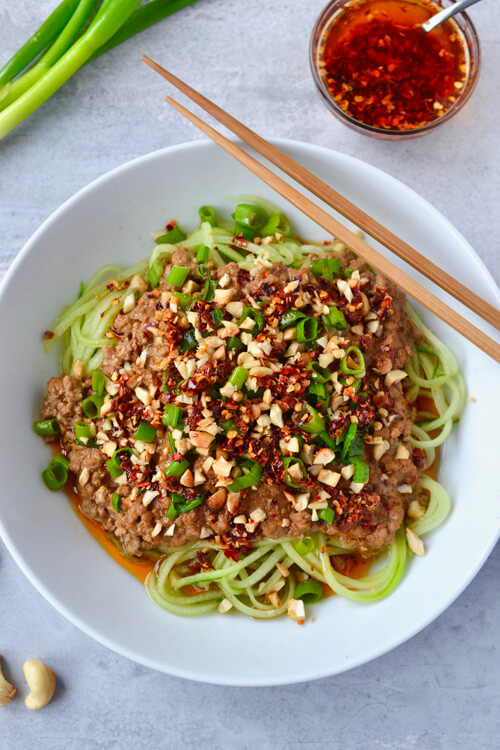 This lip-tinglingly spicy, slightly sweet and salty bowl of noodles packs a seriously flavorful punch. The chili oil really makes the dish. Cucumber noodles might seem like a weird base for the hot Dan Dan sauce, but the cold noodles add a much-needed freshness to each bite. If you don't eat pork, use ground chicken, turkey, or beef.
Get the recipe on page 226 in my cookbook. 
Wednesday – Spicy Honey Un-Fried Chicken
This healthier spin on honey fried chicken uses my absolute favorite cut of chicken: boneless, skin-on chicken thighs. You get all of the good flavor from the dark meat of the thighs, plus the crispy skin, but with a shorter cook time and without the hassle of eating around a bone. You don't need to be a butcher to debone thighs. You can do it in minutes with a knife and a pair of kitchen shears. If you prefer, though, you can always ask the butcher to debone the thighs for you.
Get the recipe on page 190 in my cookbook. 
Thursday – Ginger & Black Pepper Shrimp Stir Fry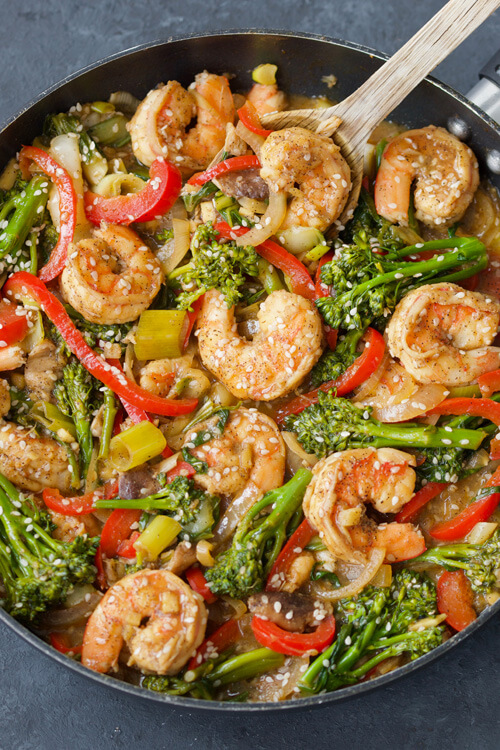 This is a great weeknight dinner that comes together quickly, is packed with flavor, and gives you a big dose of your daily vegetables. Serve this stir-fry with Coconut Cauliflower Rice (page 272) to soak up the extra sauce.
Get the recipe on page 246 in my cookbook. 
Friday – Hawaiian Chicken Skewers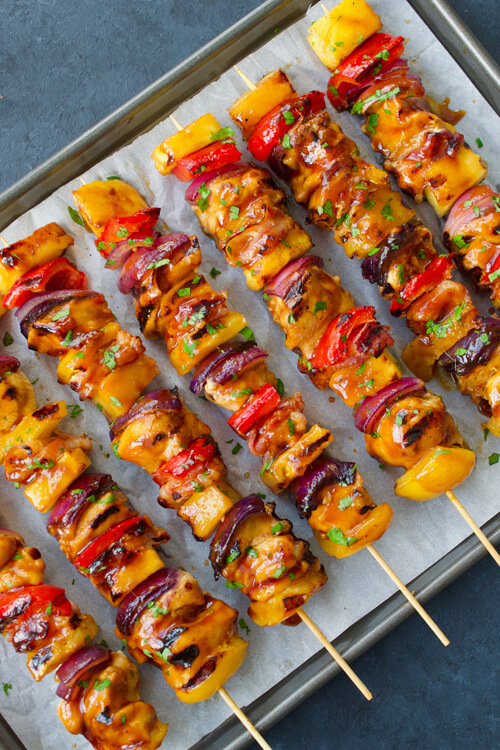 If you're a fan of Hawaiian pizza, then you will love these easy-to-make skewers. The vibrant veggies, pineapple, bacon, and chicken are slathered in a deliciously sweet and sticky teriyaki sauce that also acts as a marinade for the chicken to make it extra tender and flavorful. The skewers are a great make-ahead dish for a summer cookout, or you can cut the recipe in half to serve them as a fun appetizer with extra sauce on the side for dipping.
Get the recipe on page 184 in my cookbook. 
Saturday – Spicy Fish Tacos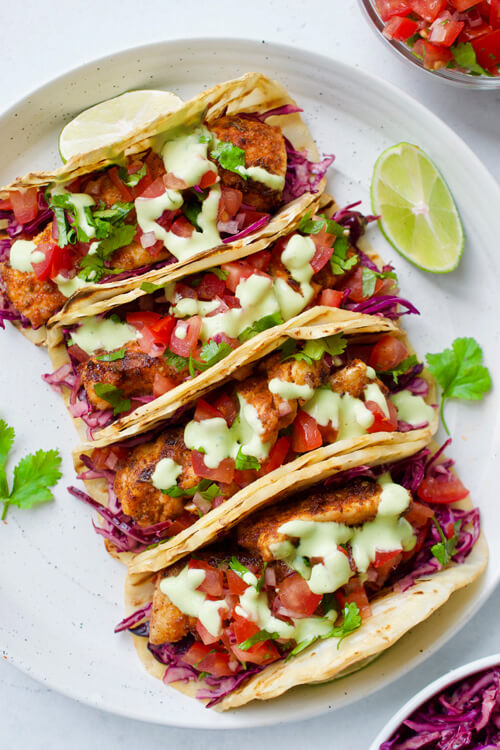 Because they have a few different components, these tacos may seem like a lot of work, but the whole recipe (including cutting and grilling the celery root tortillas) can be done in less than 30 minutes. This is a great dish to double and serve to a big group of friends: lay everything out, including both celery root tortillas and regular tortillas for the non–grain-free folks, and let everyone assemble their own.
Get the recipe on page 240 in my cookbook. 
Sunday – Eggplant Ragu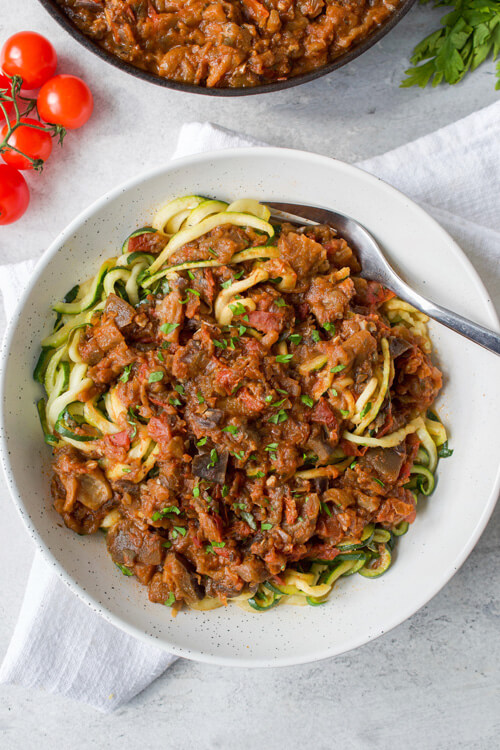 Slow-cooked chunks of eggplant make a wonderful hearty replacement for meat in this vegetarian ragu. This is an incredibly versatile dish; use it as a sauce for veggie noodles, try it as a sauce for fish or chicken, or even serve it as a side dish.
Get the recipe on page 260 in my cookbook. 
Click here to download the shopping list for the week. 
Previous Meal Plans:
---
If you follow this week's meal plan let me know in the comment section below, I would love to hear what you think or take a photo and tag me (@everylastbite_) on Instagram, I love seeing your photos!