Chicken & Lychee Green Curry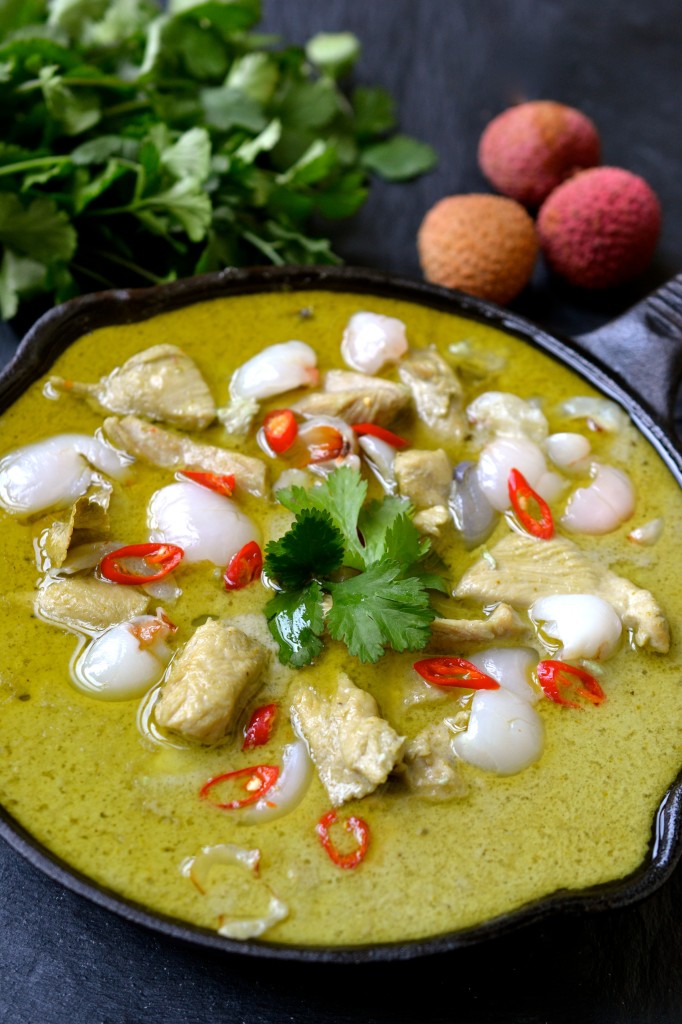 I learned a few very important things while in Thailand last year, 1) I absolutely love green curry and 2) contrary to popular belief, it's an incredibly simple dish to prepare. Following these exciting discoveries, green curry has now become a permanent fixture on my weekday dinner rotation.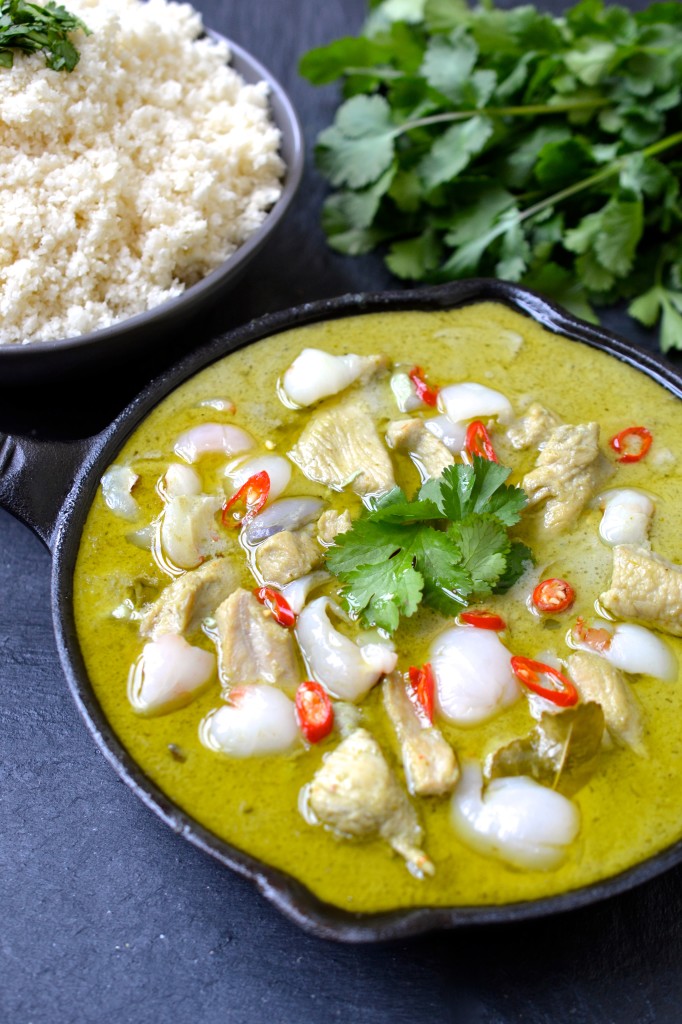 This dish takes the basic green curry recipe and kicks it up a notch with the addition of lychee. The fragrant sweet fruit adds freshness to the dish, which perfectly contrasts with the creaminess of the coconut milk and spice from the chili. I find lychee to be a very underappreciated fruit, which seems to only be used in cocktails or Asian desserts, but these little fruits are full of nutrients and should not be ignored. Lychee are high in Vitamin C with 100grams containing over 110% of your recommended daily intake. They also contain flavonoids and anti-oxidants which help protect the body from various types of cancer, inflammation and can slow the progression of degenerative diseases. It doesn't stop there, this dish also contains protein rich chicken and coconut milk which is high in fatty acids which aids in weight loss, improves immune function and lowers the risk of heart disease (while also giving you thick and shiny hair!). This means that there is no need for guilt when you help yourself to seconds of this hearty dish.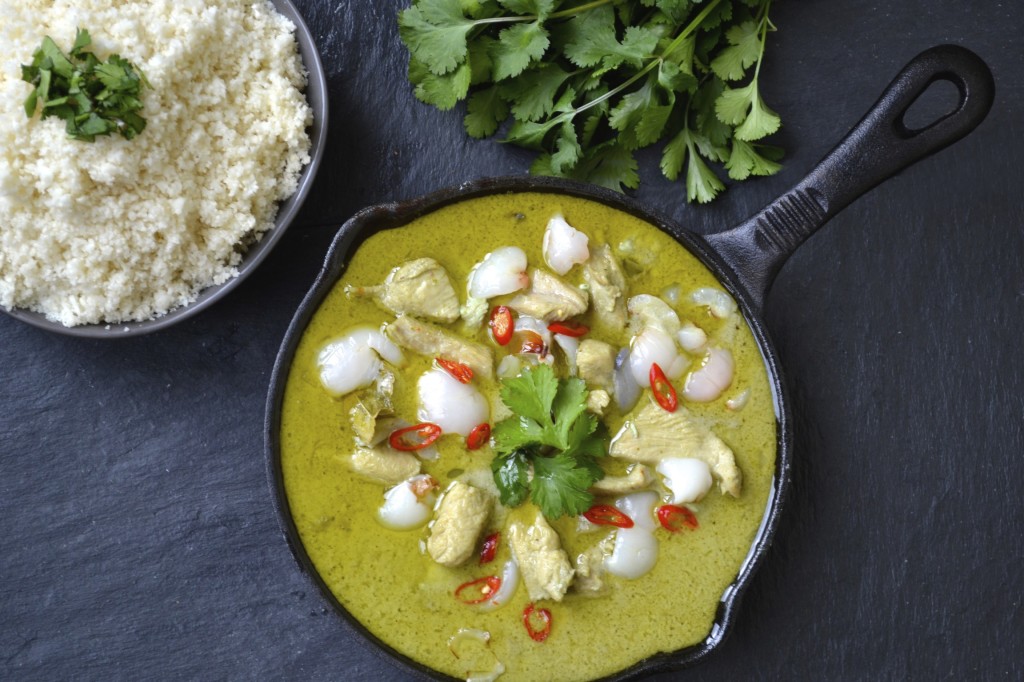 Even if you aren't following a grain free diet, I highly recommend serving this curry on cauliflower rice which sops up all of the liquid but is low in calories (27 calories per cup vs over 200 in white rice) which means you don't fill up on empty carbs. This dish takes less then 30 minutes to prepare and still tastes great as leftovers a day later. Give this delicious chicken and lychee green curry a try, it will have you looking at lychee in a whole new way.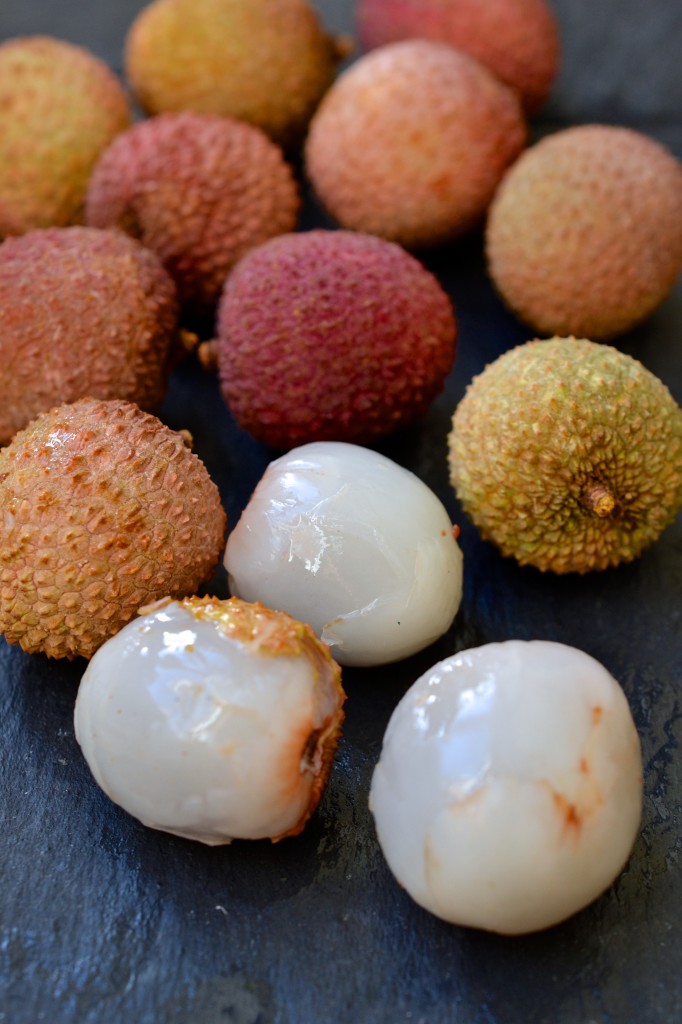 If you make this recipe let me know in the comment section below, I would love to hear what you think or take a photo and tag me (@everylastbite_) on Instagram, I love seeing your photos!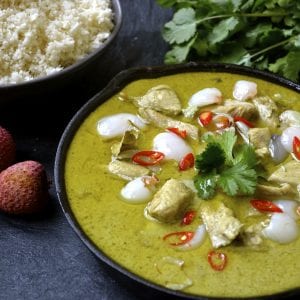 Ingredients
1 tsp olive oil
3 tbsp green curry paste
500 ml coconut milk
2 boneless skinless chicken breasts
2 kaffir lime leaves finely chopped
2 tbsp fish sauce
1 1/2 tsp honey (omit for Whole30)
3/4 cup lychee
1 tbsp coriander
1 tbsp chopped red chilies
Cauliflower Rice
1 head cauliflower
1 tsp olive oil
1 tbsp coriander
Instructions
Cut the chicken breasts into small pieces.

Cut into the top of each lychee and remove the outer shell. Cut each lychee into thirds, peeling each section off the seed. Set aside.

Place 1 tsp olive oil in a frying pan on medium heat, once hot add the green curry paste and stir it around the pan.

Lower the heat to medium low and add the coconut milk to the pan stirring until its combined with the curry paste and the mixture begins to boil. Add the chicken to the liquid and allow the chicken to cook for 4-5 minutes (6-7 minutes if your chicken pieces are larger)

Add the kaffir leaves, fish sauce and honey to the pan and stir. Taste and season accordingly.

Add in the lychee and red chillies and allow the curry to simmer for 3-4 more minutes.

Remove form the heat, top with fresh coriander and serve.
Cauliflower Rice
Cut the cauliflower into small pieces and place in a food processor or handheld mixer.

Pulse the cauliflower until it breaks down into small uniform pieces resembling couscous

Heat the olive oil in a pan on medium-high heat. Once hot add the cauliflower and sautee for 4-5 minutes until it is warmed through and becomes soft. Sprinkle with coriander and serve.