Shepherd's Pie
This lightened up version of classic Shepherd's Pie has all of the comforting rich flavours of the original dish, but with a low carb creamy cauliflower puree on top. This is a wonderful winter dish that the whole family will enjoy.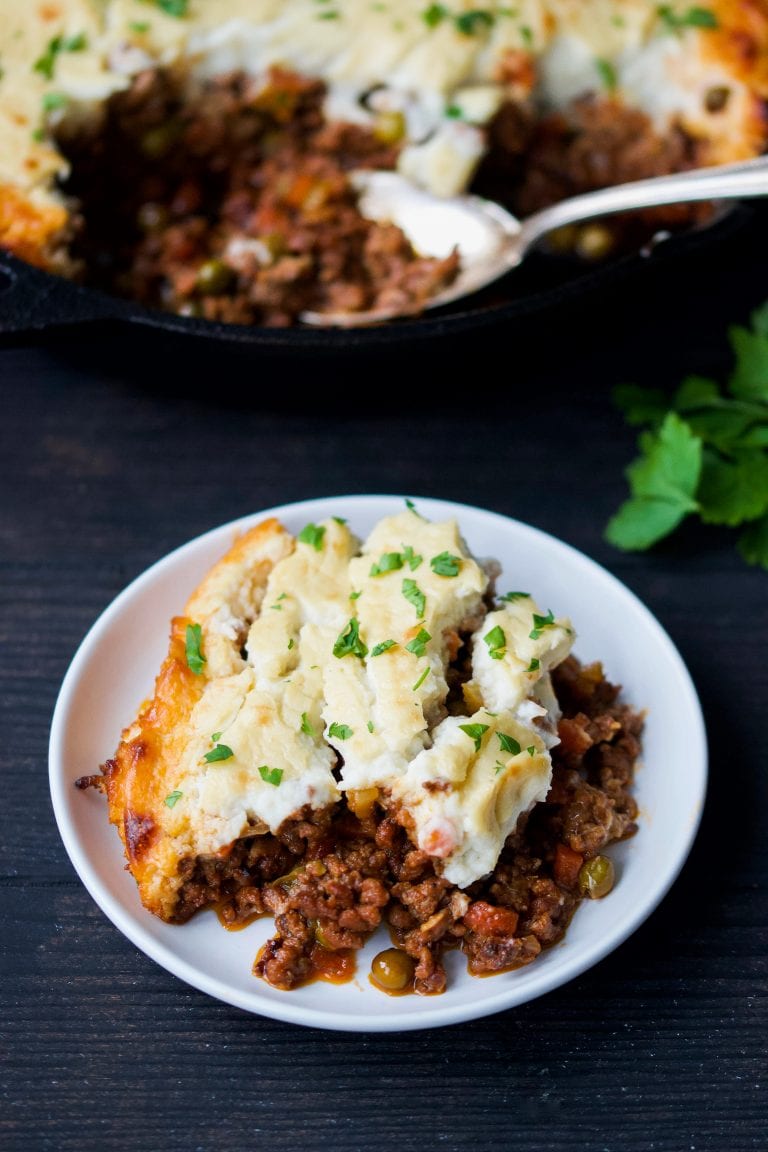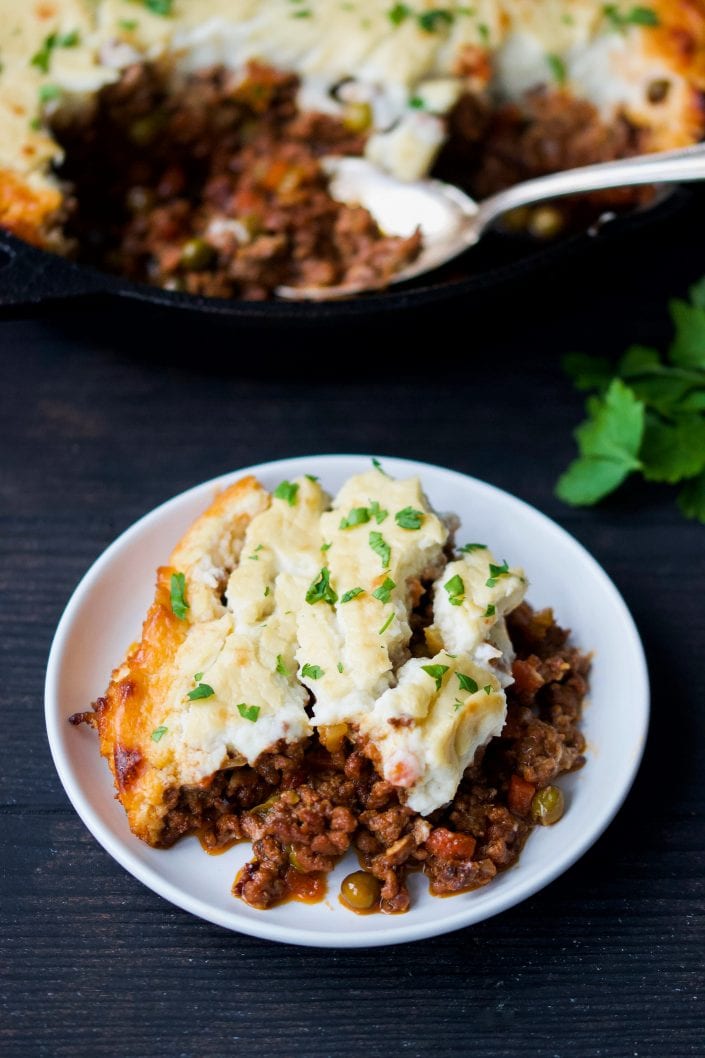 I have always assumed that Shepherd's Pie and Cottage Pie are the same thing, merely referred to differently depending on which side of the Atlantic you are from, similar to aubergine and eggplant or courgette and zucchini. Fun fact, that's not true. The dish dates back to the 1700's when it was primarily eaten by the poor who used leftover meat and mashed potatoes which at the time were inexpensive.
For almost 100 years it was called Cottage Pie, referencing the cottages poor people who ate the dish lived in. As the dish become more popular with the middle class in the late 1800's, the name was changed to Shepherd's Pie. Nowadays, although the two pies share many of the same ingredients and methods of preparation, Shepherd's Pie contains ground lamb while Cottage Pie is ground beef.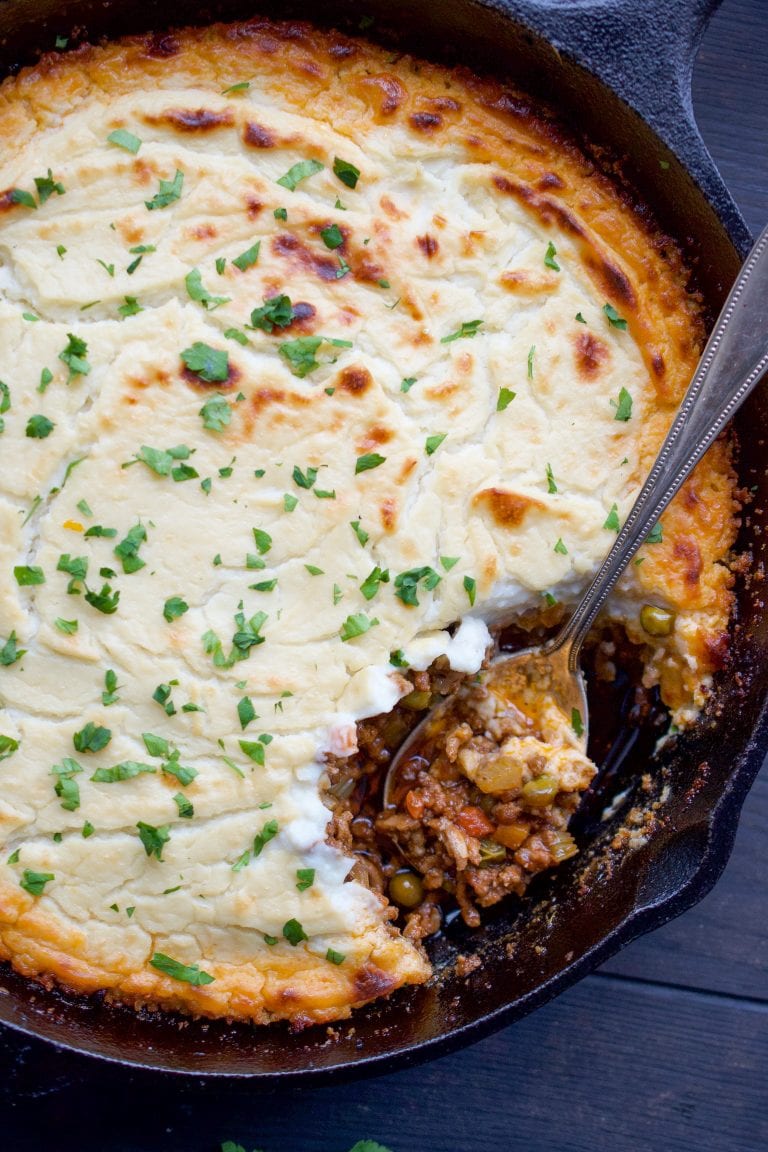 Now that the history lesson is over, let's turn our attention to this delicious recipe. This is such a great dish to make during the winter months when it's cold outside and you crave a warm and hearty meal. Mashed cauliflower replaces the traditional potato topping, providing the same deliciously creamy texture but with one quarter the calories and one fifth the carbs.
The mixture of ground lamb (which is the star of the dish), peas, onions and carrots is full of rich flavour and makes me wonder why I don't eat ground lamb more often. That being said, if you can't find ground lamb, ground beef will make a good substitute. You can make this dish up to a day prior to serving and simply warm it in the oven 30 minutes before sitting down to eat.
Ways to change up the recipe
Frozen cauliflower rice would also work well for the topping, use approx 4 cups of cauliflower rice, cook it until tender and then blend with the other topping ingredients.
Not a fan of ground lamb? Swap it for ground beef, the end result will be just as delicious

Not on SCD and out of cauliflower? You can swap the cauliflower florets for 4 cups of boiled potatoes
For Whole30 swap the peas for 1/2 cup green beans cut into small 1/4 inch sized pieces and use 1 tbsp of red wine vinegar and 1/2 cup beef stock as a replacement for the wine.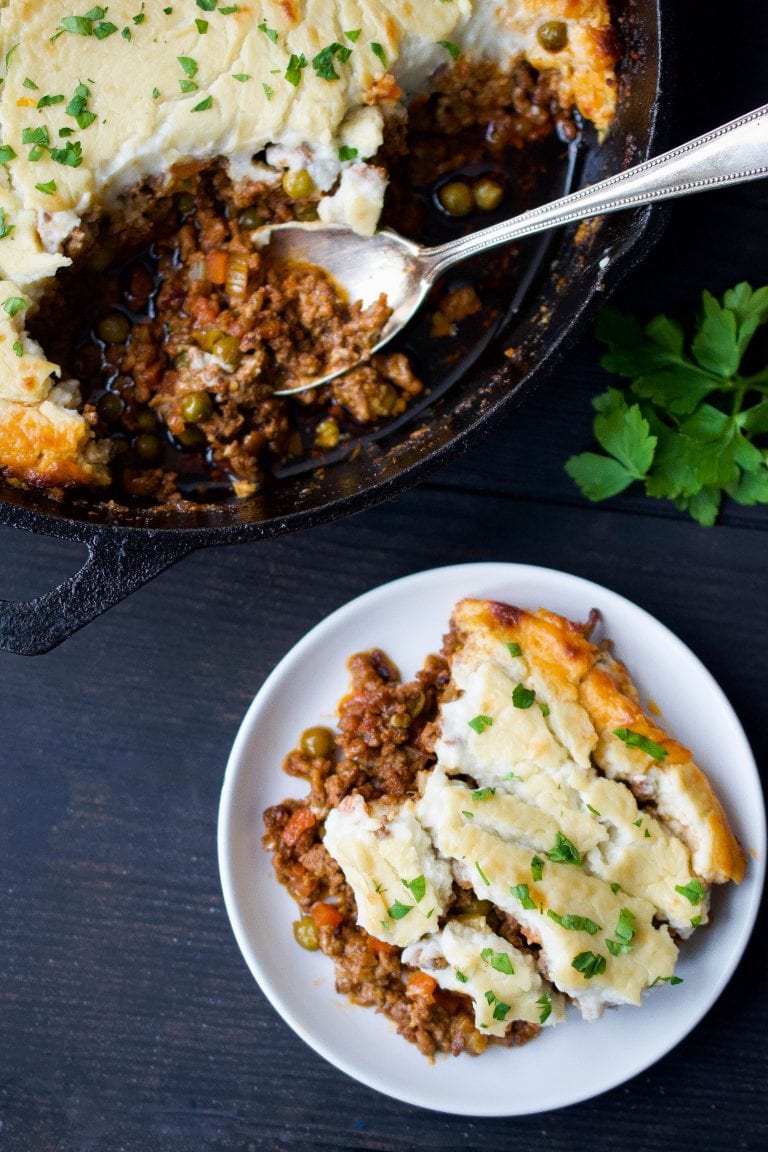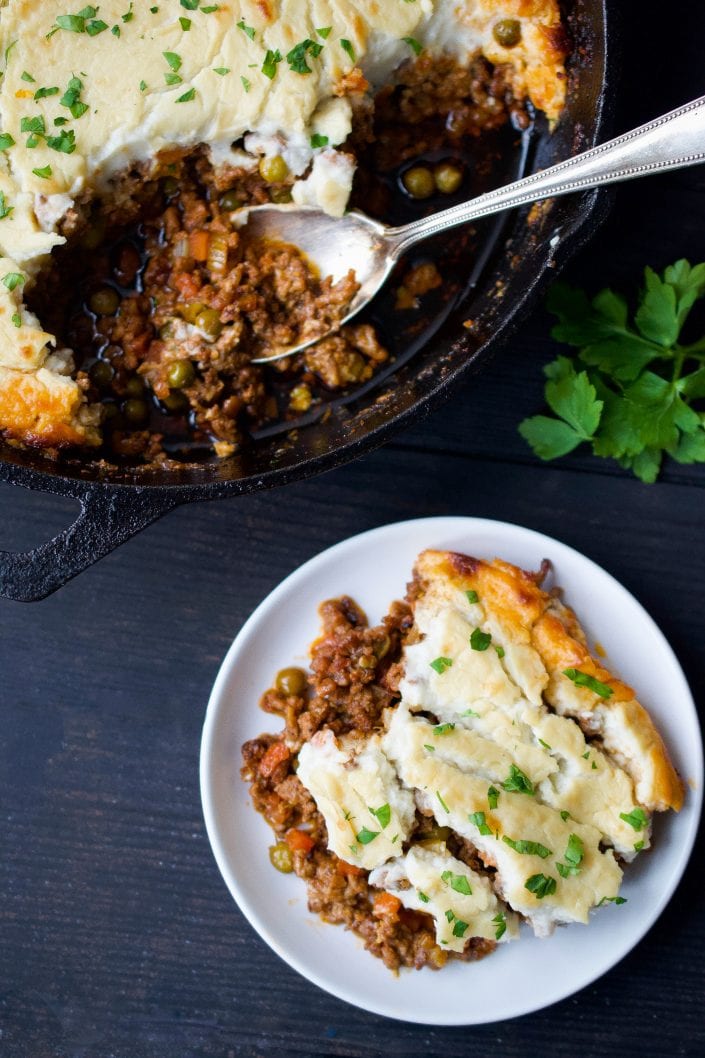 Love comforting casserole recipes? Here are a few others you might enjoy:
---
If you make this recipe let me know in the comment section below, I would love to hear what you think or take a photo and tag me (@everylastbite_) on Instagram, I love seeing your photos!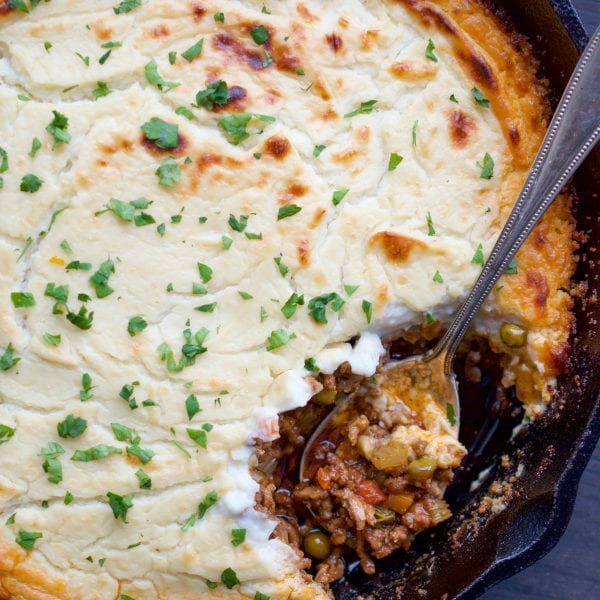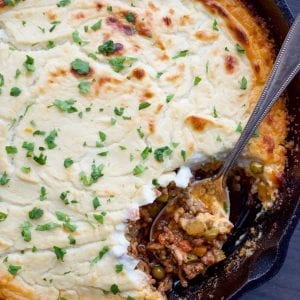 Ingredients
750 grams ground lamb
1 tbsp olive oil
1 carrot diced
2 stalks celery diced
1 onion finely diced
2/3 cup frozen peas thawed (omit for Whole30)
1 tsp thyme
1/4 cup red wine*
1/4 cup beef stock*
2 tsp cumin
2 tbsp tomato paste
1 head cauliflower
1 clove garlic minced
2/3 cup almond milk
1 tbsp butter or ghee/coconut oil
salt and pepper
1 tbsp chopped parsley
Instructions
Preheat the oven to 175 degrees Celsius (350 degrees Fahrenheit)

In a pot on medium heat, sauté the ground lamb in olive oil for 4-5 minutes. Add the diced carrots, onions and celery to the pot and cook until the onions become translucent

Once the lamb has browned, add the peas, thyme, beef stock, red wine, tomato paste and cumin and stir to combine. Reduce the heat to low, season with salt and pepper and cook for 15 minutes until the liquid has begun to evaporate.

While the mixture is cooking, cut the cauliflower into florets and steam until tender. Once cooked through, drain and place in a blender or food processor along with the almond milk, crushed garlic, butter and salt and pepper. Blend until smooth.

To assemble, place the ground lamb mixture on the bottom of a baking dish or cast iron pan. Top with the mashed cauliflower and bake in the oven for 25-30 minutes until the top has turned a golden brown colour and there is bubbling on the outside of the dish.

Sprinkle with chopped parsley before serving
Notes
*To make this recipe Whole30 replace the red wine with 1 tbsp red wine vinegar and increase the beef stock to 1/2 cup