Roast Chicken and Flourless Gravy
This easy to make Roast Chicken is cooked with a delicious combination of vegetables and topped with a simple 2 ingredient flourless gravy!  The chicken is perfectly golden in colour, with crisp skin and tender meat which is taken to the next level of deliciousness when smothered in Whole30, SCD and Keto gravy!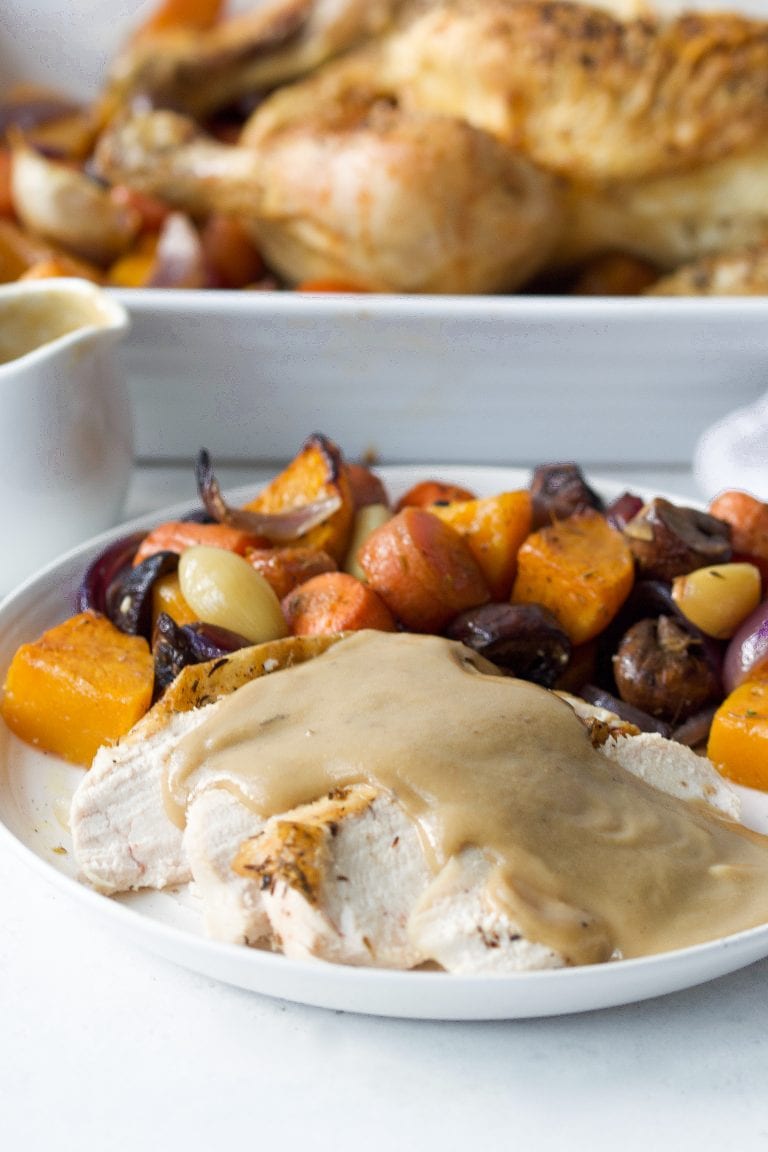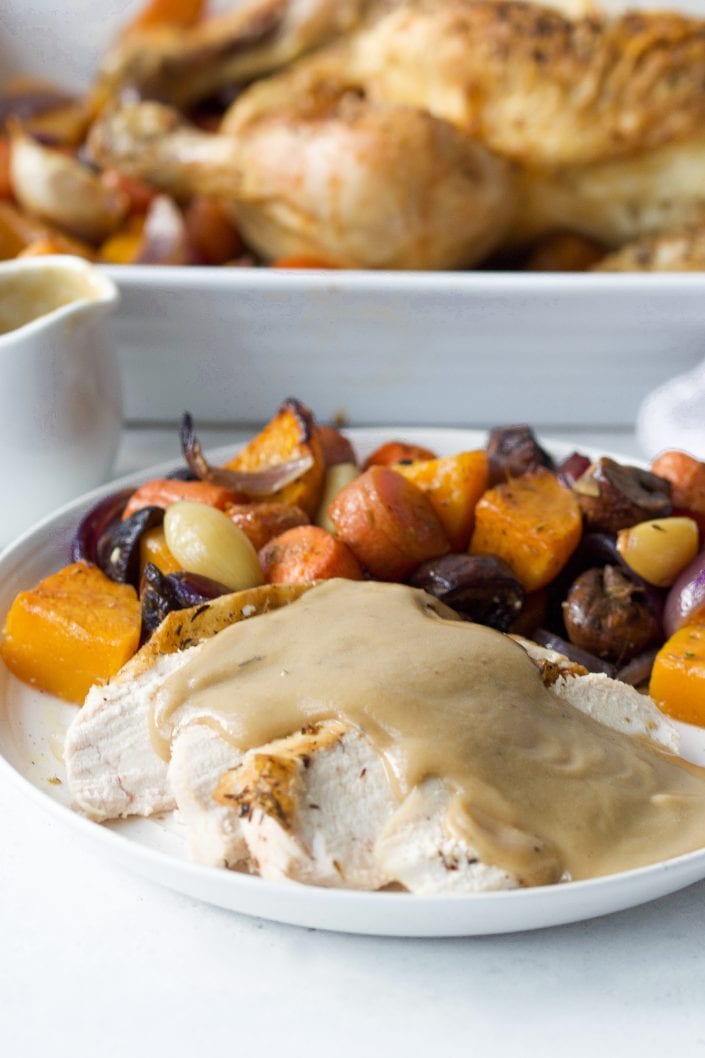 Roast chicken was a regular Sunday night dinner in my house growing up, but it wasn't until I moved to England that I developed an appreciation for the tradition. I love how little preparation is required, and the fact that it really is an all in one meal, with the roasted vegetables and chicken all cooked at once. I've always been amazed at how many people are intimidated by the idea of roasting a chicken, it is truly a fool proof dish to make, especially if you have a meat thermometer.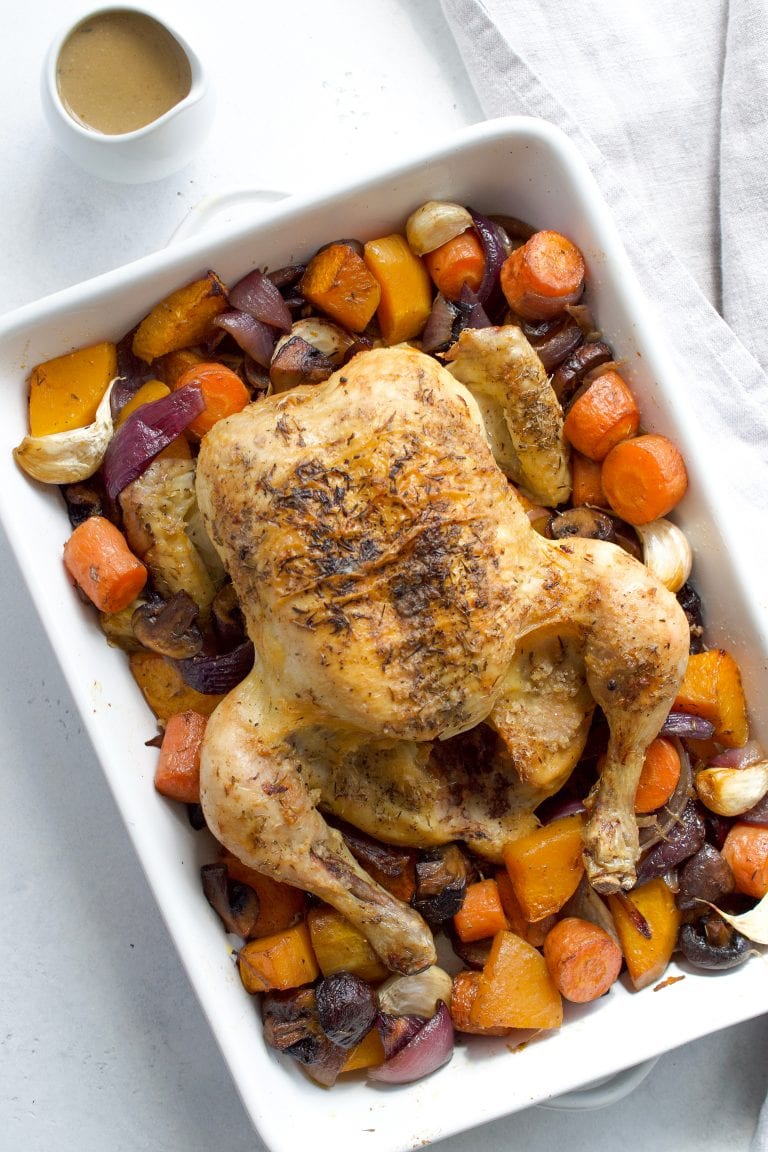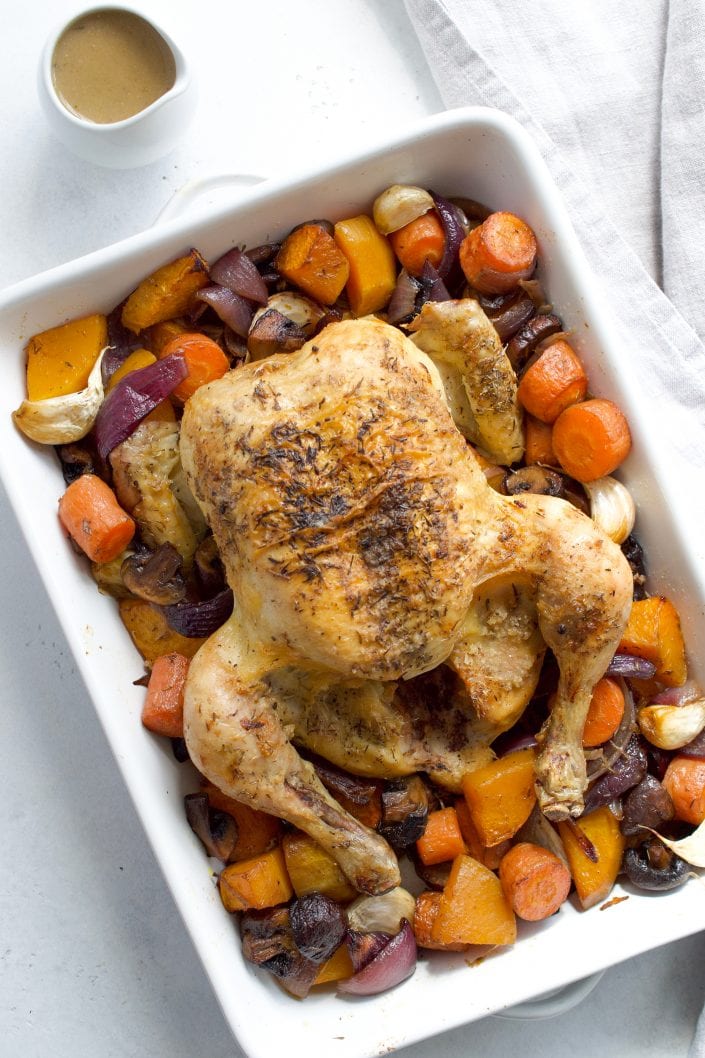 The roast chicken is seasoned with just a few herbs and spices, while the vegetables are tossed in a delicious balsamic and mustard sauce. The sauce not only gives the roasted veggies a great depth of flavour, any excess left in the bottom of the tray after baking helps to add flavour to the gravy.
I am so so excited about sharing this flourless gravy recipe with you! Traditional gravy is thickened using flour, and every Paleo or Whole30 version I have seen uses ingredients not allowed on the SCD diet such as arrowroot or tapioca. For my SCD legal, 3 ingredient flourless gravy I turned to my favourite vegetable….cauliflower! That's right, by steaming and then blending the cauliflower with chicken stock, it can be used as a thickener to mix with the leftover pan juices. You can add as little or as much cauliflower puree as you want to the gravy until it reaches your prefered consistency.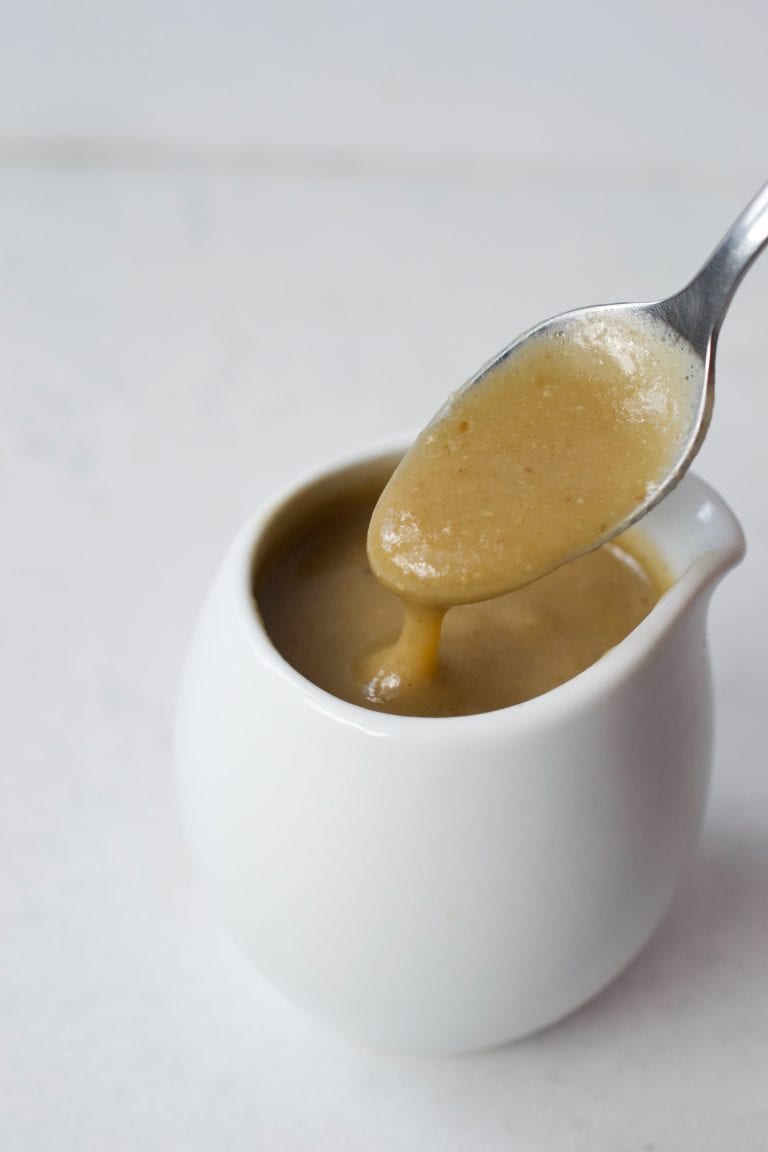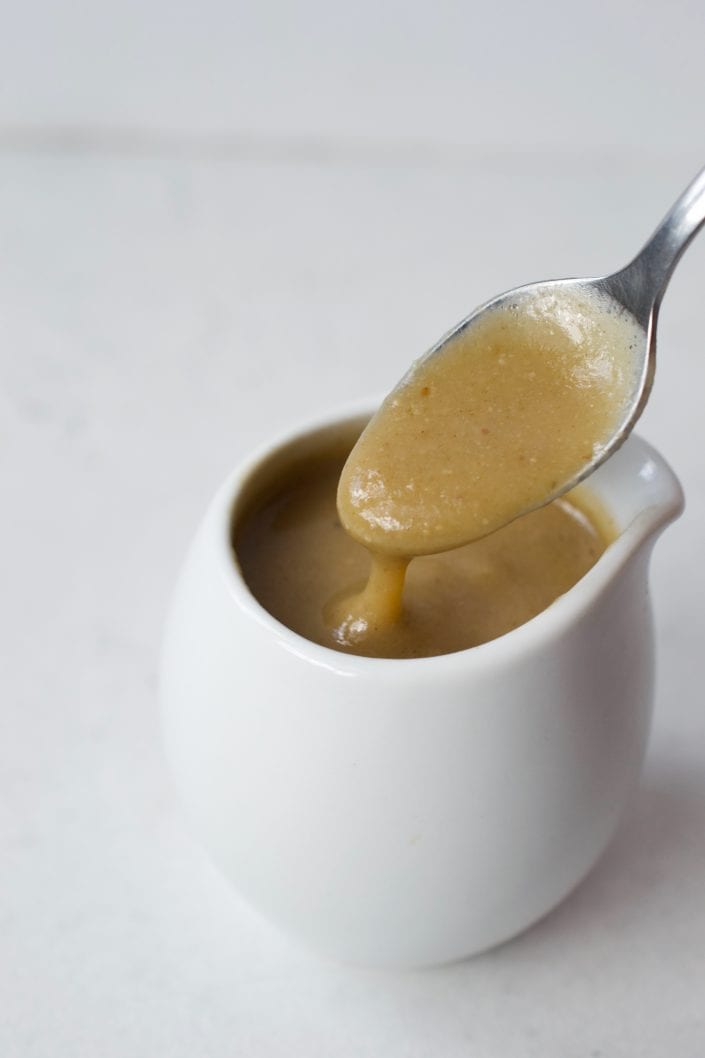 For the root vegetables I stuck to some of my favourites, red onion, butternut squash, mushrooms and carrots, but feel free to add in any other vegetables that you have on hand. The only thing I view as being mandatory is the garlic cloves. After being roasted in their skins, they become soft and caramelized can be eaten whole without that strong garlicky kick.
What size chicken should you buy?
As a general rule aim for half a pound per person when buying a chicken.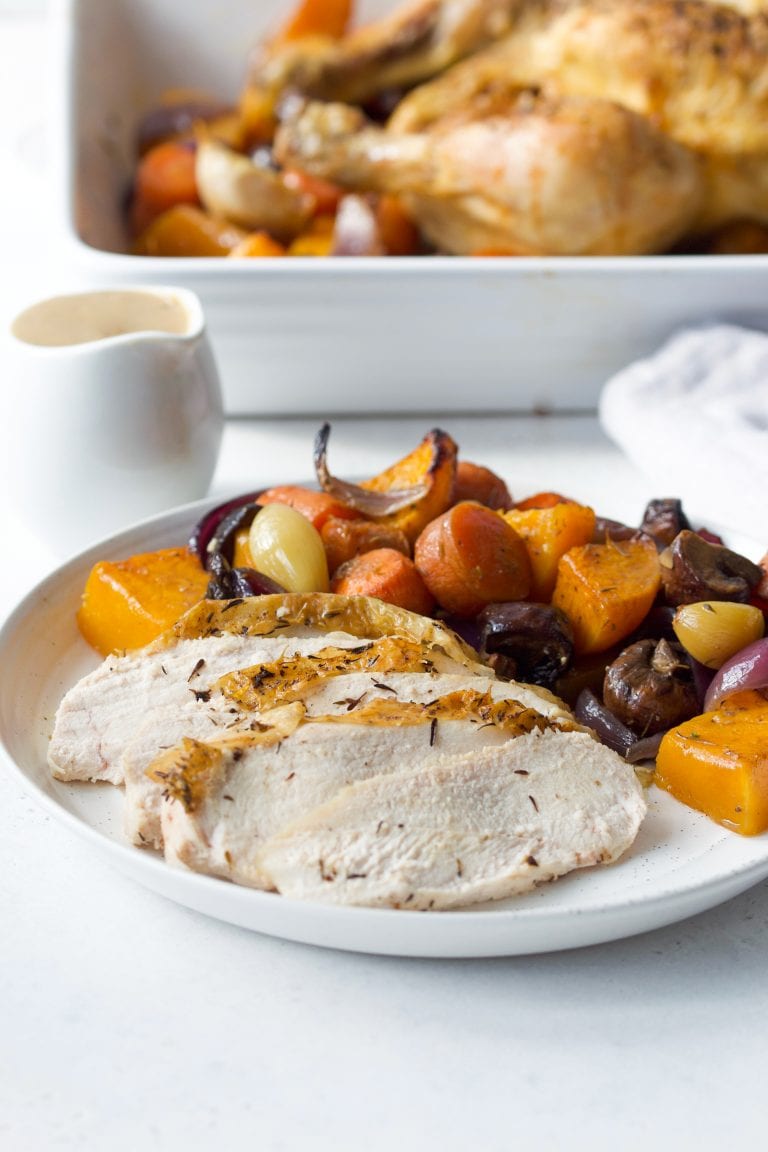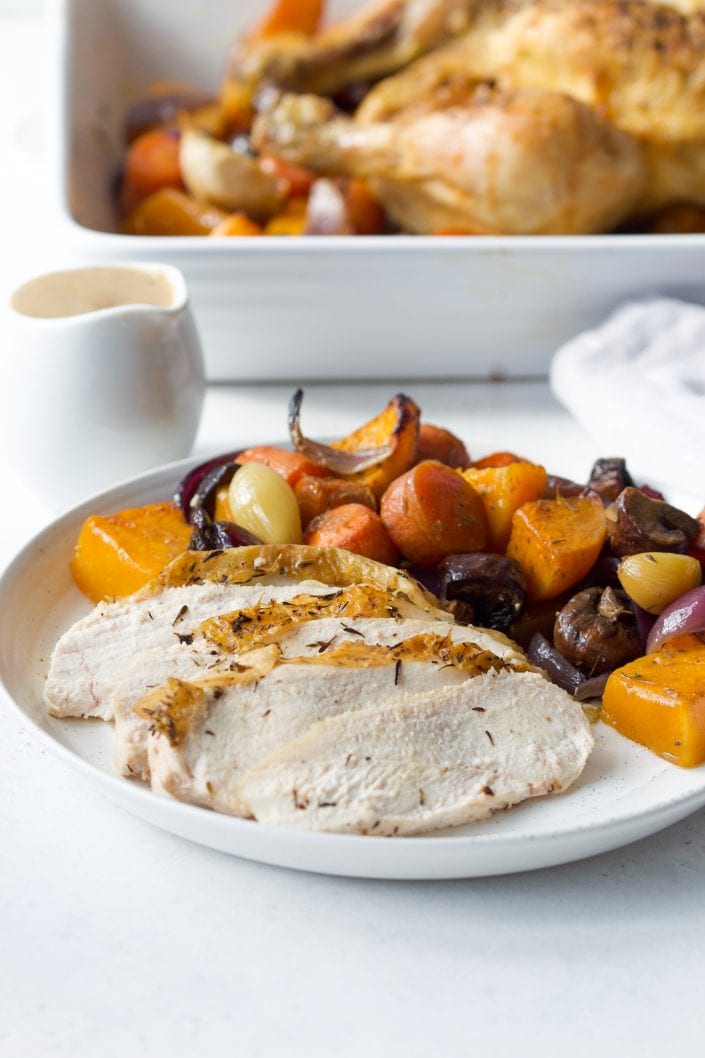 Why you are going to love this roast chicken recipe:
Crispy skin lovers rejoice: By drizzling the skin of the chicken with oil and seasoning with a generous amount of salt, the skin becomes golden and wonderfully crispy every single time. 
This is a great throw in what you have in the fridge recipe: While I love the combination of cubed butternut squash, mushrooms, carrots, red onion and garlic, you can really add any other vegetables that you like. A quartered yellow onion, parsnips, sweet potatoes, turnips and potatoes are all great additions. 
The gravy contains no fancy flours and is practically fool proof: All you need is a head of cauliflower and chicken broth to make this super simple gravy. You can also easily adjust the thickness of the gravy to suit your preference, like it thinner, add less cauliflower puree, it's really that easy. 
This is a great cook once and eat 2-3 times meal: Choose a larger chicken then you need to ensure you have leftovers. On day 2 the leftover roasted vegetables are a great easy side to reheat, or can be tossed into a salad. I like to break the chicken down on day 3 and use the leftover meat for a soup or chicken salad. Save the bones and use them to make chicken stock.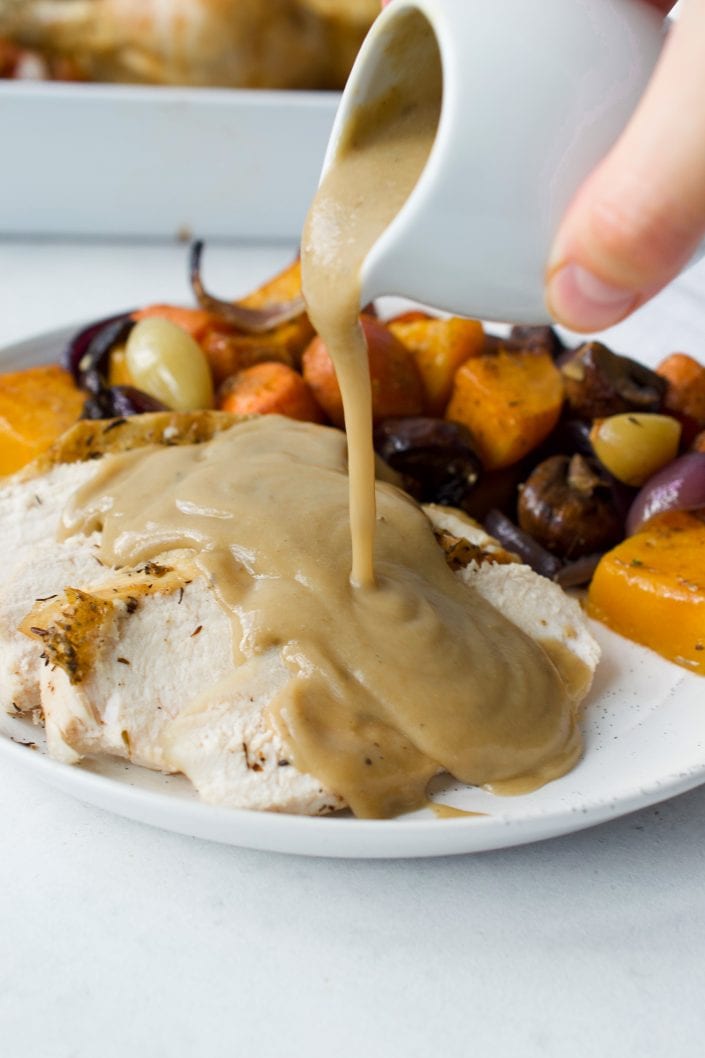 Love a Sunday roast? Here are a few other dishes that you can serve for Sunday dinner:
---
If you make this recipe let me know in the comment section below, I would love to hear what you think or take a photo and tag me (@everylastbite_) on Instagram, I love seeing your photos!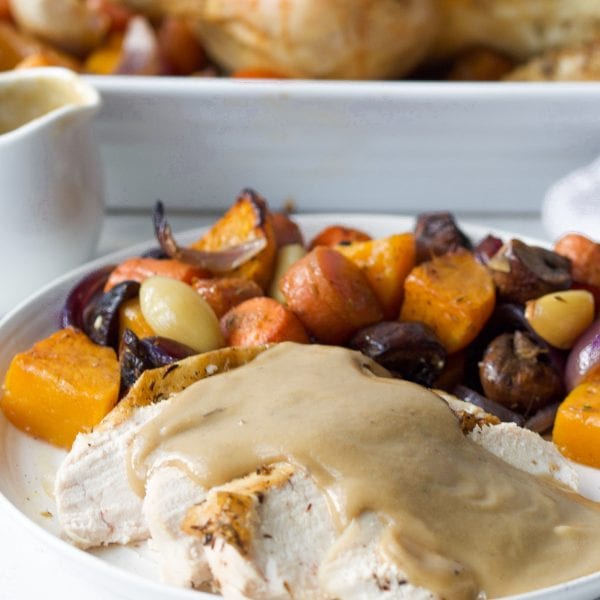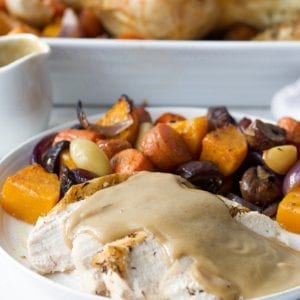 Ingredients
Vegetables
3 carrots cut into 1 1/2 inch chunks
2 medium red onion cut into wedges
10 mushrooms cut in half
1 cup butternut squash cut into 2 inch cubes
1 bulb garlic
1/4 cup extra virgin olive oil
1 1/2 tbsp balsamic vinegar
2 tsp dijon mustard
1 tsp thyme
1/2 tsp salt
1/2 tsp pepper
Chicken
3-4 lbs whole chicken giblets removed
2 tbsp olive oil
1/2 tsp salt
1/2 tsp pepper
1/2 tsp dried rosemary
1/2 tsp dried thyme
Gravy
2 1/2 cups chicken stock
2 cups cauliflower florets
Instructions
Preheat the oven to 400 degrees Fahrenheit (200 degrees Celsius)

Place the carrot chunks, red onion wedges, halved mushrooms and butternut squash cubes in a large baking dish or roasting tray. Break apart the garlic bulb into individual cloves and place them in with the vegetables, leaving the cloves in their skin.

In a small bowl whisk together the olive oil, balsamic vinegar, dijon mustard, thyme, salt and pepper and pour the sauce over the vegetables. Toss them with your hands to ensure that they are all well coated.

Place the chicken on top of the vegetables and rub the olive oil all over the skin of the chicken. Generously sprinkle the chicken with the salt, pepper, thyme and rosemary. Place the chicken in the oven to cook for 1 and a half hours until a meat thermometer inserted in the thickest part of the breast shows a temperature of 160 degrees Fahrenheit.

While the chicken is roasting, place the cauliflower florets and 1 1/2 cups chicken stock in a pot on medium high heat. Leave the florets to simmer in the stock for approximately 8-10 minutes until they are very tender and easily pierced with a fork.

Once the cauliflower is cooked, transfer it along with any excess liquid from the pot into a blender and blend into a smooth puree. Set aside

When the chicken is done cooking, use tongs to transfer it onto a cutting board, tent it with aluminum foil and leave to rest. Spoon the roasted vegetables into a serving dish.

To make the gravy, pour all of the excess liquid from the roasting tray into a sauce pan on high heat (you should have approximately 1 cup of liquid). Add in 1 cup of stock, bring to a boil and leave to reduce for 5 minutes. After 5 minutes the liquid should have reduced by approximately 1/3. Lower the heat to medium and start by adding in one large spoonful of the cauliflower puree. Whisk to fully incorporate and then add another spoonful, whisking as you add to ensure the gravy is well mixed. Continue adding the puree until the gravy has reached your desired consistency.

Carve the chicken and serve it and the roasted vegetables with a generous amount of gravy.