Mexican Stewed Beef Bowl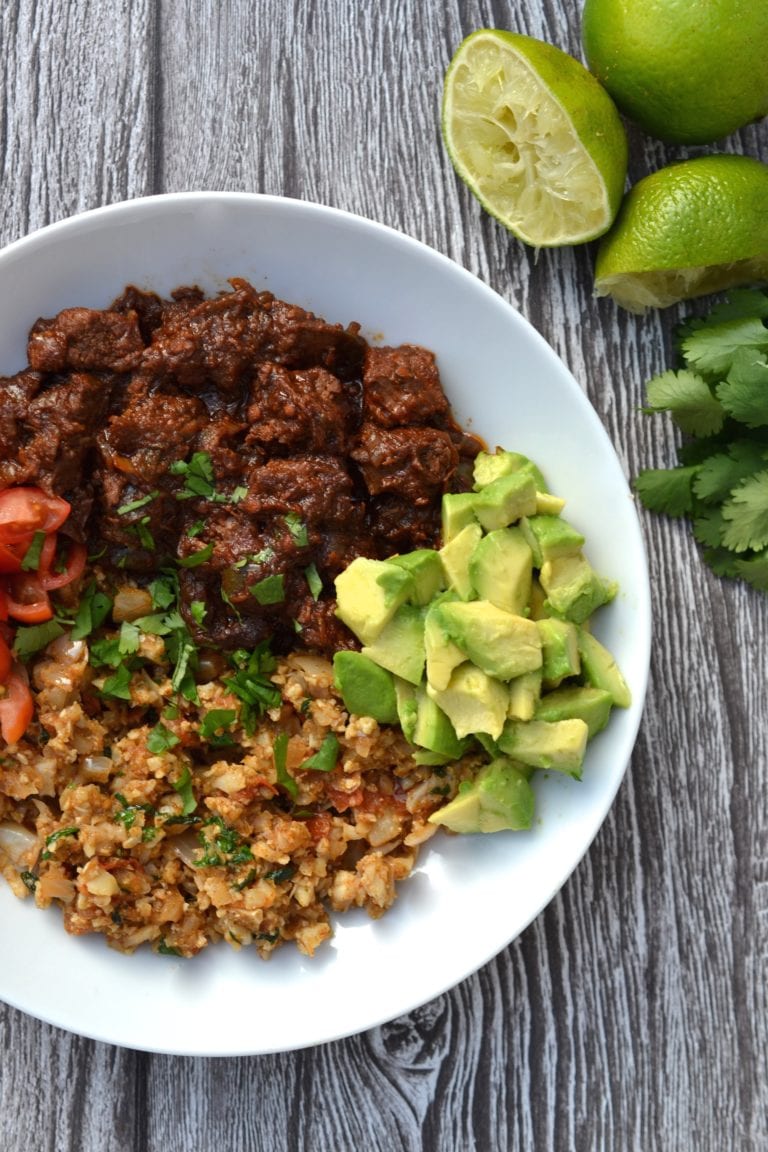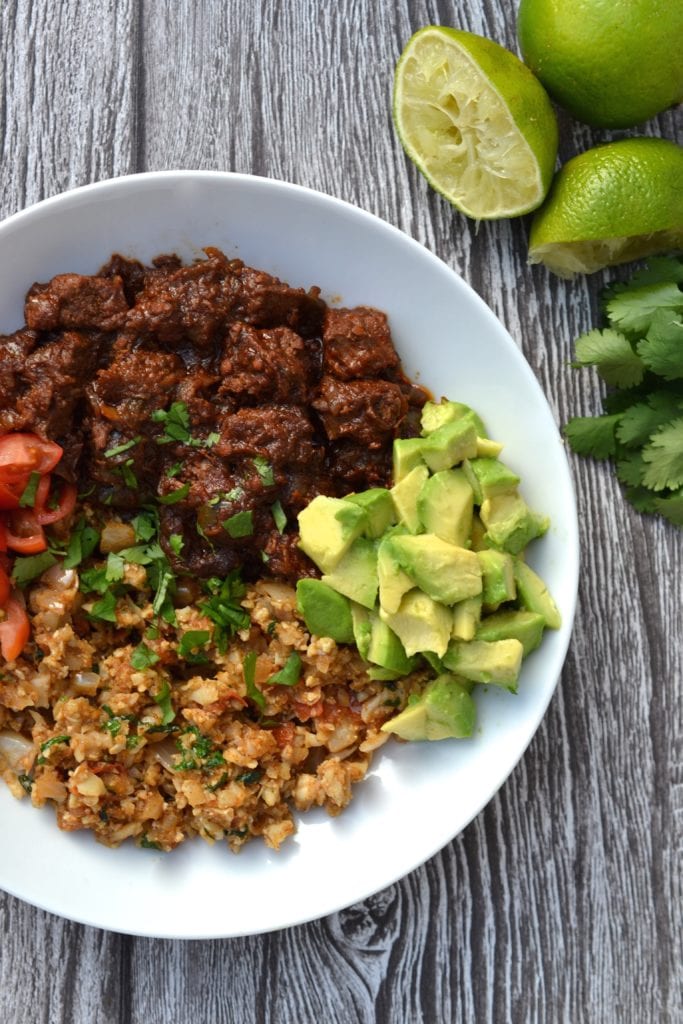 I cannot get enough of this dish, it is packed full of so much flavor and absolutely delicious. The beef is melt in your mouth tender and covered in a rich sauce of vegetables and spices. In Mexico a similar beef stew would be eaten with rice and beans, but I put a healthy spin on the dish, serving it with spicy cauliflower rice.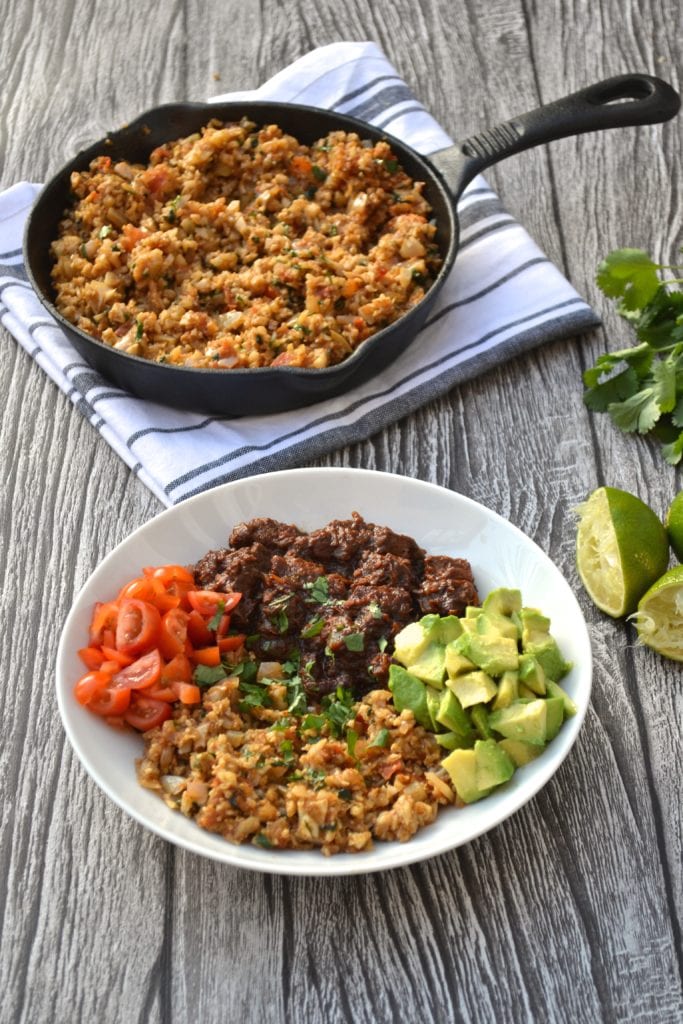 The stew is made by cooking small bite sized pieces of beef for 2 hours on the stove with chopped tomatoes, green peppers, onions and spices. At first it may seem like there are too many vegetables in proportion to the amount of meat, but the long cooking time causes the veggies to break down and form a thick rich sauce.
I love topping the bowl with creamy avocado and tomatoes, which add a burst of freshness, but cheese, jalapenos or salsa would also be great additions.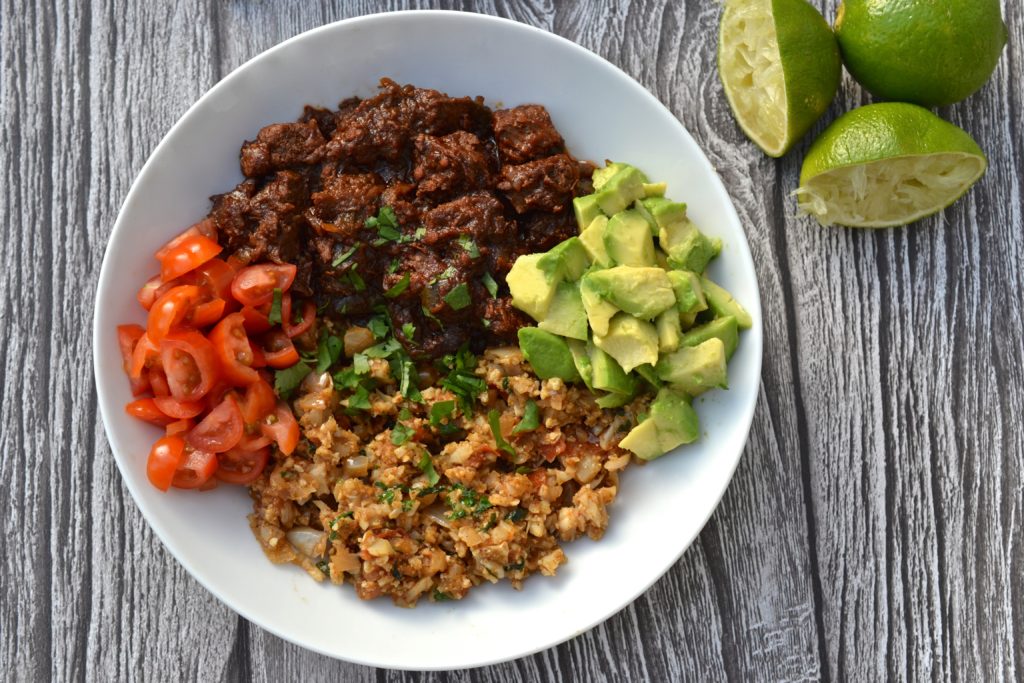 If you make this recipe let me know in the comment section below, I would love to hear what you think or take a photo and tag me (@everylastbite_) on Instagram, I love seeing your photos!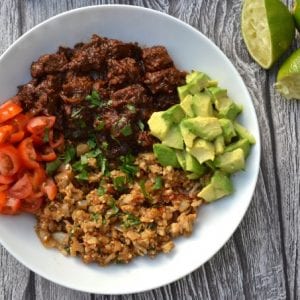 Ingredients
For the Beef
1 kg 2.2lbs stewing beef, cut into 1 inch cubes
2 tsp olive oil
2 green peppers cut into small pieces
6 to matoes diced
3 medium onions diced
5 cloves garlic
2 tbsp cumin
2 tsp smoked paprika
2- 2 1/2 cups cups beef stock
For the Mexican Cauliflower Rice
1 onion
1 clove garlic
1 small cauliflower
2 cups chopped tomatoes
1 tsp olive oil
2 tbsp cumin
2 tsp smoked paprika
1 tbsp lime juice
pinch cayenne optional
Optional Toppings
salsa
grated cheese
jalapeños
chopped tomatoes
avocado
cilantro
Instructions
For the Beef
Add the olive oil to a large pot over medium heat. Add in the cubed beef and cook for 2-3 minutes

Add in all of the remaining ingredients, reduce the heat to low and cover the pot. Cook for 3 hours stirring every hour to ensure nothing sticks to the bottom. If after 2 hours it becomes too thick and begins to burn, add 1/4-1/2 cup more beef stock.

After 3 hours the beef should be falling apart tender.
For the Mexican Cauliflower Rice
Cut the cauliflower into large chunks and place in a food processor. Pulse for 3-4 seconds until the cauliflower has broken down into small rice sized pieces.

In a pan on medium heat, saute the onion, garlic, cauliflower rice and tomatoes in olive oil for 5-7 minutes until the onions become translucent. Add in the cumin, paprika, lime juice and cayenne if desired. Continue to cook until the cauliflower because tender but not mushy.

Serve the beef and cauliflower rice with chopped cilantro and your toppings of choice.