Mexican Beef Taco Salad
This hearty Mexican Beef Taco Salad is packed with spicy ground beef, cauliflower rice, chopped tomatoes, jalapenos, avocado and a zest cilantro sauce.  It takes just 30 minutes to make and is perfect for a quick and easy weeknight meal. It's also Paleo, Whole30 and Keto!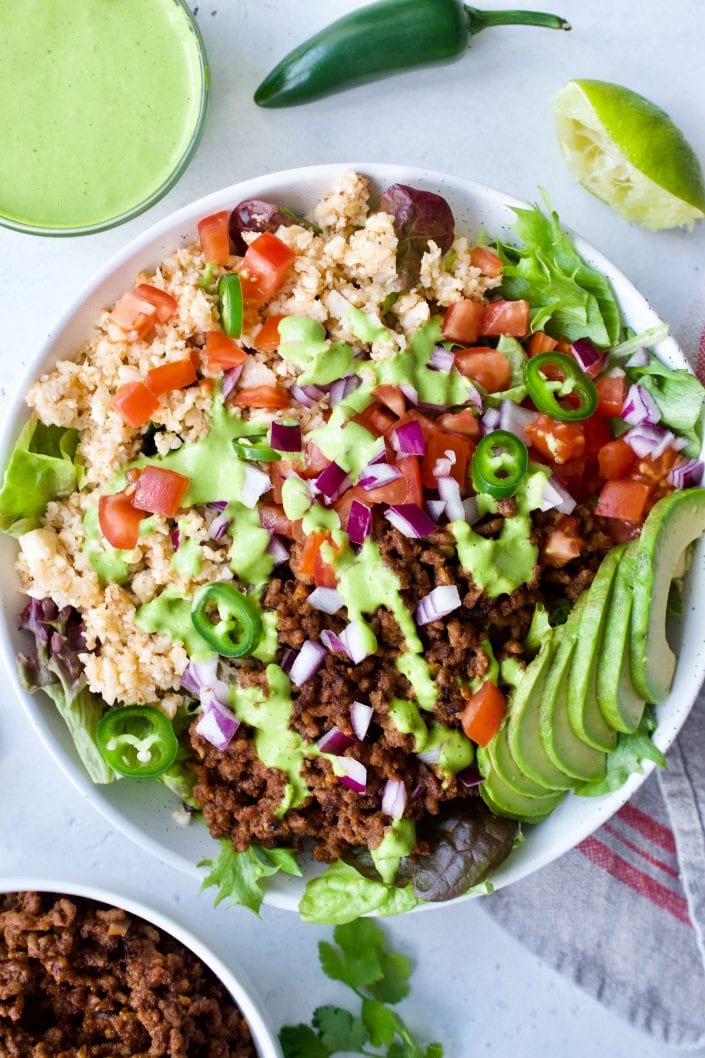 This Mexican Beef Taco Salad comes together in just 30 minutes and is sure to win over even the hungriest of salad haters (who will never guess it's actually healthy!). It's packed with Mexican spiced ground beef, cauliflower rice, chunky tomatoes, red onion an avocado, all drizzled in a green zesty cilantro sauce. I absolutely love the flavours of this salad and can't seem to get enough of it. You can prep everything for this salad a day in advance and quickly reheat the rice and beef before serving, or add all of the leftovers to some iceberg lettuce and wrap it up like a big burrito.
Ways to modify this Mexican Beef Taco Salad:
Not a fan of beef? The ground beef can be easily swapped for ground chicken, turkey or pork!  
Have premade salsa? You can replace the chopped red onion and tomatoes for store bought or homemade salsa. I used chopped tomatoes to cut down on prep time 
How about an actual taco: If you would prefer to have this in taco form, everything can be served in a tortilla or lettuce cup for a low carb and grain free option.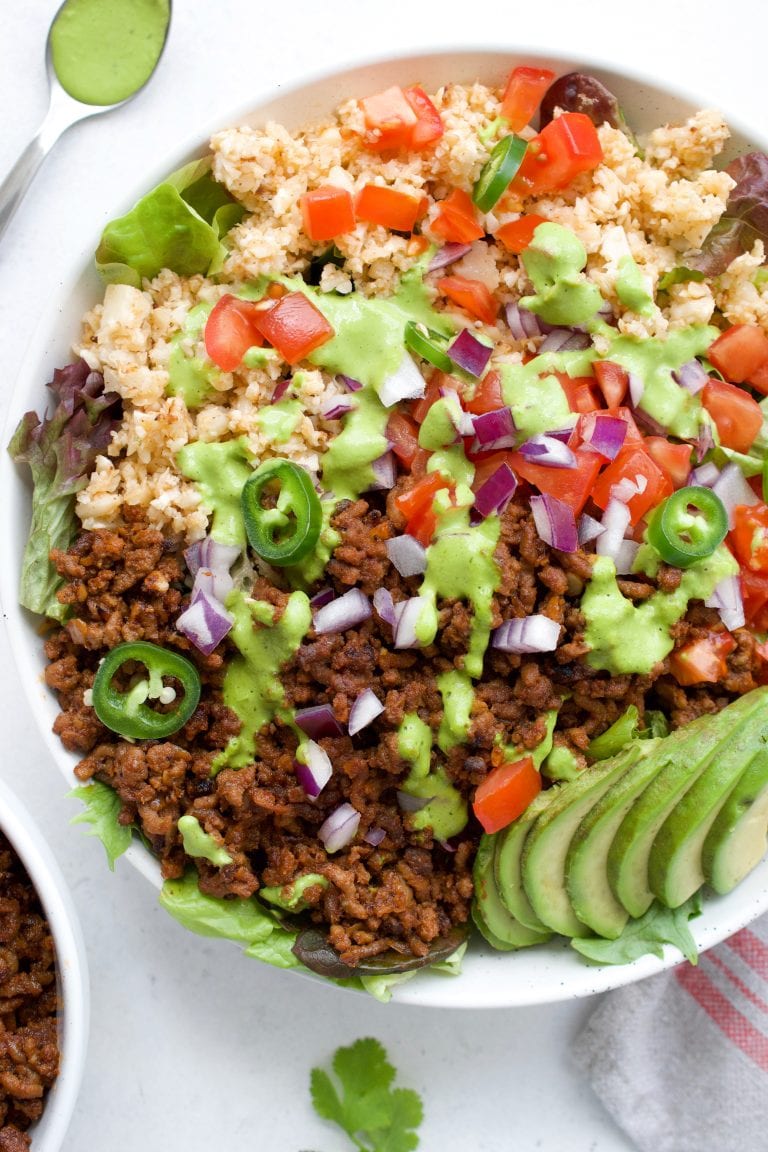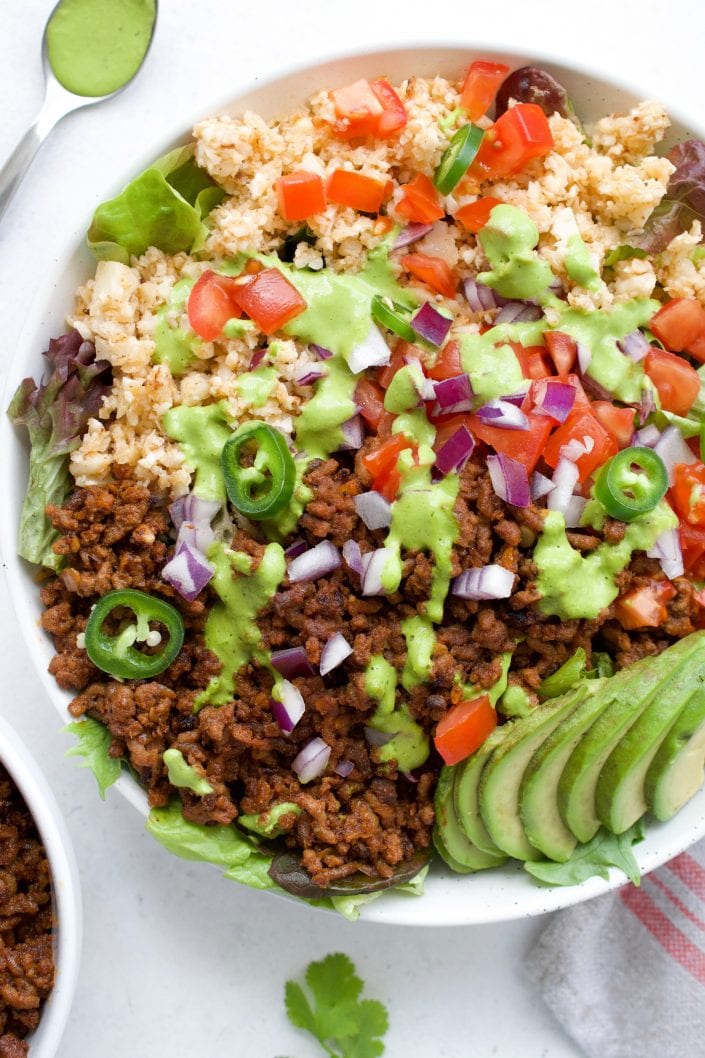 Here are a few other Mexican inspired recipes that you might enjoy…
---
If you make this recipe let me know in the comment section below, I would love to hear what you think or take a photo and tag me (@everylastbite_) on Instagram, I love seeing your photos!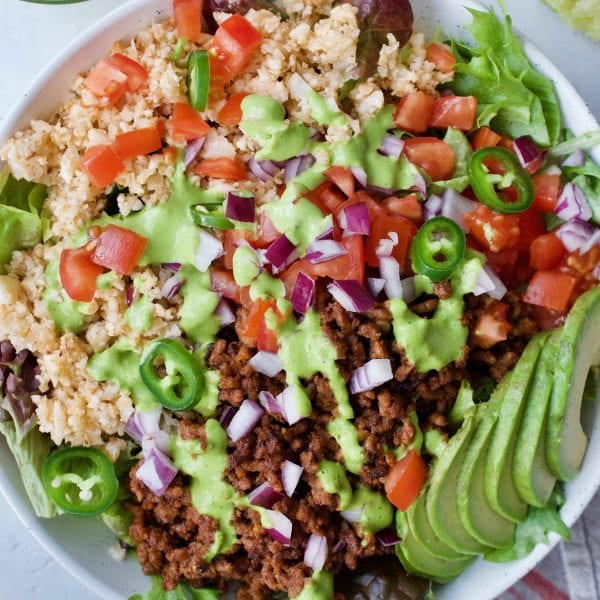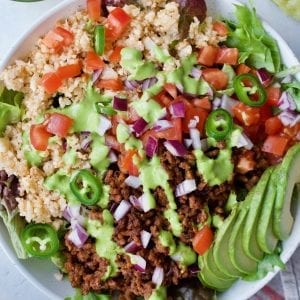 Ingredients
1 tbsp oil
1 onion finely diced
3 cloves garlic crushed
1 pound ground beef
1 1/2 tsp cumin
1 1/2 tsp coriander
1/4 tsp chili powder
1 tsp chipotle powder
2 tbsp tomato paste
3 cups cauliflower rice
1/4 cup mayonnaise
1 1/2 tbsp lime juice
1/4 cup cilantro
1/4 cup chopped scallions
1/4 red onion roughly chopped
1/4 cup chopped tomatoes
1/2 avocado thinly sliced
4 cups lettuce
1 thinly sliced jalapeno (optional garnish)
Instructions
In a large skillet heat the oil on medium heat. Add in the diced onion and garlic and cook for 3-4 minutes until the onion begins to soften. Add in the ground beef and use a wooden spoon to break the meat up into a fine crumble.

Cook the beef for 3 minutes before adding in the cumin, coriander, chili powder, chipotle powder and tomato paste. Continue to cook the beef until it begins to brown and then transfer it to a bowl and set aside, leaving any excess oil in the skillet.

Add the cauliflower rice to the skillet, season with salt and leave to cook for 5 minutes until the cauliflower softens but be sure not to overcook it.

While the cauliflower is cooking, make the sauce by combining in a blender or nutribullet the mayonnaise, lime juice, scallions and cilantro and blending until completely smooth.

To assemble divide the lettuce between two bowls. Top each with the ground beef, cauliflower rice, chopped red onion and tomatoes, avocado and drizzle with the sauce before serving.