Crab Cakes with Roasted Red Pepper Aioli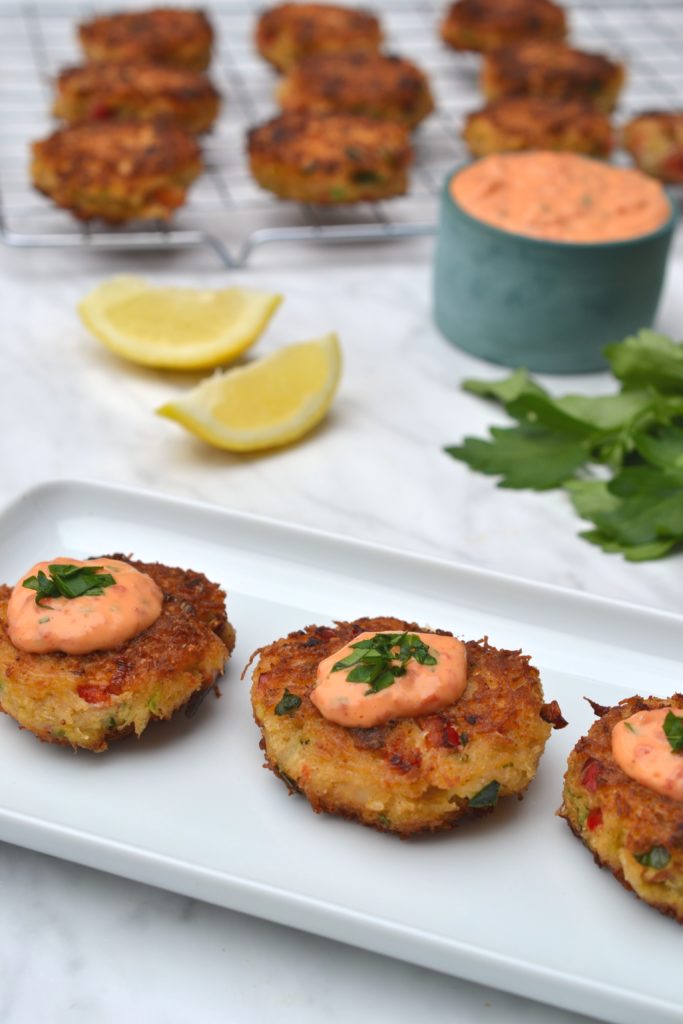 For me the key to a good crab cake is simplicity. I like to make the crab the star of the show, and keep the other filler ingredients like breadcrumbs to a minimum.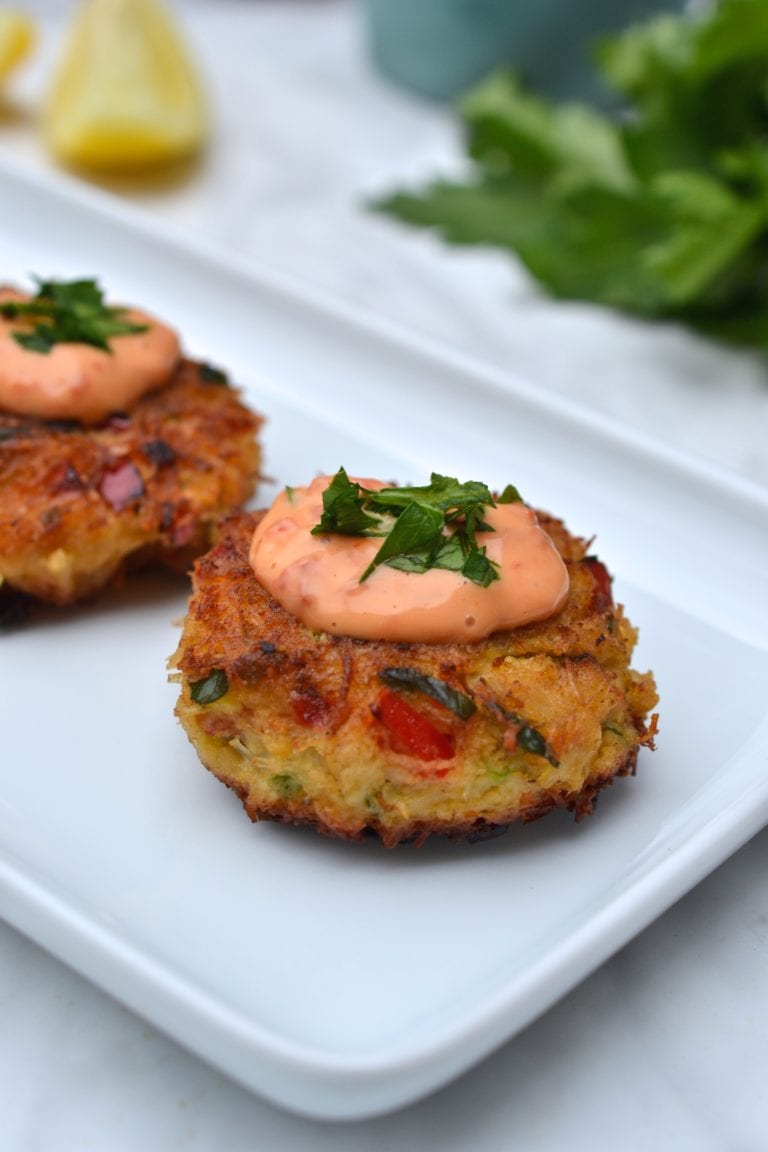 In this recipe each cake is packed full of crab with just a small amount of almond flour to help hold everything together. I added in some finely diced red pepper to give the cakes some texture, and some chopped green onions and mustard for a kick of flavour.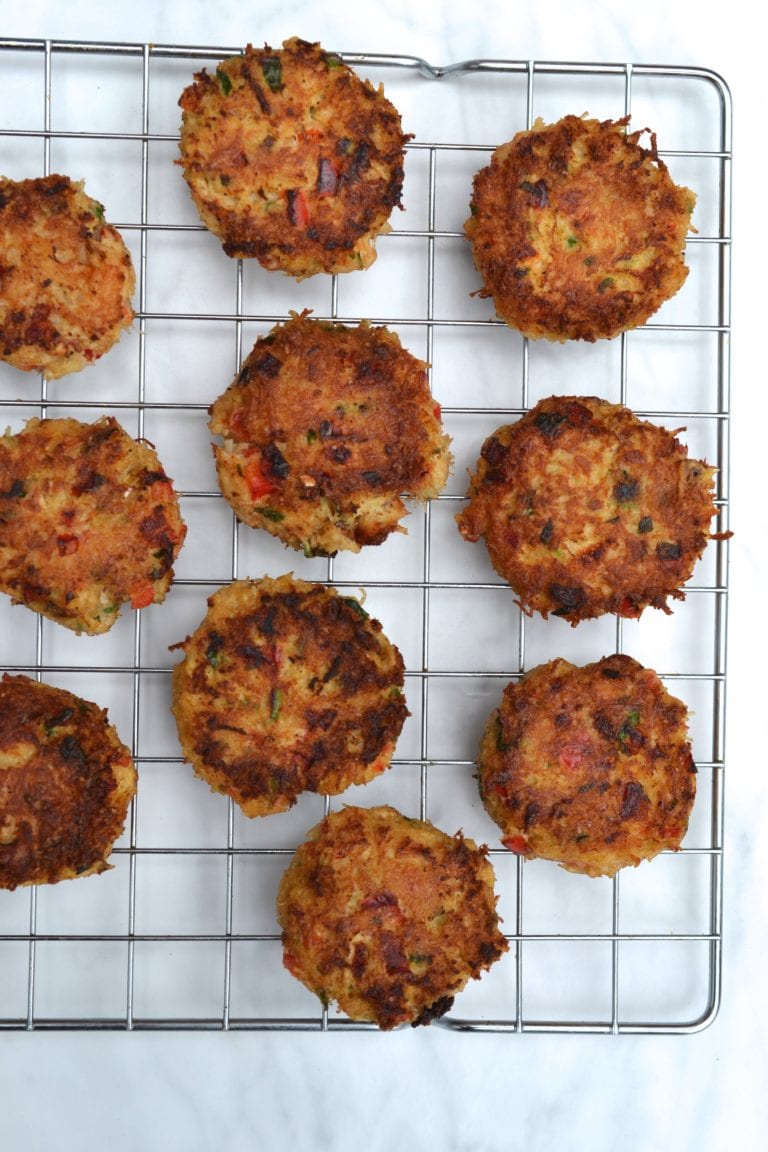 One of my biggest frustrations with making crab cakes is how easily they self destruct in the frying pan. It took me some time to master the perfect egg to flour to crab ratio for this recipe to ensure the crab cakes were as easy to flip as possible. If you are worried they won't hold together, or are making larger sized patties, I suggest putting the mixture in the fridge for 10 minutes to firm up before frying.
I served these crab cakes with a delicious tangy roasted red pepper mayonnaise. You can use store bought mayonnaise, but to keep things completely natural I made my own. Homemade mayonnaise is really easy to make, it requires just a handful of ingredients and can be made in under 5 minutes.

If you make this recipe let me know in the comment section below, I would love to hear what you think or take a photo and tag me (@everylastbite_) on Instagram, I love seeing your photos!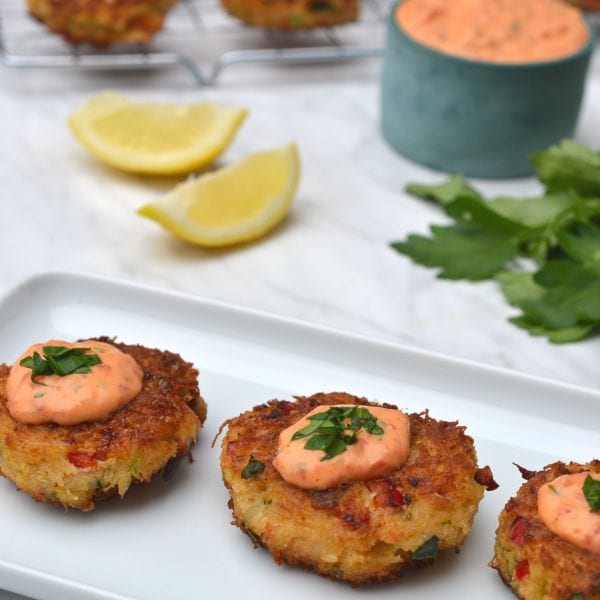 Ingredients
2 cups crab
1 clove garlic
1 tbsp lemon juice
1 tsp mustard
1/2 red bell pepper finely diced
1/4 cup green onions finely chopped
1 tbsp parsley chopped
1 egg*
1/3 cup almond flour
1 tsp vegetable oil for frying
Homemade Mayonnaise
1 egg
2 tsp lemon juice
salt
¾ cup olive oil
1 clove garlic crushed
1/2 cup roasted red pepper
Instructions
In a bowl combine all of the ingredients for the crab cakes except the vegetable oil and stir until well mixed.

Using a spoon form patties approximately 3 inches in diameter.

Heat the vegetable oil in a frying pan over medium heat and fry the crab cakes for 2-3 minutes per side until crisp and golden in colour.

To make the mayonnaise crack one egg into a tall and narrow bowl. Add the salt, lemon juice and oil and using a hand blender, blend everything together. Make sure you have one hand on the bowl to ensure nothing goes flying. The mayonnaise will form after just 15-20 seconds of blending. Add in the crushed garlic and red peppers and continue to blend until the peppers have completely broken down and only small bits remain. Taste and add more lemon juice if required.

Serve the crab cakes topped with the roasted red pepper mayonnaise and wedges of lemon.
Notes
*if you are having trouble binding the crab cakes then add in 1 more egg