Sheet Pan Salmon Nicoise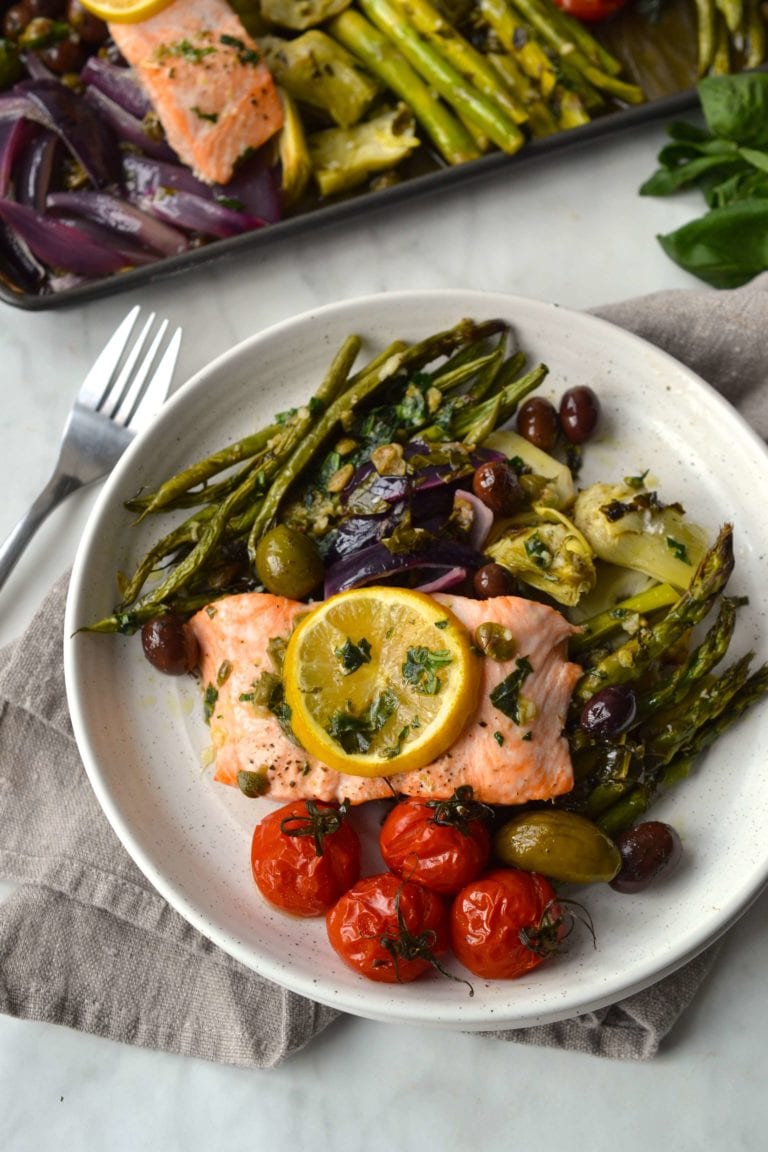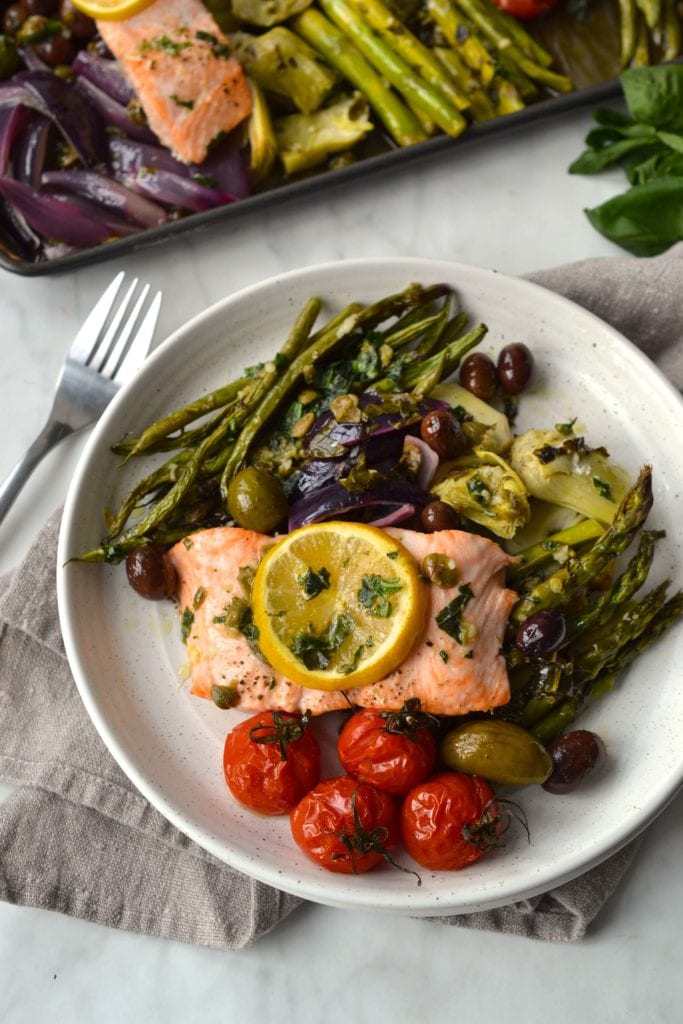 I am always keen to find new and creative ways to prepare traditional dishes that are usually served the same way at home and in restaurants. I love the flavours of a Niçoise salad, especially the salty olives and capers combined with the crisp beans and onions.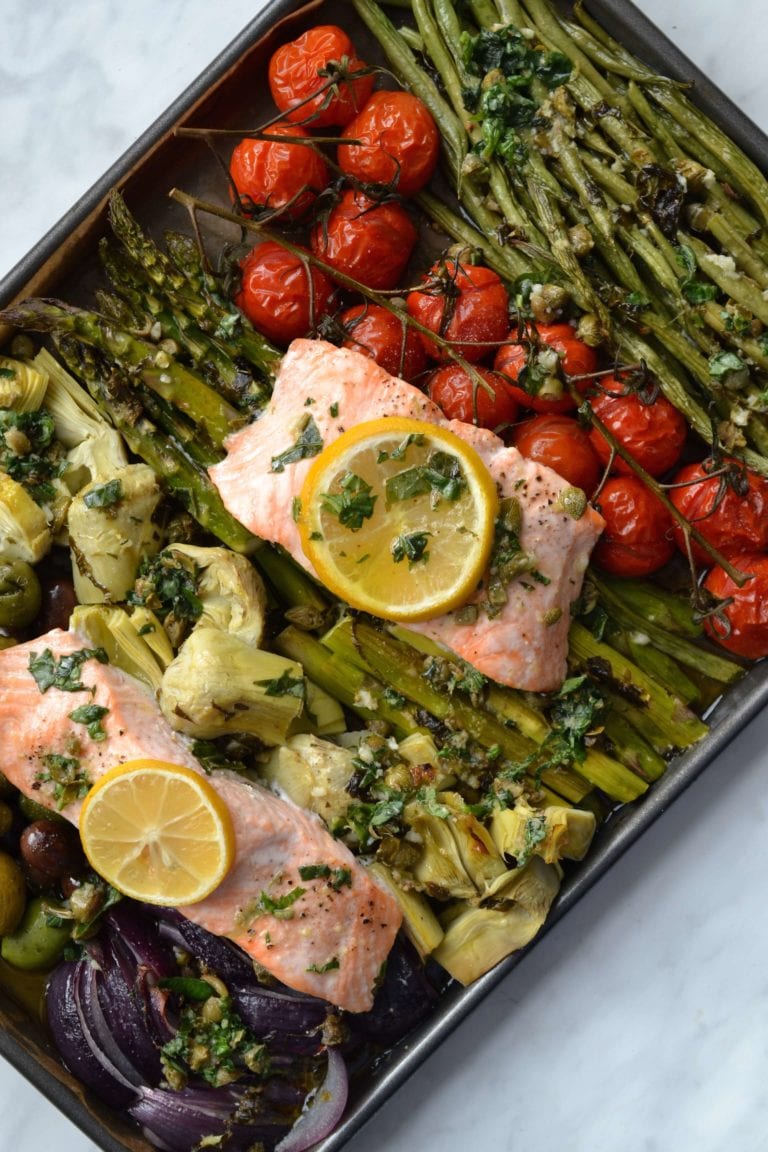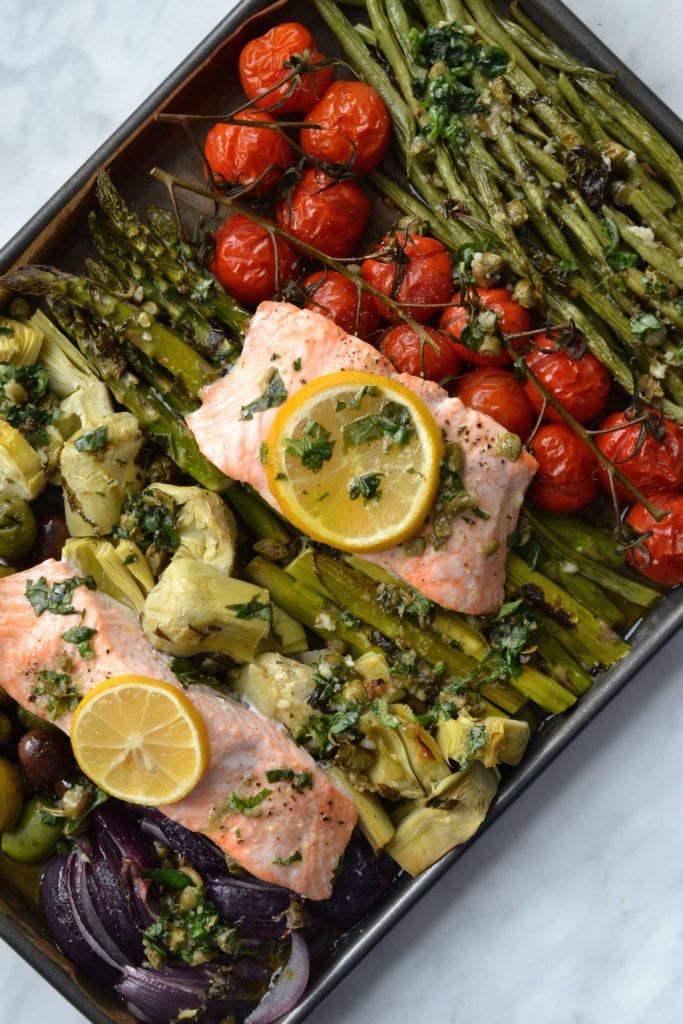 In this recipe I took my love for Niçoise salad and combined it with my current obsession, sheet pans, the one pan dream for any dishwasher.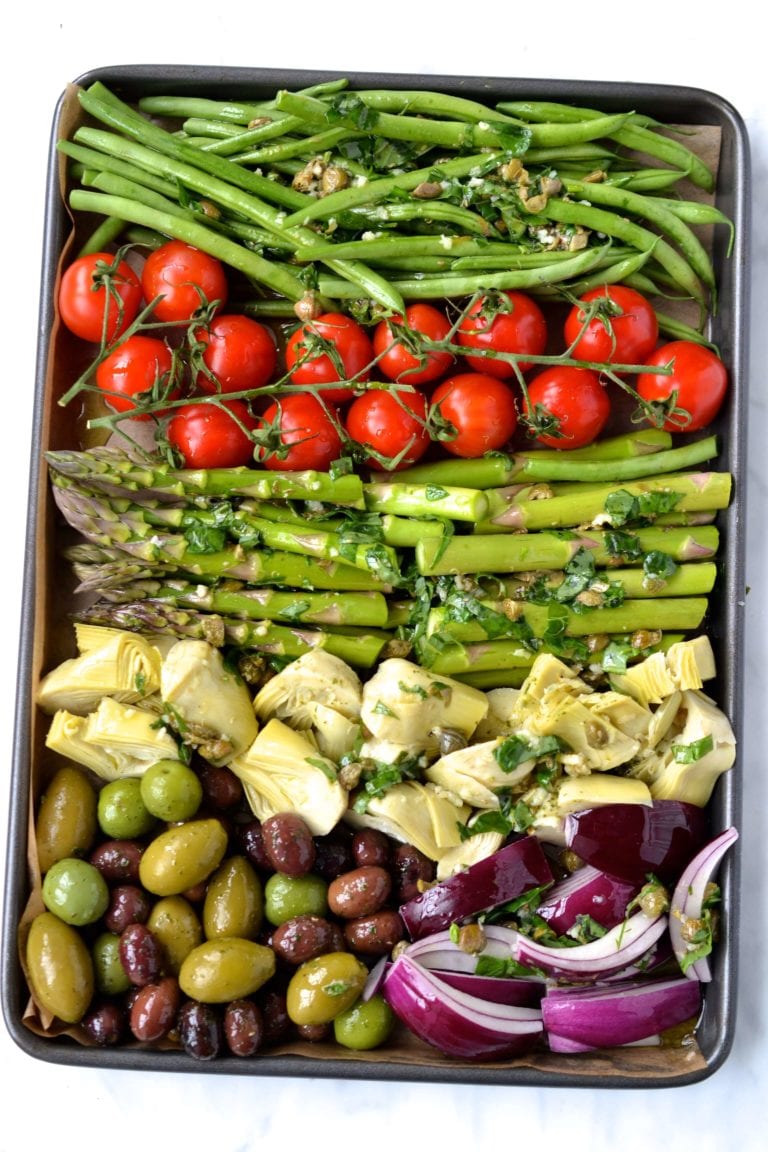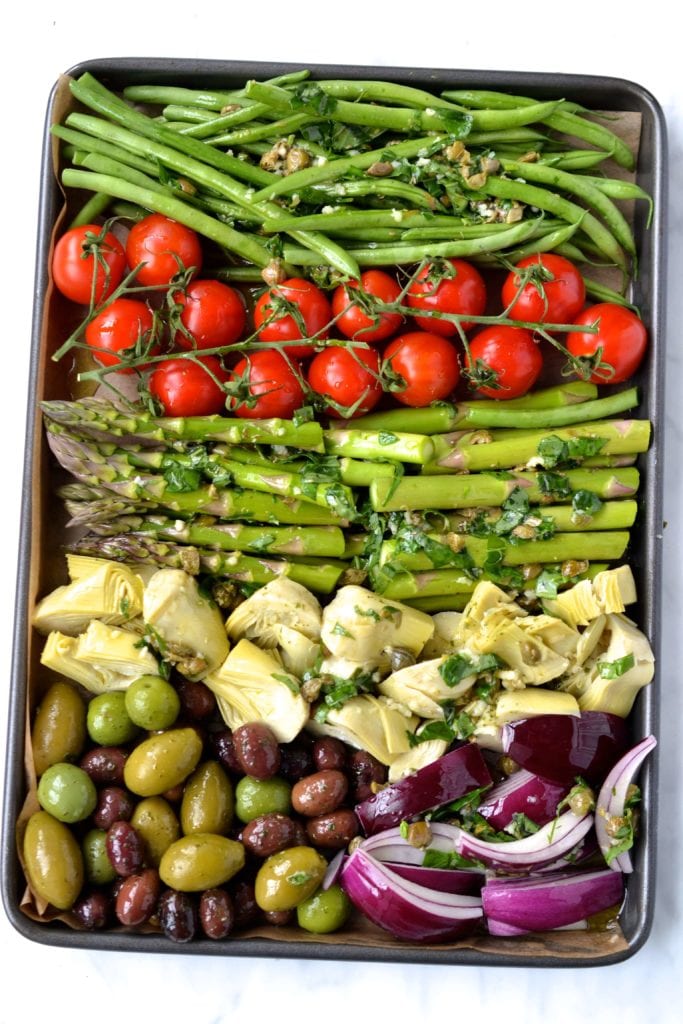 The traditional ingredients of Nicoise salad such as green beans, olives and tomatoes are included in this dish, as well as a few extras including artichokes and asparagus.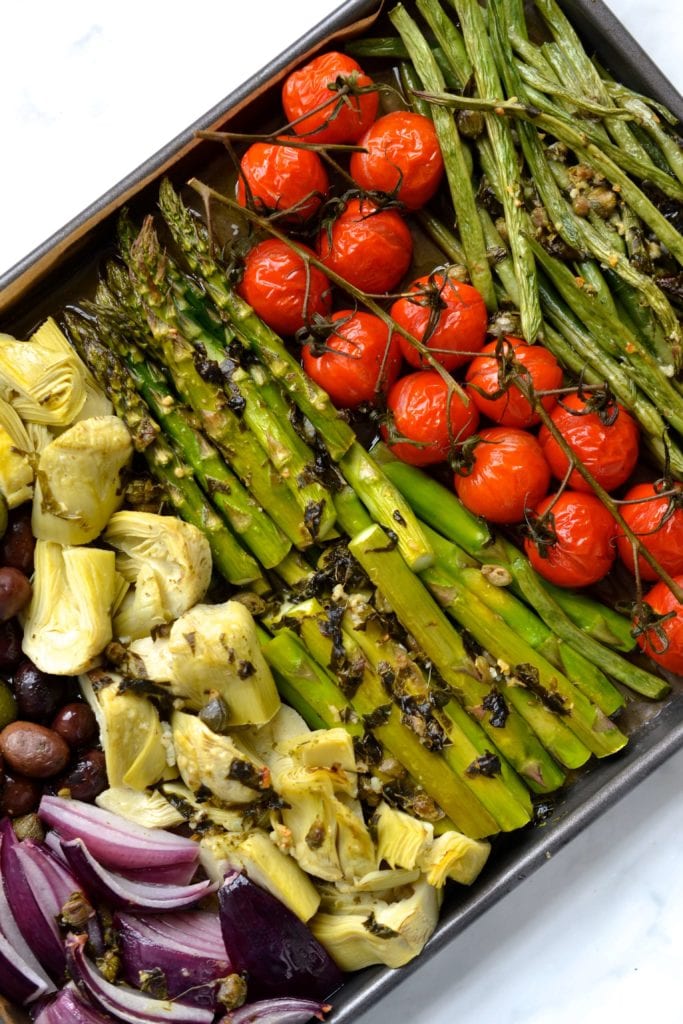 All of the veggies are tossed in a lemon, caper and basil vinaigrette and roasted in the oven for 10 minutes, then topped with pieces of salmon and cooked for a further 15 minutes.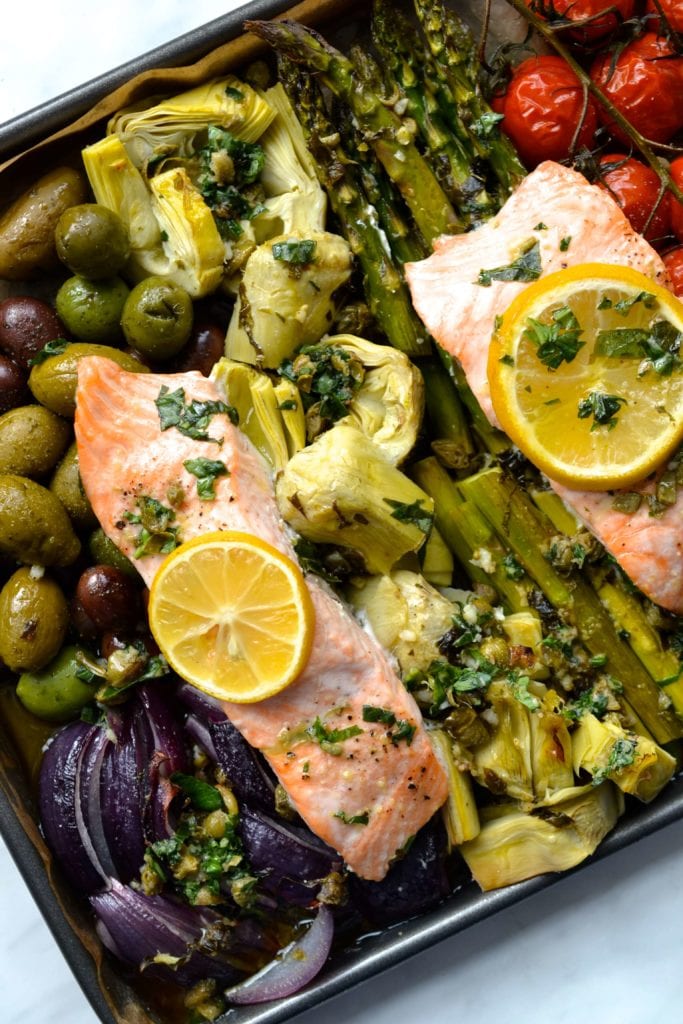 You can serve everything on a tray along with a simple green salad for people to help themselves to, or toss all of the warm ingredients into a salad. To stick to the primary rule of a traybake, only using 1 tray, I didn't include an egg in this recipe but you can always add a poached or hard boiled egg before serving.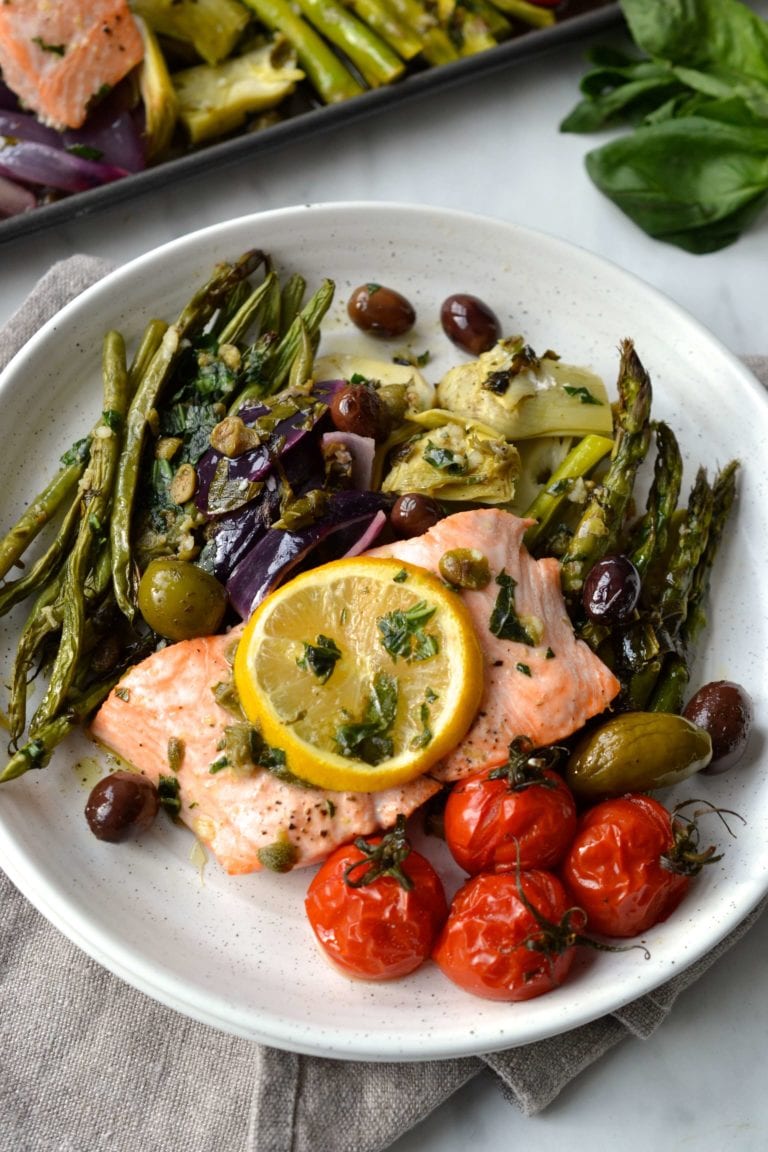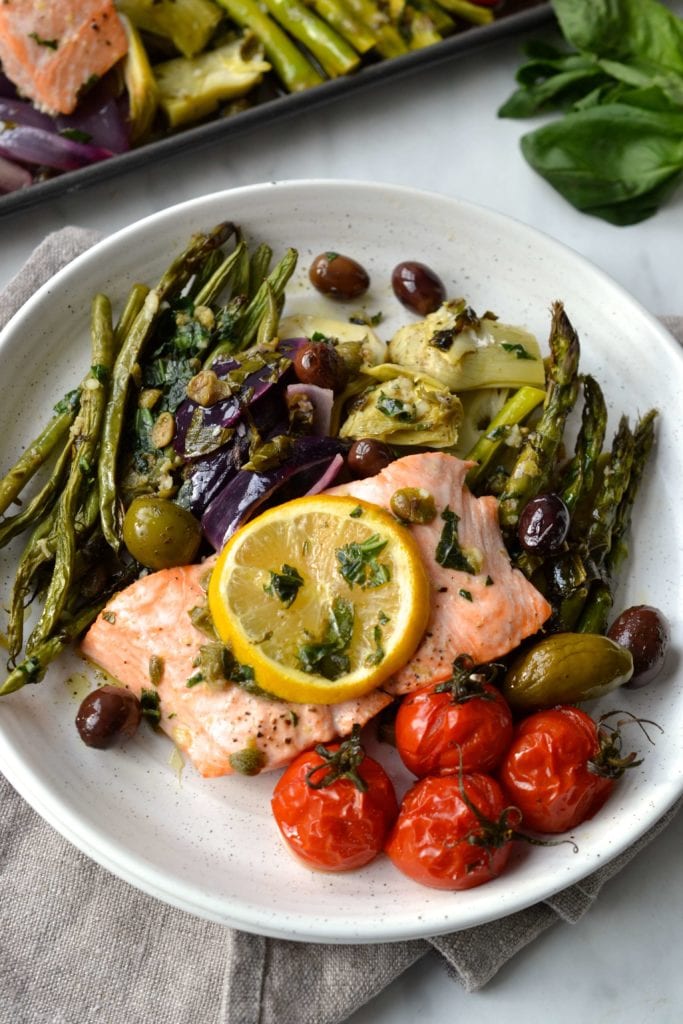 Other Salmon Recipes on the site:
---
If you make this recipe let me know in the comment section below, I would love to hear what you think or take a photo and tag me (@everylastbite_) on Instagram, I love seeing your photos!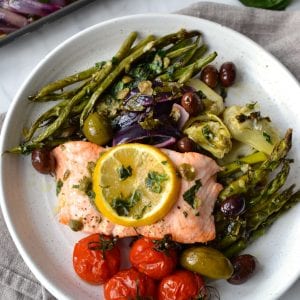 Ingredients
1/3 cup olive oil
3 cloves garlic crushed
1/3 cup chopped fresh basil
3 tbsp capers
1 tbsp lemon juice
1/4 tsp pepper
1/4 tsp salt
2 red onions quartered
1 cup cherry tomatoes
1 cup green beans
1 cup asparagus
1/3 cup olives
1 cup artichoke hearts
4 salmon fillets
1 lemon
Instructions
Preheat the oven to 175 degrees Celsius (350 degrees Fahrenheit)

In a bowl whisk together the olive oil, crushed garlic, basil, capers, lemon juice and salt and pepper. Set aside

Place the chopped red onion, tomatoes, green beans, asparagus, olives and artichoke hearts on a baking sheet. Drizzle 2/3 of the dressing over the vegetables and roast in the oven for 12 minutes.

Place the salmon fillets on the veggies and top with a slice of lemon. Return to the oven and bake for a further 10-12 minutes until the salmon is cooked through.

Pour the remaining dressing over the veggies and salmon and sprinkle with basil before serving.