Easy Spinach Stuffed Salmon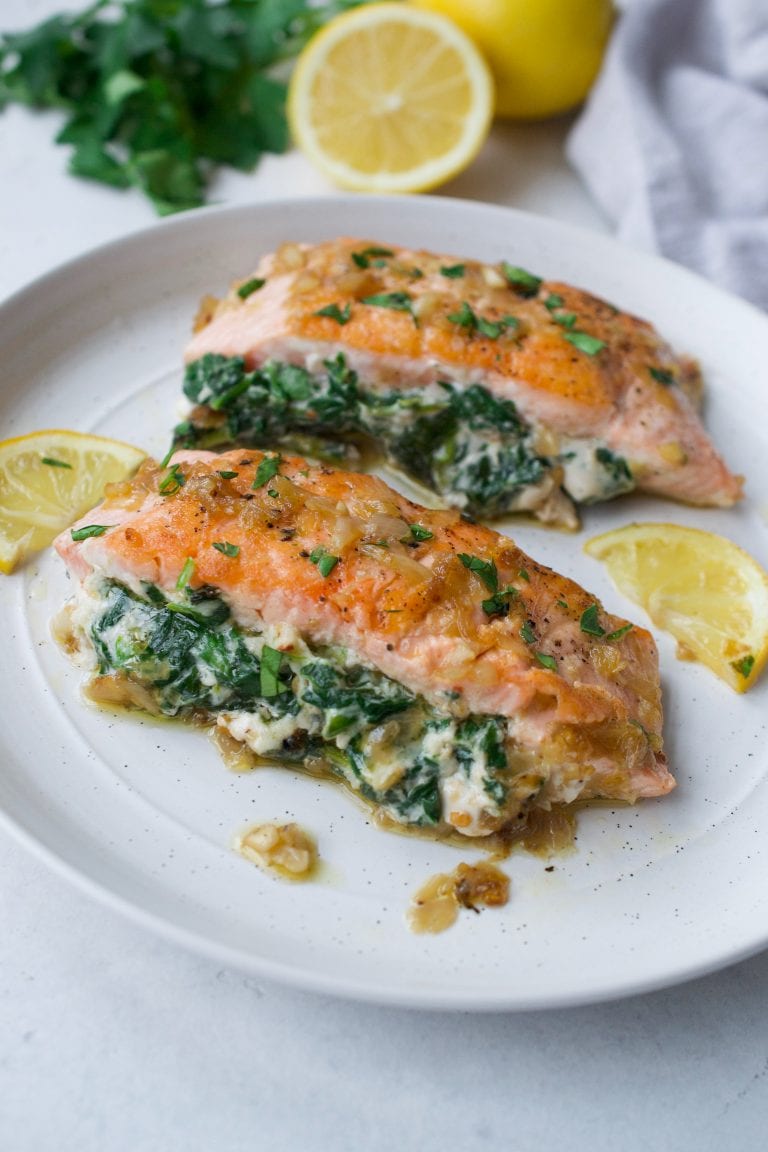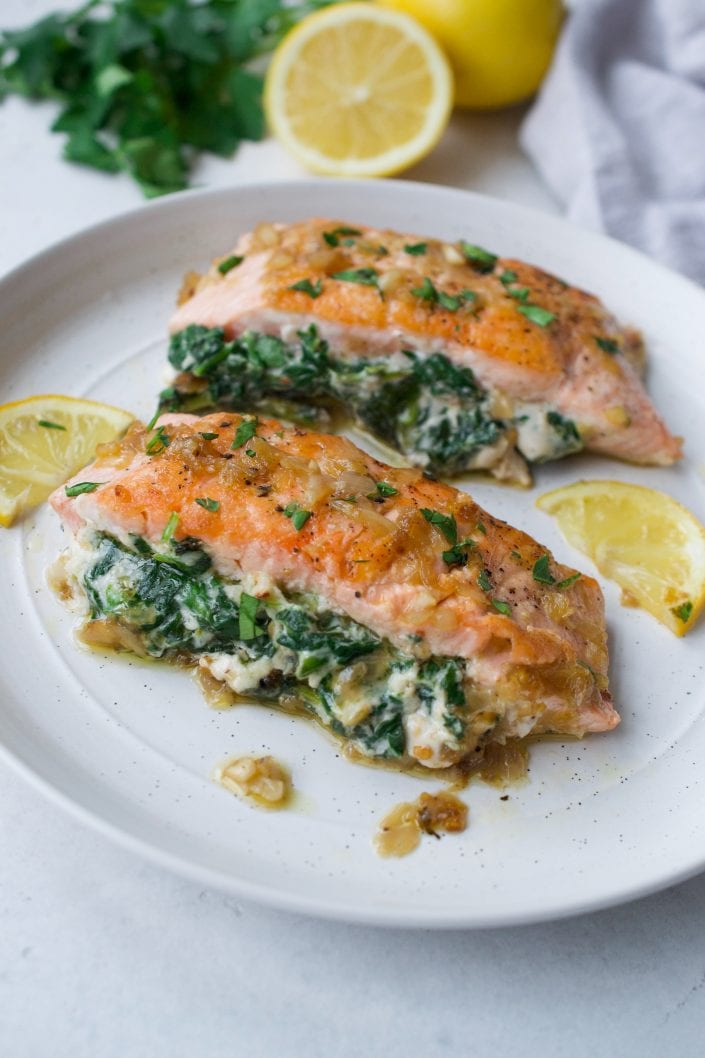 This creamy spinach stuffed salmon is a great dish to serve when you want to impress, but are short on time. The salmon is stuffed with a creamy spinach and garlic mixture, pan seared and then served with a simple shallot and lemon sauce. Don't be intimidated by the stuffed salmon, it really couldn't be easier to do! When slicing into each fillet start in the thickest part and be sure to only cut 3/4 of the way through, anything larger will cause the fillet to split and filling to come out everywhere. I would recommend serving this with creamy cauliflower mash, green beans or asparagus.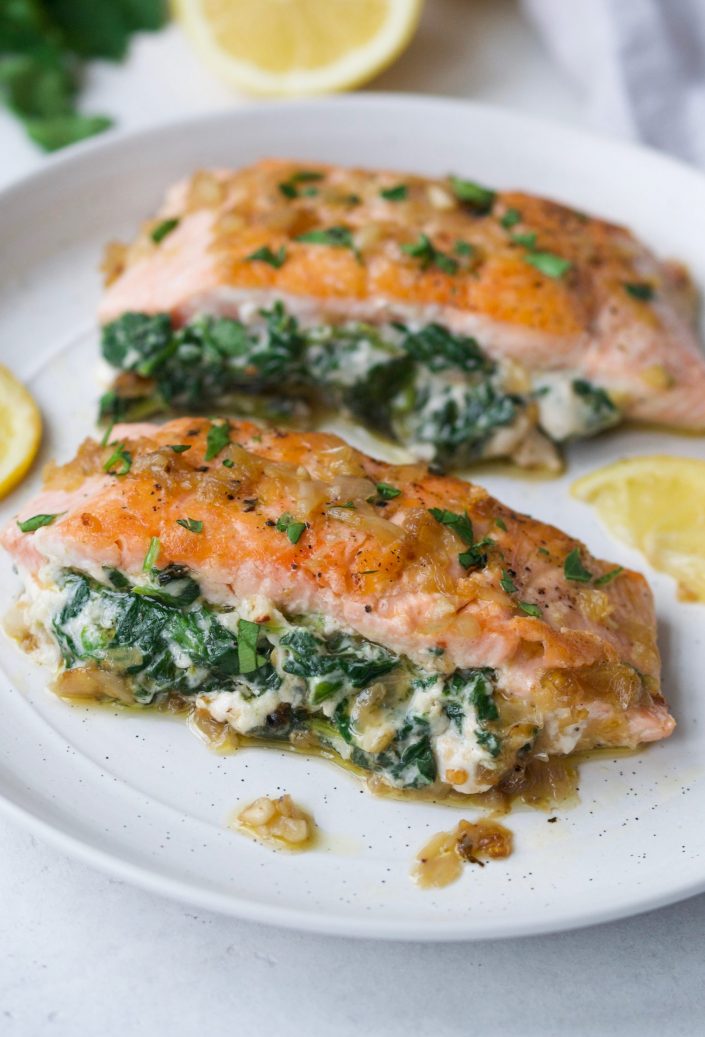 ---
Other Salmon Recipes on the site:
---
If you make this recipe let me know in the comment section below, I would love to hear what you think or take a photo and tag me (@everylastbite_) on Instagram, I love seeing your photos!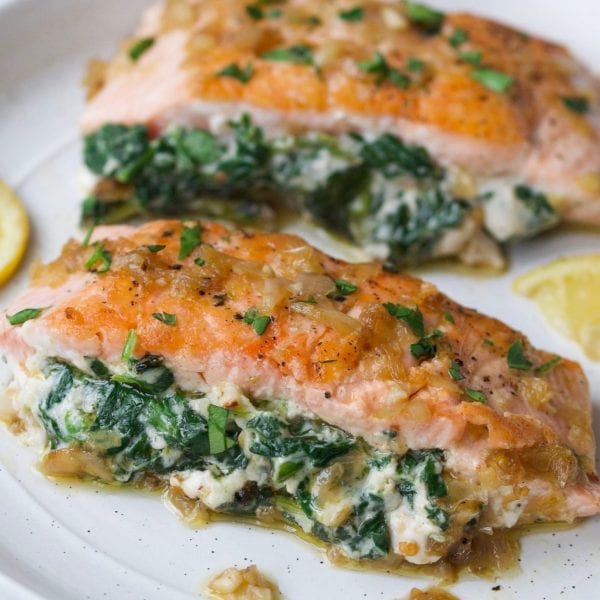 Ingredients
4 large salmon fillets
1/4 cup mayonnaise
3 cups raw spinach
1 clove garlic crushed
pinch chili flakes
1/4 tsp salt
1/4 tsp pepper
1 1/2 tbsp ghee/butter
1/2 tbsp olive oil
2 shallots finely diced
2 cloves garlic crushed
1 tbsp lemon juice
1 tbsp chopped parsley
2 wedges lemon
Instructions
Place the salmon fillets on a cutting board and carefully cut a pocket in the fillet, being sure not to go more than 3/4 of the way through.

Add the spinach to a large skillet with a splash of water and cook on medium heat for just a minute until the spinach has wilted. Remove from the heat and place the cooked spinach in paper towel to remove any excess liquid. Roughly chop the cooked spinach.

In a bowl stir together the mayonnaise, garlic, chopped spinach and chili flakes. Spoon the mixture into each of the pockets in the salmon

Season the salmon with salt and pepper. Heat the oil and 1/2 tbsp ghee/butter in a non stick skillet on medium high heat. Place the salmon fillets in the pan with the skin facing up and leave them to cook for 3-4 minutes until golden and gently flip and cook for another 3 minutes on the other side. Transfer the cooked salmon to a plate.

Add the remaining 1 tbsp of butter/ghee to the pan along with the chopped shallots and garlic and leave to cook for 4-5 minutes until the shallots begin to soften. Reduce the heat to medium and stir in the lemon juice. Return the salmon fillets to the pan and leave them to cook for another 2-3 minutes until heated through.

Before serving spoon the sauce over the salmon fillets and garnish with chopped parsley and slices of lemon.