Salmon, Avocado & Radish Salad with Creamy Dill Dressing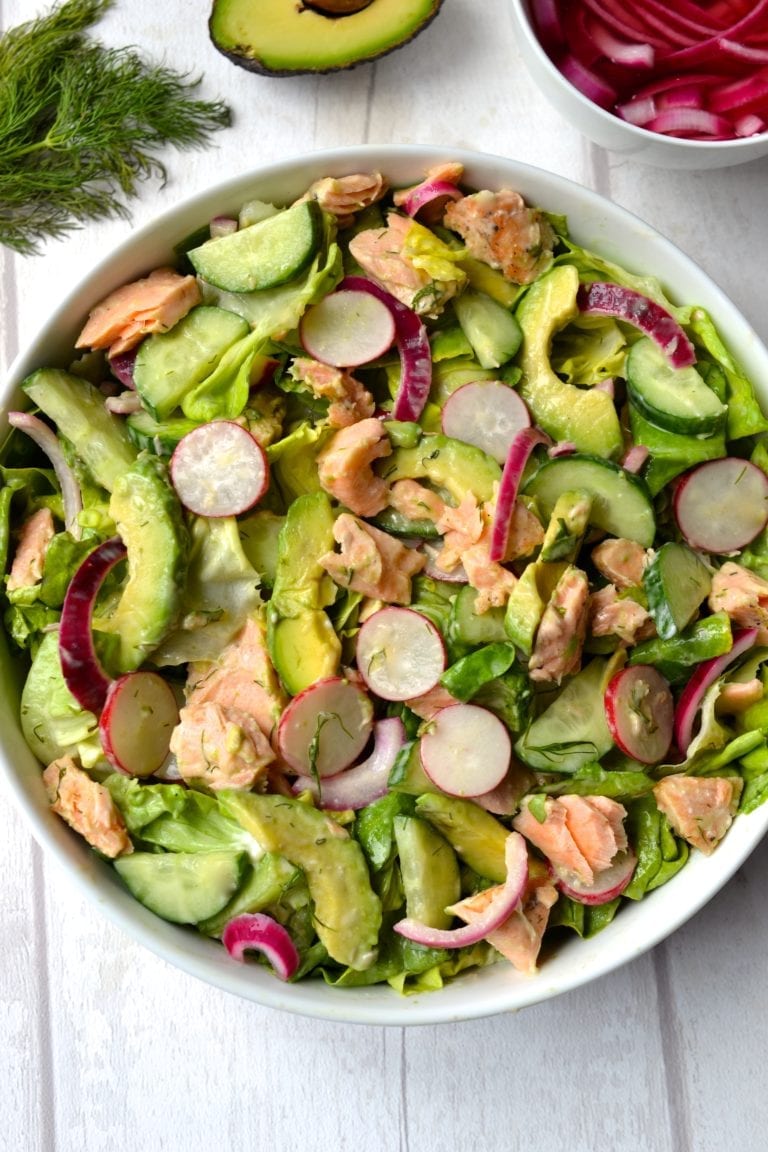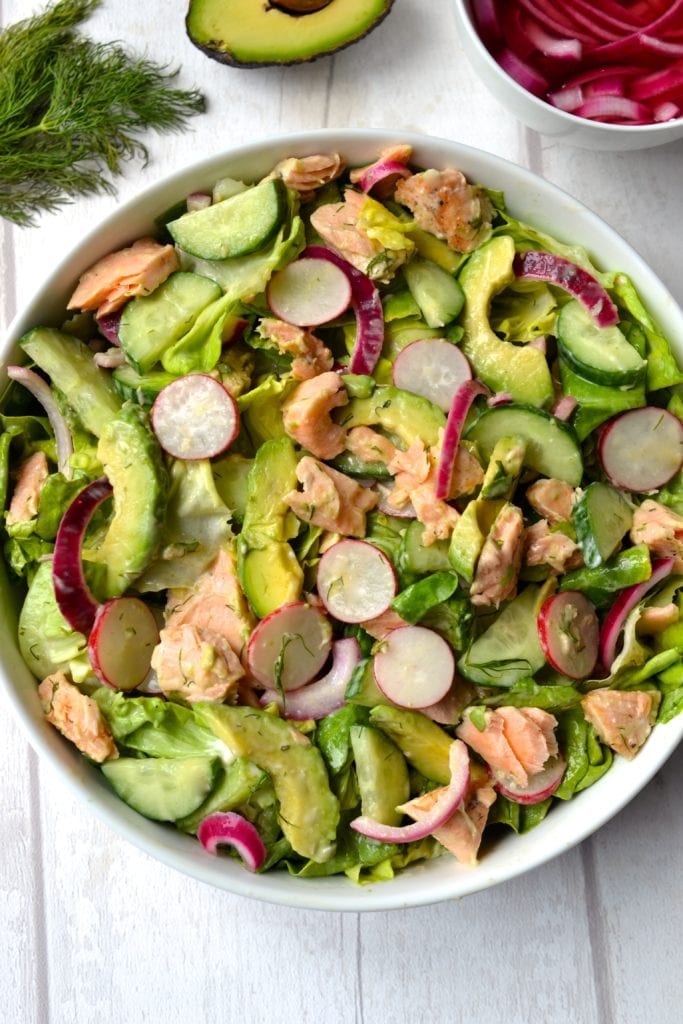 This salad has been on my need to make list for 3 years! At this point I can't even remember where the inspiration came from but I am so happy that I finally got around to making it!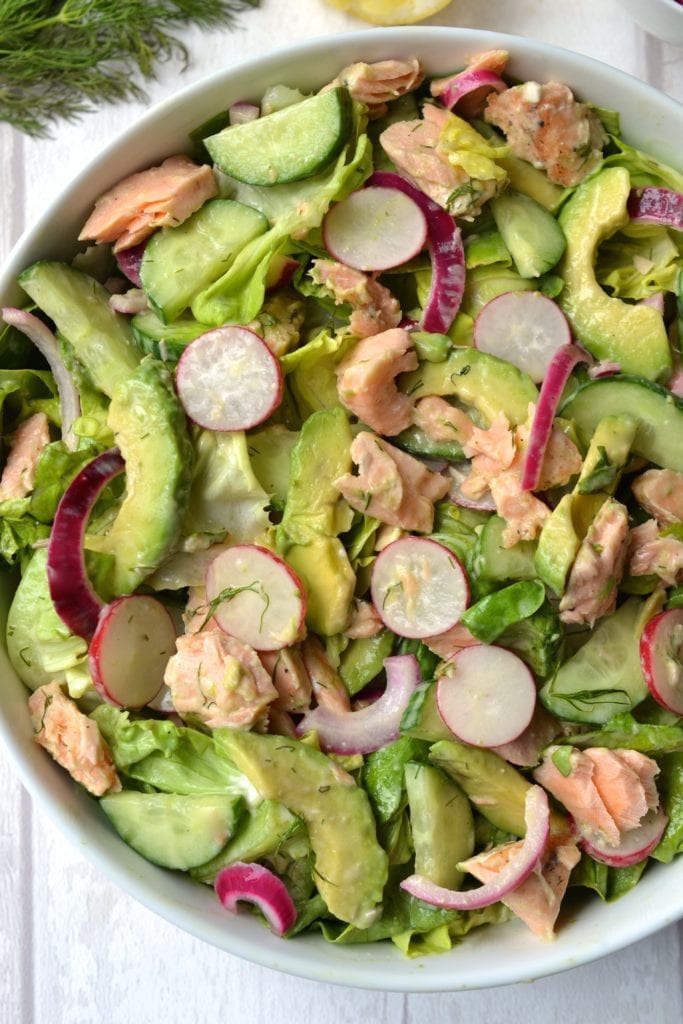 There is a lot of bold flavour and texture in this salad. Spicy radishes, creamy avocado, pickled onions and flaky salmon, all topped in a creamy dill dressing. It's light, refreshing and delicious!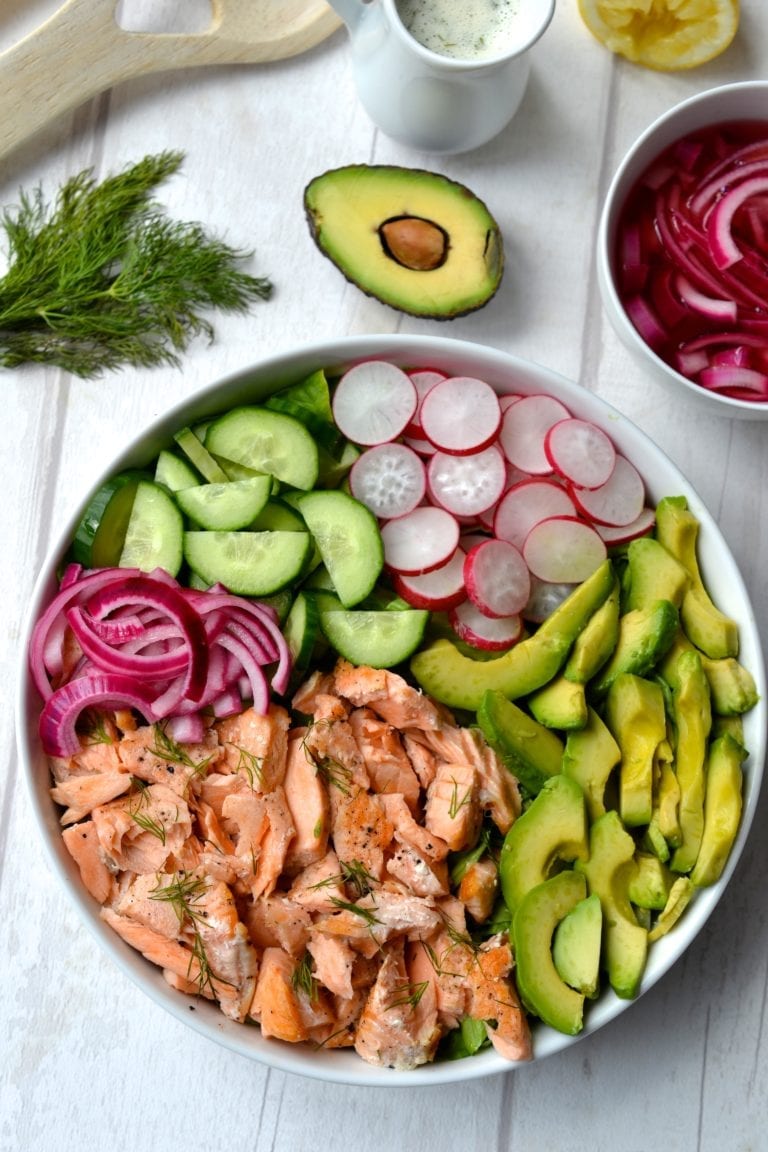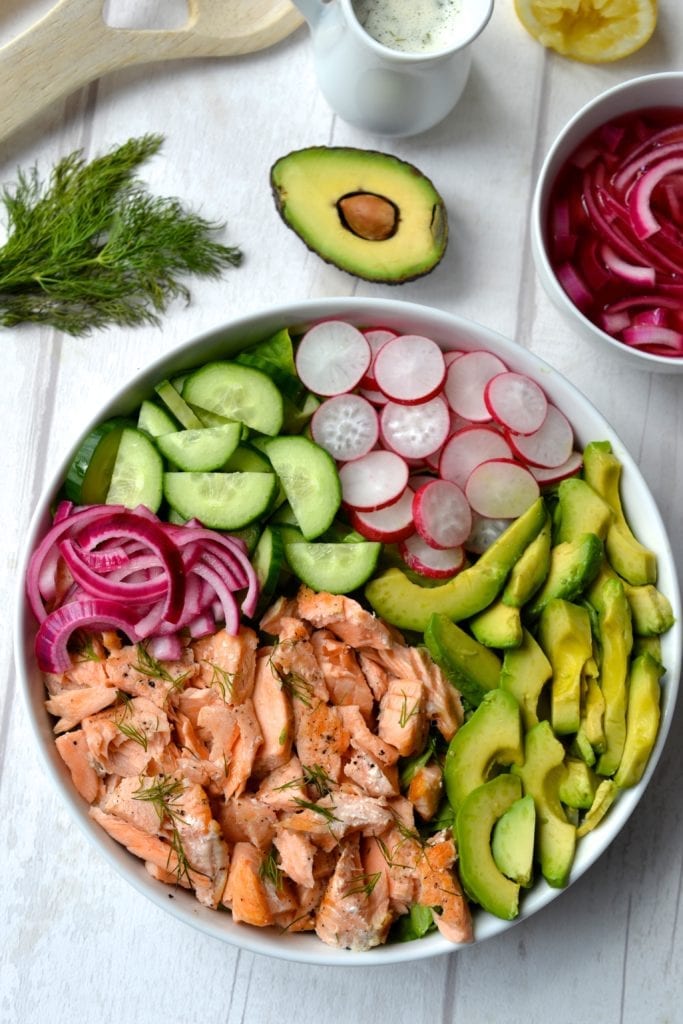 This would be a great salad to serve to guests as a light lunch during the warm summer months as it is filling enough to stand on its own. Because the salmon is served cold, you could cook it up to a day in advance and simply break it into flakes before serving.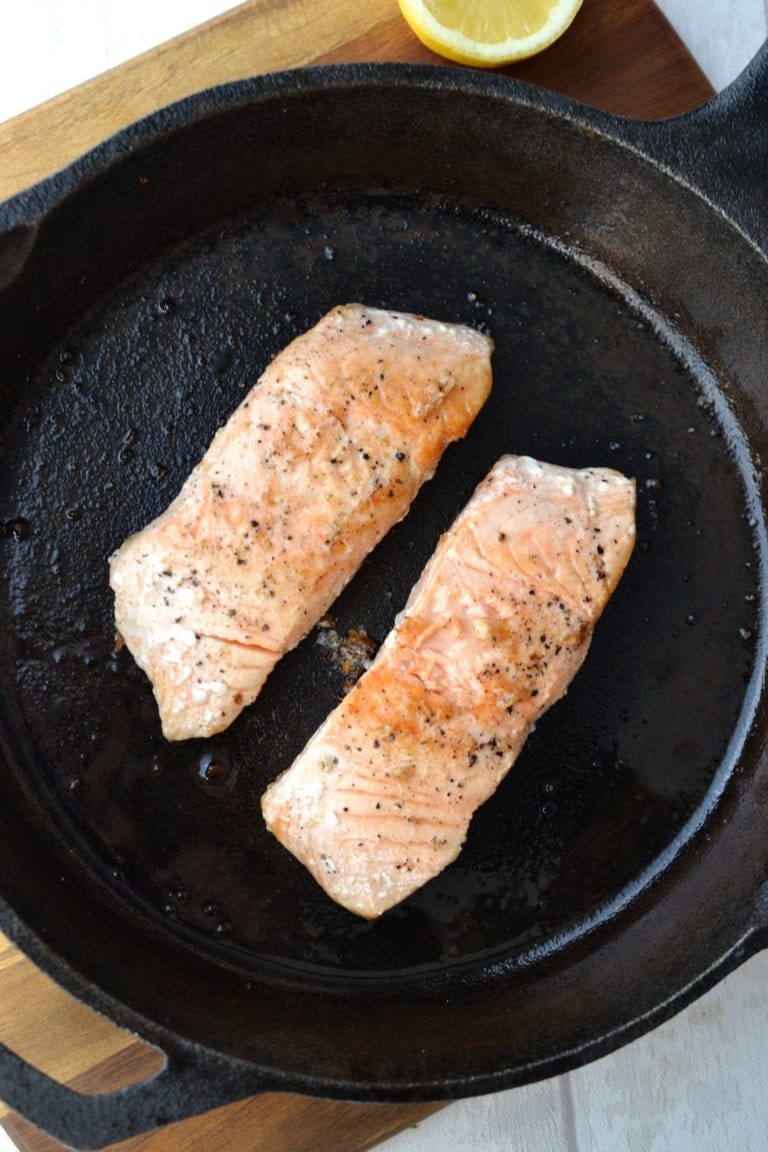 Alternatively you can also swap the flaked salmon for smoked salmon if you prefer, although I personally think the flavour is a bit strong for this salad.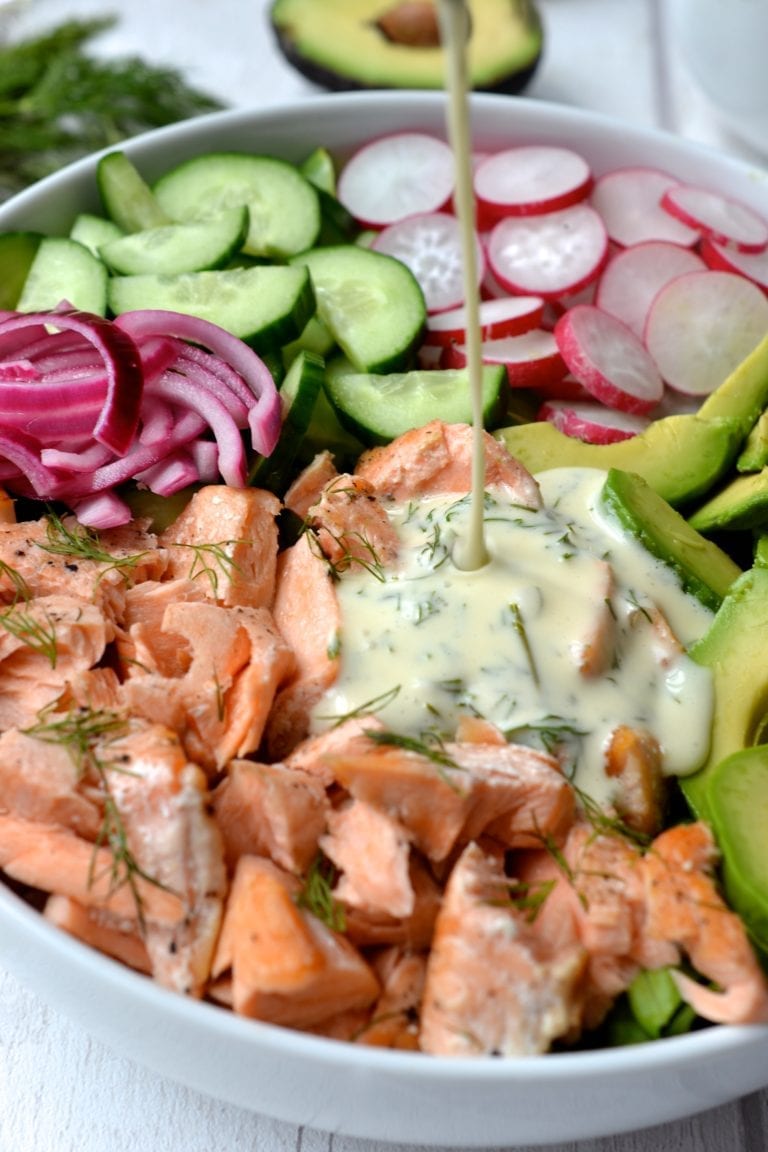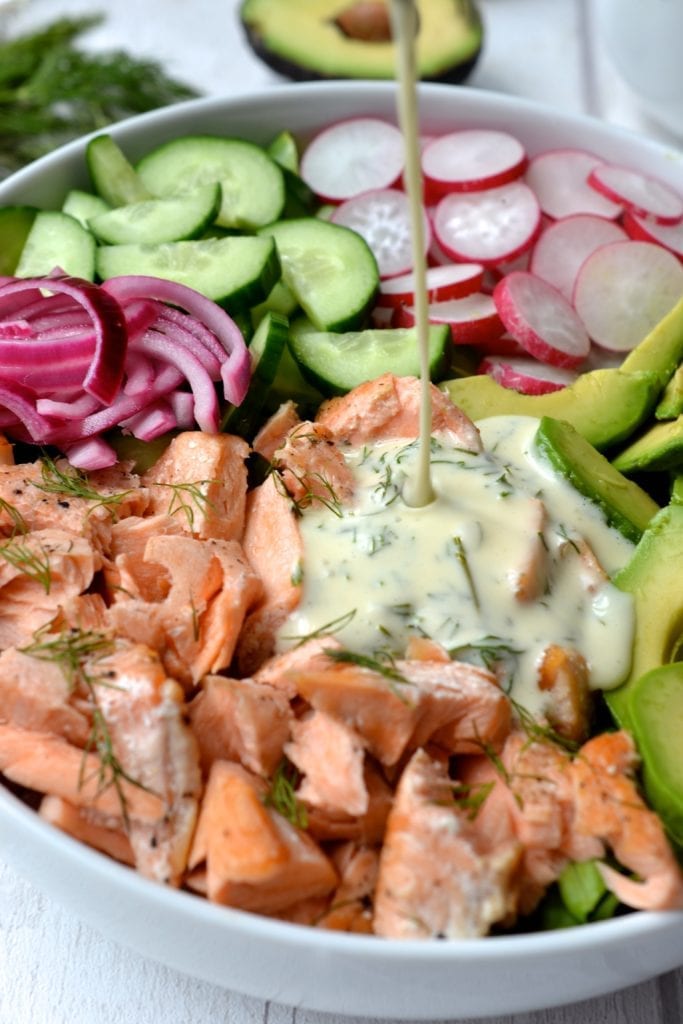 The dressing can be made a day or two in advance, but I don't recommend adding it to the salad until right before serving so that the lettuce stays fresh and crisp. Also the avocado should be added at the very end so that it maintains its vibrant green colour.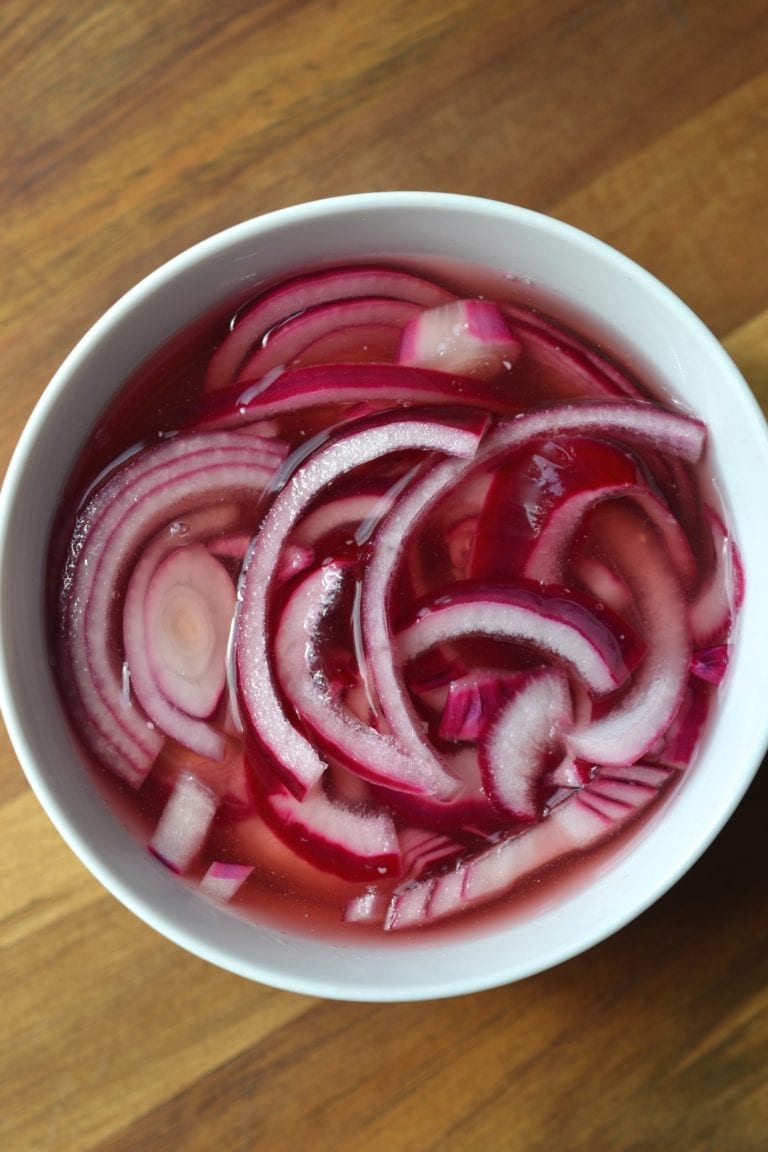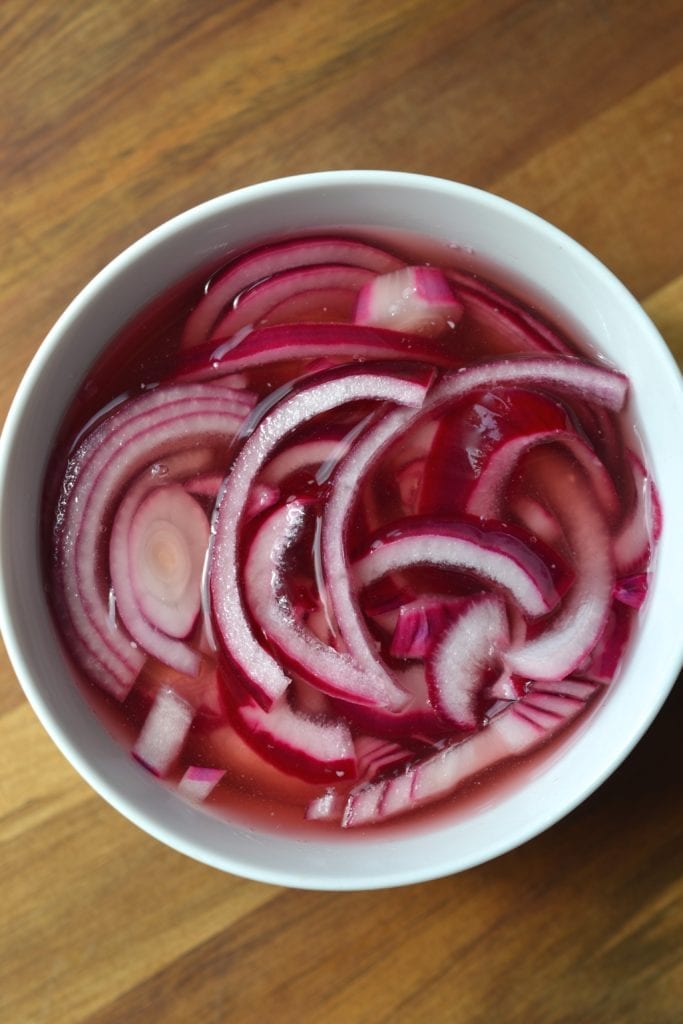 The pickled onions take just 30 minutes to make and are so worth the effort, don't skip them as the acidic kick of flavour they add to each bite is so good!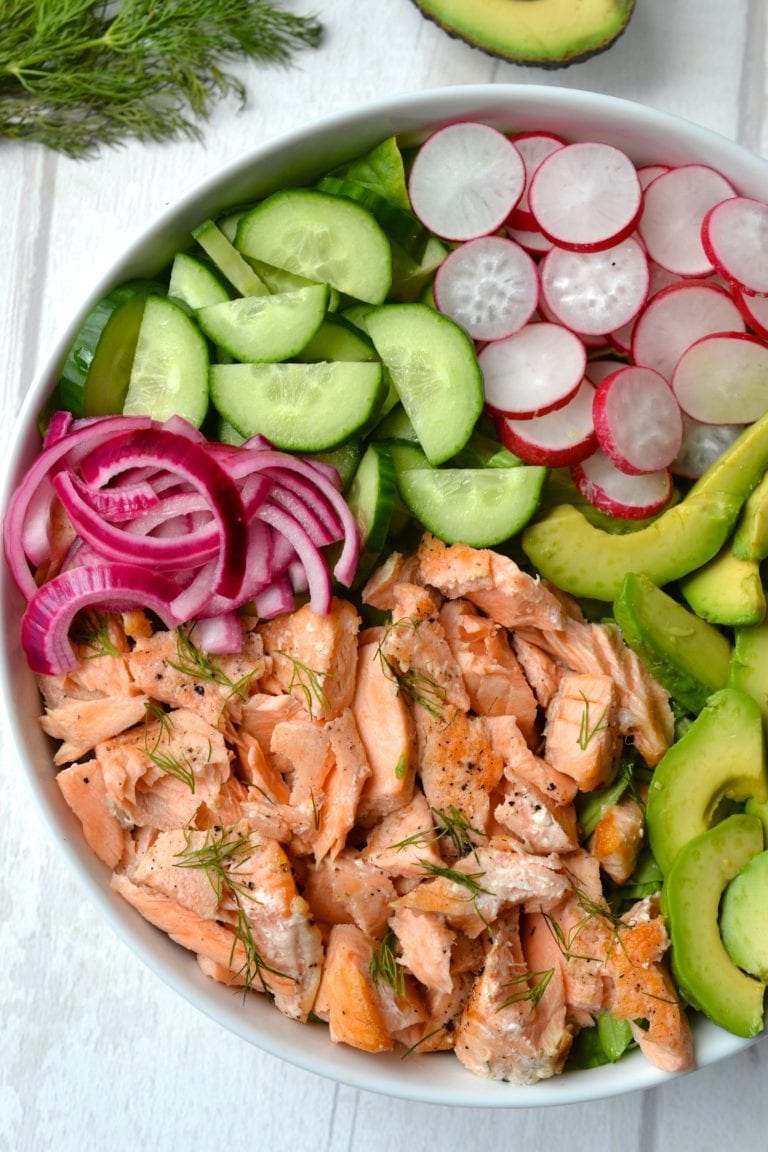 This is the perfect salad for summer that I think you guys are going to love! Let me know if you give it a try!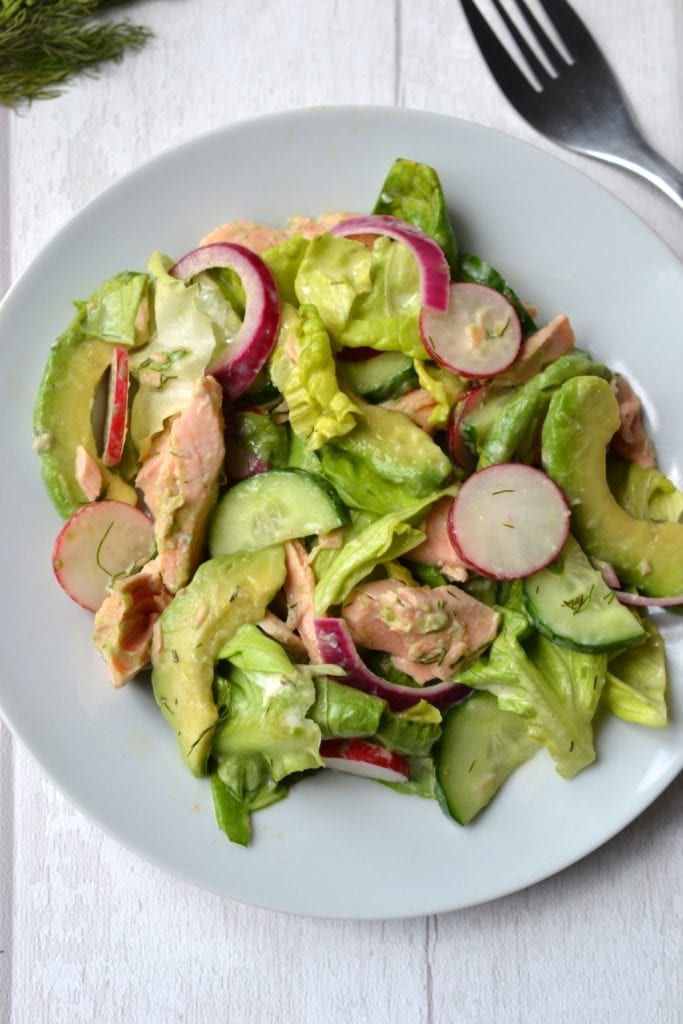 If you make this recipe let me know in the comment section below, I would love to hear what you think or take a photo and tag me (@everylastbite1) on Instagram, I love seeing your photos!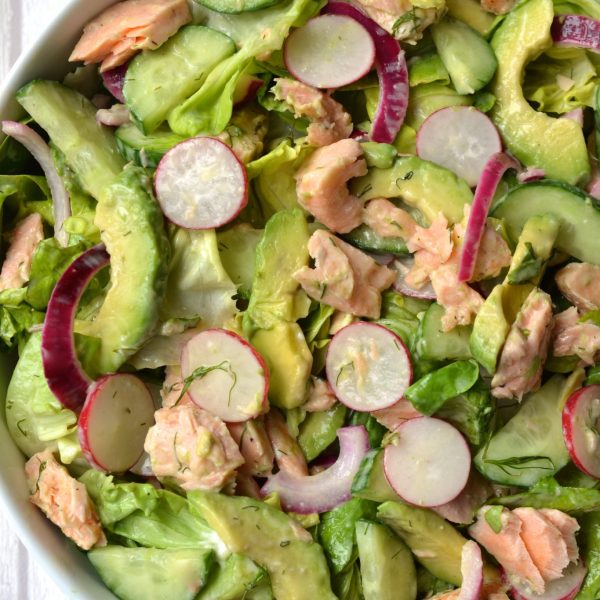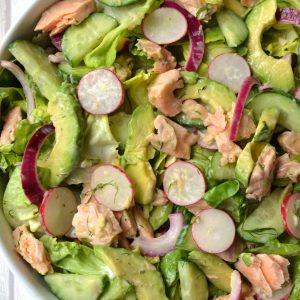 Ingredients
6 cups shredded bibb lettuce (or romaine)
1 large avocado cut into thin slices
5 radishes washed, trimmed and cut into thin slices
1/2 large cucumber cut into thin slices
Pickled Onions
1 medium red onion thinly sliced
1/2 cup apple cider vinegar
1/2 cup water
1/4 tsp salt
1/2 tsp black peppercorns
Creamy Dill Dressing
1/3 cup mayonnaise
1 tbsp apple cider vinegar
1 tsp lemon juice
1 clove garlic
2 tbsp fresh dill
1 tbsp fresh parsley
1/4 tsp salt
1/2 tsp pepper
Salmon
300 grams salmon fillet
1 tbsp olive oil
pinch salt & pepper
Instructions
Pickled Onions
In a small sauce pan on high heat combine the apple cider vinegar, water, salt and peppercorns and bring to a boil. Place the thinly sliced red onion in a bowl and once the liquid is boiling, pour it into the bowl. Let the onions marinate for at least 20 minutes.
Creamy Dill Dressing
Combine all of the dressing ingredients in a blender and blend until smooth. Taste and adjust the flavour with more salt or lemon depending on your preferences. Store in the fridge until ready to use.
Salmon
Heat the olive oil in a pan on medium heat. Season the salmon with the salt and pepper and then cook the salmon for 3 minutes per side until cooked through. Remove the salmon from the pan, place on a board and break into flakes using a fork.
Salad
Place the shredded lettuce in a bowl, top with the radishes, sliced avocado, cucumber, flaked salmon, pickled onion and toss with the dressing right before serving.