Mediterranean Chicken Salad
This Paleo and Whole30 Mediterranean Chicken Salad is a great 30 minute recipe you can throw together with chicken and a few pantry items. Cubes of chicken are tossed with chopped canned artichokes, sun-dried tomatoes, roasted red peppers and olives and coated in a deliciously creamy roasted garlic and balsamic vinegar dressing. Make a big batch of this chicken salad and enjoy it for lunch or a quick meal over 3-4 days.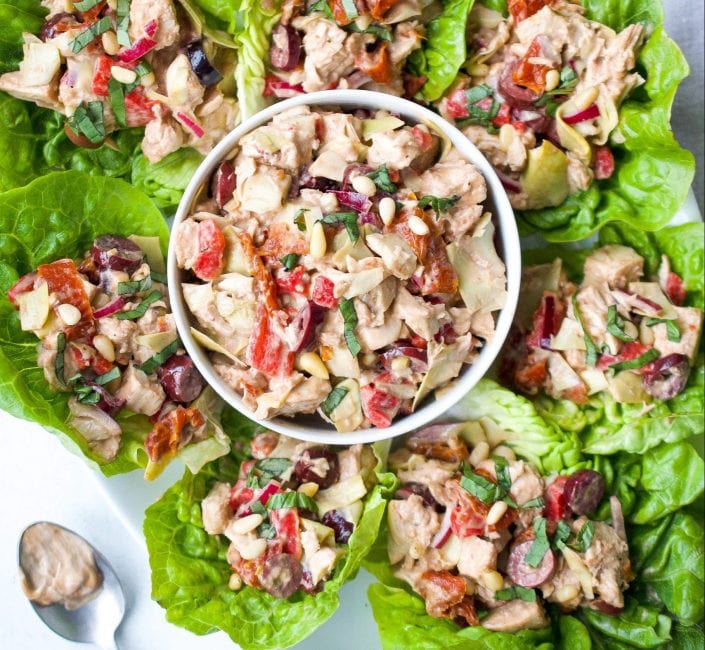 With fresh produce becoming harder to find in recent weeks thanks to Corona virus and unnecessary hoarding, I wanted to share an easy easy using primarily non perishable ingredients that you might already have in your pantry.
This Chicken Salad takes just 30 minutes to make and is packed with bold Mediterranean flavours including sun dried tomatoes, olives and roasted peppers. The dressing is made with just 3 ingredients, mayonnaise, balsamic vinegar and an entire head of roasted garlic that gives it a rich caramelized flavour.
This is a great salad to have ready made in your fridge. It will last for up to 4 days in the fridge and can be spooned into lettuce cups for a quick and easy meal.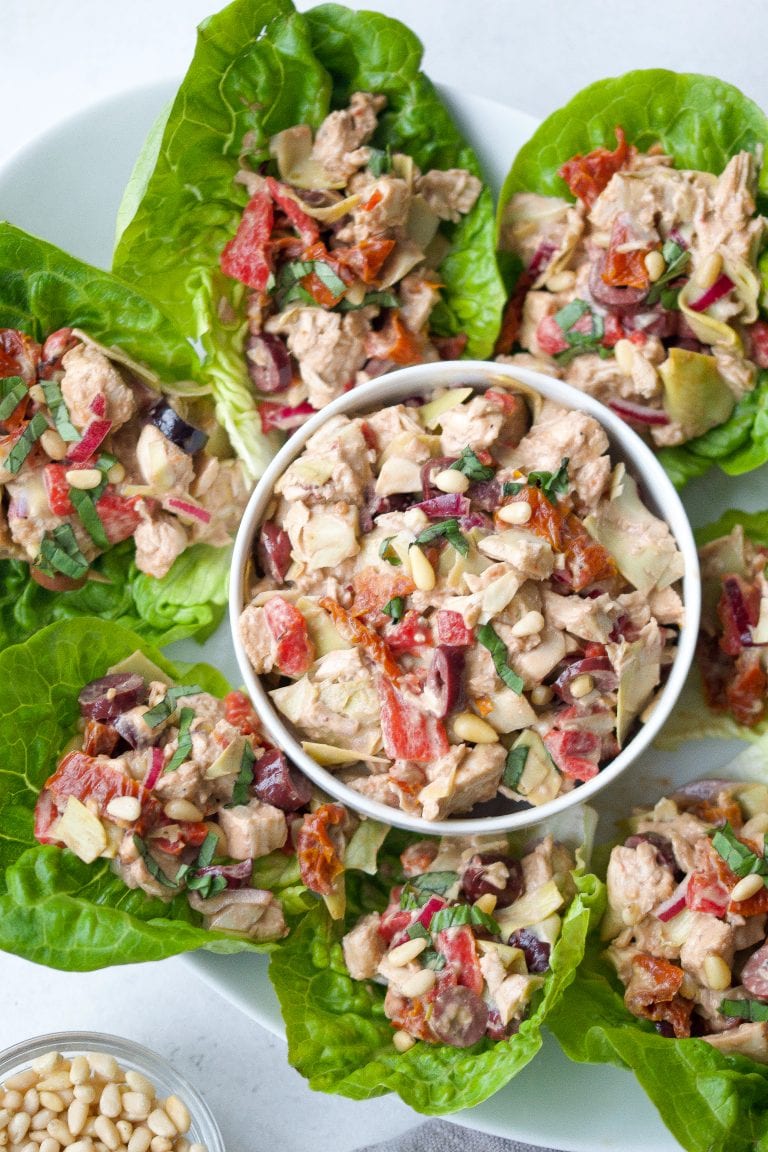 Ways to eat this Mediterranean Chicken Salad
Spooned into lettuce cups (I find baby gem, bibb or butter lettuce works best)
Added onto a big salad
Served on slices of cucumber as a one bite canape
Spooned into slices of raw bell pepper or celery as a healthy snack
Served in a bowl and eaten by the spoonful as a healthy light lunch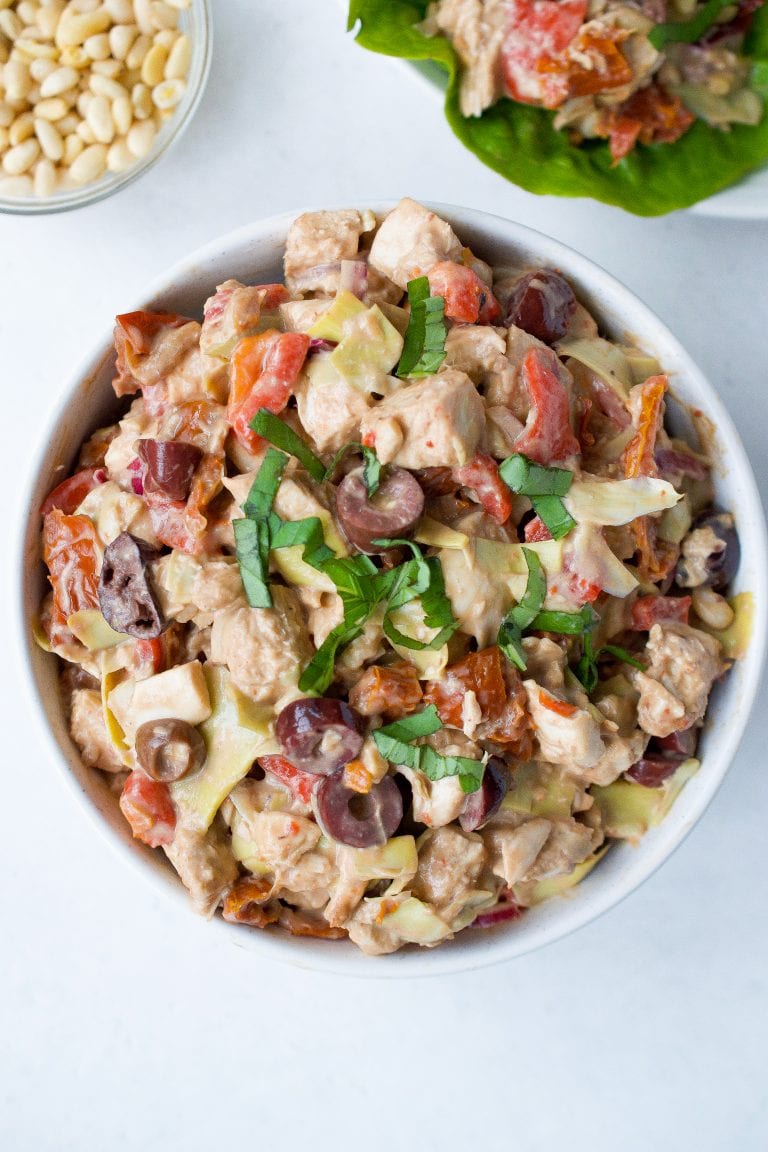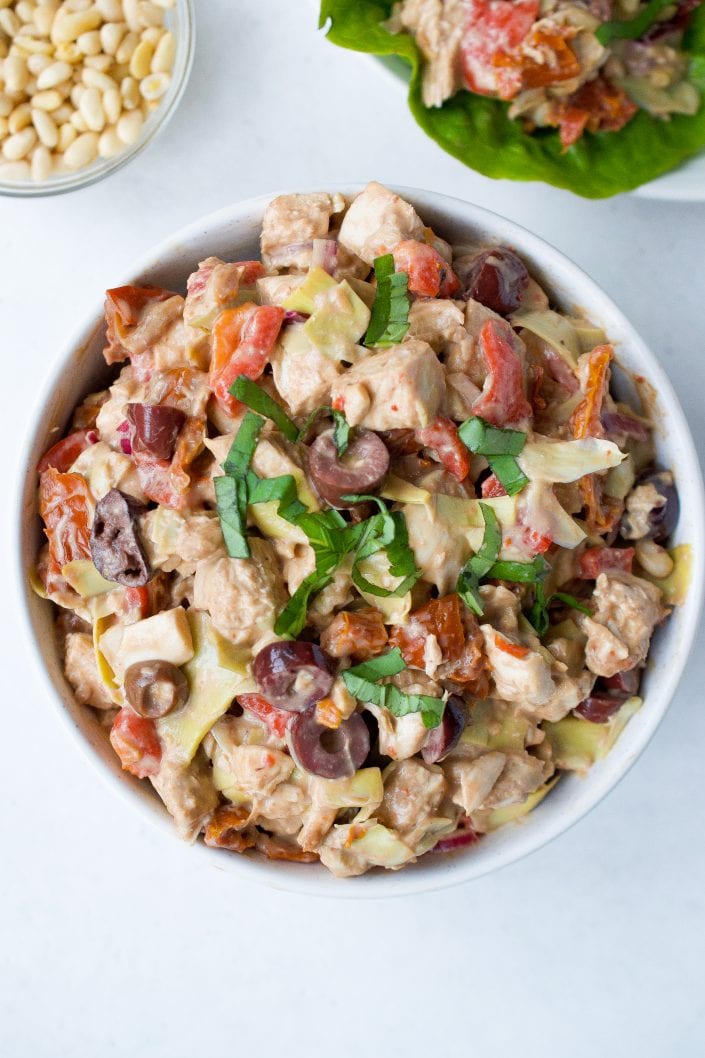 Not sure what to do with your opened jar of Sun Dried Tomatoes? Here are a few other recipes from the site that use Sun Dried Tomatoes that you might enjoy:
---
If you make this recipe let me know in the comment section below, I would love to hear what you think or take a photo and tag me (@everylastbite_) on Instagram, I love seeing your photos!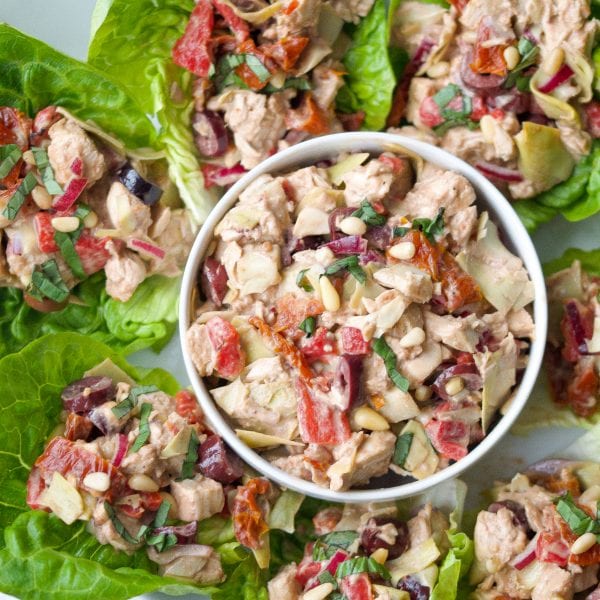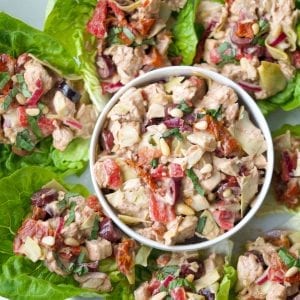 Mediterranean Chicken Salad
Ingredients
2 cups diced cooked chicken (approx 2 breasts)
1 bulb garlic
1 red bell pepper (or approx 1/3 cup diced roasted red peppers)
1/3 cup halved pitted kalamata olives
1/3 cup roughly chopped sundried tomatoes
3/4 cup roughly chopped artichoke hearts
2 tbsp diced red onion
1/3 cup mayonnaise
2 tbsp balsamic vinegar
1/4 tsp pepper
1/2 tsp salt
2 tbsp pine nuts
2 tbsp chopped basil
1 head bibb, baby gem or butter lettuce for serving
Instructions
Preheat the oven to 400º Fahrenheit

Separate each clove of garlic from the bulb (leaving the skins on) and place them on a baking tray. If making homemade roasted bell peppers, deseed the pepper, cut it into quarters and place on the baking tray. Drizzle the garlic and pepper slices with olive oil and bake in the oven for 20-25 minutes until the peppers are charred and the garlic cloves have softened

While the garlic and peppers are cooking, chop the rest of the ingredients (sun dried tomatoes, red onion, artichokes & olives) and add them to a bowl along with the chopped chicken.

Once the garlic is soft and caramelized, squeeze the garlic out of each clove and into a blender. Add in the mayonnaise, balsamic vinegar, salt and pepper and blend until completely smooth.

Leave the roasted bell peppers to rest for a few minutes before peeling off the outer skins and chopping the peppers into small pieces. Add them to the bowl with the other ingredients

Pour the dressing over the mixture and toss to ensure everything is well coated. Spoon the chicken salad into lettuce cups and garnish with pine nuts and chopped basil before serving.