4-Ingredient Moroccan Omelette
This 4-Ingredient Moroccan Omelette is a quick and easy 10 minute breakfast that is a cross between shakshuka and a traditional omelette. You can make it using just a few basic ingredients that you  likely already have in your kitchen.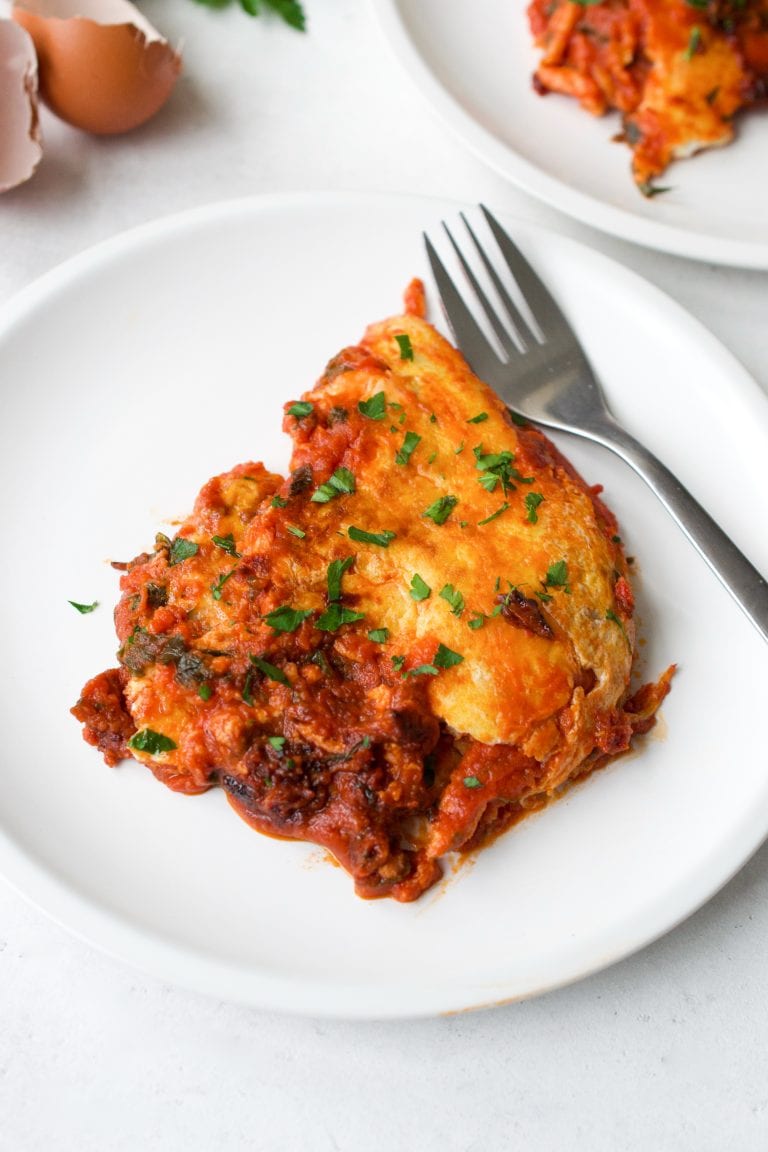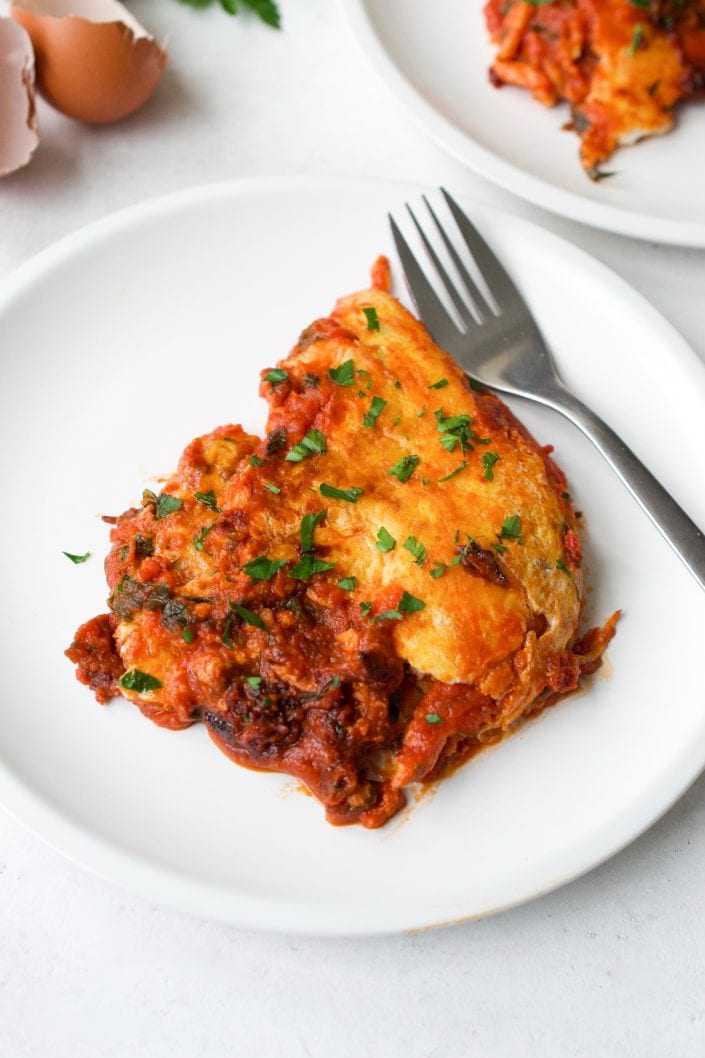 As someone who is not a big fan of the texture of eggs, I am always looking for new ways to disguise them in dishes. This simple 4-ingredient dish (5 ingredients if you are being picky and count the olive oil), is made like an omelette, but has a wonderful rich tomatoey flavour like shakshuka.
Due to my aversion to eggs, I like to make this omelette quite saucy, but you can play around with the quantities by adding in more eggs, or even more sauce depending on what you prefer. This recipe is a great recipe to make during times like this when you might not have access to a lot of food, because you can switch up the ingredients depending on what you have on hand.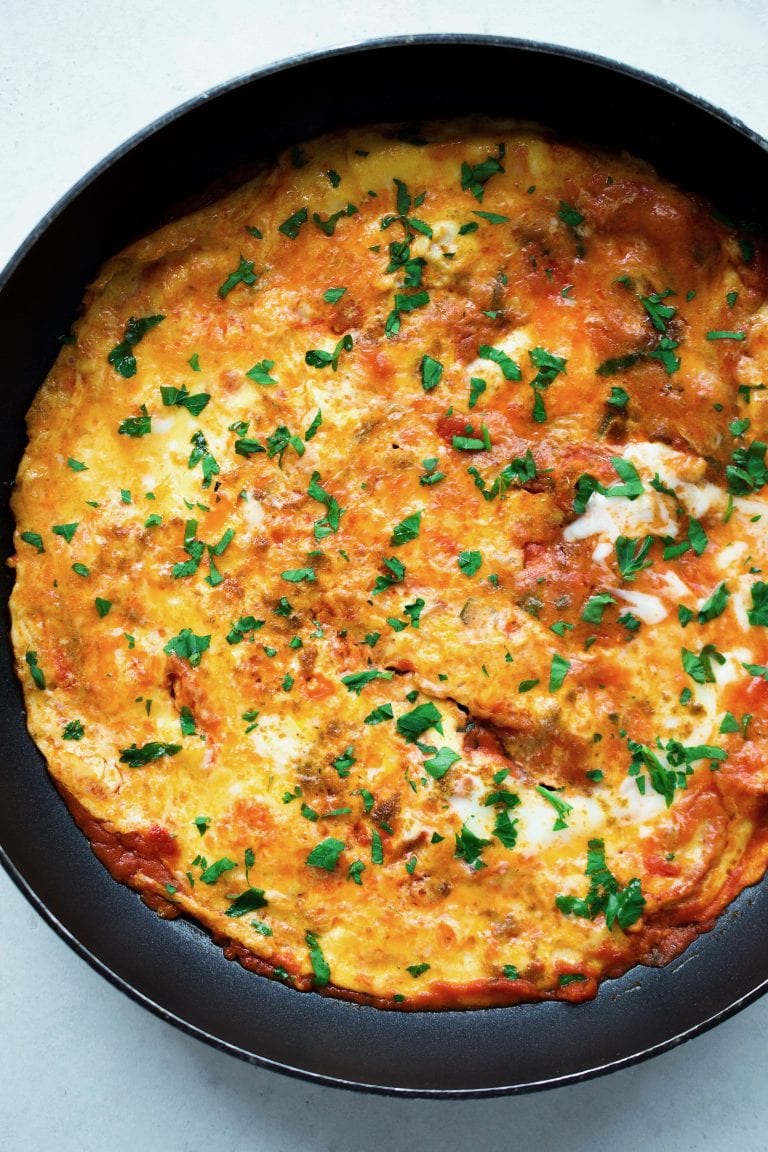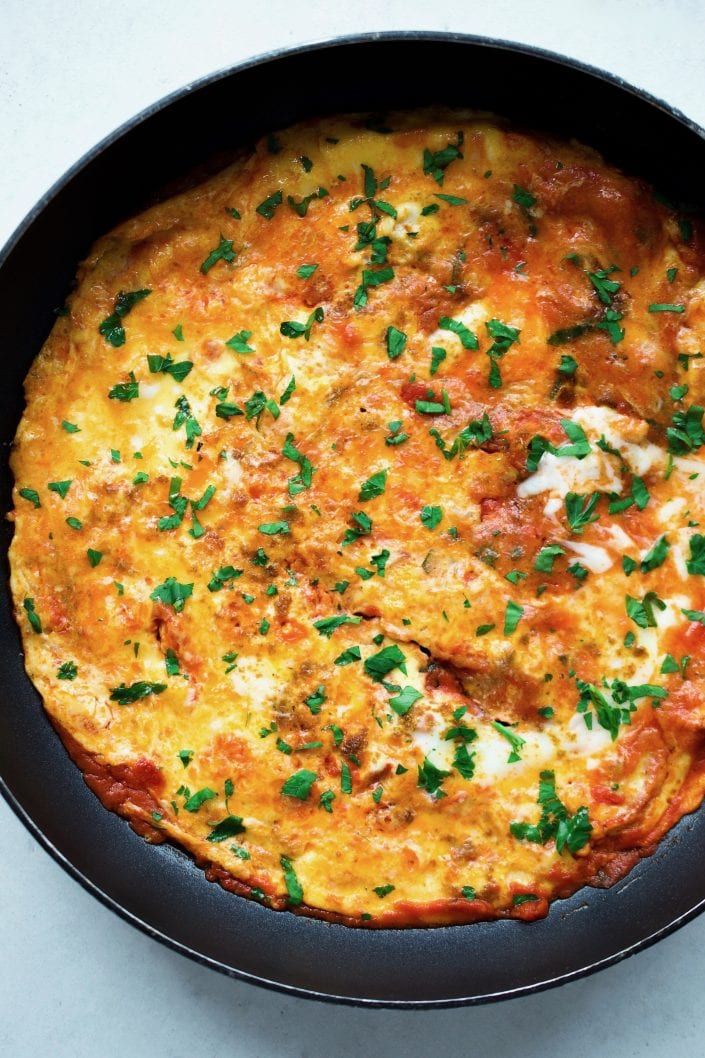 Switch things up depending on what ingredients you have
Add in protein: Try adding in sliced sausage, crumbled chorizo, ham or ground pork, beef or chicken
Don't have parsley?  While parsley adds a nice freshness to the eggs, you can swap it out for another herb such as cilantro, basil or oregano. 
I want veggies! Try adding in chopped spinach, sauteed mushrooms, eggplant or onions, olives or roasted peppers.
Tomato Sauce vs Canned Tomatoes?  Either works! I personally prefer to use tomato sauce, but canned chopped tomatoes would also work well. You could add leave the chopped tomatoes chunky, or quickly puree them in the blender to get a smooth consistency.
The measurements don't have to be exact: Don't worry if you don't have enough sauce, or one extra egg, this is truly a foolproof dish to make so you can adjust the tomato sauce to egg ratios to suit your preference and what you have on hand.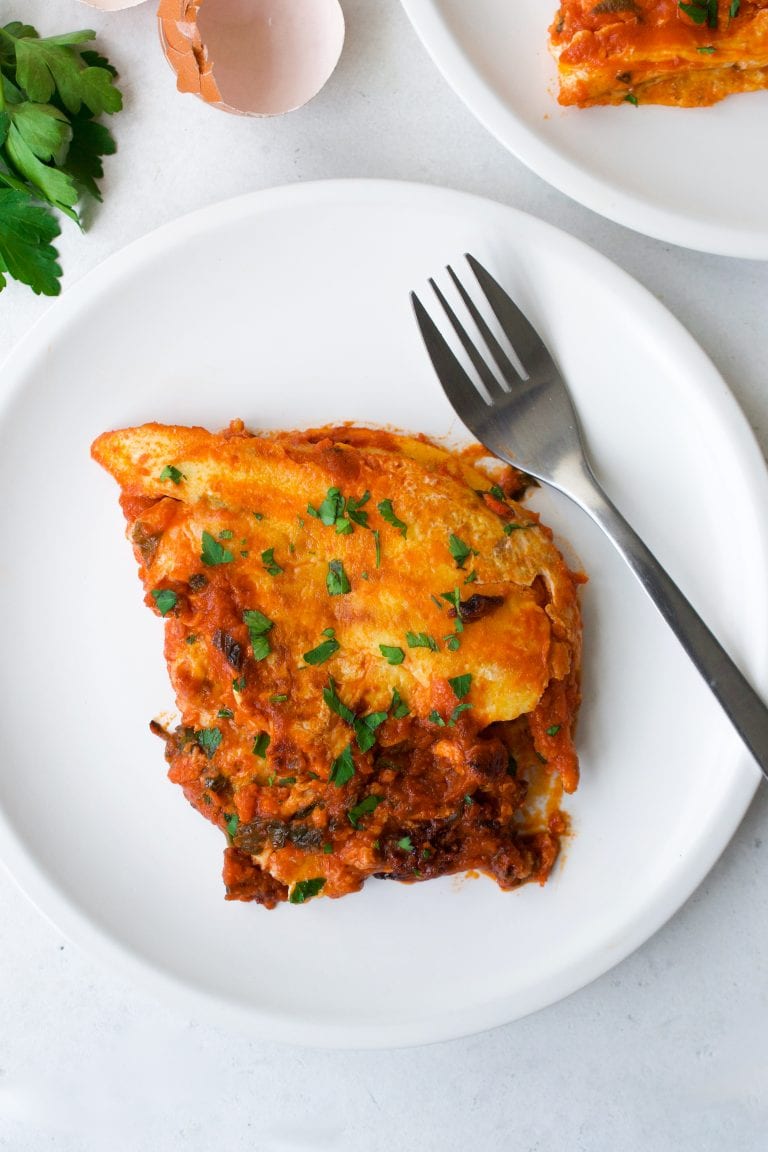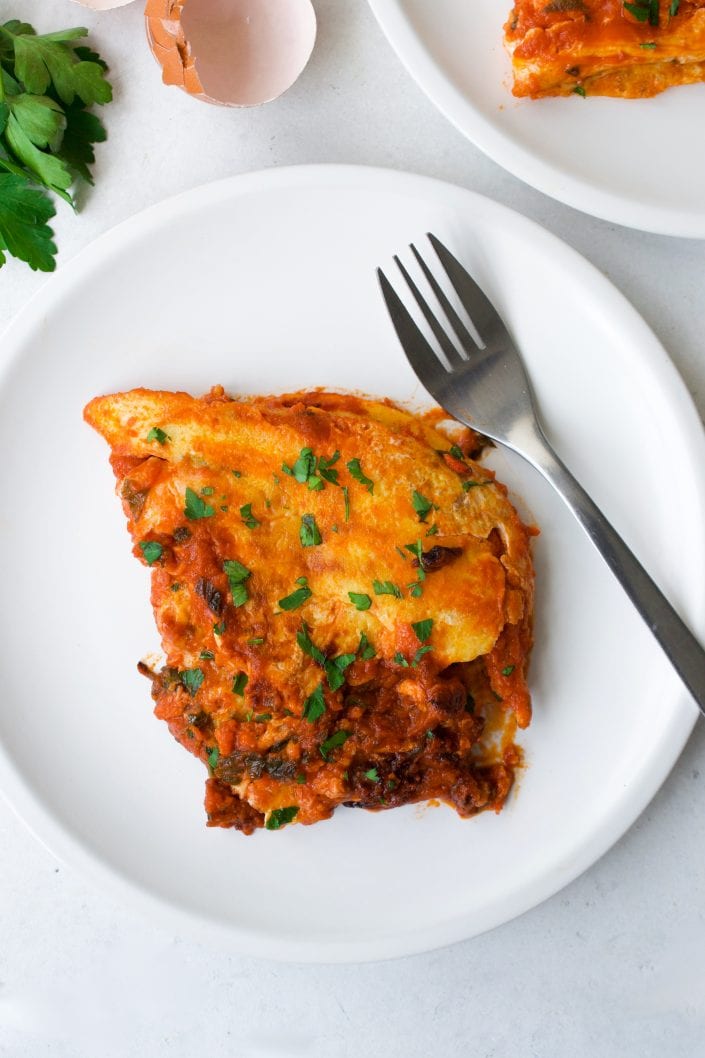 Here are a few other easy egg breakfast recipes that you might enjoy:
---
If you make this recipe let me know in the comment section below, I would love to hear what you think or take a photo and tag me (@everylastbite_) on Instagram, I love seeing your photos!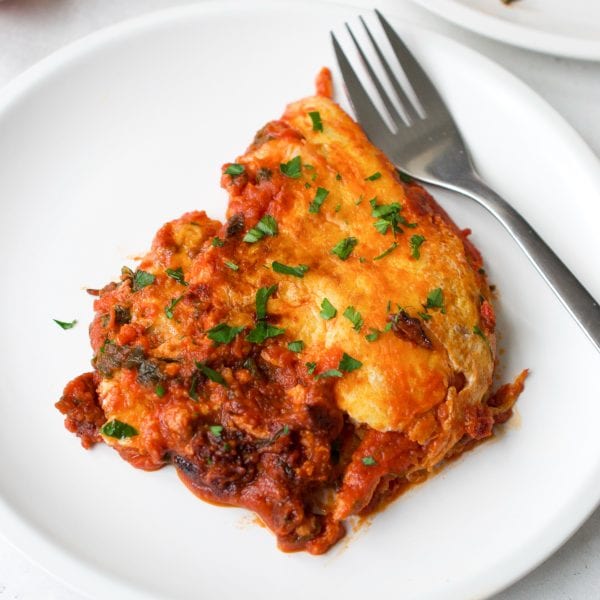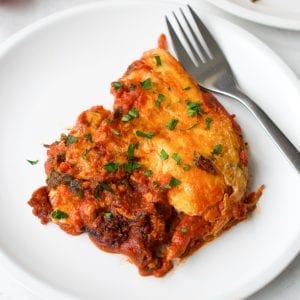 Ingredients
1 tbsp extra virgin olive oil
3/4 cup canned tomato sauce (or pureed canned tomatoes)
1/2 tsp cumin
2 tbsp chopped parsley + 1/2 tbsp for garnish
1/4 tsp salt
1/4 tsp pepper
3 medium eggs
Instructions
Heat the olive oil in a non stick skillet on medium high heat. Once the oil is hot add in the tomato sauce and cook for 1 minute.

Once the tomato sauce is gently bubbling, stir in the cumin, parsley, salt and pepper and leave the sauce to simmer for 5 minutes.

In a bowl whisk the eggs until they are completely broken up. Drizzle the eggs in a circle motion over the sauce so that they are evenly distributed around the entire pan. Cover with a lid and leave to cook for 4 minutes until the eggs have completely set. Run a spatula around the outside of the omelete to loosen the sides if there is any runny egg in the middle, tilt the pan to let move the runny egg to the outside of the pan where it will cook faster.

Once the egg has completely set, slide the omelette onto a plate and garnish with additional parsley before serving