Brussels Sprout & Bacon Hash with Eggs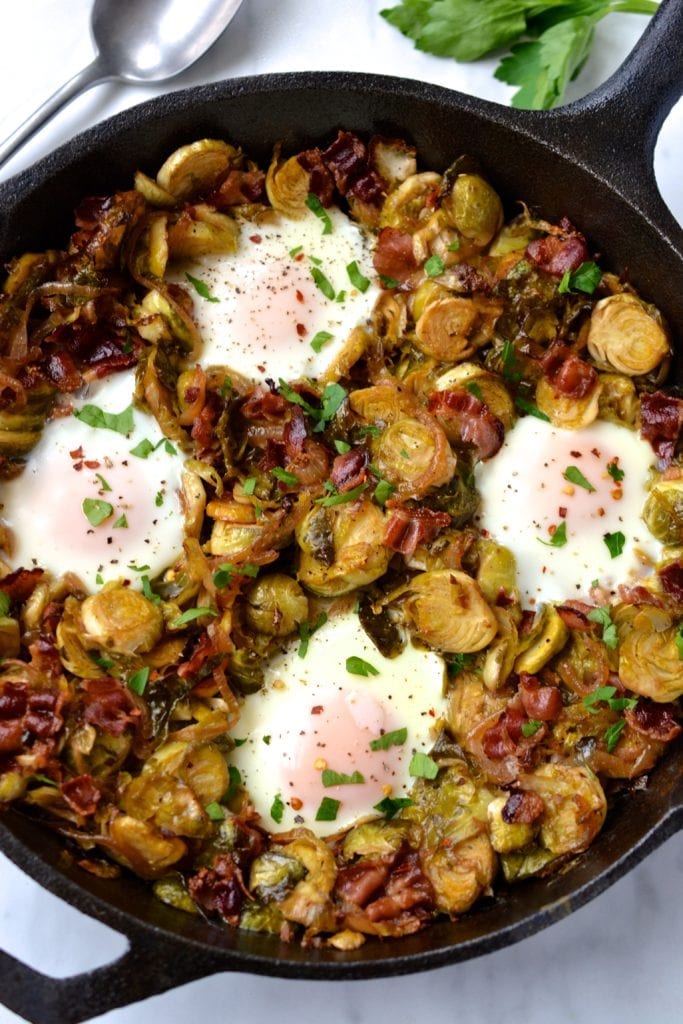 I love putting a bit more effort into my weekend breakfasts, and making something that I wouldn't have the time to prepare during the week, yet is still healthy.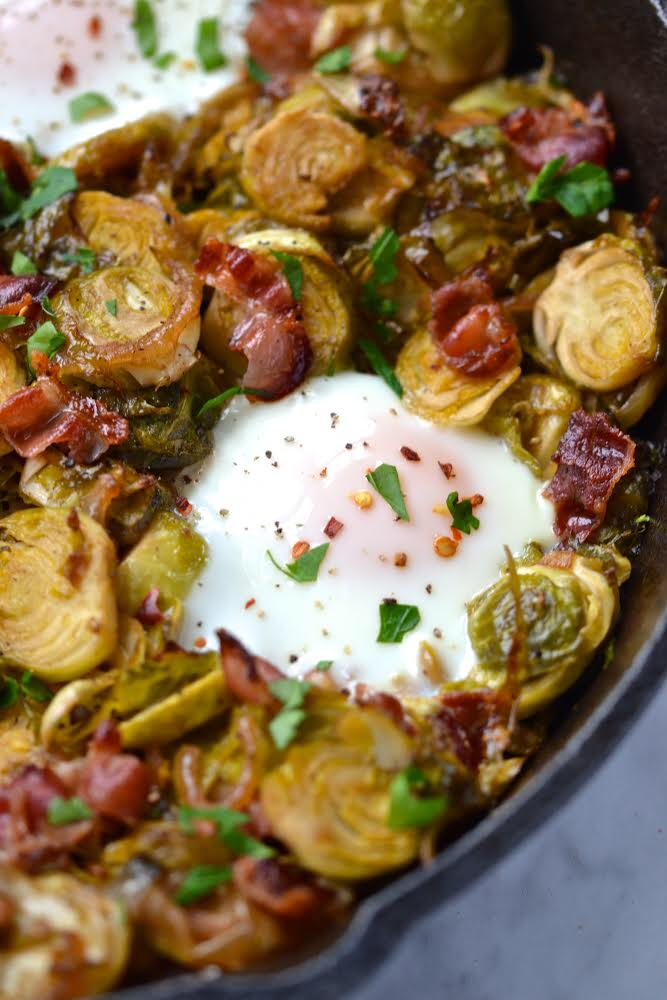 This Brussel Sprout and Bacon Hash is so easy to make, and so delicious. Bacon and brussel sprouts are truly a match made in heaven and I really love how well they go together when the brussel sprouts are shredded.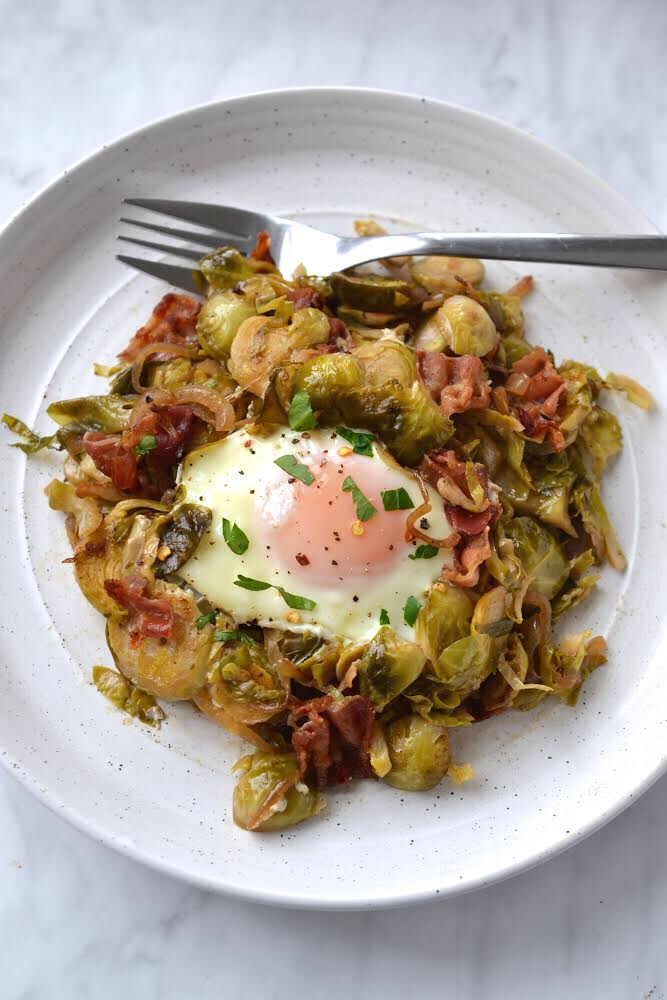 The shredded brussel sprouts get coated in the runny egg yolk and it's just pure breakfast bliss.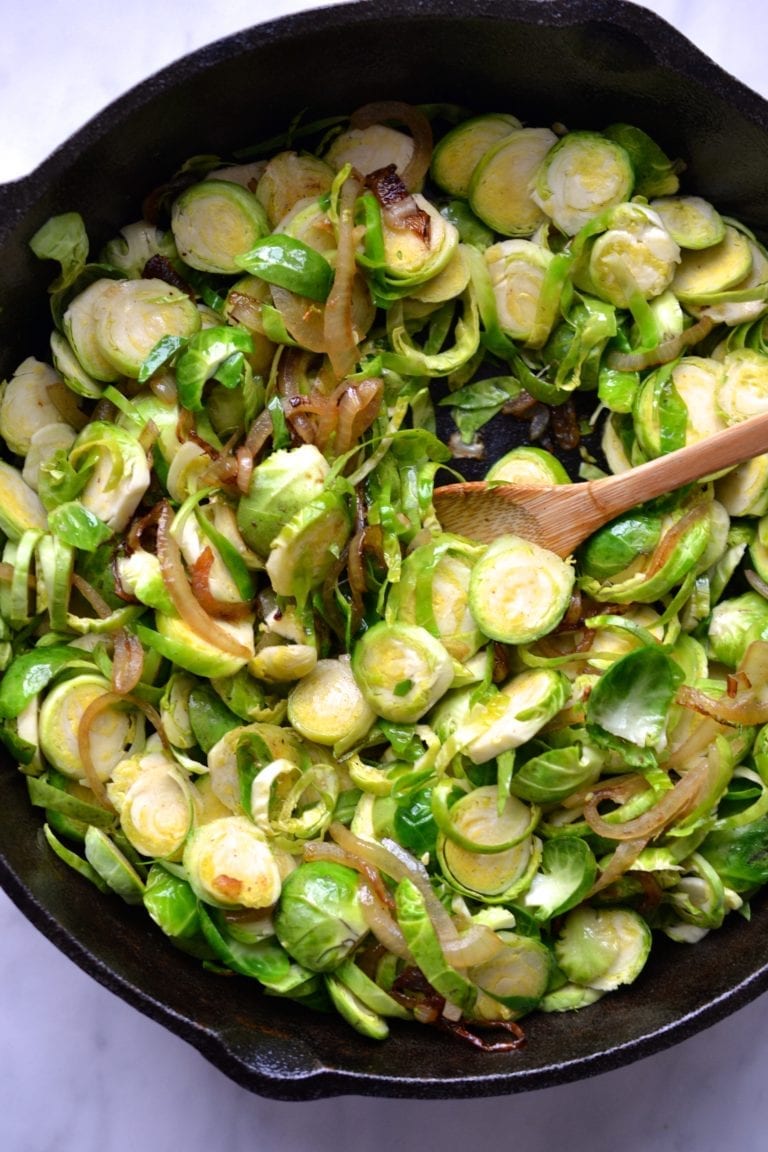 This is one of those breakfast dishes that would work just as well for dinner or lunch. It's also a great dish to serve to guests because the hash can be prepared the day before and then topped with eggs and cooked quickly the following day before serving.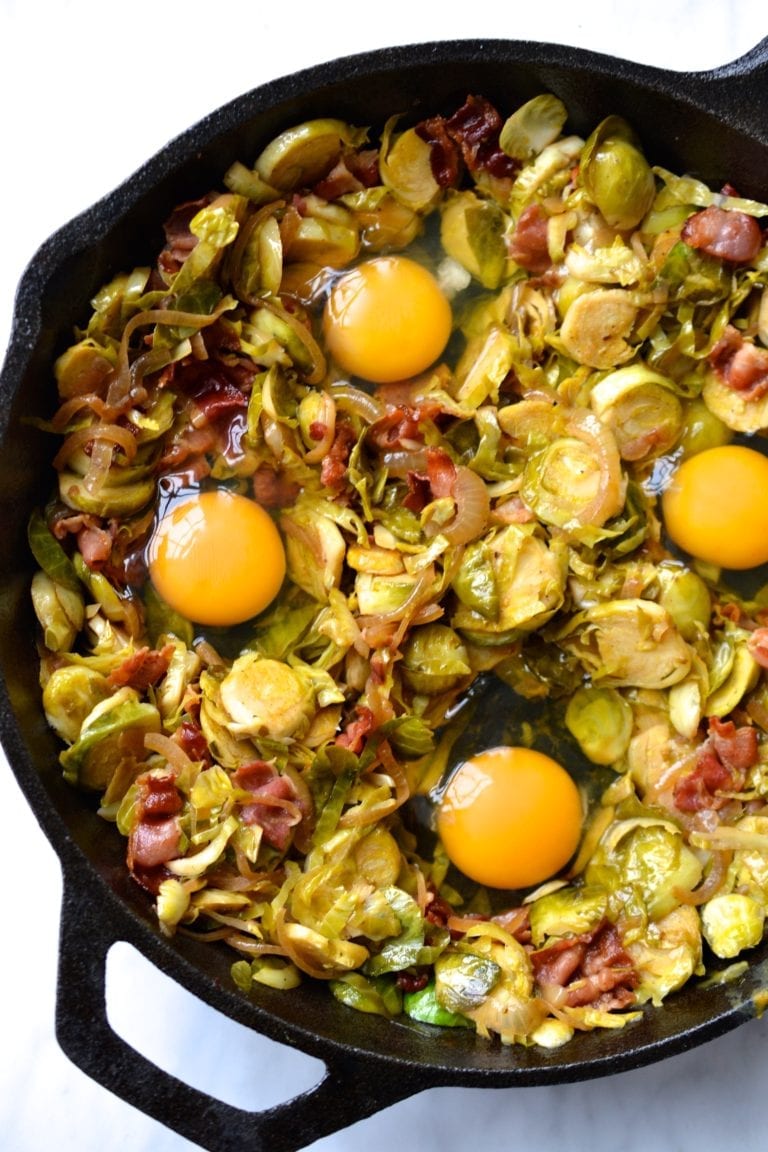 If you like to meal prep breakfast for the week ahead this dish is also a good option. You can prepare the hash up to the end of step 3 and then divide it into portions and store in the fridge. On weekday mornings crack an egg into one of the portions and quickly microwave it, or cook it on the stovetop until the egg is cooked to your liking.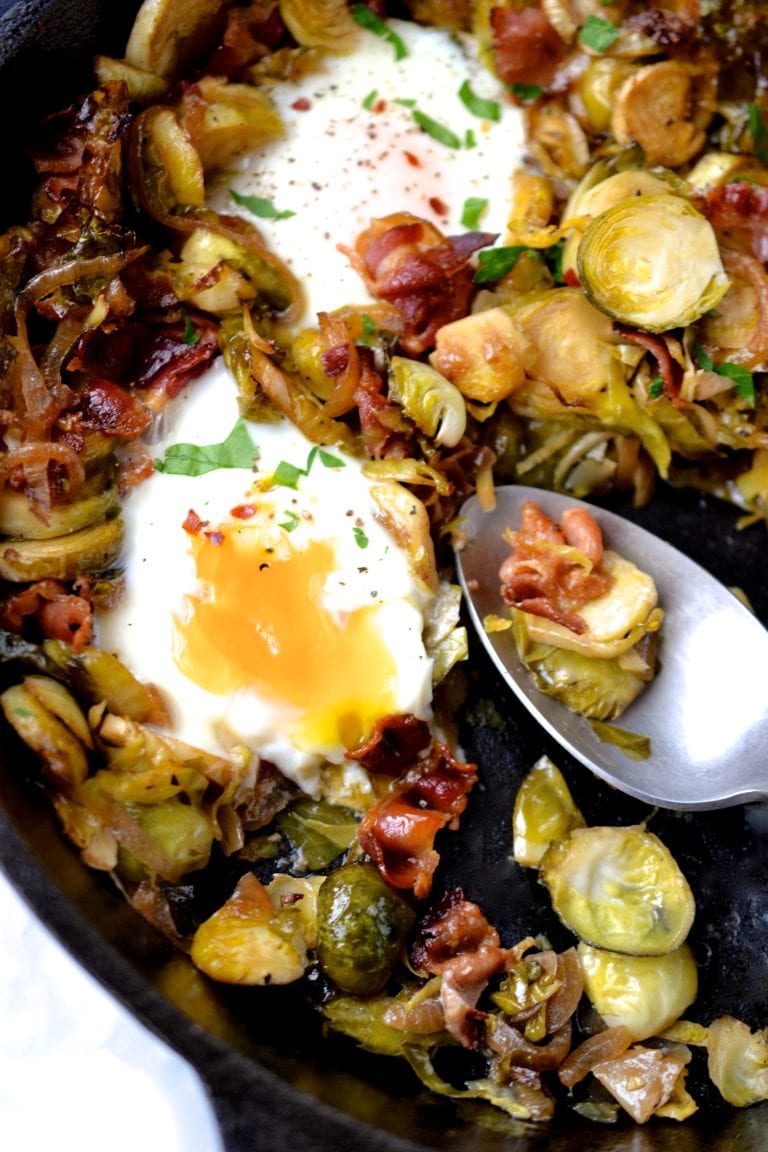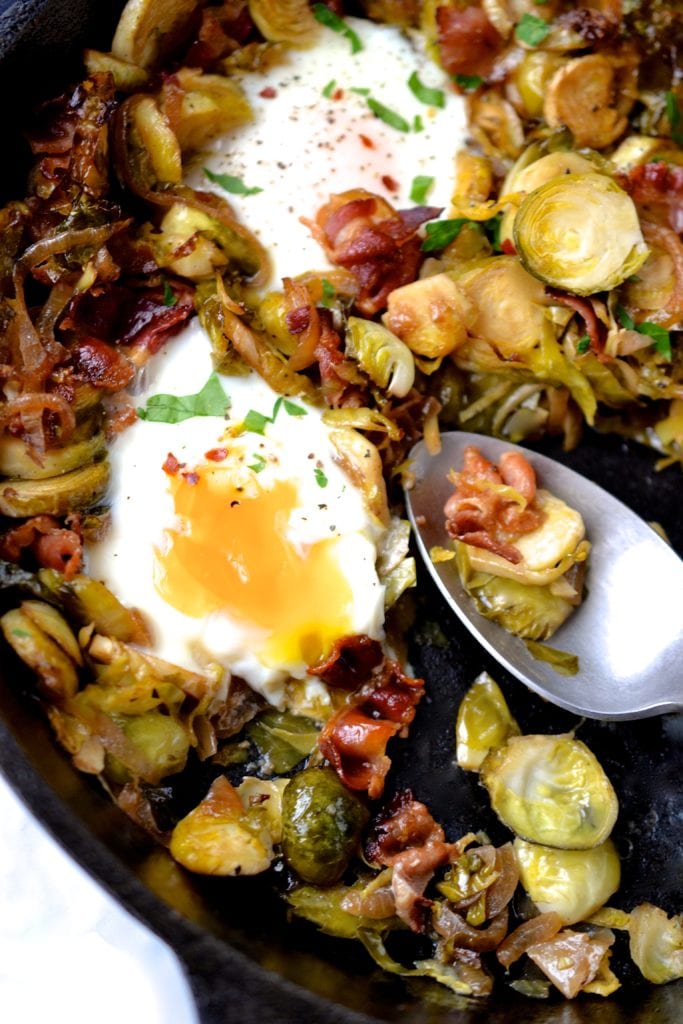 Love one pan breakfast recipes? Here are a few other one pan breakfast recipes that you might enjoy:
---
If you make this recipe let me know in the comment section below, I would love to hear what you think or take a photo and tag me (@everylastbite_) on Instagram, I love seeing your photos!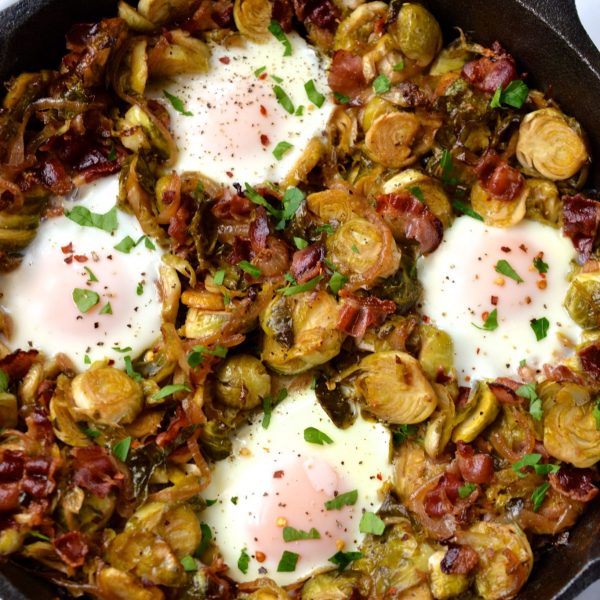 Ingredients
500 grams brussel sprouts
1 medium onion thinly sliced
8-10 slices bacon
1/4 cup vegetable or chicken stock
1 tsp dijon mustard
1 tbsp apple cider vinegar
1/2 tsp black pepper
1 tbsp fresh parsley, chopped
1/2 tsp chilli flakes
Instructions
Trim the brussel sprouts, removing any damaged outer leaves. Shred the brussel sprouts by by cutting them into very thin slices using a knife or mandolin.

In an oven proof skillet cook the bacon until crisp and then roughly chop into small pieces and set aside. Reserve approx 1 tbsp of the bacon grease in the skillet and add in the onion and cook it for 8-10 minutes until soft and golden in colour.

Add the shredded brussel sprouts to the skillet and stir well. Add in the veg or chicken stock, mustard, apple cider vinegar and black pepper and leave to cook for approximately 6 minutes until the brussel sprouts are tender and slightly golden in colour. Stir in the chopped bacon.

Create 4 wells in the mixture using a spoon. Crack an egg into each of the wells. To cook the eggs you can cover the pan with a lid and cook on medium low heat for 5-7 minutes. Alternatively you can transfer the skillet to the oven and bake at 175 degrees C (350F) for 8 minutes or until the eggs are cooked to your liking. Sprinkle with fresh chopped parsley or chilli flakes before serving.