Roasted Cauliflower & Garlic Soup
This Roasted Cauliflower & Garlic Soup is deliciously creamy with a rich roasted garlic, cauliflower and leek flavour. It's an incredibly easy 30-minute soup to make, the veggies are baked in the oven on a sheet pan until tender and then quickly pureed in a blender with the remaining ingredients, so easy! It's Paleo, Whole30, Keto and Vegan.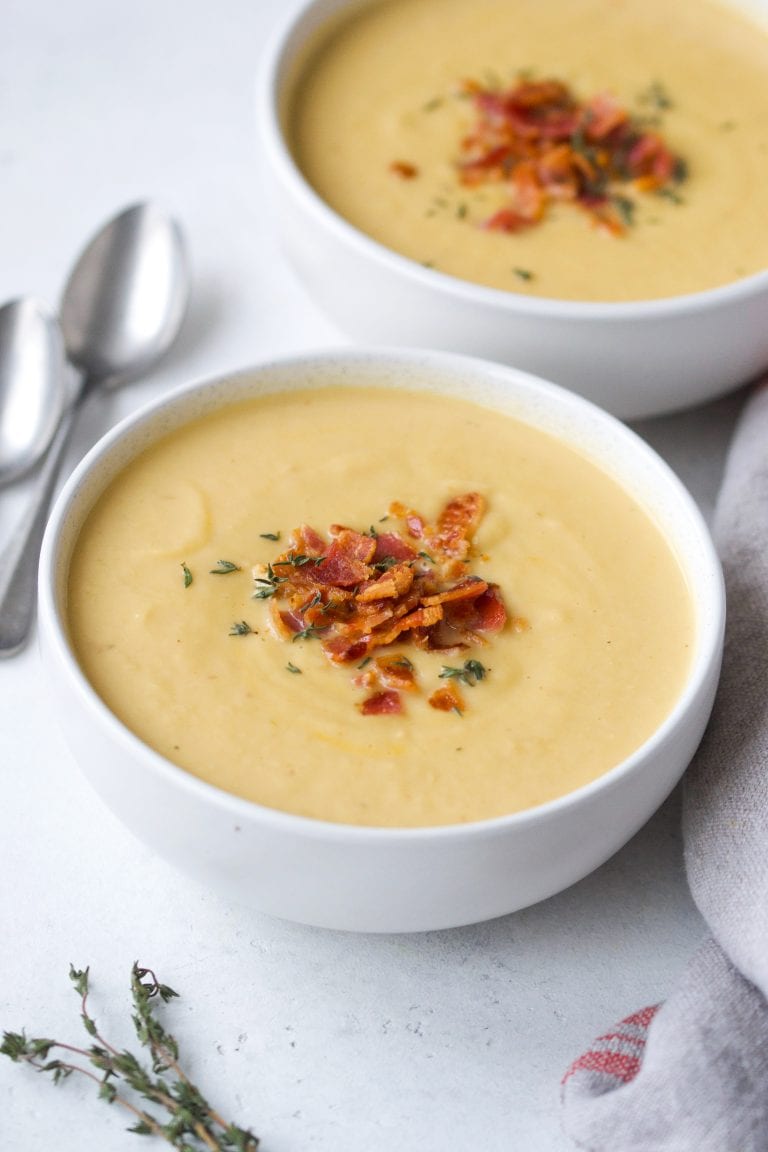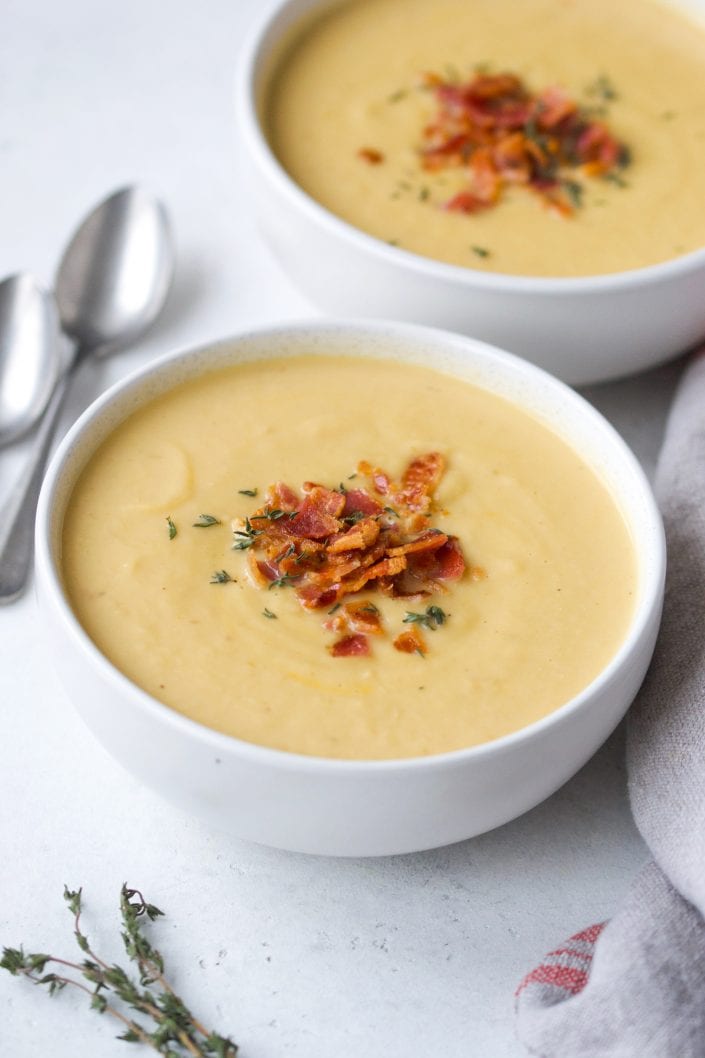 This Roasted Cauliflower and Garlic Soup is a winner on so many levels. To begin with, it's so incredibly easy to make. The actual prep time is less then 10 minutes, and you need just over 20 minutes to cook the vegetable in the oven. What else? Well it tastes so creamy and smooth, you would swear it had cups and cups of cream in it, but in fact, it is a very healthy soup that  is completely dairy free. Although it may seem like 6 cloves of garlic is too much, when roasted in the oven, they take on a rich caramelized flavour which add great depth to the dish. After pureeing the vegetables in the blender the soup is very thick, I have listed in the ingredients 5 cups of stock but you may require more to really thin the soup out.  I usually top the soup with a sprinkling of pancetta for texture, and on days like today I drizzle a bit of truffle oil on top too, because, well, why not?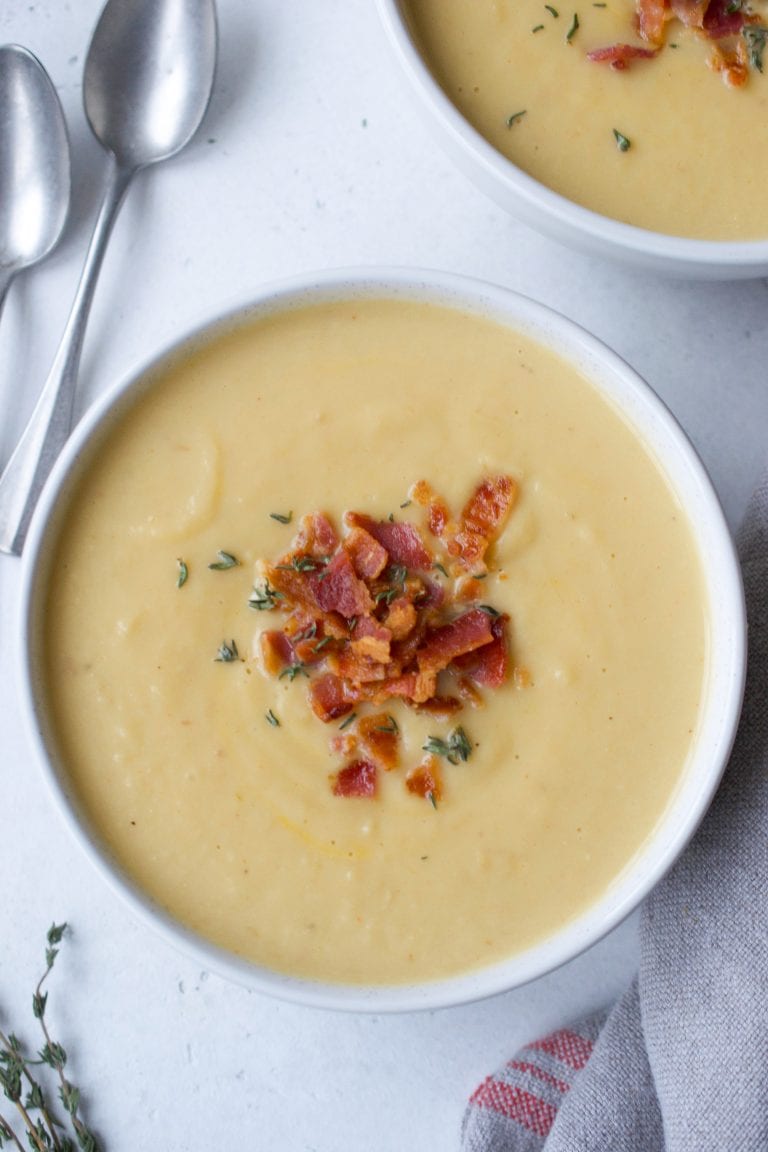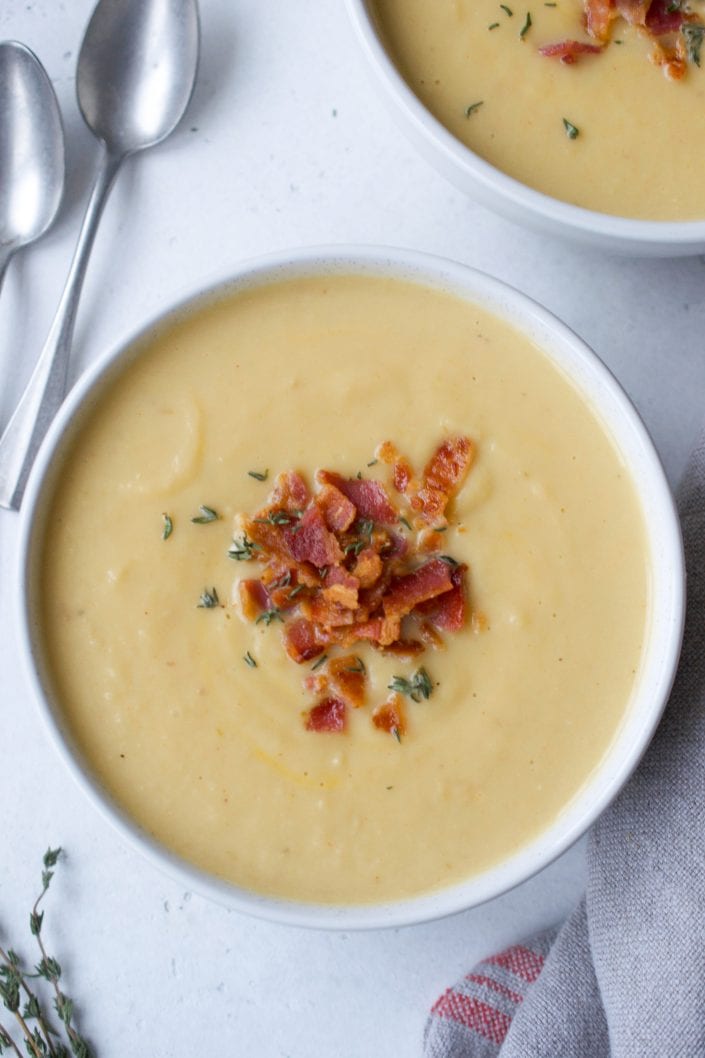 Here are a few other vegetarian soups that you will enjoy…
---
If you make this recipe let me know in the comment section below, I would love to hear what you think or take a photo and tag me (@everylastbite_) on Instagram, I love seeing your photos!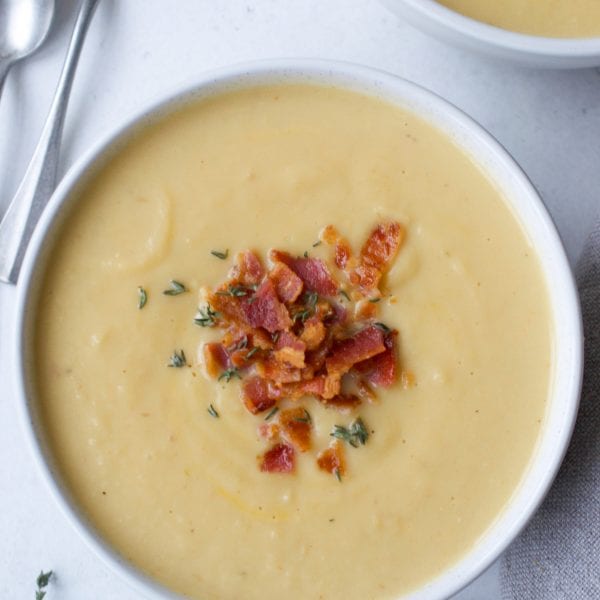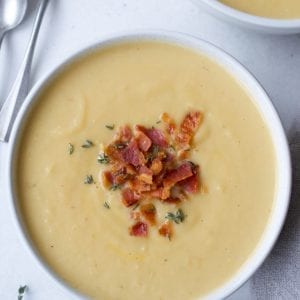 Roasted Cauliflower & Leek Soup
Ingredients
2 leeks
1 large cauliflower
1 head garlic
2 tbsp olive oil
1/4 tsp salt
1 1/2 tbsp lemon juice
1/2 tsp smoked paprika
5 cups chicken or vegetable stock
pepper to taste
Optional Garnish
1/4 cup cooked diced pancetta or pumpkin seeds
truffle oil
Instructions
Set the oven to 200 degrees Celsius (390 degrees Fahrenheit)

Cut the cauliflower into medium sized pieces and cut the leeks in 2 inch slices. Cut the top 1/3 off of the head of garlic to expose the top of the cloves. Place the garlic along with the leeks and cauliflower on a baking sheet. Season with salt and drizzle the olive oil over top.

Place in the oven and cook for 20 minutes until the cauliflower is tender and has begun to brown. Half way through cooking remove the pan from the oven and flip the vegetables to ensure they don't get too dark on one side.

Once cooked remove from the oven and put the cauliflower, leeks and garlic in a blender. Add in the lemon juice, smoked paprika and 2 cups of the chicken/vegetable stock and blend.

Once smooth, pour the soup into a pot on the stove on medium-low heat and add the remainder of the stock slowly until the soup reaches your desired consistency. Season with salt and pepper.

To serve ladle the soup into a bowl and top with a sprinkling of pancetta/pumpkin seeds. If you want to be fancy, you can drizzle truffle oil over top before serving. Enjoy!