Thai Butternut Squash Soup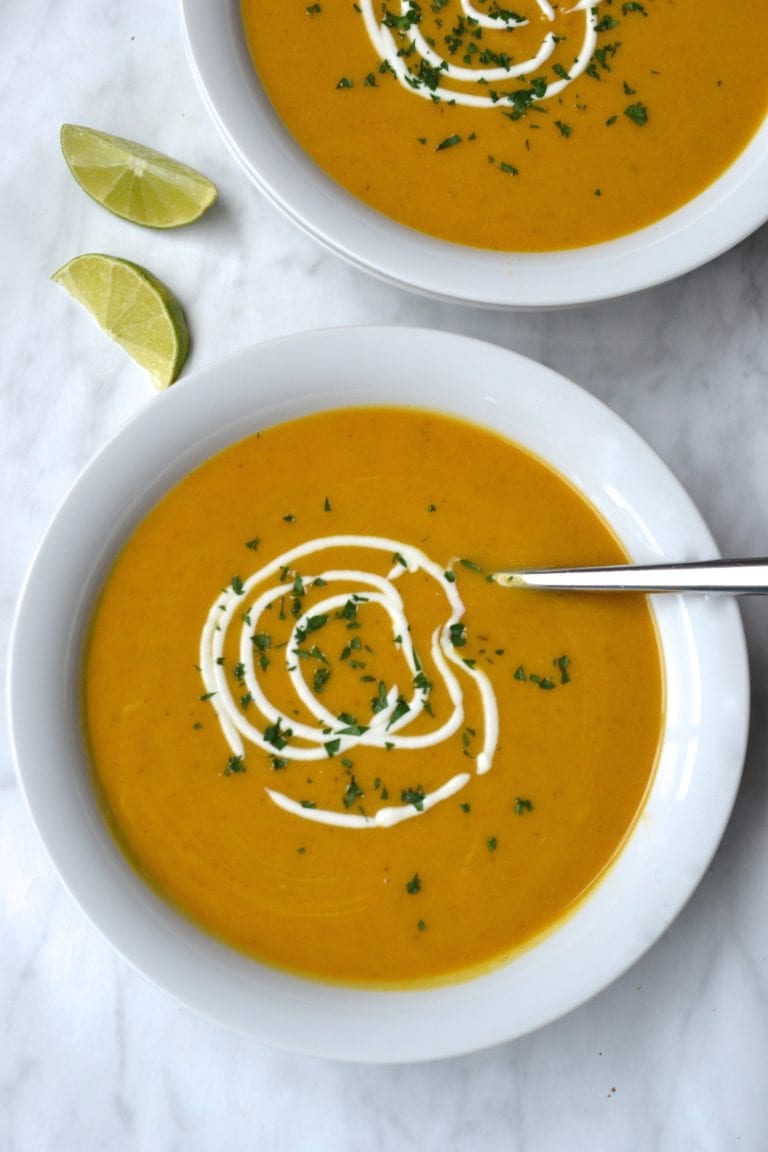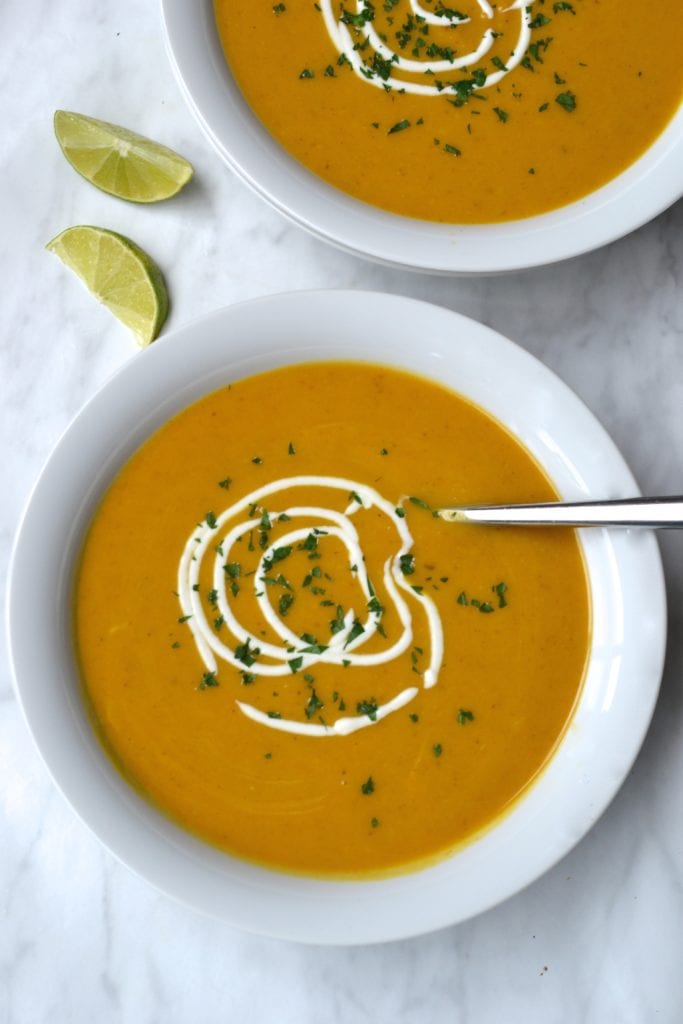 This is one of my absolute favourite soups that brightens even the darkest of winter days. Coconut and pureed butternut squash give this soup a smooth and creamy texture which makes it seem so much richer then it actually is. This soup is full of asian flavours including ginger, lime and corainder which combined add great depth to each bite.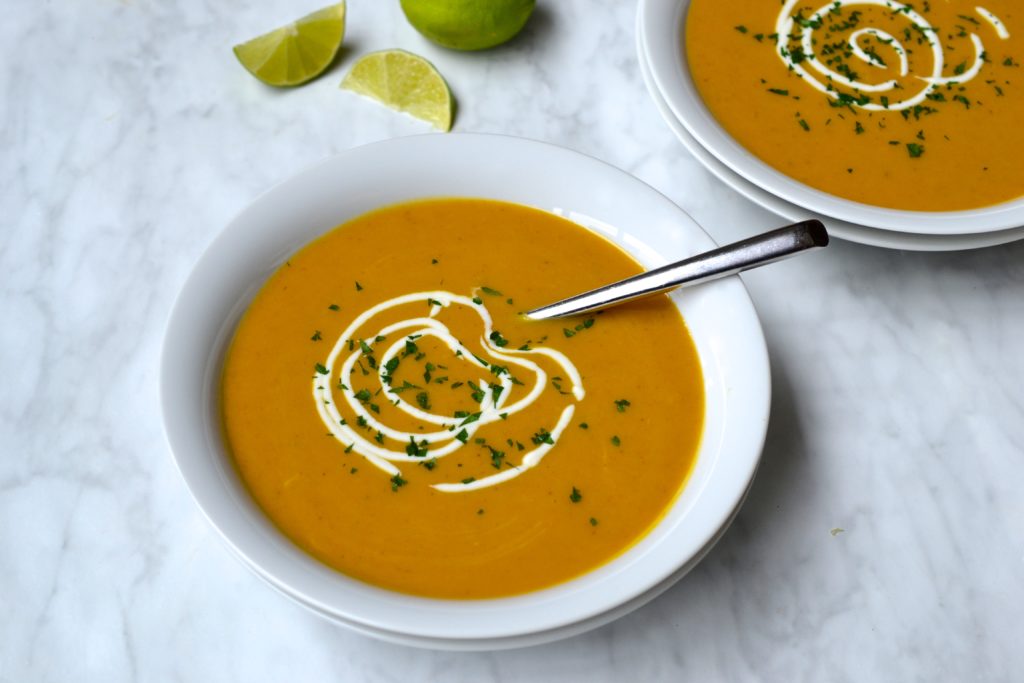 If you make this recipe let me know in the comment section below, I would love to hear what you think or take a photo and tag me (@everylastbite_) on Instagram, I love seeing your photos!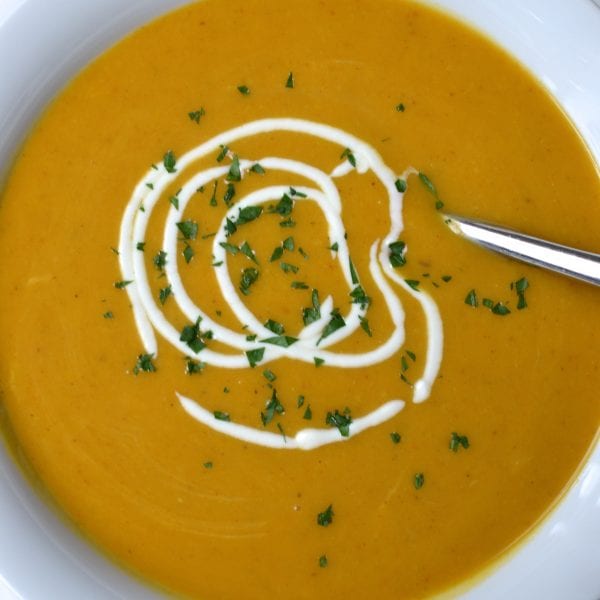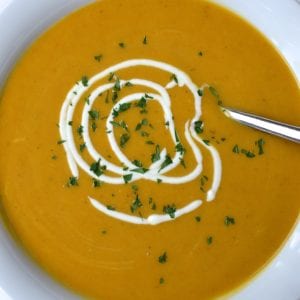 Ingredients
2 cloves garlic
3 tbsp fresh ginger chopped
pinch of salt
1 tablespoon vegetable oil
3 celery stalks diced
2 small onions diced
2 butternut squash
4 cup vegetable stock (approx)
2 tablespoons curry paste
2 cans coconut milk (400ml)
1 lime
handful of cilantro as garnish optional
Instructions
In a pot over medium heat saute the chopped onions, celery, garlic and 2 tablespoons of ginger in the vegetable oil until the onions become translucent, about 10 minutes

While the vegetables are cooking, using a vegetable peeler remove the skin from the butternut squash, de-seed and then cut into 1 inch cubes

Transfer the squash into the pot and pour in just enough stock to cover the squash (approximately 4 cups). Stir in the curry paste. Cover and let simmer on medium-high heat for 20-25 minutes until the squash is easily pierced with a fork. I usually add the final tablespoon of ginger after 20 minutes of simmering so the ginger flavour is more noticeable in the soup

Once the butternut squash has cooked put the mixture in a blender and blend until the squash is pureed (I prefer not to over blend as I like to find bits of crunchy ginger in the soup to add texture)

Pour the soup mixture back into the pot and add the coconut water. I would recommend to start by adding 1 can and then taste to determine how much of a coconut flavour you prefer. Add the juice of 1 lime. You may also want to add a cup or so of water depending on how thick you like your soup. Let simmer for another few minutes

This soup can keep in the fridge for up to 4 days and can also be stored in the freezer. I like to serve it with a sprinkle of coriander on top and a squeeze of lime juice. Enjoy!