Eggplant Polpette (aka Meatless Meatballs)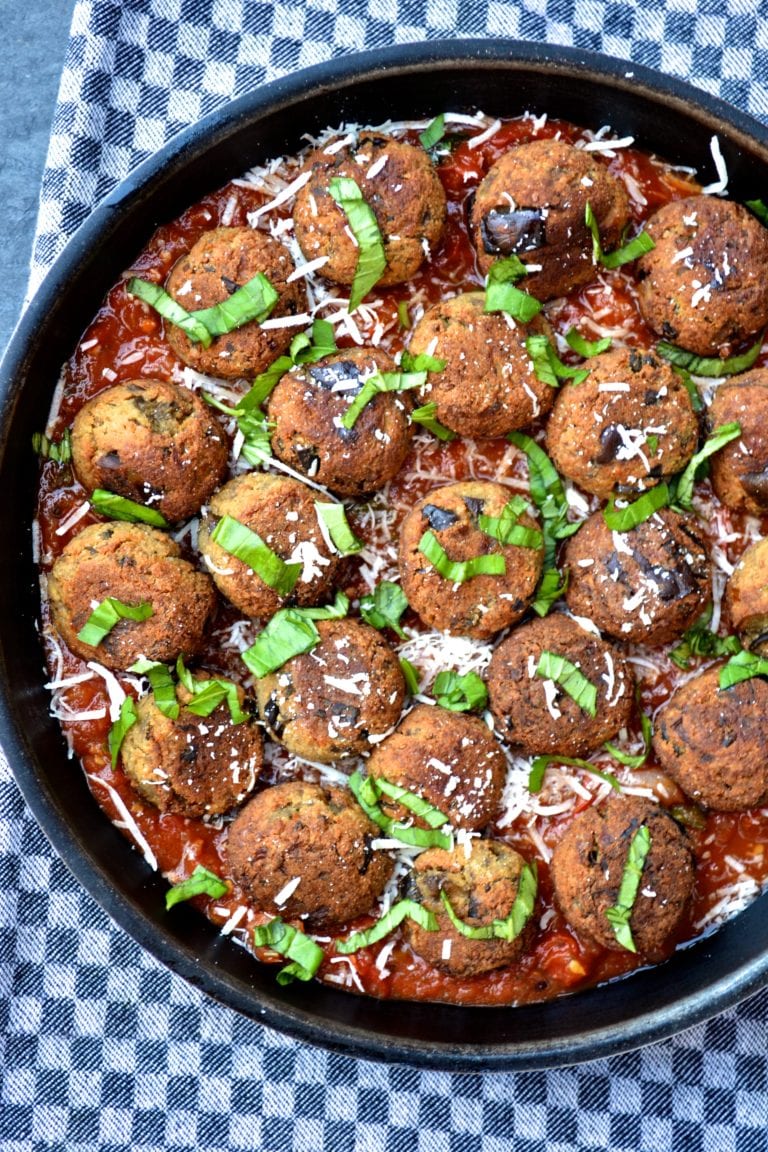 These little eggplant polpette (aka meat free meatballs) are unbelieva-BALL-y good…sorry, I couldn't help myself.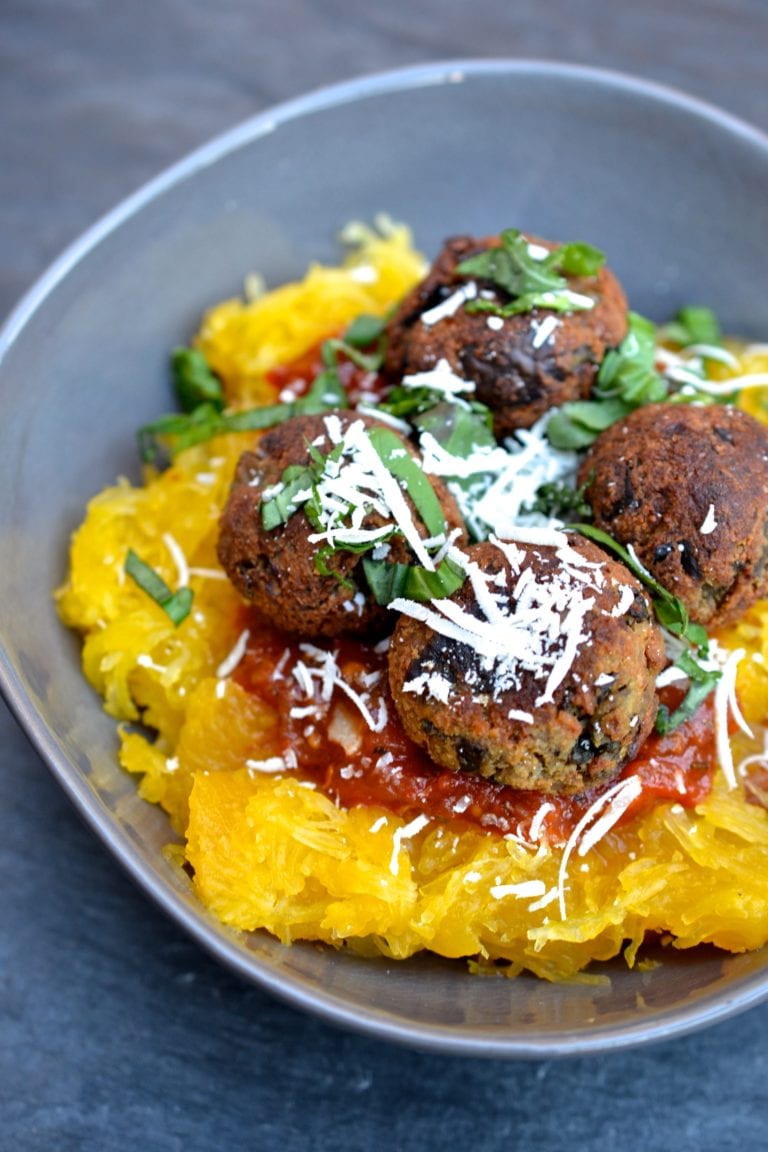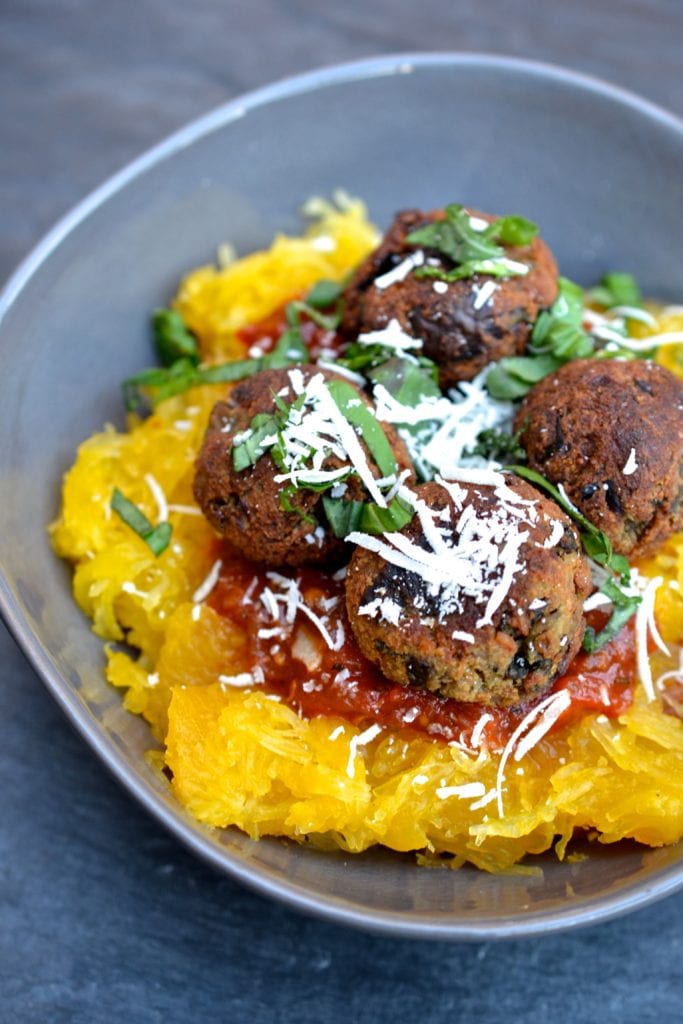 But seriously, these are little balls of deliciousness that will quickly have any carnivore forgetting that they are completely meat free. They are firm on the outside and tender and soft in the center. Eggplant gives each ball "meatlike" density while the basil and garlic add delicious flavor.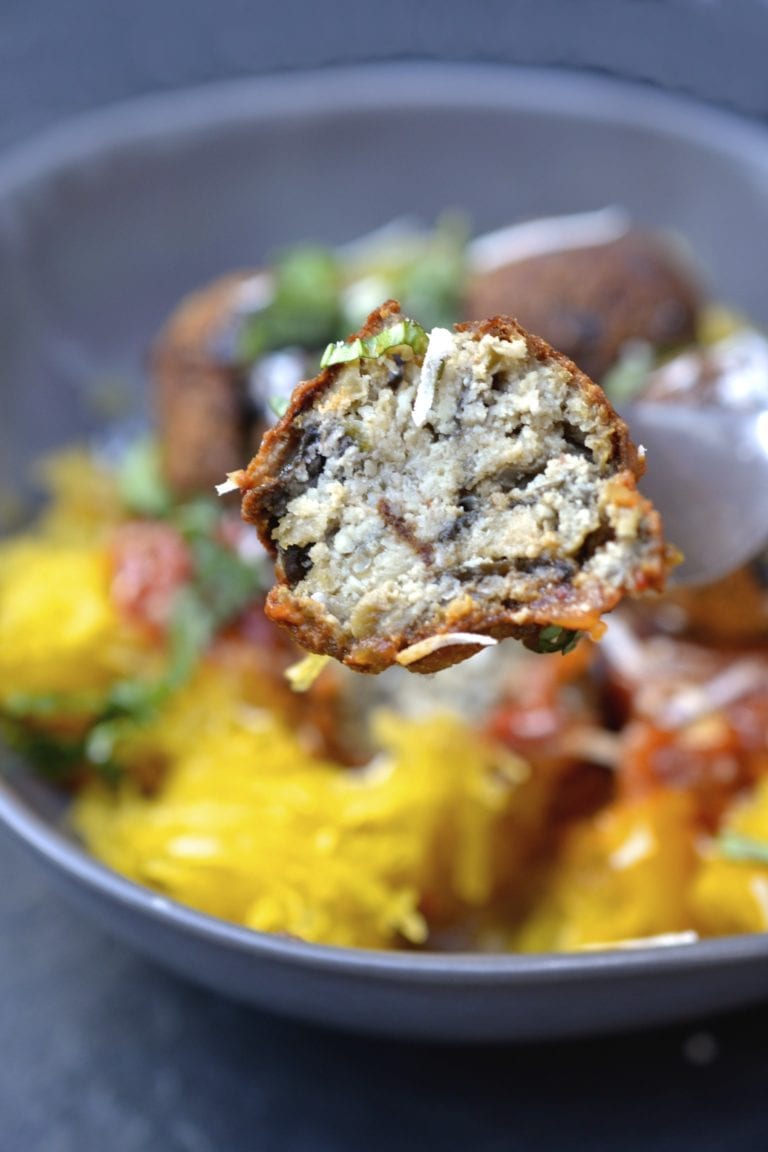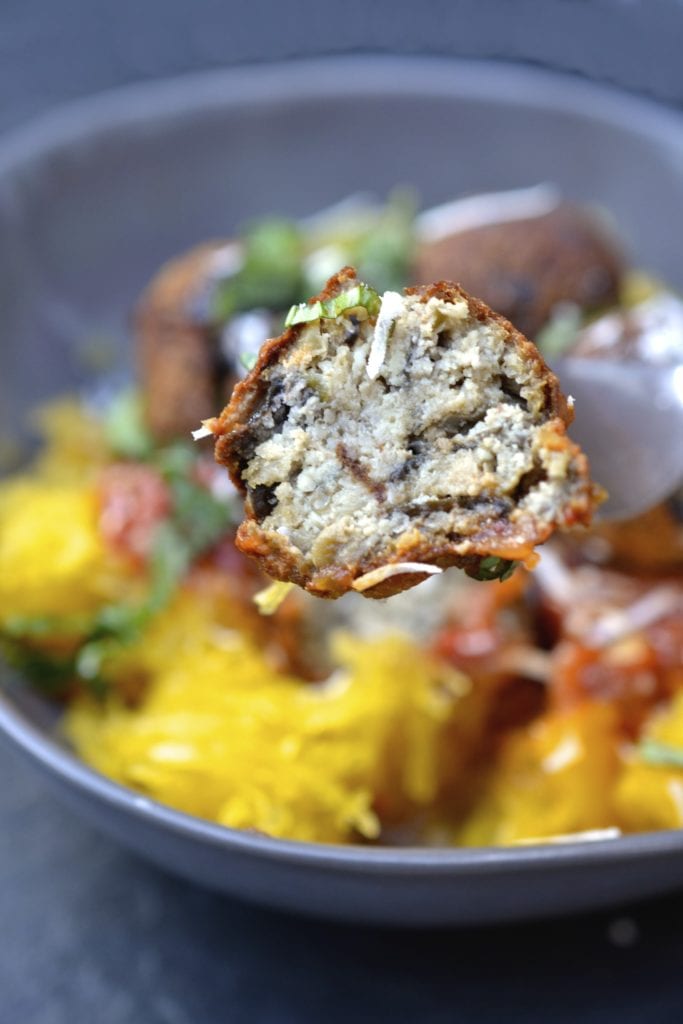 When served with tomato sauce, each ball tastes like bite size eggplant parmigiana, perfect to serve as finger food at a cocktail party. I love eating these eggplant polpette on spaghetti squash or zucchini noodles, covered in tomato sauce.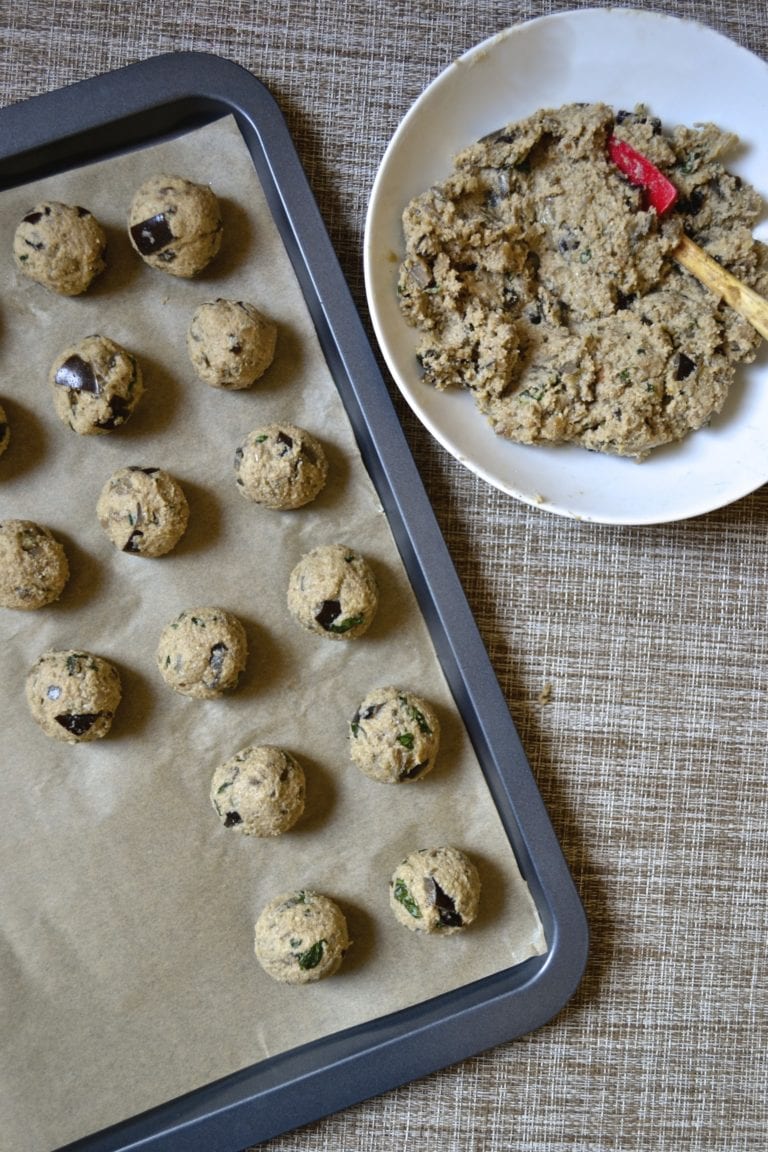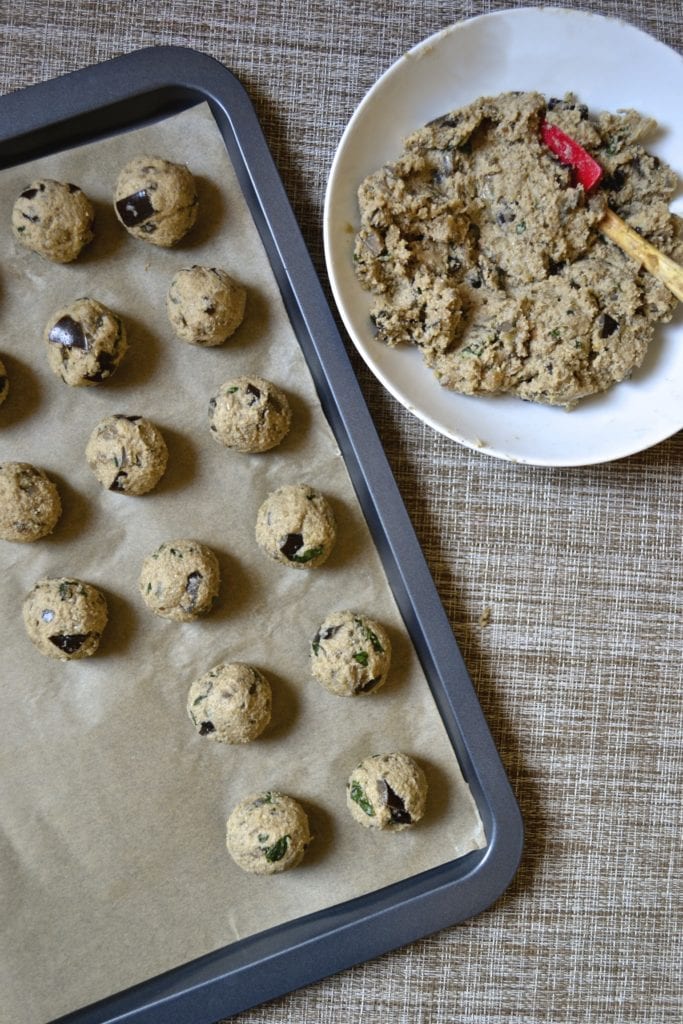 I added parmesan to the recipe but if you are following a dairy free or paleo diet it can be substituted for nutritional yeast for a touch of cheesy flavor. These balls hold their firmness for a few days after baking, but to ensure they don't become soggy I recommend storing any leftover balls in a separate container from the sauce.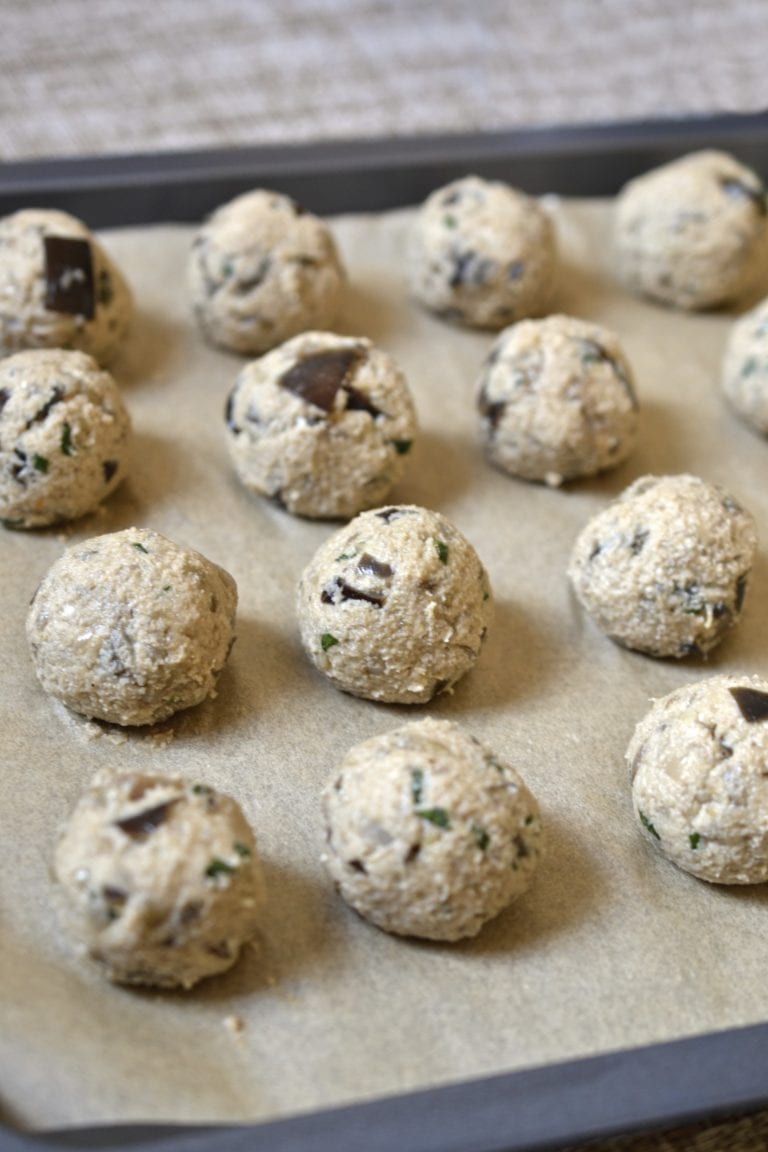 If you are a fan of Italian food, you will love this healthy cross between spaghetti and meatballs and eggplant parmigiana. I hope you enjoy!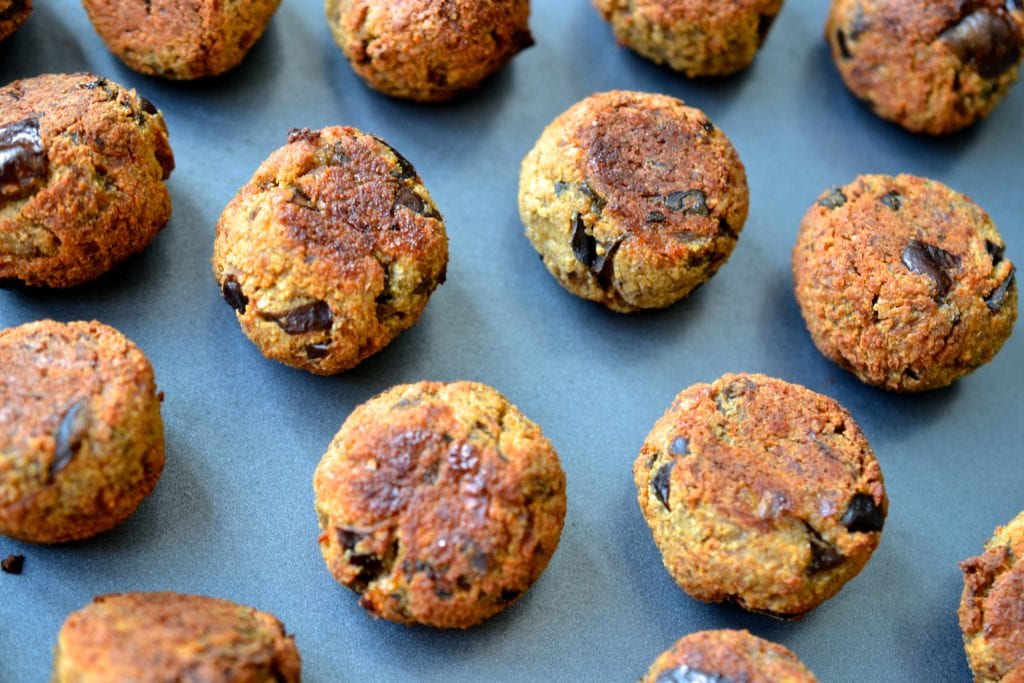 If you make this recipe let me know in the comment section below, I would love to hear what you think or take a photo and tag me (@everylastbite_) on Instagram, I love seeing your photos!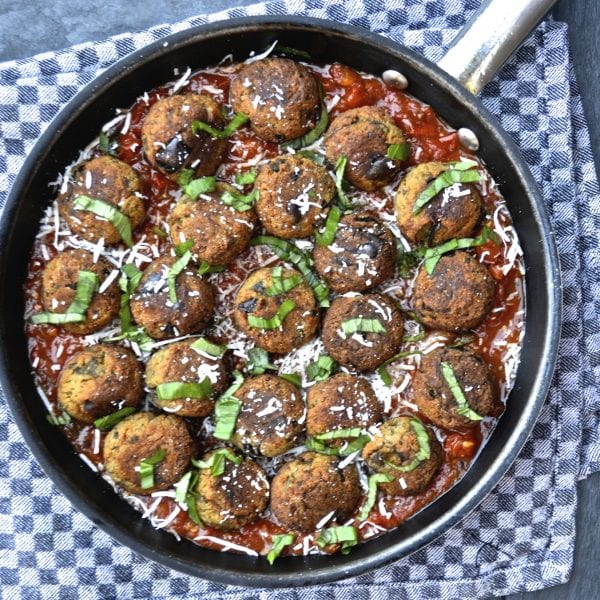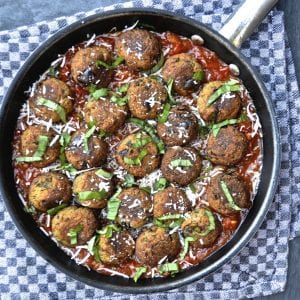 Ingredients
2 medium eggplant
1 tbsp olive oil
1 onion diced
2 cloves garlic crushed
2/3 cup chicken or vegetable stock
pinch of salt & pepper
1/3 cup basil chopped
1 3/4 cup almond flour
1/3 cup parmesan *
1 egg white lightly beaten
salt and pepper to taste
Sauce
6 medium tomatoes
1 tbsp olive oil
1/2 onion chopped
1 clove garlic
1 tbsp honey optional
1/2 tbsp chili flakes
1 tsp oregano
salt and pepper to taste
1/4 cup basil chopped
Instructions
Preheat the oven to 175 degrees Celsius (350 degrees Fahrenheit)

Cut the eggplant into small cubes. Heat the olive oil in a frying pan on medium heat, add the diced onion, garlic, cubed eggplant and stock, sprinkle with salt and pepper. Allow to cook for approximately 15-20 minutes until all of the eggplant has become soft and the liquid has been absorbed.

Transfer the mixture to a food processor or blender and pulse once or twice but no more, you want the larger pieces to break down but you do not want the entire mixture to turn into a smooth puree. It should remain chunky.

In a bowl combine the eggplant mixture, chopped basil, almond flour, parmesan and egg white and blend until well combined.

Line a baking tray with parchment paper and spray with cooking spray to ensure its well greased.

Spoon out 1-2 tablespoon sized amounts of the mixture into your hands and roll into balls the size of a golf ball. Place on the baking sheet approximately an inch apart.

Bake in the oven for 35-45 minutes, flipping the balls half way through. Keep an eye on them to make sure they do not burn. They are done when they become more firm to the touch.

While the meatballs are cooking, make the sauce. Chopped the tomatoes into small pieces. Place them in a medium sized pot on medium-low heat along with the olive oil, crushed garlic and diced onion.

Allow to cook for 15-20 minutes until the onion becomes transparent. Add in the canned tomatoes, lower the heat and allow to simmer for 45 mins to 1 hour.

Add in the oregano, chilli flakes and chopped basil. Taste the sauce, if its too tart, add in the honey. Season with salt and pepper.

Serve the eggplant polpette on zucchini noodles or spaghetti squash, topped with the tomato sauce and garnished with parmesan and chopped basil
Notes
* If following a dairy free diet, substitute the parmesan for 1 1/2 tablespoon nutritional yeast