Chicken Cacciatore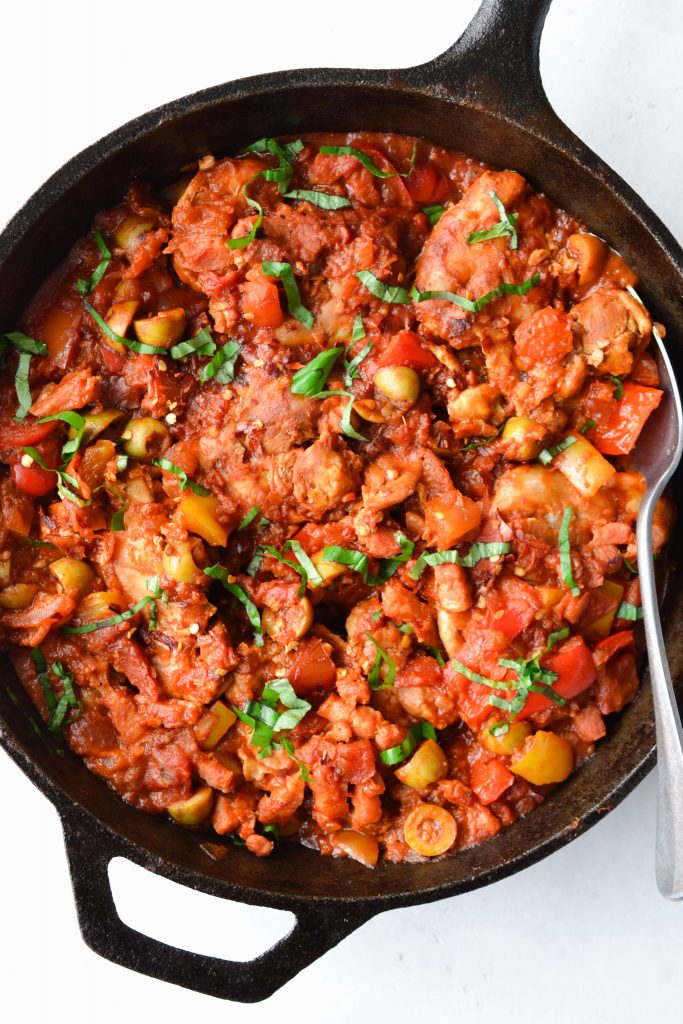 I am a bit obsessed with stews at the moment, there is nothing better during the cold winter months then coming home after a long day to a big bowl of hearty warm deliciousness. I have 3 requirements for weeknight dinner 1) it has to be healthy 2) hands on prep time has to be under 20 minutes and 3) it has to taste just as good reheated the next day for lunch or dinner. This chicken cacciatore easily covers all three of these points.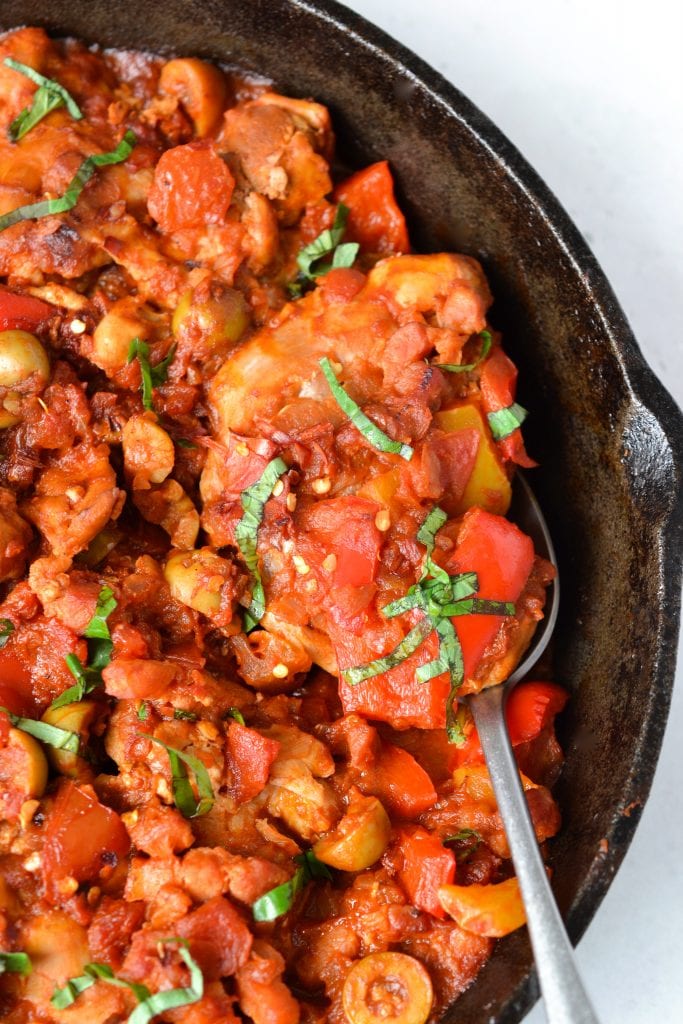 This recipe is incredibly adaptable to your taste. I like using chicken thighs for this kind of dish because they are cheaper then breasts and require less effort to eat then bone in legs but you can easily use any of the above. I love the saltiness that olives add to this dish which contrasts well with the sweet peppers and acidic tomatoes, but if you aren't a fan of olives you can add in a finely chopped anchovy or alternatively just an extra pinch of salt.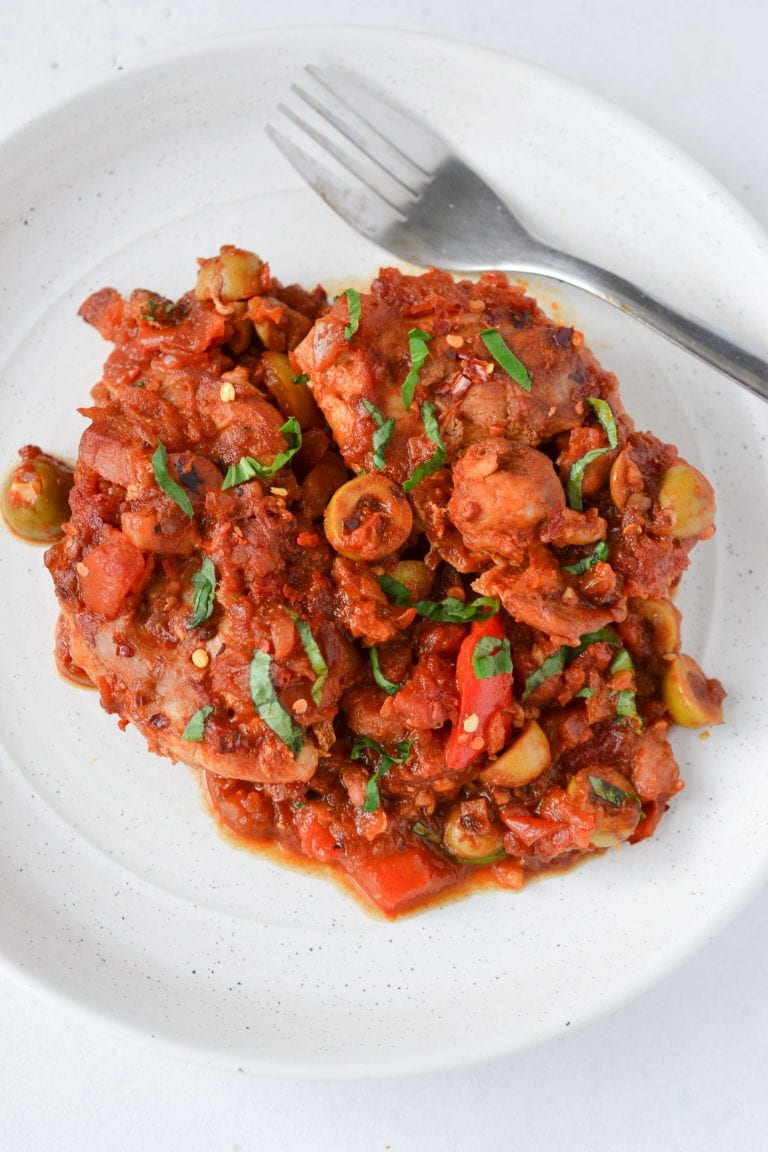 Chicken cacciatore is traditionally served on pasta, but I love eating it with spaghetti squash, zucchini noodles, or even on its own as the sauce is so thick! This is an easy and delicious dish to add to your weeknight menu.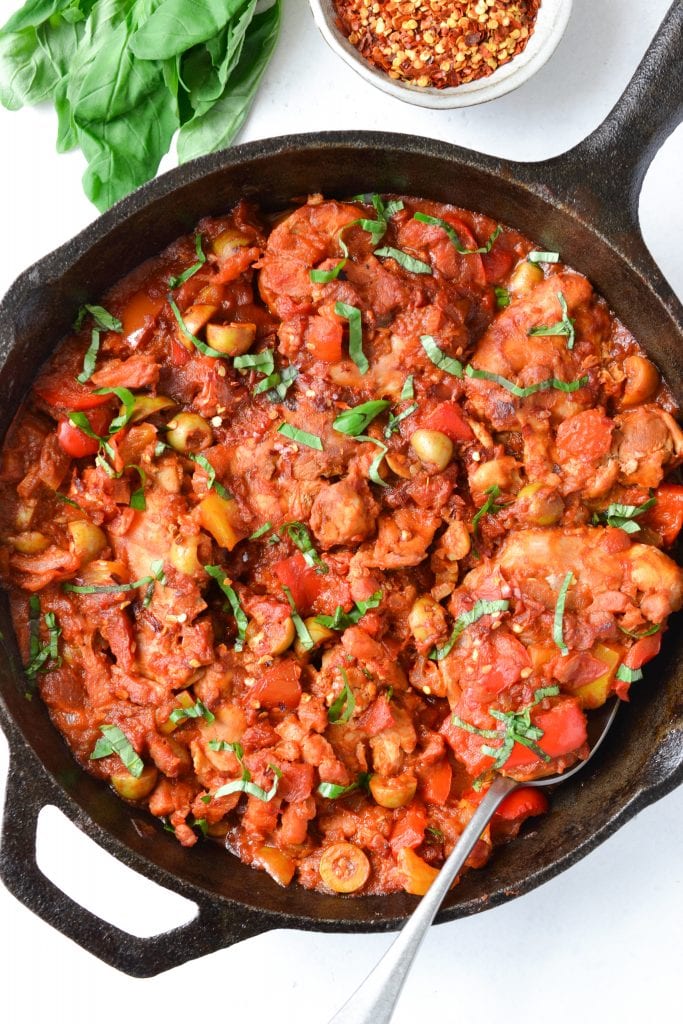 If you make this recipe let me know in the comment section below, I would love to hear what you think or take a photo and tag me (@everylastbite_) on Instagram, I love seeing your photos!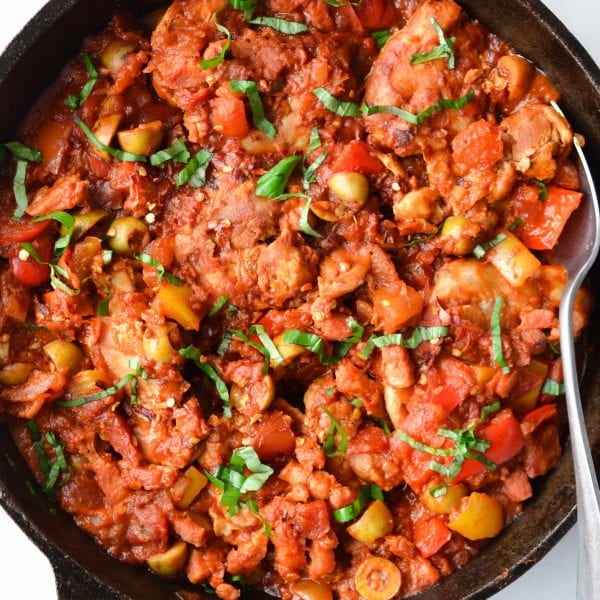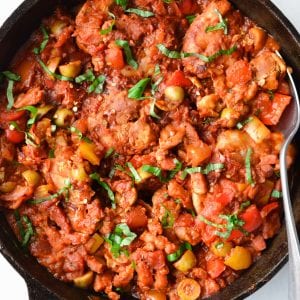 Ingredients
1 tsp olive oil
8 boneless skinless chicken thighs
1/4 cup pancetta diced
2 onions diced
2 cloves garlic
1/2 red pepper diced
1/2 yellow pepper diced
1 cup diced tomatoes
1/2 cup red wine vinegar
1/3 cup beef stock
2/3 cup olives cut in half
2 bay leaves
1/4 tsp chilli flakes
salt and pepper
1 tbsp fresh parsley or basil chopped
Instructions
In a large pan on high heat, cook the chicken thighs in the olive oil until browned on both sides (approximately 5 minutes). Once the chicken has cooked, remove from the pot and set aside.

Add the pancetta, crushed garlic and onions to the pan and cook for 3 minutes until the onions become translucent.

Place the diced peppers in the pan along with the canned tomatoes and diced tomatoes. Cook for 5 minutes until the tomatoes begin to soften and lose shape.

Return the chicken to the pot, add in the red wine vinegar, beef broth, olives, bay leaves and chilli flakes. Place a lid on the pot and allow to cook for 20 minutes on medium heat, turning the heat up to high for the remaining few minutes to thicken up the sauce.

Sprinkle with chopped fresh parsley and serve.