Italian Wedding Soup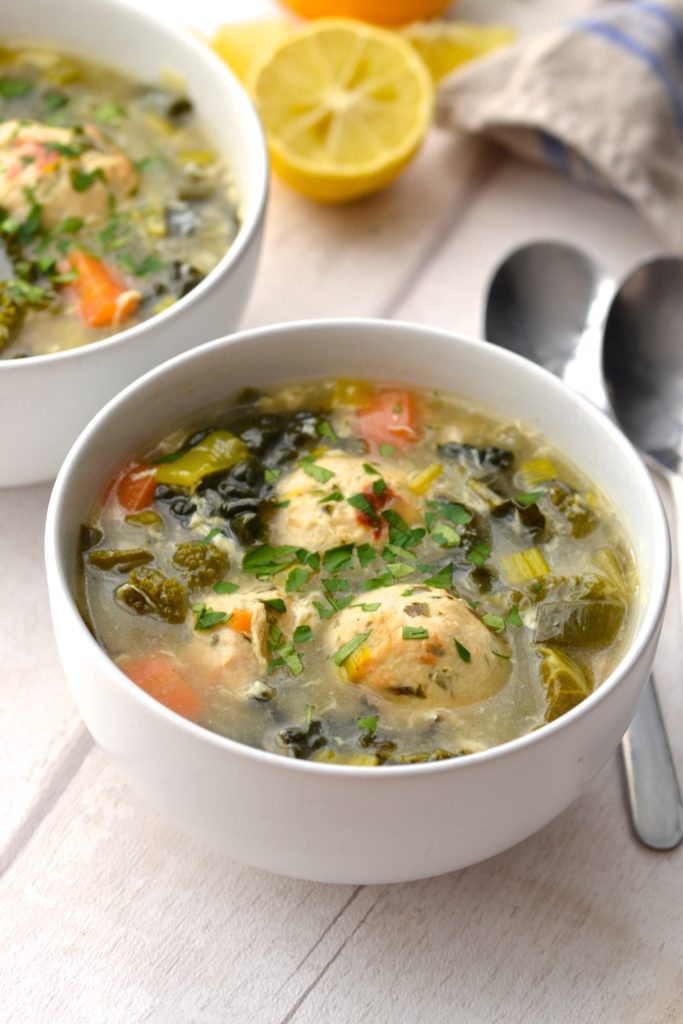 Chunky soups are one of my favourite things to eat during the cold winter months when all I want to do is hideout inside and stay warm.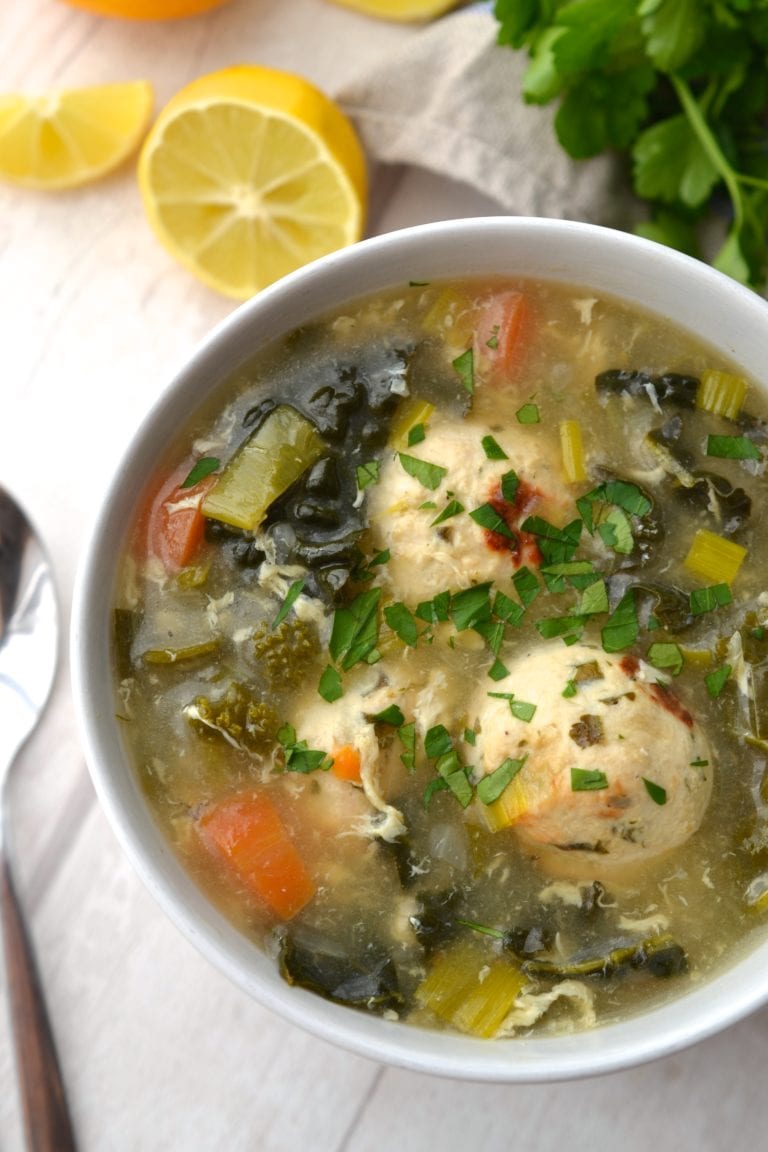 This is my spin on Italian wedding soup aka broth with meatballs and lots of chunky vegetables. This is one of my favourite chunky soups because it strikes the perfect balance between comforting yet light and healthy.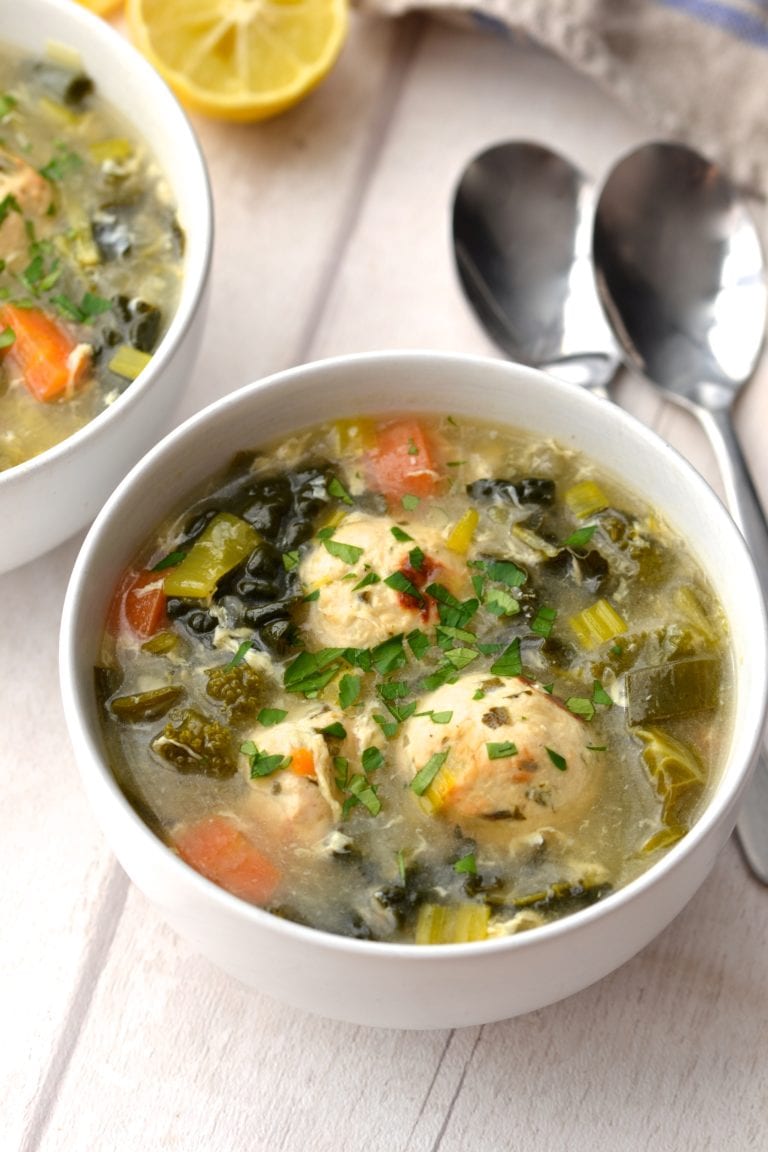 I'm embarrassed to admit that I originally thought the name was based on an Italian tradition of serving it at weddings. I was so wrong, my Italian grandparents would be horrified. The name actually comes from the Italian phrase 'minestra maritata' which translates to married soup and is a reference to the combination (aka marriage) of the greens and meat in the soup.

To keep the calorie and fat content low I used ground chicken for the meatballs, but you could use any combination of chicken, turkey, veal or pork to make them. Ground chicken is incredibly hard to find here in the UK so I just added 3 chicken breasts to a food processor and pulsed them until they were ground into a minced consistency. Parsley, almond flour, onion, lemon and garlic is added to the mince to give the meat loads of flavour. I love breaking the meatballs up in my bowl of soup before eating them, they absorb so much of the broth and are absolutely delicious.

The base of the soup is chicken broth with a splash of lemon juice which I like adding to cut through the saltiness of the broth. Loads of veggies are added to the broth including carrots, leeks, onion, shredded curly kale and Tuscan kale. The vegetables aren't set in stone, so feel free to swap in endive or spinach for the kale, and use celery instead of leeks.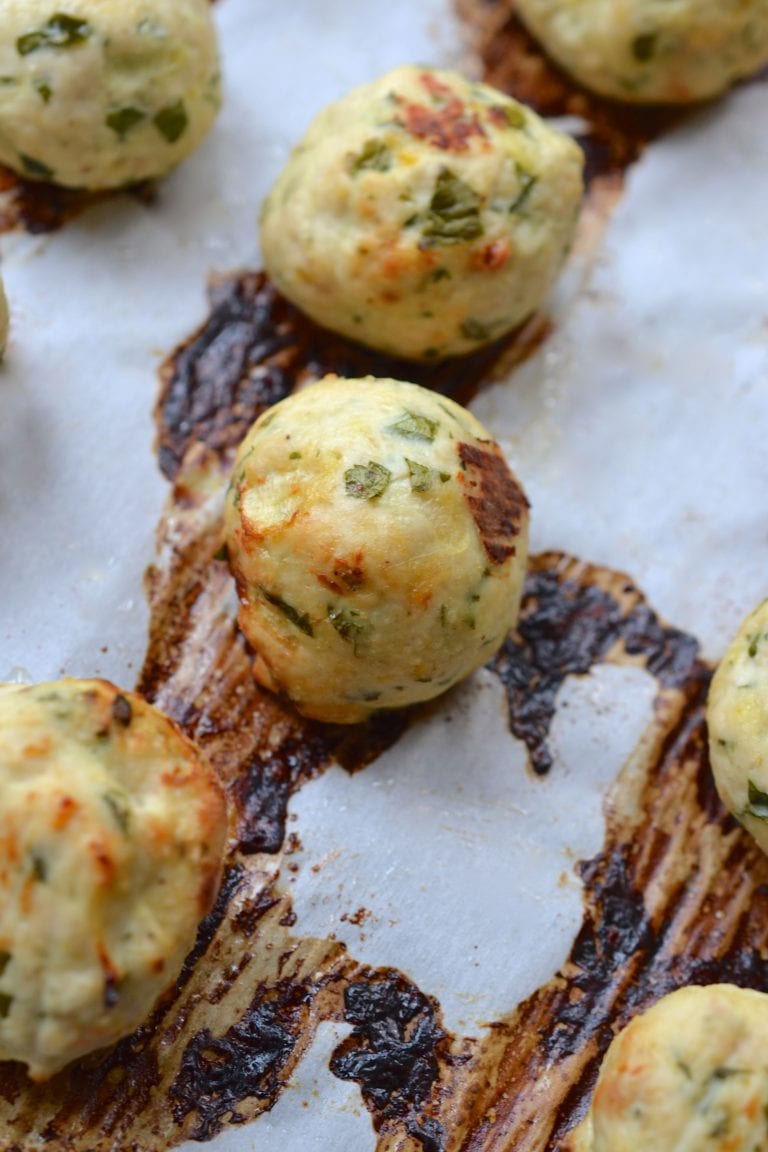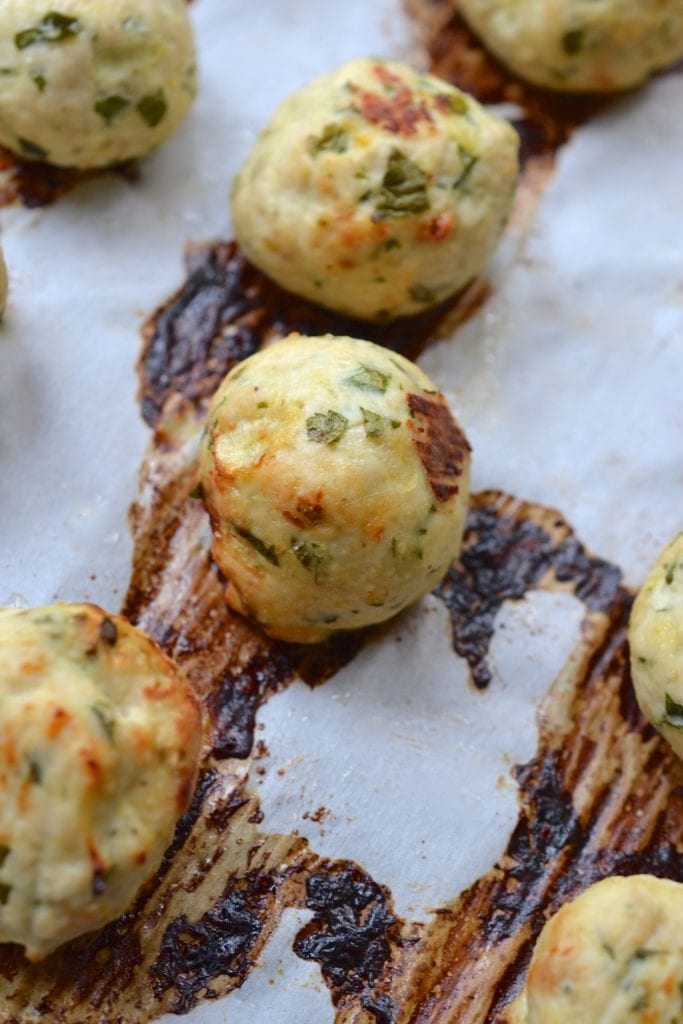 The final ingredient in the soup is one of my favourite additions to any chicken broth based soup, egg! Slowly drizzling a beaten egg into the boiling soup creates then whisks of egg, almost like noodles, which add great texture to each spoonful. If you are planning on freezing the soup I would recommend holding off on including the egg, and adding it in at a later date once the soup has thawed and is about to be eaten.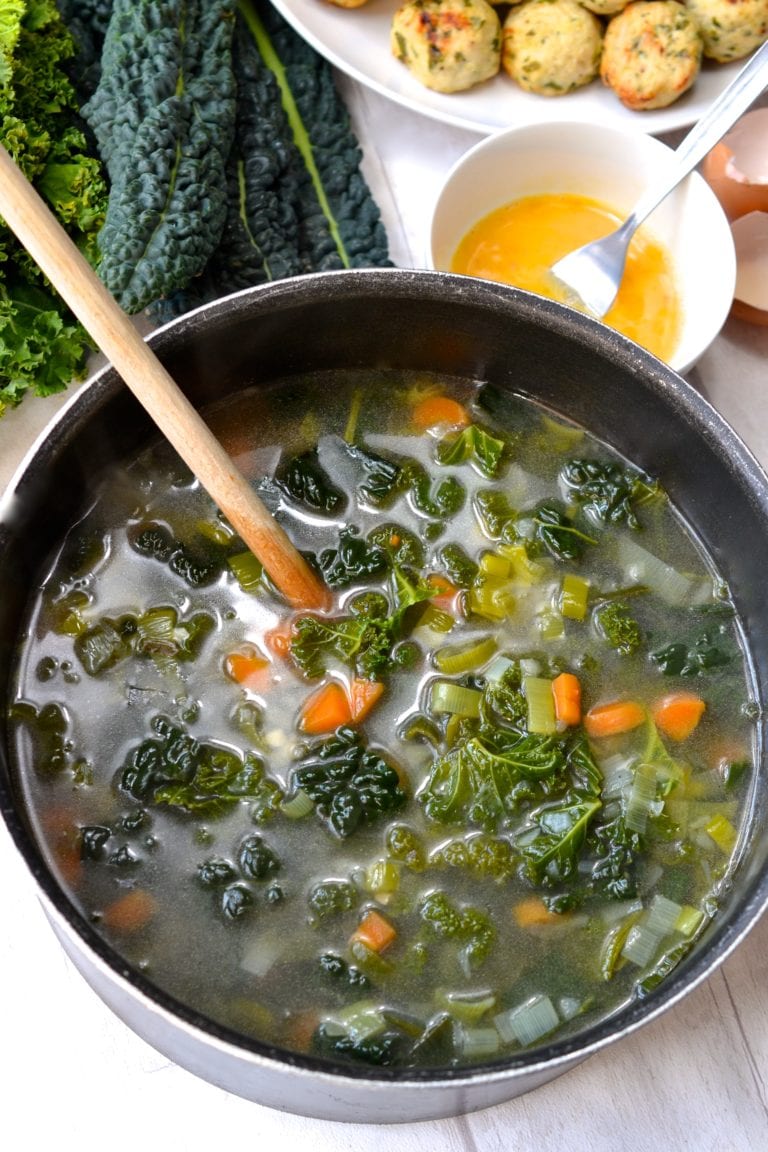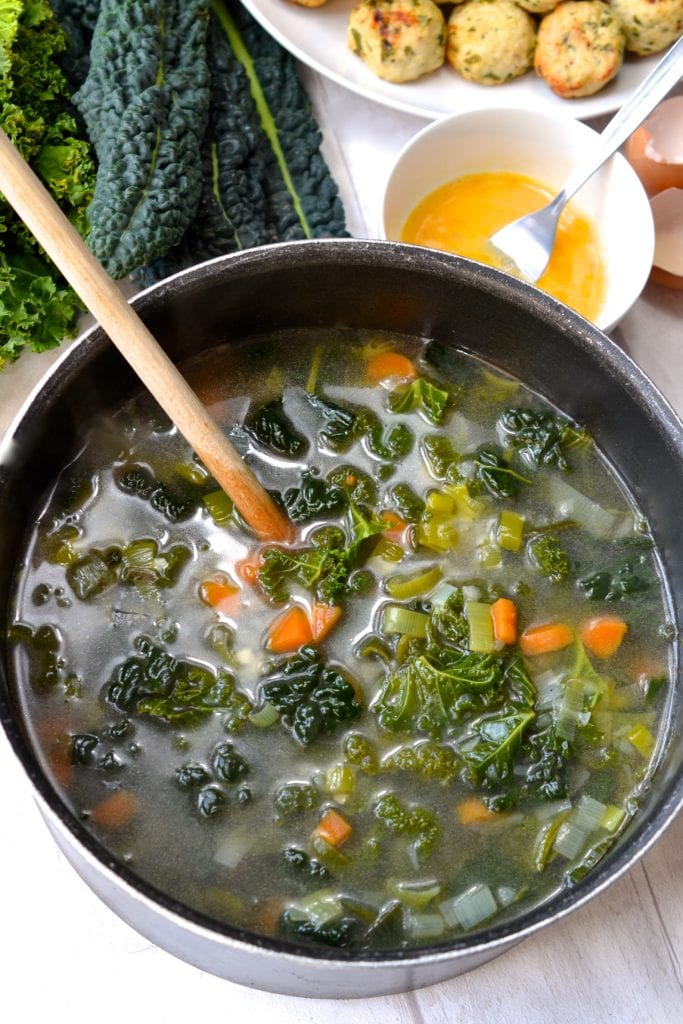 If you make this recipe let me know in the comment section below, I would love to hear what you think or take a photo and tag me (@everylastbite_) on Instagram, I love seeing your photos!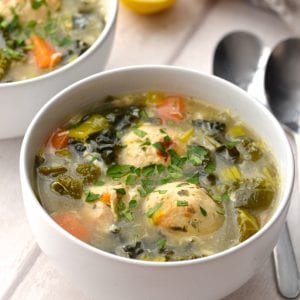 Ingredients
Meatballs
500 grams ground chicken or turkey
2 cloves garlic crushed
1/3 cup parsley chopped
zest from 1 lemon
1/4 cup almond flour
1 egg
1/4 cup grated onion
1/2 tsp black pepper
Soup
1 tbsp olive oil
1 onion diced
3 cloves garlic crushed
1 large leek chopped
2 carrots chopped
10 cups chicken broth
2 tbsp lemon juice
2 cups curly kale roughly chopped
2 cups tuscan kale (cavolo nero) roughly chopped
2 eggs whisked
1 tbsp parsley to garnish chopped
Instructions
Meatballs
Preheat the oven to 175 degrees Celsius (350 degrees Fahrenheit) and line a baking tray with parchment paper

Combine all of the ingredients for the meatballs in a bowl and work with your hands until everything is well mixed.

Form the mixture into 1 1/2 inch meatballs, it should make approximately 16-20 balls.

Place the meatballs on the baking sheet and bake them in the oven for 25 to 30 minutes until they are cooked through and slightly golden in colour.
Soup
In a large pot or dutch oven heat the olive oil on medium heat. Add in the diced onion, garlic, leeks and carrot and sauté for 5 minutes until soft.

Add the chicken broth and lemon juice to the pot and bring to a gentle simmer.

Add the kale to the soup along with the cooked meatballs.

Increase the heat so that the soup is just gently boiling and using a fork slowly pour in the egg in a thin stream. Don't pour too quickly otherwise you will get chunky clumps of egg in the soup. If you are going to freeze the soup I recommend skipping this step and waiting to add the egg right before eating.

Garnish the soup with parsley before serving.