Asian Pork Meatballs
These Asian Meatballs are sooo tasty! The incredibly moist and flavourful meatballs can be made with  pork, ground turkey or chicken and they are oven baked and coated in a sticky sauce. Enjoy these as a main dish or appetizer, everyone will love them! They are Paleo, Whole30, Grain and Gluten Free.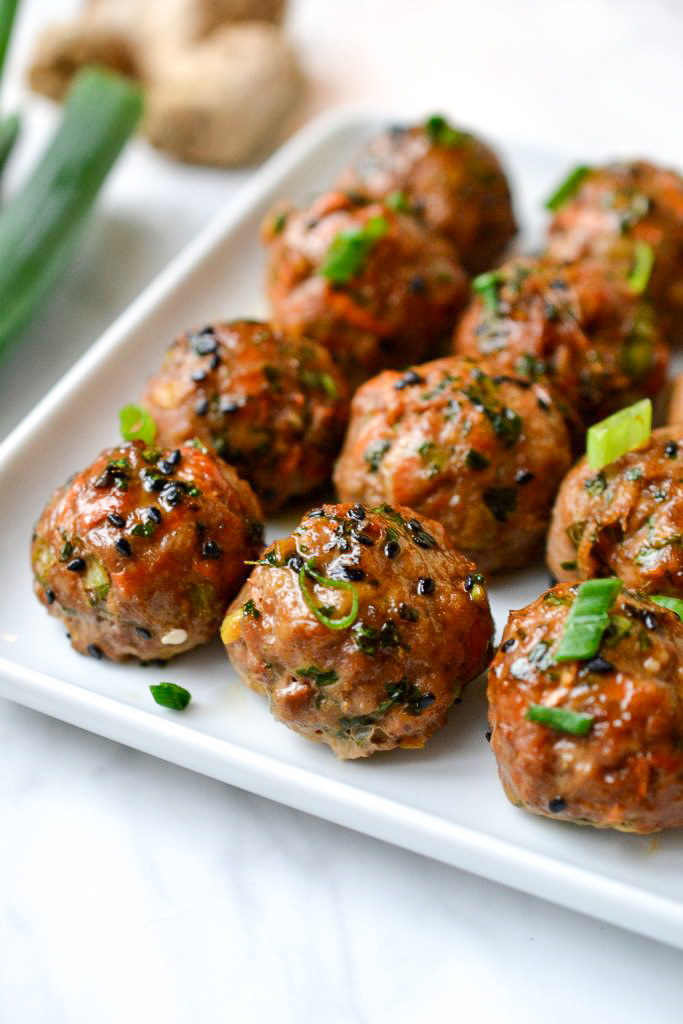 I get so excited when a recipe completely surprises me. I love ground pork and figured that by mixing it with some herbs and Asian flavourings I could create some pretty tasty meatballs. What I pulled out of the oven 40 minutes later completely exceeded my expectations. THESE MEATBALLS ARE SO GOOD!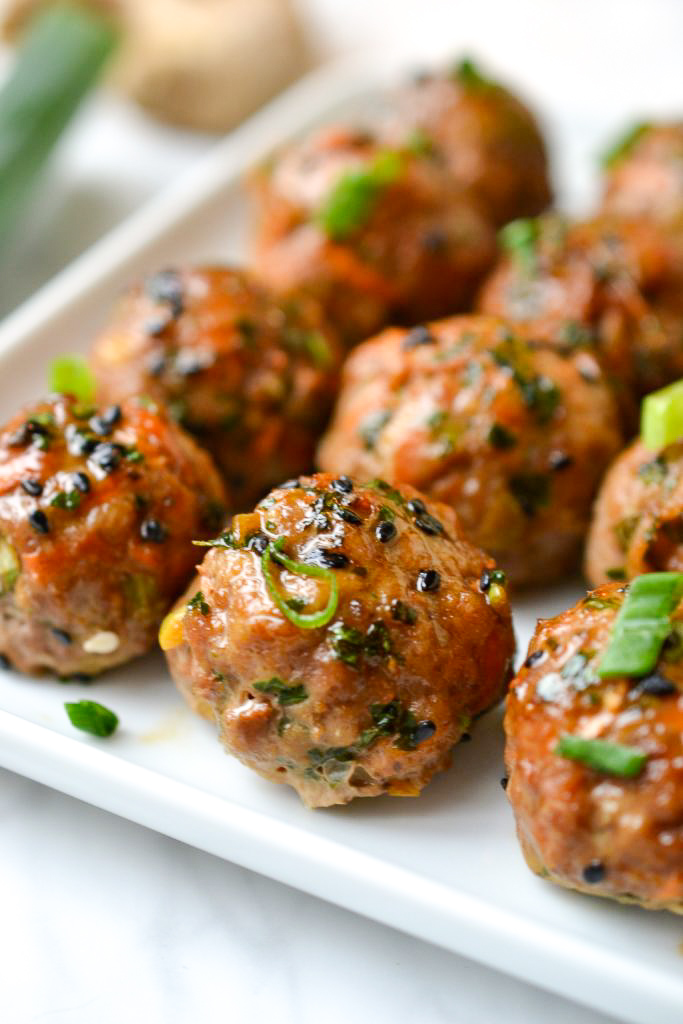 If the capital letters weren't convincing enough, then let me tell you a bit more. Each meatball is packed full of flavour with crunchy ginger, spring onions, garlic, mint, coriander and pieces of shredded carrot. Using only 2 tablespoons of almond flour ensures the meatballs remain juicy and tender and won't dry out, even if you accidentally let them bake for a few minutes too long. Brushing the meatballs with sauce half way through baking not only enhances the flavour but also gives them a beautiful golden glaze and helps the sesame seeds stick to the sides.
The slightly sweet sauce can be served alongside the meatballs for dipping at a cocktail party, or poured over the meatballs and served with cauliflower rice as a hearty dinner.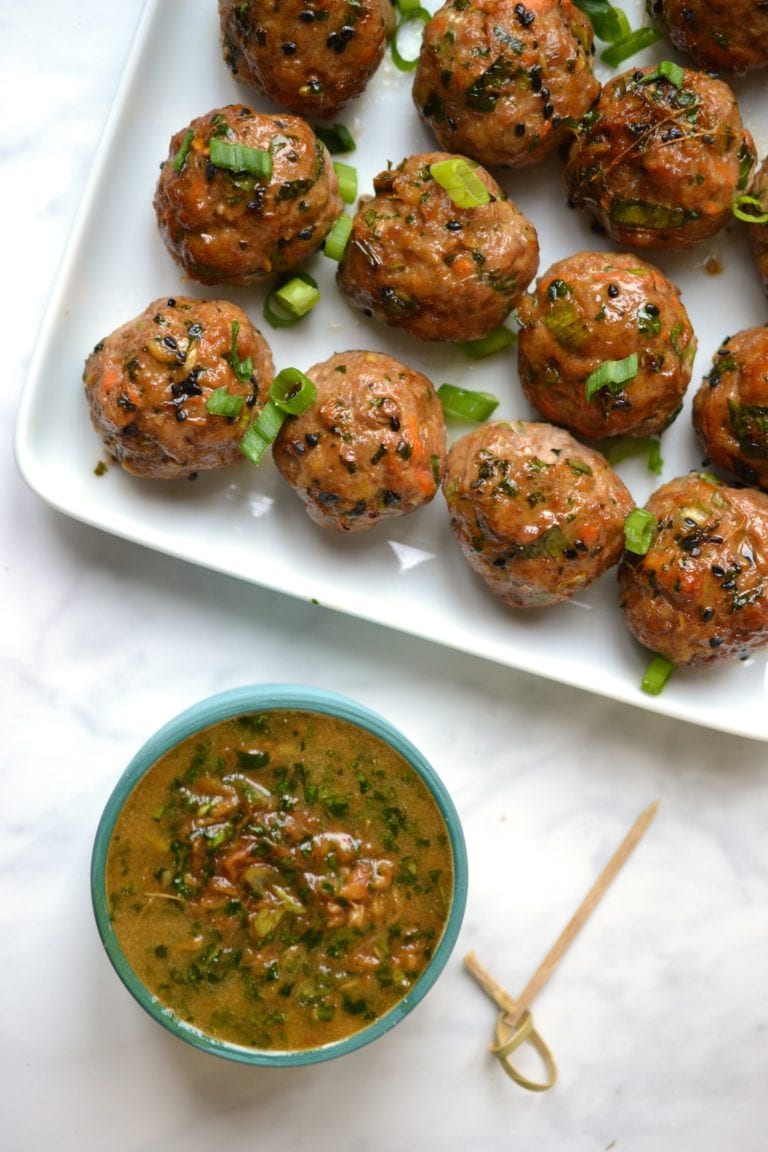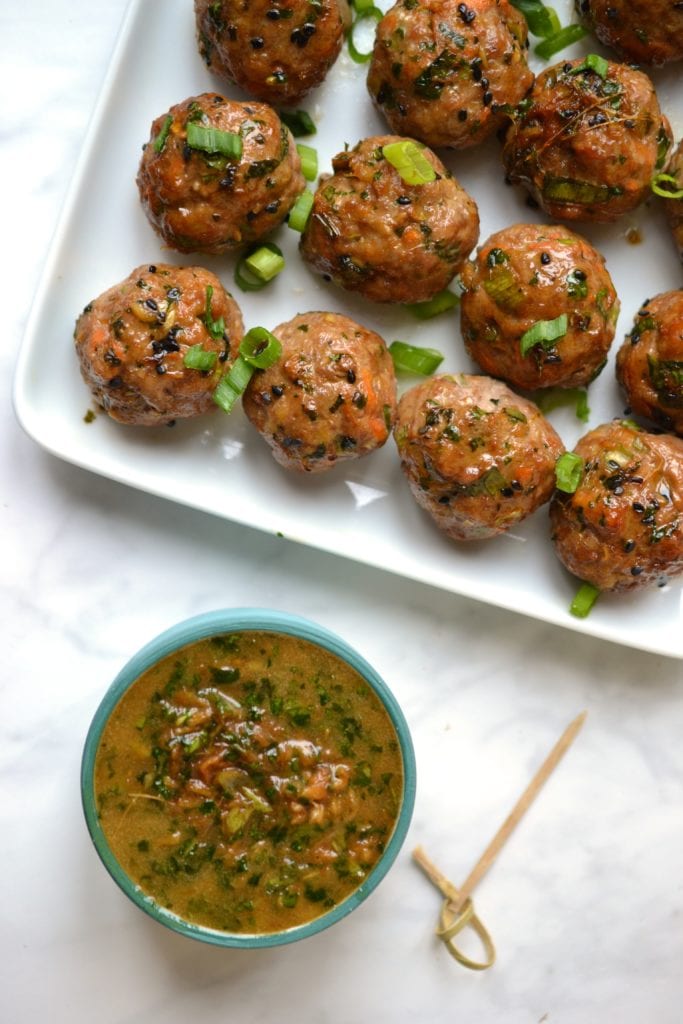 These meatballs are incredibly easy to make and require less than 20 minutes to prepare. I have also made this recipe using ground turkey and they turned out fantastically well. I recommend making an extra batch to store in the freezer as these are great to have on hand for unexpected guests or an impromptu potluck.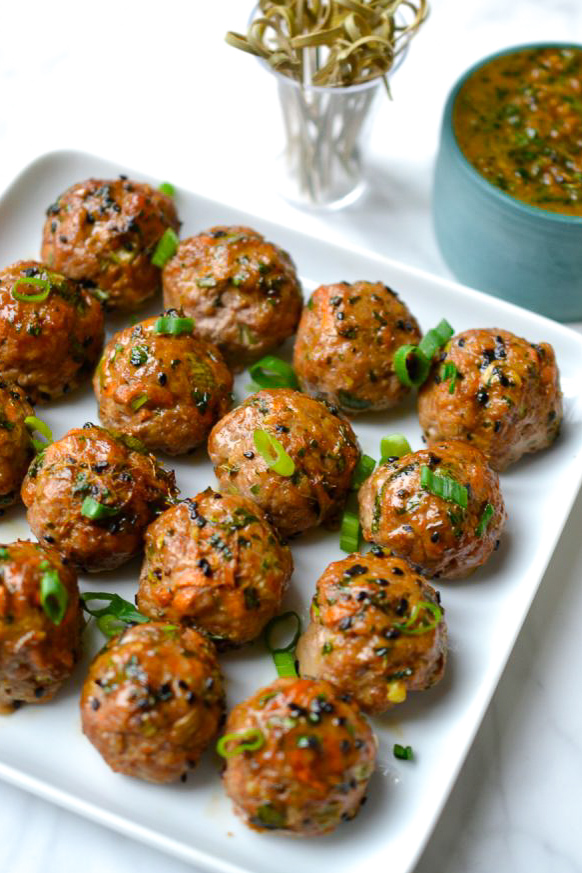 Here are a few other meatball recipes that you might enjoy:
---
If you make this recipe let me know in the comment section below, I would love to hear what you think or take a photo and tag me (@everylastbite_) on Instagram, I love seeing your photos!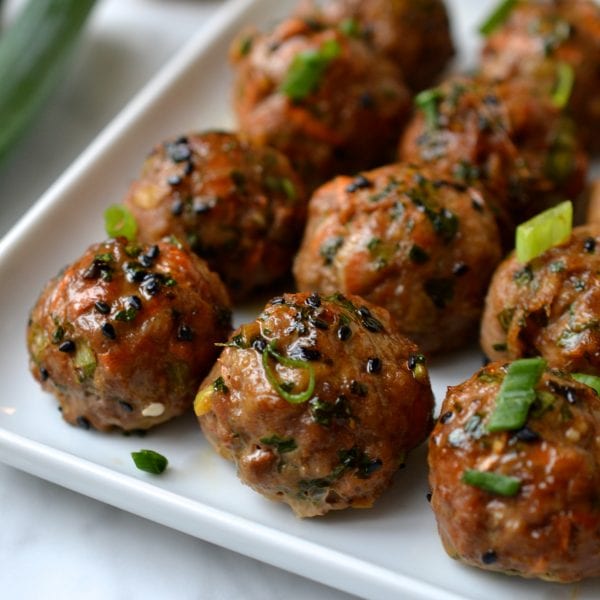 Ingredients
Pork Meatballs
500 grams ground pork or ground chicken/turkey
1/2 cup grated carrot
1 clove garlic. crushed
1 1/2 tbsp grated fresh ginger
1/4 cup chopped scallions
1 egg white
1 tbsp coconut aminos or tamari
1 tbsp cilantro
1 tbsp mint
2 tbsp almond flour
Sauce
1/4 cup sesame oil
2 tbsp coconut aminos or tamari
1 tbsp honey (sub for 1 tbsp orange juice for Whole30)
1/2 tbsp lime juice
2 tbsp cilantro
2 tbsp mint
To serve
1 tbsp black sesame seeds
1 tbsp chopped scallions
Instructions
Preheat the oven to 175 degrees Celsius (350 degrees Fahrenheit)

In a blender or food processor combine the sesame oil, tamari, honey and lime juice. Blend until well combined. Add in the corandor and mint and pulse until the herbs have shredded. Pour into a bowl and set aside.

In a bowl combine all of the ingredients for the meatballs. Using your hands work the ingredients together until they are well combined. Spoon out approximately 1 tablespoon amounts of the mixture, roll into balls and place on a parchment paper lined baking sheet (it should make 20-24 balls).

Place the tray in the oven and bake for 10 minutes. After 10 minutes remove the tray from the oven and brush each meatball with the sauce so that they are well coated. Return to the oven and continue to bake for another 10 minutes.

Before serving brush each of the meatballs again with the sauce and sprinkle with black sesame seeds and chopped spring onions. The remaining sauce can be served alongside the meatballs for dipping.