Greek Chicken Traybake
This recipe has been the most popular recipe on this site for over 3 years, and with good reason! It really couldn't be any easier to make with less than 10 minutes of hands on prep. Whether you are doing a Whole30, Paleo or just love food this is a great one pan dish to serve to please everyone.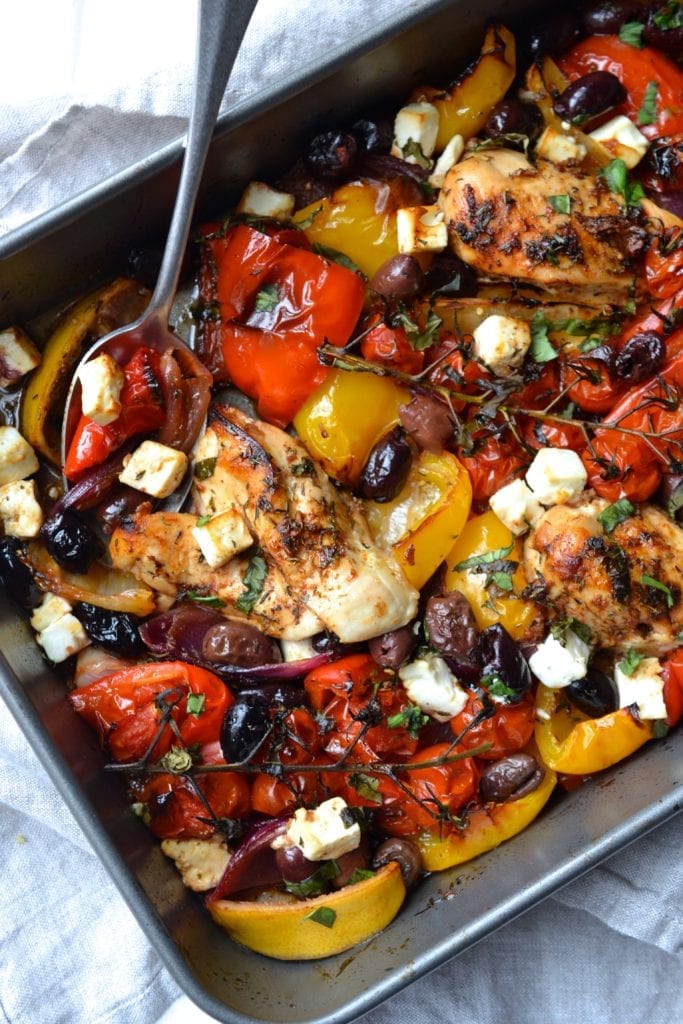 Traybakes have become the star of my weeknight dinners. I am all about the low maintenance midweek meals that can be prepared with the absolute minimum amount of effort, taste good, and ideally be eaten as leftovers over the following days.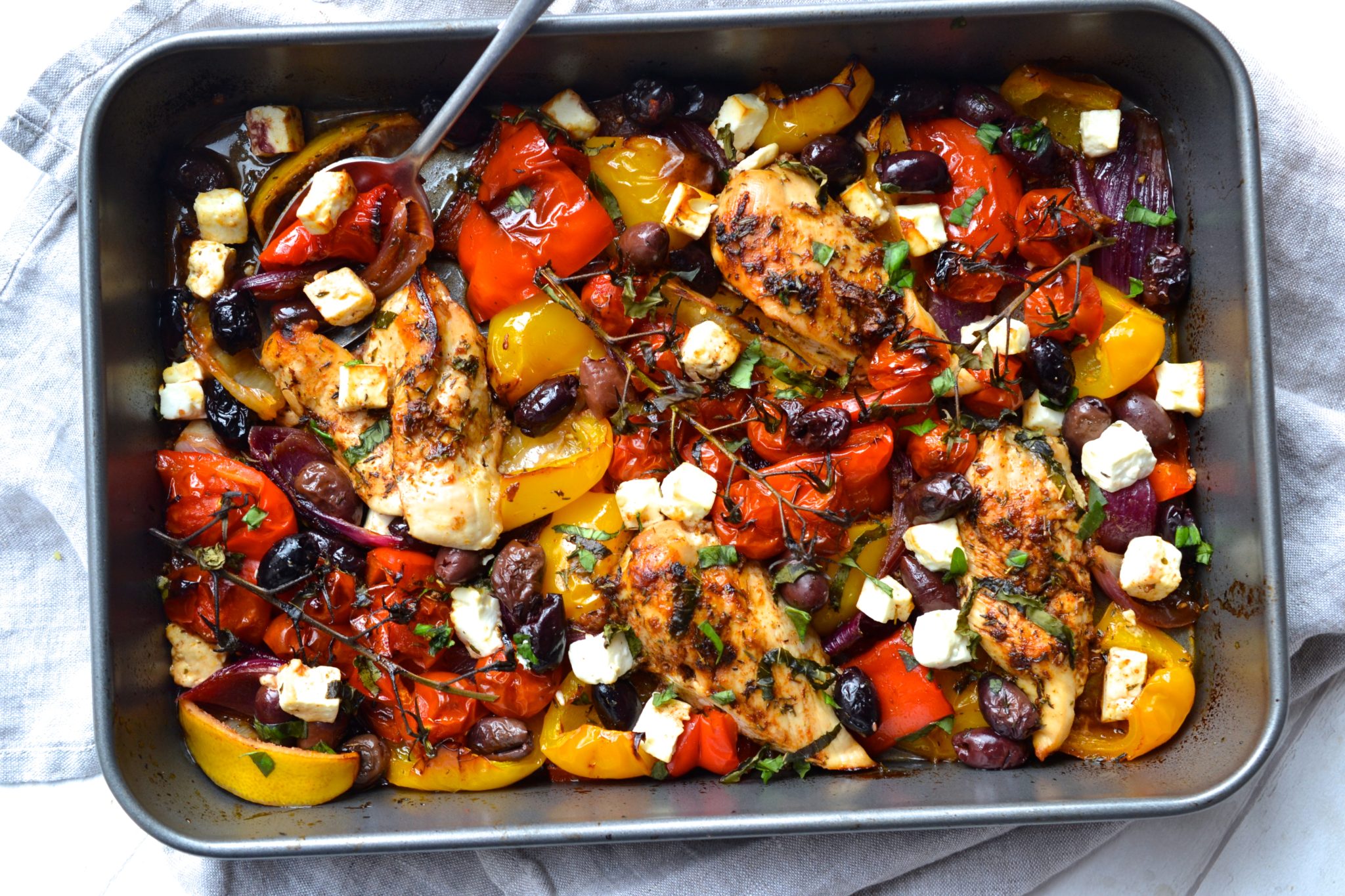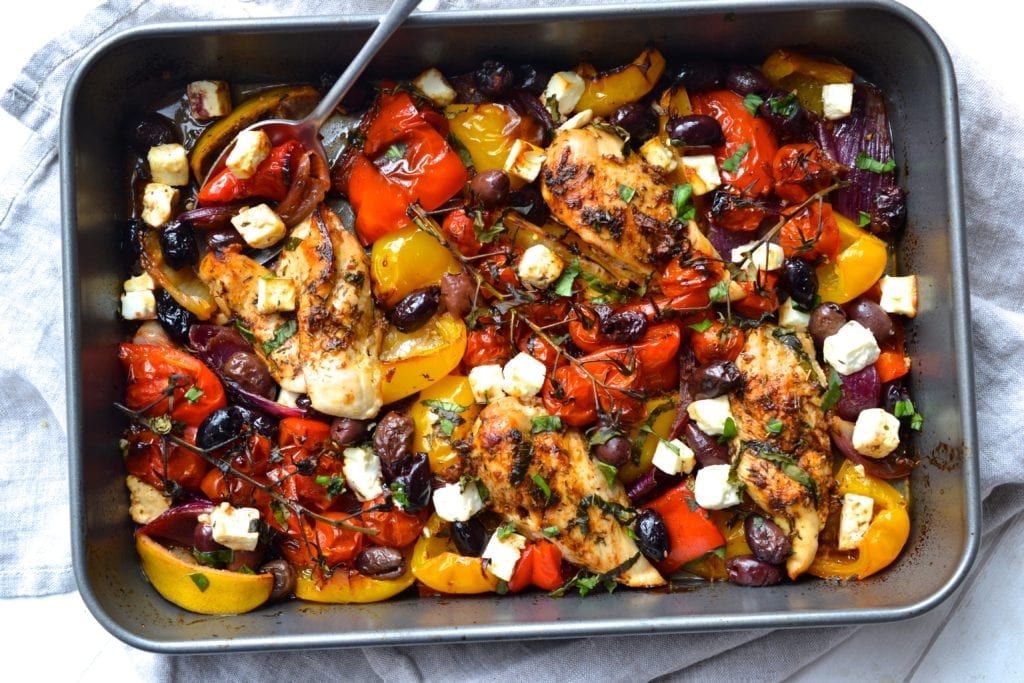 As demanding as this sounds, this Greek chicken traybake ticks all those boxes and more. It's packed with beautiful healthy ingredients including red and yellow peppers, cherry tomatoes, red onions, wedges of lemon and loads of garlic and basil. Following less then 10 minutes of prep, everything is tossed in a Greek herb sauce and then baked in the oven for 30 minutes, so simple!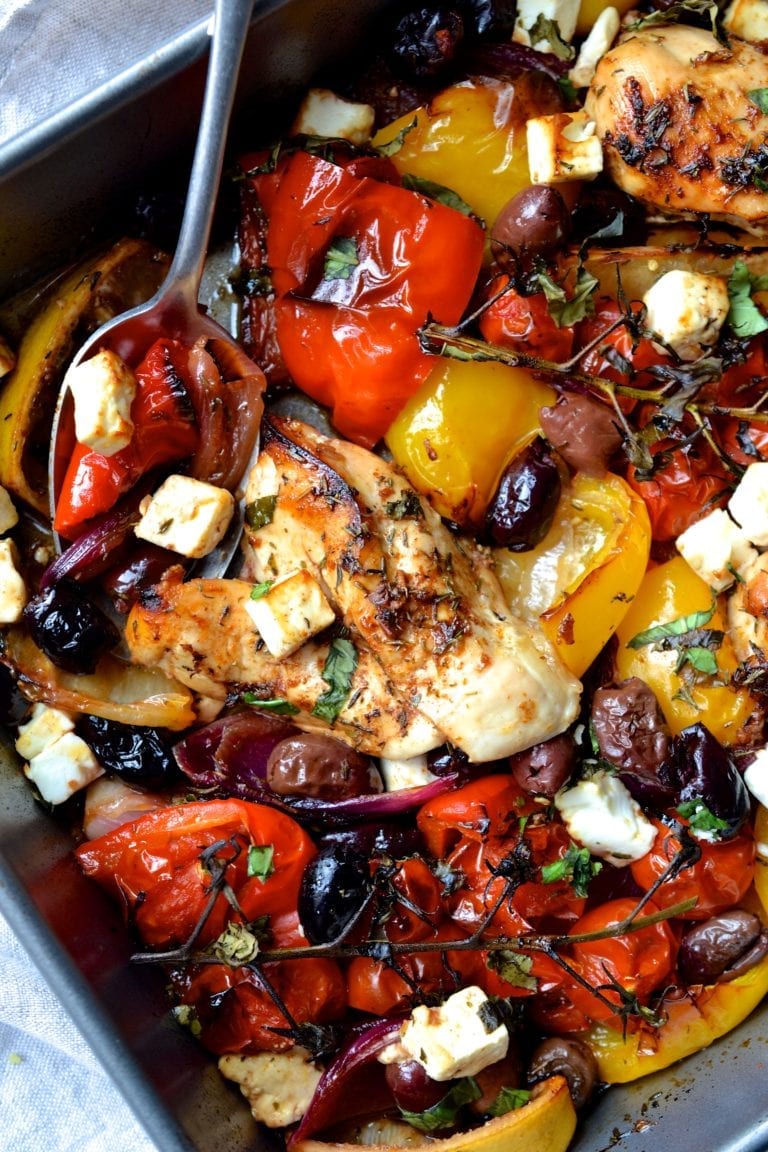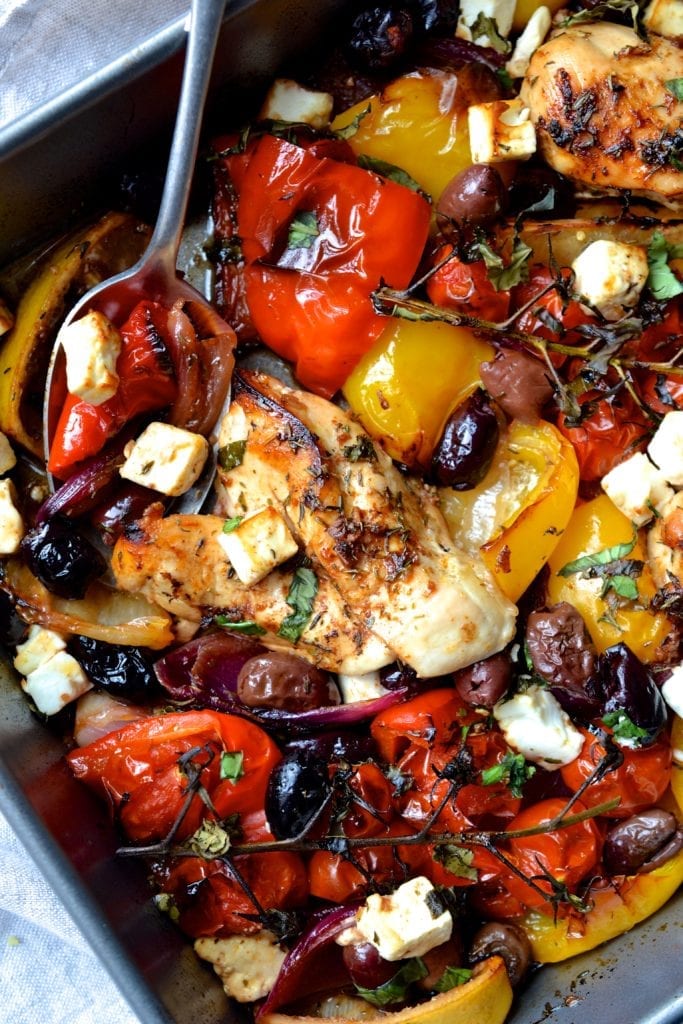 Make Ahead/Leftovers
Chop all of the veggies and put them on the tray with the chicken up to a day in advance. 30 minutes before serving pour the sauce overtop and bake in the oven.
Cut up the leftover veggies and add them into a salad along with the chicken. Use any excess sauce from the bottom of the tray as dressing.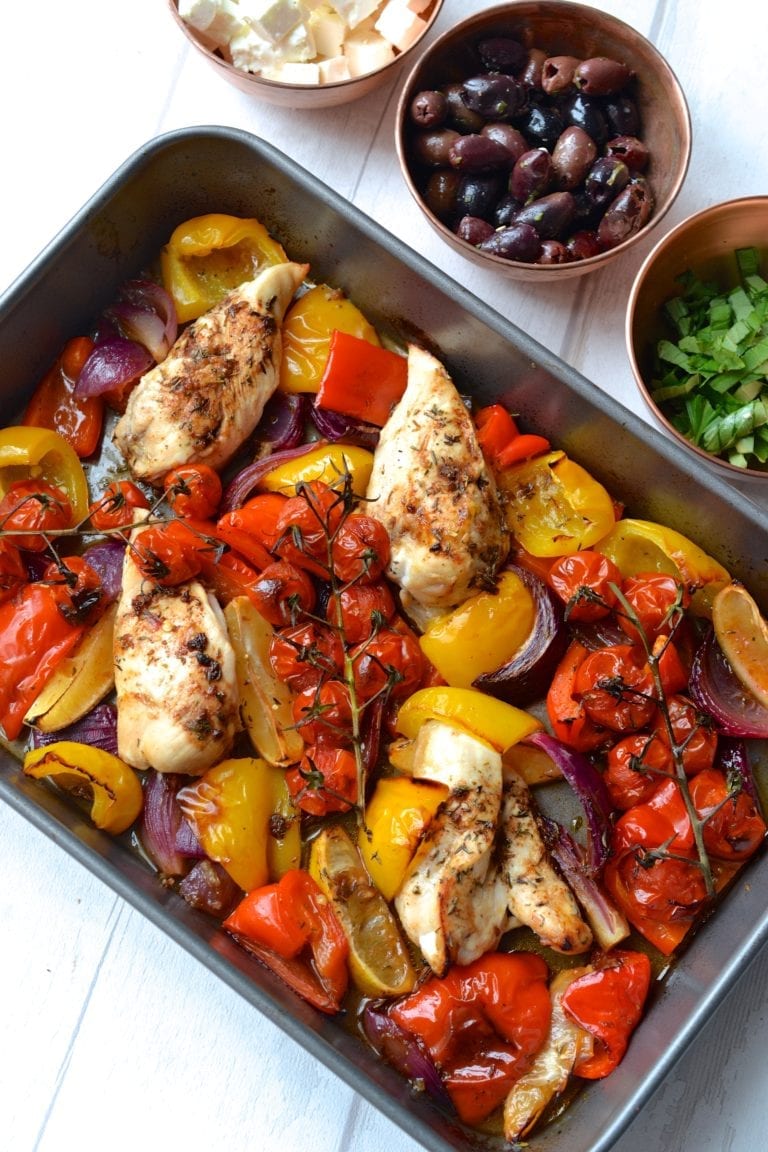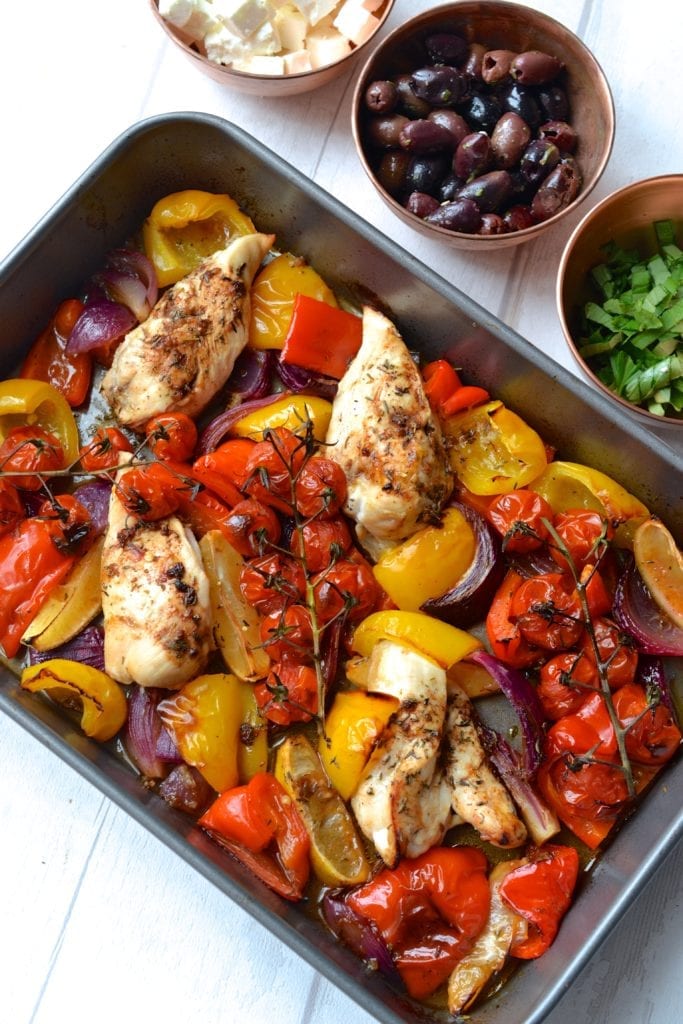 Ways to change up the recipe
Boneless skinless chicken breasts or thighs work well for this recipe, if using bone in remember to increase the cook time by 15 minutes
Swap the chicken for salmon or a white fish such as cod or halibut. Bake the veggies in the oven for 15 minutes before adding the fish on top and then baking for another 15 minutes until cooked through.

On a dairy free diet such as Paleo or Whole30? Skip the feta and add in small slices of potato

Serve the traybake with Dairy Free Tzatziki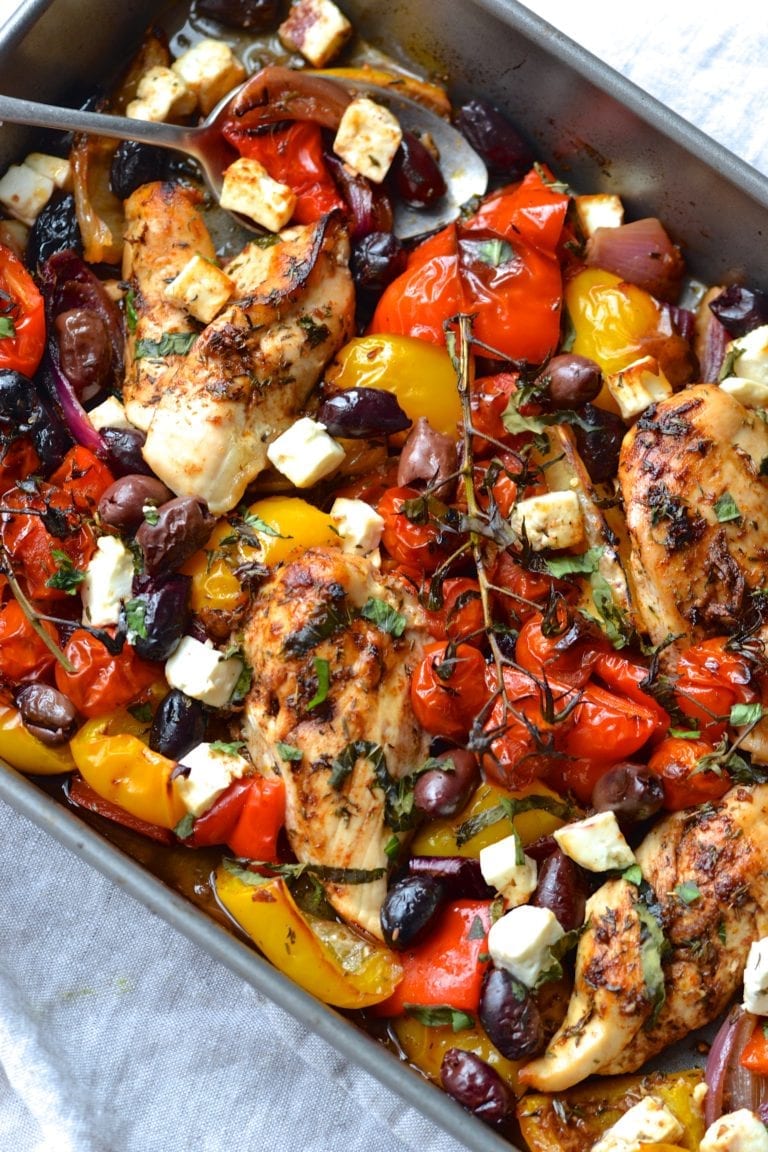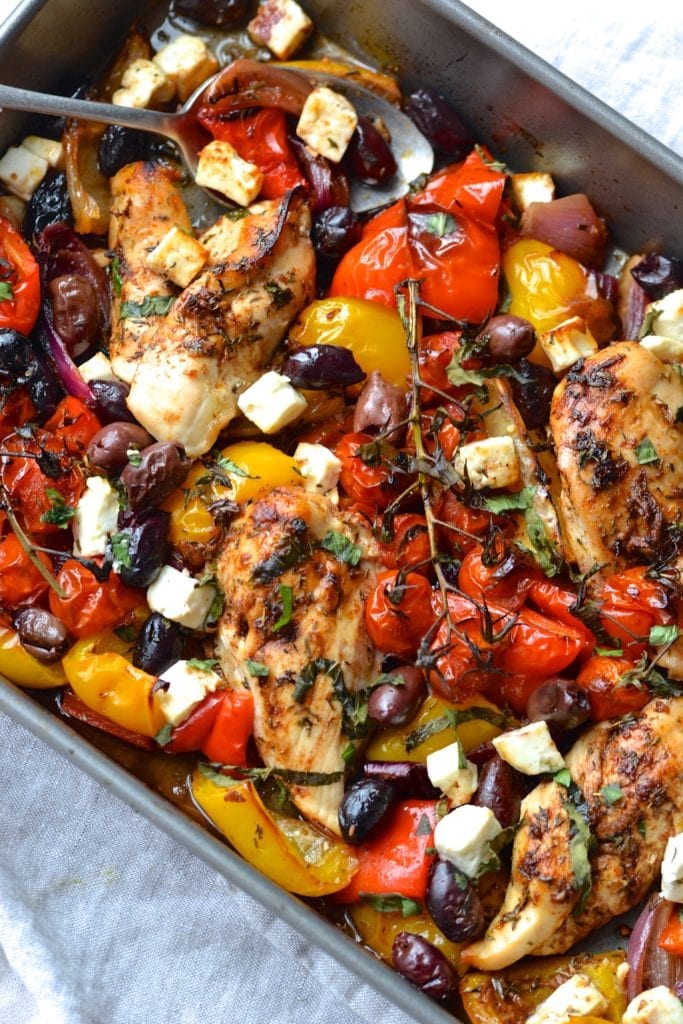 Love easy traybake recipes? Here are a few others you might enjoy:
---
If you make this recipe let me know in the comment section below, I would love to hear what you think or take a photo and tag me (@everylastbite_) on Instagram, I love seeing your photos!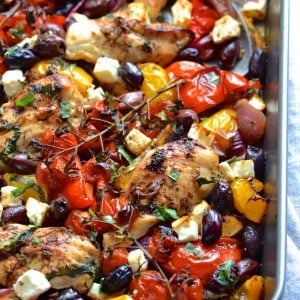 Ingredients
1 red pepper cut into 2 inch pieces
1 yellow pepper cut into 2 inch pieces
1 red onion cut into eighths
2 cups cherry tomatoes
1/2 cup artichoke hearts
1 lemon
2 large chicken breasts, cut in half or 4 chicken thighs
2 cloves garlic crushed
1/4 cup olive oil
1 1/2 tbsp balsamic vinegar
1/2 tsp smoked paprika
1 tsp dried oregano
1/4 tsp salt
1/2 tsp pepper
2 tbsp chopped fresh basil
2/3 cup black olives
1/4 cup chopped feta (omit for Paleo/Whole30)
Instructions
Preheat the oven to 200 degrees Celsius (390 degrees Fahrenheit)

In a large baking sheet or roasting tray, add the chopped peppers, red onion slices, artichoke hearts, lemon wedges and tomatoes.

In a bowl whisk together the garlic, olive oil, vinegar, paprika and oregano. Pour 1/3 of the sauce over the veggies, sprinkle with salt and pepper and toss until well coated. Place the chicken pieces on top of the veggies and brush sauce. Bake in the oven for 25 minutes.

After 25 minutes, add in the feta, chopped basil and olives. Pour the remaining sauce over the tray and return to the oven to bake for another 5-10 minutes. Check the chicken to ensure its no longer pink. Sprinkle with basil and serve.
Equipment
1 21x15inch Sheet Pan or Baking Dish