Brussels Sprout, Apple & Walnut Slaw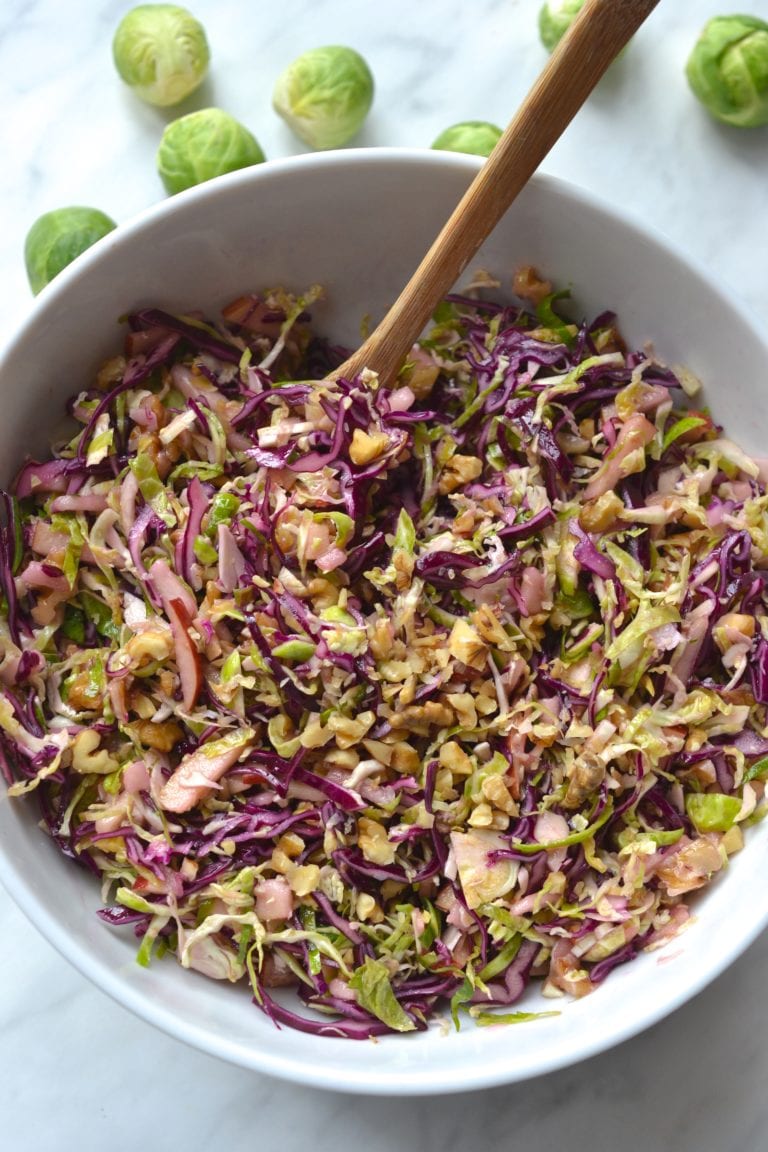 I am absolutely loving this fall spin on coleslaw. It has some of my favourite autumn ingredients including apples, brussel sprouts and walnuts as well as some of the more classic coleslaw ingredients such as red cabbage and a light honey mustard dressing.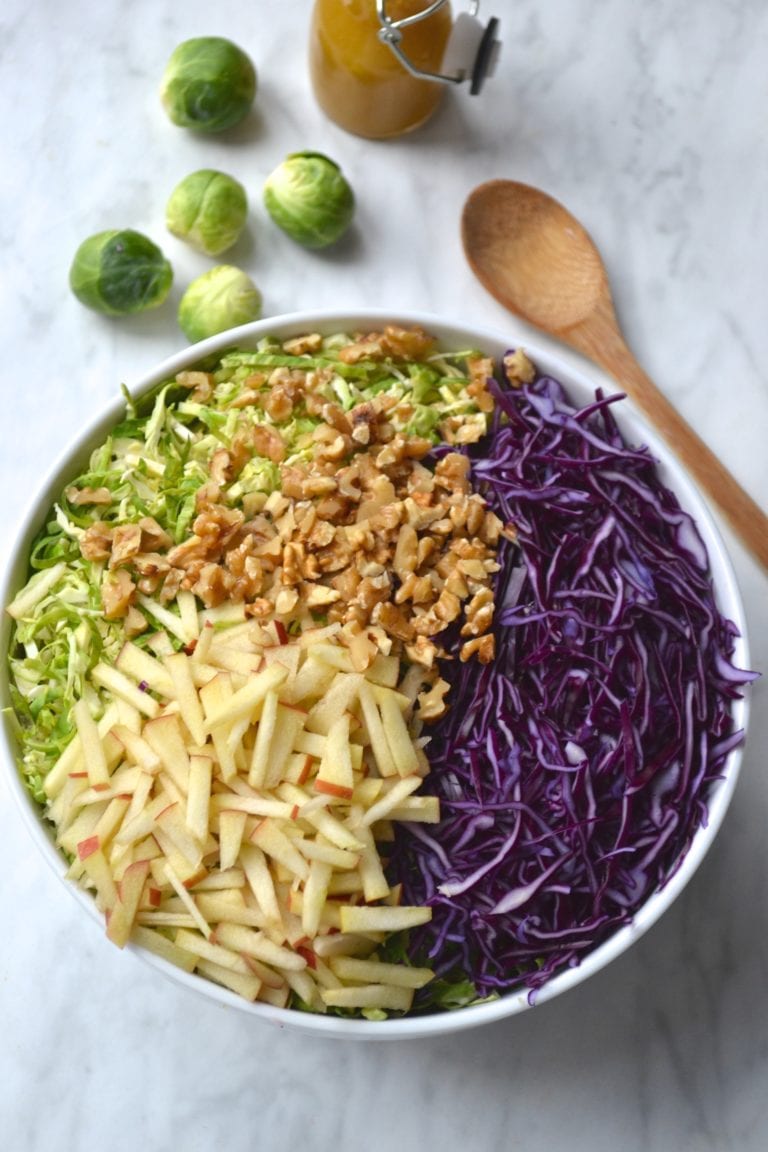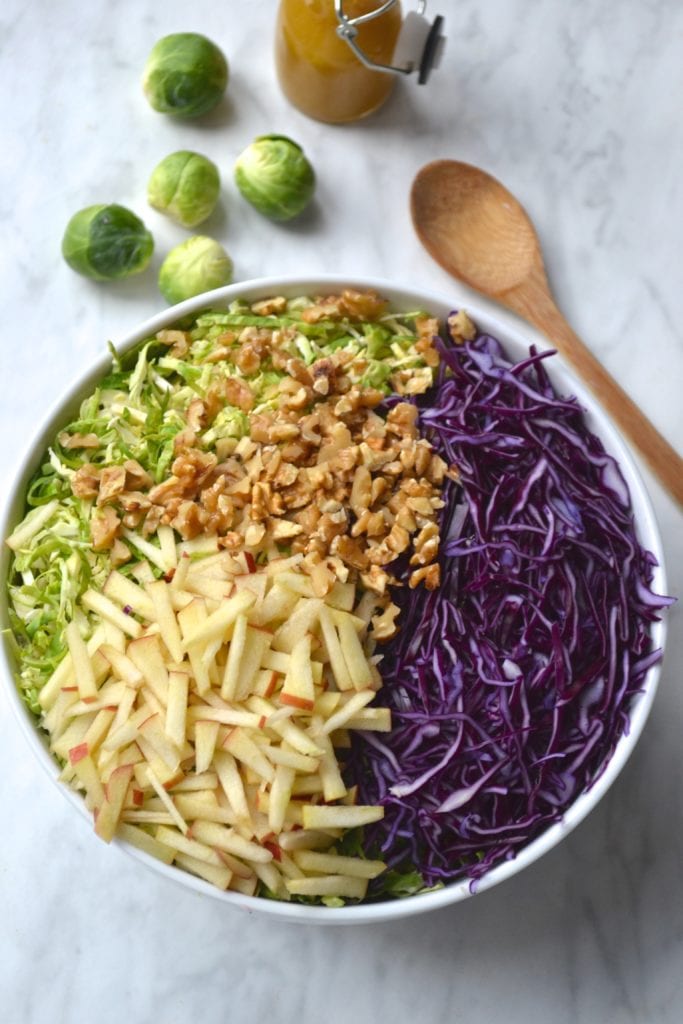 Shredded brussel sprouts make an awesome replacement for white cabbage, both ingredients share the same crisp texture and slightly muted flavour. The brussel sprouts are mixed with shredded red cabbage for the perfect crunchy coleslaw base. Chopped walnuts and thin slices of tart apple make the perfect flavourful toppings in this salad. I used Gala apples, but any variety of apple works well.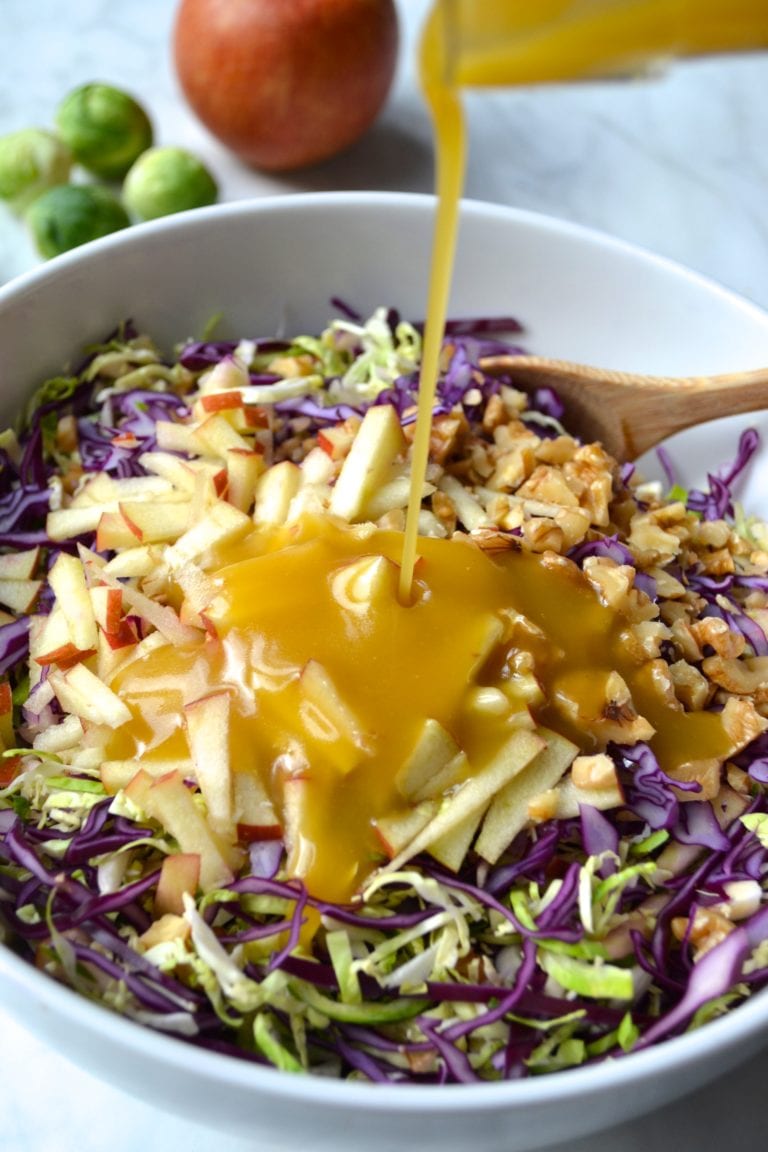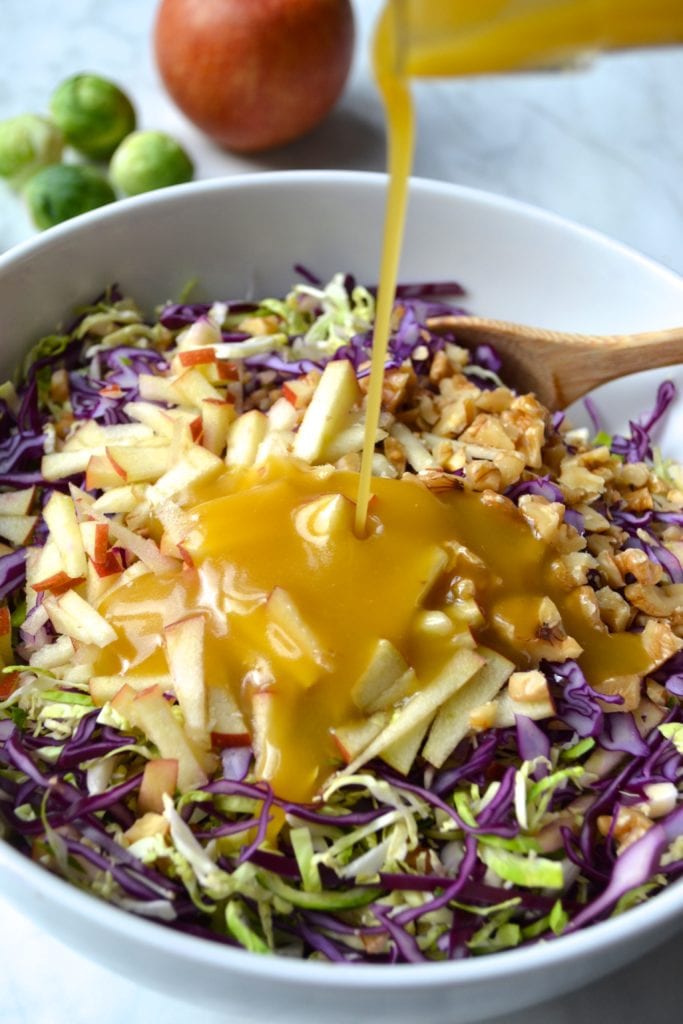 I love this honey mustard dressing. It adds so much great taste to this salad and really kicks the flavour up a notch. It took me a few tries to get the perfect combination of sweet, acidic and spicy in this recipe, but I think I've nailed it.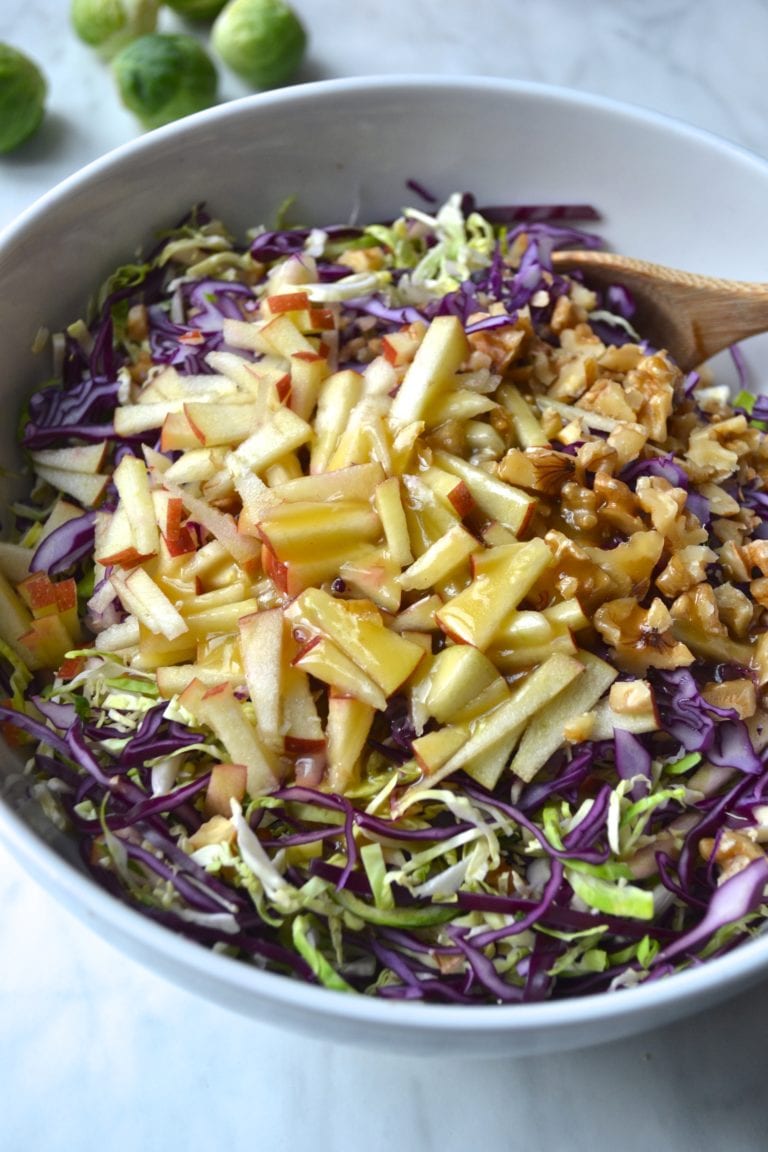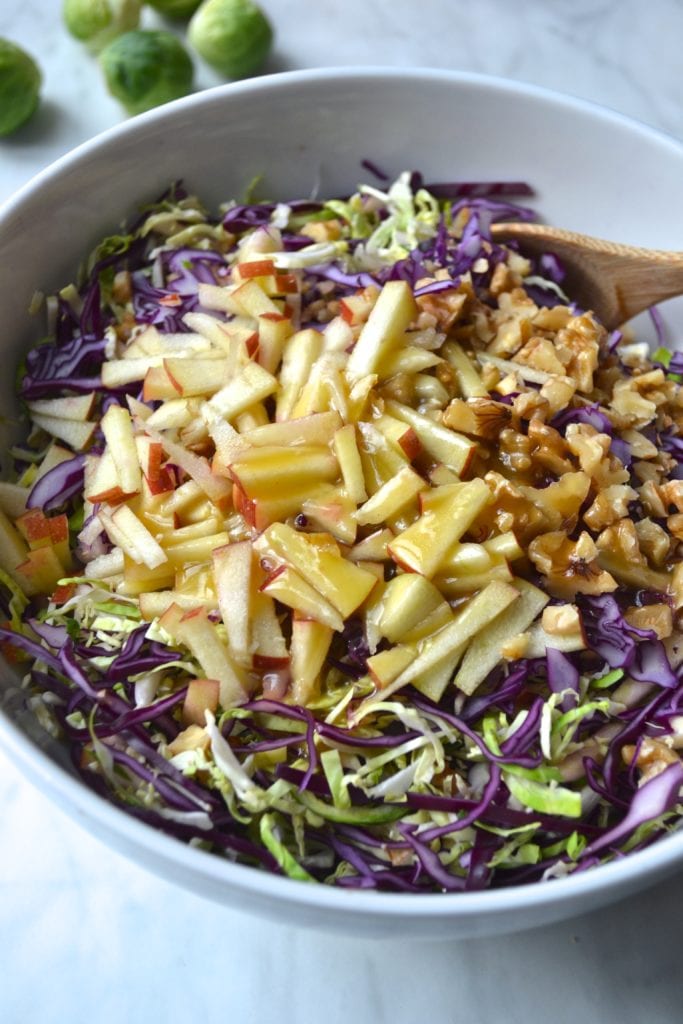 If you struggle with eating brussel sprouts raw, toss the cabbage and sprouts in the dressing, and allow them to sit for a few hours. The acidity from the vinegar helps soften the cruciferous vegetables and makes them easier to digest. Add in the walnuts and chopped apple right before serving so that the apples don't brown.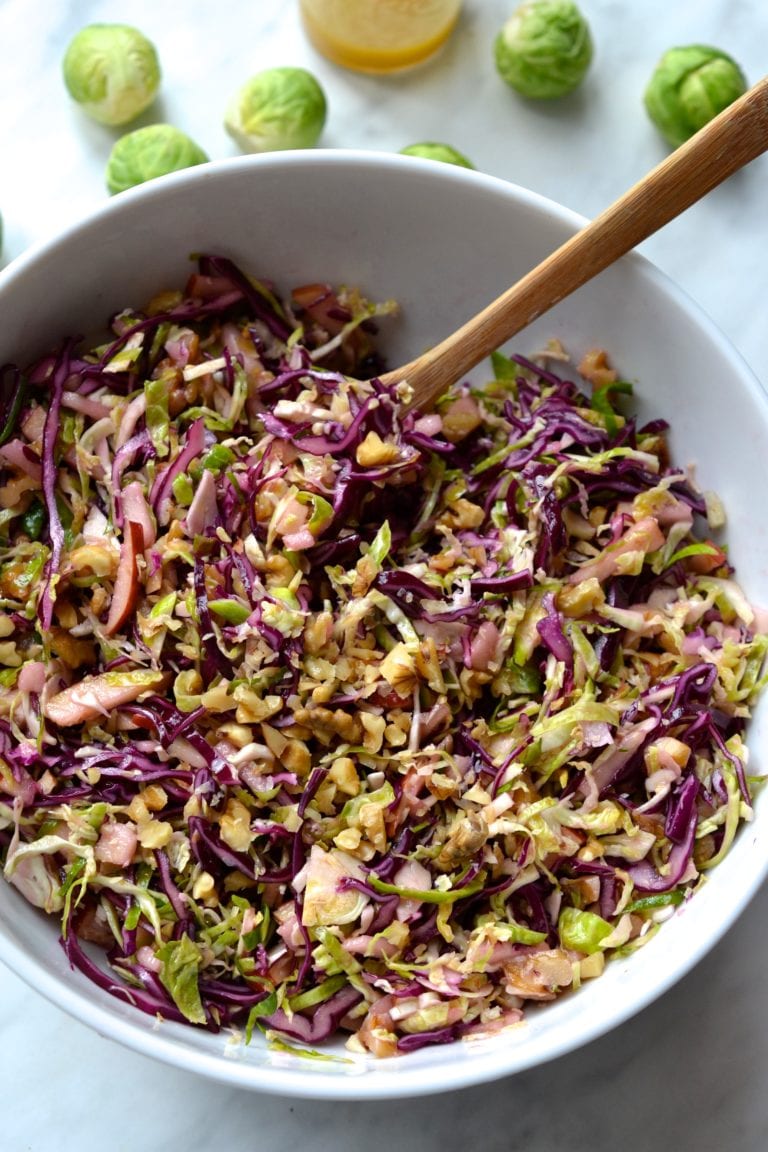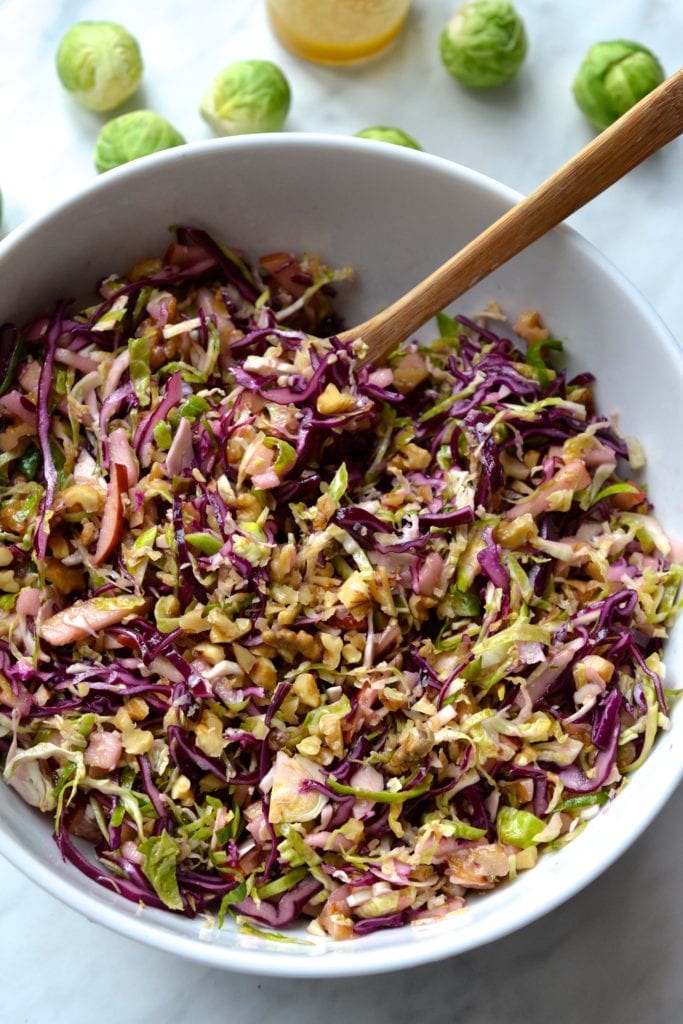 If you make this recipe let me know in the comment section below, I would love to hear what you think or take a photo and tag me (@everylastbite_) on Instagram, I love seeing your photos!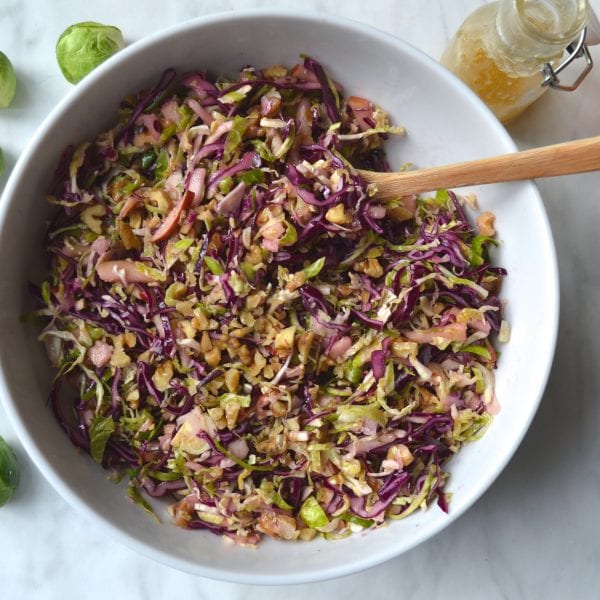 Ingredients
350 g brussel sprouts 3/4 pound
3 cups shredded red cabbage
1 large apple
1/3 cup chopped walnuts
1/4 cup extra virgin olive oil
1 tbsp honey or maple syrup (sub for 1 tbsp orange juice for Whole30)
1 tbsp mustard
1 tbsp apple cider vinegar
1/4 tsp salt
Instructions
To shred the brussel sprouts, start by cutting off the hard stem and remove any outer damaged leaves. To save time you can shred the brussel sprouts in a food processor using the thin slicing blade, or alternatively shred them using a knife. To do this cut them in half lengthwise and then shred as thinly as possible.

In a bowl whisk together the olive oil, honey, mustard, vinegar and salt.

Core the apple, cut into slices and then cut each slice into thin matchstick sized pieces.

Add the shredded brussel sprouts, cabbage, apple and chopped walnuts to a bowl. Toss with the dressing and serve.