Seared Scallops on Cauliflower Puree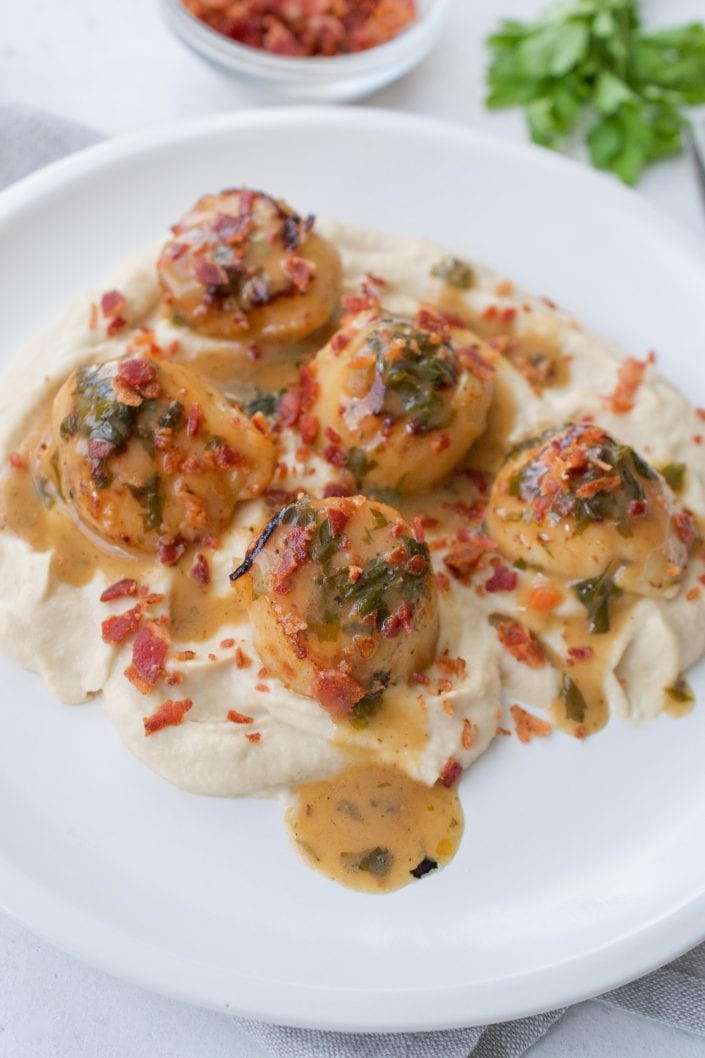 Scallops are one of my go to orders in a restaurant, but I rarely make them at home, likely because I never know what to serve them with! This all in one dish combines perfectly seared scallops with a light parsley and bacon sauce and smooth and creamy cauliflower puree. This is the perfect dish to make for date night in because it seems restaurant quality, but takes less than 30 minutes to make. If you want to save even more time, make the cauliflower puree a day in advance and quickly reheat it before serving.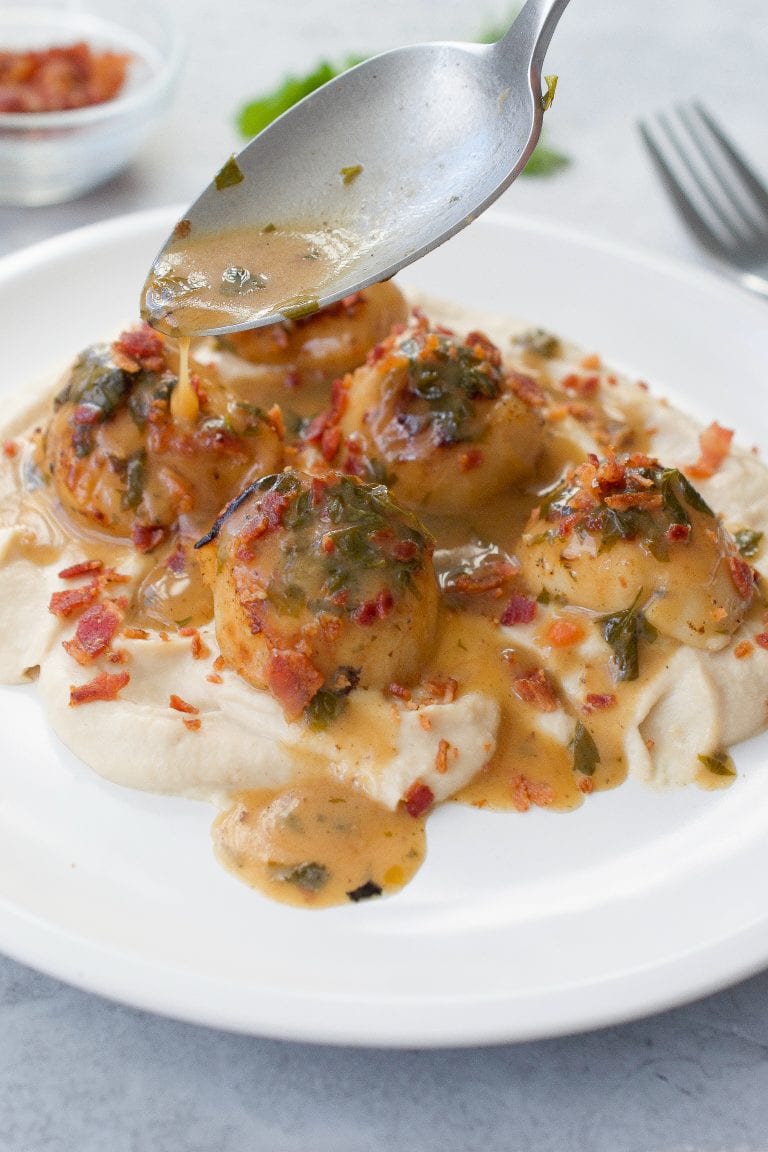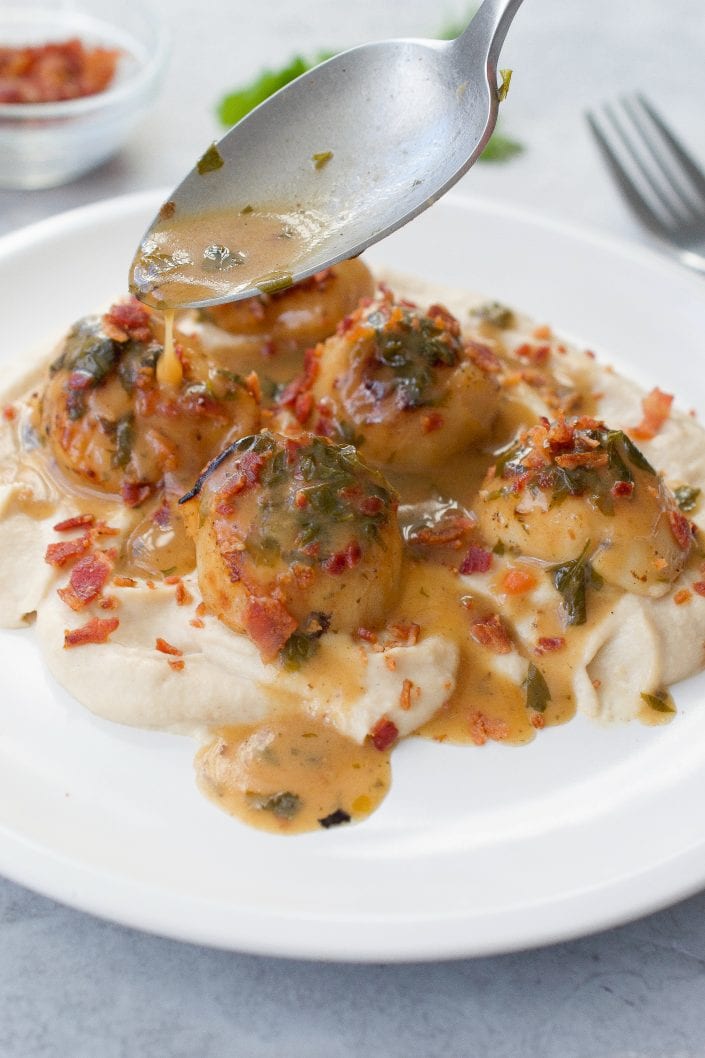 If you make this recipe let me know in the comment section below, I would love to hear what you think or take a photo and tag me (@everylastbite_) on Instagram, I love seeing your photos!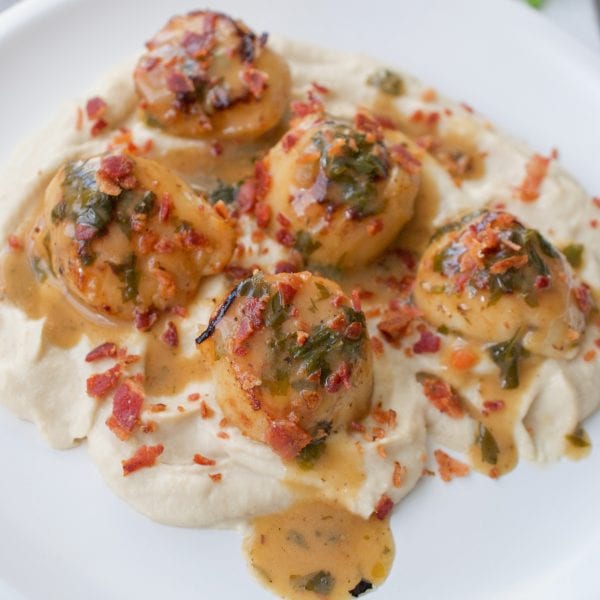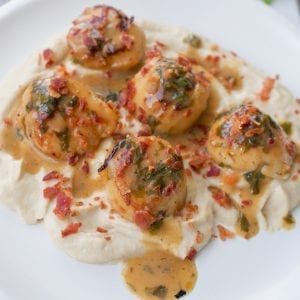 Seared Scallops with Cauliflower Puree
Ingredients
Cauliflower Puree
4 cups roughly chopped cauliflower (approx 1/4 inch sized pieces)
2 tbsp butter or ghee
2 cups almond milk
2 cloves crushed garlic
1/2 tsp salt
Bacon & Parsley Sauce
4 strips bacon
1 pound large scallops (muscle removed)
1 tbsp butter or ghee
1/3 cup chicken stock
1/2 tbsp white wine vinegar
1/2 tsp pepper
1 tbsp chopped fresh parsley
Instructions
Heat the ghee/butter in a large non stick skillet on medium high heat. Add in the garlic and cook for 10 seconds before adding in the cauliflower. Leave the cauliflower to cook for 8 minutes, stirring every few minutes until its golden in colour.

While the cauliflower is cooking, in another skillet cook 4 strips bacon until crispy. Once the bacon is crisp, chop it into small pieces and set aside. Leave any bacon fat in the pan.

Once the cauliflower is evenly golden in colour, pour in the almond milk, season with salt and leave to simmer for 10 minutes until all of the liquid has evaporated. Once all of the liquid has evaporated add the cauliflower to a blender and blend until completely smooth. Transfer the puree back to the pan to keep warm while you finish the scallops.

Pat the scallops dry with a paper towel, season them on both sides with salt and pepper and place them in the skillet with the bacon fat. Leave them to cook on medium high heat for 2 minutes until a golden crust has formed and then flip and cook for another 2 minutes on the other side. Once the scallops are seared on both sides, transfer them to a plate.

Add the ghee/butter to the pan and once it has melted, pour in the chicken stock and white wine vinegar. Increase the heat to high and leave to simmer for approximately 4 minutes until the sauce has begun to reduce and turns cloudy in colour and then stir in the parsley and pepper.

Return the scallops to the pan, spoon the sauce overtop and let them rest for just 30 seconds in the pan to heat through. To serve, portion the cauliflower puree between 4 plates, top with the scallops and drizzle the sauce overtop, finally sprinkle the chopped bacon over each plate.