Easy Canned Tuna Cakes
These Whole30 and Paleo Easy Canned Tuna Cakes are a popular recipe on this site thanks to just how fast and easy they are to make. They are great for those weeknight meals when you are low on groceries because they contain just a handful of ingredients that you likely already have in your fridge and pantry making them convenient and economical!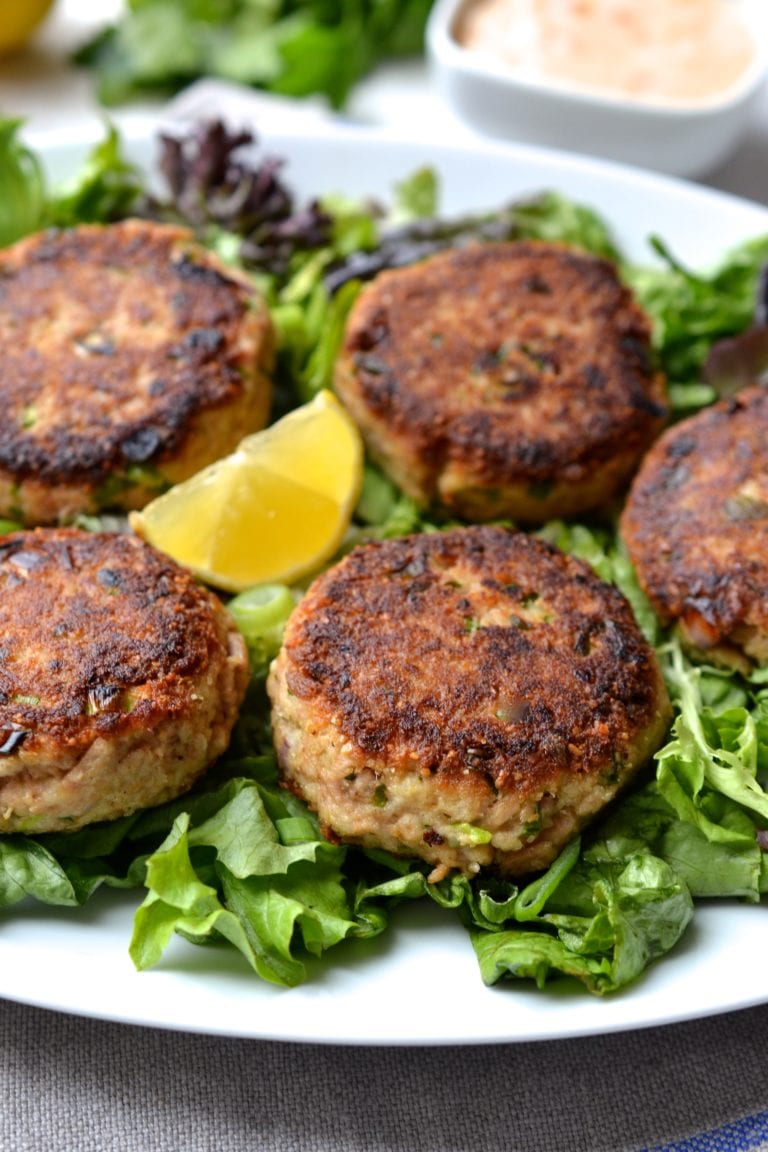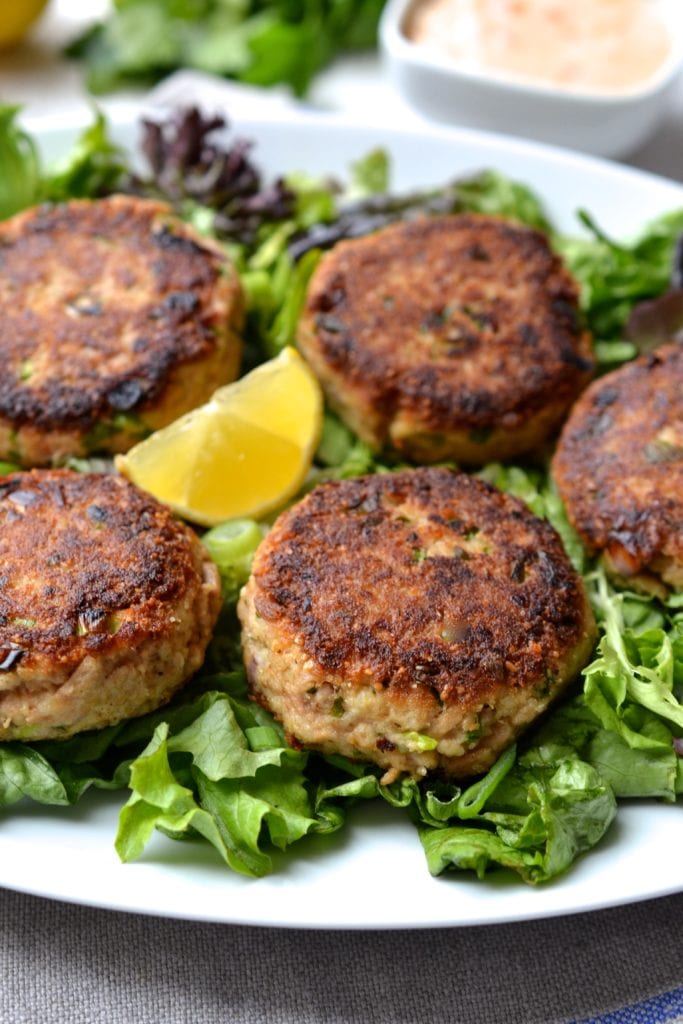 Canned tuna is a pantry staple in my kitchen, that use whenever I am in need of a quick meal.  I personally prefer to use canned tuna in oil because I find that it is more moist and flavourful then the ones packed in water. I love adding it into a salad, mixing it with mayonnaise and fresh herbs or serving it in lettuce wraps. These tuna cakes are a fun way to really up your canned tuna to the next level.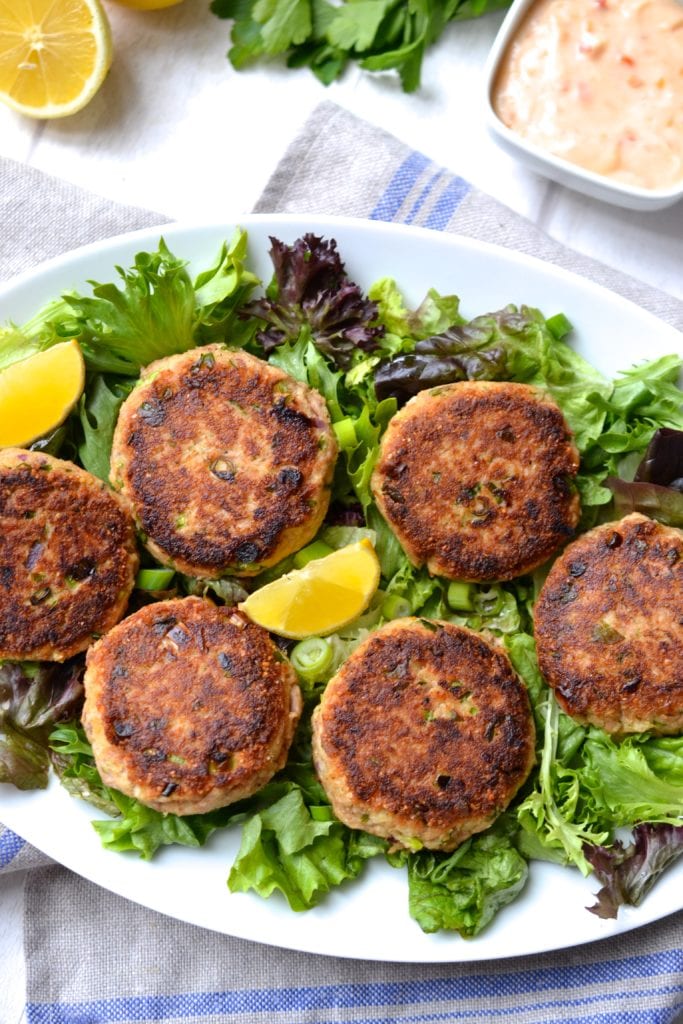 But these aren't your typical tuna cakes. The canned tuna is mixed with lemon juice, fresh herbs, red onion, mustard and scallions so that they really pack a punch of flavour.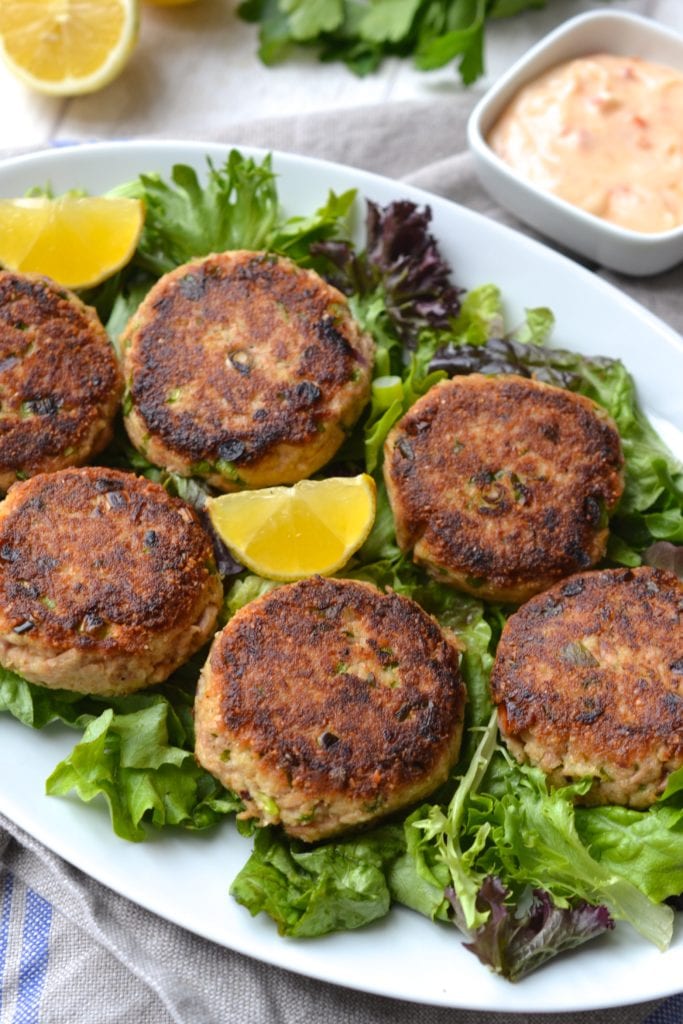 I like serving these tuna patties on a bed of lettuce, topped with a lemon aioli or red pepper sauce. Leftovers are fantastic enjoyed warm or cold and will last for a few days in the fridge.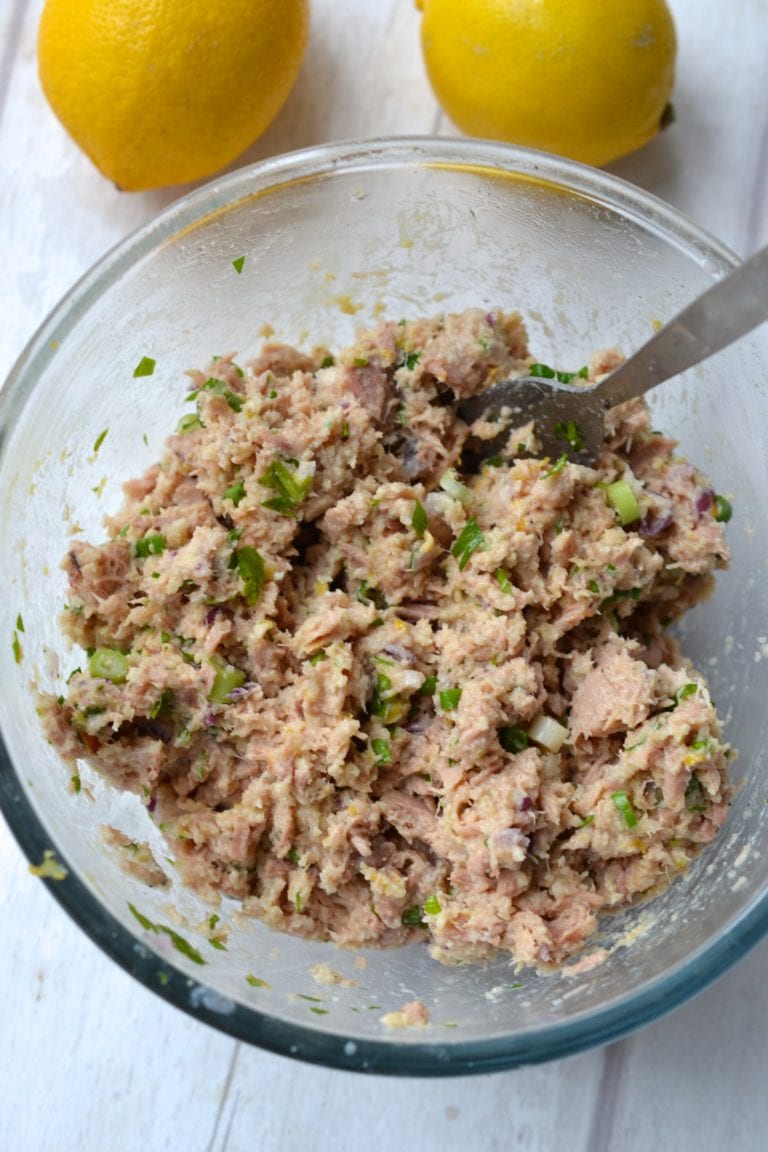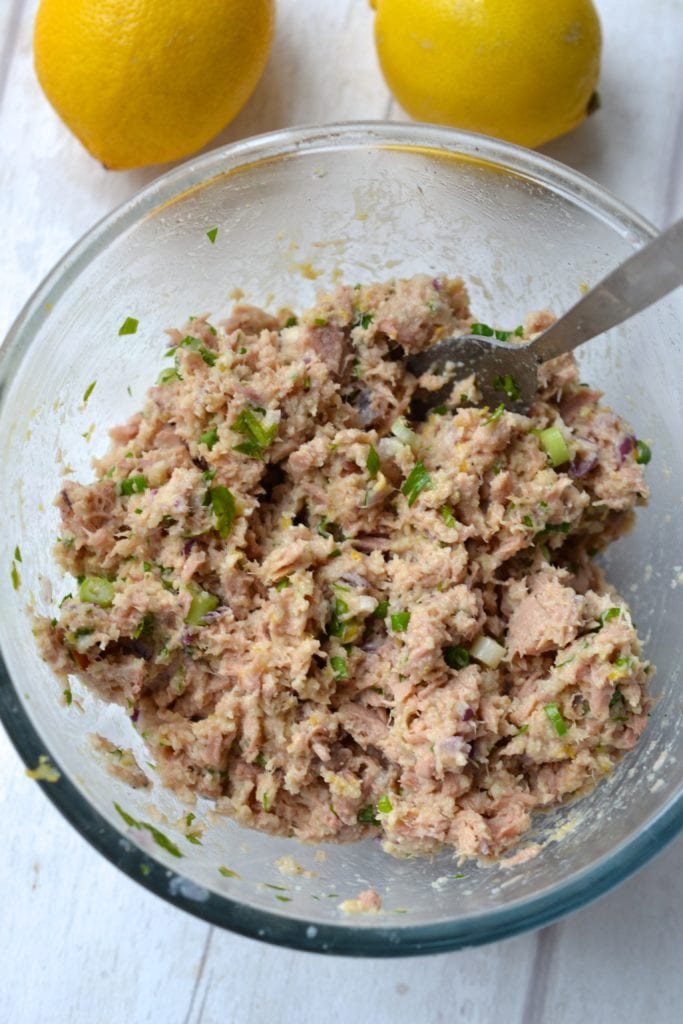 Tips for making these tuna cakes
To ensure that these tuna cakes hold together when cooked, I recommend making them on the smaller side, using approximately a golf ball sized amount of the mixture per patty
When frying the patties, don't move them around in the pan more than necessary. Allow one side to form a golden crust before flipping it over, and only flip them once. I've found that these are the best tricks to keep them from falling apart in the pan.

Chilling the patties in the fridge for 20 minutes will help firm them up and hold together when frying. If you are in a rush, pop the patties in the freezer for 5 minutes instead.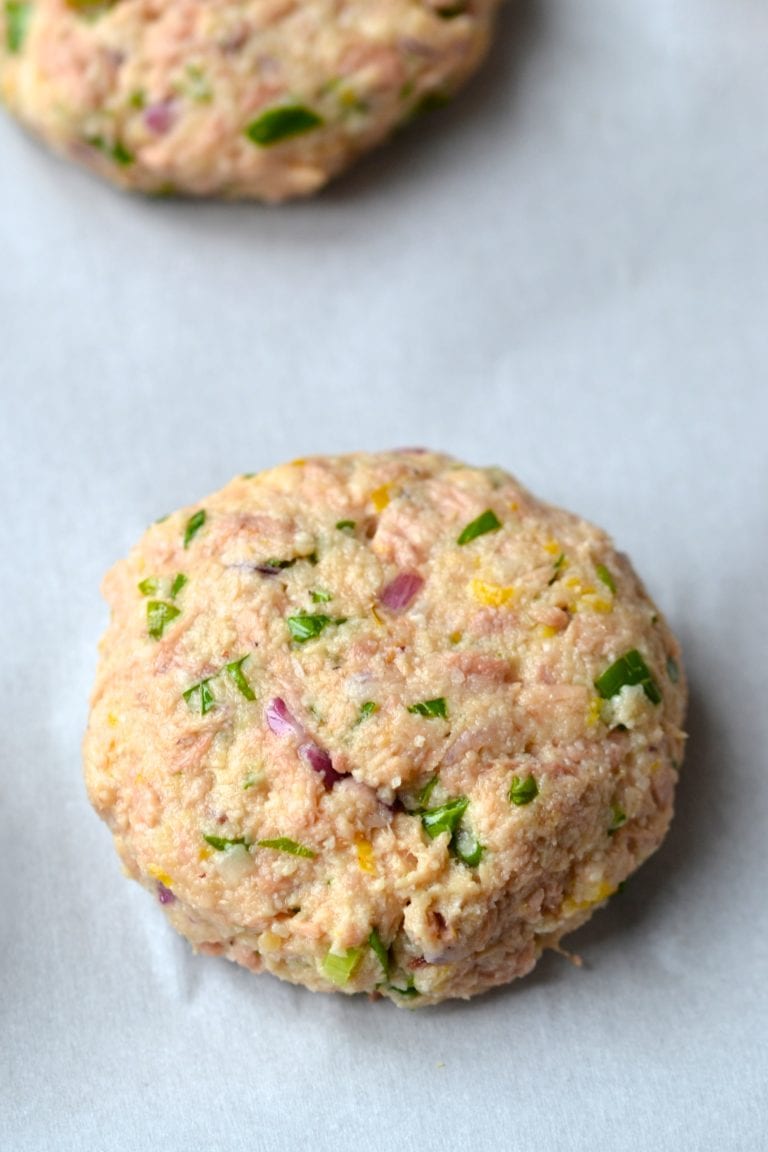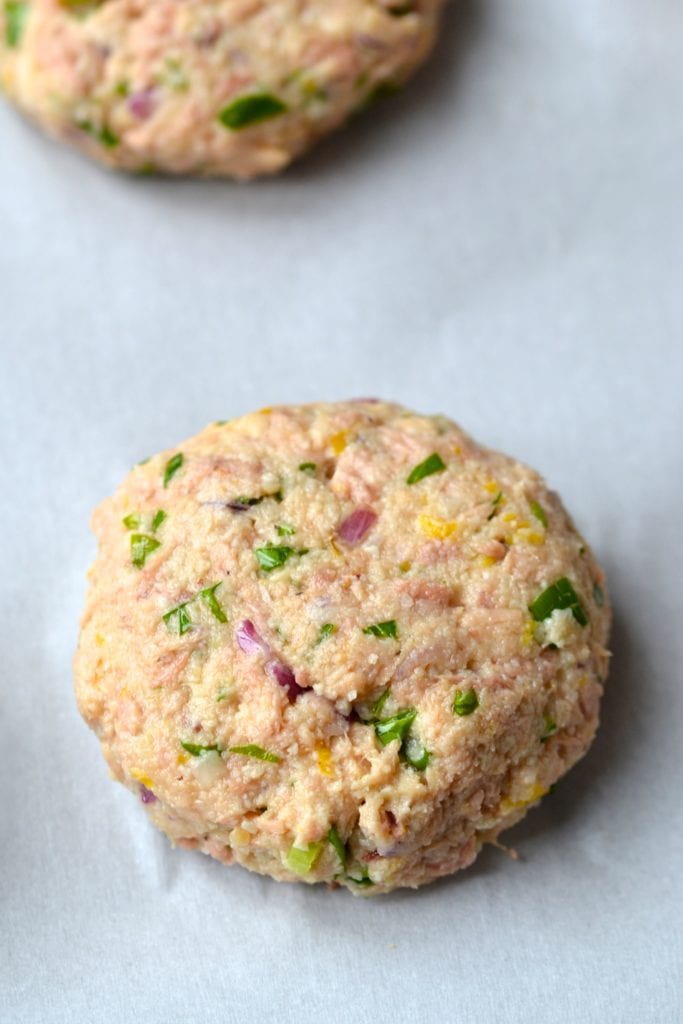 Make Ahead/Leftovers
Prep the tuna mixture and form it into patties up to 6 hours ahead. Store the patties in the fridge and for best results cook right before serving.
Leftover cooked tuna cakes will last up to 3 days in the fridge. They can be reheated in the microwave or oven (350ºF for 10 minutes) but for best results I recommend reheating them in a pan with a splash of oil for a crisp crust.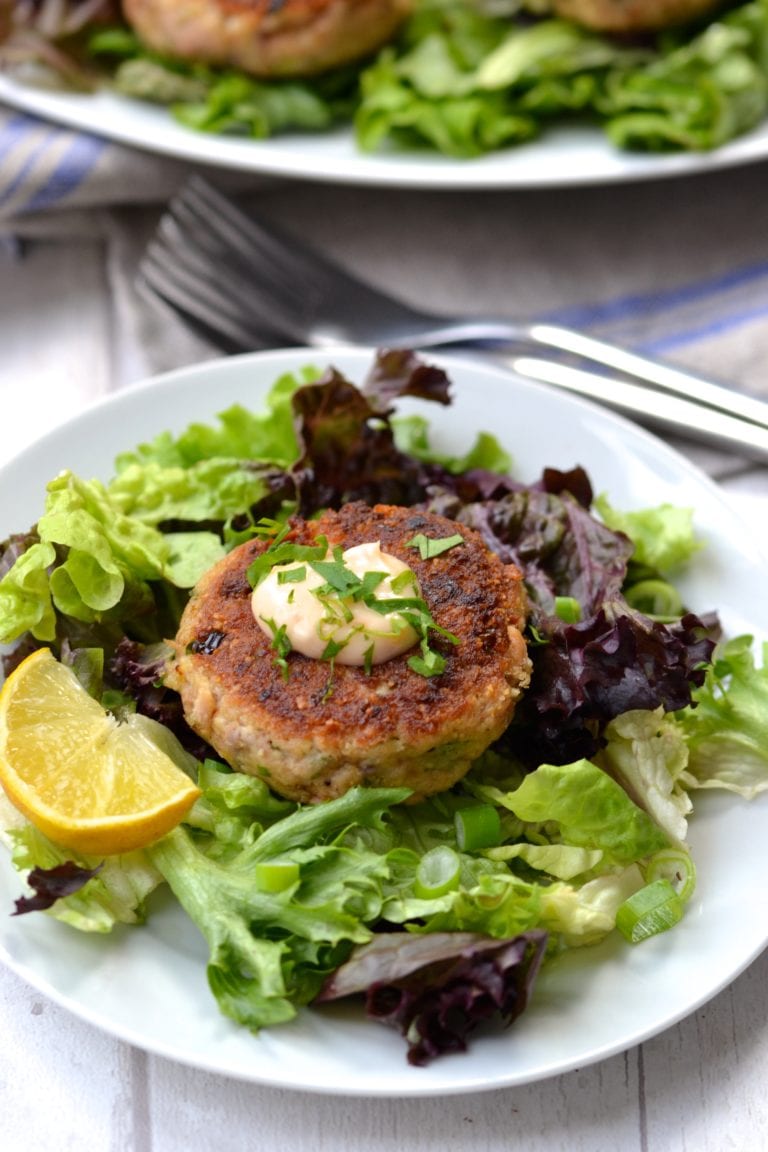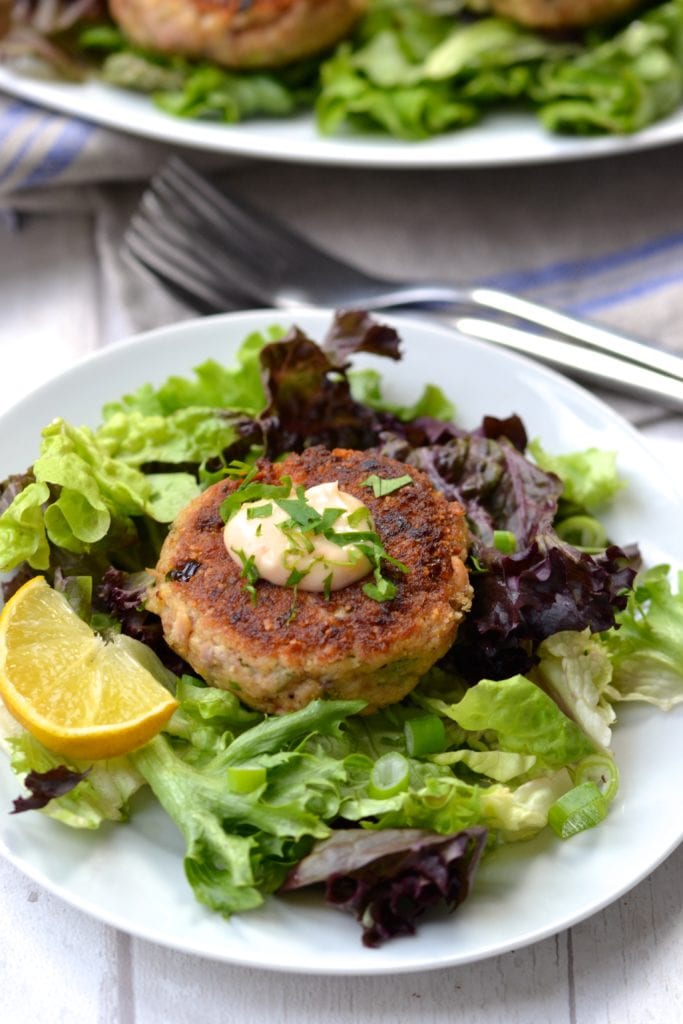 Love easy seafood cakes/burgers? Here are a few others you might enjoy:
---
If you make this recipe let me know in the comment section below, I would love to hear what you think or take a photo and tag me (@everylastbite_) on Instagram, I love seeing your photos!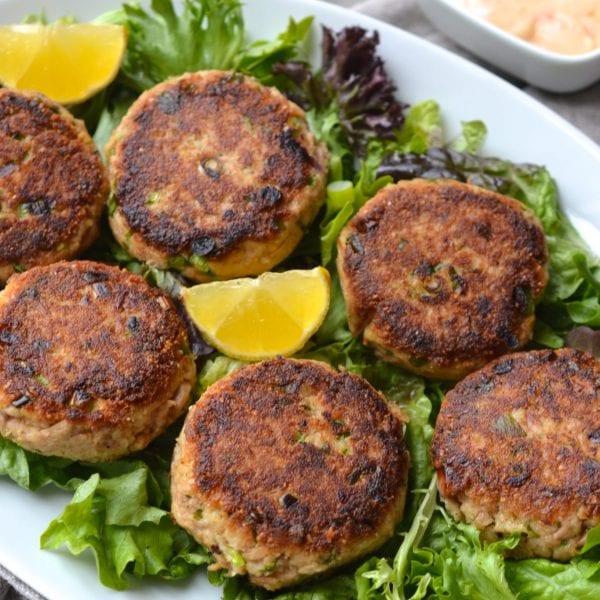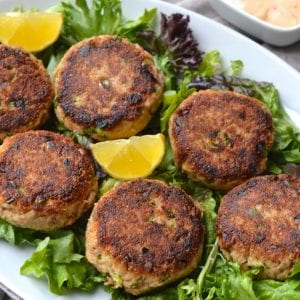 Ingredients
2 cans tuna (5oz cans)
1 tbsp of the liquid from the tuna can
1/2 cup almond flour
2 tbsp chopped parsley
1 tsp lemon zest
1 tbsp lemon juice
2 tbsp grated red onion
1/4 cup chopped scallions
1 1/2 tsp dijon mustard or mustard powder
1 egg
1/2 tsp pepper
1/4 tsp salt
1 tbsp olive oil
Instructions
Drain the liquid from the cans of tuna, reserving 1 tbsp of the liquid from the can. Add the tuna and reserved liquid to a bowl and break the tuna up with a fork.

Add in the almond flour, chopped parsley, lemon juice and zest, red onion, scallions, mustard, egg, salt and pepper. Stir until well mixed and then taste. Adjust the seasoning as desired.

Form the mixture into 6 patties and place on a parchment paper lined plate or tray. Place the patties in the fridge for a minimum of 20 minutes, chilling them will help them hold together when cooking.

When ready to cook, place the olive oil in cast iron skillet on medium heat. Once hot add in the patties and let them cook for approximately 4 minutes until a golden crust forms. Flip and cook on the other side.