Szechuan Pork & Green Bean Stir Fry
This Szechuan Pork & Green Bean Stir Fry is a spicy one pan dish that takes just 15 minutes to make!  It's a great weeknight dinner you can throw together when you are short on time, and low on ingredients! It's Paleo, Whole30 and SCD legal too!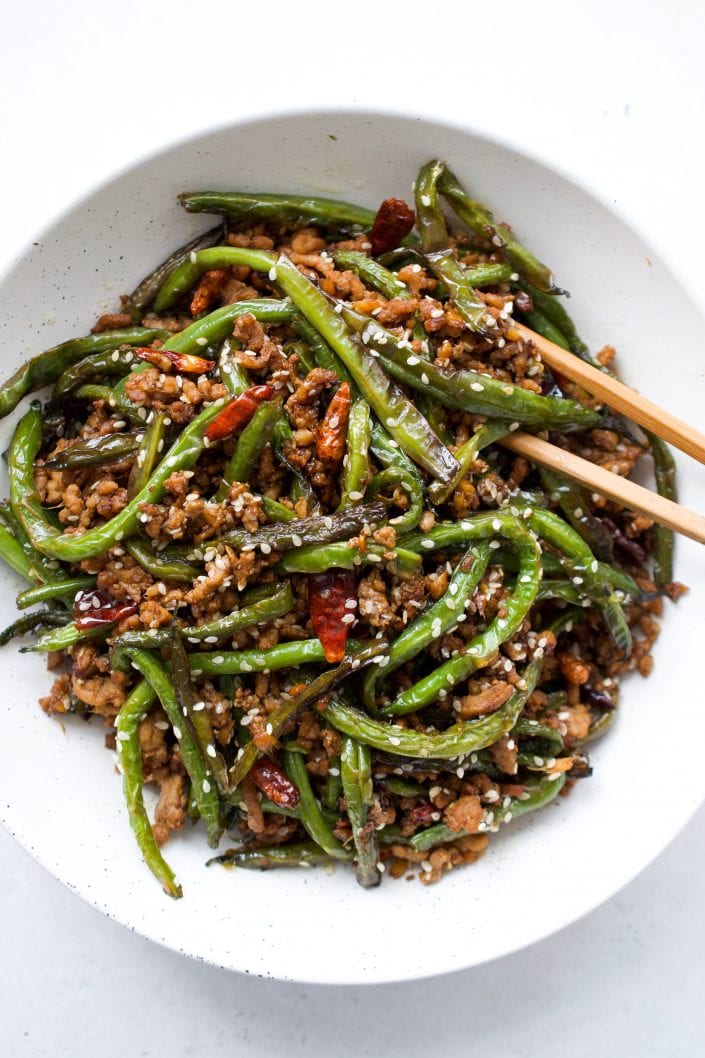 Everytime I make this Szechuan Pork & Green Bean Stir Fry, SA gobbles it up in minutes, it's just so tasty! The green beans are quickly cooked until charred and then tossed with crumbly ground meat and a simple 4 ingredient sauce. The pork absorbs the sauce making each bite incredibly flavourful, and the green beans help lighten things up and add a bit of freshness.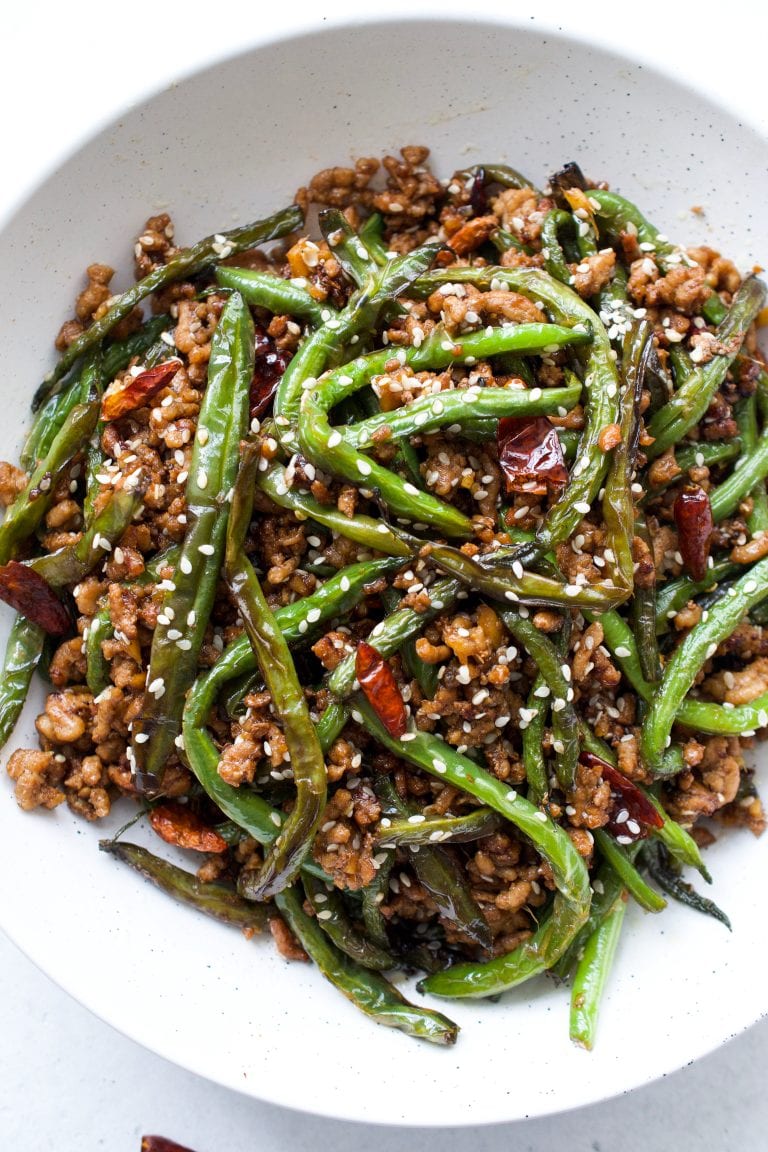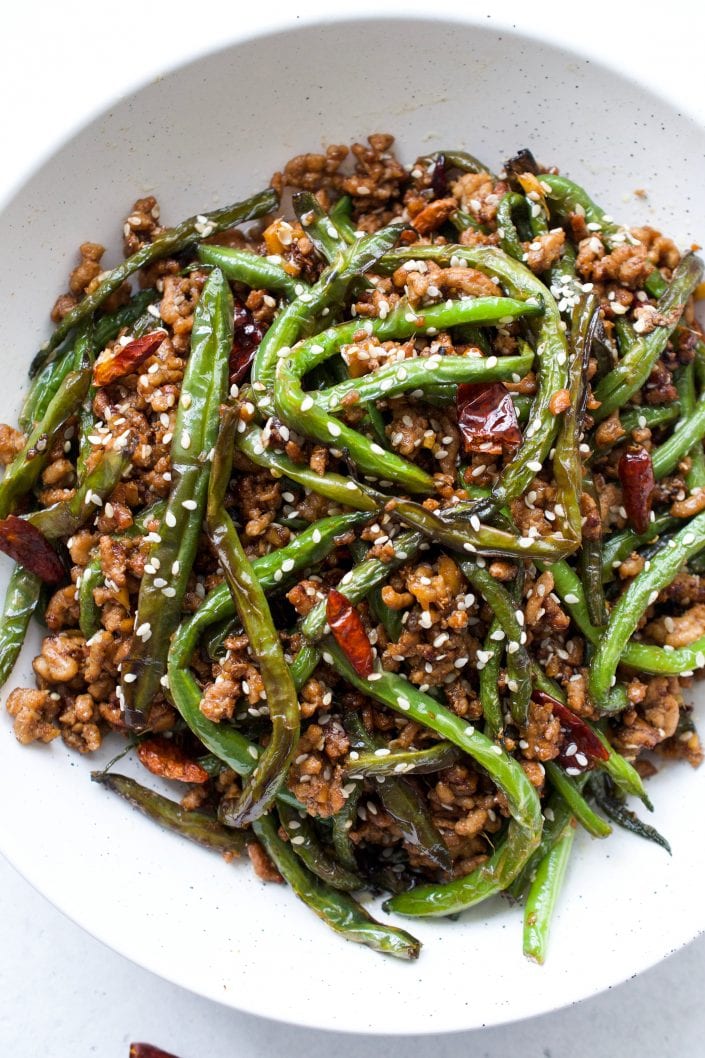 Reasons to love this stir fry
It takes just 15 minutes to make!!  When it comes to fast and easy meals, this one is hard to beat. With a start to finish cook time of just 15 minutes, and minimal time spent chopping veggies (just the ginger, which you can avoid completely by buying pre chopped).
The leftovers are just as good on day two or three. Seriously you are going to want to make extra because the leftovers are insanely delicious making this a great option for a packed lunch.
You can switch things up depending on what you have in your kitchen! Swap the pork for ground chicken or turkey and use asparagus or shitake mushrooms and spinach in place of the green beans. While szechuan peppercorns play a big role in the flavour of this dish, if you don't have any you can use freshly ground peppercorns and coriander seeds instead.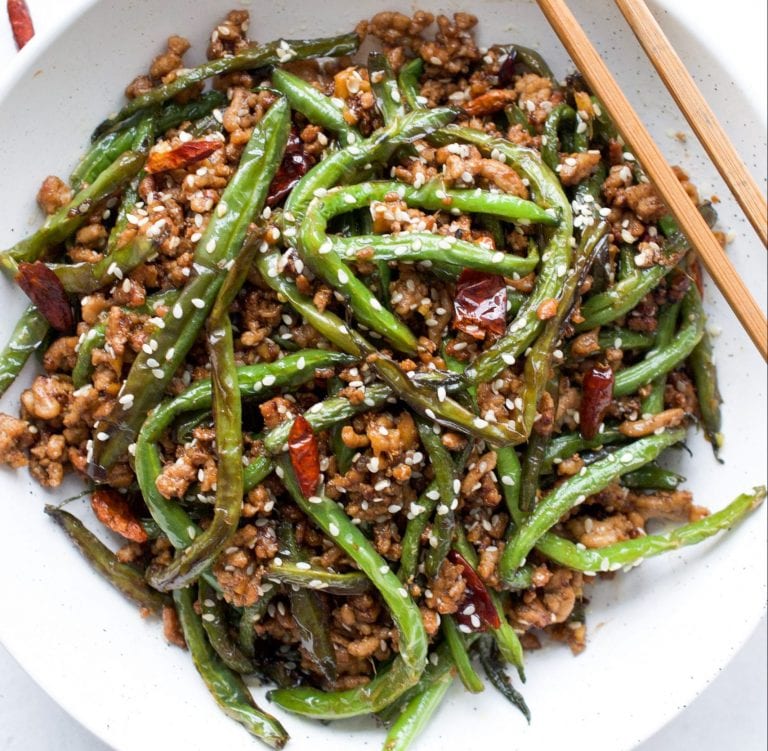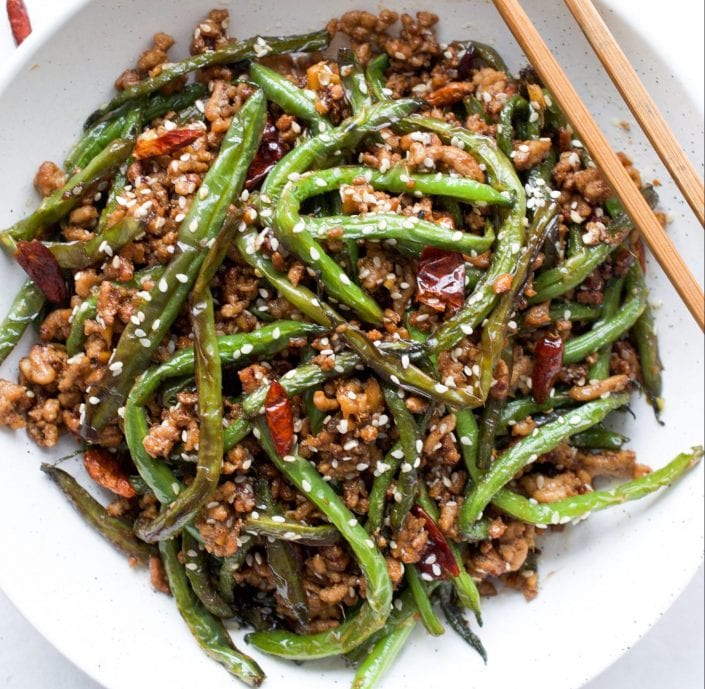 Here are a few easy stir fry recipes that you might enjoy:
---
If you make this recipe let me know in the comment section below, I would love to hear what you think or take a photo and tag me (@everylastbite_) on Instagram, I love seeing your photos!
Szechuan Pork & Green Bean Stir Fry
Ingredients
1/4 cup chicken stock
1 tbsp balsamic vinegar
2 tbsp coconut aminos
2 medjool dates or 2 tbsp honey
1 1/2 tbsp sesame oil
3/4 lbs green beans
1/2 lbs ground pork (or chicken or turkey)
3 cloves minced garlic
2 tbsp finely diced ginger
1/2 tsp ground szechuan peppercorns
1 tbsp white sesame seeds
1 tbsp dried red chilies (optional depending on desired spice)
Instructions
In a high speed blender or nutribullet combine the chicken stock, balsamic vinegar, coconut aminos and medjool dates and blend until smooth.

Heat sesame oil on high heat in a large skillet or wok. Once hot add in the green beans and cook for 4-5 minutes until the beans have begun to soften and slightly char. Remove the green beans from the wok and set aside.

Lower the heat to medium high and add the ground pork to the wok. Use a wooden spoon to break the meat up into a fine crumbly texture.

After 5 minutes the meat should be cooked through and slightly browned. Add in the garlic, ginger and ground szechuan peppercorns and leave to cook for 1 minute.

After 1 minute add in the sauce and green beans and leave to cook for another 3 minutes.

Stir in the white sesame seeds and optional dried chili peppers and serve.