Whole30 Sweet & Sour Pork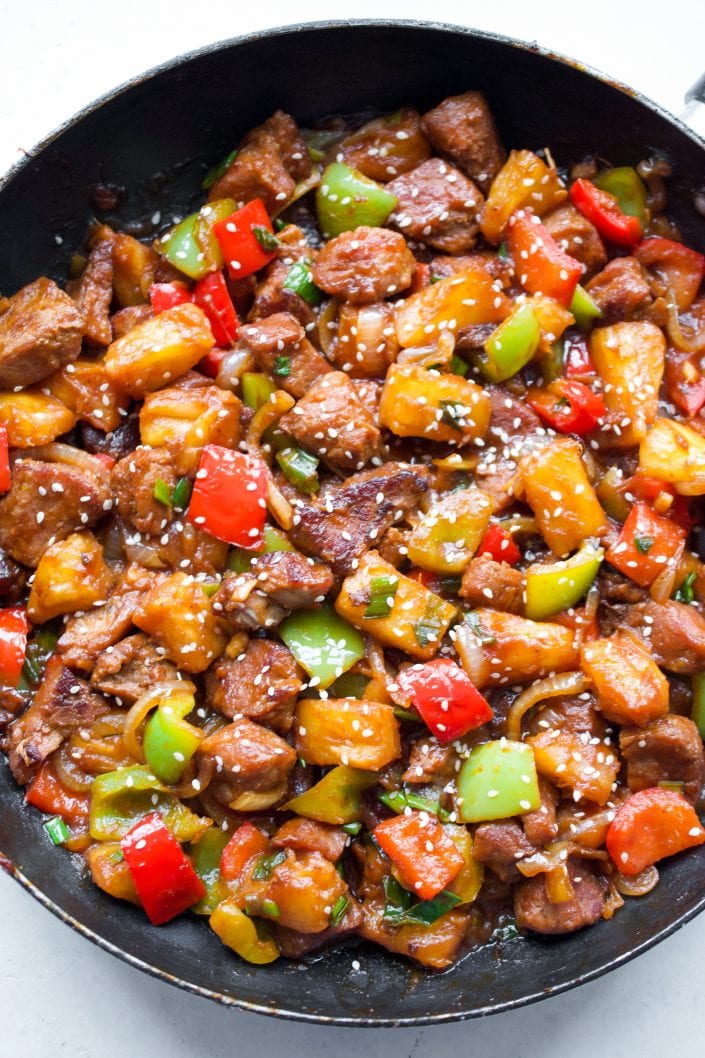 I've been getting so many requests for more takeout inspired dishes, so here is another easy one for you! This Sweet and Sour Pork tastes just like the real thing with tender pieces of pork, juicy chunks of pineapple and a thick sauce that is the perfect combination of sweet and sour. I think you are going to love this one pan dish that comes together in just 25 minutes! Eat it on its own, or on a bed of cauliflower rice for a more filling meal, just be sure to make extra because leftovers reheat well.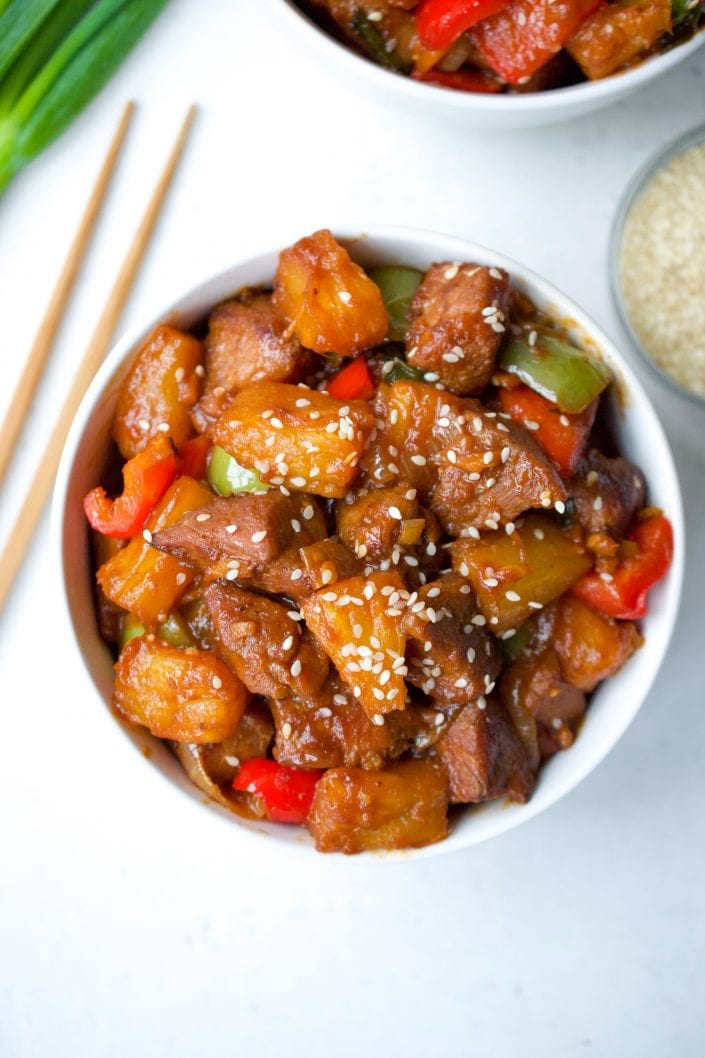 If you make this recipe let me know in the comment section below, I would love to hear what you think or take a photo and tag me (@everylastbite_) on Instagram, I love seeing your photos!
Ingredients
Pork
1.5 pounds pork tenderloin
1 1/2 tbsp coconut aminos
1 tsp baking soda
2 tbsp pineapple juice
Sweet & Sour Sauce
2 cloves garlic
1/4 cup pineapple juice
3 tbsp coconut aminos
3 tbsp apple cider vinegar
1 tbsp tomato paste
3 medjool dates
5 dried apricots
Stir Fry
1 red bell pepper
1 green bell pepper
1 onion
1 tbsp sesame oil
2 tbsp diced ginger
1 1/4 cups diced pineapple
2 tbsp chopped scallions
1 tsp white sesame seeds
Instructions
Cut the pork tenderloin into small bite sized cubes. In a bowl whisk together the coconut aminos, baking soda and pineapple juice and add in the cubed pork. Toss the pork cubes so that they are all well coated in the marinade. Set aside.

In a high speed blender or nutribullet container combine the garlic, pineapple juice, coconut aminos, apple cider vinegar, tomato paste, dates and dried apricots and blend until completely smooth.

Cut the green and red bell pepper into small cubes and thinly sliced the onion.

Heat 1/2 tbsp sesame oil in a pan on high heat. Add in the pork and cook for approximately 5 minutes until the pork is seared and golden in color on all sides. Transfer the cooked pork to a plate and set aside.

Lower the heat to medium high and add the remaining 1/2 tbsp sesame oil to the pan. Add the chopped ginger to the pan and cook for 2 minutes until it becomes fragrant and then add the chopped onion and peppers. Leave to cook for 5 minutes until the peppers begin to soften.

Return the pork back to the pan and add in the pineapple. Pour the sweet and sour sauce overtop and stir to ensure everything is well coated in the sauce. Leave to cook for 2-3 minutes until everything is heated through. Garnish with chopped scallions and sesame seeds before serving.