Black Pepper Chicken
This Black Pepper Chicken is a healthy spin on one of my favourite Chinese dishes  and it takes just 30 minutes to make! This one pan Whole30 and Paleo dish is packed with tender cubes of chicken and lots of veggies which are all coated in a deliciously spicy pepper sauce. 
This is the perfect weeknight dish. It takes less than 30 minutes to make, is packed with veggies, incredibly tasty and is just as good the next day reheated for lunch or dinner. The sauce has a bit of a kick from the black pepper, which you can adjust by adding another teaspoon if you want it to be really fiery.
While a lot Paleo and Whole30 use arrowroot starch to thicken stir fry sauce, it's not allowed on the Specific Carbohydrate Diet so for this recipe I used the good old fashioned method of reducing it in a separate pan until it's begun to thicken. I recommend serving this with a side of cauliflower rice to soak up all of the excess yummy sauce, you won't want any of that to go to waste.
Why you are going to love this Black Pepper Chicken:
It takes less than 30 minutes to make 
By marinating the chicken for just a few minutes in the baking soda mixture it becomes incredibly tender and flavourful
These are leftovers you will actually be excited about eating, so make extra. They will last for a few days in the fridge and are great for a quick meal. 
You can easily adapt this recipe depending on what you have in your fridge. Swap the chicken for shrimp or cubed pork, and add in other veggies like asparagus, green beans or mushrooms.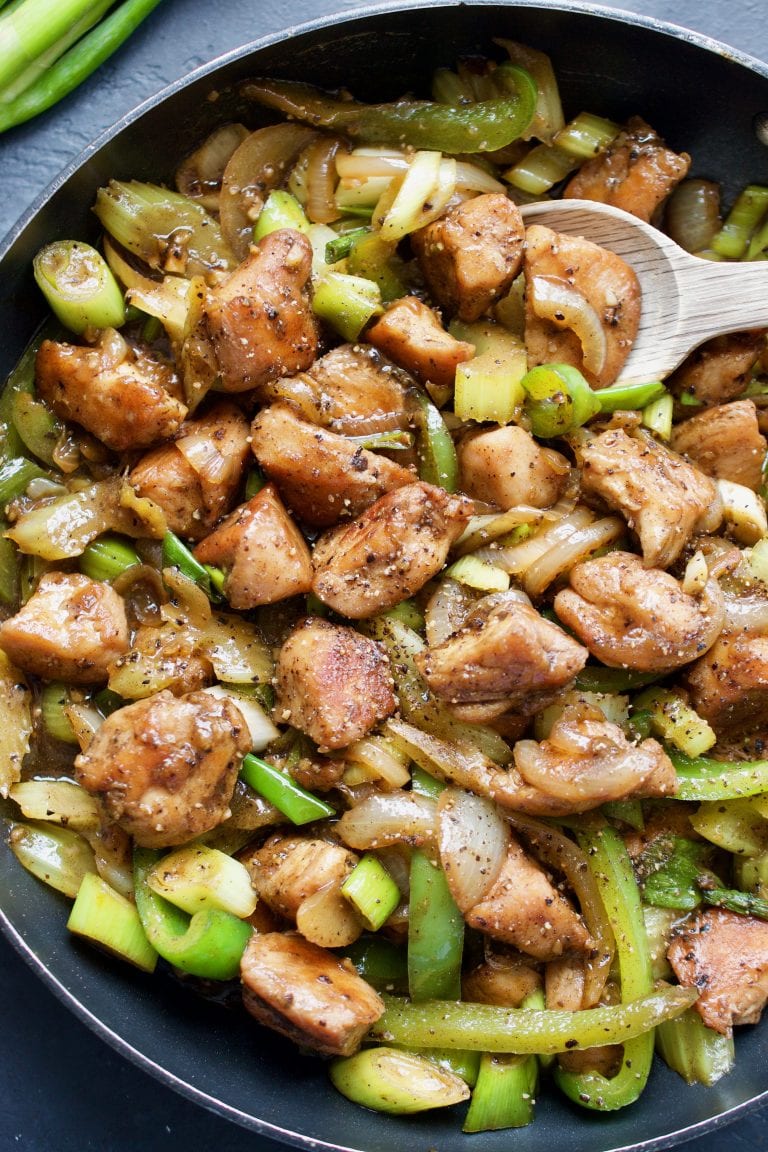 Love healthy versions of takeout dishes? Here are a few others you might enjoy:
---
If you make this recipe let me know in the comment section below, I would love to hear what you think or take a photo and tag me (@everylastbite_) on Instagram, I love seeing your photos!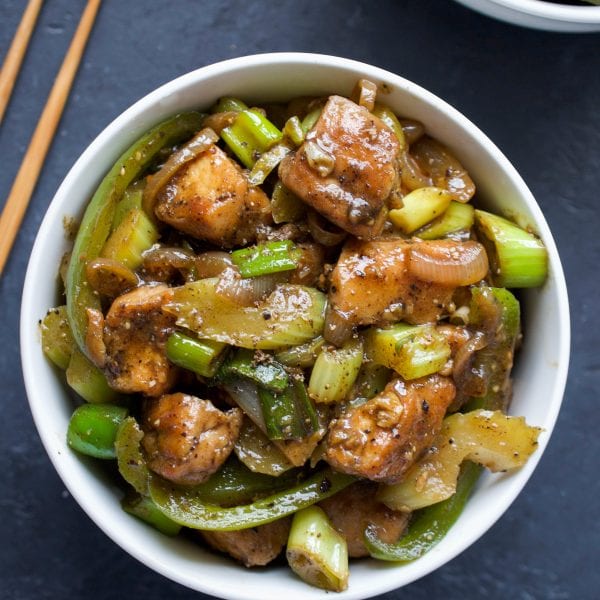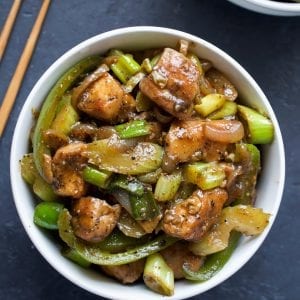 Ingredients
1 tbsp coconut amino
1 tsp baking soda
1 tbsp apple cider vinegar
1.5 pounds chicken breasts or thighs cut into 1 inch pieces
3 ribs celery
1 medium onion
1 green bell pepper
3 green onions
1 inch ginger finely chopped
2 cloves garlic crushed
2 tbsp sesame oil
2 medjool dates soaked in boiling water for 10 minutes to soften
1/2 cup beef stock
3 tbsp coconut aminos
1 tsp fish sauce
2 tbsp apple cider vinegar
2 tsp fresh ground black pepper
Instructions
In a bowl whisk together the coconut aminos, baking soda and apple cider vinegar and then add in the chunks of chicken and stir to ensure that they are all well coated in the liquid. Leave to rest for a few minutes while you prep the veggies

In a blender or nutribullet container combine the medjool dates, beef stock, coconut aminos, fish sauce and vinegar and blend until completely smooth. Pour the sauce into a small sauce pan and leave to reduce on medium heat for 5 minutes until it has thickened and reduced by half and then set aside.

Cut the green pepper, onion, green onions and celery into thin strips.

Heat 1 tbsp sesame oil in a skillet on high heat. Once hot add in the chicken and cook for approximately 5 minutes until the chicken becomes golden in colour. Once cooked transfer the chicken to a plate and set aside.

Add in 1 tbsp sesame oil to the pan, reduce the heat to medium and saute the garlic and ginger for 1 minute until fragrant and then add in the sliced peppers, onions and celery. Saute for 4 minutes until the peppers begin to soften and then add in the green onions, chicken, black pepper and sauce and leave to simmer for another 3 minutes. Serve garnish with additional black pepper if desired.