Ratatouille Baked Eggs
This one pan breakfast is a cross between my favourite breakfast, baked eggs, and the classic french vegetable stew ratatouille. Eggs are nestled in a bed of eggplant, zucchini and peppers, all simmered in tomato sauce. It's a delicious Whole30 and Paleo breakfast that is great for feeding a crowd and can even be made up to 3 days in advance. 

This dish has quickly become one of my favourite breakfast dishes that is so good you will be forgiven for wanting to make it for dinner too! It's a breakfasty spin on Ratatouille, a french stew like dish made of vegetables cooked in a rich tomato sauce. For this recipe I used chopped eggplant, bell pepper and zucchini which are sauteed with onion and garlic and then left to simmer in tomato sauce and herbs until tender. This is the perfect saucy base to top with baked eggs (my favourite way to cook eggs) with an ooey gooey runny yolk. 
For those who don't like cooking first thing in the morning, this is the recipe for you. The ratatouille mixture can be completely prepared up to 3 days in advance. The morning of simply transfer everything to a skillet, crack in an egg and cook for 10 minutes until set. No early wake up required!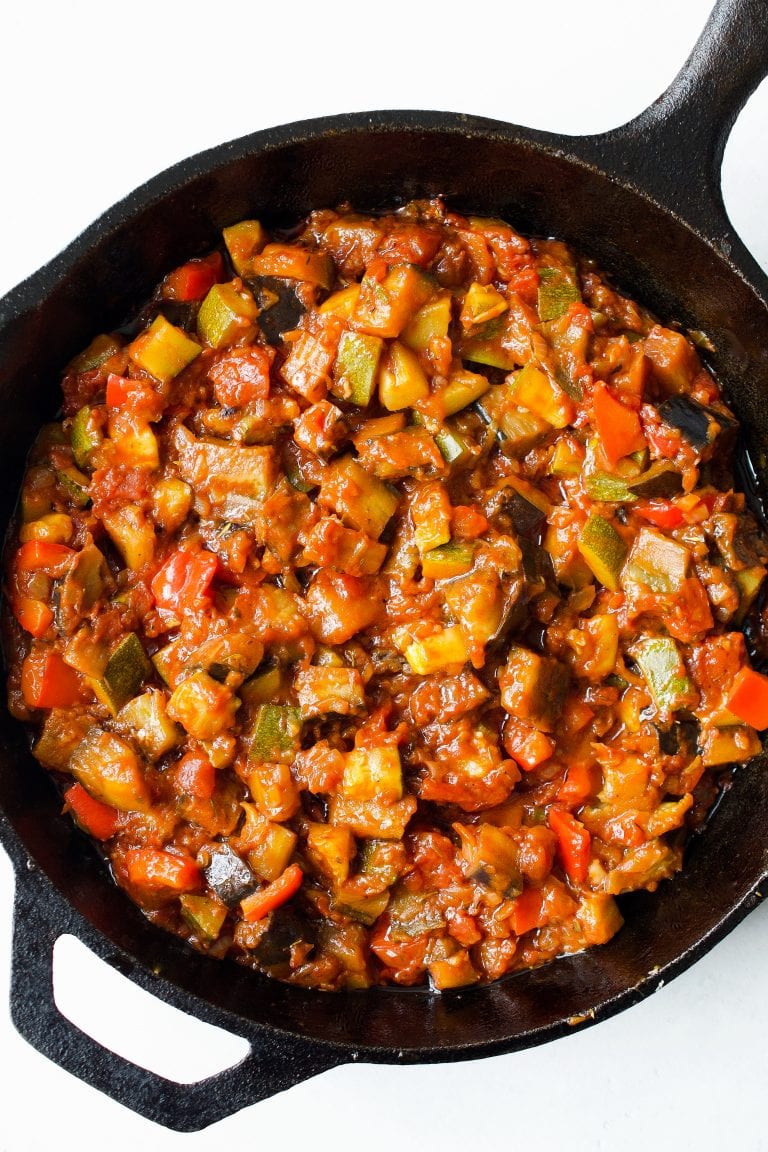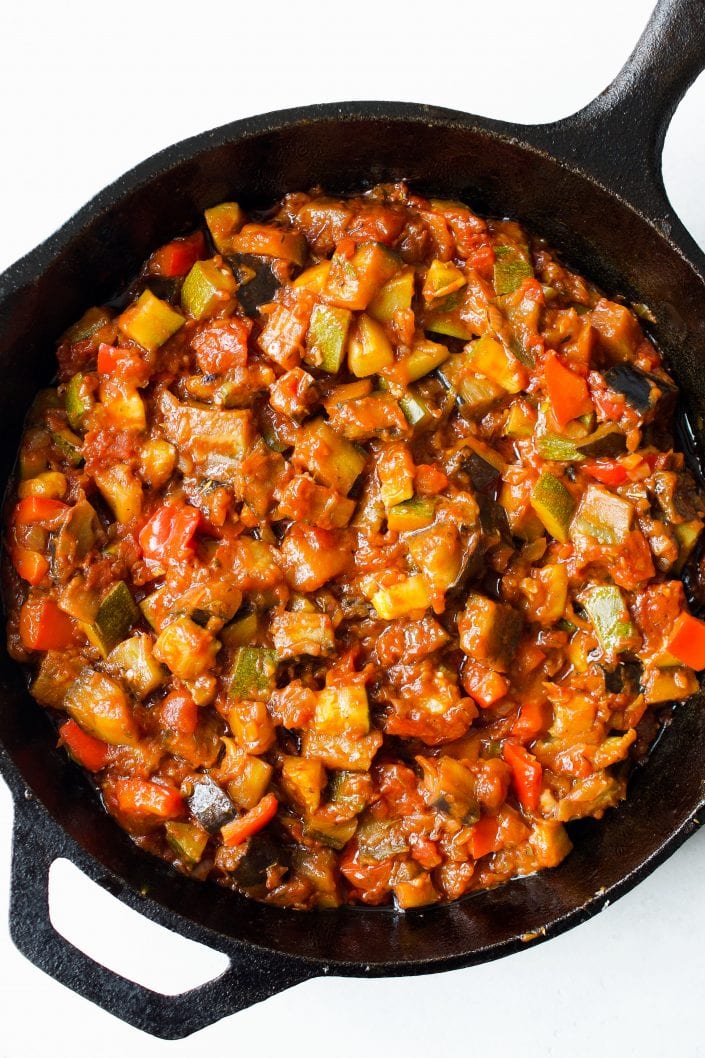 Why you are going to love these Ratatouille Baked Eggs:
It's loaded with veggies: chopped eggplant, zucchini and peppers are simmered until tender in a tomato sauce. The saucy vegetables are so rich flavour.  
It's can be made in advanced: the ratatouille can be made up to 3 days in advance. 15 minutes before serving, transfer the mixture to a skillet, crack in 4 eggs and cook until the eggs are set. 
It's great for feeding a crowd: this is a great dish to serve a crowd for brunch, prep the ratatouille in advance and then let everyone scoop out portions of egg. For non-grain free guests, serve it with crusty white bread.
Breakfast, Brunch or Dinner: I am a massive fun of rich and savoury breakfast dishes, and this one could work for any meal of the day. 
So much more than just breakfast: any leftover ratatouille (without the egg) can be enjoyed in so many ways. Serve it as a side dish with dinner, as a sauce over chicken, or as a dip with crackers as an appetizer, it's so versatile!
Use up leftovers: any leftover roasted zucchini, eggplant or peppers can be used for the ratatouille, just be sure to reduce the cook time by 10 minutes.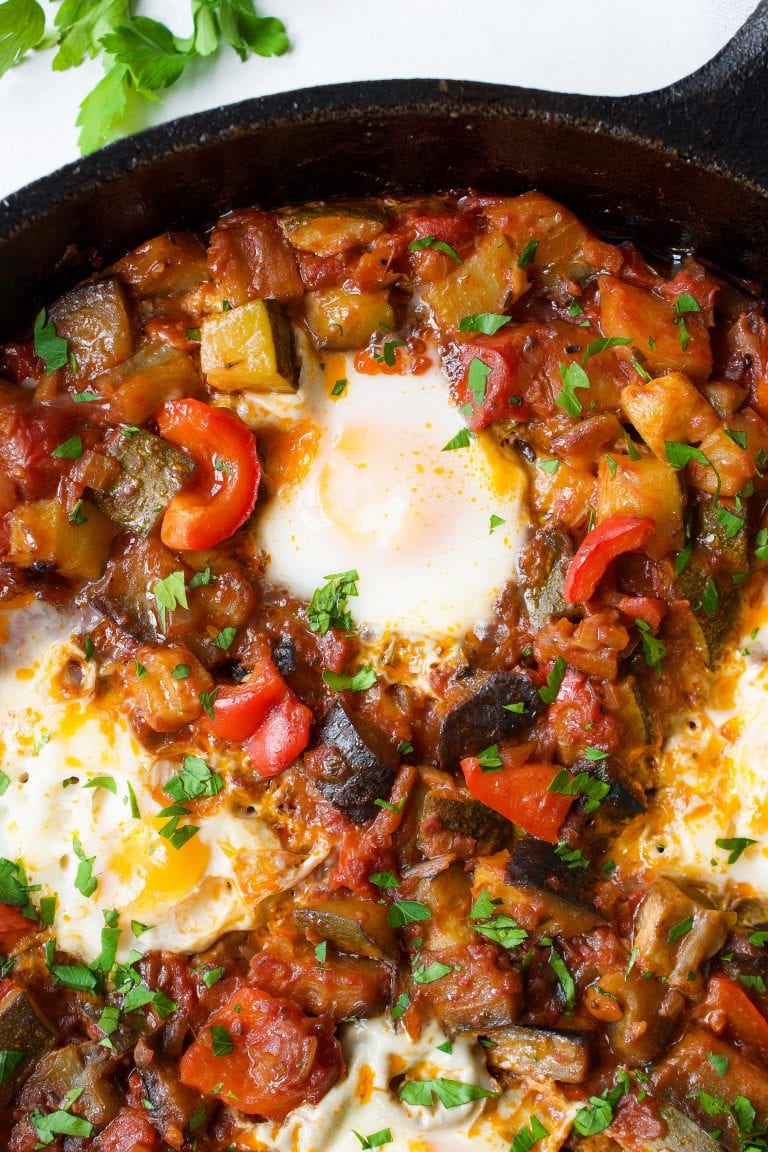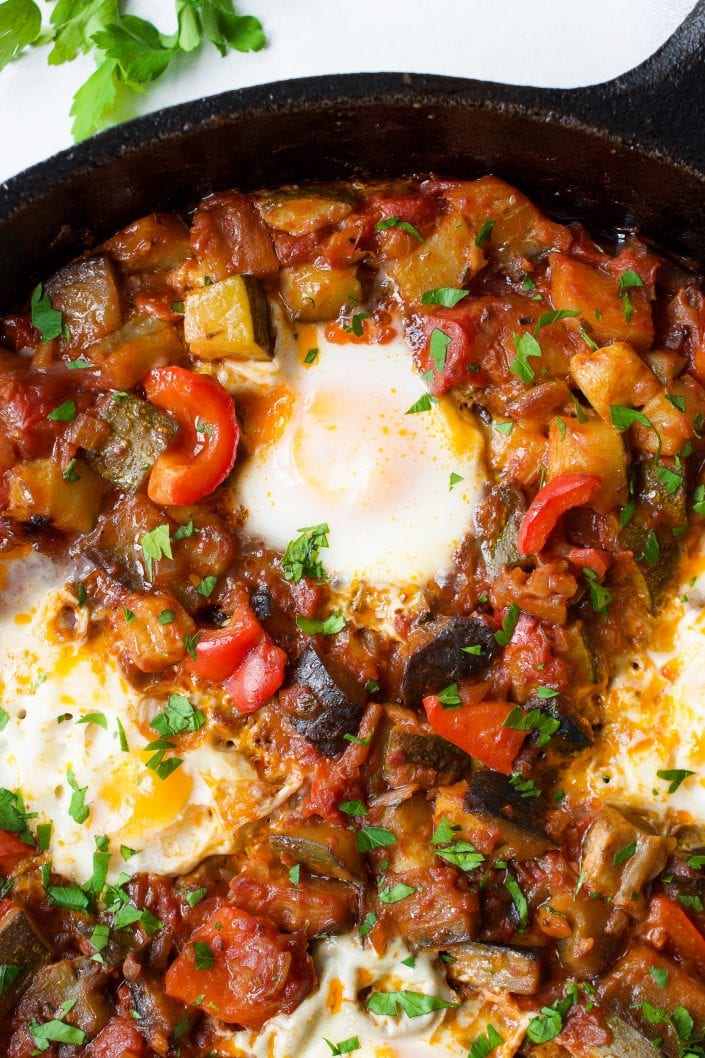 Variations to the dish:
For any carnivores, you could add in crumbled sausage or bacon.
If you enjoy legumes, add in 2/3 cup canned chickpeas with the vegetables and leave to simmer.
Add in olives or capers for added flavour. 
In need of extra greens? Add in 1 cup of spinach or kale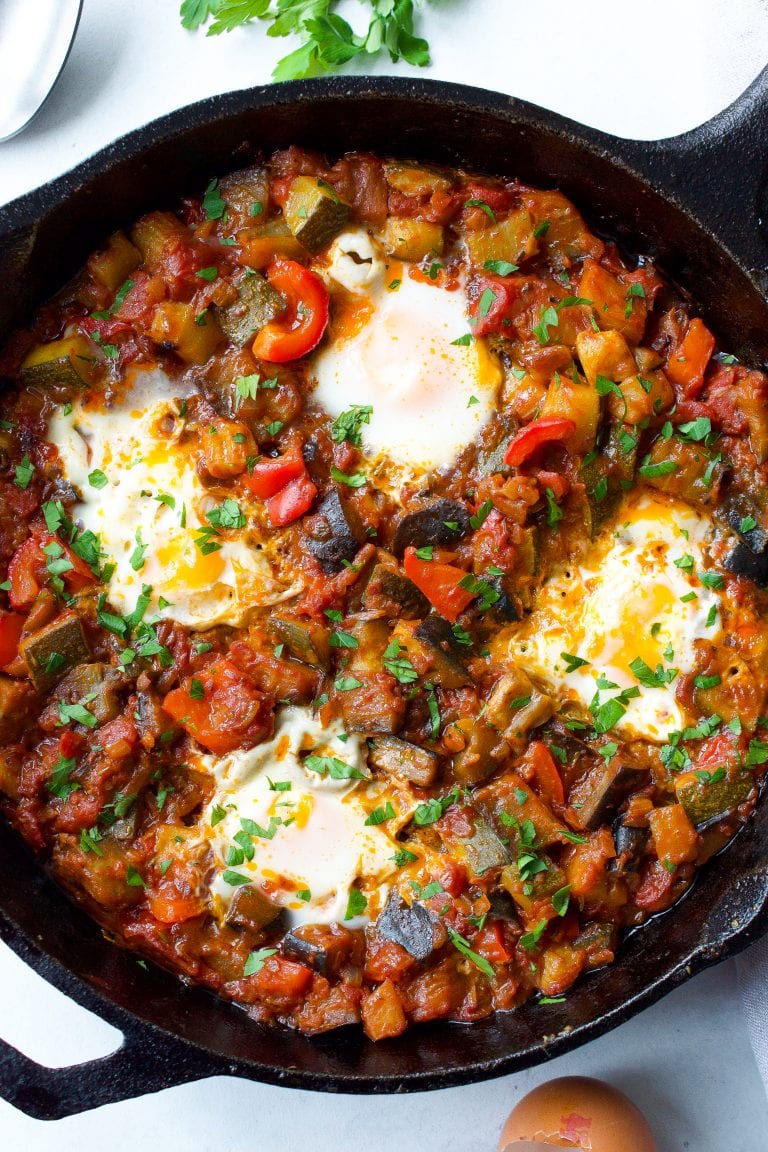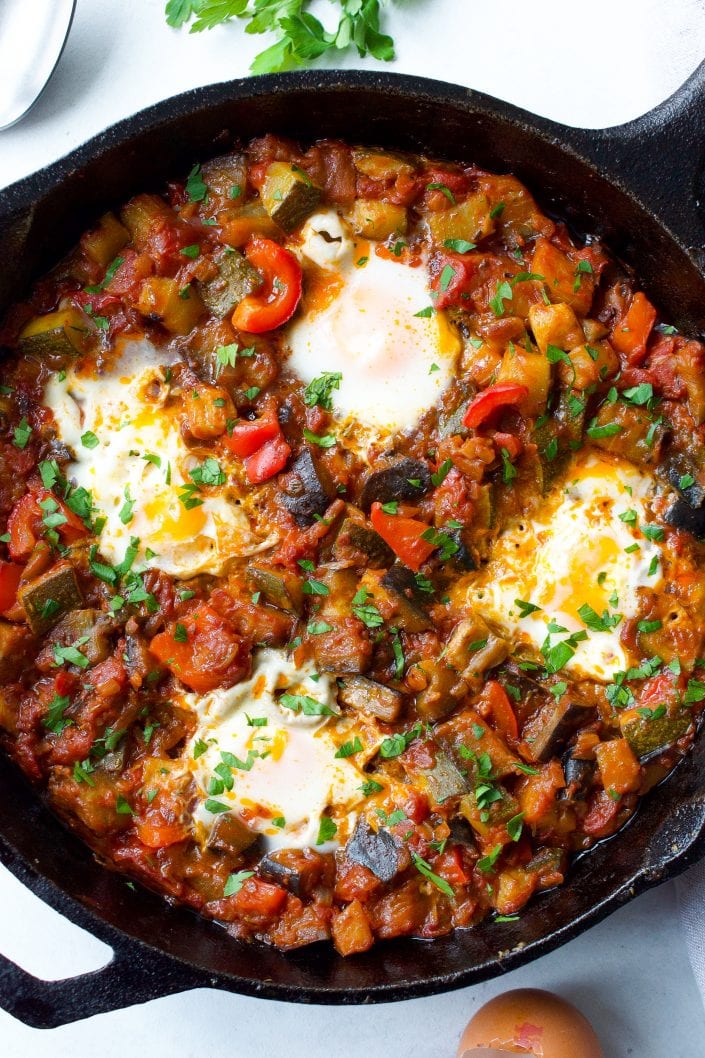 Here are a few other one pan breakfast recipes that you will love:
---
If you make this recipe let me know in the comment section below, I would love to hear what you think or take a photo and tag me (@everylastbite_) on Instagram, I love seeing your photos!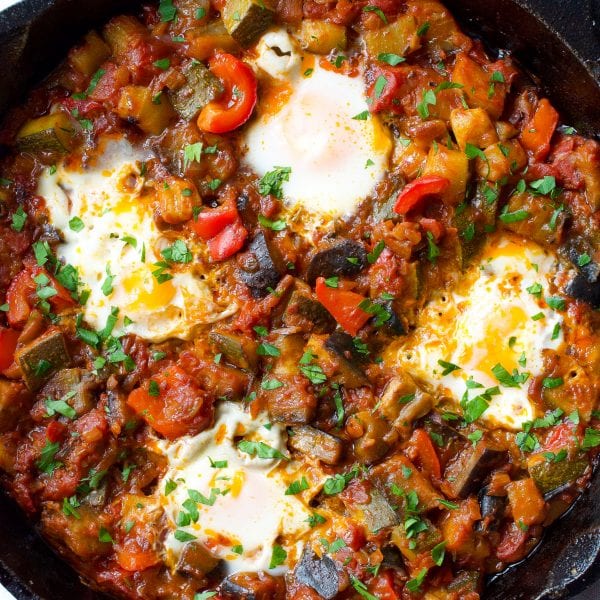 Ingredients
1 large eggplant (2 cups chopped)
1 large zucchini (2 cups chopped)
1 red bell pepper
1 tbsp olive oil
2 cloves garlic minced
1 yellow onion finely diced
1/2 tsp pepper
1/2 tsp salt
1 14oz can chopped tomatoes
1 tbsp balsamic vinegar
1/2 tsp oregano
1/2 tsp thyme
1/2 cup chicken or vegetable stock
4 large eggs
1 tbsp chopped parsley
Instructions
Cut the eggplant, bell pepper and zucchini into even 1/2 inch sized cubes.

Heat the oil in a large skillet on medium high heat and saute the onion and garlic for 2 minutes. Next add in the cubed eggplant, zucchini and bell pepper, season with salt and pepper and leave to cook for 5 minutes until the vegetables begin to soften.

Add in the canned chopped tomatoes, vinegar, herbs and stock and give everything a stir to ensure its well mixed. Leave the mixture to simmer for 20 minutes until the sauce has thickened and the vegetables are tender and easily pierced with a fork.

After 20 minutes of simmering most of the liquid should be gone from the pan. Use a spoon to create 4 wells in the mixture and crack an egg into each. Place a lid on the skillet, lower the heat to medium leave to cook for 6-8 minutes until the whites have set but the yolks are still runny. Garnish with optional parsley before serving.