Korean Beef Bowl
This easy Whole30 Korean Beef Bowl is filling and so flavourful. Caramelized beef, cauliflower rice, shredded cabbage, avocado and carrots are served in a big bowl, topped with a fried egg and drizzled with spicy mayo, it's so so tasty!This recipe takes just 30 minutes to make and is Whole30 and Paleo.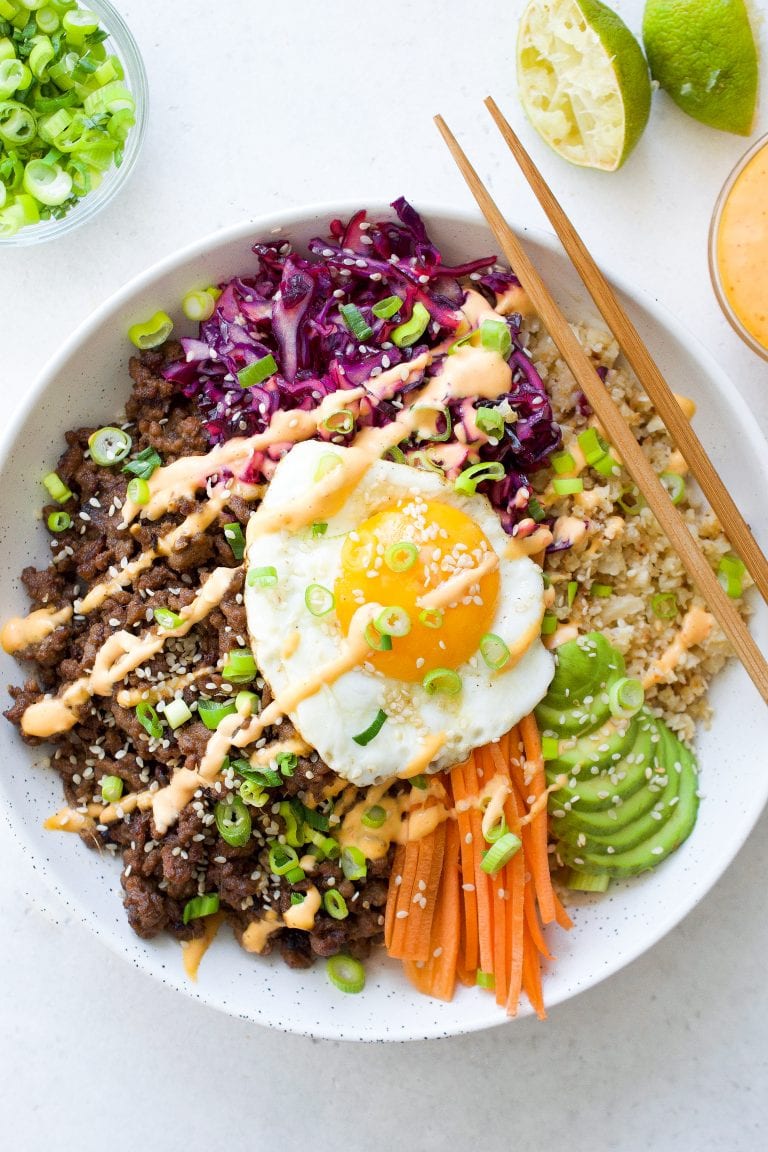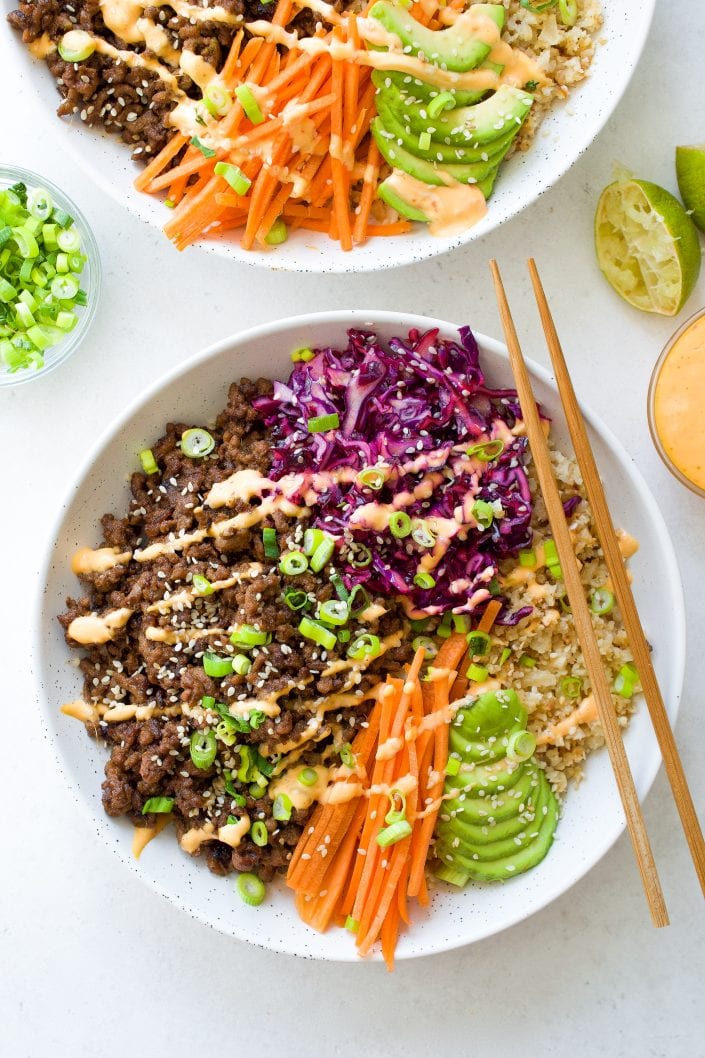 Why you are going to love this Korean Beef Bowl:
It's quick to make: although this bowl has quite a few components, don't be intimated by the length of the recipe, the entire thing takes just 30 minutes to prepare! 
It's hearty: This is one very filling bowl of food. Between the rich meat, sliced avocado and optional fried egg, this bowl will leave you feeling satisfied for hours. 
It's got so much flavour: sweet, umami, salty, spicy, crunchy, creamy and tender…..your taste buds will be in heaven.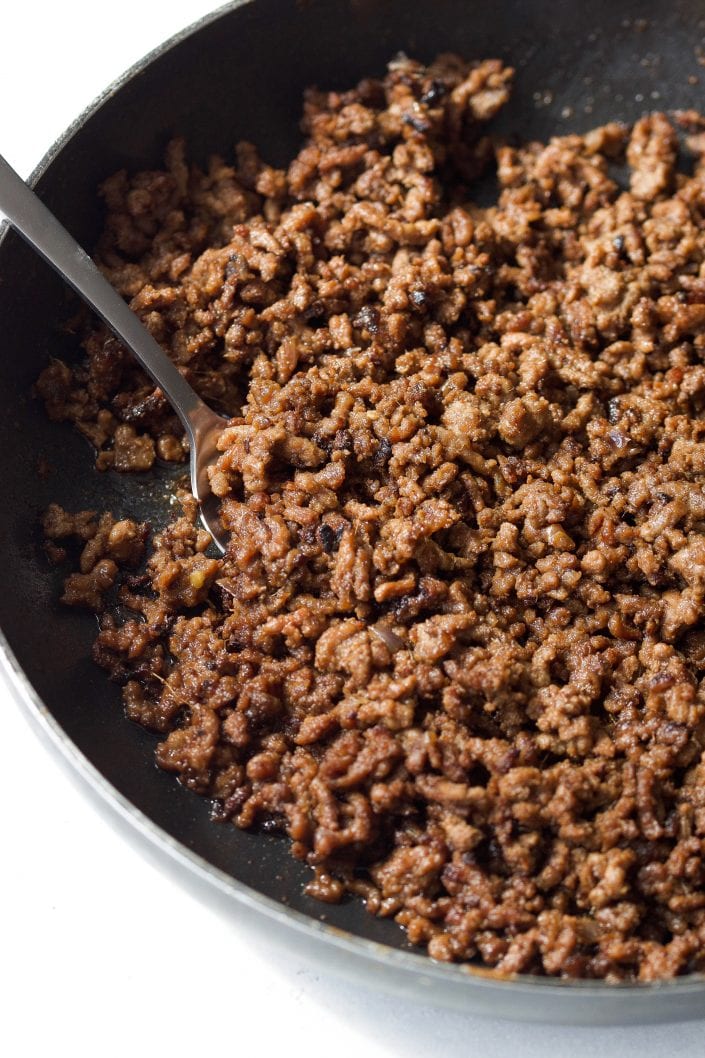 The Korean Ground Beef
The ground beef is coated in a simple 5 ingredient sauce which gives it a wonderful combination of sweet, spicy and umami flavour. Once the meat is coated in the sauce, turning the heat up to high and allowing the beef to brown and become caramelized really elevates the flavour and texture.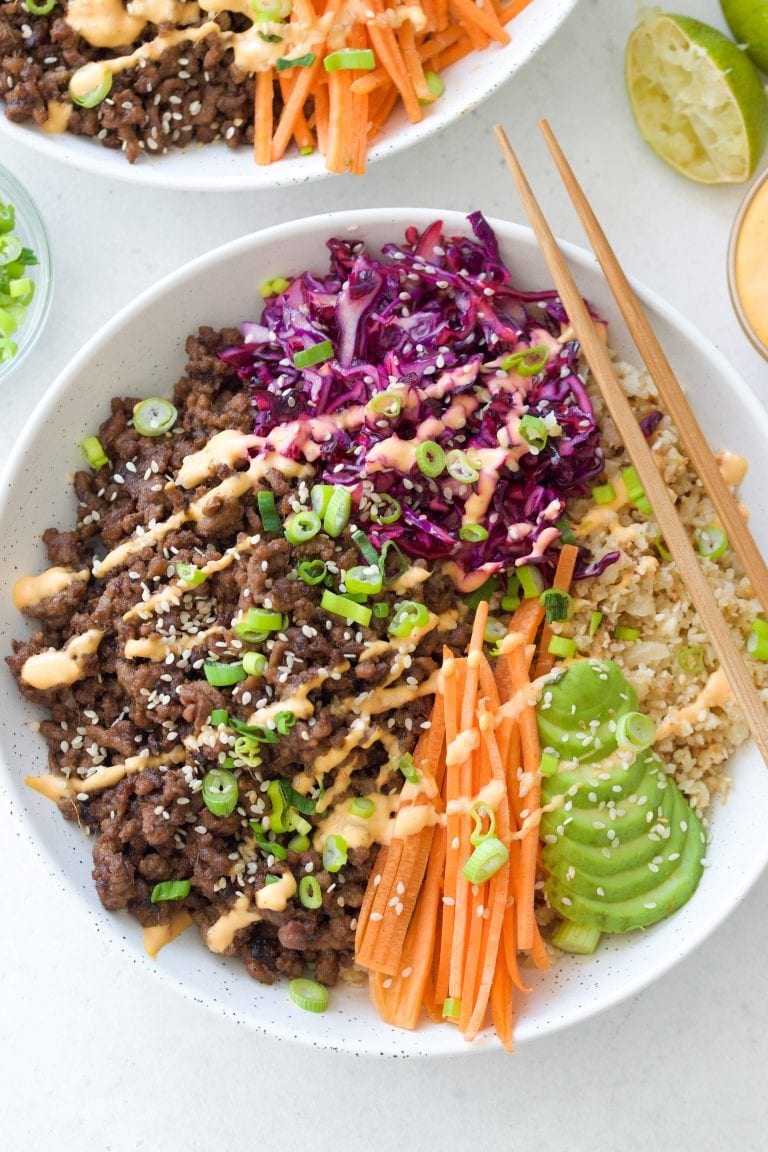 Ways to modify the recipe:
Swap the meat: ground chicken, turkey or pork can be used in place of the beef
Add an egg: Add a fried egg to make this bowl even more filling. The runny yolk is so delicious with the ground meat. 
Add some tang: Place thinly sliced cucumber in a bowl with apple cider vinegar and leave to marinate for 20 minutes. The pickled sliced cucumber will add a nice tangy flavour to the bowl. 
Sweeteners: For Whole30 use medjool dates in the beef sauce. Alternatively for those not on Whole30, the dates can be swapped for 2 tablespoons of honey or maple syrup
Adjust the spice: Add more or less red chili to the spicy mayo and beef sauce depending on your preference. 
Make Ahead & Leftovers:
Make Ahead: This is a great make ahead dish. The beef and cauliflower rice can be cooked 2 days in advance and the spicy sauce and cabbage can be made in advance too. Before serving all you need to do is reheat the meat and cauliflower rice and assemble the bowls. Leftovers will last for 3 days in the fridge.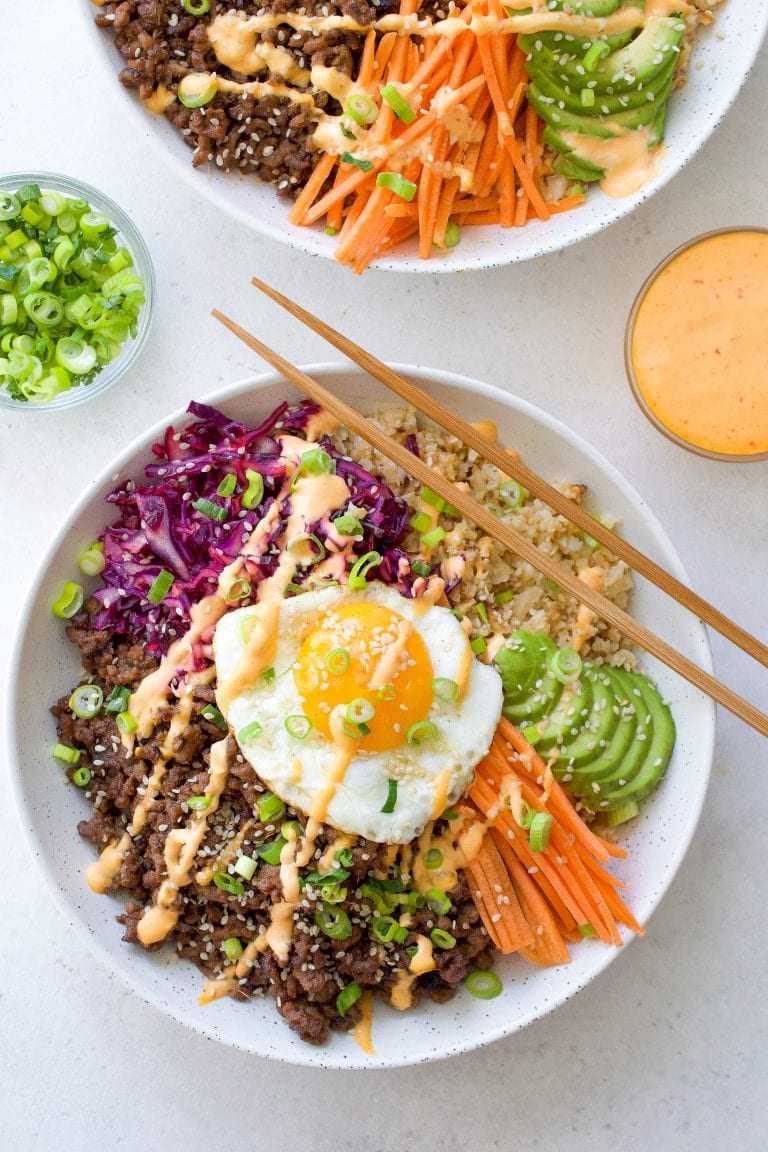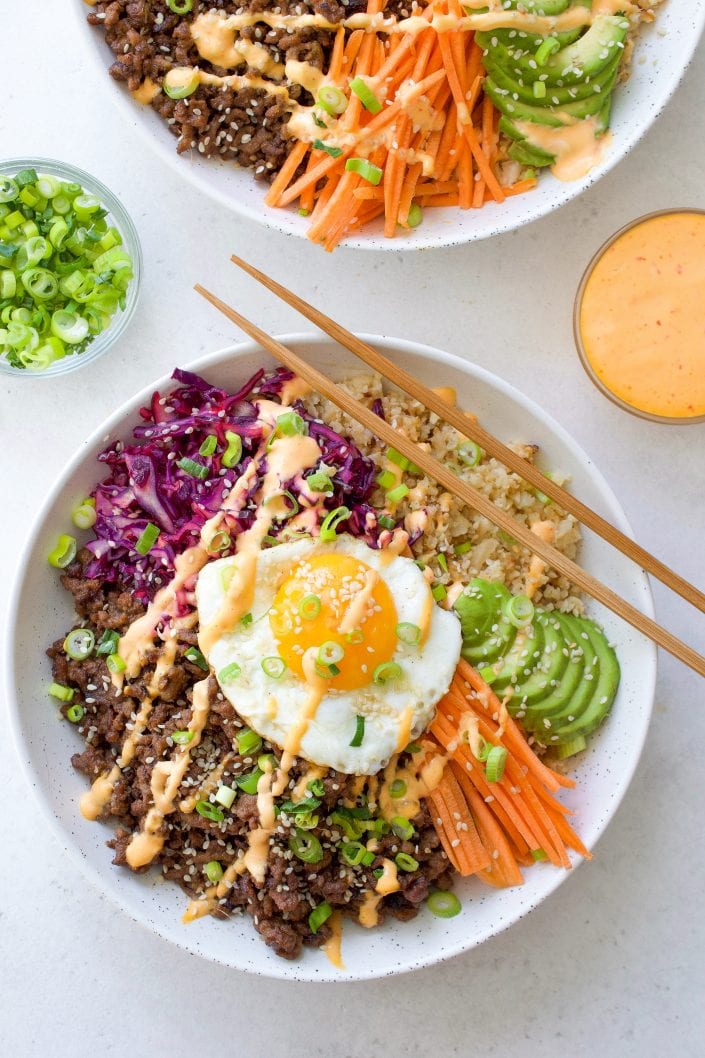 Here are a few other ground beef recipes…
---
If you make this recipe let me know in the comment section below, I would love to hear what you think or take a photo and tag me (@everylastbite_) on Instagram, I love seeing your photos!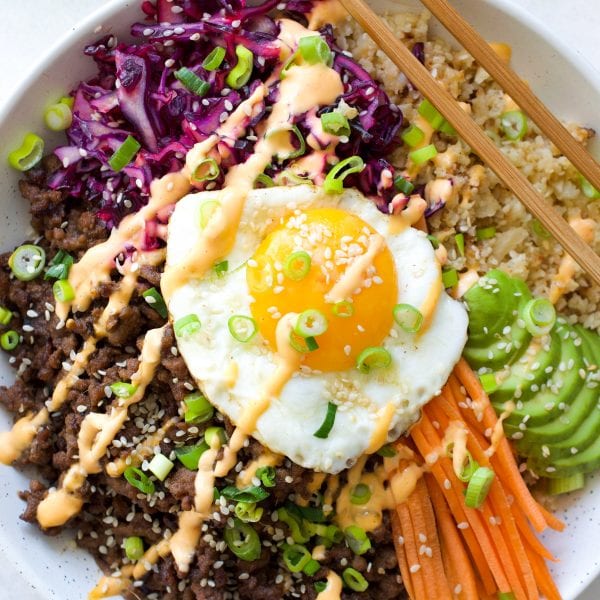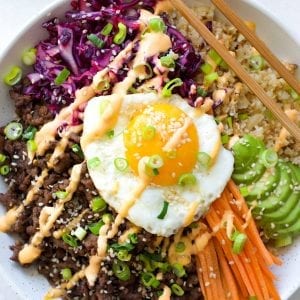 Korean Fried Rice
Ingredients
Korean Beef
1.5 lbs ground beef
1/4 cup coconut aminos
1 red chili
4 cloves garlic
1 2-inch piece ginger
4 medjool dates (1/4 cup dates) (or 2 tbsp honey)
2 tbsp sesame oil
1/2 medium sized red onion finely diced
Cauliflower Rice
1 small head cauliflower (4 cups cauliflower rice)
1 tbsp sesame oil
Purple Cabbage
3 cups shredded red cabbage
2 tsp lime juice
1/2 tbsp sesame oil
2 tsp white sesame seeds
Other Toppings
1 carrot cut into matchstick sized pieces
1 avocado thinly sliced
2 tbsp white sesame seeds
1/4 cup chopped scallions
1/2 cup kimchi (optional)
2 fried eggs (optional)
Instructions
Korean Beef
To start make the sauce for the beef. In a high speed blender combine the coconut aminos, chili pepper, garlic, ginger and dates (or honey) and blend until smooth.

Heat the sesame oil in a large skillet on medium high heat. Add in the diced red onion, cook for 2 minutes and then add the ground beef. Use a wooden spoon to break the beef up into a crumbly texture. After 5 minutes of cooking the beef should no longer be red, pour in the sauce, increase the heat to high and leave the meat to continue to cook for another 6-8 minutes, stirring frequently to ensure that it doesn't burn but rather develops a caramelized brown colour.
Cauliflower Rice
In a separate pan heat 1 tbsp sesame oil on medium high heat. Add in the cauliflower rice and leave it to cook for 5 minutes until tender.
Spicy Sauce
In a blender combine the mayonnaise, red chili pepper and lime juice and blend until smooth.
Red Cabbage
Combine the shredded cabbage, sesame oil, lime juice and sesame seeds in a bowl and stir until well mixed.
Assembly
Divide the cauliflower rice and ground beef mixture between two large bowls. Next add the cabbage, carrot and sliced avocado. If using a fried egg add one to the top of each bowl before garnishing each bowl with the chopped scallions and white sesame seeds and drizzling the spicy sauce overtop.