Grilled Zucchini & Asparagus Salad
A simple summery salad of grilled slices of zucchini, yellow squash and asparagus tossed with lots of fresh herbs, lemon juice, garlic and hazelnuts. It's fresh, light and perfect for a summer barbecue or light meal. This Grilled Zucchini & Asparagus Salad is Vegan, Keto and Whole30 and takes just 30 minutes to make.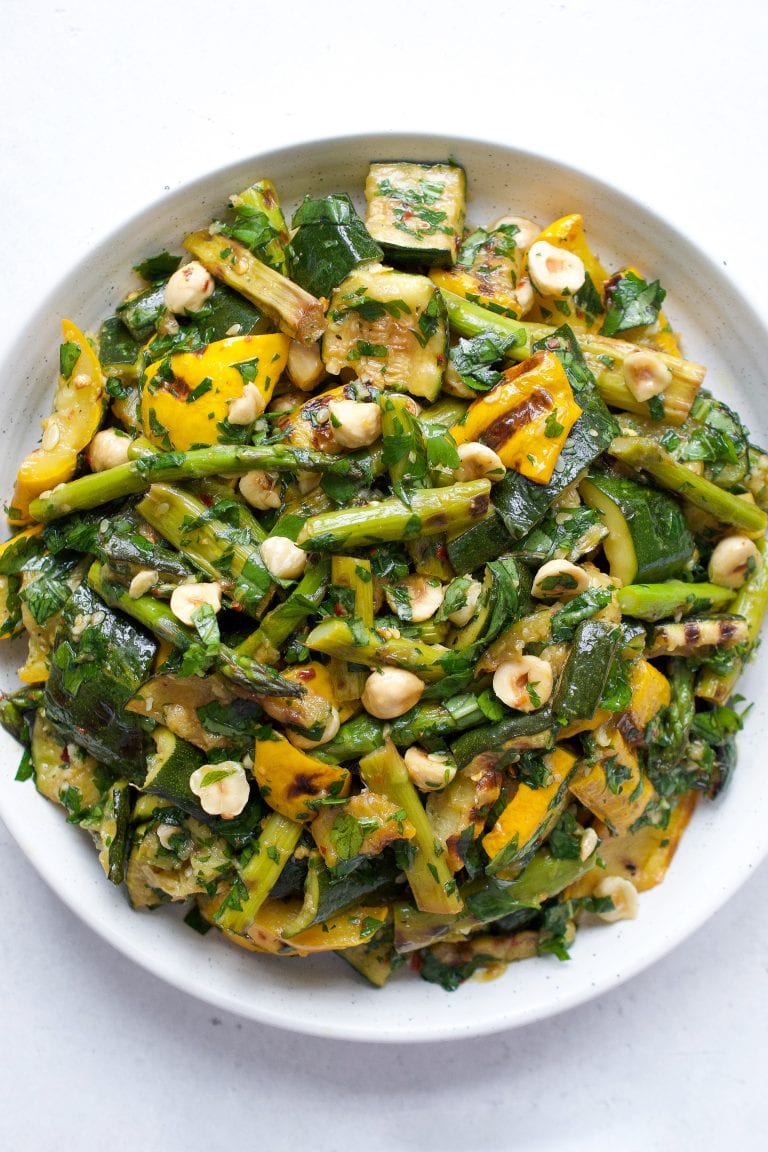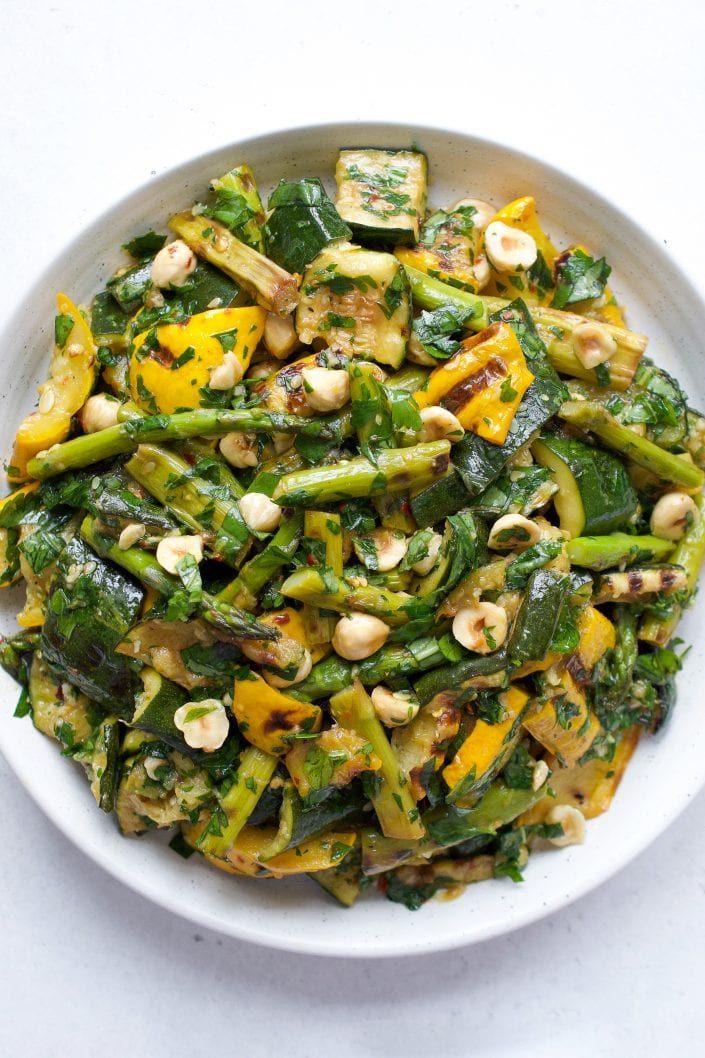 Zucchini are in abundance this time of year, and I get a lot of messages from people asking "what should I make with the endless amount of zucchini from my garden?". While using the zucchini to make things like zucchini bread or fritters is a great option, I am personally a fan of making a salad which really showcasing the veggie. 
This Grilled Zucchini and Asparagus Salad is fantastic for summer, it's fresh, light and so simple yet really flavourful. Cutting the zucchini into thick slices and then grilling helps to ensure that they develop a smoky flavour without becoming mushy. This is a great salad for a summer barbecue, and leftovers will last for up to 3 days in the fridge.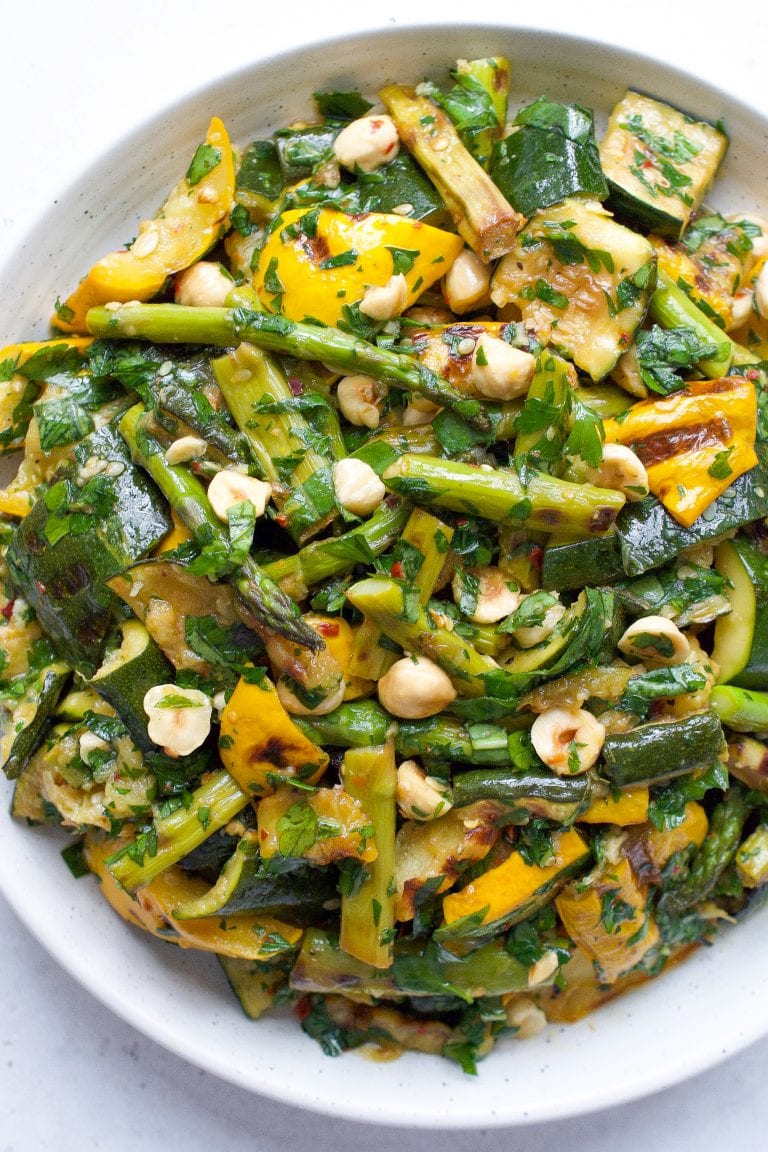 Why you are going to love this Grilled Zucchini & Asparagus Salad:
It's perfect for summer: With a base of grilled veggies, lots and lots of herbs and a light dressing, this salad is simple but so delicious! It's a great salad to serve at a barbecue or enjoy as a light dinner. 
Use up those excess zucchini from your garden: With zucchini in abundance in summer, this salad is a great way to use them. 
Make it ahead: The zucchini and asparagus can be grilled a day in advance cutting day of preparation down to just 10 minutes. 
It's healthy: This salad is Vegan, Keto, Paleo and Whole30 and can easily be made nut free by swapping the hazelnuts for pumpkin seeds.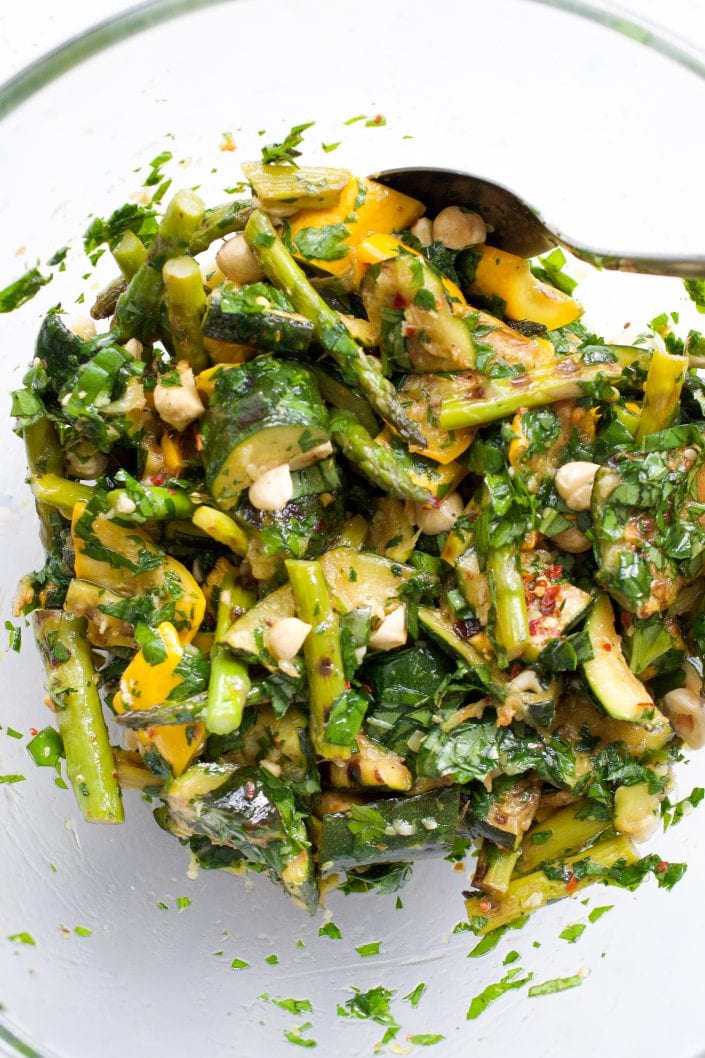 What's in this Grilled Zucchini & Asparagus Salad:
Zucchini and Yellow Squash: This is a great way to use up zucchini and yellow squash which is in abundance this time of year. I like using both types for the combination of yellow and green colours in the salad, but feel free to use just one or the other depending on what you have. 
Asparagus: Asparagus is one of my absolute favourite veggies to grill, and they add a great texture to the salad. 
Mint & Parsley: Lots of herbs adds freshness to the salad 
Lemon: Both lemon zest and juice are used in the dressing for a citrusy kick
Garlic
Chili Flakes: I really like the addition of chili flakes in the dressing which add an unexpected bit of heat. Feel free to adjust the amount depending on how much spice you prefer. You could alternatively add finely chopped red chili to the dressing if you don't have chili flakes. 
Hazelnuts: Toasted hazelnuts add a nice crunch to the salad. Almonds or pine nuts would also work well and for those on a nut free diet I recommend adding pumpkin seeds.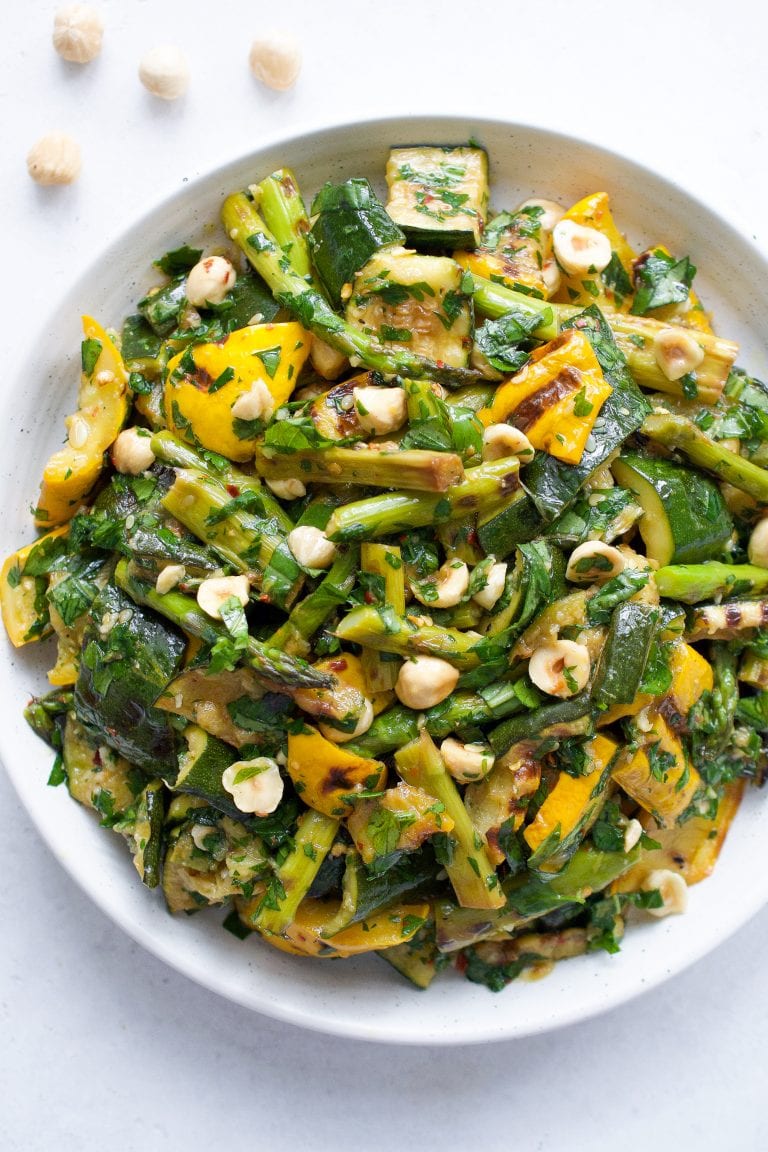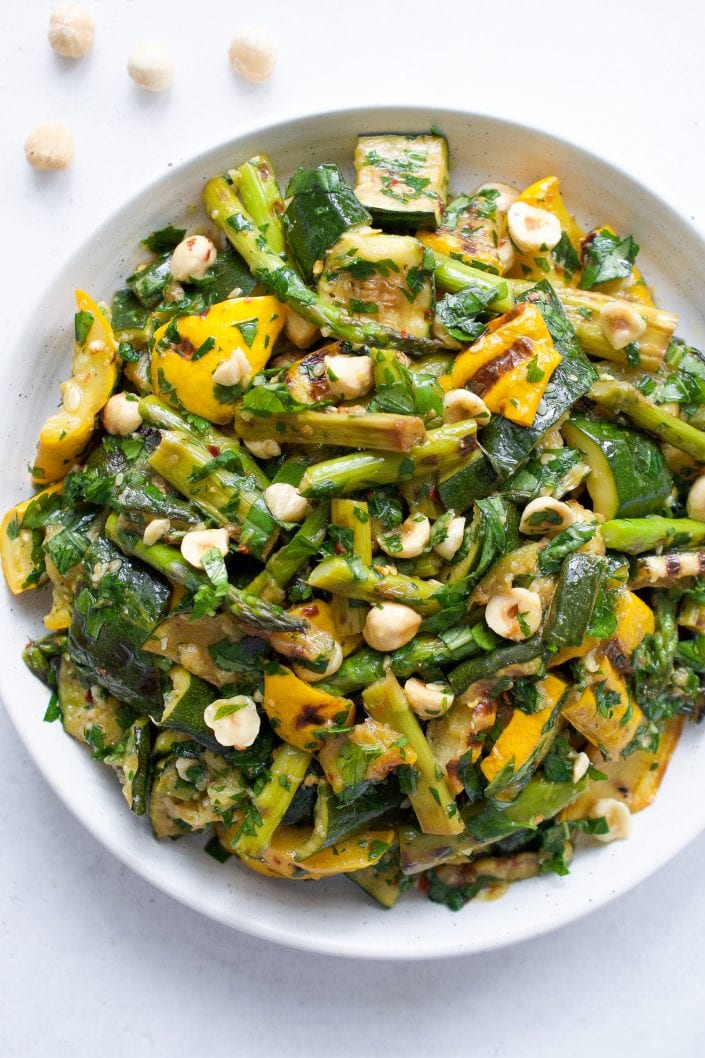 Here are a few other zucchini recipes that you might enjoy…
---
If you make this recipe let me know in the comment section below, I would love to hear what you think or take a photo and tag me (@everylastbite_) on Instagram, I love seeing your photos!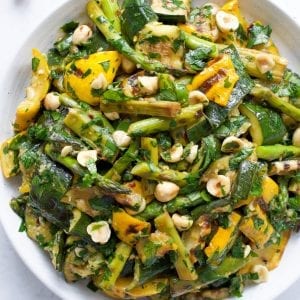 Ingredients
1 1/2 lbs zucchini and/or yellow squash (a mix of both zucchini and yellow squash or just one or the other )
1 tbsp extra virgin olive oil
1 bunch asparagus (approx 9 ounces)
1/2 cup toasted hazelnuts cut in half
Dressing
3 cloves garlic minced
1 tsp lemon zest
2 tsp lemon juice
3 tbsp extra virgin olive oil
2/3 cup finely chopped mint
2/3 cup finely chopped parsley
1/4 tsp chili flakes
1/4 tsp salt
1/4 tsp pepper
Instructions
Preheat a barbecue, grill pan or sandwich press to medium high heat.

Cut the zucchini and yellow squash into 1/4 inch thick long slices. Brush each of the slices with oil and place on the grill/barbecue to cook for 3 minutes per side or until grill marks begin to appear. Be sure not to overcook the zucchini, the slices should be tender but not mushy. Once the zucchini and squash slices are all cooked, set aside.

Remove the woody ends from the asparagus spears, lightly drizzle them in oil and place on the grill/barbecue to cook for 3 minutes. Remove and set aside.

To prepare the dressing, in a bowl whisk together all of the dressing ingredients. Taste and adjust by adding more lemon juice, salt, chili flakes etc as desired.

Once the asparagus, zucchini and yellow squash have cooled to room temperature, cut them into bite sized pieces (approx 1 inch) and place them all in a bowl along with the toasted hazelnuts. Top with the dressing and gently toss to ensure everything is well coated. Serve at room temperature.