Balsamic Chicken with Figs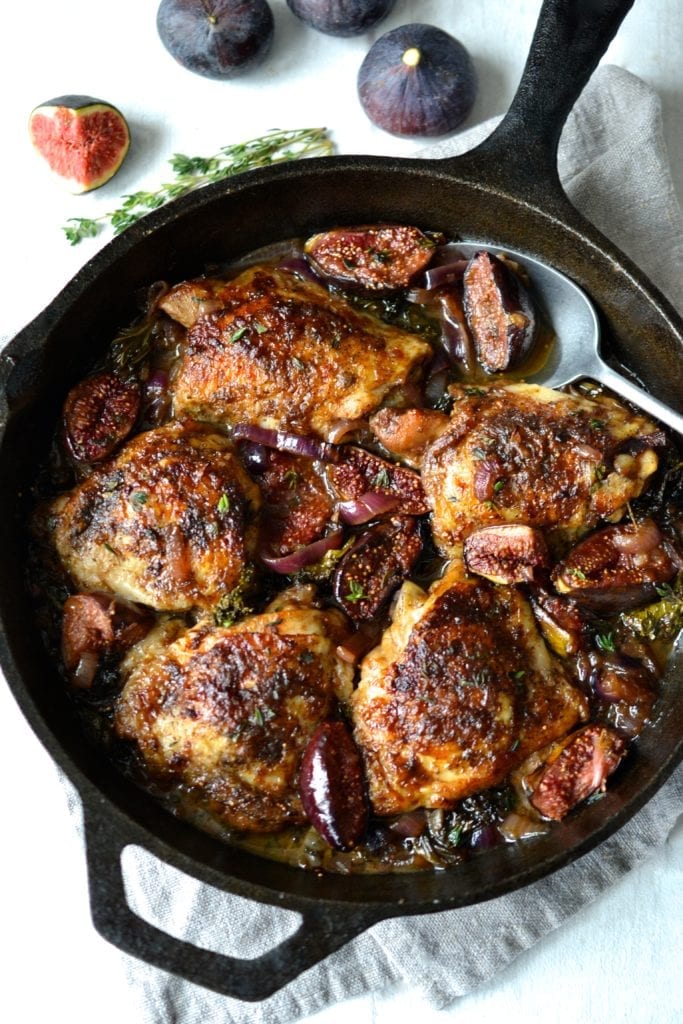 Ready for a great one pan chicken dish that's fancy enough to serve to guests but also easy enough to make for weeknight dinner?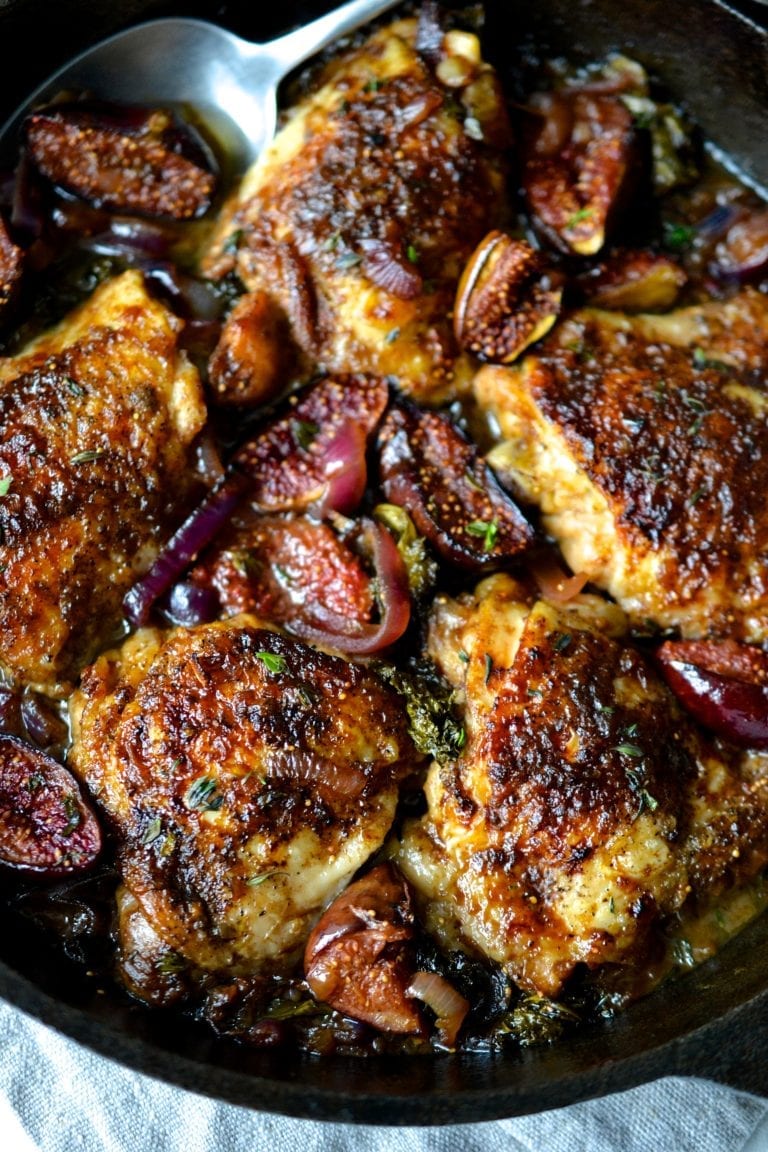 Is it just me or do figs seem to make any dish just a little be fancier?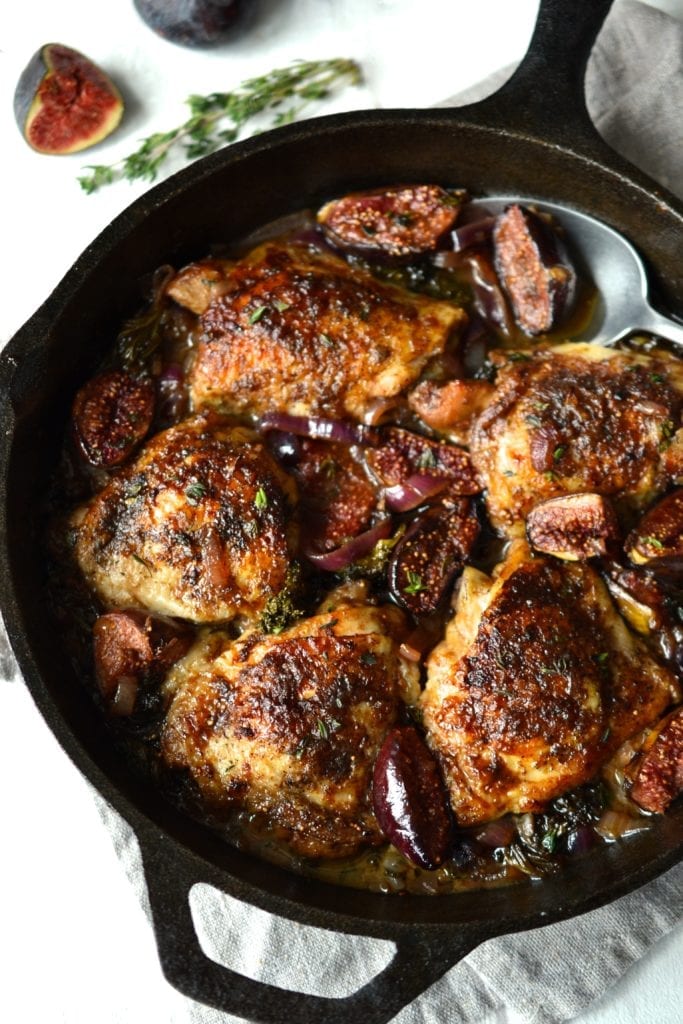 I absolutely love the flavours in this dish. Red onions, shallots, kale and figs are cooked until tender, tossed in a delicious balsamic sauce and then topped with chicken thighs. Sounds good right? The red onion and balsamic vinegar are quite acidic and I love how well the sweet figs help balance out the flavours.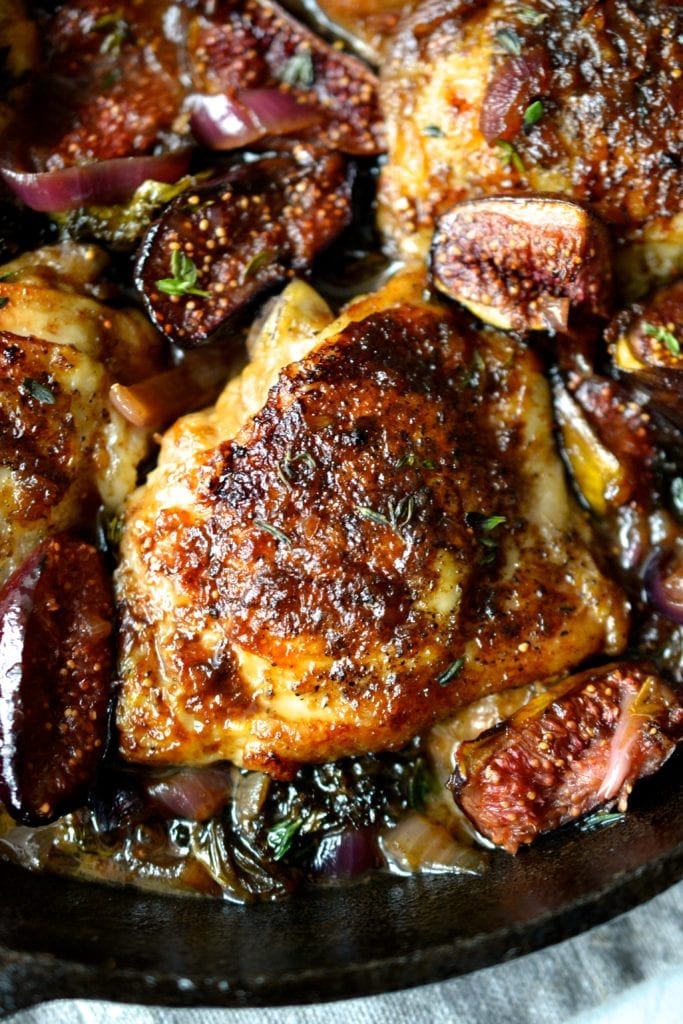 I recommend serving this dish with cauliflower mash to soak up all of the yummy sauce, because you won't want any of that to go to waste!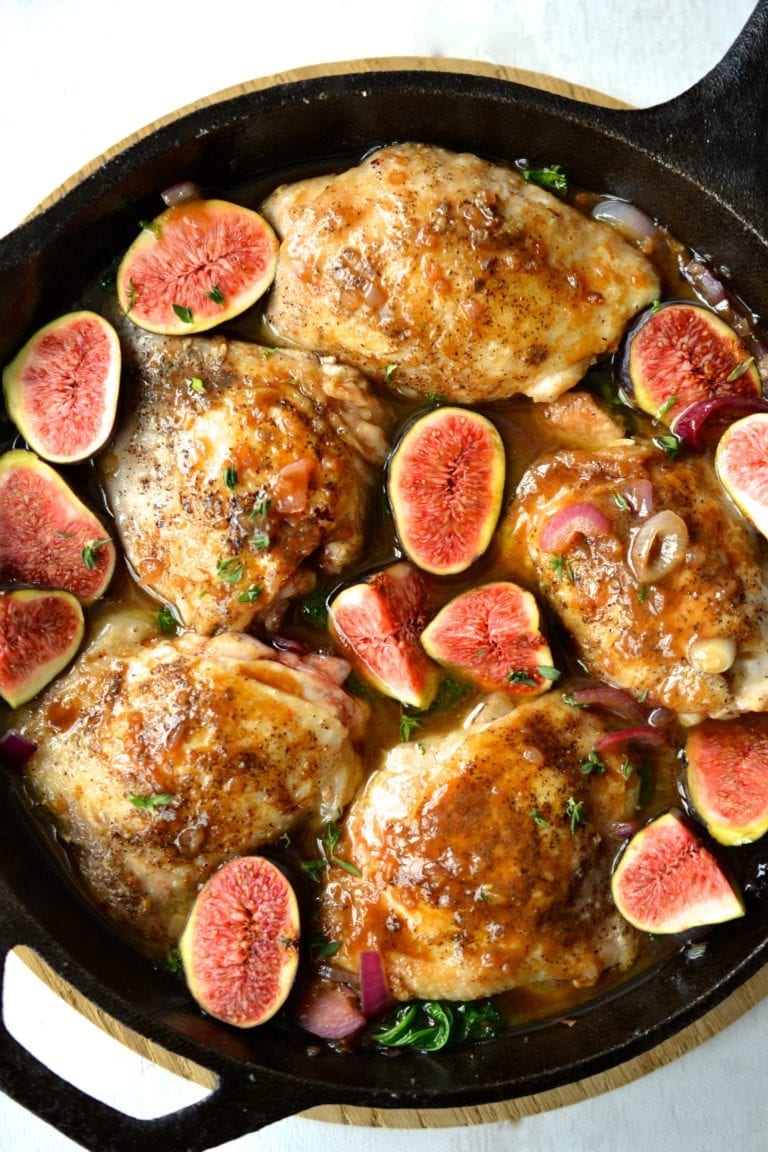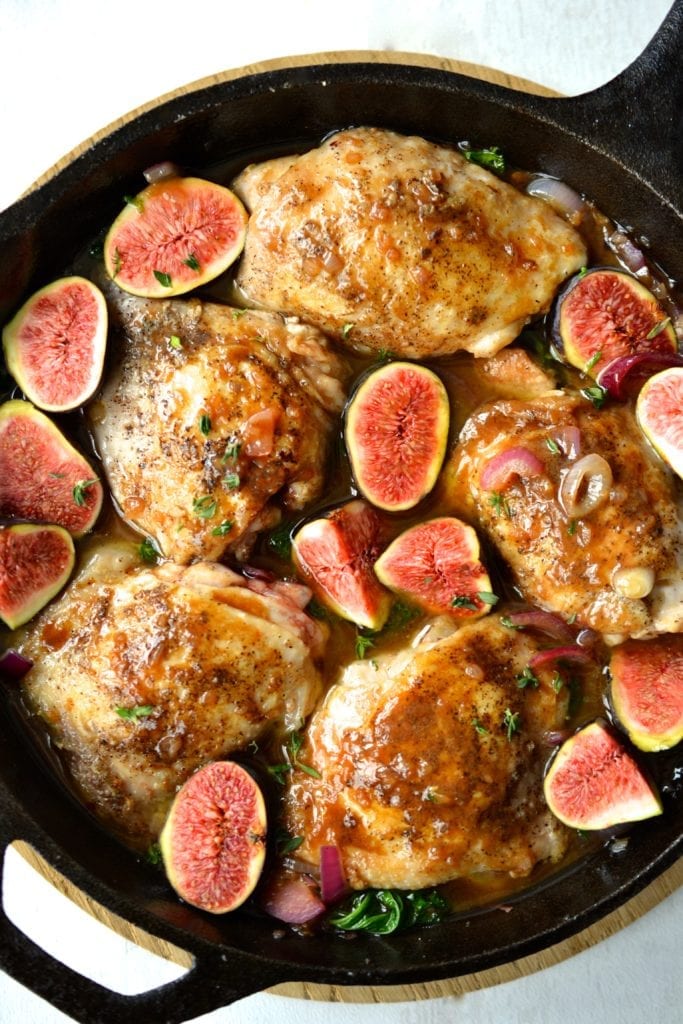 I love using bone-in skin-on chicken thighs because I find the bones give the meat a lot more flavour and the skin gets nice and crispy, but you could also use boneless thighs or breasts instead.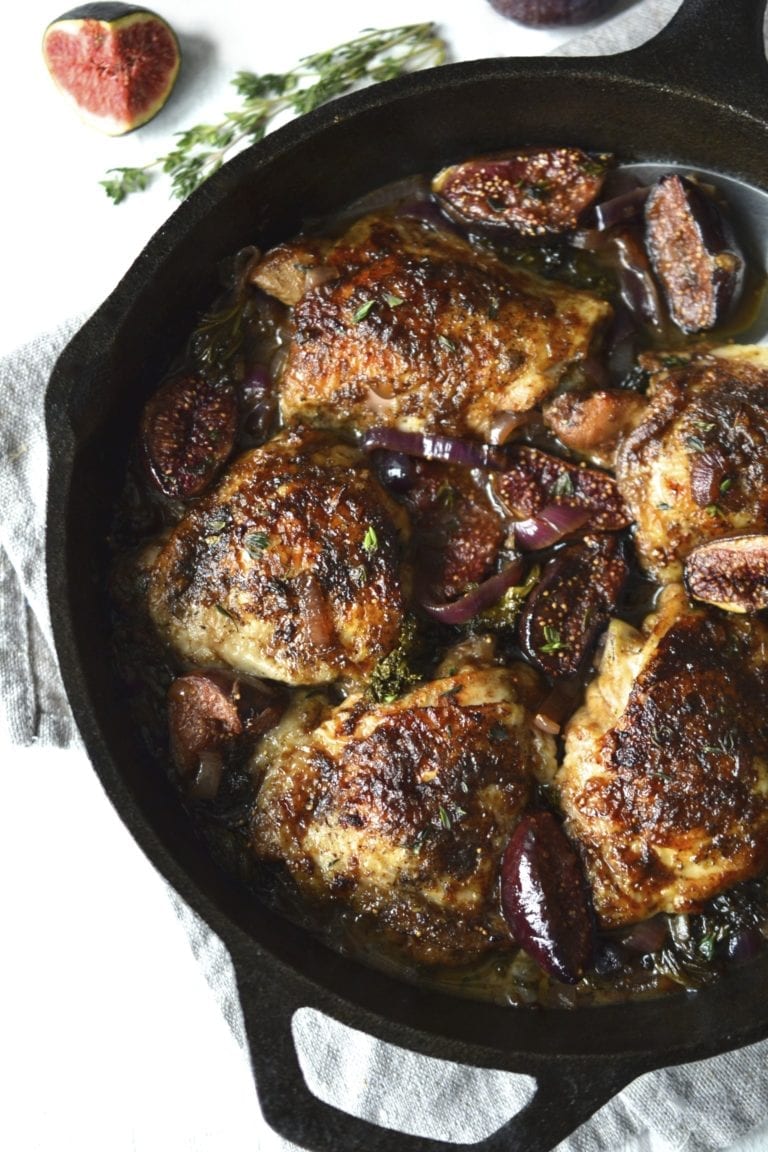 If you make this recipe let me know in the comment section below, I would love to hear what you think or take a photo and tag me (@everylastbite1) on Instagram, I love seeing your photos!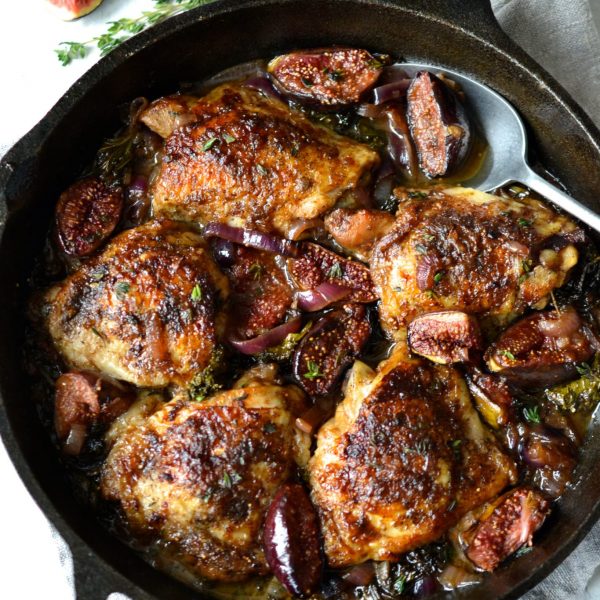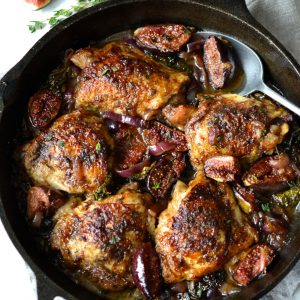 Ingredients
1 tbsp olive oil
1/2 tsp salt
1/2 tsp pepper
6 Chicken Thighs, Bone In Skin on
2 tbsp balsamic vinegar
1/2 tbsp dijon mustard
1 tbsp honey *omit for Whole30
3 shallots finely diced
2 cloves garlic crushed
2 medium red onions thinly sliced
1 tsp fresh thyme
1 cup chicken stock
2 cup shredded curly kale
5 figs cut into halves/quarters depending on size
Instructions
Preheat the oven to 175 degrees Celsius (350 degrees Fahrenheit)

In a large cast iron skillet (or oven proof pan) heat the olive oil. Season the chicken thighs on both sides with salt and pepper and then cook for 4 minutes per side in the oil until golden in colour. Once cooked, transfer to a plate

In a bowl whisk together the mustard, honey and balsamic vinegar.

Add the diced shallots and garlic to the pan and cook for 4 minutes until the shallots begin to soften. Add in the sliced red onions and thyme and let cook for 3 minutes before pouring in the balsamic/mustard mixture and chicken stock.

Let everything simmer for 4 minutes before adding in the chopped kale. Return the chicken thighs to the skillet and arrange the fig pieces around the pan. Spoon some of the sauce over the chicken and then bake in the oven for 35 minutes until the chicken is cooked through. Sprinkle with more thyme before serving.