Pork Fried Rice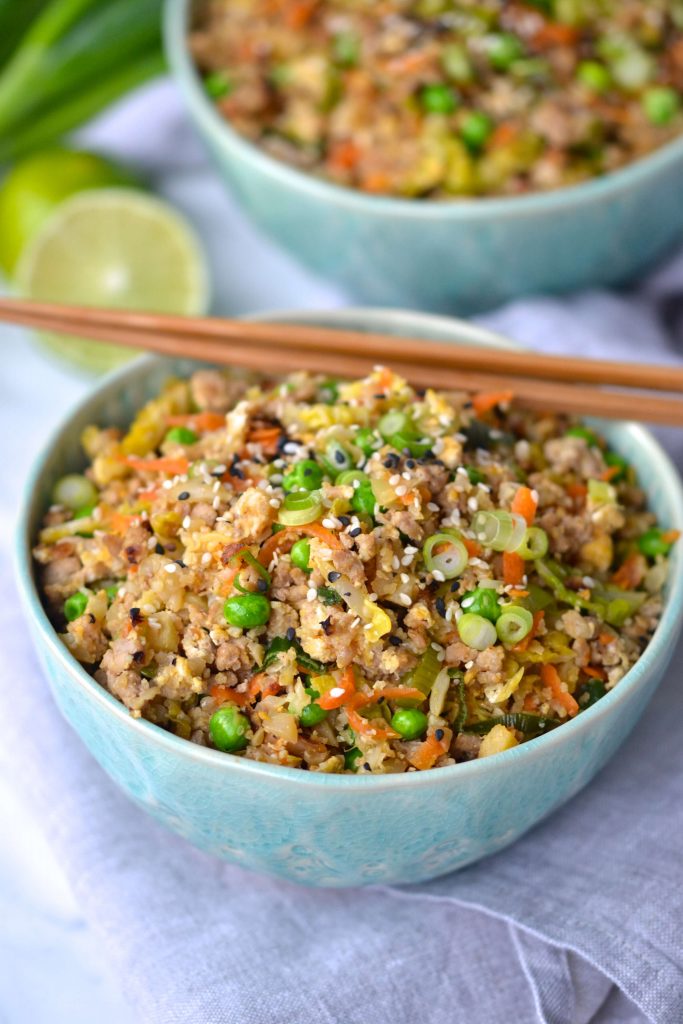 This recipe is inspired by a dish called spicy pork ishi-yaki thats served at one of my favourite restaurants in Vancouver, Hapa Izakaya. They bring out a hot stone bowl filled with a mixture of ground pork, vegetables and rice, and crack an egg into it at the table, which quickly cooks due to the temperature of the bowl. It's nothing fancy or particularly gourmet, but it tastes delicious and there is something fun about stirring the egg into the mixture and watching it quickly cook.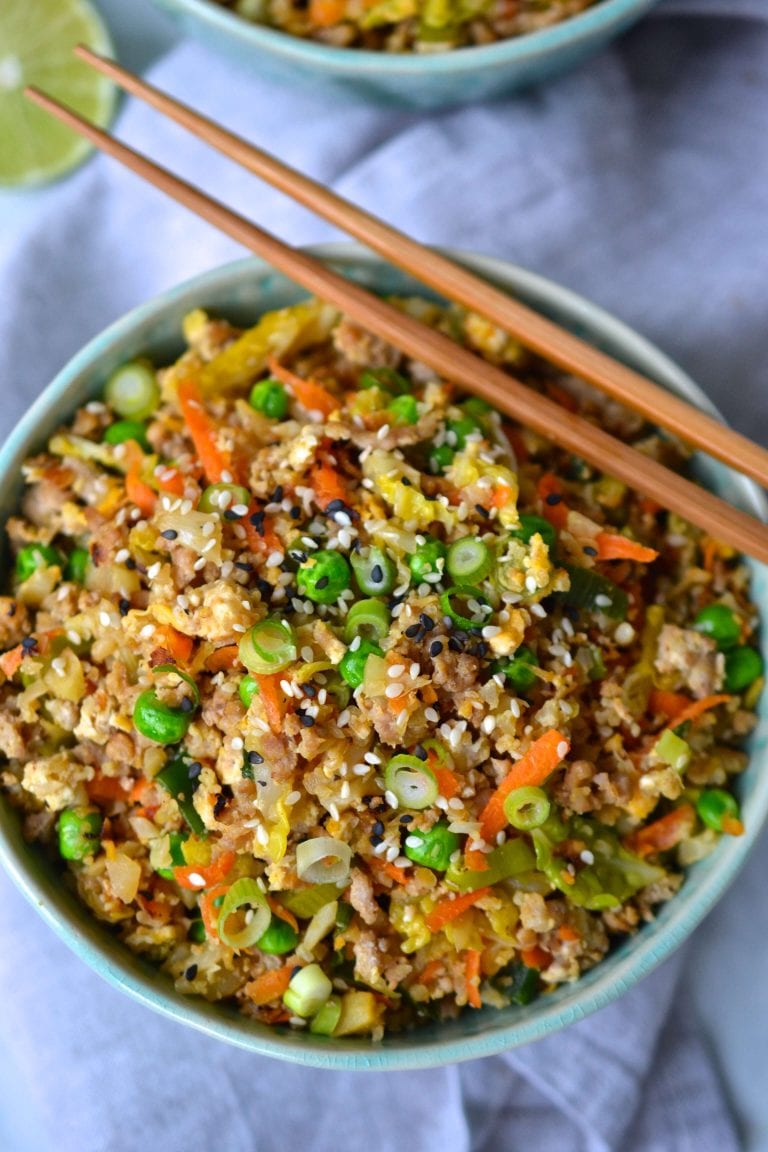 I made this dish healthier and easier to prepare by swapping the rice for cauliflower rice and cooking it in a frying pan. It was a great success!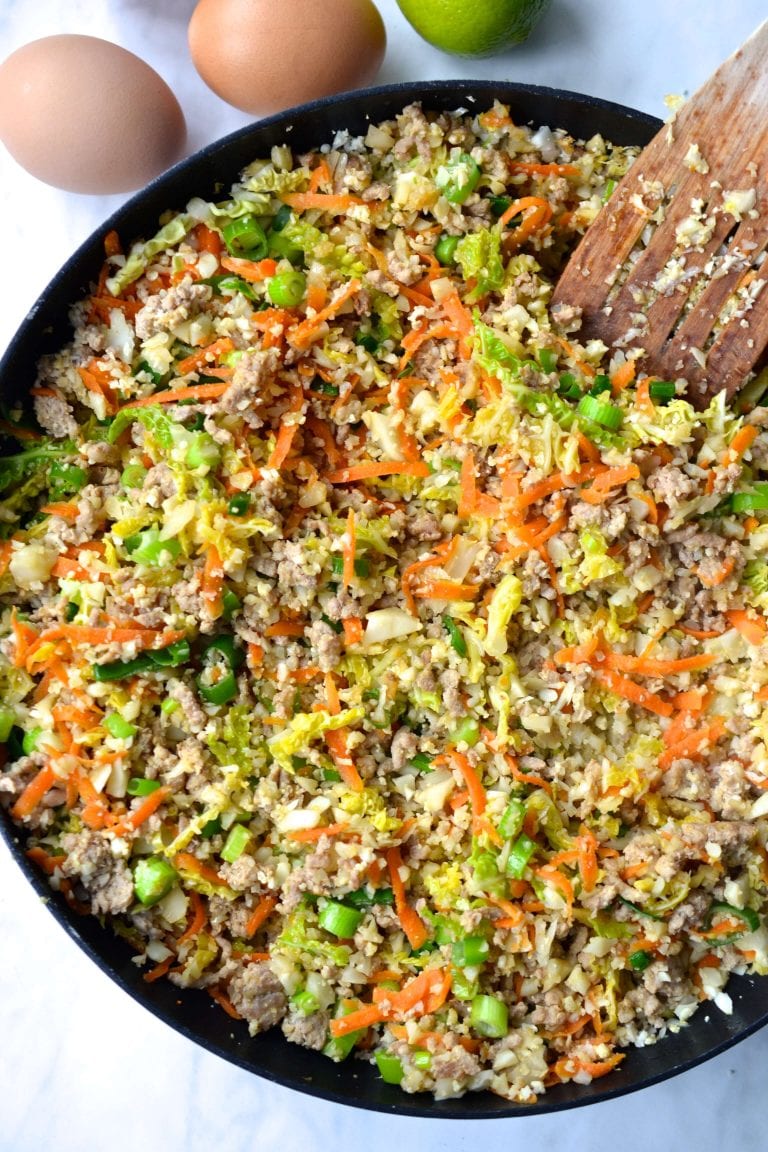 When it comes to weeknight dinner, it doesn't get much quicker then this! The entire dish can be prepared in one pan in less then 25 minutes. I used ground pork, but ground chicken or turkey would also work. If you are struggling to get your 5 a day, feel free to toss in other veggies like snow peas, bean sprouts or broccoli.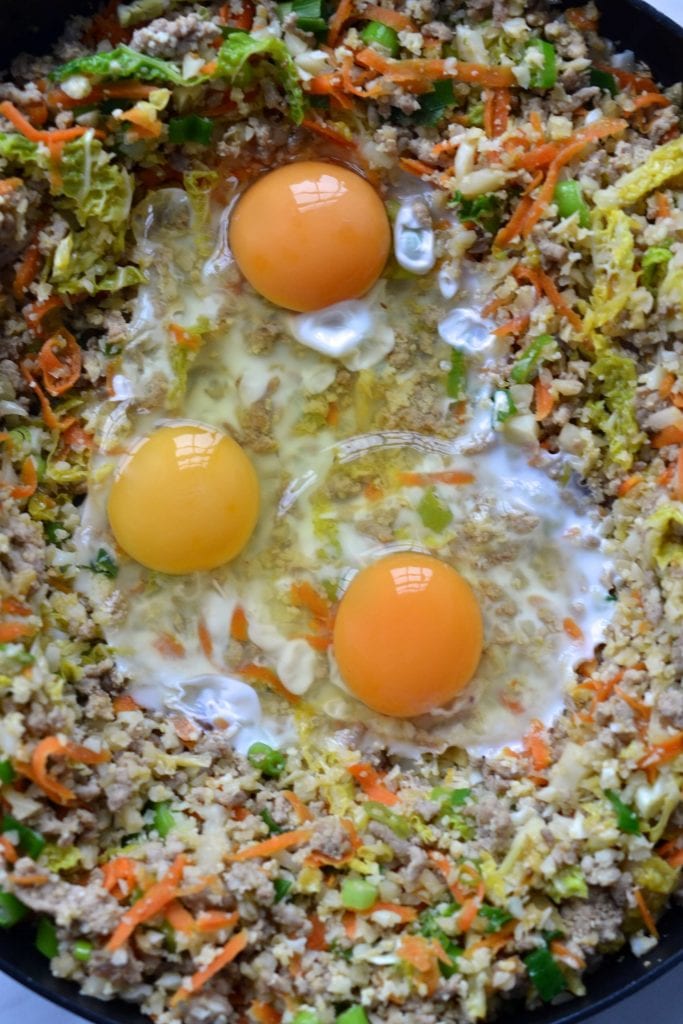 I like cracking the eggs into the pan and then bringing it to the table before stirring everything together, it makes for a nice "ooohh cool!" moment for your family or friends as they watch the eggs cook.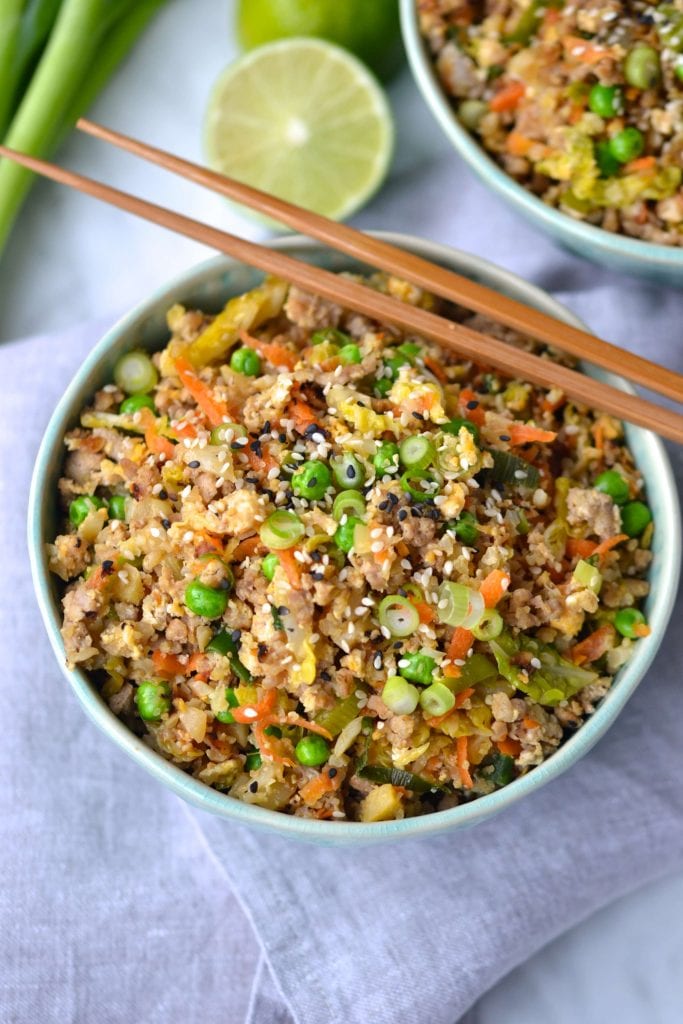 If you make this recipe let me know in the comment section below, I would love to hear what you think or take a photo and tag me (@everylastbite_) on Instagram, I love seeing your photos!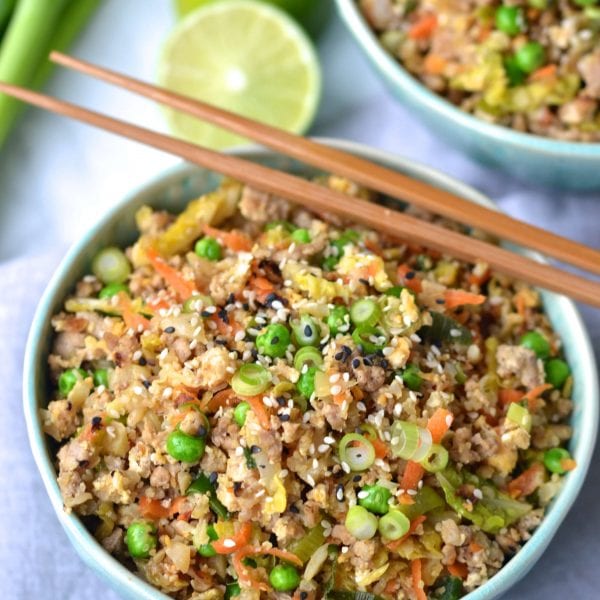 Pork Fried Rice
Ingredients
2 tbsp sesame oil
2 cloves garlic
2 1/2 tbsp finely chopped fresh ginger
2/3 cup chopped scallions
400 g ground pork (or turkey/chicken)
1 cup shredded carrot
3/4 cup frozen peas (omit for Whole30)
1 cup shredded savoy (or napa) cabbage
3 cups cauliflower rice
1 tsp fish sauce
2 1/2 tbsp coconut aminos (or tamari if not gluten free)
3 eggs
2 tbsp chopped fresh cilantro
Instructions
In a wok or frying pan heat the sesame oil on high heat, gently swirling the pan so it covers the surface.

Once the pan is hot add in the crushed garlic and ginger and cook for about 20 seconds until it becomes fragrant (make sure it doesn't burn!). Add the ground pork and use a wooden spoon to break it up into pieces .

After 3 minutes most of the pork will be cooked, add in the scallions, shredded carrots, shredded cabbage, frozen peas and cauliflower rice. Stir in the fish sauce and coconut aminos/ tamari and flatten the mixture up the sides of the wok so that it touches as much of the surface as possible. Stir to ensure nothing burns.

After4 minutes the cauliflower should be al dente, crack each of the eggs into the middle of the pan. Let sit for 1 minute before stirring them into the mixture. I like doing this part at the table in front of everyone. Serve the rice topped with chopped coriander.