Thai Basil Beef
This flavour packed Whole30 Thai Basil Beef is perfect for an easy weeknight dinner you can quickly throw together. The beef is tender and caramelized and tossed in a delicious salty sauce with peppers, onions and fragrant basil.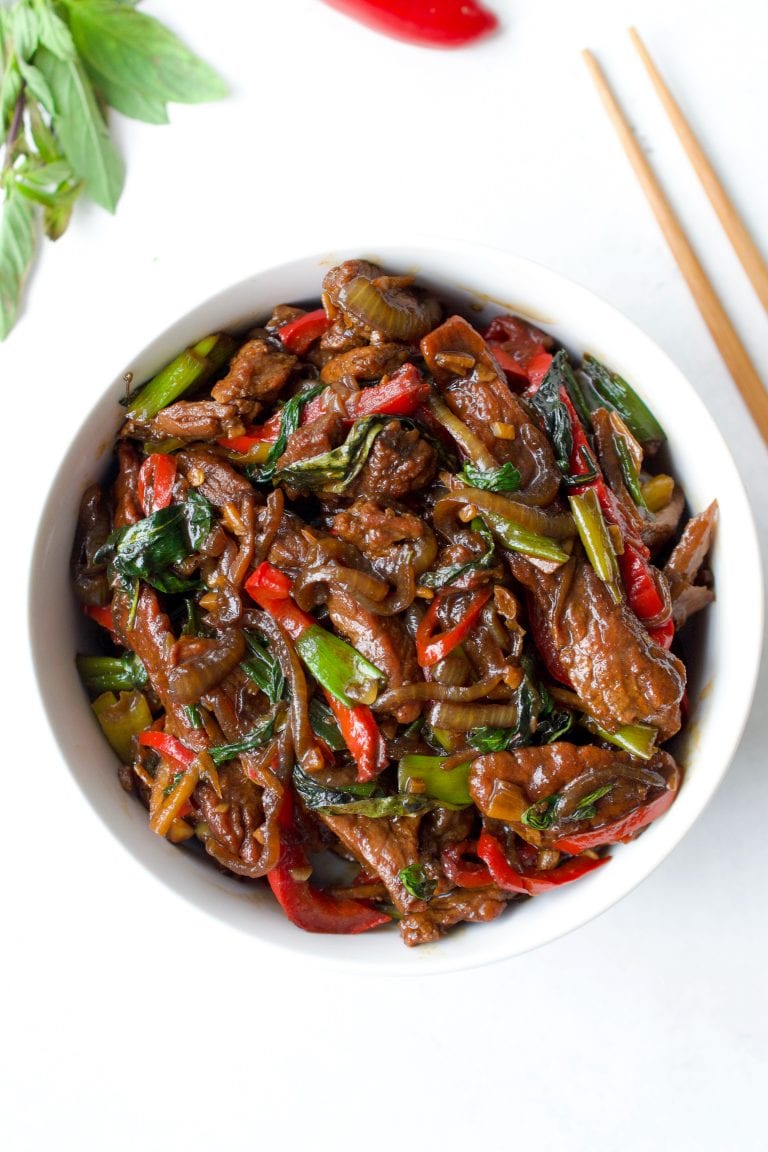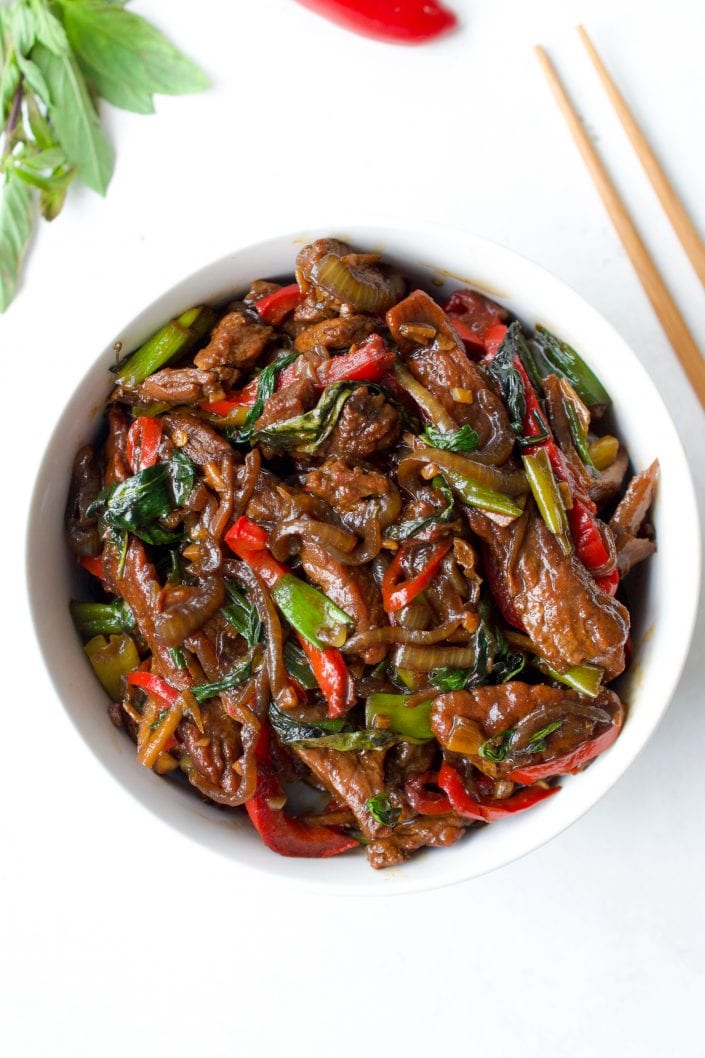 This saucy Whole30 Thai Basil Beef dish is a quick and easy meal that really hits the spot when you are craving a flavourful stir fry. The meat is quickly marinated in a 3 ingredient sauce that tenderizes the meat in a matter of minutes and then cooked until caramelized. It's then tossed with a simple combination of bell peppers, onions, garlic, ginger and chilies and coated in a delicious 3 ingredient sauce (3 is clearly the magic number for this recipe). Right before serving thai basil leaves are stirred in until just wilted.

During these crazy times I completely understand that some ingredients like thai basil might be next to impossible to find. Don't stress, while they are the ideal ingredient to use for this dish, italian basil can be used instead, it won't be quite the same but will still do the trick.
I love serving this on a bed of cauliflower rice to soak up all of the delicious sauce but if you are looking for a more refreshing option, you could spoon some into lettuce cups. Be sure to make enough for leftovers, because this dish is delicious on day 2!

Here are a few other asian inspired dishes that you might enjoy:
---
If you make this recipe let me know in the comment section below, I would love to hear what you think or take a photo and tag me (@everylastbite_) on Instagram, I love seeing your photos!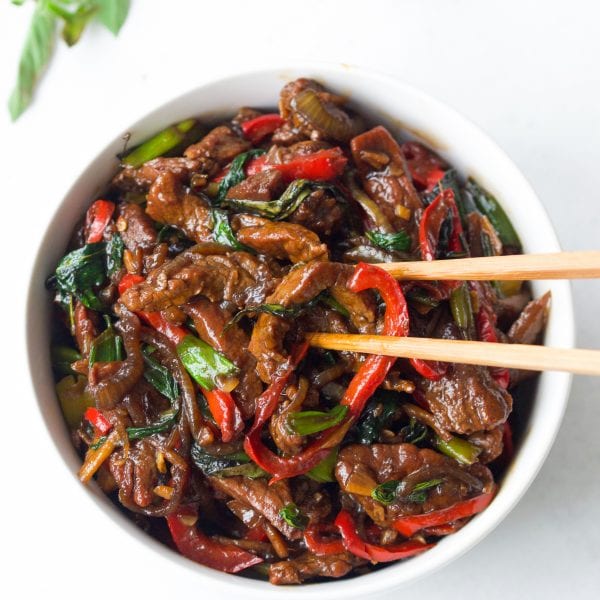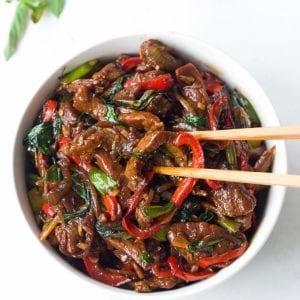 Ingredients
Beef & Marinade
1 lbs sirloin or skirt steak
1 1/2 tbsp coconut aminos
1 tbsp fish sauce
1 tsp baking soda
Stir Fry
1 medium onion thinly sliced
1 red bell pepper thinly sliced
2 inch piece fresh ginger roughly chopped
5 cloves garlic roughly chopped
1/2 cup chopped scallions
1 red chili thinly sliced
1 tbsp sesame oil
2 tbsp coconut aminos
1/2 tbsp fish sauce
1/2 tbsp lime juice
1 cup thai basil*
Instructions
Slice the beef very thinly against the grain. Place the sliced beef in a bowl, add the coconut aminos, fish sauce and baking soda overtop and stir to ensure all of the slices are coated in the sauce. Leave to rest while you prep the rest of the ingredients.

Heat the sesame oil in a large skillet or wok on high heat. Working in 2 batches to ensure that you don't overcrowd the pan, cook the beef for 4 minutes until seared and caramelized. Remove the cooked beef and set aside on a plate and then continue cooking the second batch of beef.

Add the onion, garlic, ginger, chili and cook for 4 minutes until the onion begins to soften.

Add in the sliced red bell peppers and scallions as well as the coconut aminos, lime juice and fish sauce and leave to cook for approximately 5 minutes until the peppers are soft.

Return the cooked beef to the pan along with the thai basil leaves. Give everything a stir to ensure its all well mixed and then remove from the heat and serve.
Notes
Although thai basil if prefered, if you can't find any it can be replaced with Italian basil.