Chicken Fajita Salad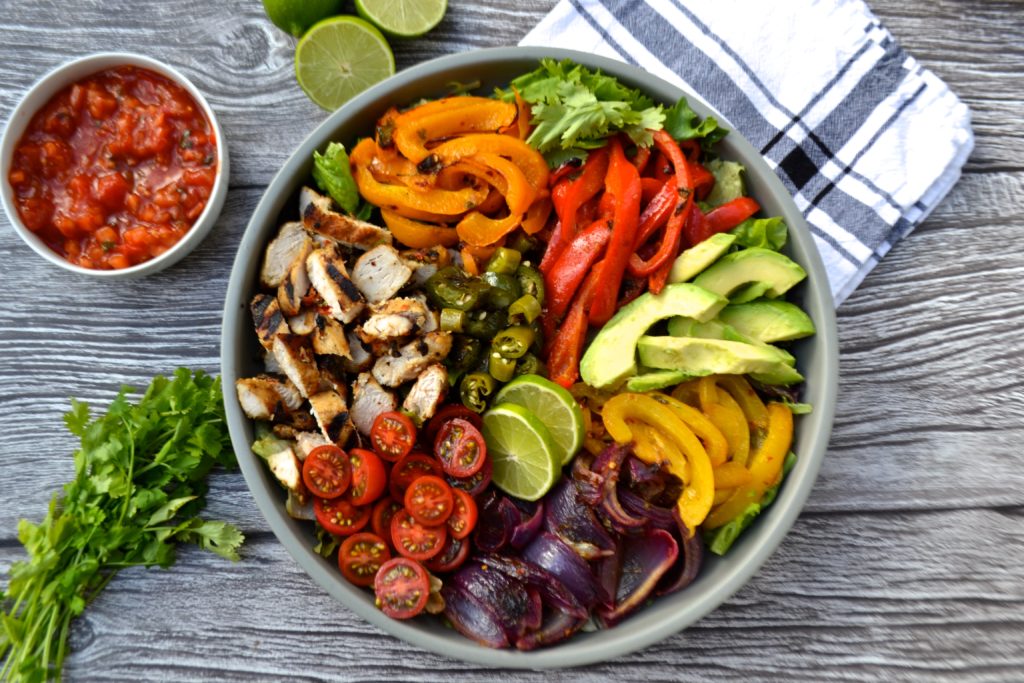 There are so many things to love about this salad. It is packed with delicious Mexican flavours including cumin, spicy jalapenos, lime, cilantro and garlic that coat the roasted vegetables and tender slices of chicken. This salad is warm and hearty yet healthy and full of nutritious ingredients making it a great mid week dinner during the colder months.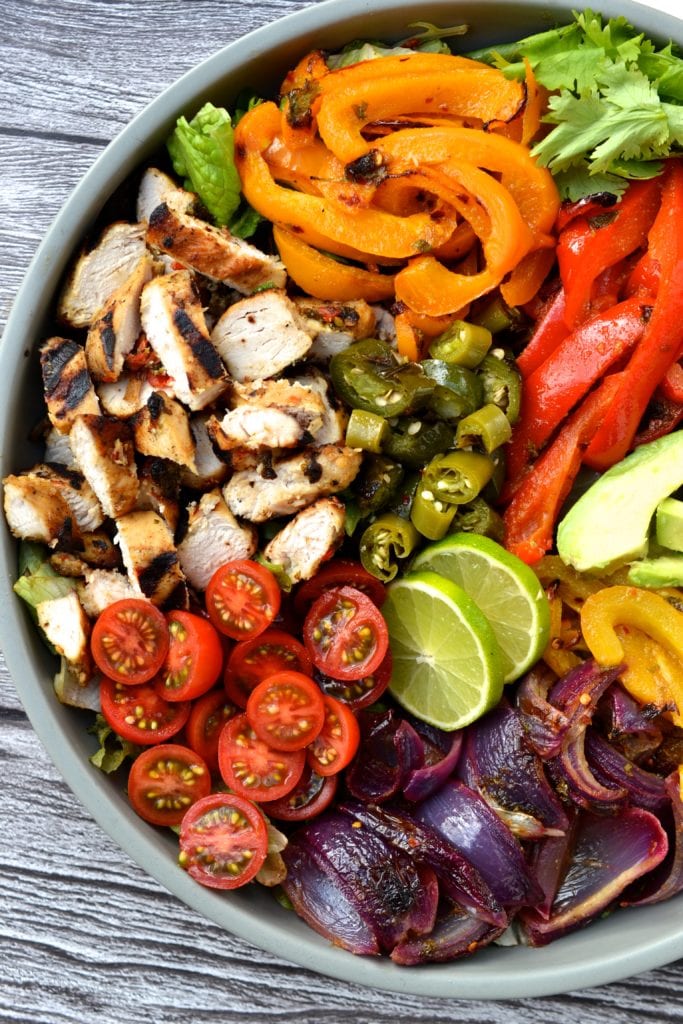 If you are a fan of traditional tortilla fajitas, you will be amazed at how filling and satisfying this salad is. You skip the carbs yet still have all of the delicious flavour and added health benefits of eating even more vegetables. I normally make fajitas in a pan on the stove, but was happy to discover that you can cut down on time and clean up by putting the veggies and chicken in a baking dish and roasting everything in the oven for 25 minutes. So easy!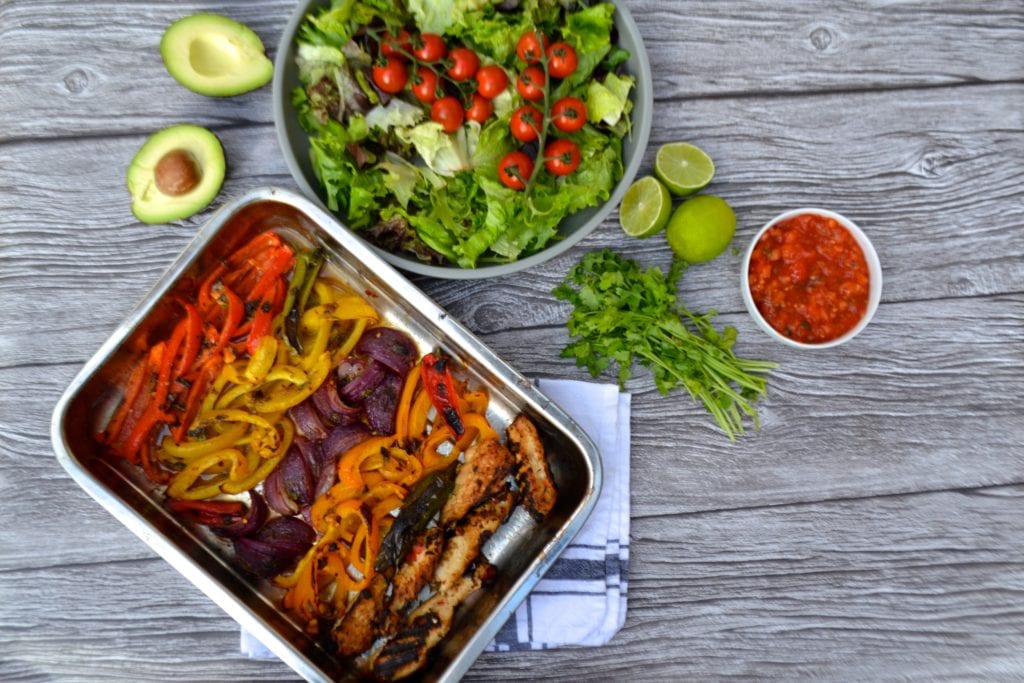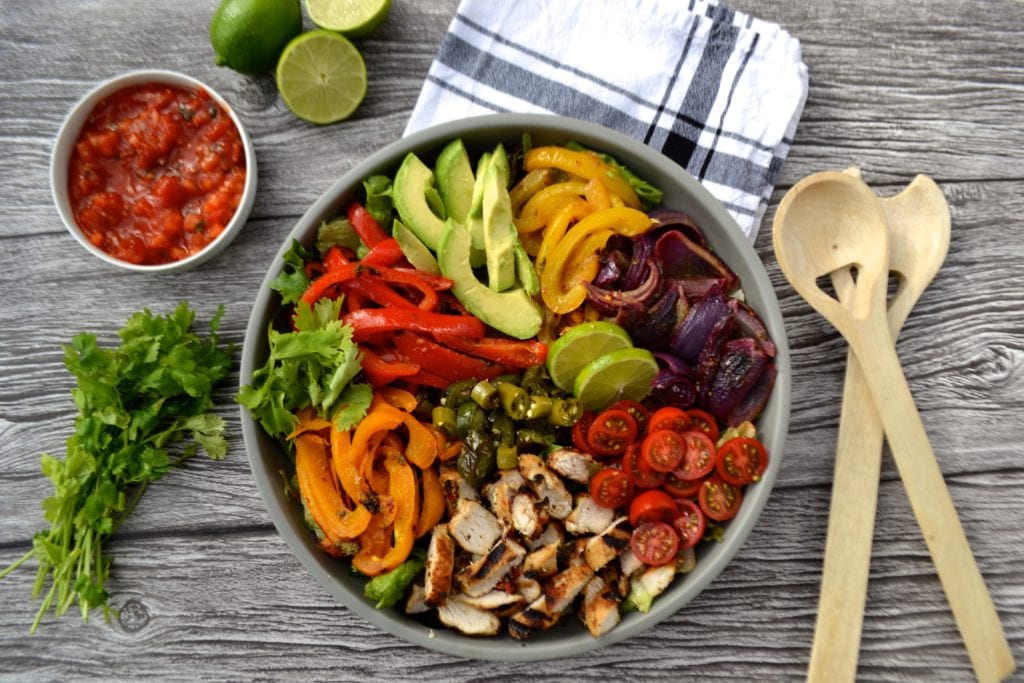 If you make this recipe let me know in the comment section below, I would love to hear what you think or take a photo and tag me (@everylastbite_) on Instagram, I love seeing your photos!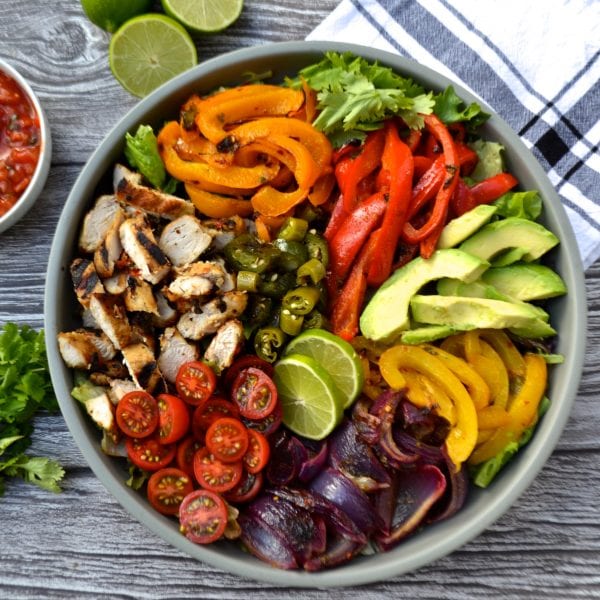 Chicken Fajita Salad
Ingredients
Sauce
1/4 cup olive oil
2 cloves crushed garlic
1 1/2 tbsp lime juice
2 tsp cumin
1 tsp paprika
1 tsp chipotle chili flakes (or ground chipotle)
1 tsp oregano
Salad
2 chicken breasts cut into strips
1 large red onion
3 bell peppers (preferably 1 red, 1 yellow and 1 green)
4 cups lettuce
2 jalapeños thinly sliced
1 avocado
1 cup halved cherry tomatoes
salt and pepper
1/4 cup cilantro
Instructions
In a bowl combine all of the ingredients for the sauce and whisk until well combine

Preheat the oven to 200 degrees Celsius (400 degrees Fahrenheit)

Wash and deseed the peppers and cut them into thin strips. Peel the onion and cut it into eighths. Place the sliced peppers, red onion, chicken and 2 thinly sliced jalapenos on a baking tray and toss with the sauce. Bake for 25 minutes or until the chicken is cooked through and the veggies are tender.

Wash the lettuce and place in a bowl along with the cherry tomatoes and sliced avocado.

Cut the chicken into bite sized pieces. Add the chicken and roasted vegetables to the salad and toss with any of the sauce left at the bottom of the baking tray. To serve top with a slice of lime, chopped cilantro and a spoonful of salsa. Enjoy!