Salted Caramel Cheesecake Cups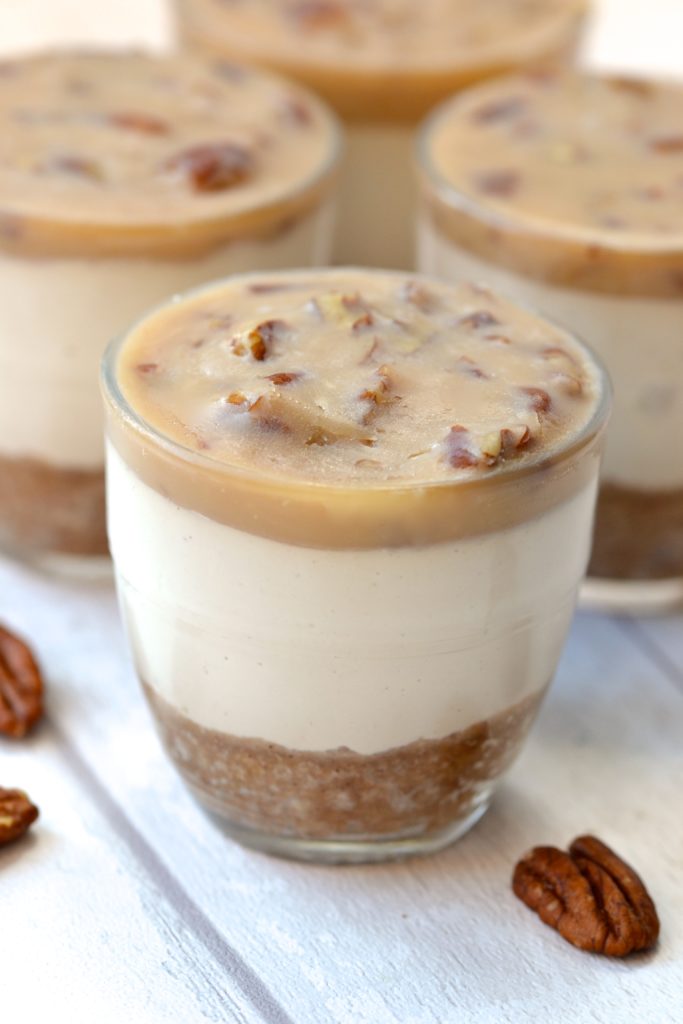 Pure decadence, that is the only way to describe this recipe.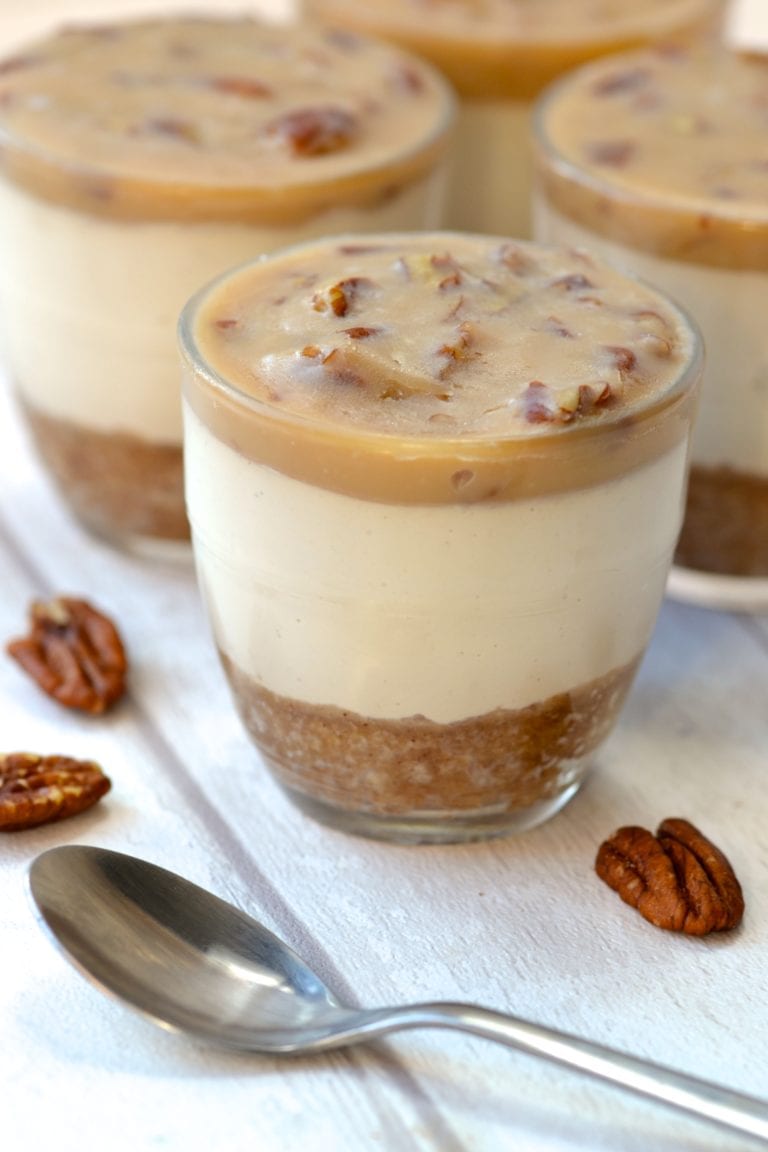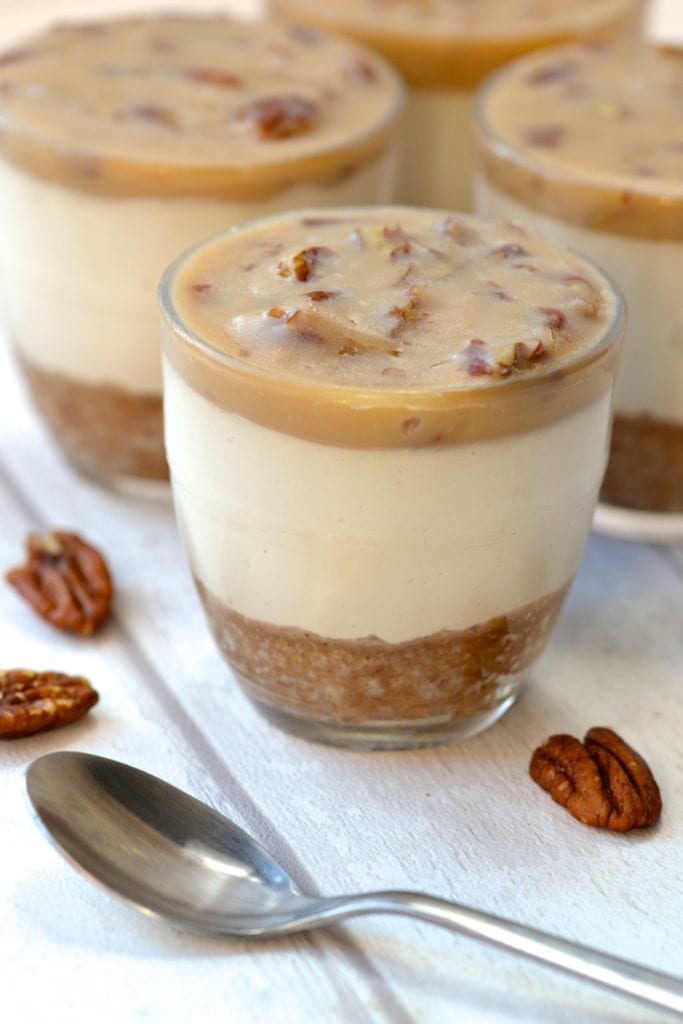 Each pot is the perfect combination of crumbly base, incredibly smooth and creamy cheesecake filling and a thick salted caramel topping dotted with small pieces of chopped pecans.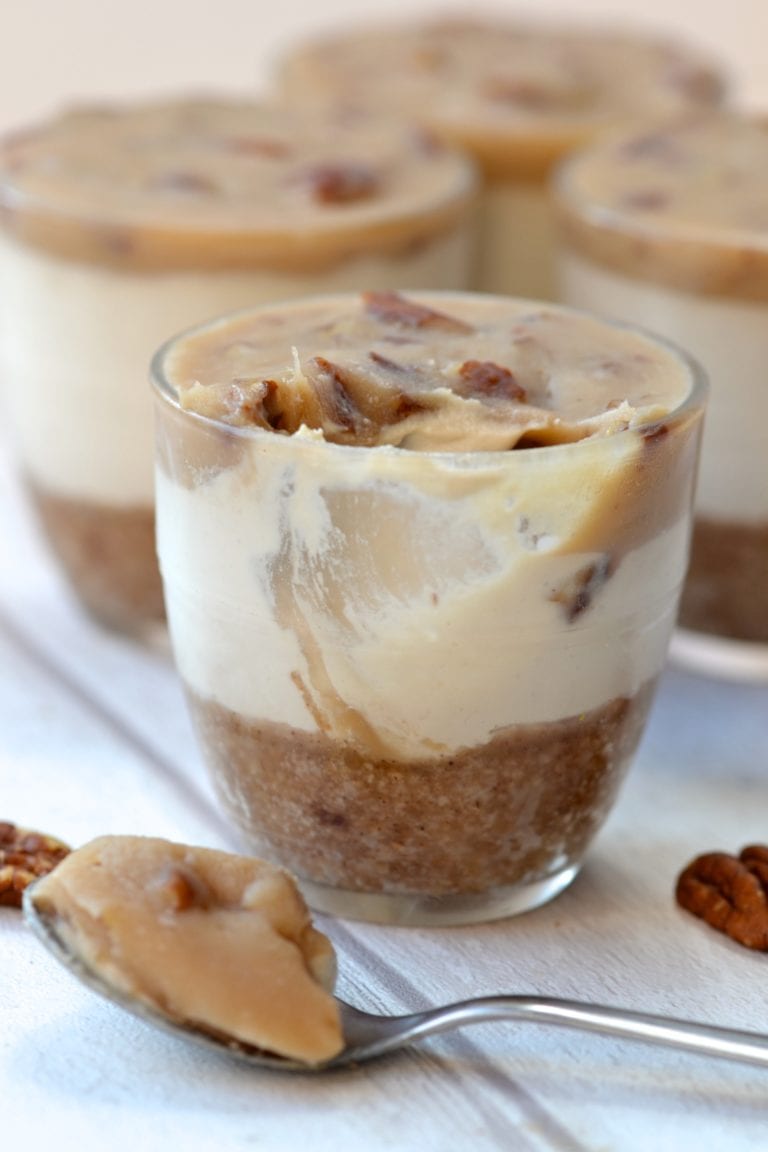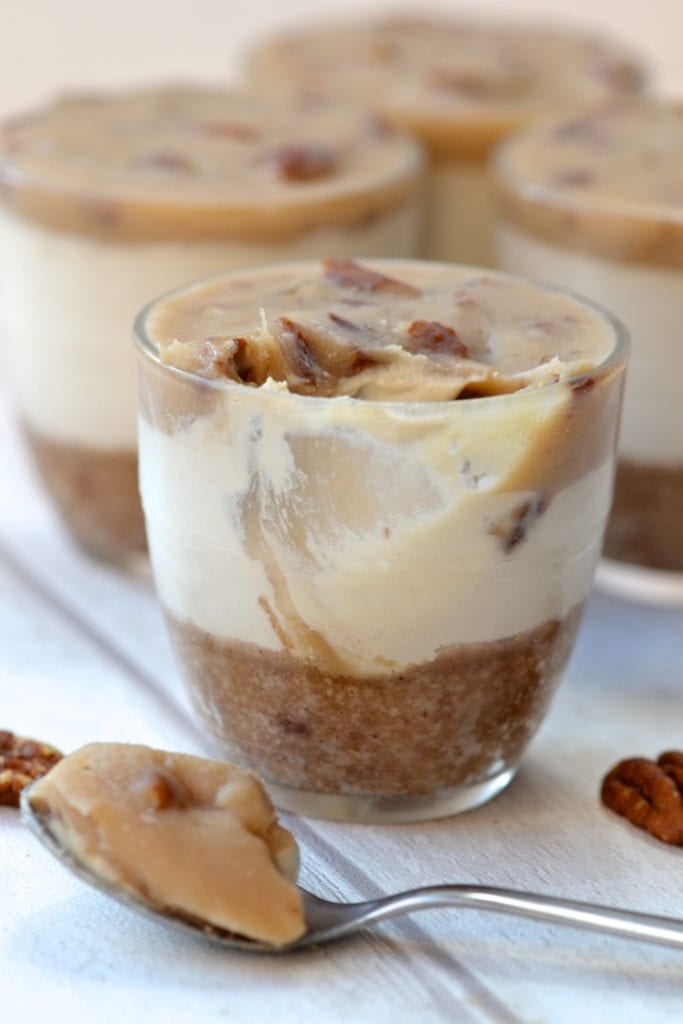 Unlike other cheesecake bases I have used in the past, I wanted this one to be more crumbly in texture. I skipped using chopped nuts or dates and instead made it with a simple mixture of almond flour, cinnamon, coconut oil, honey and vanilla. This is a great base to use in pots or jars because it maintains a defined lined when topped with the cheesecake layer but can easily be broken with a spoon into a crumbly texture when eaten.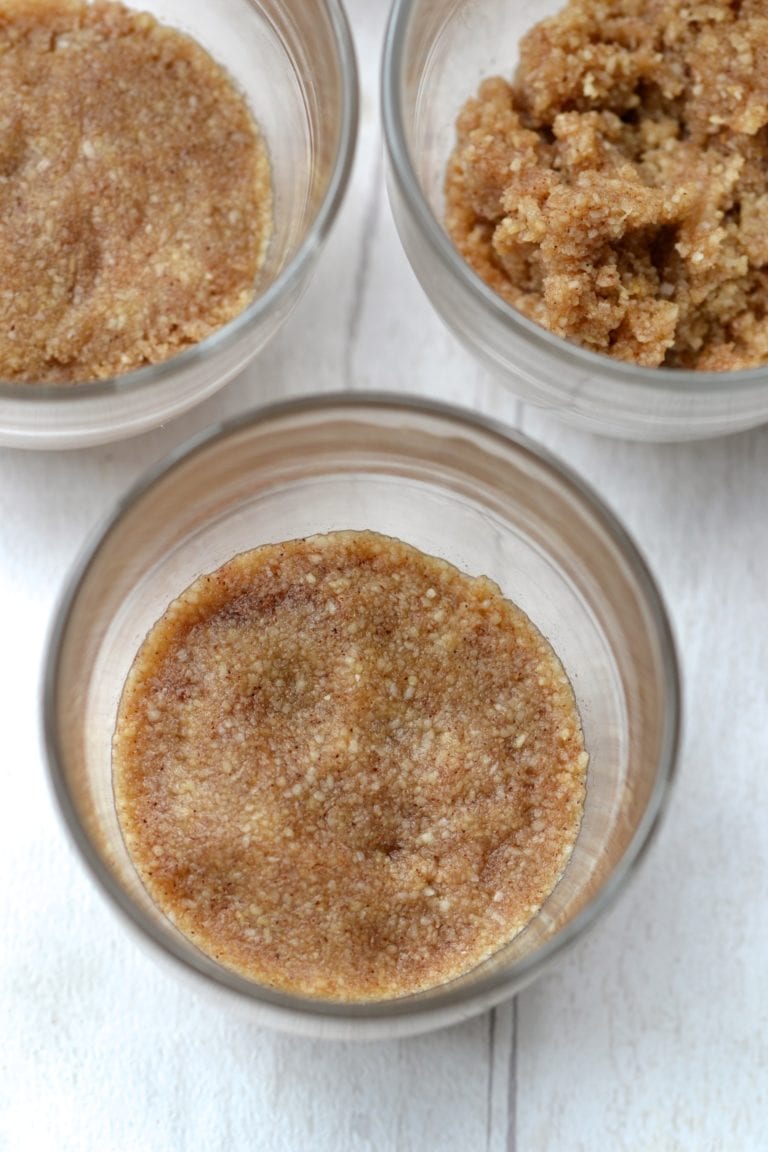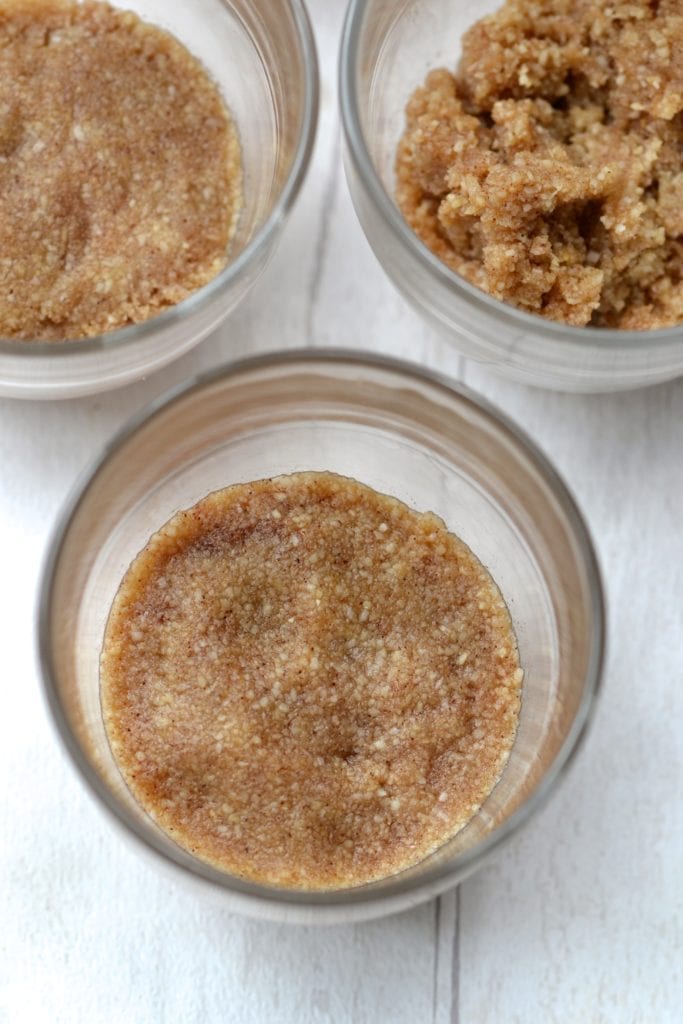 Next up is the smooth and creamy cheesecake layer which is made with ground cashews and lightly flavoured with vanilla. This cheesecake filling is slightly tart thanks to the addition of lemon juice and only a small amount of honey which is a great contrast to the sweet caramel topping. This is the first time I have made a cashew based cheesecake that doesn't require freezing and I am really happy with how firm it becomes just by refrigerating it for an hour.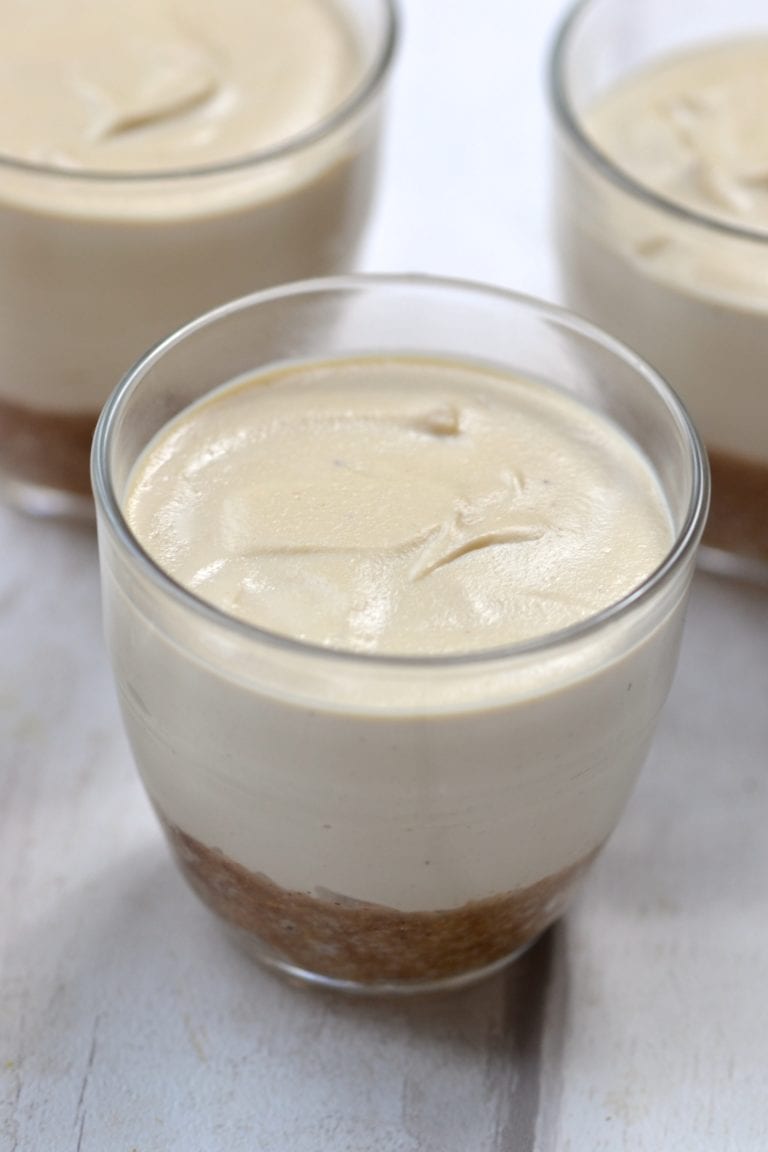 I saved the best for last. The salted caramel with chopped pecans is the final layer of the pot and it's soooo good.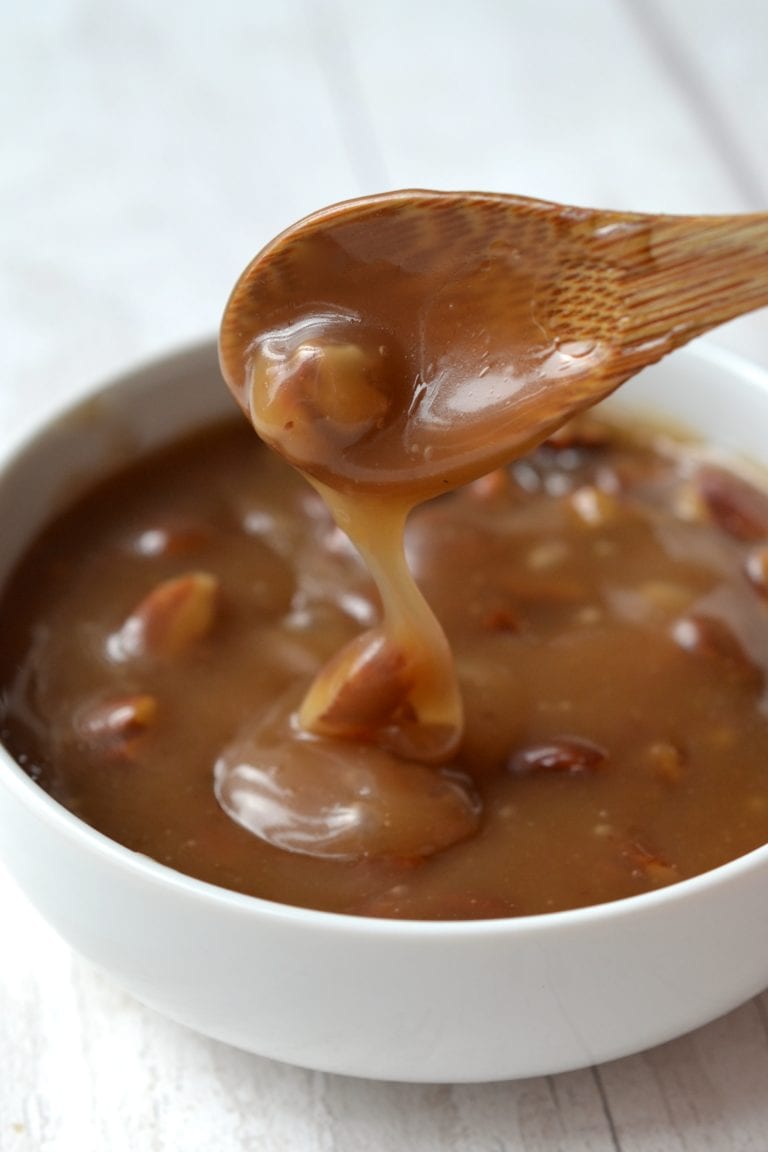 Truthfully I am not a big fan of caramel on its own, I find it to often be almost sickly sweet. It is amazing what the addition of just a sprinkling of salt does to cut through the sweetness of caramel and completely transform the flavour.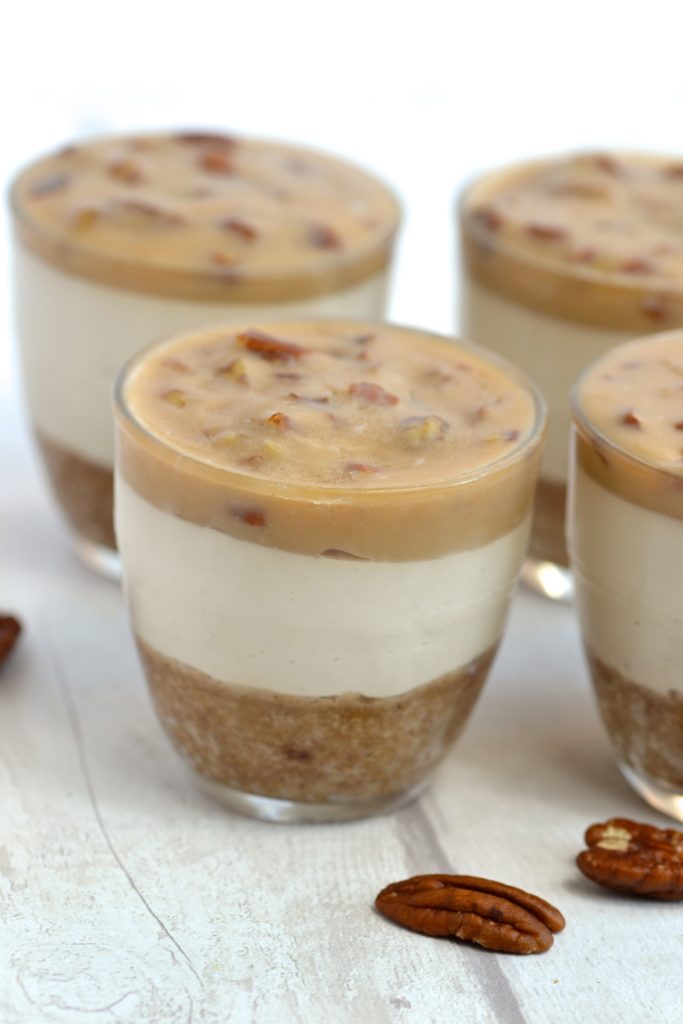 I used small glass espresso cups to hold the cheesecakes, but mason jars or even small glasses would also work, just measure them out first with water to ensure they hold a minimum of ¾ cup. I prefer to use something glass to hold the dessert so that you can see each layer of filling.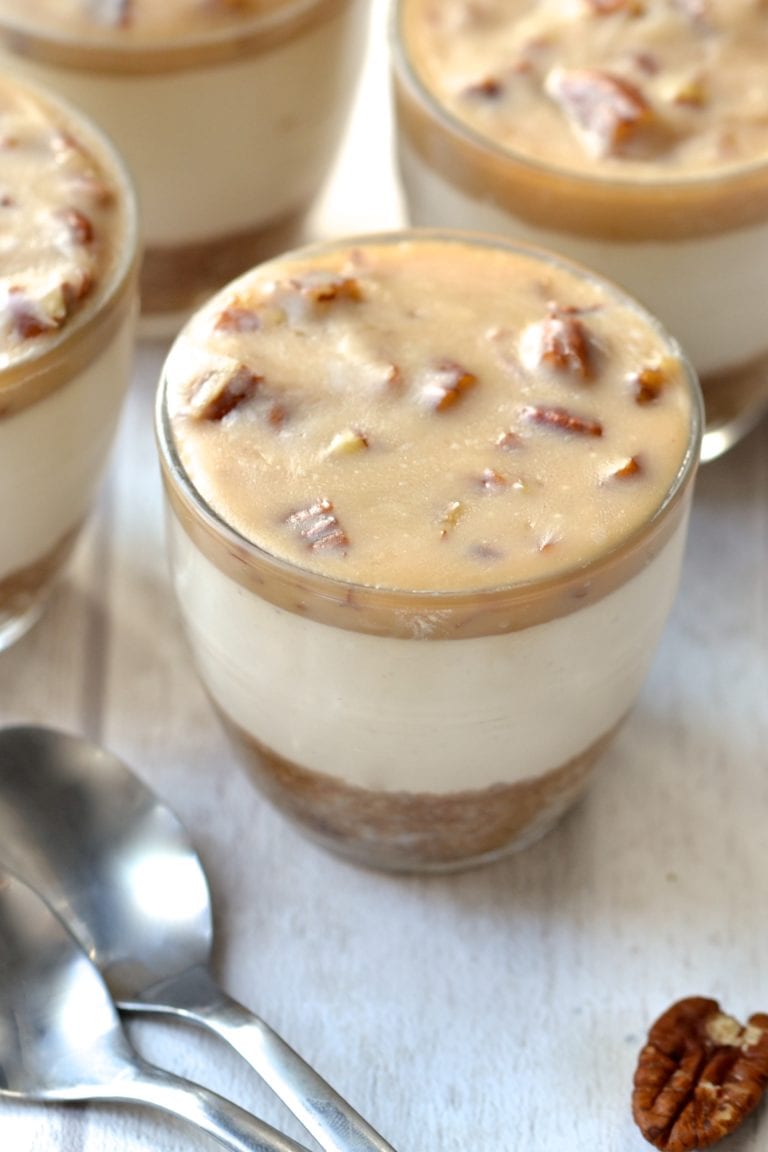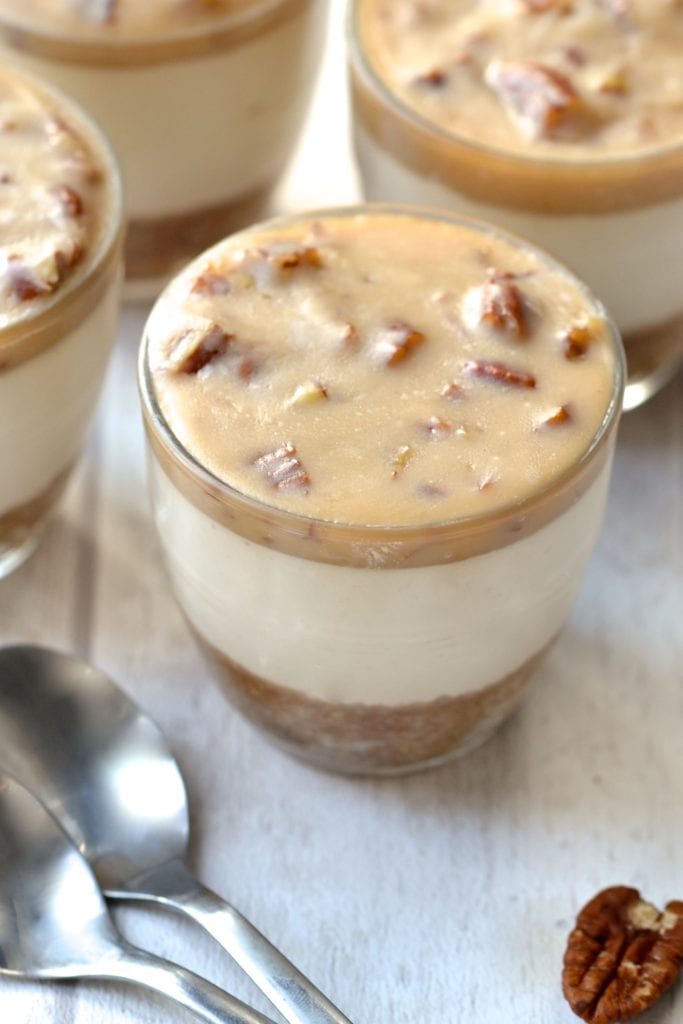 These would be a great dessert to serve to guests, especially as they can be made up to a few days in advance and require zero prep before serving.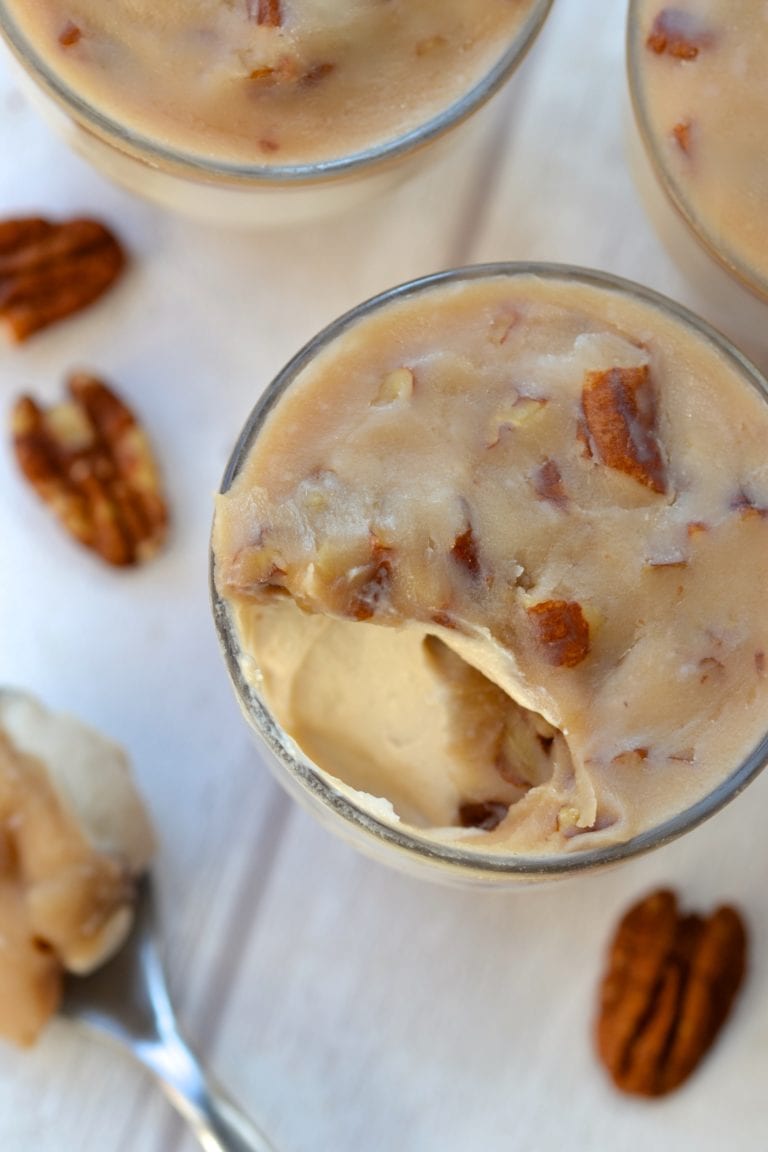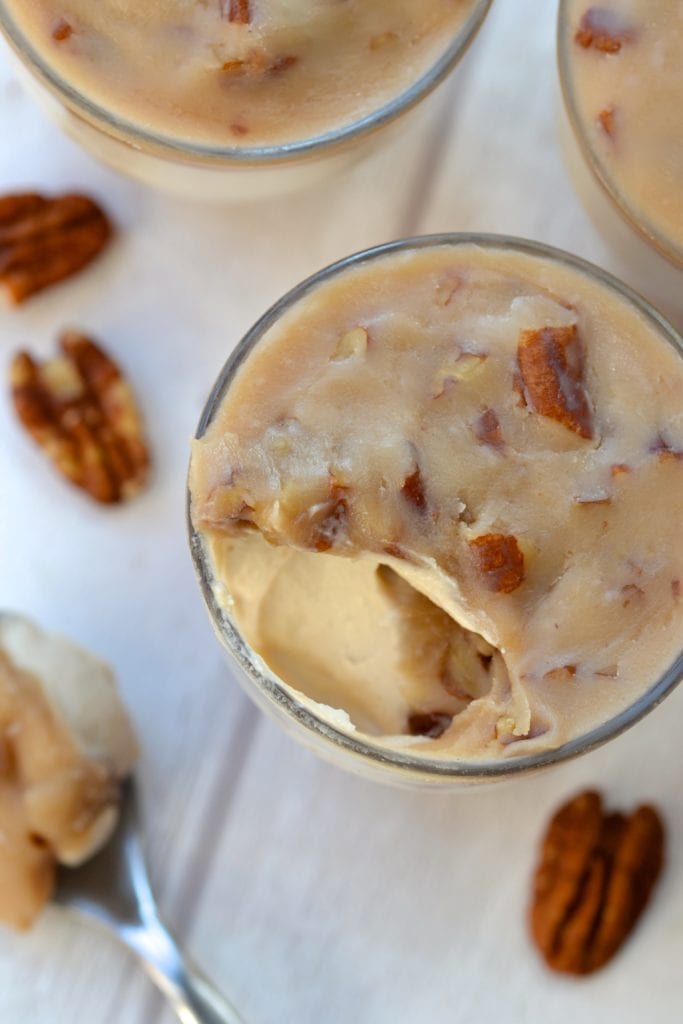 If you make this recipe let me know in the comment section below, I would love to hear what you think or take a photo and tag me (@everylastbite_) on Instagram, I love seeing your photos!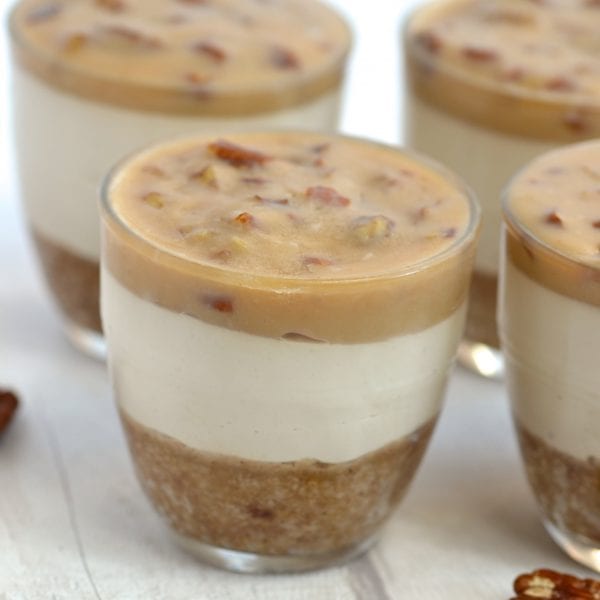 Salted Caramel Cheesecake Cups
Ingredients
Base
1/2 cup Almond Flour
1 1/2 tbsp Honey (or maple syrup)
1 1/2 tbsp coconut oil melted
1/4 tsp cinnamon
1/4 tsp salt
Cheesecake Filling
3/4 cup cashews soaked in hot water for 1 hour and then drained
2 tbsp coconut oil
1/4 cup coconut cream
1 tsp vanilla extract
1 1/2 tbsp lemon juice
1 1/2 tbsp honey (or maple syrup)
Salted Caramel
1/3 cup honey (or maple syrup)
1/2 cup coconut cream
1/4 cup coconut oil
1 tsp vanilla extract
1/2 tsp maldon salt
2 tbsp roughly chopped pecans
Instructions
Base
In a bowl combine all of the ingredients for the base and stir until well combined. Divide the mixture evenly between the four cups and press down with your fingers to ensure its firmly packed in.
Cheesecake Filling
In a high speed blender or food processor combine all of the ingredients for the cheesecake and blend until completely smooth. Taste the filling and adjust the flavours if you prefer it to be more sweet or tart.

Pour the filling evenly between the four cups and transfer them to the fridge to help the filling become firm.
Caramel Topping
In a sauce pan on medium heat melt the honey, coconut cream and coconut oil. Bring the mixture to a boil and then lower the heat and let it gently simmer for 10 minutes stirring regularly.

After 10 minutes add in the vanilla extract, salt and pecans and stir. Allow the mixture to cool to room temperature. Alternatively you can transfer it to the fridge to speed up the cooling.

Once the caramel is cool, evenly distribute it between the 4 cups. 2. Store the cups in the fridge for a minimum of an hour to allow the caramel to become firm.