Cranberry Cheesecake Bars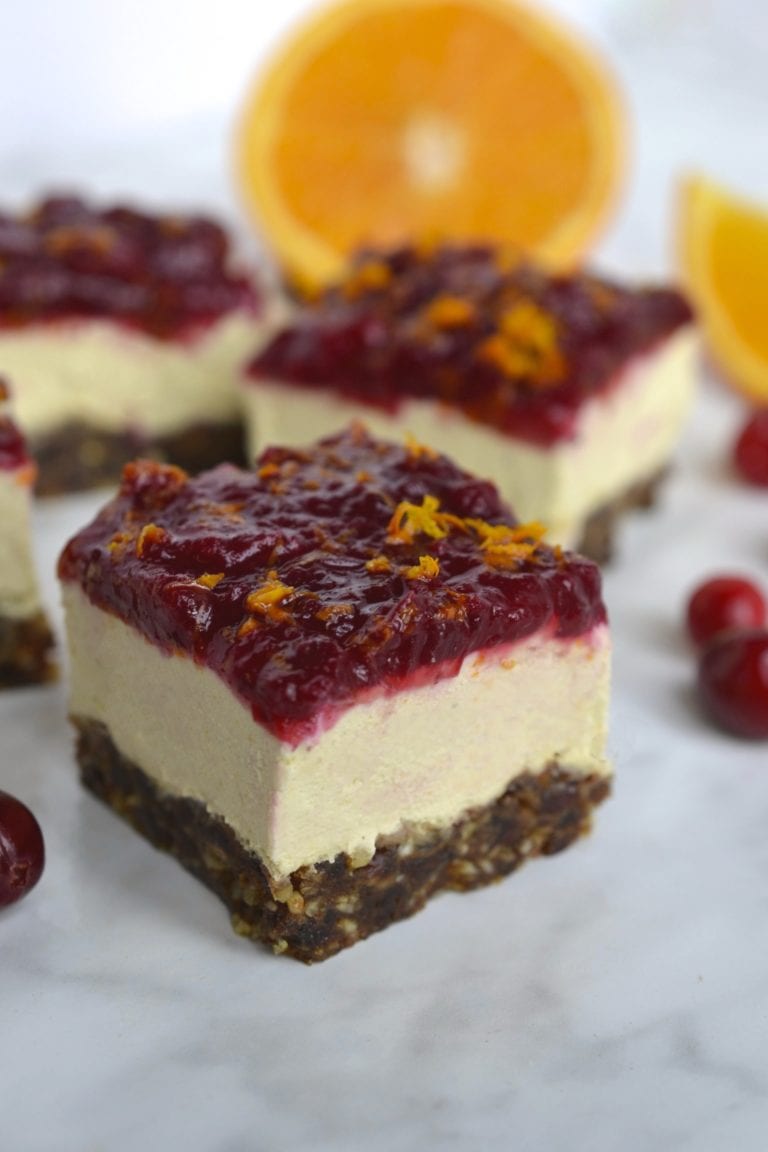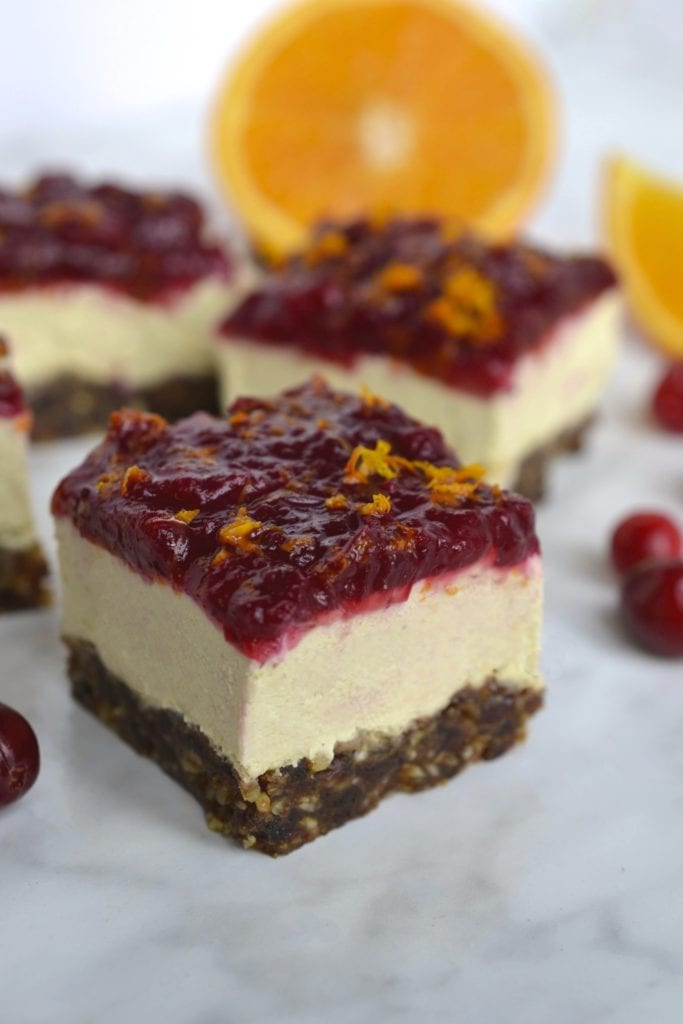 This cranberry cheesecake is such an awesome dessert to serve to guests during the holiday season. The blend of sweet orange and tart cranberry is one of my favourite winter flavour combinations. I'm embarrassed to admit that this is my 5th recipe using the orange and cranberry combo, with past recipes including bars, granola, muffins and meatballs.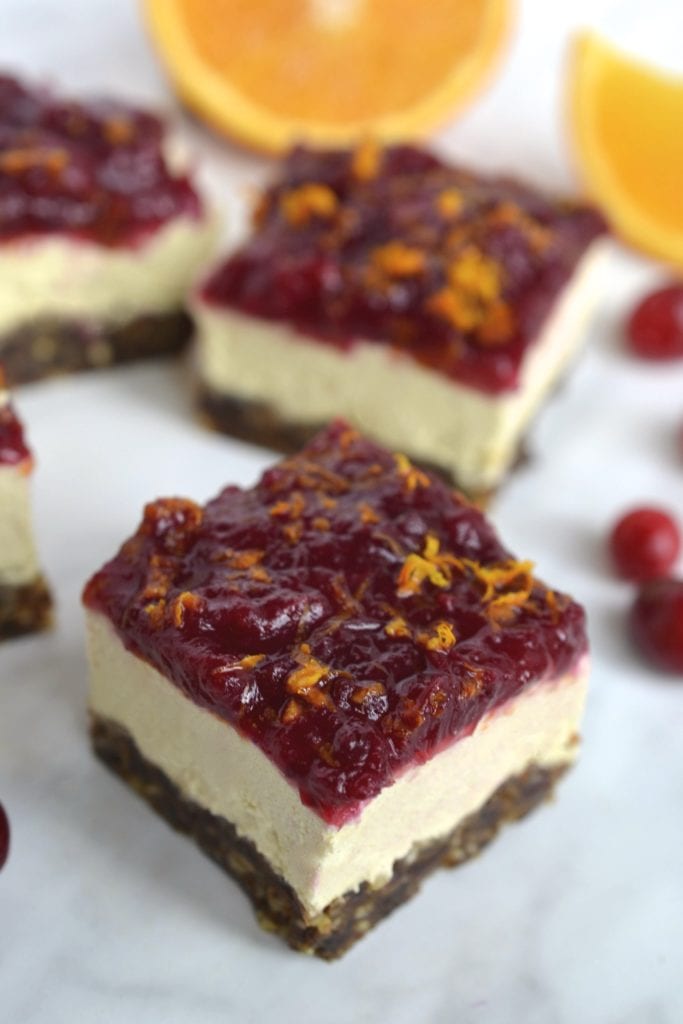 When planning out a dinner party, dessert is always my last thought. I struggle to come up with desserts that I can make well in advance, and then quickly assemble in under 5 minutes before serving. This cheesecake ticks all of the dinner party boxes. You can make it up to 5 days in advance, and then quickly top with the stewed cranberries right before serving.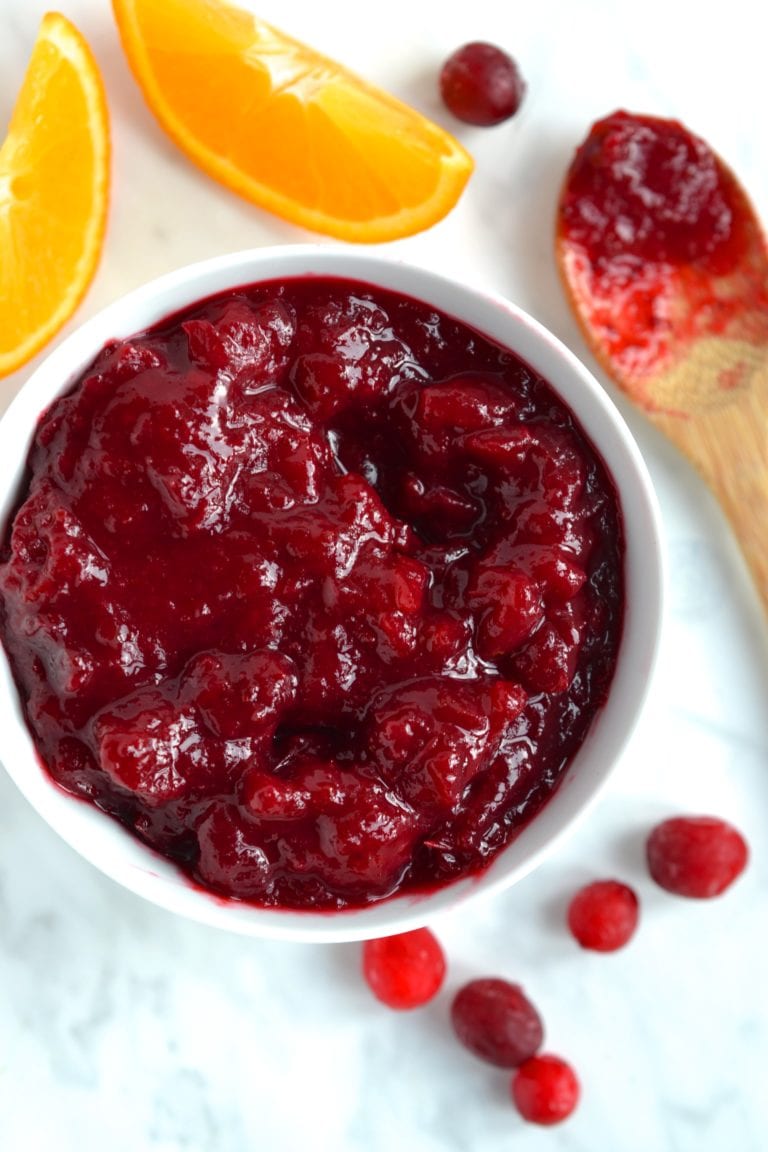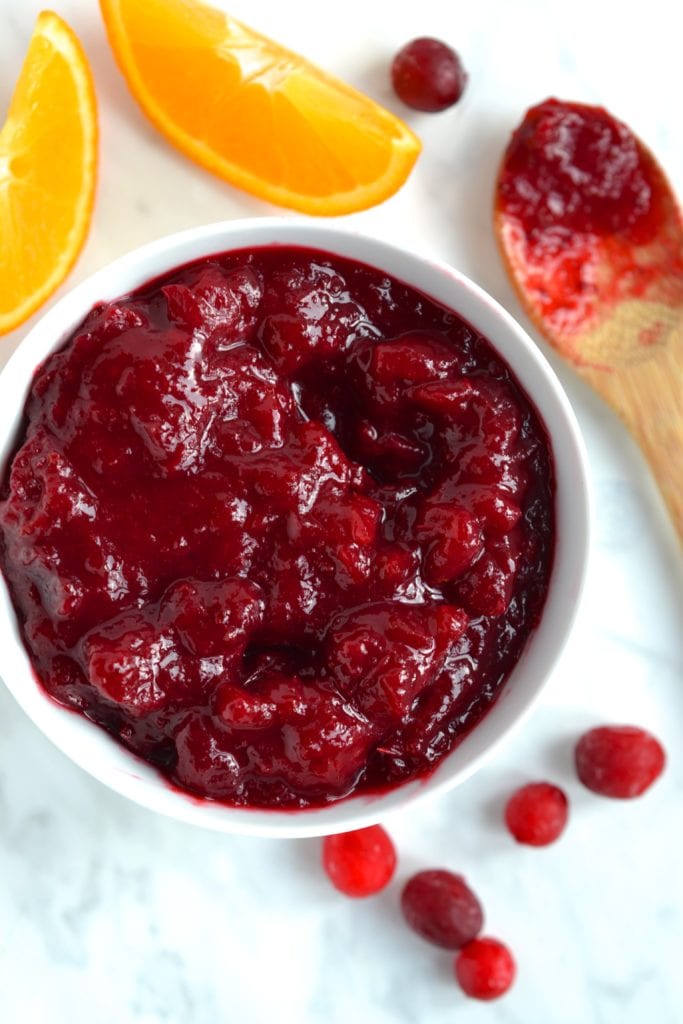 In the past I have only used cashews or a combination of cashews and macadamia nuts to make cheesecake. I love the creaminess of the filling using just nuts, but its not ideal for your wallet or waist line. I decided to add my favourite ingredient into the filling (cauliflower!!) and I am sooo happy to report that it was a success. Adding steamed cauliflower results in a filling that is a bit less dense in texture and rich in flavour then a solely nut based one, and I actually prefer it.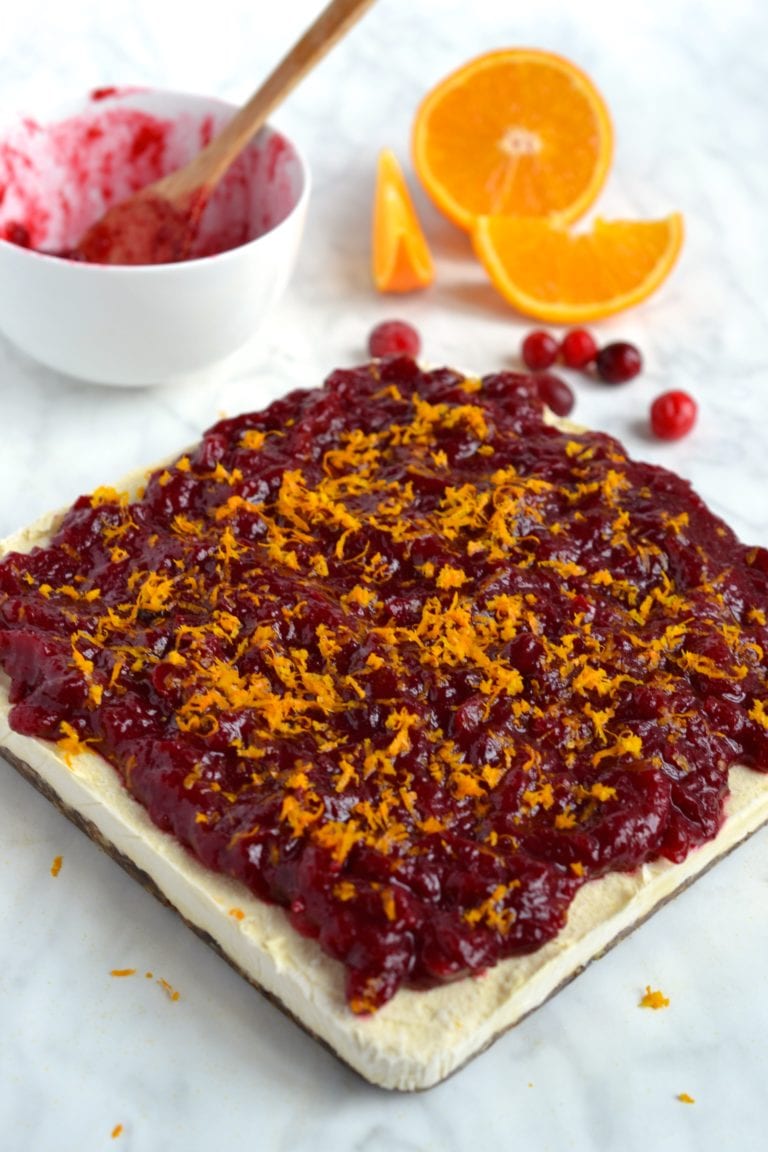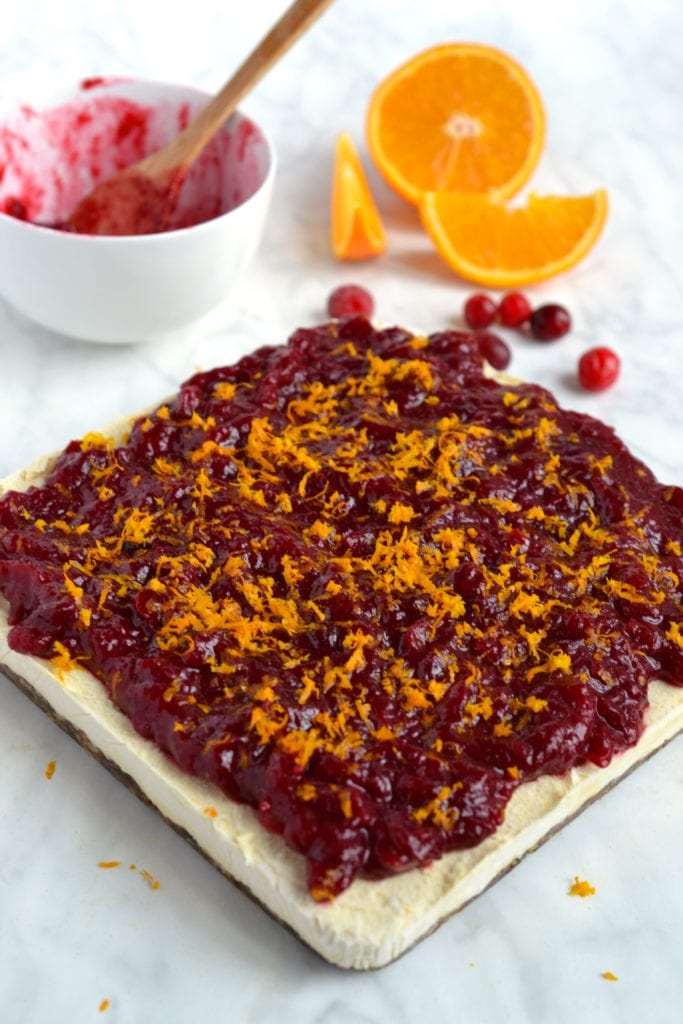 This recipe is also a great way to use up leftover cranberry sauce from Thanksgiving. I am embarrassed to admit that I used my Super Simple Cranberry Sauce in this recipe because I HATE wasting food and it turned out so well.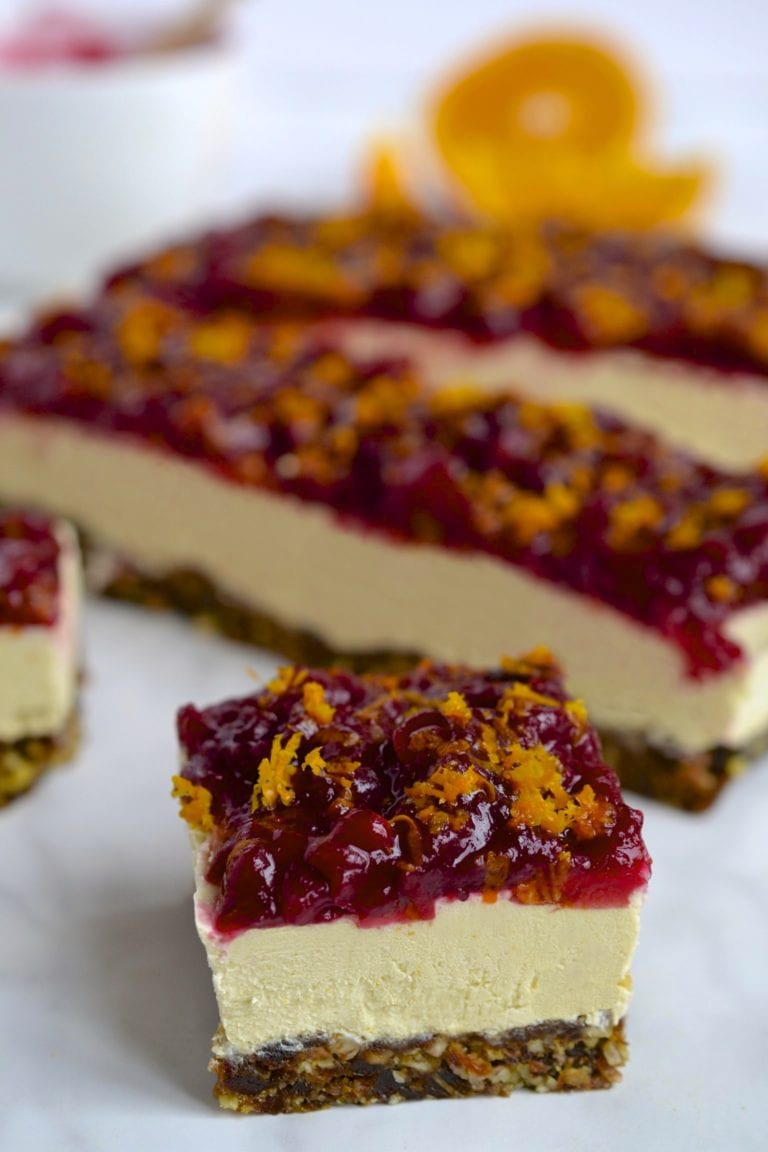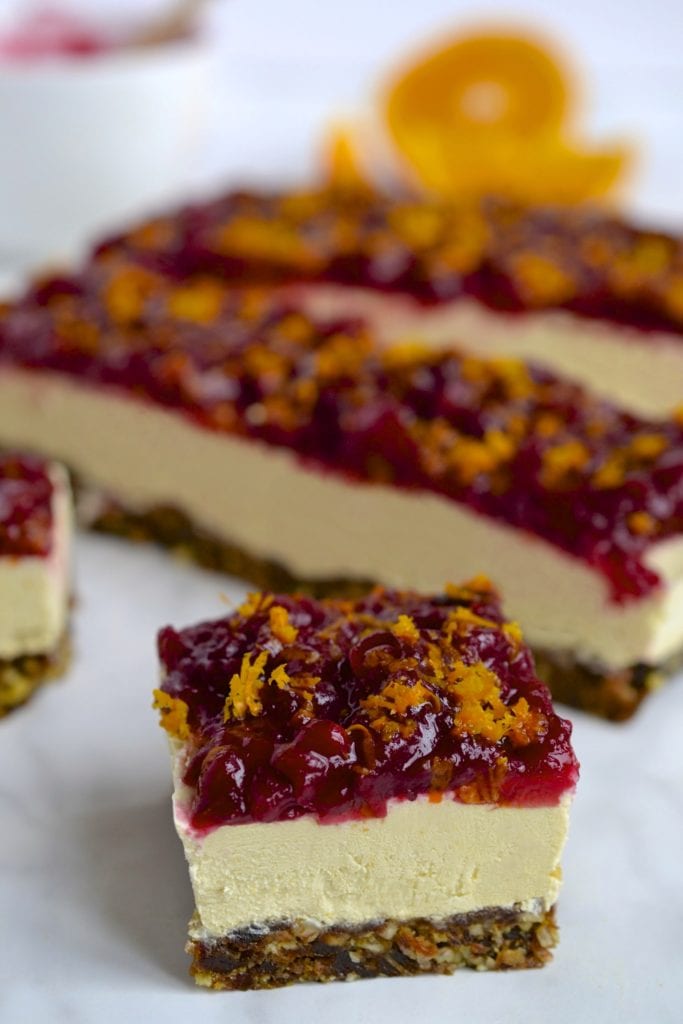 If you make this recipe let me know in the comment section below, I would love to hear what you think or take a photo and tag me (@everylastbite_) on Instagram, I love seeing your photos!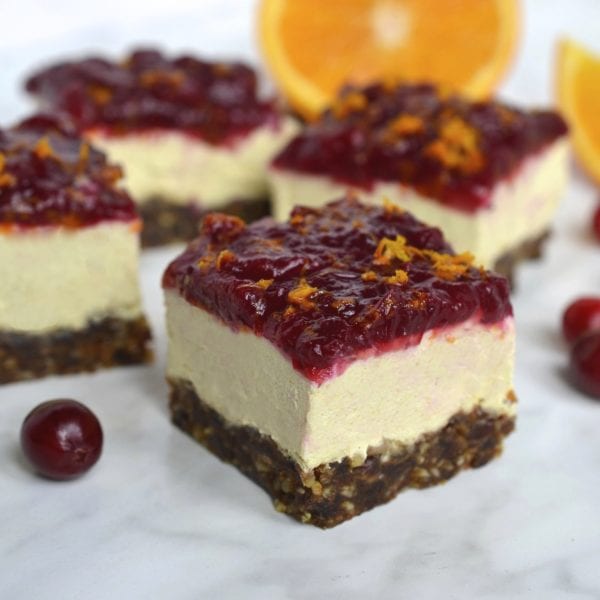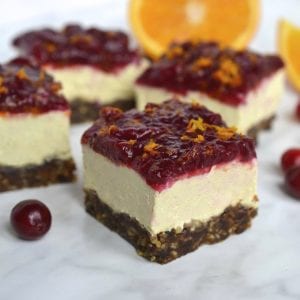 Ingredients
Base
1 1/2 cups pecans
1 1/2 cups dates
2 tbsp orange zest
3 tbsp shredded unsweetened coconut
Filling
1 1/2 cups cashews soaked for minimum 4 hours
1 cup steamed cauliflower
1 tsp vanilla
1/3 cup orange juice
1/4 cup honey or maple syrup
1/4 cup melted coconut oil
1 tsp lemon juice
1 1/2 tbsp orange zest
Cranberry Topping
300 grams fresh cranberries
1 tbsp orange zest
2/3 cup orange juice
1/4 cup honey or maple syrup if vegan
Instructions
Line an 8x8inch square baking dish with plastic wrap

In a food processor combine the dates, pecans, orange zest and shredded coconut and blend until the mixture is crumbly and there are no chunky pieces.

Pour the mixture into the square baking dish and press firmly down with your hands so that its packed evenly into the base of the dish

In a food processor or blender combine all of the filling ingredients and blend until completely smooth and creamy.

Pour the filling over the base and spread evenly with a spatula. Put the dish in the freezer and allow to freeze for minimum 2 hours.

To make the cranberry sauce, in a sauce pan on medium heat combine the cranberries, orange zest, orange juice and honey. Let simmer for approximately 15 minutes until the cranberries have all popped and the mixture has begun to thicken (it will thicken more as it cools)

Once the cranberry sauce has reached room temperature, pour it over the cheesecake and serve.