Creamy Coffee & Banana Smoothie
This Creamy Coffee & Banana Smoothie is the perfect pick me up to start your morning. It's deliciously smooth and creamy thanks to banana and a sneaky vegetable that you would never guess was inside! With a start to finish prep time of under 5 minutes it's a great way to get your morning off to a healthy start.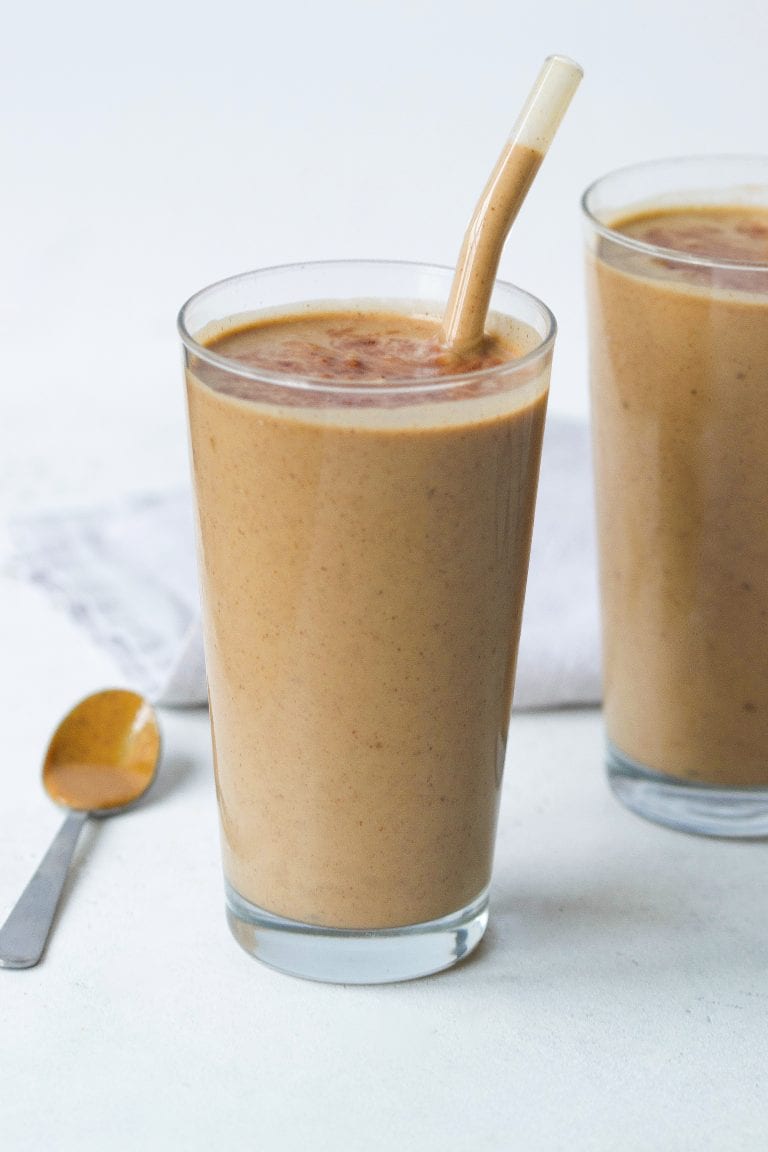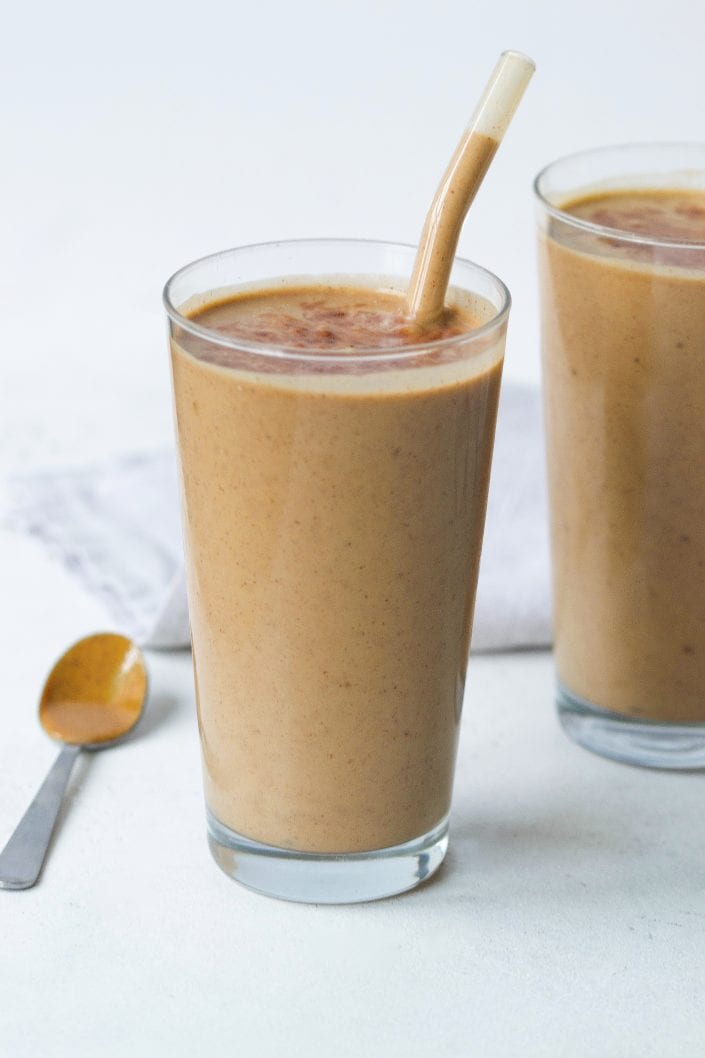 My morning routine usually consists of coffee followed by a smoothie with some sort of hidden vegetable, so it was only a matter of time before I combined them into one. Although frappuccinos and other iced coffee drinks are delicious, they are usually chock full of cream and sugar. In this lightened up version, a frozen banana and frozen cauliflower create a creamy thick and slightly sweet base that you would swear was made with ice cream. While adding frozen cauliflower to a smoothie sounds strange, I can promise that it is completely undetectable in both taste and smell. 
With a start to finish time of less than 5 minutes, this is a great smoothie to add to your morning routine, or have as a mid afternoon pick me up. It will last for 2 days in the fridge, or alternatively you can freeze half to enjoy later on.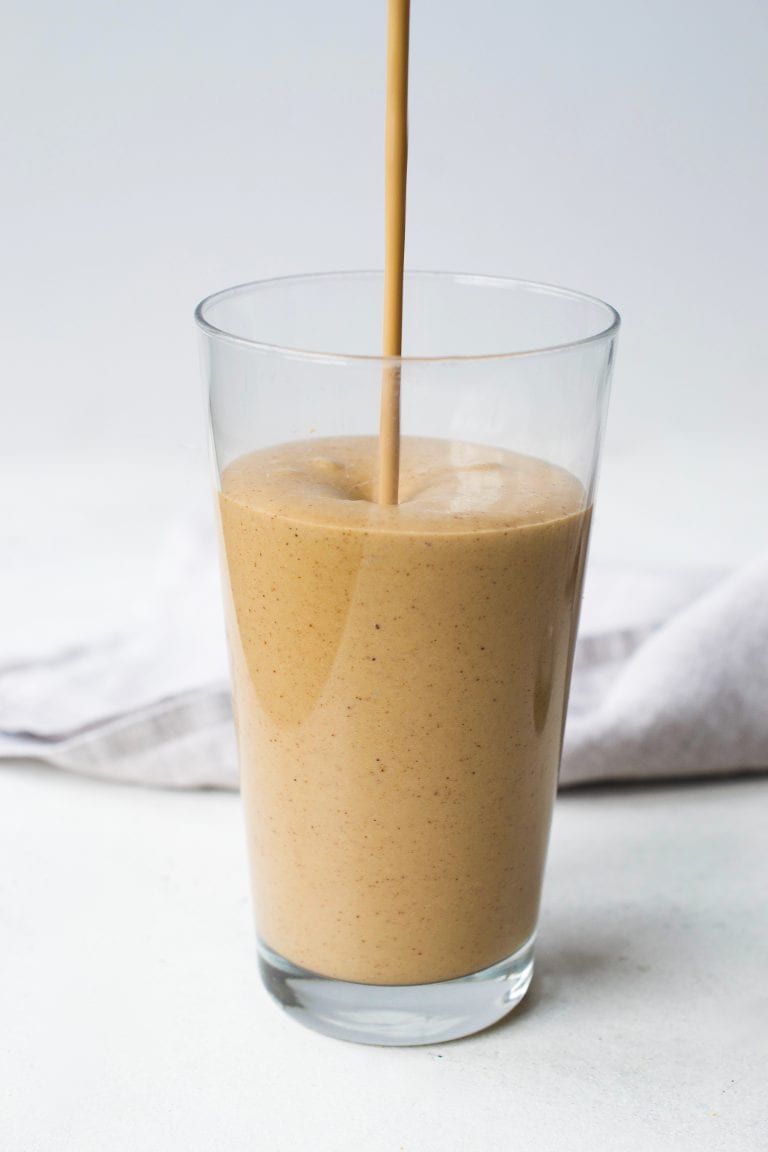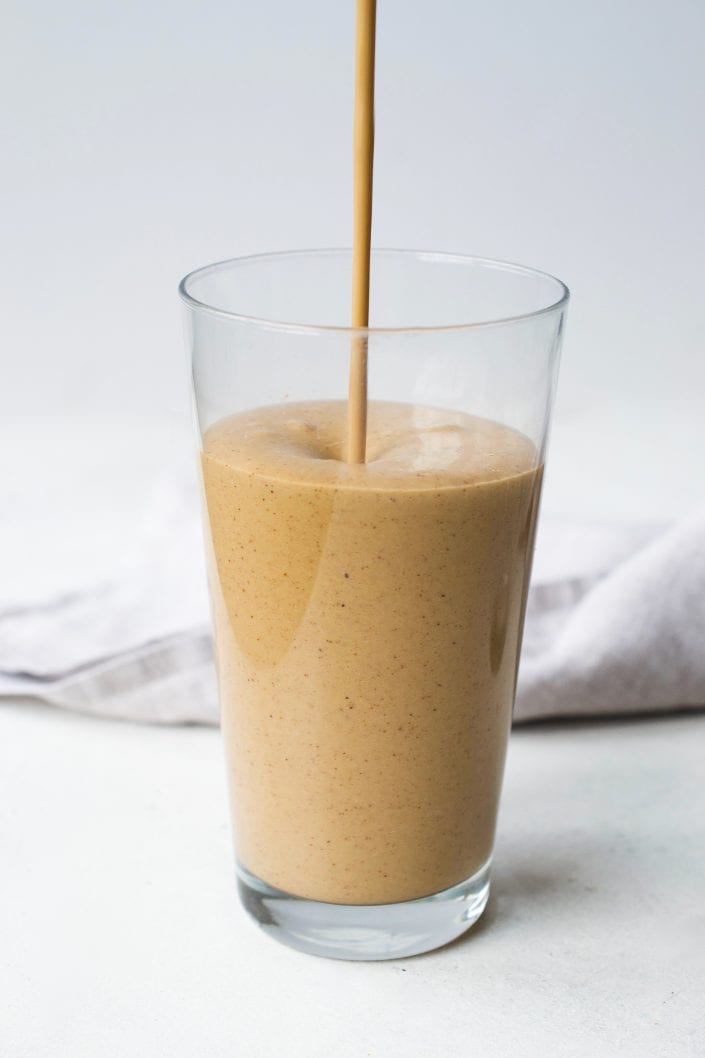 The ingredients you will need for this coffee smoothie:
This is a list of all of the ingredients and substitutions that you can use to make the smoothie. Stick with the quantities listed in the recipe, but switch up the ingredients depending on what you have on hand. 
Frozen Banana: Frozen banana is my go to ingredient for almost all smoothies. It helps to thicken smoothies as well as adding natural sweetness. I find it easiest to freeze bananas whole with the peel still on, right before using run them under hot water for 5 seconds and then twist the peel off with your hands. It's fast and easy and there is no need to use bags/wrapping to store them in the freezer. 
Frozen Cauliflower: You can use frozen cauliflower florets or frozen cauliflower rice. It will help to thicken the smoothie and keep it icy while sneaking in some extra veggies. 
Almond Butter: I prefer all natural unsweetened nut butter. I used almond butter because that's what I had on hand, but hazelnut butter, peanut butter or cashew butter would all work too! 
Unsweetened Almond Milk: You can use any milk alternative of choice. I like using almond milk because of its mild taste and lightness. Coconut milk will give the smoothie a rich flavour and thick (even creamier) consistency. 
Dates: Dates or honey add a bit of extra sweetness to the smoothie. If you are trying to cut back on sugar you can leave this out, the banana also helps to sweeten it. 
Coffee: Chilled coffee adds the perfect kick of flavour. You can use brewed coffee or a shot of espresso and caffeinated or decaffeinated both work.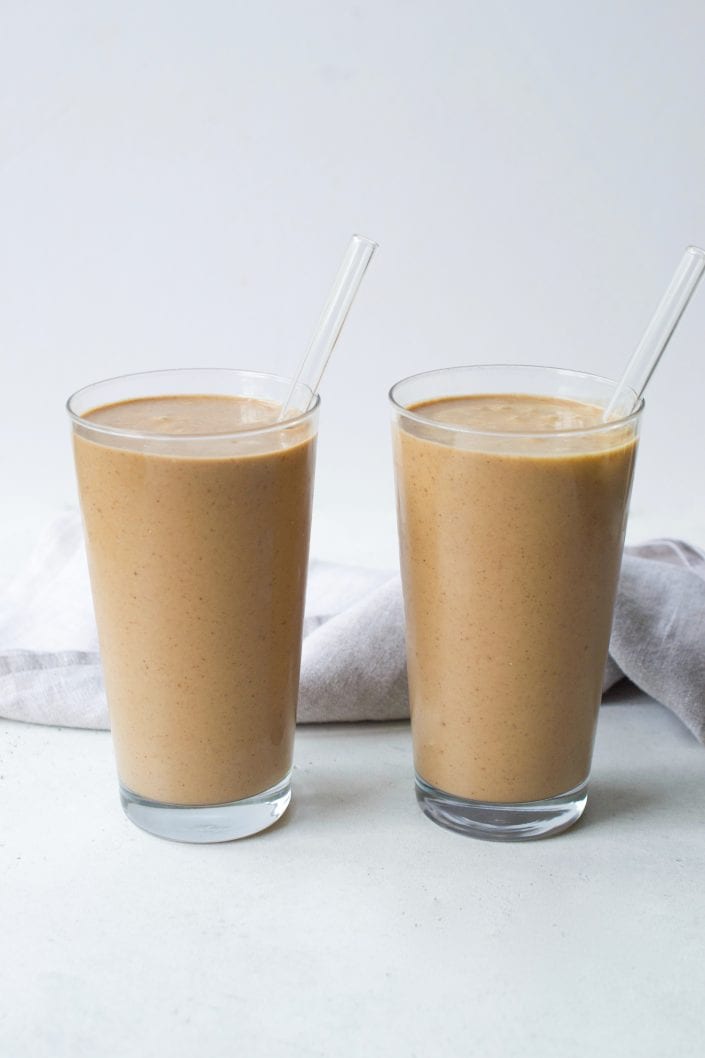 What else can I add in?
Collagen or Protein Powder: Feel free to add in a scoop of Collagen (such as Vital Proteins) or Protein Powder
Cacao Powder: For those not following the Specific Carbohydrate Diet, add in a 1 tbsp of cacao powder for a chocolatey kick. 
Coconut Cream: This will make it incredibly rich and thick, like ice cream! 
Vanilla Extract: Adds an extra dimension of flavour
Flaxseed or Chia Seed: Although not SCD legal blending in a tablespoon of one, or both, of these seeds will add fiber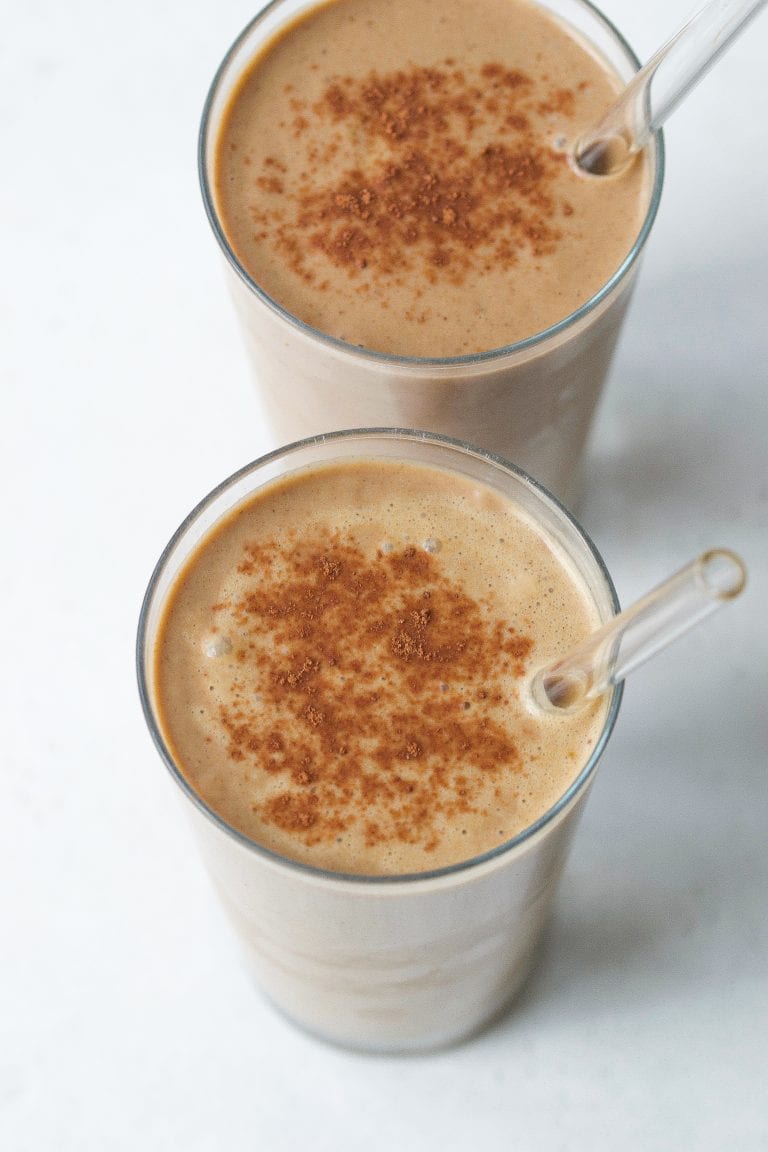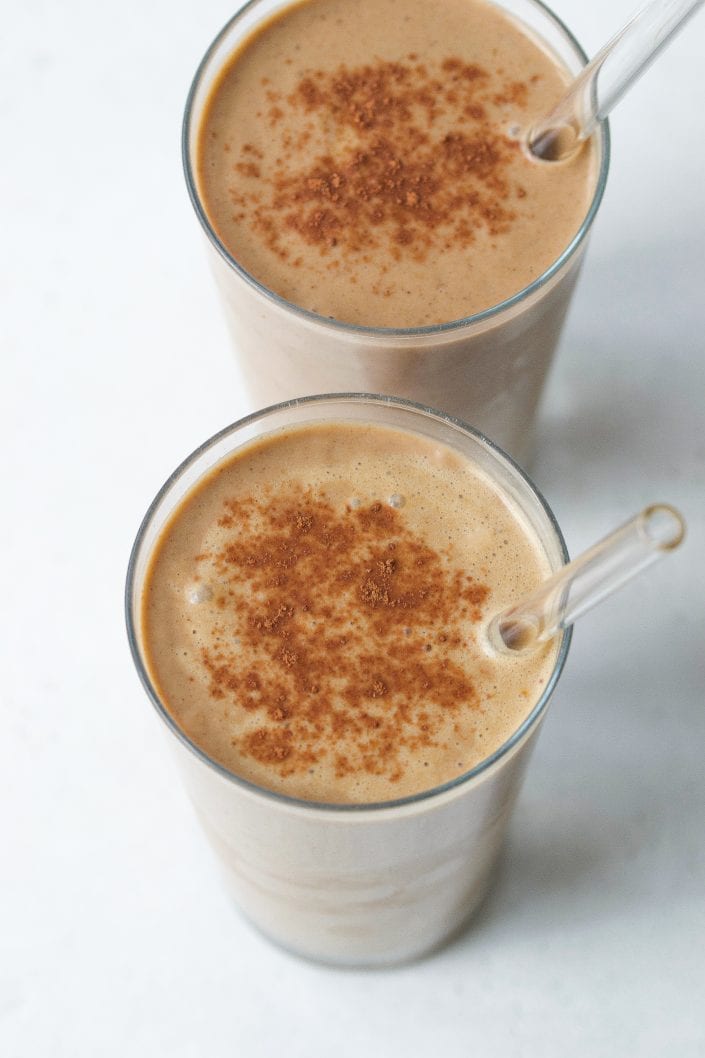 Here are a few other recipes that use frozen bananas:
---
If you make this recipe let me know in the comment section below, I would love to hear what you think or take a photo and tag me (@everylastbite_) on Instagram, I love seeing your photos!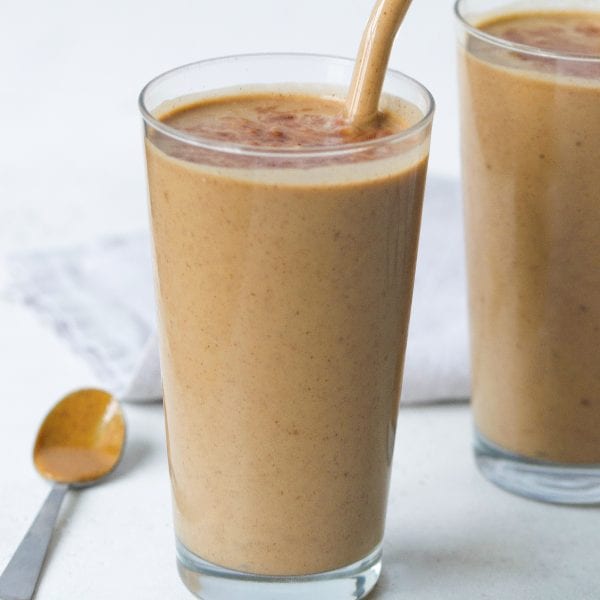 Ingredients
1 frozen banana
2 medjool dates or 1 1/2 tbsp honey
1 1/2 tbsp almond or hazelnut butter
1 cup unsweetened almond milk (or 1/2 cup almond milk and 1/2 cup coconut milk for extra creaminess)
3/4 cup strong brewed coffee or espresso (chilled or at room temperature)
1 1/2 cup frozen cauliflower florets (or 1 cup frozen cauliflower rice)
pinch of salt
Instructions
Combine all of the ingredients in a blender and blend until smooth. Add in more almond milk to thin out the smoothie if it is too thick.