Roasted Cauliflower & Butternut Squash Tacos
These Roasted Cauliflower & Butternut Squash Tacos are so tasty and take less than 30 minutes to make! Whether you are vegan, vegetarian, or a carnivore, you will find these tacos highly satisfying and full of flavour. Serve them in a celery root tortilla or lettuce cup to make them Whole30, or corn tortilla for those on a gluten free diet. 

After first creating this taco recipe 2 weeks ago, I have made them 3 more since since, an indication of just how tasty and easy to make they are.
Cubes of butternut squash and cauliflower florets are tossed in a 4 ingredient spice mixture and then roasted in the oven. The cauliflower florets become slightly charred on the outside and the butternut squash is tender in the center and caramelized on the outside, in other words, these aren't your average roasted vegetables. The delicious roasted vegetables are wrapped in a warm tortilla and topped with chopped tomatoes, avocado, crunchy cabbage and drizzled with a spicy cilantro and jalapeno sauce. Whether you are a vegetarian, or hungry carnivore, I think you will find these tacos highly satisfying because every bite has so much flavour! Best of all, everything takes less than 30 minutes to make, perfect for taco tuesday, or any other day of the week. 

Why these Cauliflower & Butternut Squash Tacos are so good:
They are super quick and easy to make: These tacos take less than 30 minutes to make which includes cutting and grilling the celery root tortillas! 
They are super filling: Both vegetarians and carnivores will find the chunks of roasted butternut squash and cauliflower florets satisfying (and this is coming from someone who is normally left feeling hungry after eating vegetarian tacos)
The roasted cauliflower and butternut squash will become a go to for so many meals: After being tossed in spices and roasted in the oven, the butternut squash cubes become tender in the middle and caramelized on the outside and the cauliflower begins to slightly char. It's SO TASTY! If tacos aren't your thing you could add them into a salad, have them for breakfast with eggs or even as a side dish. 
They are super flavourful: The cauliflower florets and butternut squash are coated in a spice mixture which gives them a big kick of flavour. When piled into a tortilla with the jalapenos cilantro sauce, crunchy coleslaw, creamy avocado and chopped tomatoes, each bite is literally bursting with flavour!

The Taco Toppings:
In this recipe the roasted cauliflower and butternut squash is topped with:
Jalapeno & Cilantro Sauce: This zesty sauce is made with just 4 ingredients (mayonnaise, lime juice, jalapeno and cilantro) and it has real kick of spice thanks to the jalapeno. Depending on your desired spice level, start by adding just half a jalapeno, taste, and then add more as needed. Use vegan mayonnaise or toum as a base for the sauce if you are vegan or egg free.
Shredded Cabbage: Adds a nice crunch to the tacos. I prefer purple cabbage for its vibrant colour, but green works too. The cabbage can also be swapped for shredded romaine lettuce.
Chopped Tomatoes: Chopped tomatoes, salsa fresca or store bought salsa are all great options
Avocados: I love avocado in tacos. You can use either chopped avocado or guacamole depending on what you prefer. 
Red Onion: very thinly sliced red onion adds a sharp flavour to the tacos. If you are using salsa fresca (which contains onion) you can leave this out. 
What to wrap it all in:
Celery Root Tortillas: these are my go to tortilla for tacos. They are a great Whole30 and SCD alternative to traditional tortillas. They have a very mild taste and are strong enough to withstand a lot of taco filling without falling apart. When buying celery root, be sure to choose the largest one that you can find.
Lettuce Cups: If you aren't able to find celery root, then lettuce cups are another great Whole30 "tortilla" option. I prefer using butter lettuce or romaine. 
Grain Free, Gluten Free or Regular Flour Tortillas: For those not on SCD/Whole30, Siete has a fantastic Paleo tortilla that is made with cassava or almond flour. For anyone who is gluten free, corn tortillas are also a great option, and for those without any gluten sensitivities, regular flour tortillas also work.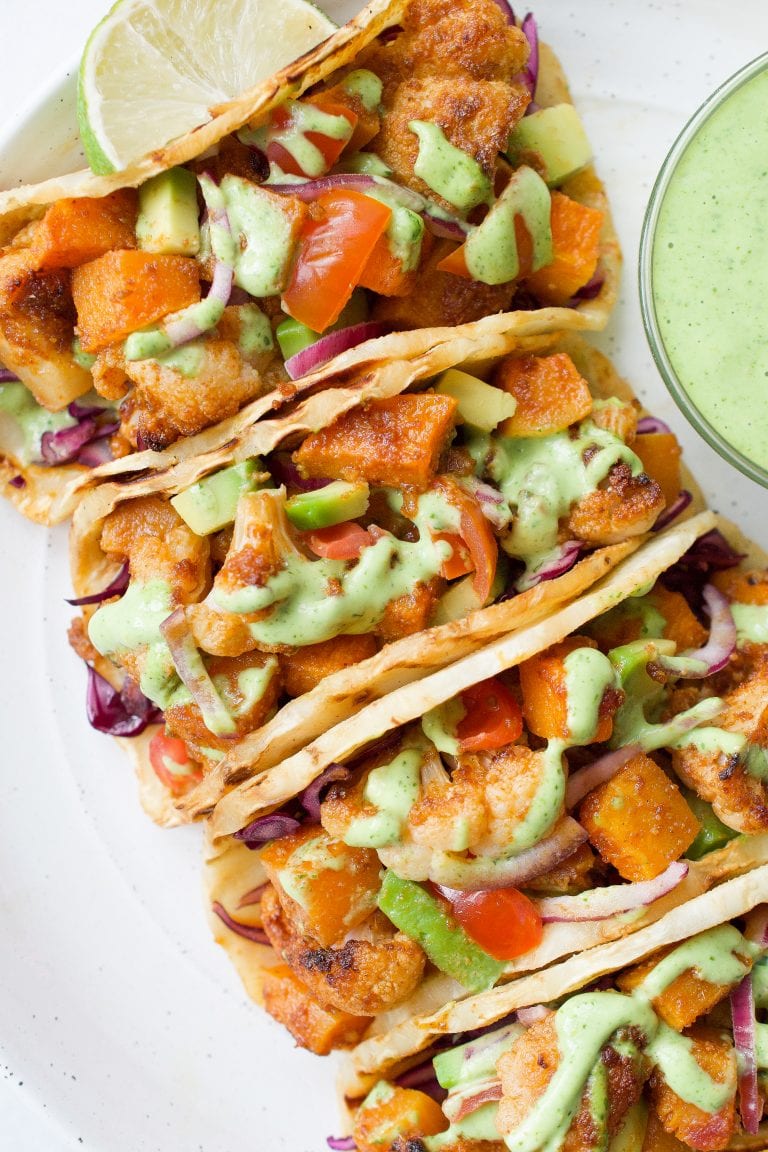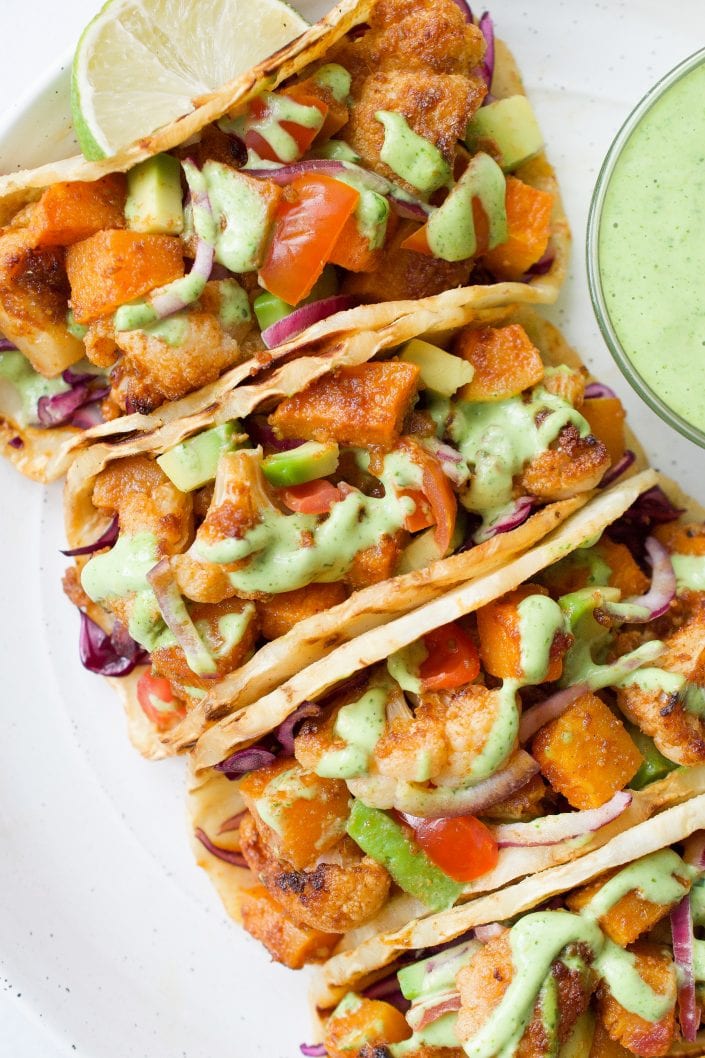 Here are a few other taco recipes that you will love:
---
If you make this recipe let me know in the comment section below, I would love to hear what you think or take a photo and tag me (@everylastbite_) on Instagram, I love seeing your photos!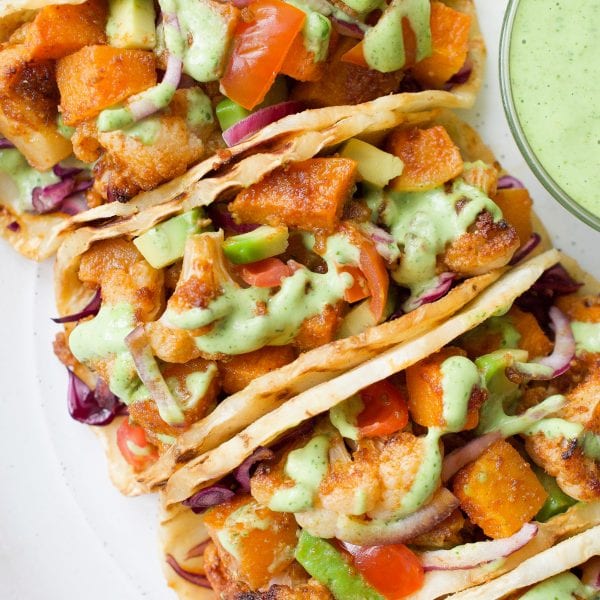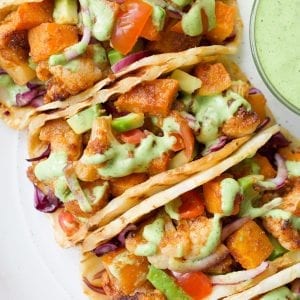 Cauliflower & Butternut Squash Tacos
Ingredients
Roasted Cauliflower & Butternut Squash
1 small head cauliflower cut into small florets
1 1/2 cups cubed butternut squash
1/3 cup olive oil
1 tbsp lime juice
1 tsp paprika
1 tsp coriander
2 tsp cumin
1/2 tsp salt
1/2 tsp chili powder
2 cloves garlic minced
Jalapeno Cilantro Sauce
1/3 cup mayonnaise
1/4 cup cilantro
1 jalapeno (more or less depending on desired spiciness)
1 tsp lime juice
Other Toppings
2 cups shredded cabbage
1 avocado cut into cubes
1 tomato roughly chopped
1/2 red onion thinly sliced
Instructions
Roasted Cauliflower & Butternut Squash
Preheat the oven to 400 degrees Fahrenheit (205 degrees Celsius)

Add the cauliflower florets and cubed butternut squash to a bowl and pour the oil and lime juice overtop. Next add in the spices and minced garlic and use your hands to toss the vegetables to ensure they are all well coated in the spices. Lay all of the vegetables out evenly on a baking sheet and bake in the oven for 20 minutes.
Celery Root Tortillas
Cut both ends off of the celery root so that it can sit flat. Then using a sharp knife, cut off the outer peel all the way around. 

Cut the celery root into slices that are as thin as possible. once you have cut all of the slices, lay each one flat on a cutting board and run your knife over the surface to shave down any of the thicker parts so that it is very thin. 

Place the slices on a sandwich press or grill pan on medium high heat and cook for approximately 4 minutes (2 minutes per side on the grill pan) until the slices are soft and pliable. Remove from the grill and repeat with the remaining slices.
Jalapeno Cilantro Sauce
In a blender combine the mayonnaise, cilantro, lime juice and jalapeno and blend until completely smooth. Taste and adjust by adding more lime, cilantro etc as desired.
Taco Assembly
Top each warm grilled tortilla (or lettuce cup)with a large spoonful of shredded cabbage and 2 large scoops of the roasted vegetables. Top with chopped avocado, tomatoes, sliced red onion and finally a drizzle of the Jalapeno Cilantro Sauce. Enjoy!
Notes
* Celery root tortillas can be substituted for lettuce cups are regular tortillas depending on your diet.