Shredded Pork Tacos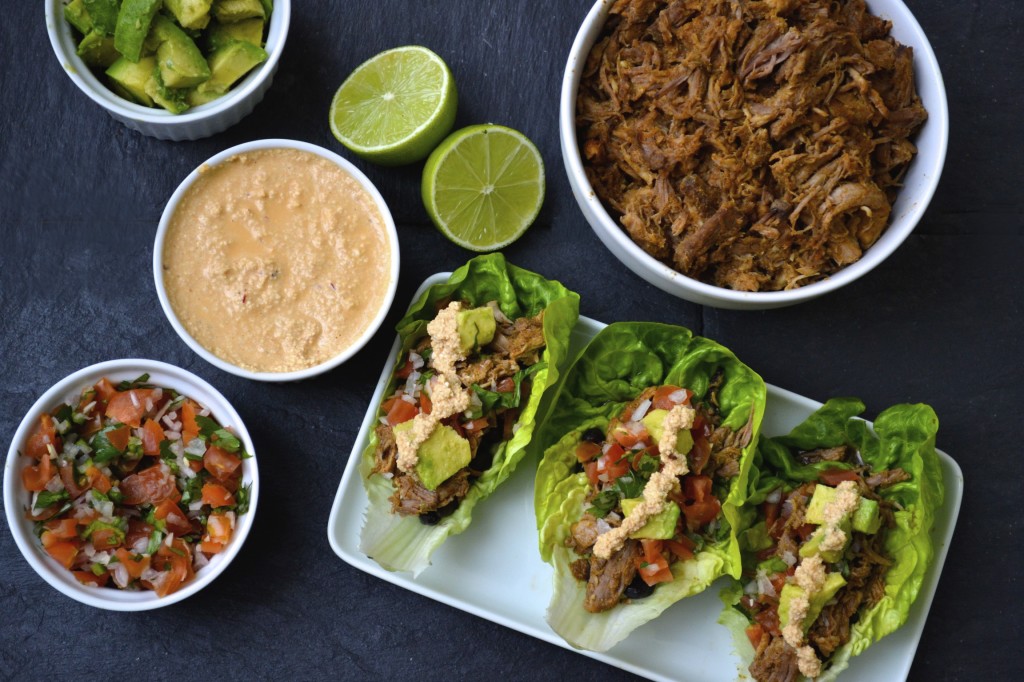 You only need to take a quick browse through the recipe index of this blog to realize that I have a serious love for Mexican food. I would have zero issues with eating it for breakfast, lunch and dinner for months at a time. Mexican food usually gets a bad rap for being unhealthy, but by replacing the tortilla with lettuce, eliminating the cheese and sour cream (trust me, you won't miss them) and swapping in a creamy dairy free lime and chipotle sauce, you cut a lot of the fat and calories while improving the flavour. It's a win-win!

I had always assumed that shredded pork was a dish that only those with a fancy smoker could make, but it turns out that all you need is a big pot and an oven. Small pieces of pork are slowly cooked in a mixture of spices, lime and orange juice until they become melt in your mouth tender. After 2 hours the pork is then shredded and placed back in the sauce to absorb every last drop of flavour. Although the cooking time is over 2 hours, this pork requires less than 15 minutes of hands on prep and for those who like making things in advance, the pork can be prepared up to a day ahead and simply reheated prior to serving. Although this recipe makes enough for 4-5 people, I often make it for just SA and toss the leftovers into a salad with salsa, avocado and lime juice.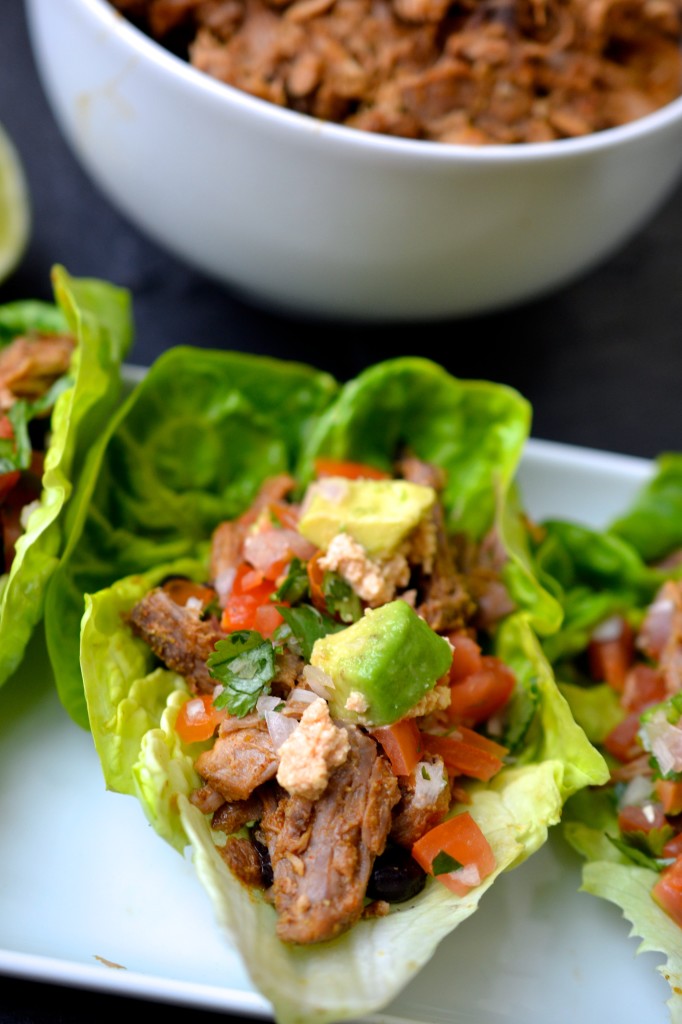 These tacos can be served as appetizers using gem lettuce, or as a main course using larger cos leaves or celeriac tortillas. Kick your taco night up a notch with these delicious shredded pork tacos which kids and gourmet foodie alike will love.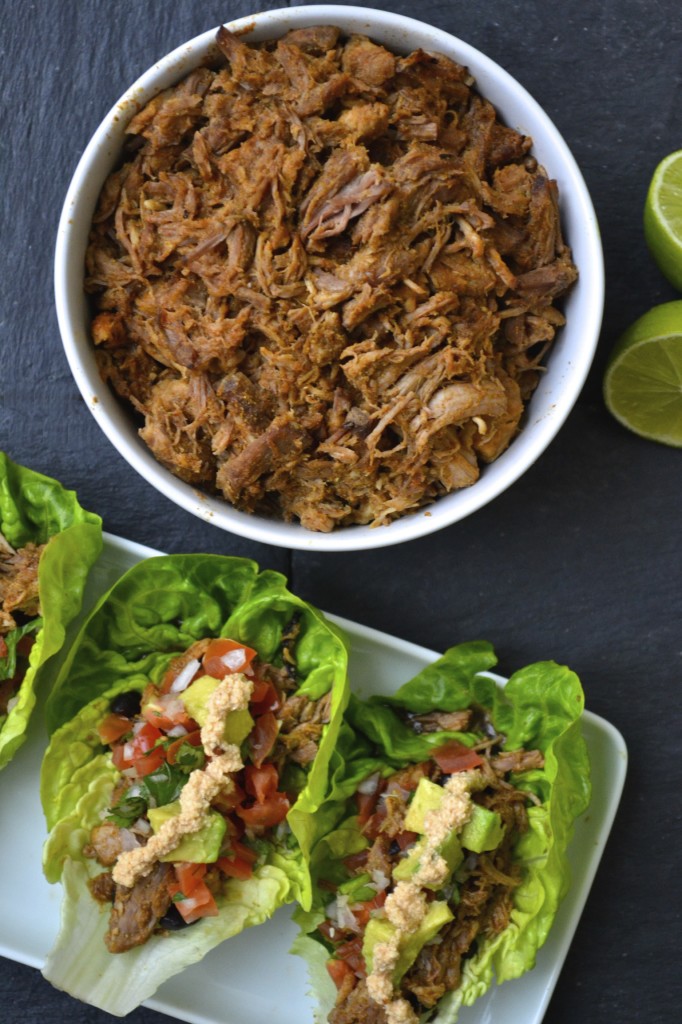 If you make this recipe let me know in the comment section below, I would love to hear what you think or take a photo and tag me (@everylastbite_) on Instagram, I love seeing your photos!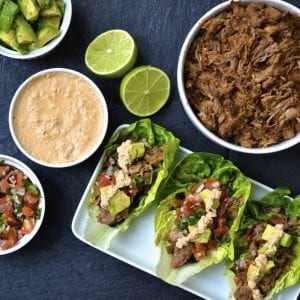 Ingredients
Shredded Pork
1 kg boneless pork shoulder
1 1/2 cups orange juice
1/4 cup lime juice
2 tbsp cumin
1 tsp smoked paprika
1 tsp coriander
2 cloves garlic crushed
1/2 tsp salt
Salsa Fresca
1 1/2 cups cherry tomatoes chopped into very small pieces
1-2 tsp chopped jalapeno
1/2 cup cilantro chopped
juice from 1 lime
1 shallot finely chopped
Chipotle & Lime Sauce
1/4 cup cashews soaked for minimum 4 hours
1 1/2 tbsp lime juice
2 tsp chipotle paste
1-2 tsp water
Tacos
1 avocado chopped
gem lettuce or cos lettuce
1 can black beans optional
grated cheddar cheese optional
Instructions
Shredded Pork
Preheat the oven to 175 degrees Celsius (350 degrees Fahrenheit)

Remove any of the excess fat from the pork shoulder and cut the meat into cubes approximately 1-1 ½ inches in size. Place the pork in a large oven proof pot. Add in the juices and spices and stir. Cover with a lid and place in the oven to cook for 2 hours. After an hour and a half, check the pot to make sure there is enough liquid and if it has all evaporated add a splash of orange juice.

After 2 hours remove the pot from the oven and using a slotted spoon, take the pork out of the pot and place on a cutting board.

Using two forks, shred the pork into thin pieces. Place the shredded pork back into the pot and return the pot to the oven to cook, uncovered for another 20 minutes . If the pot is completely dry add a splash of orange juice (but only a small amount as the shredded pork should absorb all of the liquid). Taste the pork for seasoning and add more cumin/paprika if need be. After 20 minutes remove from the oven and serve
Salsa Fresca
Combine chopped tomatoes, diced shallots, jalapeno, cilantro and the juice from one lime and stir. Sprinkle with salt and serve
Chipotle & Lime Sauce
In a food processor combine the soaked cashews, lime juice and chipotle. Blend until smooth. If too thick, add a splash of water
Tacos
Serve the shredded pork in the lettuce leaves with the salsa, chipotle and lime sauce and avocado