Greek Roast Chicken
This Greek Roast Chicken is so simple and requires just a handful of ingredients but results in a juicy, flavourful chicken.  It's a fuss free family friendly dish that just happens to be Paleo, Keto and Whole30.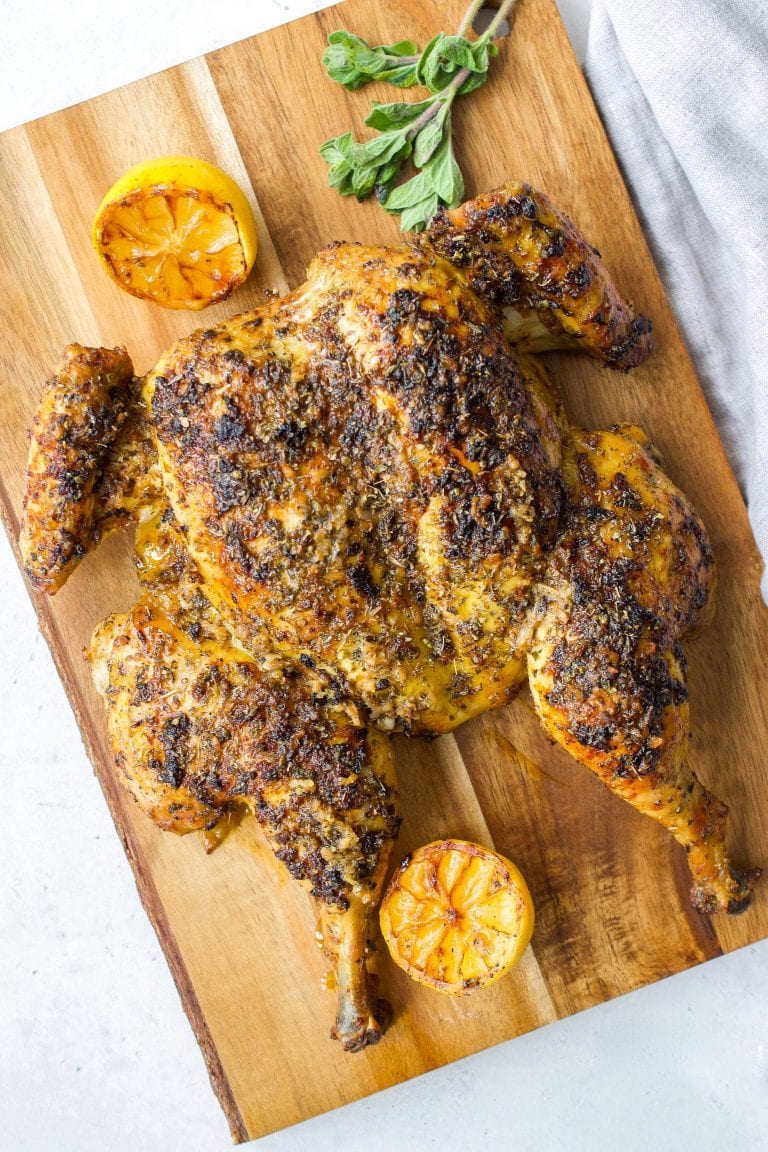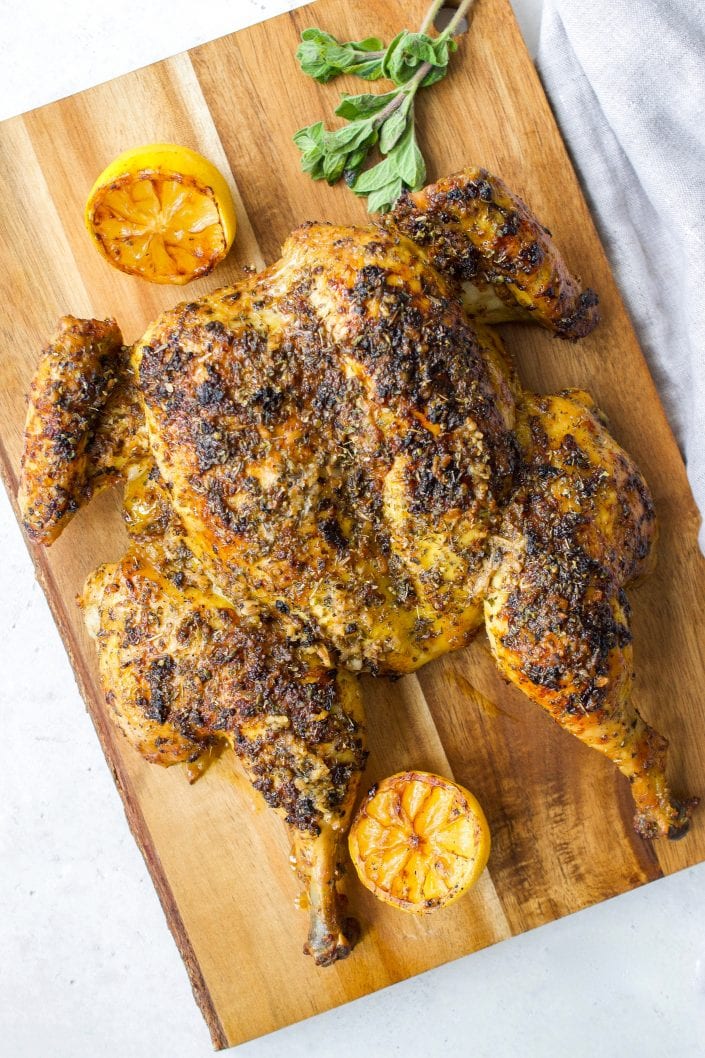 I absolutely love the simplicity of this recipe. It requires just 5 ingredients and results in a juicy roast chicken with a fresh lemon and garlicky flavour. During quarantine I have been making this regularly on Sunday nights and serving it with tzatziki and "couscous" greek salad. It's a light and fresh easy dinner that makes more than enough leftovers to enjoy throughout the week. This is a perfect quarantine recipe because all you need is a few ingredients which you likely already have in your pantry. 
All you need is:
Oregano (I used dried but fresh also works)
Lemons
Garlic
Extra virgin olive oil
A whole chicken (or you could use bone in skin on chicken thighs or breasts)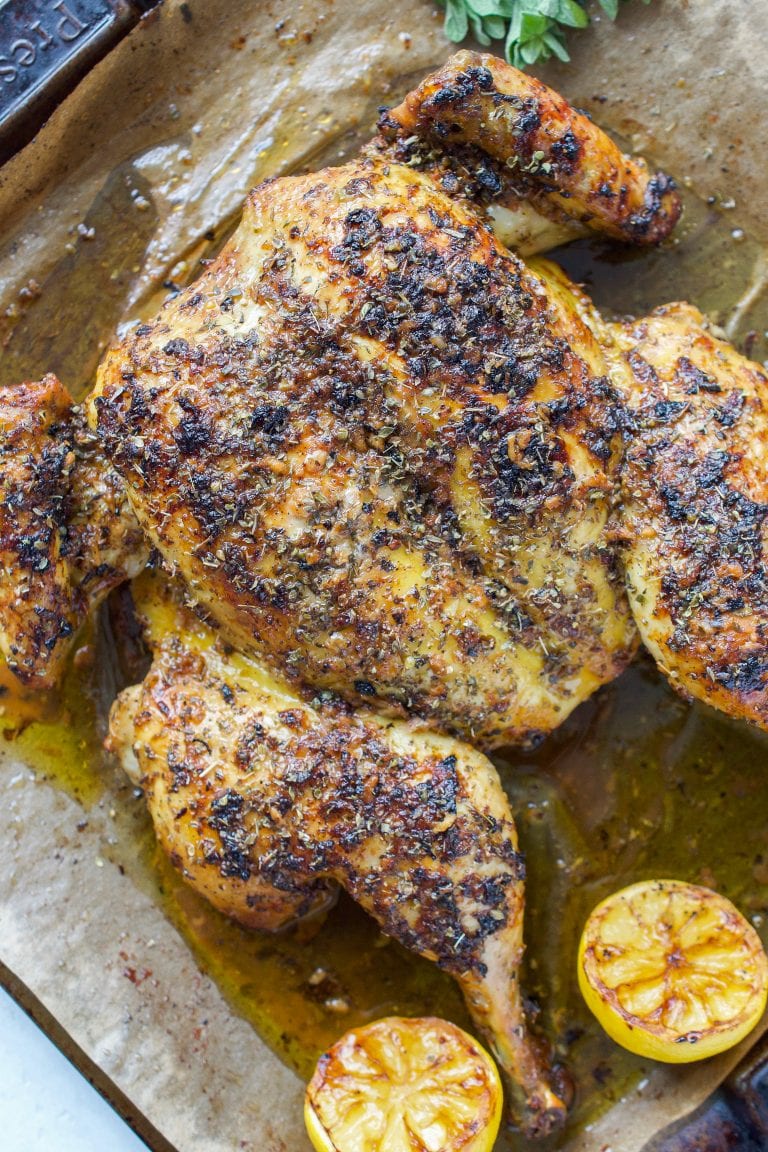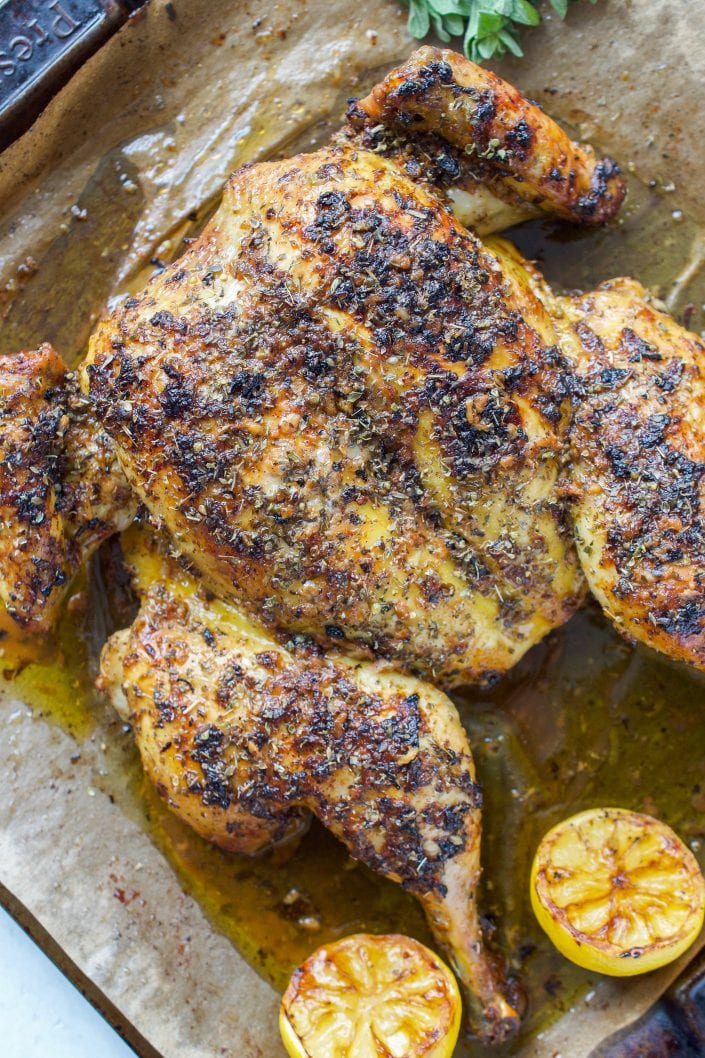 Why you are going to love this Greek Roast Chicken:
The ingredients couldn't be any more simple: this recipe uses the winning Greek combination of oregano, olive oil, lemon and lots of garlic. It's simple but garlicky with a lovely freshness from lemon. 
It's fuss free! This is a no muss no fuss recipe that is practically foolproof. While I love spatchcocking a whole chicken to allow it to cook quick and evenly, you can also skip that step and simply roast it whole. 
Prepare it in advance: spatchcock the chicken and leave it to marinate the day before, then you just need to put it on a tray to roast an hour before serving.
Marinating the chicken: While marinating the chicken isn't completely necessary, I highly recommend doing it for a minimum of 4 hours but ideally overnight to result in incredibly flavourful meat
Prepare it in advance: spatchcock the chicken and leave it to marinate the day before, then you just need to put it on a tray to roast an hour before serving.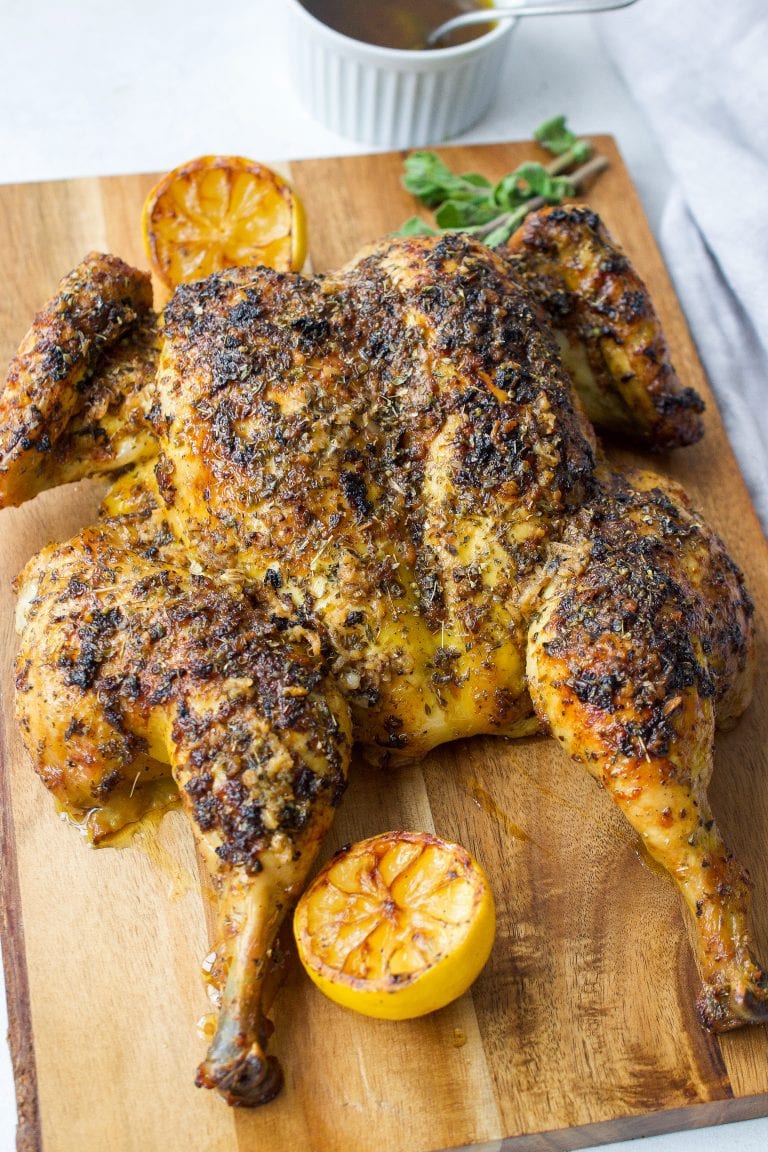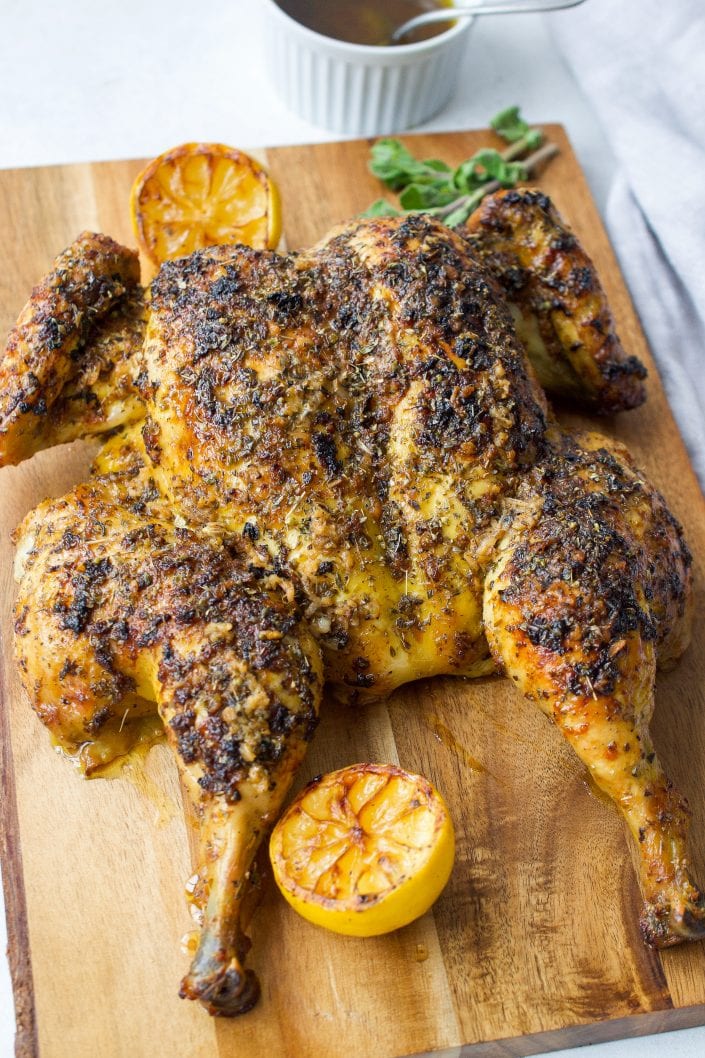 What to serve with this Greek Roast Chicken…
---
If you make this recipe let me know in the comment section below, I would love to hear what you think or take a photo and tag me (@everylastbite_) on Instagram, I love seeing your photos!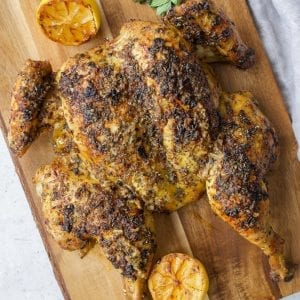 Ingredients
4 lbs whole chicken
1/2 cup extra virgin olive oil
1/3 cup lemon juice
5 cloves garlic minced
1 tbsp dried oregano
1 tsp salt
1 tsp pepper
Instructions
To spatchcock the chicken, place the whole bird breast side down on a cutting board and use your fingers to locate the backbone which should run all the way down from neck to tail. Use kitchen scissors or a sharp knife to cut along the right side of the backbone, and then cut all the way along the left side of it so that the backbone can be removed. Now flip the bird over and press down firmly on the breasts to flatten the bird. Rinse the inside of the chicken out.

Combine the olive oil, lemon juice, garlic, oregano, salt and pepper in a bowl and whisk together until well combined. Place the chicken in a large baking dish or alternatively, I like to put it inside a very large zip loc bag, and then pour the marinade overtop. Leave to marinate for a minimum of 8 hours but ideally 24 hours (and up to 48 hours).

Preheat the oven to 425 degrees Fahrenheit (220 degrees celsius). Place the chicken on a parchment paper lined baking sheet and pour any excess marinade overtop. Bake in the oven for 40-45 minutes, spooning some of liquid from the tray over the chicken approx half way through cooking. The chicken is done when a meat thermometer inserted into the thickest part of the breast registers 160º Fahrenheit.

Allow the chicken to rest for day minutes before carving. Spoon any of the excess sauce from the tray over the chicken before serving.