Dairy Free Orange Julius
This homemade Dairy Free Orange Julius has all of the orange flavour and frothy consistency as one of my childhood favourite drinks, but without the dairy or refined sugar! It can be made in just 5 minutes and is so refreshing!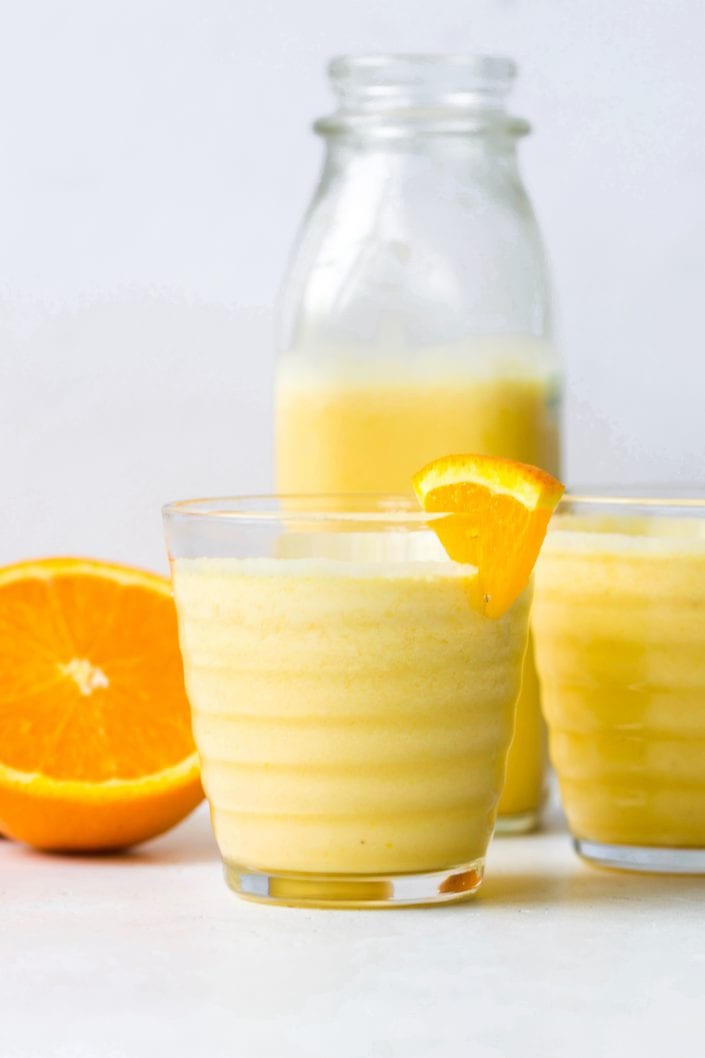 Orange Julius reminds me of being 16 years old and hanging out in the food court at the mall thinking I was so cool. I used to always get Orange Julius because I thought it was the healthiest option, little did I know that it was packed with sugar. When creating this recipe I googled the ingredients in an original Orange Julius and was surprised to see it included sugar, synthetic creamer, orange juice and egg white powder…..yuck! This healthier version has the same frothy consistency and orange flavour, without any of the bad stuff!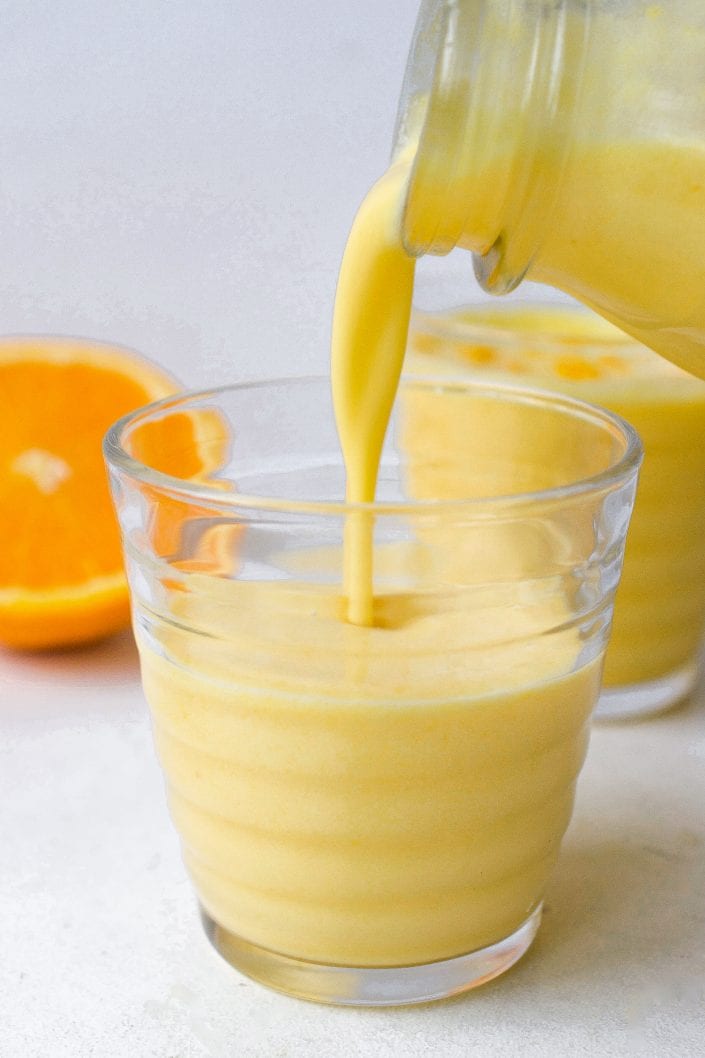 Why you are going to love this Dairy Free Orange Julius:
The consistency: it's so light and frothy yet also creamy! It's lighter than a smoothie, but more foamy than a juice. 
The orange flavour with a hint of vanilla: While the star of the show is definitely the vibrant orange taste, adding a splash of vanilla extract is what gives it that more dessert like orange creamsicle flavour. 
It takes just minutes to make: throw everything into the blender and blend! This takes no more than 5 minutes to make! 
It's so refreshing: this has quickly become my go to summer drink. I like to keep a batch of it in the fridge and enjoy it over a few days. To take this from afternoon to evening stir in a shot of rum.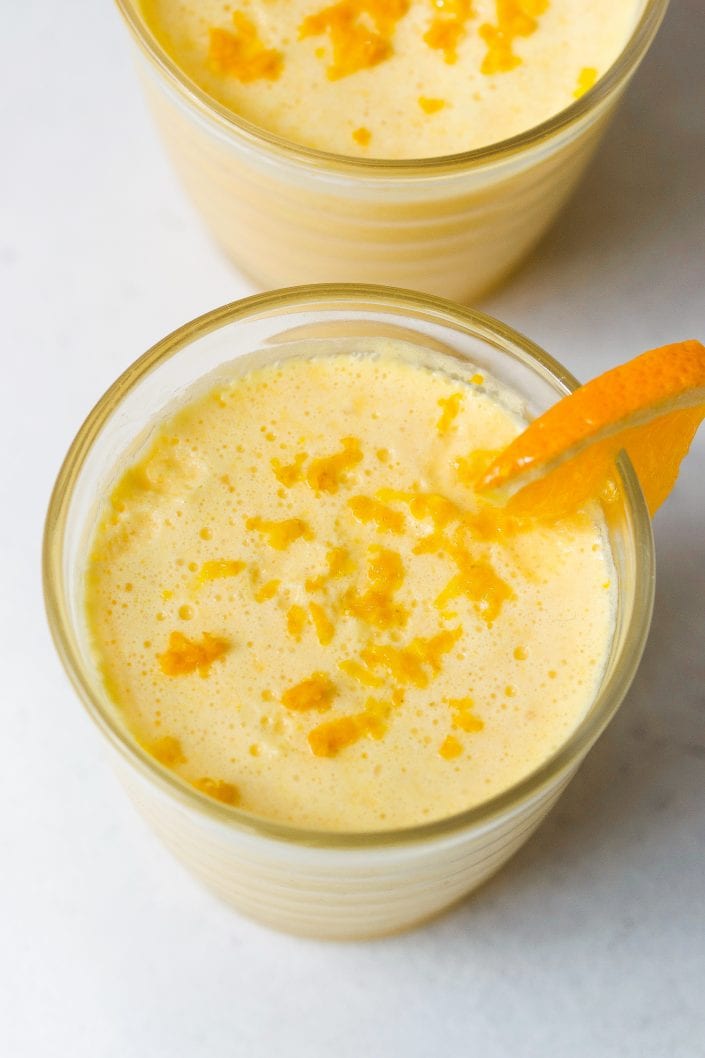 Tips for making this Orange Julius:
Coconut allergy? You can swap the coconut milk for another milk such as cashew or almond, although the drink won't have quite as creamy a consistency. 
Making it vegan: If you are vegan you can use maple syrup, or alternatively use 2 dates which have been soaked in boiling water for 10 minutes. Don't skip soaking the dates, the helps them to break down when blended, otherwise the drink will have brown clumps!  
Use any kind of orange: clementines, tangerines, mandarines or navel…they all work well! 
Blend blend blend: If you have leftover Orange Julius in the fridge for a few days it may lose its frothy consistency. Put it in the blender with a handful of ice and blend for a few seconds before serving. 
Try other fruits: play around with flavours by adding in 2 cups of pineapple, strawberries or raspberries for a fun spin on the original drink.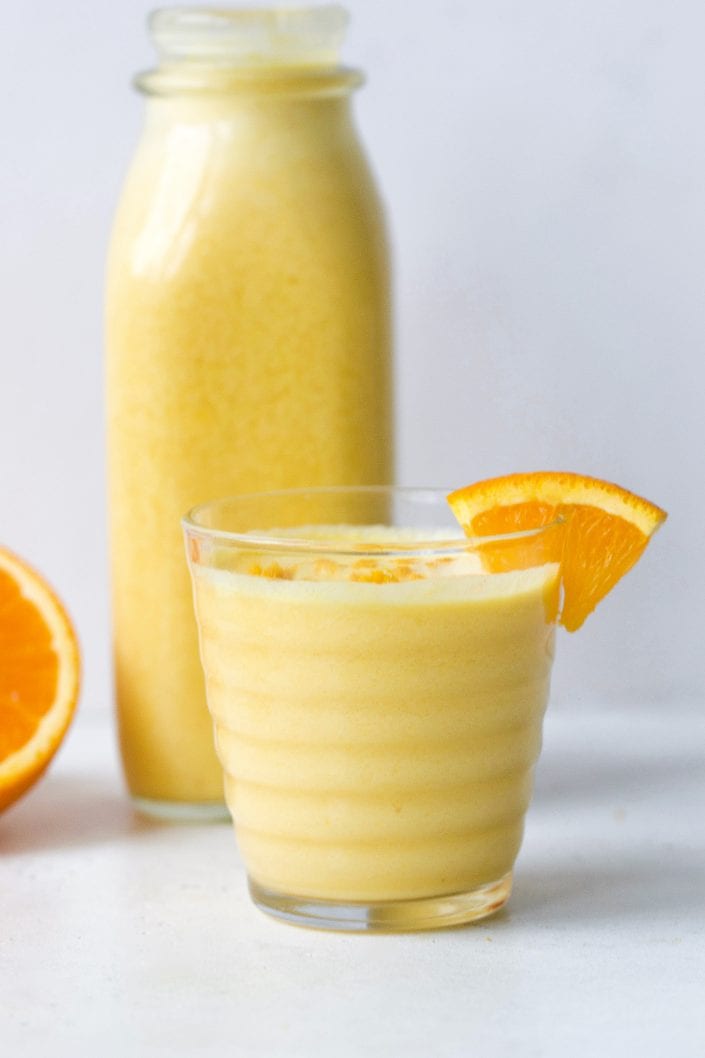 Here are a few other refreshing drinks and frozen treats that you will enjoy…
---
If you make this recipe let me know in the comment section below, I would love to hear what you think or take a photo and tag me (@everylastbite_) on Instagram, I love seeing your photos!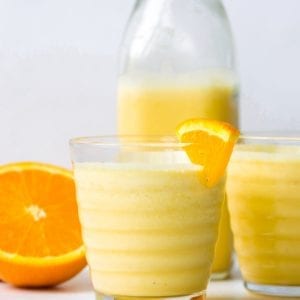 Ingredients
2 medium sized orange peel removed
1/2 cup coconut milk
2/3 cup orange juice
1 tbsp honey (or 2 medjool dates soaked in hot water for 10 minutes)
1 tsp vanilla extract
pinch salt
1 cup ice
Instructions
Combine everything in a blender and blend into a chunky slush consistency. Pour into four glasses and serve with an optional orange slice.