Barbacoa Beef

There are so many reasons to love this barbacoa beef. Its so tender it literally melts in your mouth, is coated in a delicious rich sauce and is so versatile it can be served in an endless number of ways.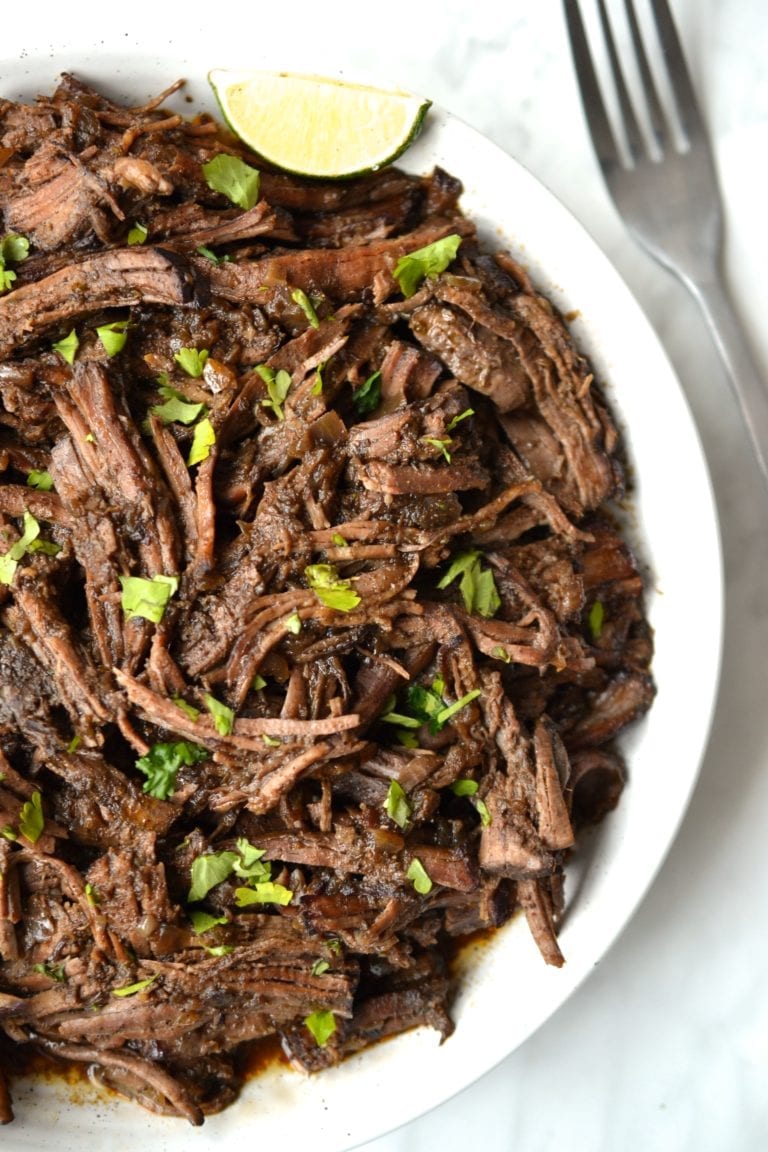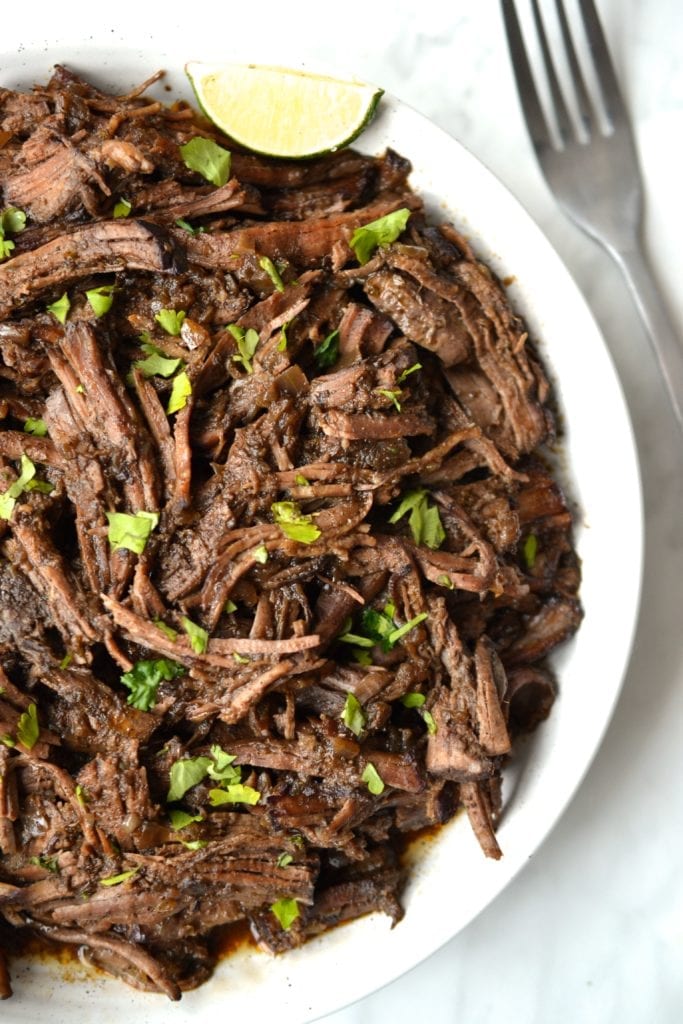 I love having a big batch of this in my fridge to toss into tacos (click here to find out how to make the Whole30 tortillas), add it into a salad, serve it with Mexican cauliflower rice or roll it up into enchiladas. You don't have to get fancy because the meat is so flavourful it can really carry any dish.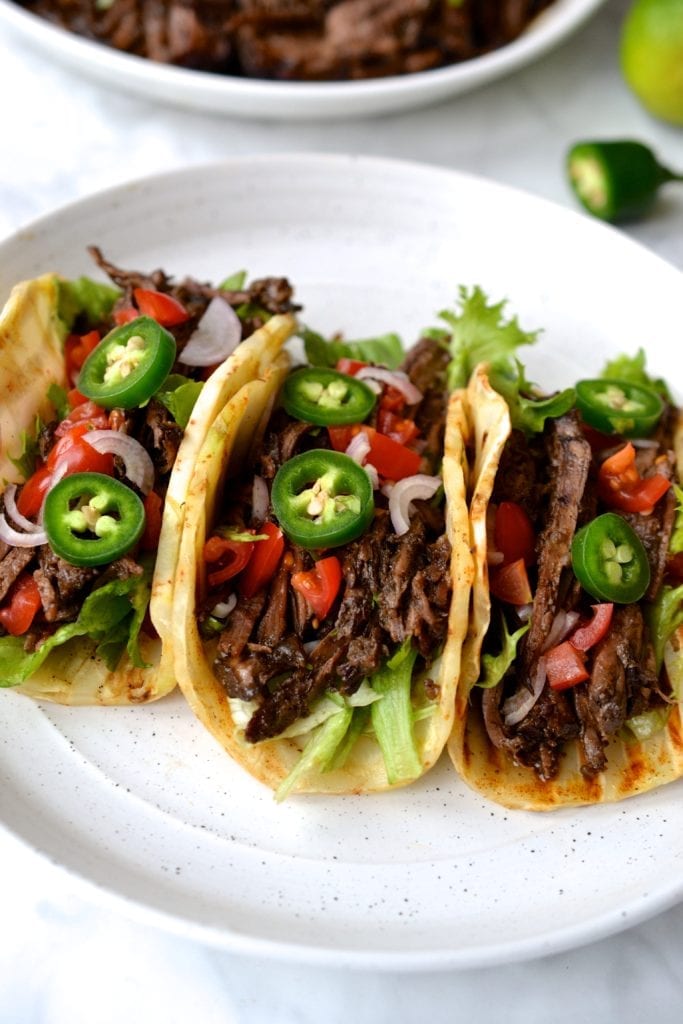 For this recipe I used brisket because it's so cheap and easy to find, but chuck roast or beef cheek would also work well.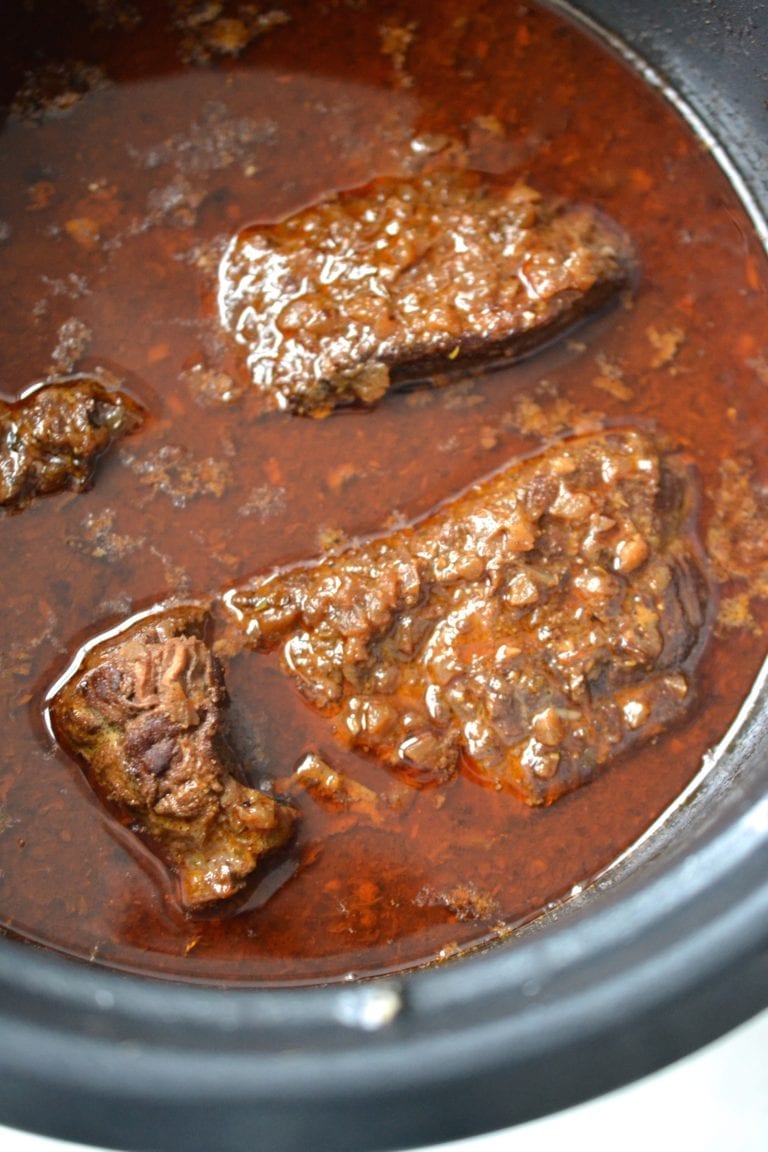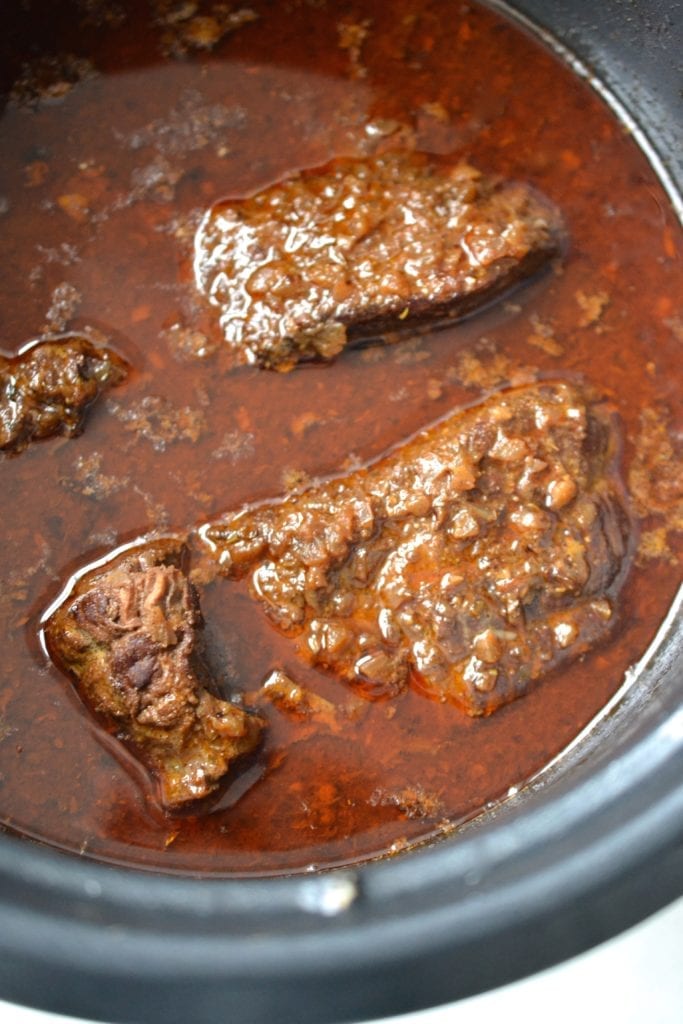 I love how easy a slow cooker is, just toss everything in and it does all of the work for you. If you don't have a slow cooker you can alternatively cook this in the oven for 3 and a half to 4 hours at 160 degrees Celsius (325F).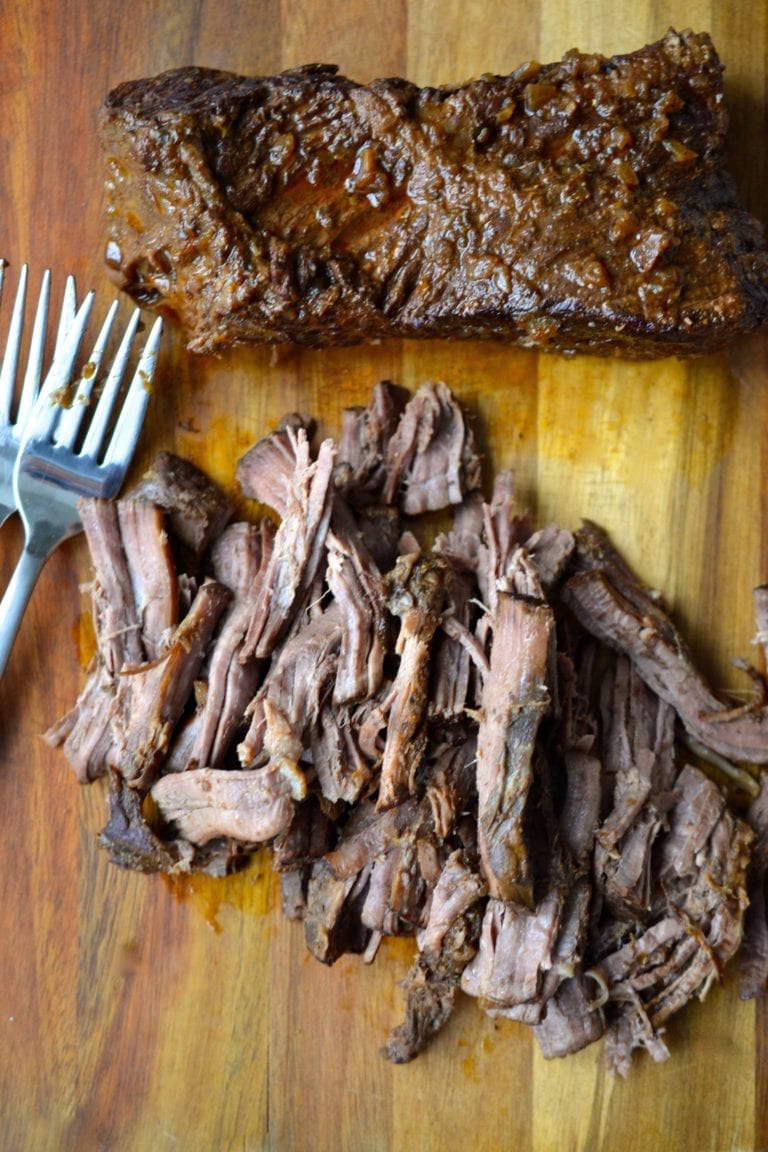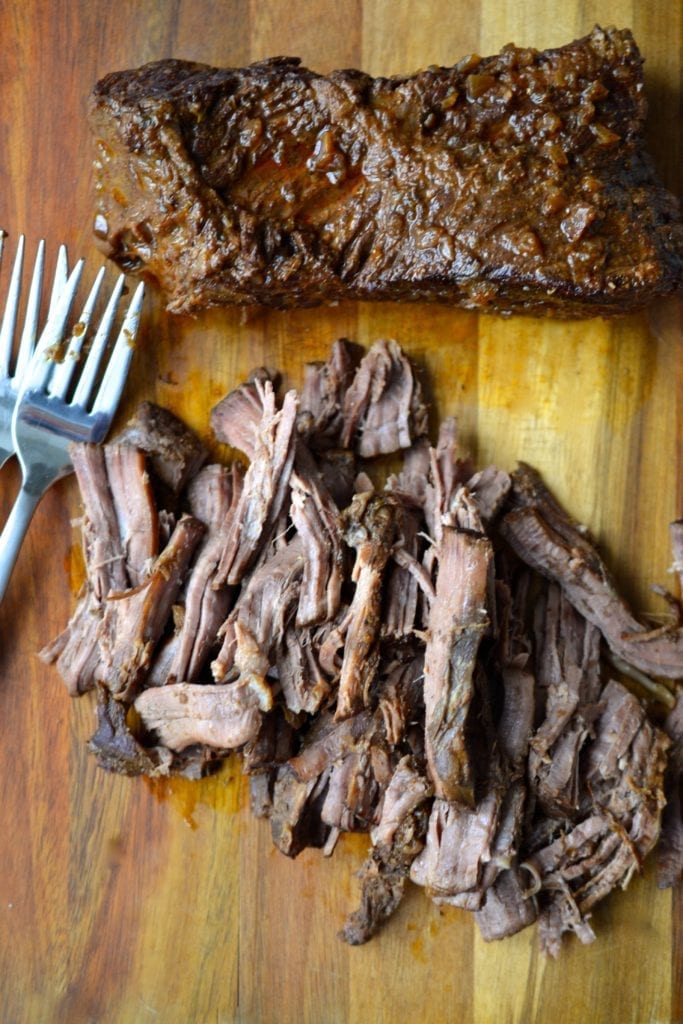 After shredding the beef, return it back to the sauce so that it can absorb all of the delicious flavour. I like to quickly put it in the oven on broil for a few minutes so that some of it gets slightly charred and crispy. This beef will last 3 to 4 days in the fridge or you can freeze it for up to 6 months.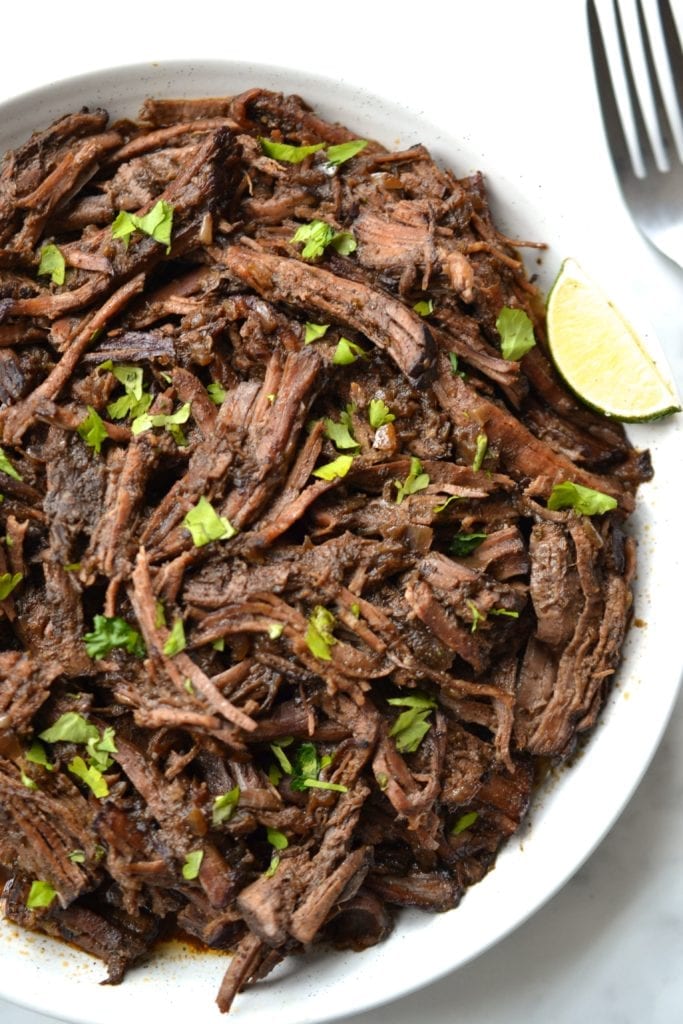 Here are a few more taco recipes that you might enjoy…
---
If you make this recipe let me know in the comment section below, I would love to hear what you think or take a photo and tag me (@everylastbite_) on Instagram, I love seeing your photos!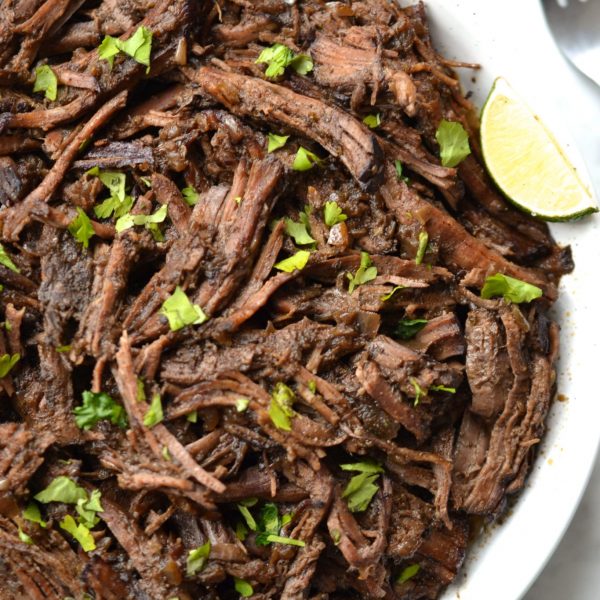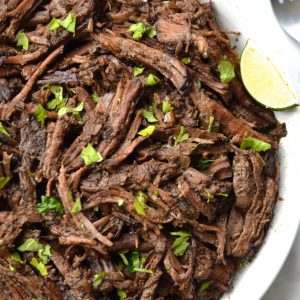 Barbacoa Beef
Ingredients
3 lbs beef brisket (or chuck roast)
1 tbsp oil
1 large red onion finely diced
4 cloves garlic finely diced
1 tbsp cumin
1 tsp paprika
2 tsp coriander
1 tsp oregano
2 tsp ancho or chipotle chilli powder
1/2 tsp ground cloves
1/2 tsp salt
1/4 cup lime juice
1 1/2 cups beef broth
Instructions
Put the slow cooker on sear/sauté and heat the oil. Sear the brisket on all sides until golden in colour, alternatively if you do not have a sear function you can do this in a pan on the stove top. Once the brisket is browned, remove from the slow cooker and set aside on a plate.

Add the diced red onion and garlic to the slow cooker and sauté for 4 minutes until the onion begins to soften.

Once the onion has softened add in all of the spices, salt, beef broth and lime juice and stir to mix well. Return the beef back to the pot and cook on low heat for 8 hours or high heat for 6 hours.

The brisket is down when it tender and easily comes apart with a fork. Remove the brisket from the slow cooker and shred using 2 forks. Pour some of the excess liquid from the pot over the beef.