Spicy Asian broth with tender shredded chicken, spinach, carrots, jalapenos and seemingly endless curly daikon noodles you can slurp them from the bowl, this soup will warm you from the inside while setting your taste buds alight. This is one of my favourite things to eat this time of year as the weather continues to get colder and the days darker.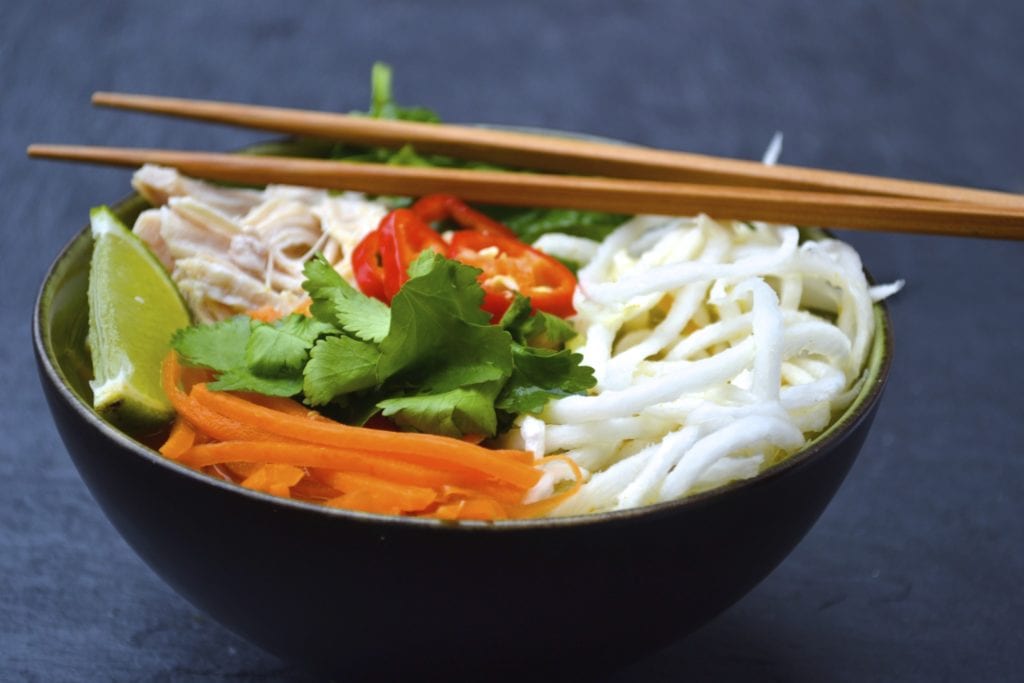 The enjoyment I get from eating a bowl of soup increases exponentially when there are noodles. The spinach, chicken and carrots are fantastic in this soup but the best part is without doubt the daikkon noodles which are long and curly and so fun to eat. The noodles can be added to the broth 1-2 minutes before serving if you prefer them to remain crunchy, or cook them for 5 minutes to give them time to absorb the flavours of the broth and become soft.

If you follow the Specific Carbohydrate Diet or read health blogs, you will know that bone broths (which are very popular at the moment) have a long list of health benefits and are widely praised for their healing powers. Bone broths are very high in amino acids glycine and proline which are anti-inflammatory, glucosamine helps stimulate the growth of new collagen, mending damaged joints and reducing pain. Bone broths also aid in digestion, healing the lining of the digestive tract as well as enabling it to absorb more nutrients. While the chicken in this recipe is only cooked in the broth for 25 minutes, to fully reap the benefits of bone broth, swap the chicken stock in the recipe for water, and use a whole chicken in place of the chicken thighs. Allow the chicken to cook at a gentle simmer for a minimum of 5 hours before removing it from the broth and shredding.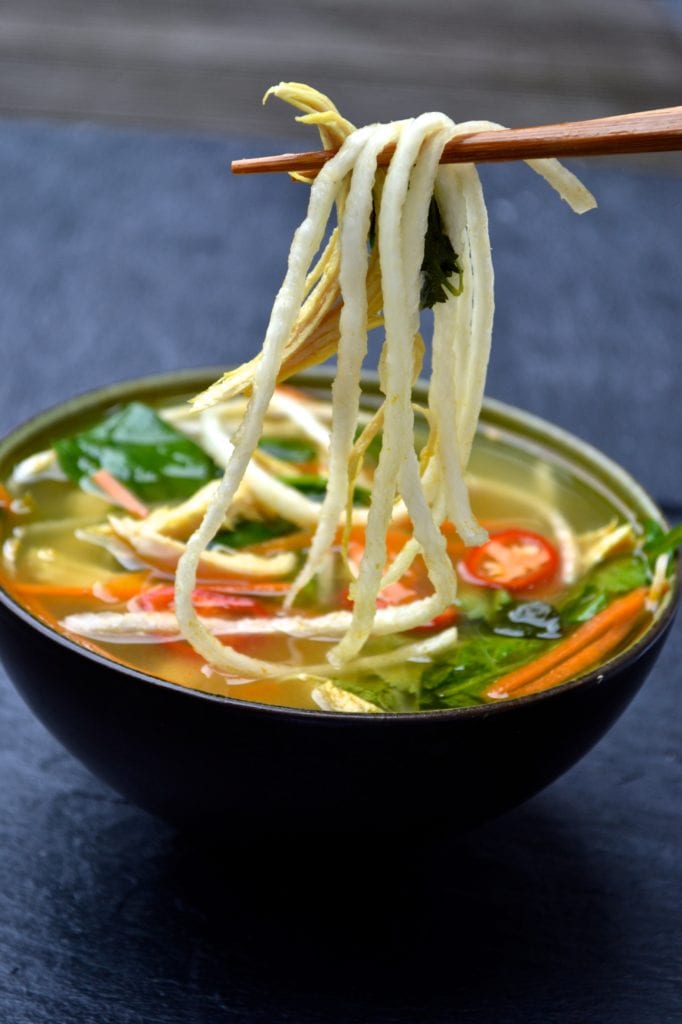 You can season this soup to your liking by adding more fresh ginger, fish sauce for some extra salt or jalapenos for a bit more heat. I love making a big batch of this soup on Sundays and bringing it to work throughout the week. You can enjoy leftovers for up to 3 days and the noodles will only become more flavorful with each day as they have time to absorb the broth.

If you make this recipe let me know in the comment section below, I would love to hear what you think or take a photo and tag me (@everylastbite_) on Instagram, I love seeing your photos!
Spicy Asian Chicken, Veggie & Noodle Soup
Diet:
Dairy Free, Grain/Gluten Free, Paleo, Refined Sugar Free, Specific Carbohydrate Diet Legal
Ingredients
6

cups

chicken broth

1

tbsp

fresh ginger

chopped

2

tbsp

lime juice

2

tbsp

fish sauce

2

chicken breasts or 3 thighs

1

cup

spinach

1

tsp

curry paste

1

jalapeno

thinly sliced

1/4

cup

coriander

1/2

cup

carrots cut

1

daikkon radish
Instructions
Place the chicken stock, 1 tablespoon ginger, lime juice and fish sauce in a large pot and bring to a boil. Once rapidly boiling, add in the chicken thighs and continue to boil for approximately 25 minutes. Test the chicken by removing it from the broth and shredding it with a fork, it should be cooked through and there is no pink or blood along the bone. Remove the skin and using two forks, shred the chicken from the bone. Set aside.

Wash, peel and spiralize the daikkon radish. Peel the carrot and cut it into match stick sized pieces and thinly slice the jalapeño.

Turn the heat to low and add the remaining tablespoon of ginger and curry paste to the broth. Taste and season accordingly adding more curry paste, ginger, fish sauce or lime juice as required.

Add the chicken, carrots, jalapeno and daikon noodles to the broth and cook until the noodles are to your liking, 1-2 minutes for crunchy and 5 minutes+ for soft. Add in the spinach before serving.

Serve the soup topped with jalapenos, coriander and a slice of lime.