Shaved Brussel Sprout Caesar Salad

Over the years I've experimented with different ways of preparing Brussel sprouts and discovered they are so much more then just a turkey dinner side dish and should be enjoyed throughout the fall and winter.
When trying to come up with a creative way of preparing Brussel sprouts I turned to one of my favourite salads, Caesar salad, a guaranteed crowd pleaser. The most time consuming part of this recipe is thinly slicing the Brussel sprouts but it's worth the effort and can be done a day or two in advance. The shaved Brussel sprouts are then quickly sautéed to soften them and then tossed in a dairy free creamy Caesar salad dressing.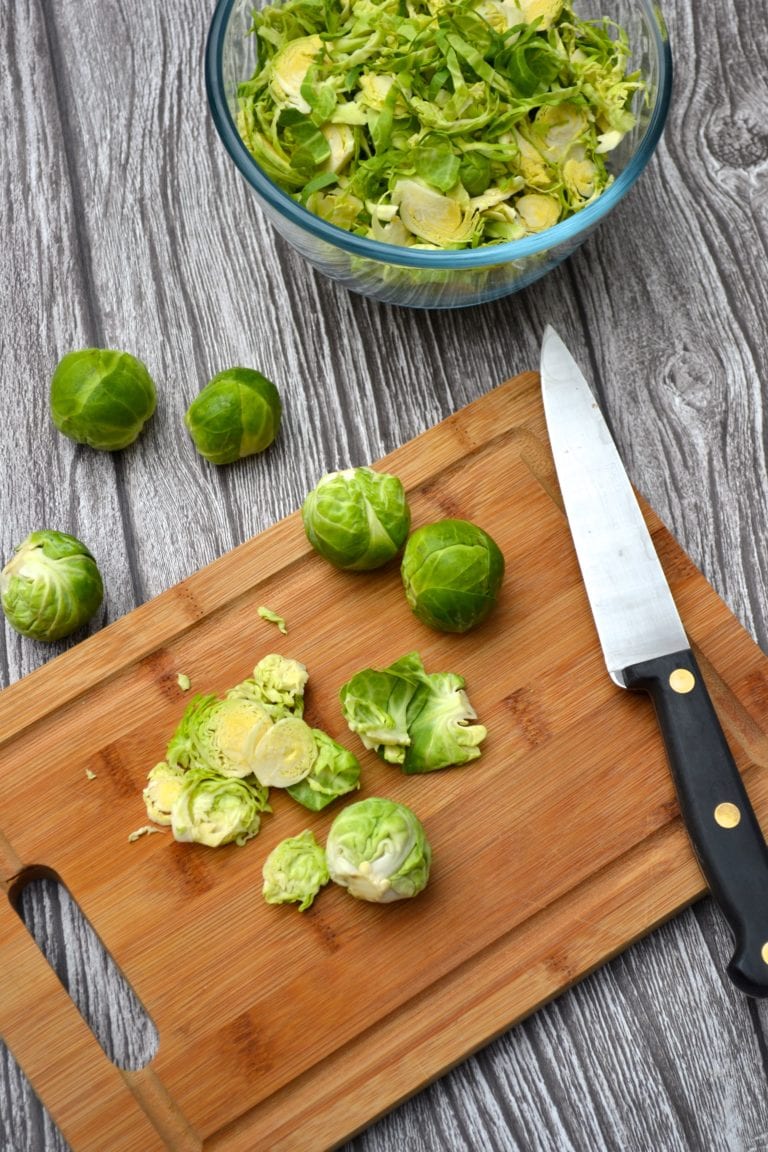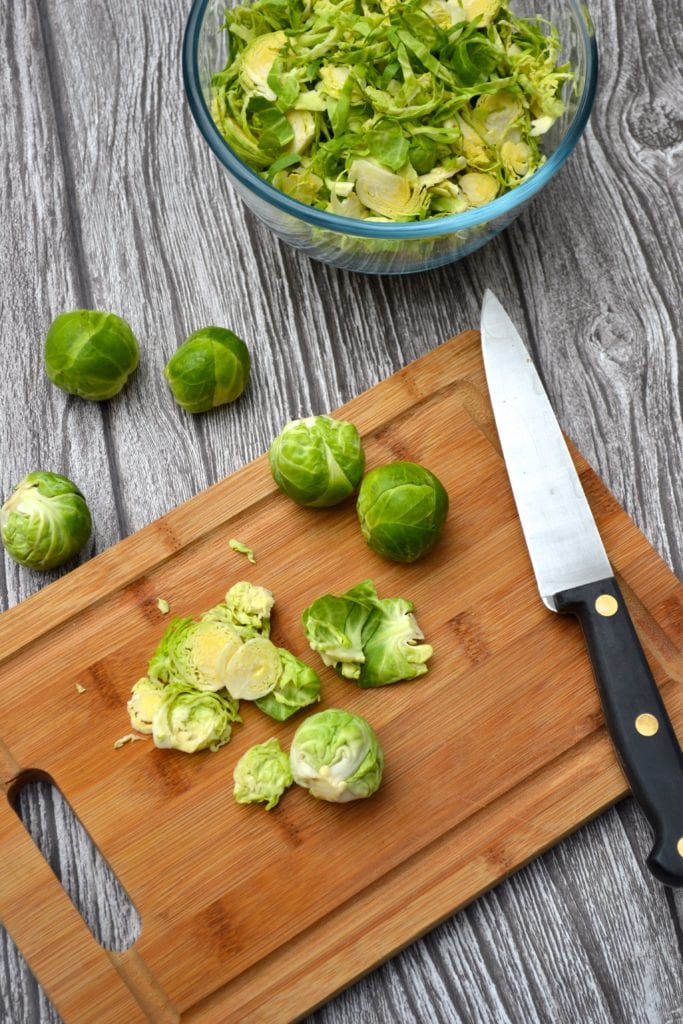 If you are not following a SCD/paleo diet you can use bread croutons or baked chickpeas, but my favourite SCD legal crouton alternative is oven baked pumpkin seeds which have a nice crunch. I season the pumpkin seeds with salt and lots of pepper but you could toss them in garlic, chilli powder, thyme or oregano, the options are endless.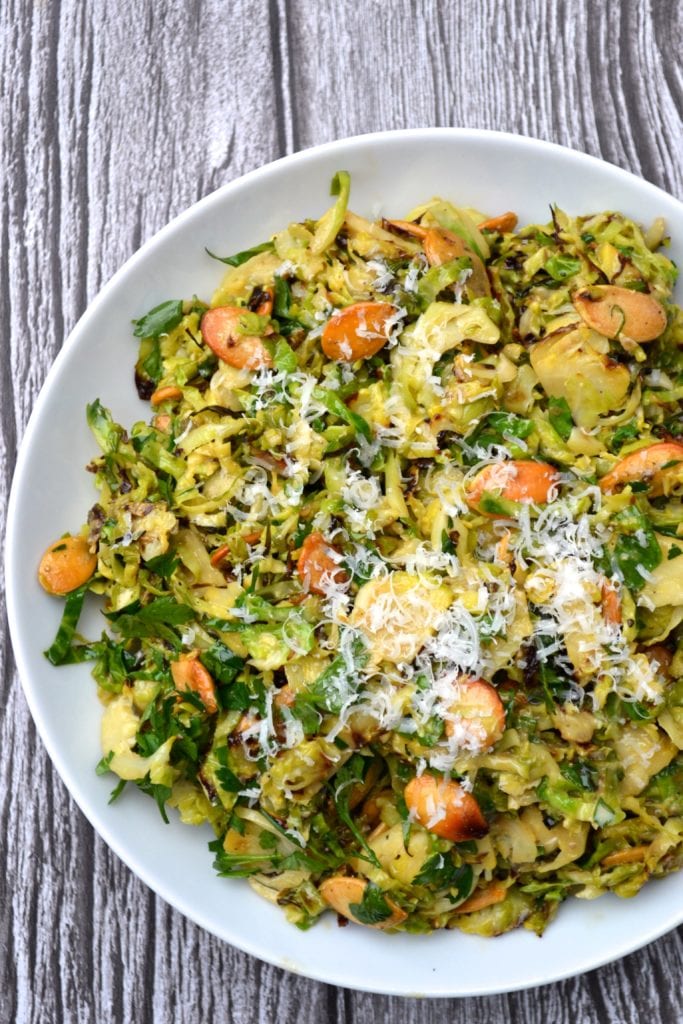 If you make this recipe let me know in the comment section below, I would love to hear what you think or take a photo and tag me (@everylastbite_) on Instagram, I love seeing your photos!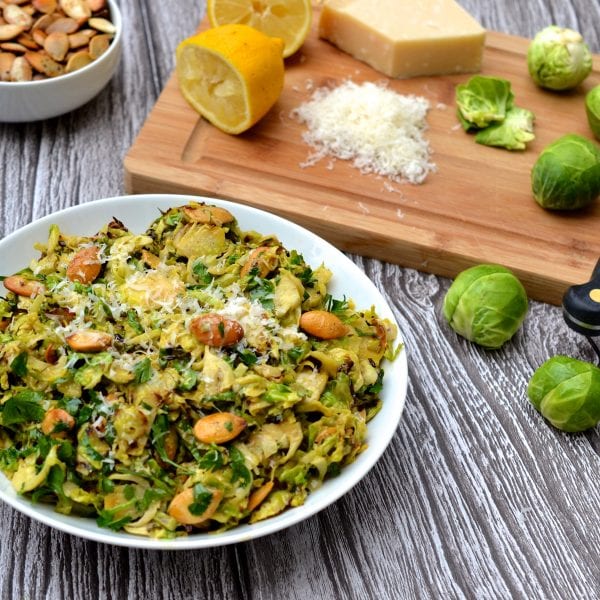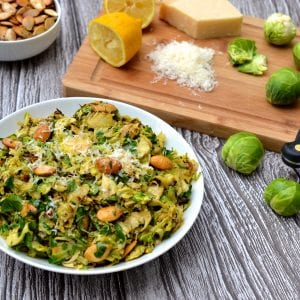 Ingredients
1/3 cup pumpkin seeds
1/2 tsp salt
2 tsp black pepper
2 tsp olive oil
500 grams brussel sprouts
1/3 cup chopped fresh parsley
Dressing
2 egg yolks
2 cloves garlic
2 tbsp capers
1 tsp mustard powder
1/4 cup extra virgin olive oil
2 tbsp balsamic vinegar
2 tbsp nutritional yeast (or parmesan for SCD)
juice from half a lemon
2 tbsp parmesan optional
Instructions
Preheat the oven to 175 degrees celsius (350 degrees farenheit)

On a lined baking sheet toss the pumpkin seeds with 1 tsp of olive oil and the salt and pepper until they are all well coated. Bake in the oven for 10 minutes until crisp and golden in colour.

Wash the brussel sprouts and cut off any thick stems. Using a sharp knife finely cut the brussel sprouts into thin slices.

In a large frying pan on medium heat add 1 tsp oil. Once hot add in the shaved brussel sprouts and cook for 5-6 minutes until soft. Remove the brussel sprouts from the heat and place on a plate to cool.

In a food processor or blender combine all of the ingredients for the dressing and blend until smooth. Taste and add more balsamic vinegar, lemon or mustard as required.

Before serving toss the shaved brussel sprouts with the parsley, dressing and pumpkin seed croutons. Top with a sprinkle of freshly grated parmesan cheese before serving. Enjoy!
Notes
* nutritional yeast adds a cheesy flavour to the dressing, you can omit it completely if in the early stages of SCD or alternatively substitute it for 2 tbsp freshly grated parmesan cheese