Lemon & Herb Salmon Burgers
These Paleo Salmon Burgers are perfect for summer. The patties are packed with chunks of salmon, lots of fresh herbs and lemon. The salmon patties are served with tartar sauce, slices of red onion and tomato for a light and delicious burger. They are Whole30, SCD Legal and Keto too!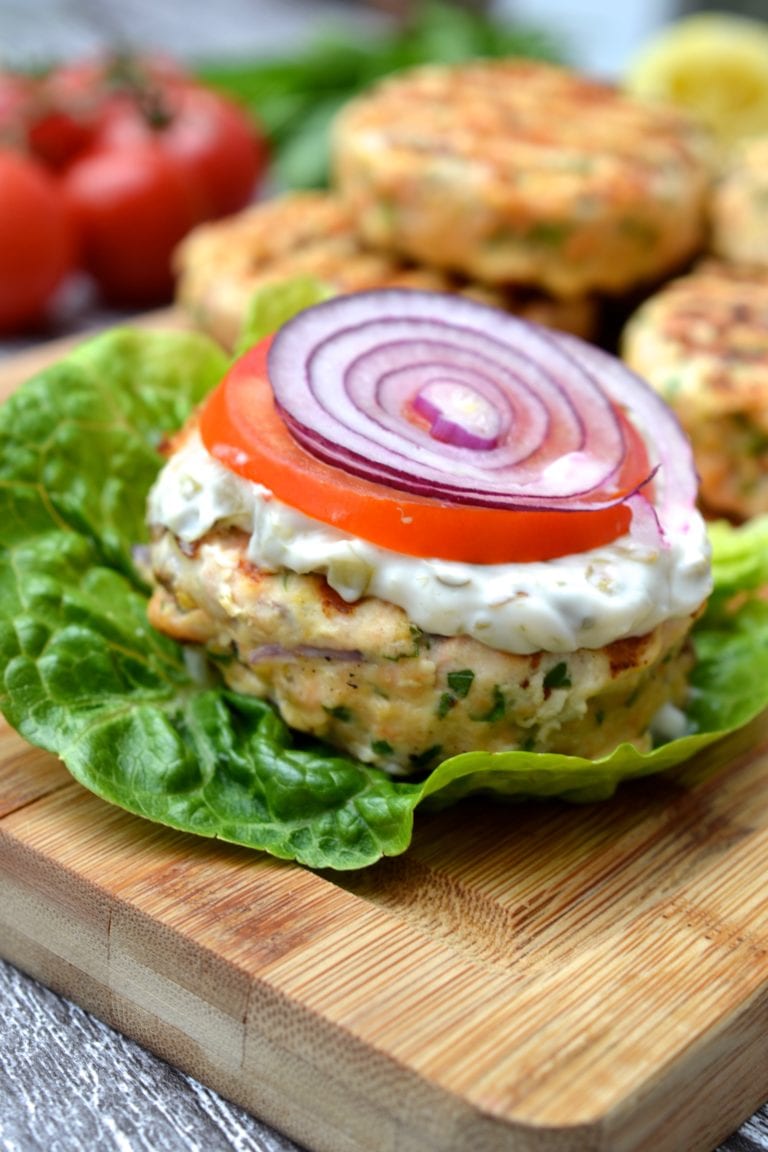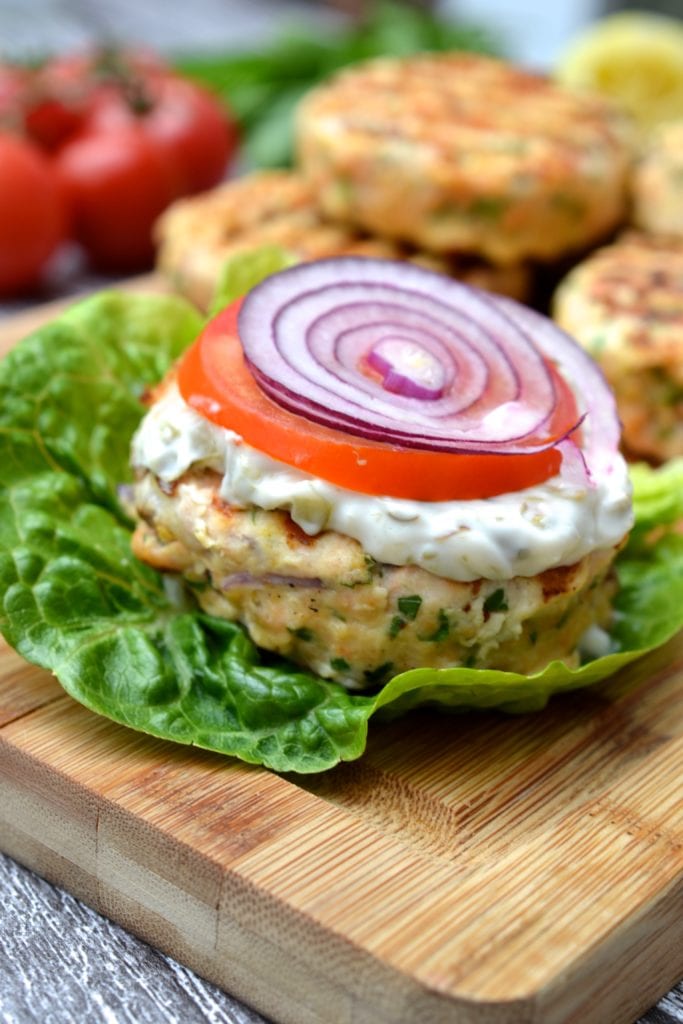 As much as I enjoy a good hamburger, I love coming up with healthy alternatives to a traditional beef patty. Although hamburgers are high in protein and iron, they are also high in saturated fat and should be avoided by anyone trying to lower their cholesterol.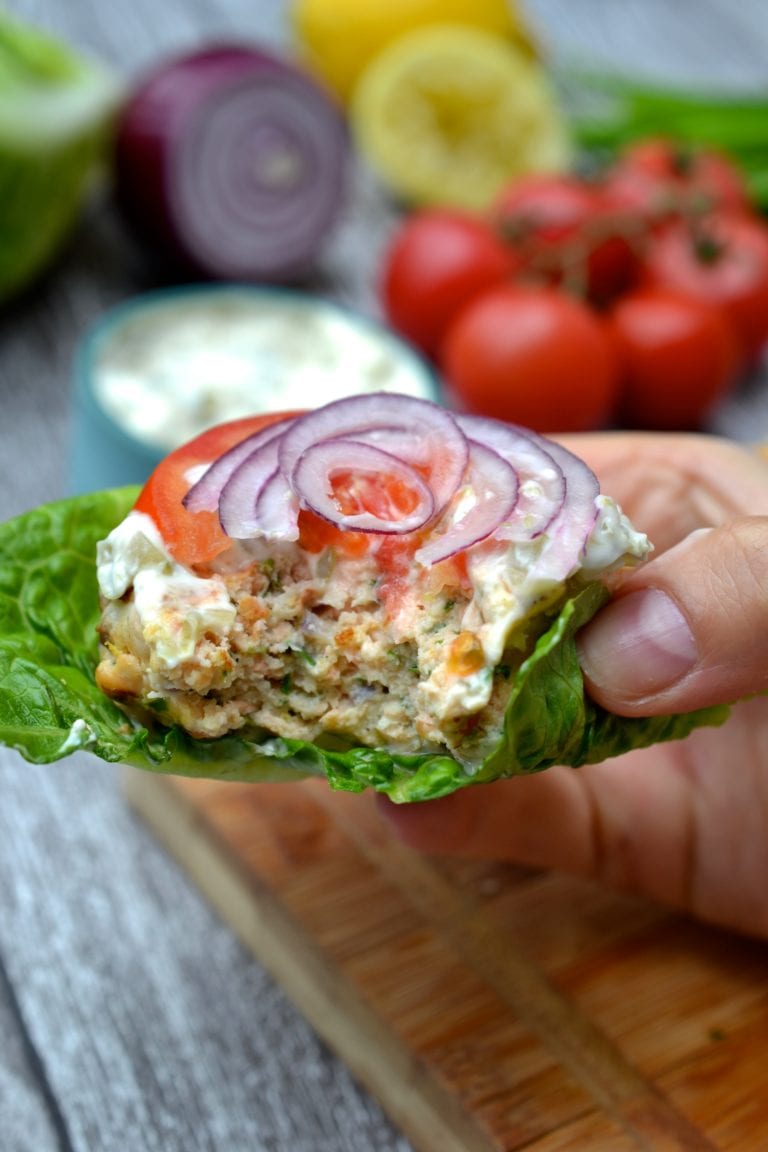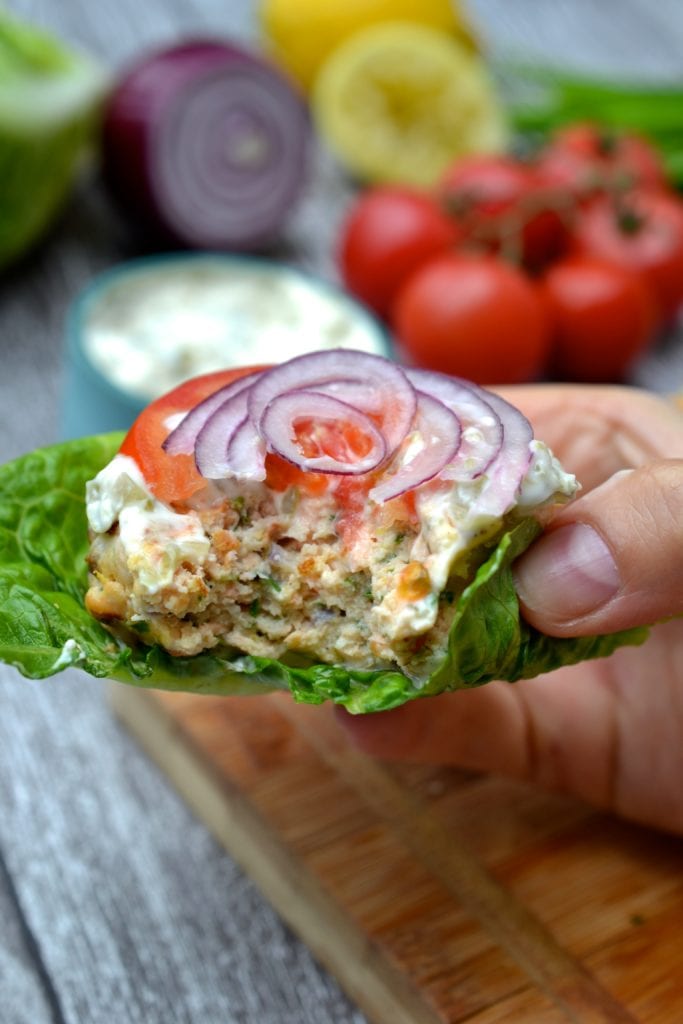 I've shared a few healthy alternatives to hamburgers including Mexican Chicken Burgers and a delicious Shrimp Burger and wanted to experiment with omega-3 rich salmon.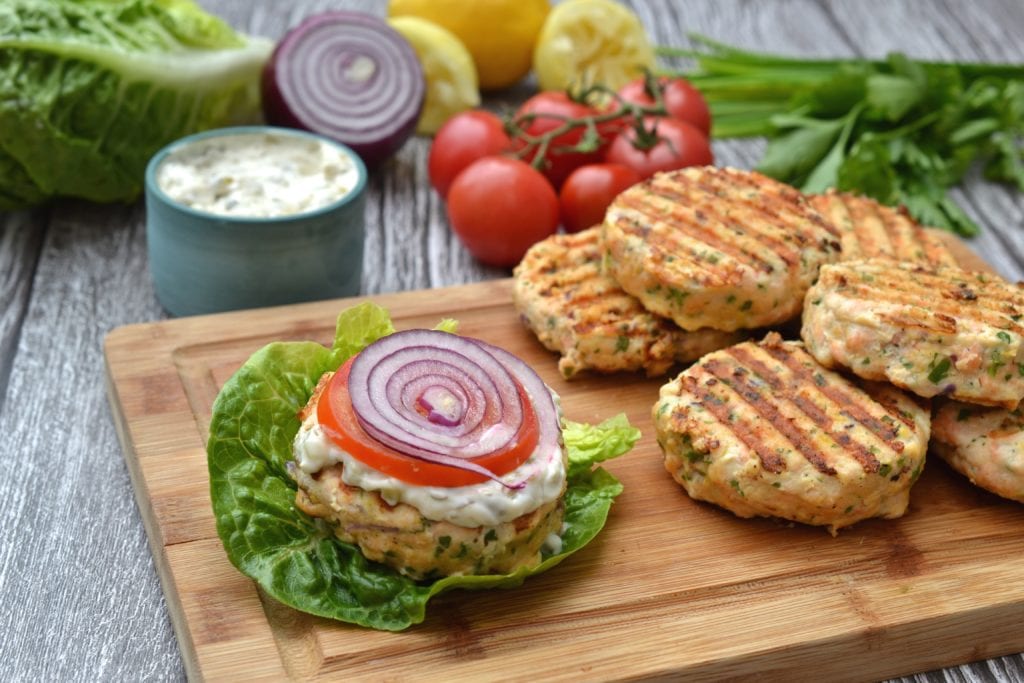 I think one of the biggest issues with making patties with ingredients other then ground meat is that they are often hard to hold together and self-destruct when cooked. I find that when using salmon, it's best to cut the fillet into chunks and pulse in a food processor until it's broken into a chunky mince. If you don't have a food processor or want to avoid washing another dish you can chop the salmon into a mince using a sharp knife.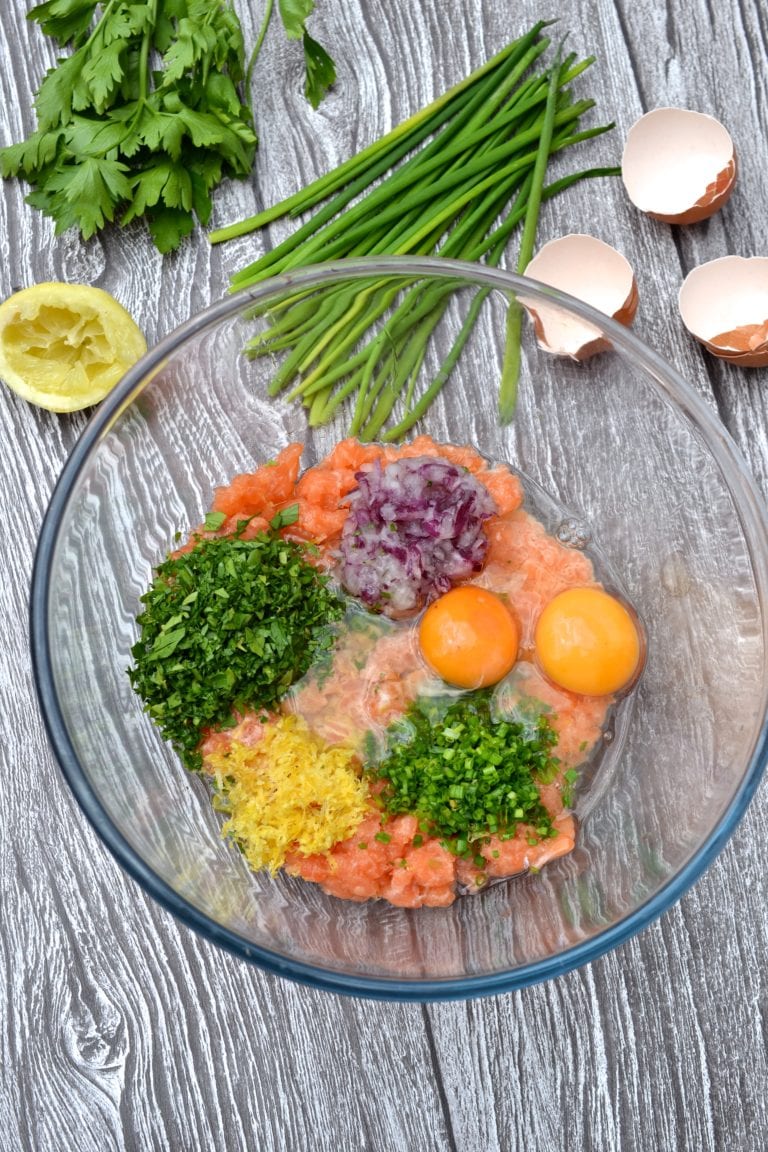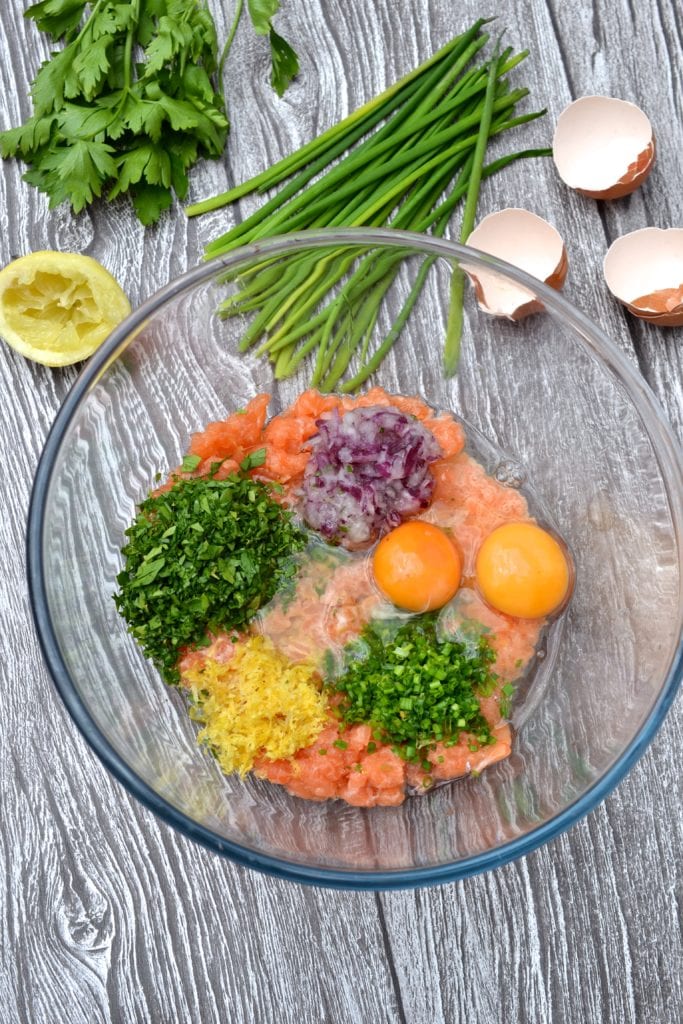 I seasoned the salmon patties with fresh herbs and lemon to compliment the relatively strong flavour of the fish. I serve the burgers on a lettuce leaf and topped them with a delicious tartar sauce, tomato and red onion.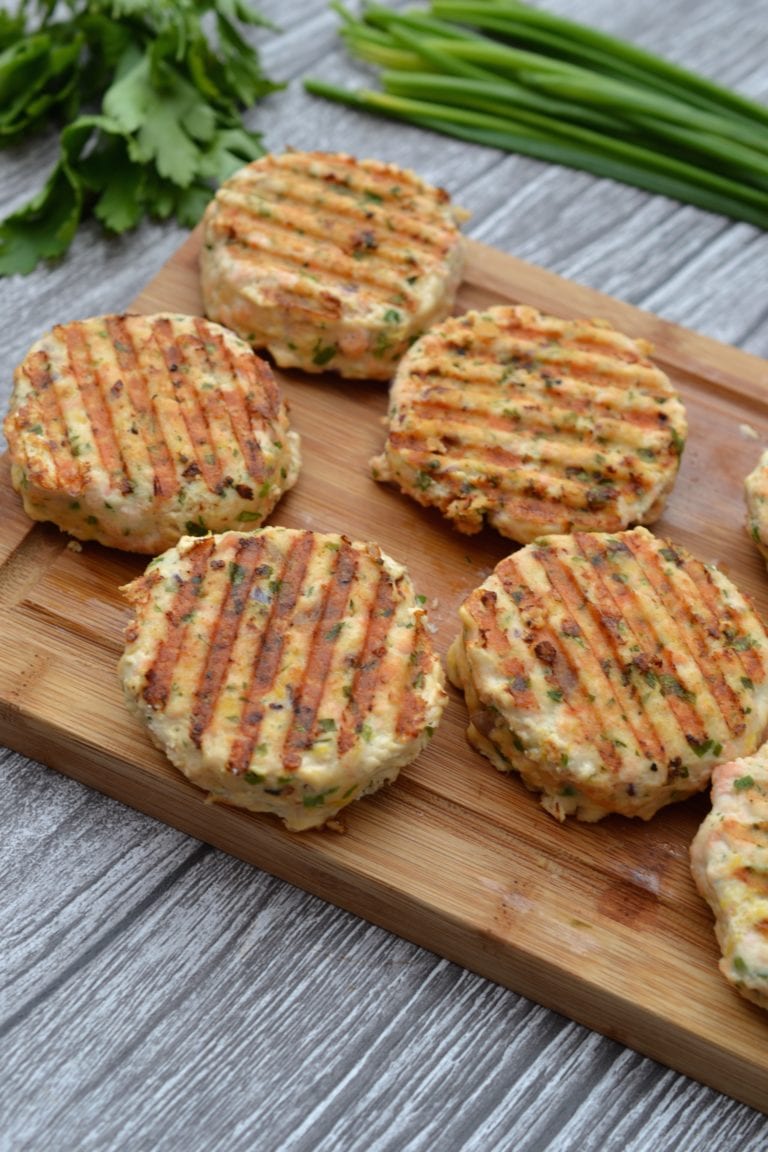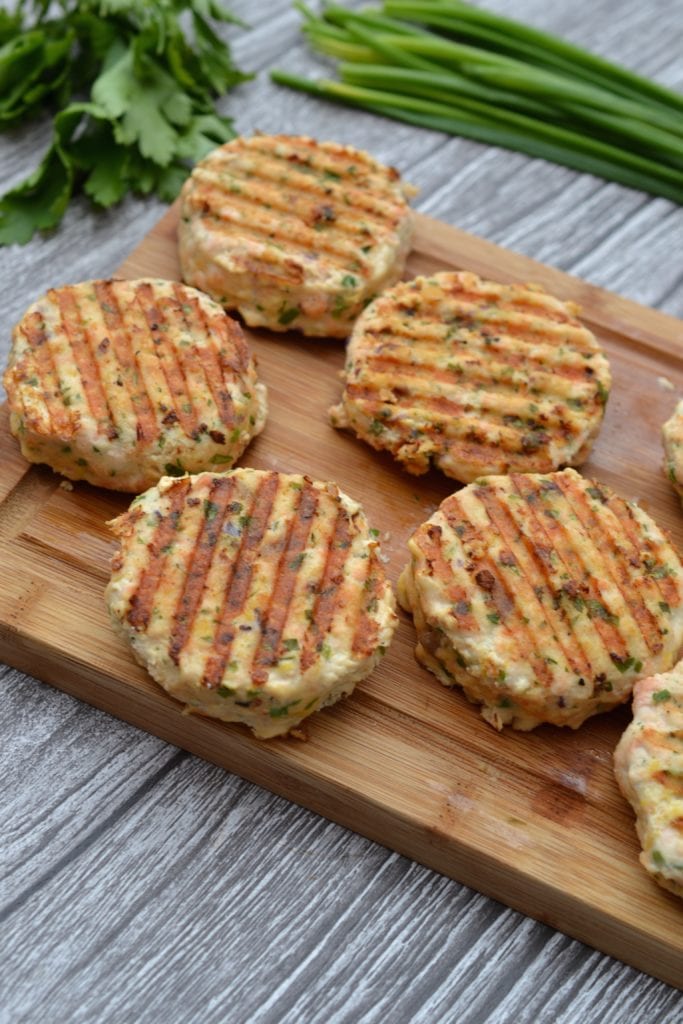 These paleo salmon burgers have so much flavour and are so tender and juicy, you definitely won't miss the beef patty, or the bun! You could also serve the patties with a light salad, or make mini versions and enjoy them as an appetizer, they are so versatile!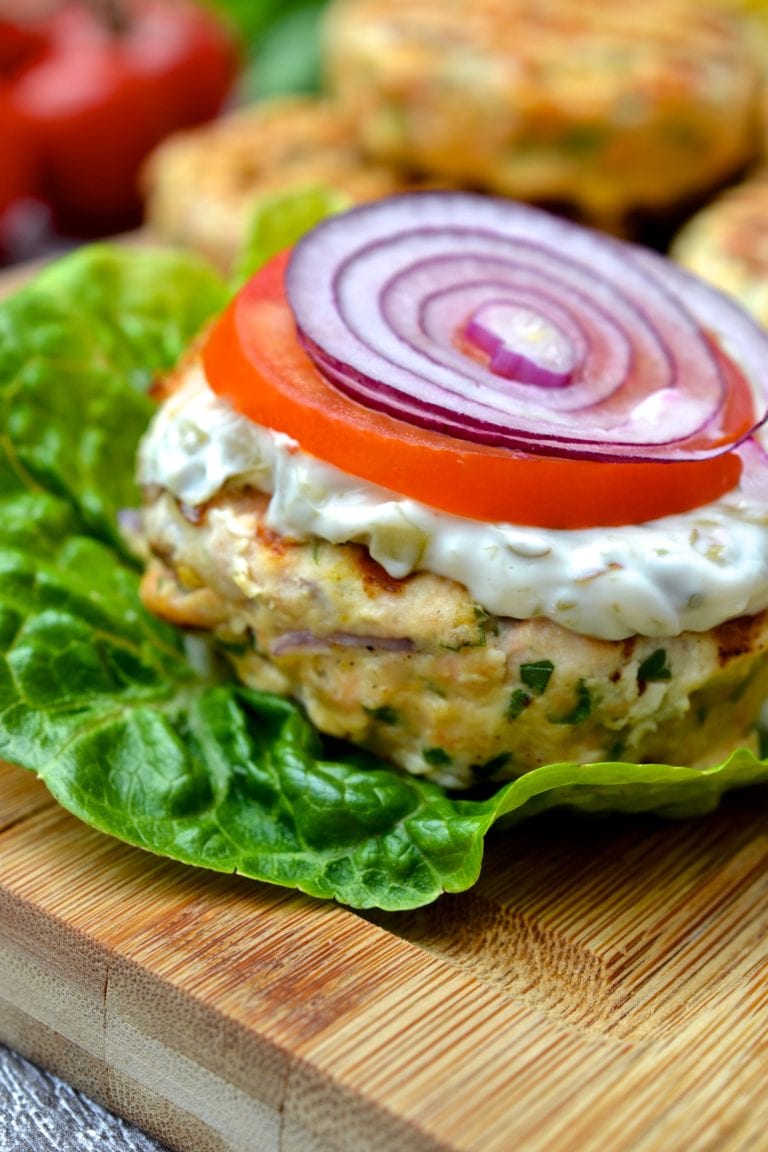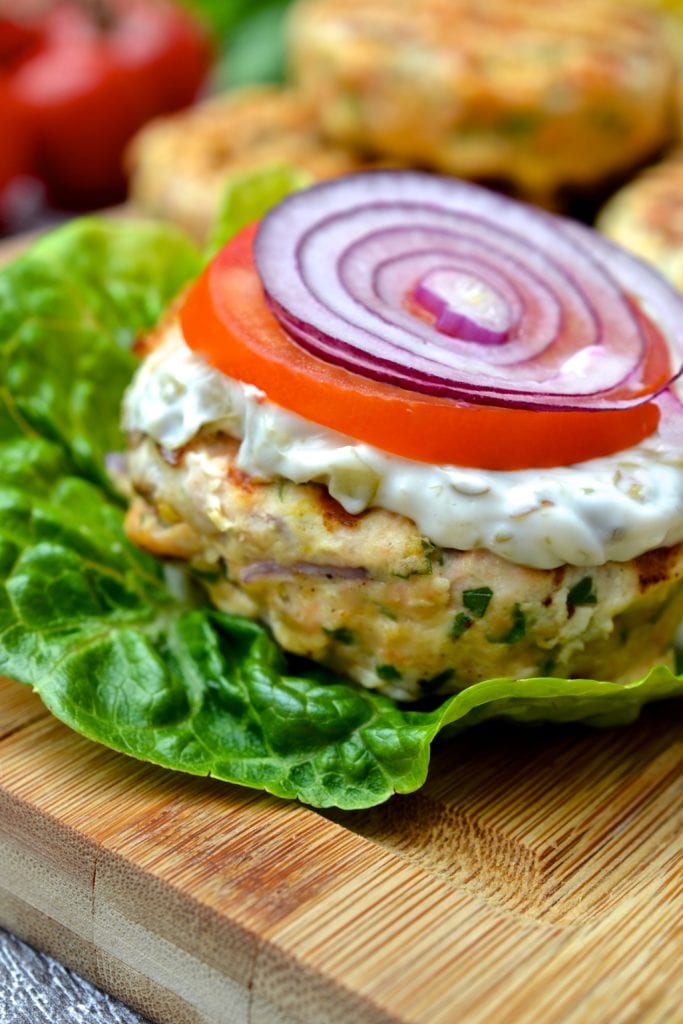 Here are a few other burger recipes that you might enjoy: 
---
If you make this recipe let me know in the comment section below, I would love to hear what you think or take a photo and tag me (@everylastbite_) on Instagram, I love seeing your photos!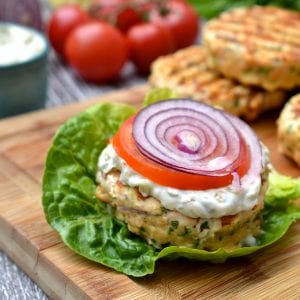 Ingredients
Salmon Patties
500 g boneless salmon fillet skin removed
2 tbsp lemon zest
2 tbsp lemon juice
2 tbsp chopped fresh chives
2 tbsp chopped fresh parsley
2 tbsp finely chopped red onion
2 eggs
2/3 cup almond flour
1/4 tsp pepper
1/4 tsp salt
Burger Garnishes
1/2 red onion thinly sliced
2 tomatoes sliced
1 head lettuce washed
Instructions
Cut the salmon fillet into large chunks and place in a food processor. Pulse for a few seconds until its broken into a chunky mince. Remove the salmon from the processor and place in a bowl.

Add to the salmon mince the lemon zest, juice, chopped chives, parsley, red onion, eggs, almond flour, salt and pepper. Using your hands mush everything together until well blended.

Divide the mixture into 7 balls and flatten until they are approximately 1 to 1 1/2 inches thick, don't flatten them too much or they will fall apart when cooked.

The patties can be cooked for 4 minutes per side in a frying pan with approximately 1 tsp of oil or on a well oiled grill. Flip when they are golden and crisp in colour.

To serve the burgers place on a lettuce leaf and top with a slice of onion, tomato and a spoonful of tartar sauce.