Hawaiian Chicken Burgers
These Hawaiian Chicken Burgers are a great way to switch up your usual chicken burger. The patties are packed with spices and red onion and served on a slice of grilled pineapple with crispy bacon, grilled red onion slices and drizzled with a spicy chipotle sauce. They are so flavourful and Whole30, Paleo, Grain Free and Gluten Free.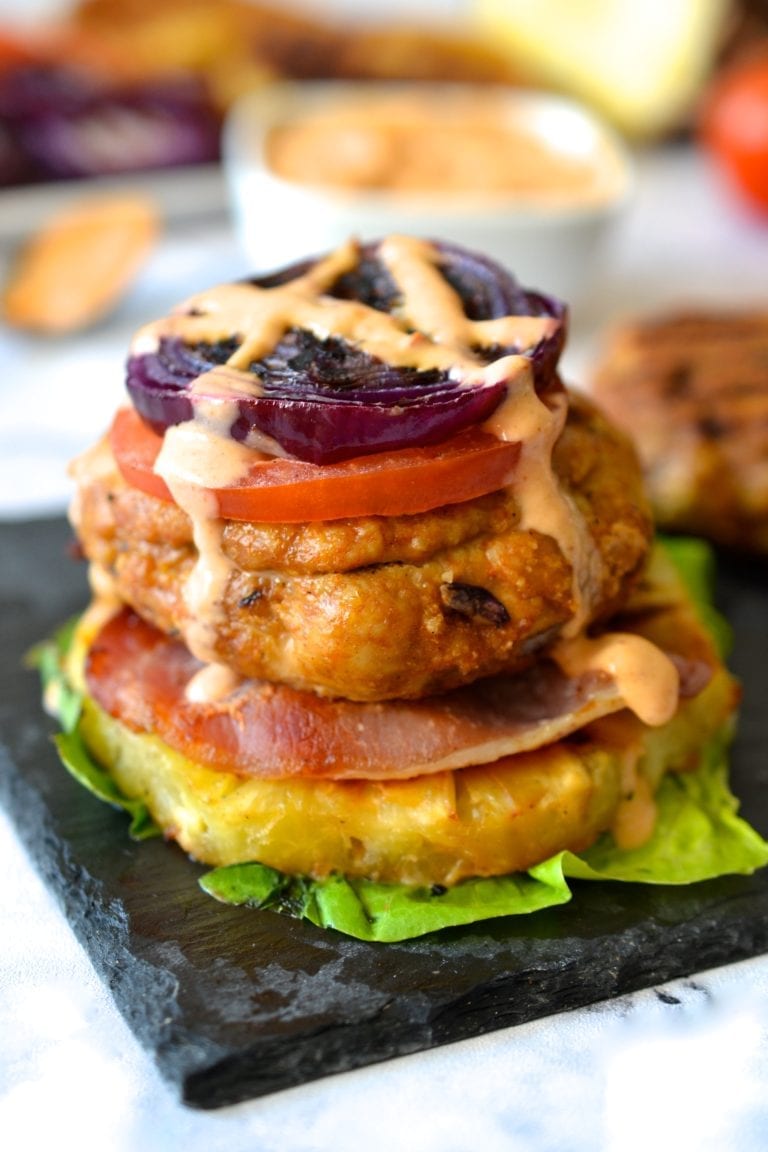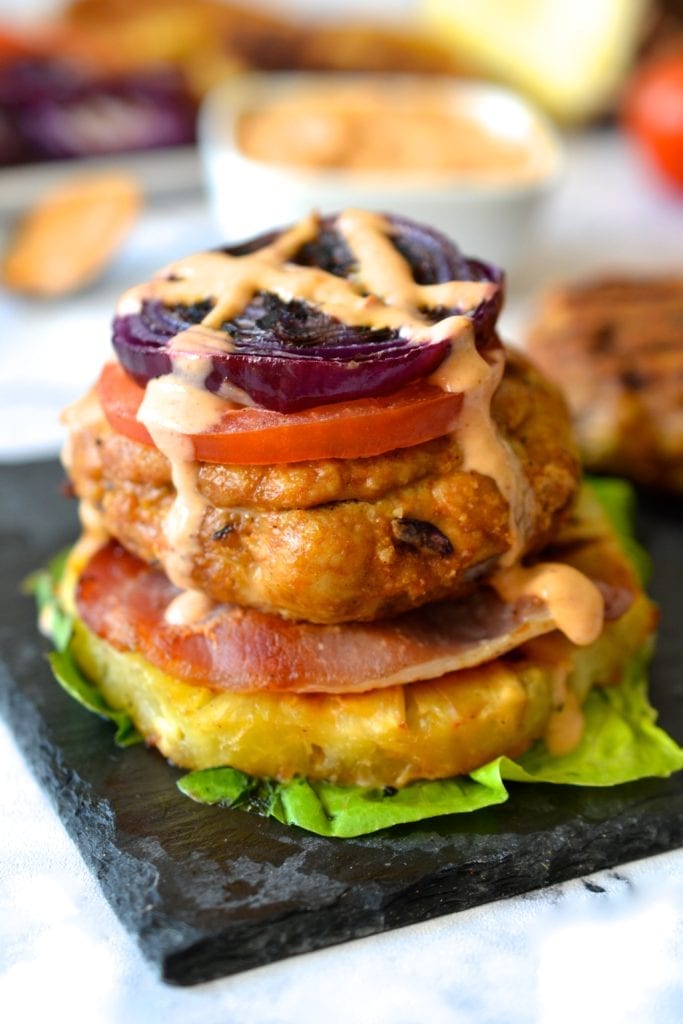 In my opinion when it comes to burgers, the toppings are the deciding factor between an average burger and an amazing burger. More specifically, the messier the burger is to eat, the tastier it usually is. Case and point, these Hawaiian Chicken Burgers which is so flavourful and delicious and requires at least 4 napkins to eat.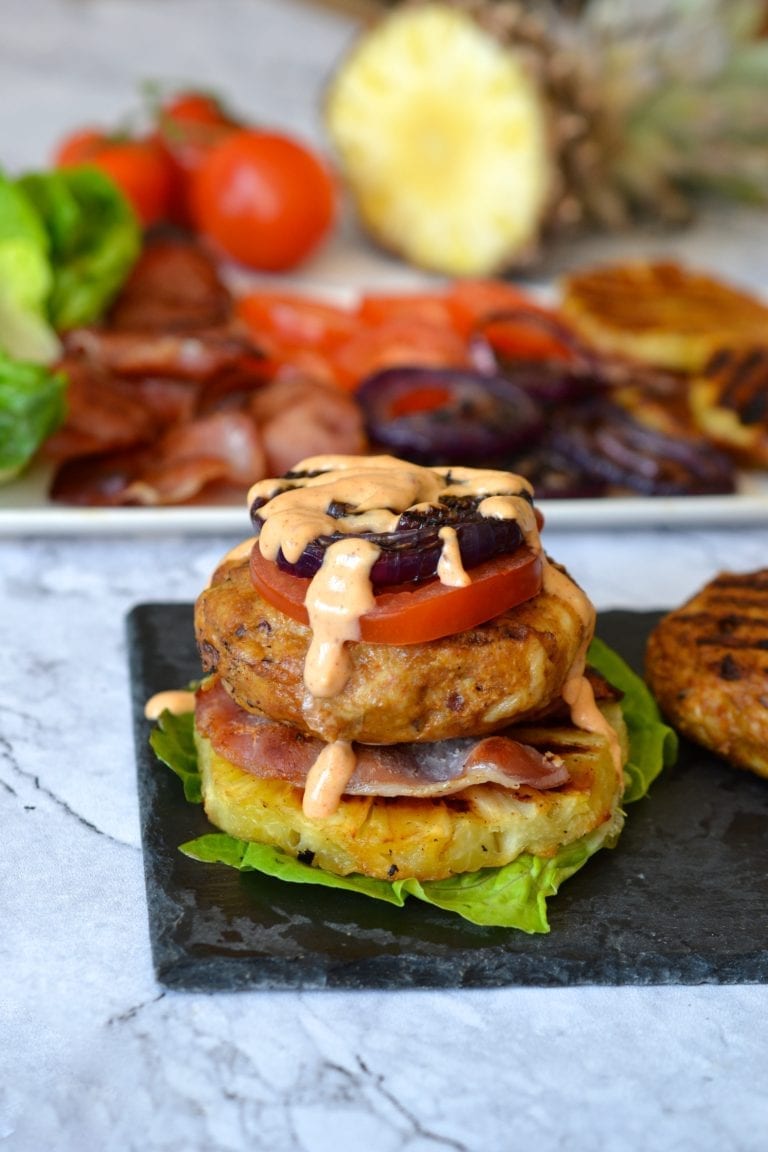 These Hawaiian Chicken Burgers are a cross between my all time favourite pizza, Hawaiian Pizza, and a chicken burger. It starts with a slice of juicy grilled pineapple, and is then topped with crisp bacon, a flavour packed chicken patty, tomatoes, grilled red onion and finally a spicy chipotle mayonnaise. There is so much flavour!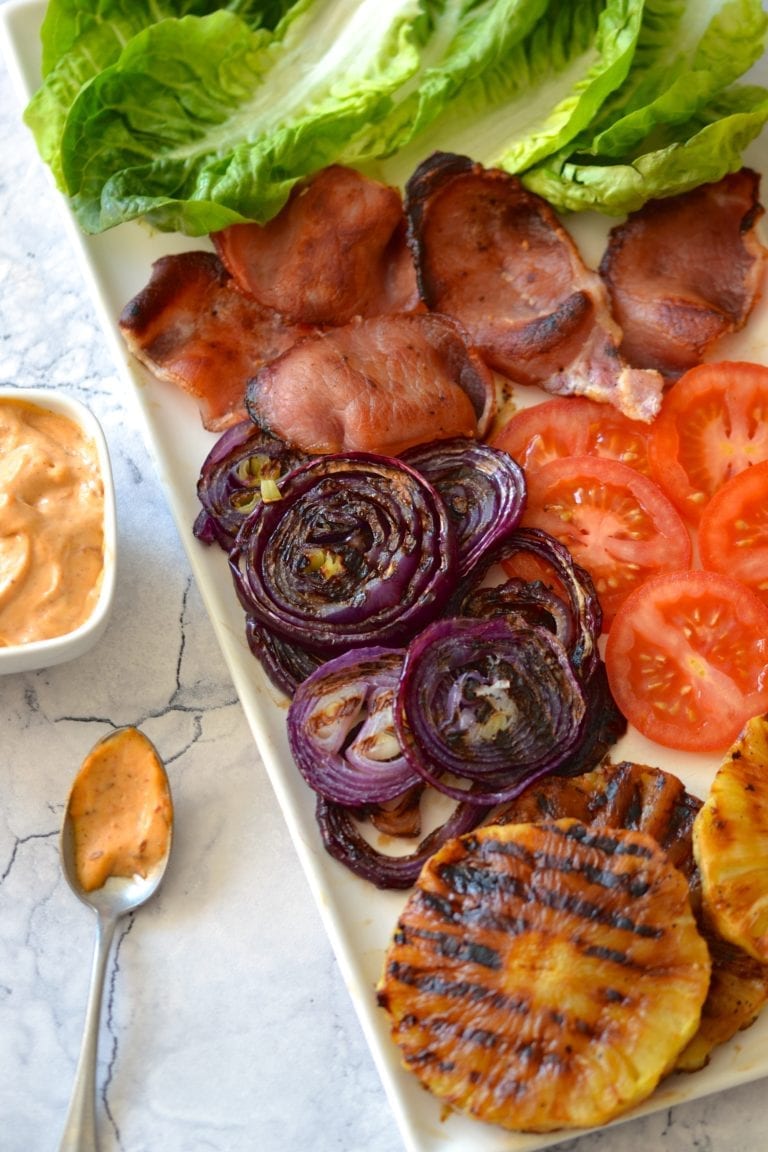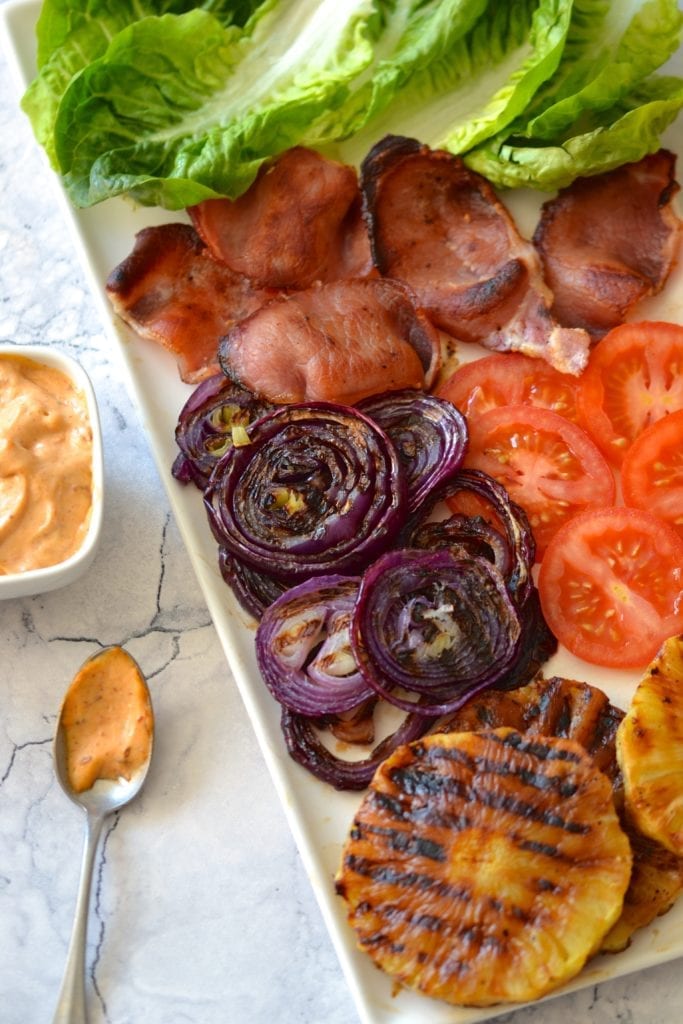 I find ground chicken hard to find in grocery stores here in the UK, so I usually just toss a couple of chicken breasts into a food processor and pulse them into a mince. It's super easy and often times cheaper then buying the meat already ground.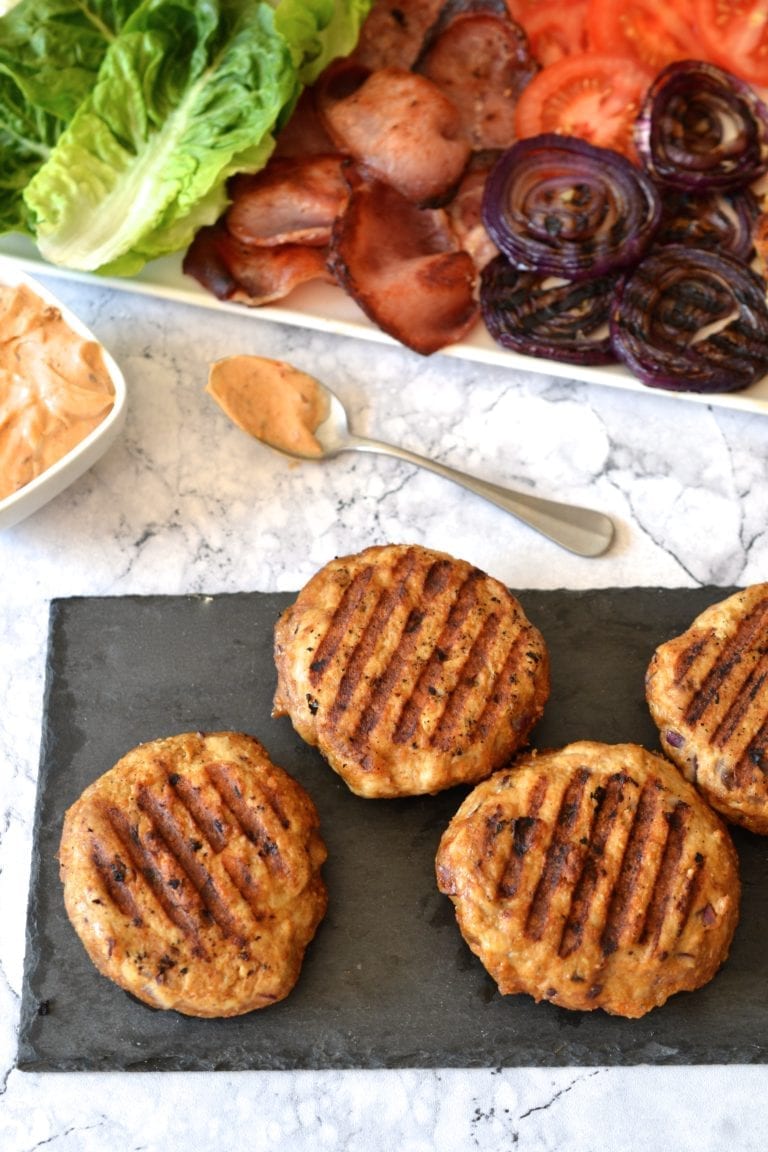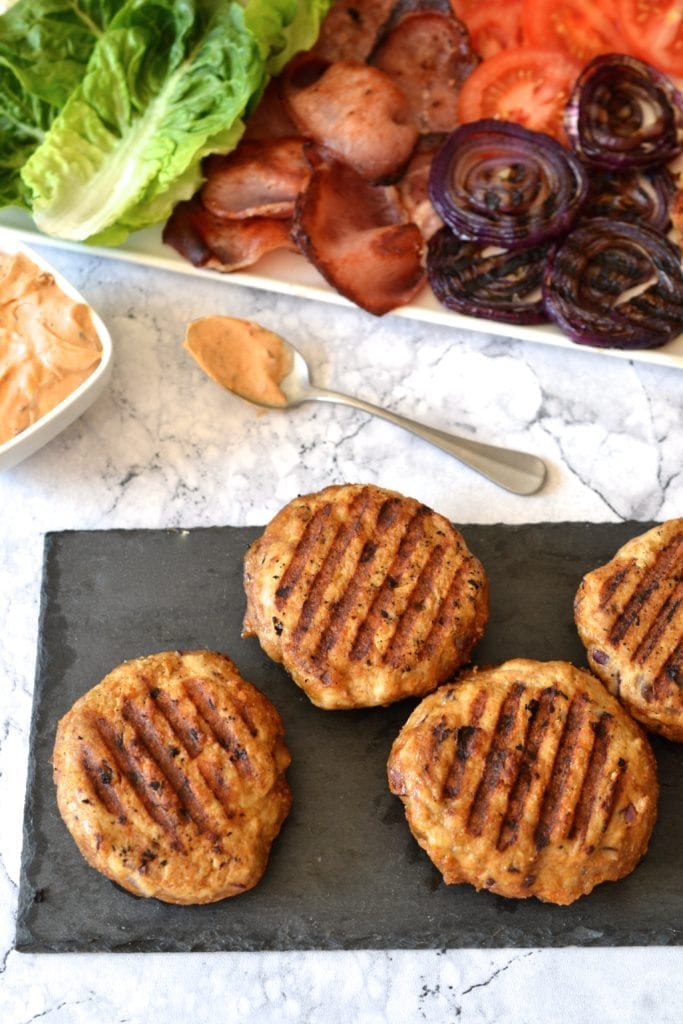 The patties are packed with chopped red onion, garlic, cumin, paprika and coconut aminos to give them a nice spiced flavour. Although cooking these on a BBQ is great, if you don't have access to one, a grill pan works just as well. This is the grill pan I use and I love the charred grill marks it leaves on food, just like a BBQ! If you have a large enough grill, you can cook the pineapple, red onion and chicken patties all at the same time.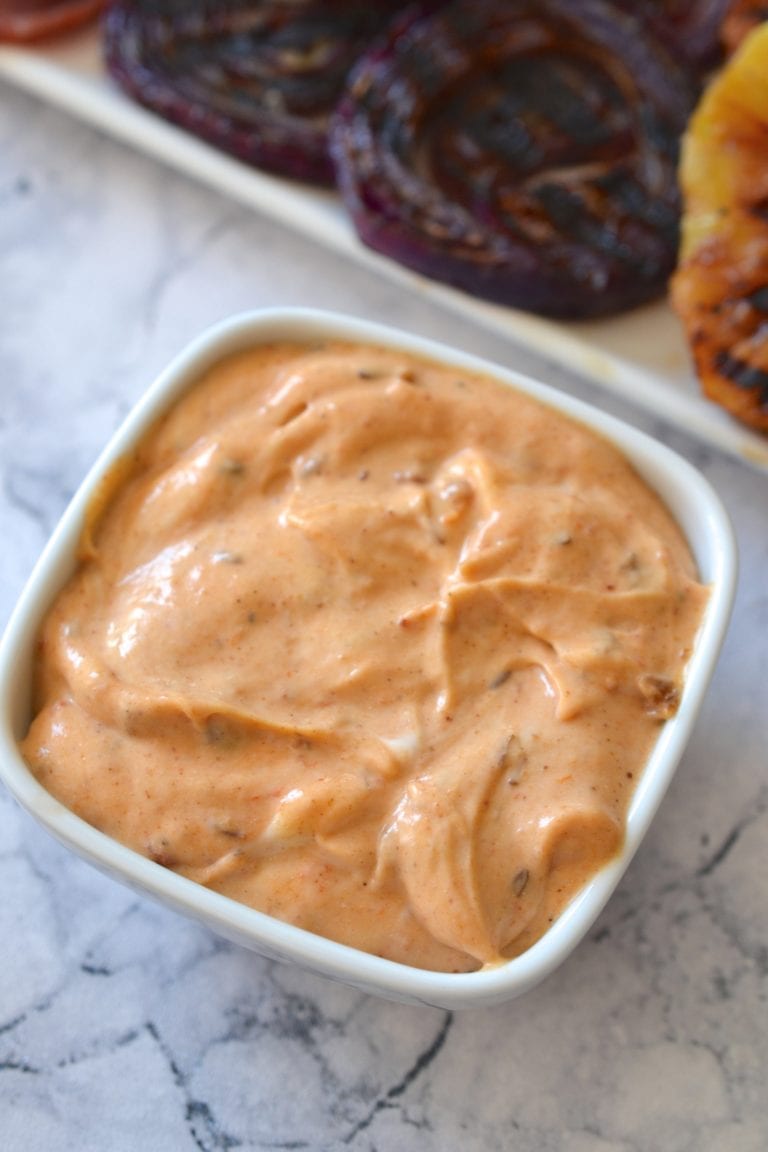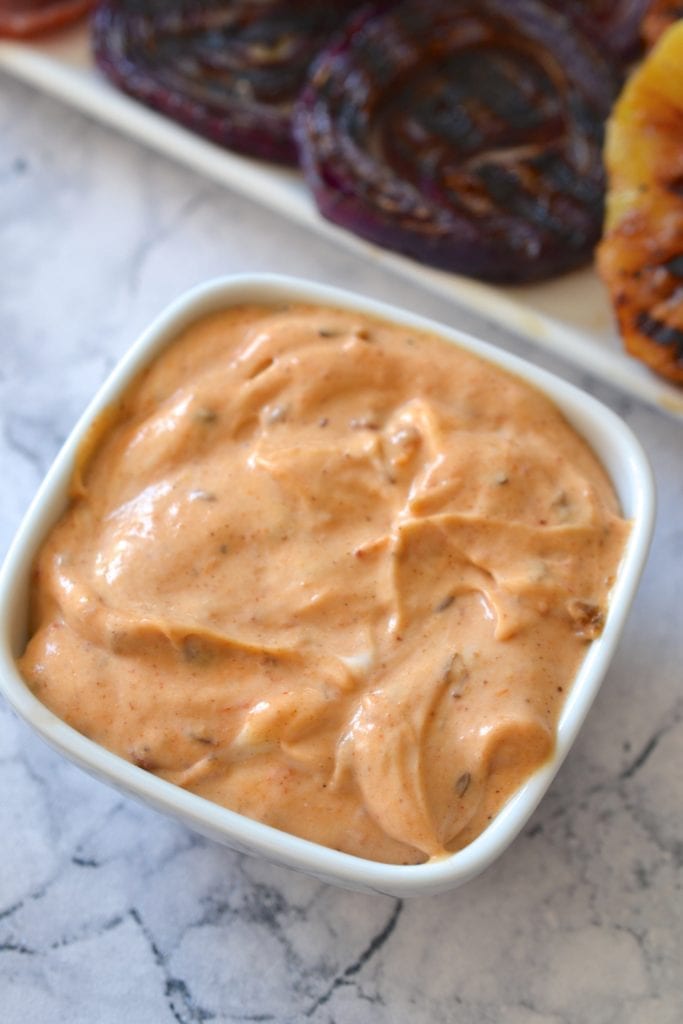 The chipotle mayonnaise is so good I don't think there is a need for any other condiments (put down the ketchup!). It's spicy and has a slight smokey flavour which goes so well with these burgers.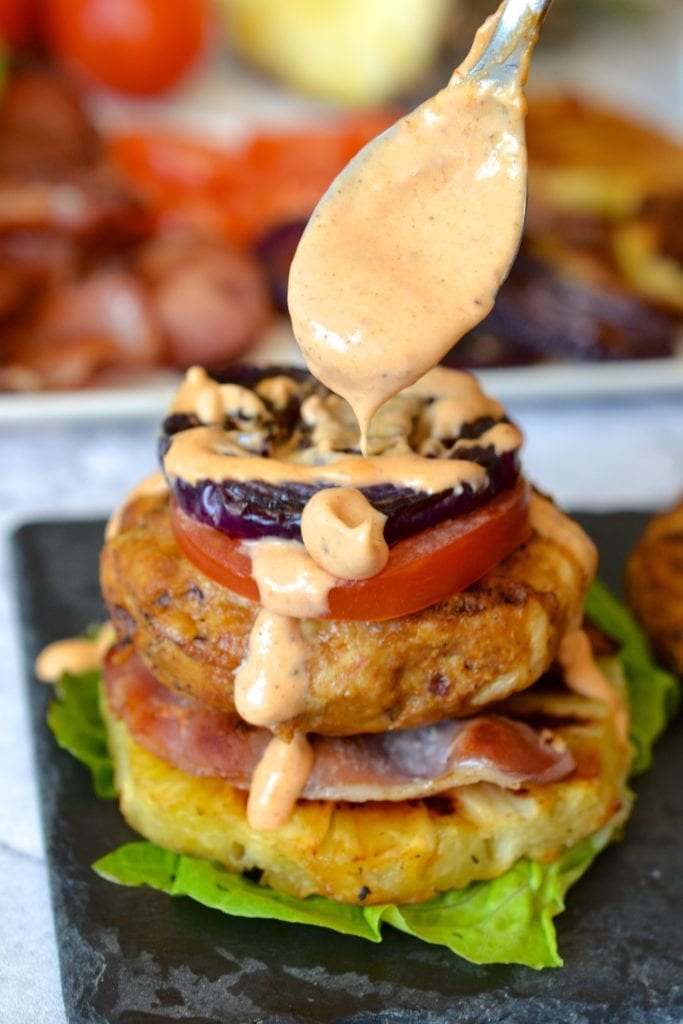 I ended up having enough leftovers to enjoy over a few days. I chopped up the patties and pineapple and tossed everything into a salad and used the chipotle mayo as a dressing, it was so tasty!
Here are a few other burger recipes that you might enjoy: 
---
If you make this recipe let me know in the comment section below, I would love to hear what you think or take a photo and tag me (@everylastbite_) on Instagram, I love seeing your photos!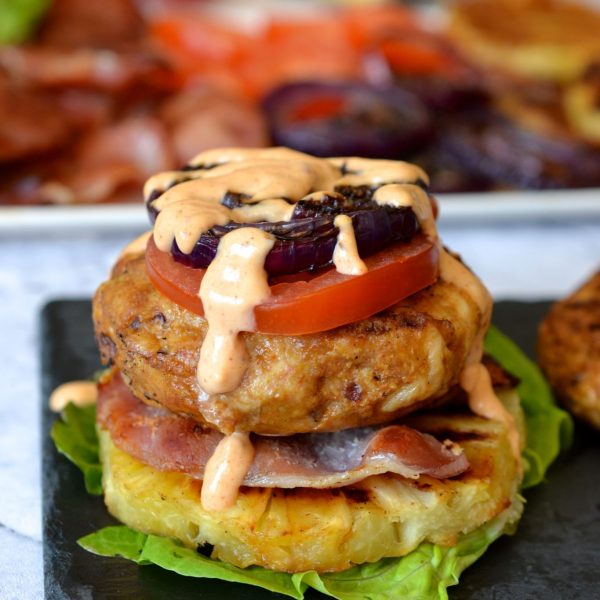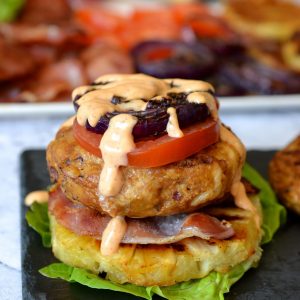 Ingredients
Burgers
400 grams ground chicken (or chicken breasts, pulsed in a food processor)
2 tbsp finely chopped red onion
1 egg
1 tbsp almond flour
1 clove garlic crushed
1/2 tsp smoked paprika
1 tsp cumin
2 tbsp coconut aminos
Chipotle Mayonnaise
1/3 cup mayonnaise
1/2 tsp lime juice
1 tbsp chipotle chili soaked in boiling for 10 minutes and then finely chopped) or chili in adobo
1/4 tsp smoked paprika
Toppings
1/2 pineapple peeled and cut into 6 1-inch slices
1 red onion cut into 1 inch slices
6 lettuce leaves
1 tomato cut into slices
8-10 slices bacon cooked until crisp
Instructions
To prepare the chipotle mayonnaise, combine the ingredients listed in a blender or food processor and blend until completely smooth. Set aside.

In a bowl add all of the ingredients for the burgers and use your hands to combine the mixture and blend it all together. Form the mixture into 4 to 6 patties.

Preheat the barbecue to medium heat or alternatively heat a grill pan on the stove.

Depending on the size of your grill, start with the red onion and pineapple and grill each for approximately 3 minutes per side until soft and grill marks form. Once cooked set aside

Grill the burgers for 4 minutes per side until the are completely cooked through.

To assemble the burgers start with a leaf of lettuce, top with a grilled slice of pineapple, 2 slices of bacon, a chicken patty, slice of tomato and the grilled onion. Drizzle the chipotle mayo overtop before serving.