Slow Cooker Chicken Curry
This Slow Cooker Chicken Curry is packed with tender chunks of chicken and a delicious rich sauce that is soooo good. This is a comforting recipe that you can make in the slow cooker, on the stove top or in the oven. This curry is Whole30, Paleo, Dairy Free, Grain Free, Gluten Free and Specific Carbohydrate Diet Legal.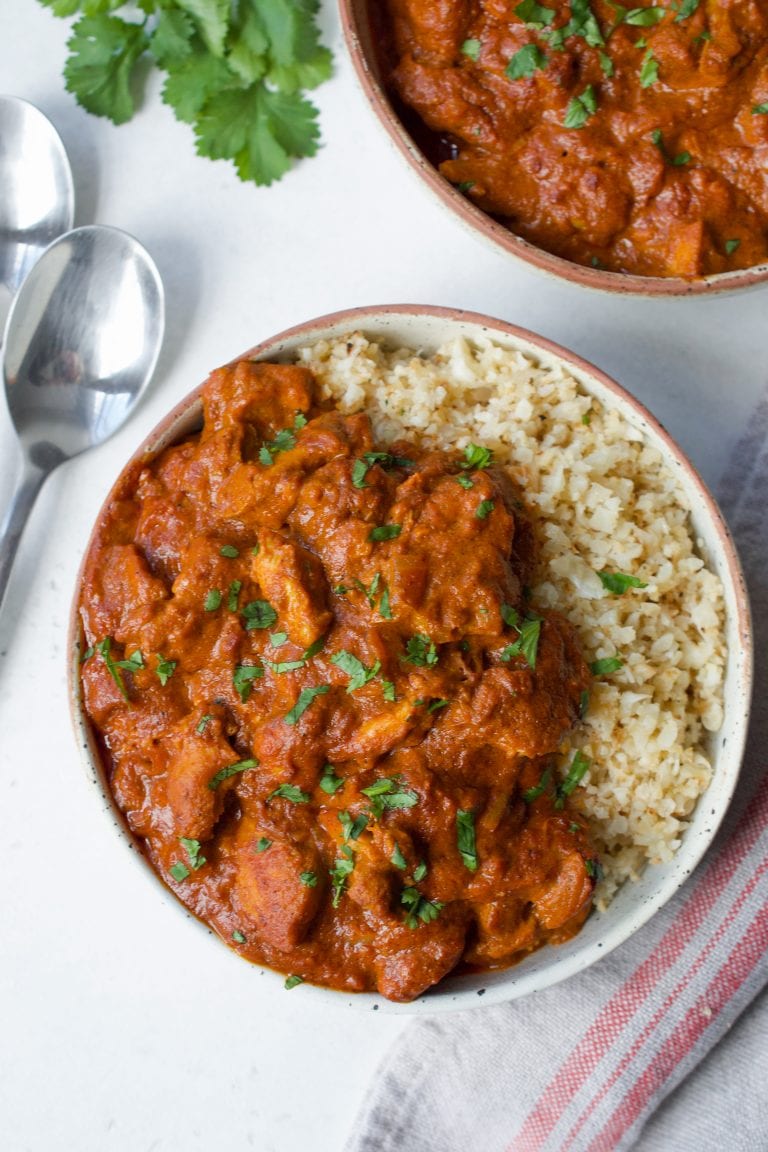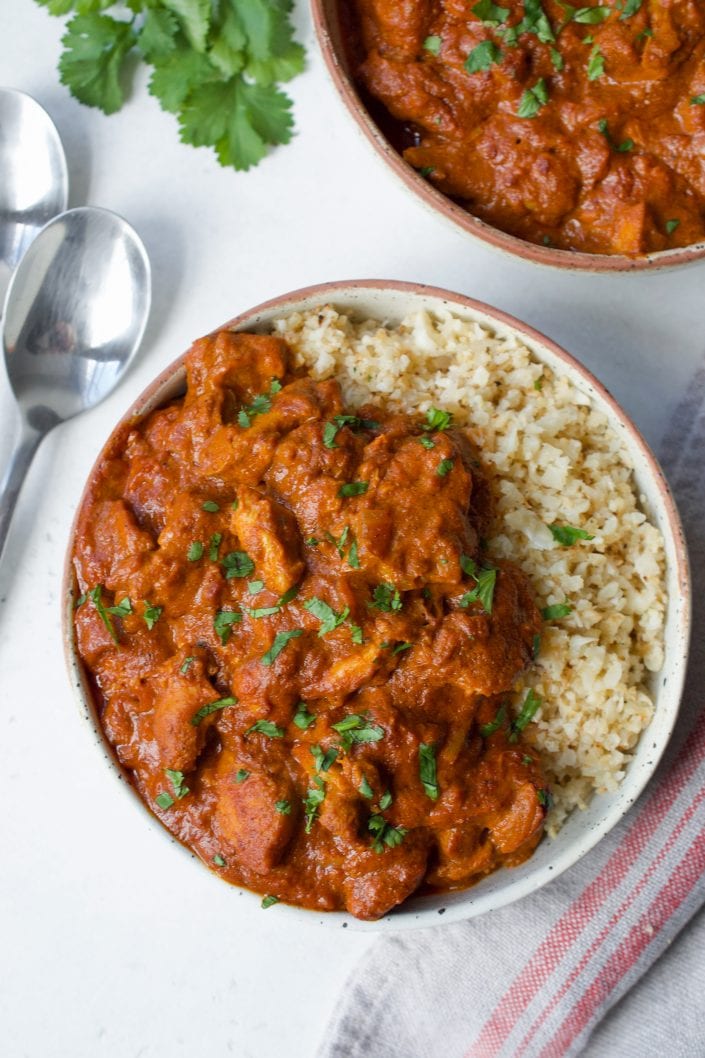 Although I already have a few curry recipes on this site including Lychee Green Curry and Tikka Masala, I wanted to try making a slow cooker chicken curry recipe. I hate being biased, but one bite of the tender chicken and rich sauce and this quickly became my favourite Whole30 curry recipe.
This sauce is amazing. Honestly if I could drink it with a straw I would. Cooking the sauce on low heat really helps to enhance the flavour much more than a fast curry made on the stove top. The sauce is rich, warming and slightly spicy, but if you are a fan of heat you may want to add a bit more chili.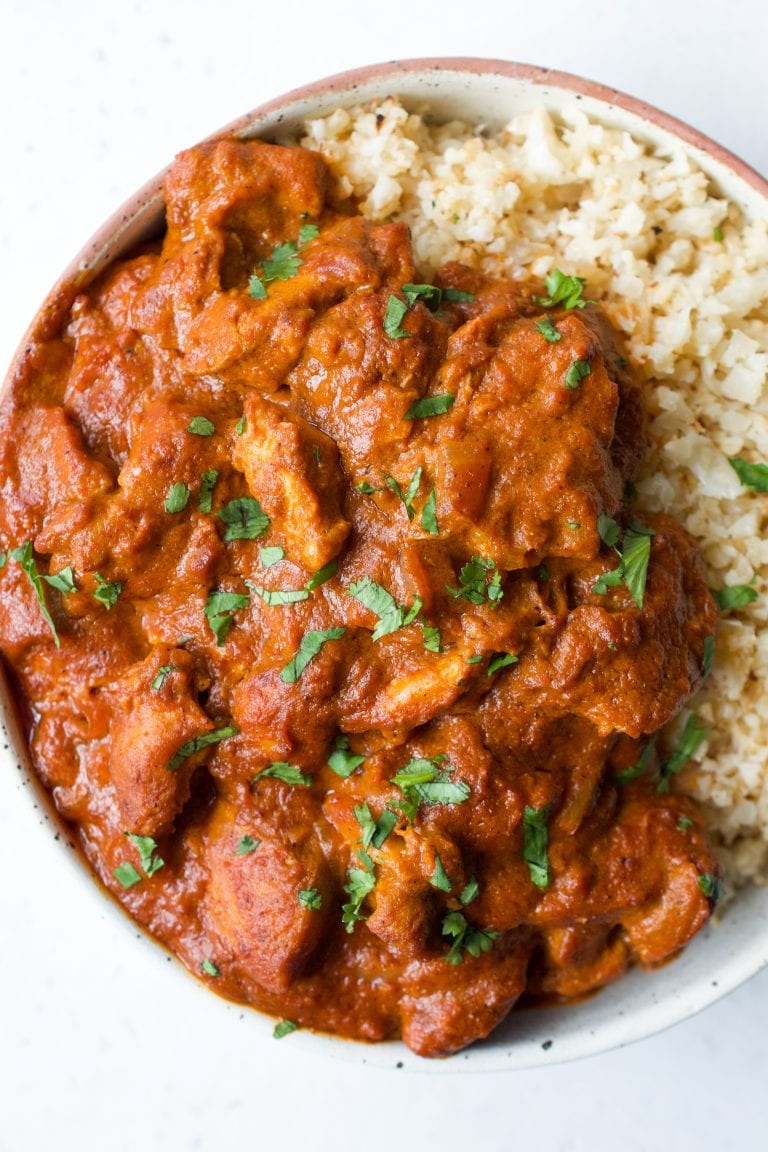 I really like the ease of a slow cooker, but you could also make this dish in the stove or oven. For the stove top I recommend cooking it covered on low heat for an hour and a half to two hours and for the oven 3 hours at 150 degrees Celsius (300 degrees Fahrenheit) should work.
Make sure that you check the curry from time to time and give it a stir to ensure that it doesn't stick to the bottom of the pot.  If needed add in a splash of water to prevent the sauce from burning.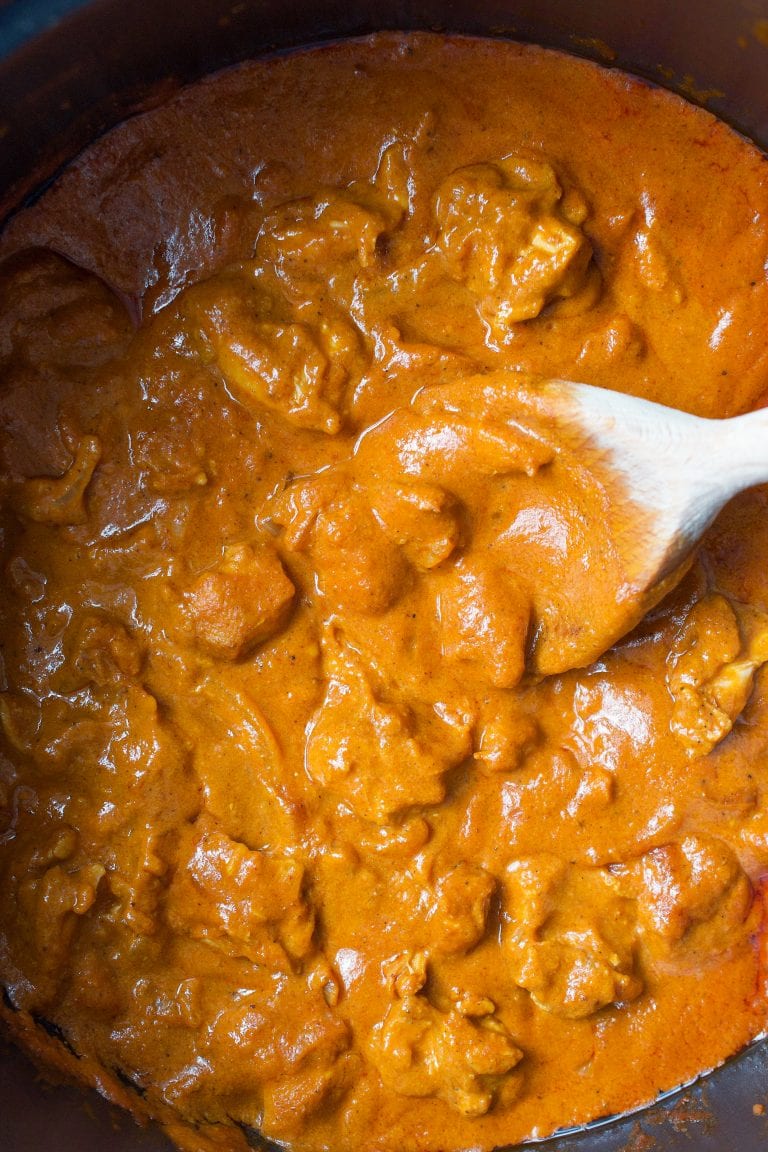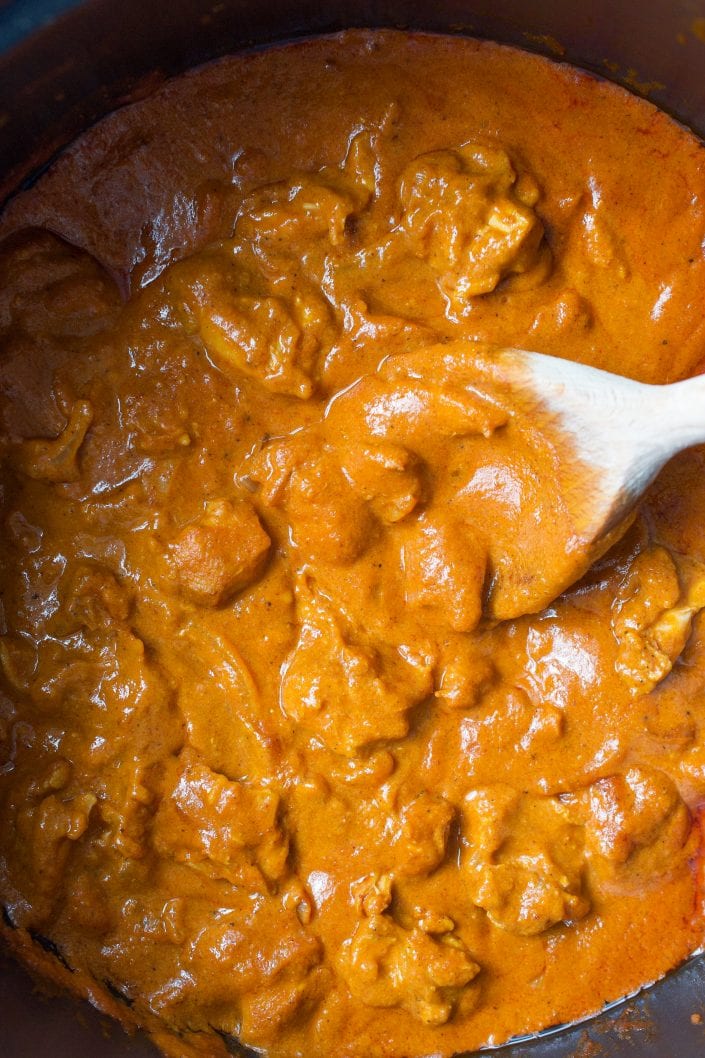 This Whole30 Chicken Curry freezes incredibly well. I highly recommend doubling the recipe and then freezing it in small batches for those nights when you are short on time but are craving a delicious comforting meal.
I recommend serving this curry on cauliflower rice to soak up all of the yummy sauce, you will want to make sure you get every last drop.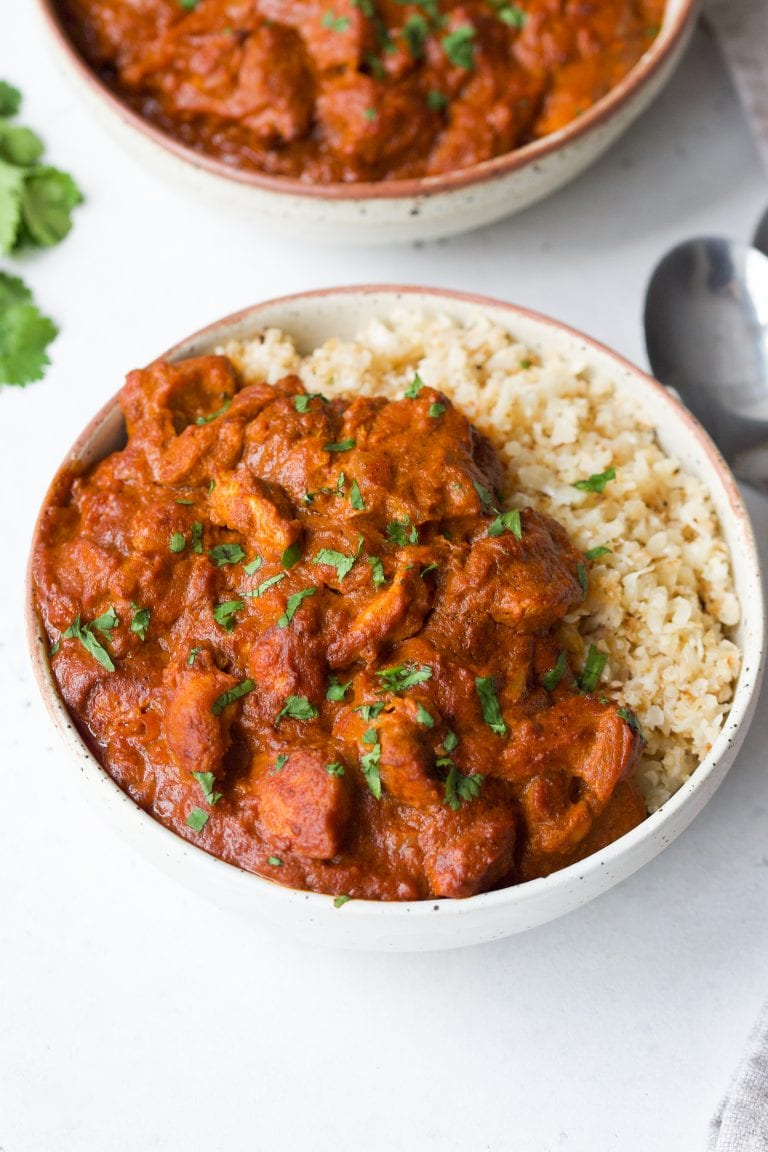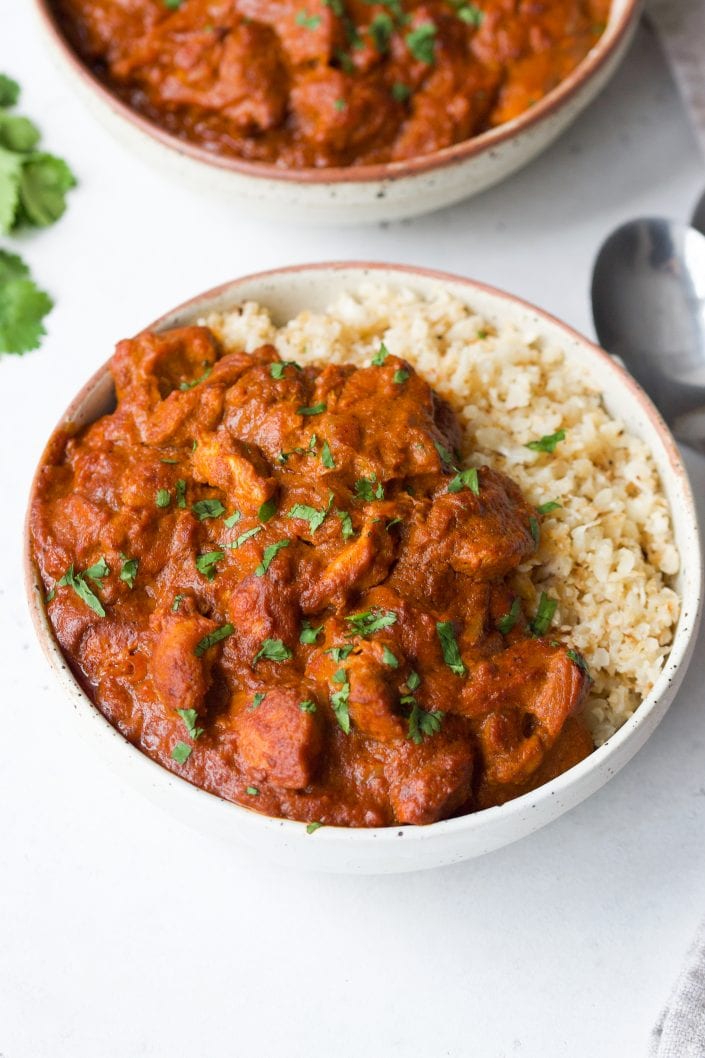 Here are a few more Indian inspired recipes that you might enjoy…
---
If you make this recipe let me know in the comment section below, I would love to hear what you think or take a photo and tag me (@everylastbite_) on Instagram, I love seeing your photos!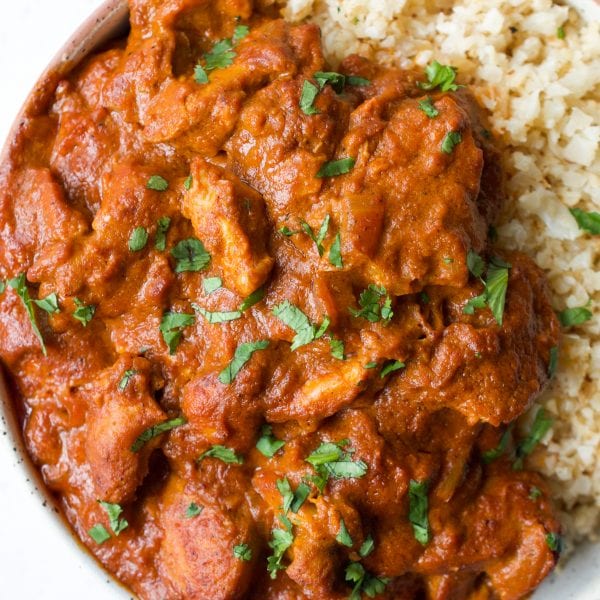 Slow Cooker Chicken Curry
Ingredients
1 tbsp coconut oil or olive oil
1 large onion (2 small) finely diced
1/4 tsp salt
2 cloves garlic crushed
2/3 cup tomato paste
1 can coconut milk (400ml)
2 tsp garam masala
1/2 tsp chili powder
1/2 tsp ground ginger
1 tbsp coriander
1 tbsp curry powder
1/2 cup water
8 boneless skinless chicken thighs cut into small chunks
Instructions
Slow Cooker Instructions
Turn the slow cooker on saute/sear and add the coconut oil, garlic and diced onion and sprinkle with salt. Saute for 4-5 minutes until the onions have begun to soften and turn golden in colour.

Add in the tomato paste and coconut milk and all of the spices and stir so that it is well blended. Before adding in the raw chicken, taste the curry sauce to make sure that you are happy with the flavour, adjust the spices as needed.

Add in the water and diced chicken thighs, turn the slow cooker to low heat and cook for 5 to 6 hours or high heat for 3 to 4 hours.

To serve, sprinkle with fresh parsley and serve on top of a bed of cauliflower rice.
Stovetop/Oven Instructions
Follow above instructions through to step 3. After adding in the water and chicken cook on low heat on the stovetop for an hour and a half to two hours or in the oven for 3 hours at 150 degrees Celsius (300 degrees Fahrenheit). Make sure to check on the curry regularly and stir to ensure that it is not burning on the bottom. Add in a splash of water if necessary.