Tandoori Chicken Burgers
These Indian inspired Tandoori Chicken Burgers are a flavourful way to switch up your usual burger. The tandoori flavoured chicken burgers are served with slices of cucumber, tomatoes, red onion and a delicious ginger and parsley sauce. Serve them in a lettuce bun to make them Whole30, Paleo & Keto!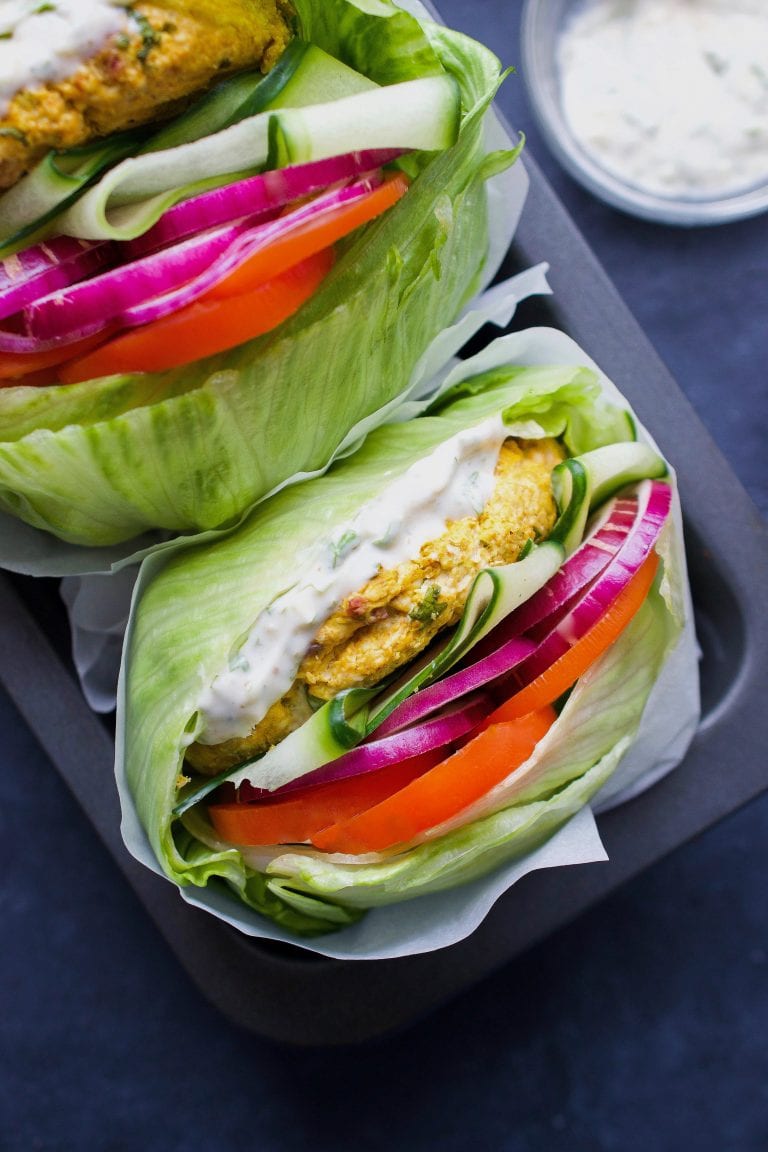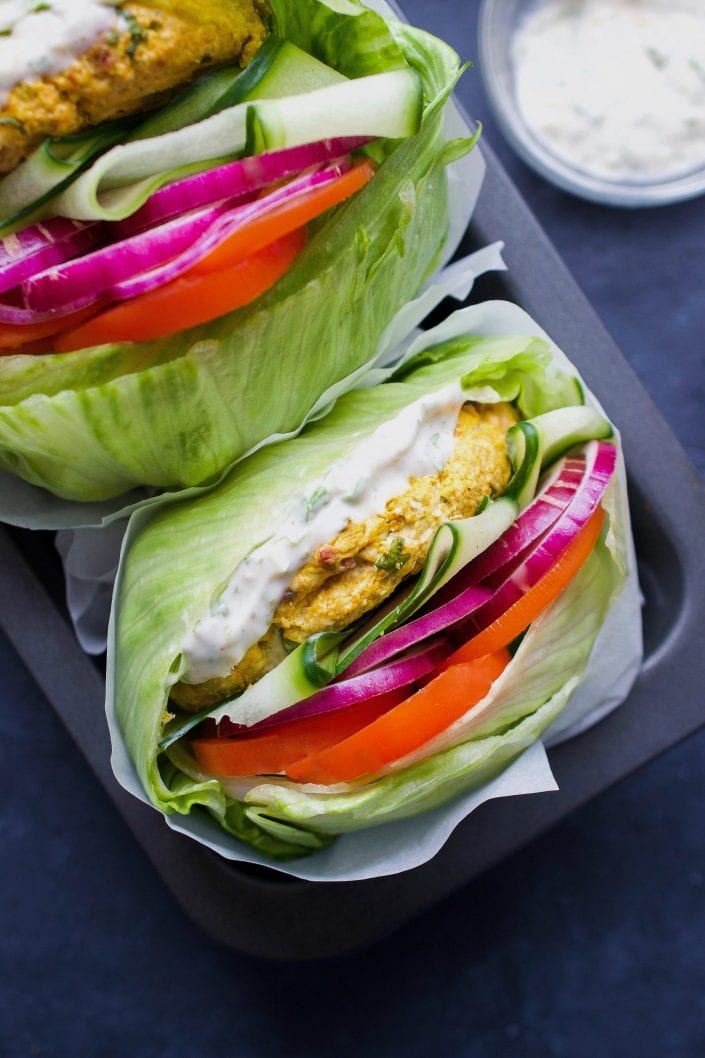 I am all about burgers this time of year and truly think there is no limit to the number of times a week I can eat them (please don't judge). I am always looking for flavourful new ways of making a burger, and wanted to create one with an Indian spin. 
The chicken patties are so so flavourful. They are packed with many of the ingredients of a traditional tandoori sauce which gives them a wonderful richness of flavour plus a kick of spice. Served with a light ginger and parsley sauce and slices of cucumber and tomatoes creates the perfect combination of rich spices and refreshing crunch.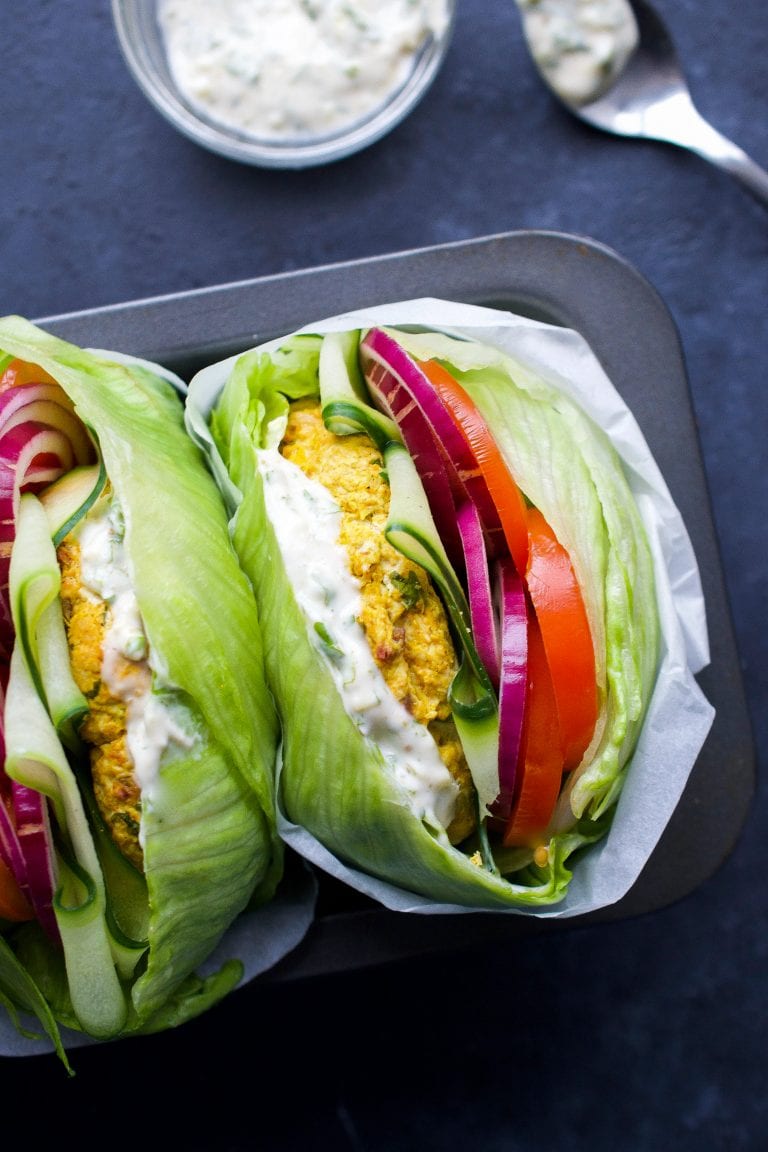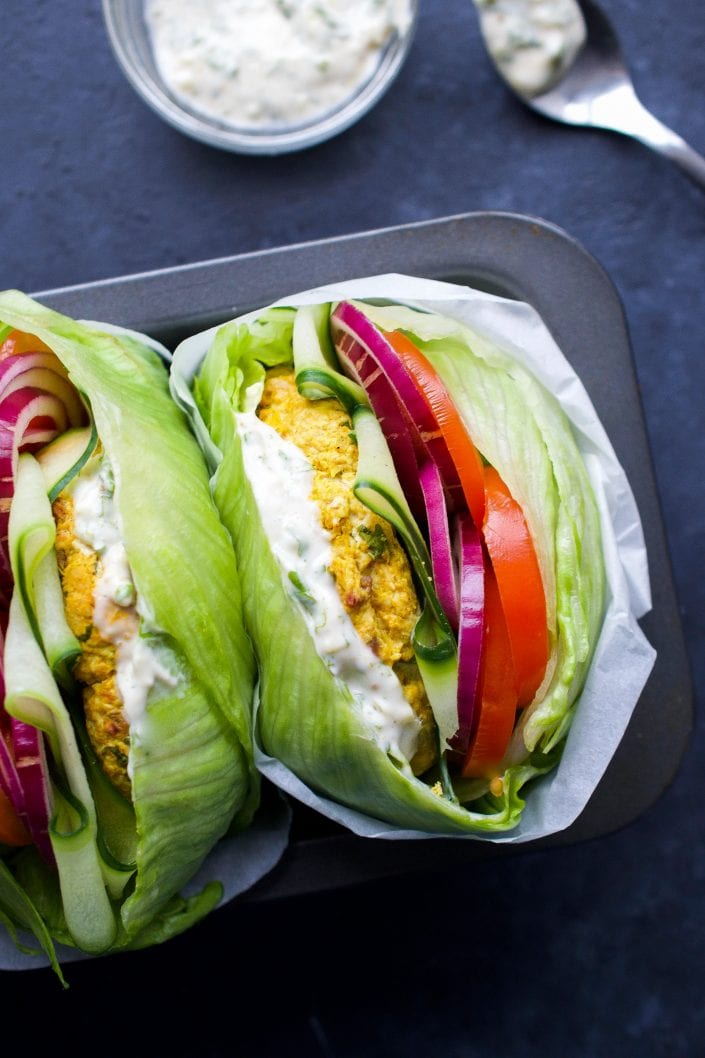 Why you are going to love these Tandoori Chicken Burgers:
So much flavour! I absolutely love the combination of the tandoori spiced chicken patties, zingy sauce and refreshing cucumber. 
These aren't your average chicken patties: While it might seem like a long list of ingredients, these patties are so flavourful you can easily just eat them on their own! 
Not just a burger: While I love serving these burgers in a lettuce bun, you could also serve them as part of a salad with cucumber, red onion and tomato and use the ginger parsley sauce as dressing. 
They are healthy: Using chicken as a base for the burgers means they have less fat and cholesterol than a beef patty. These burgers are Paleo, Whole30, Keto and SCD legal.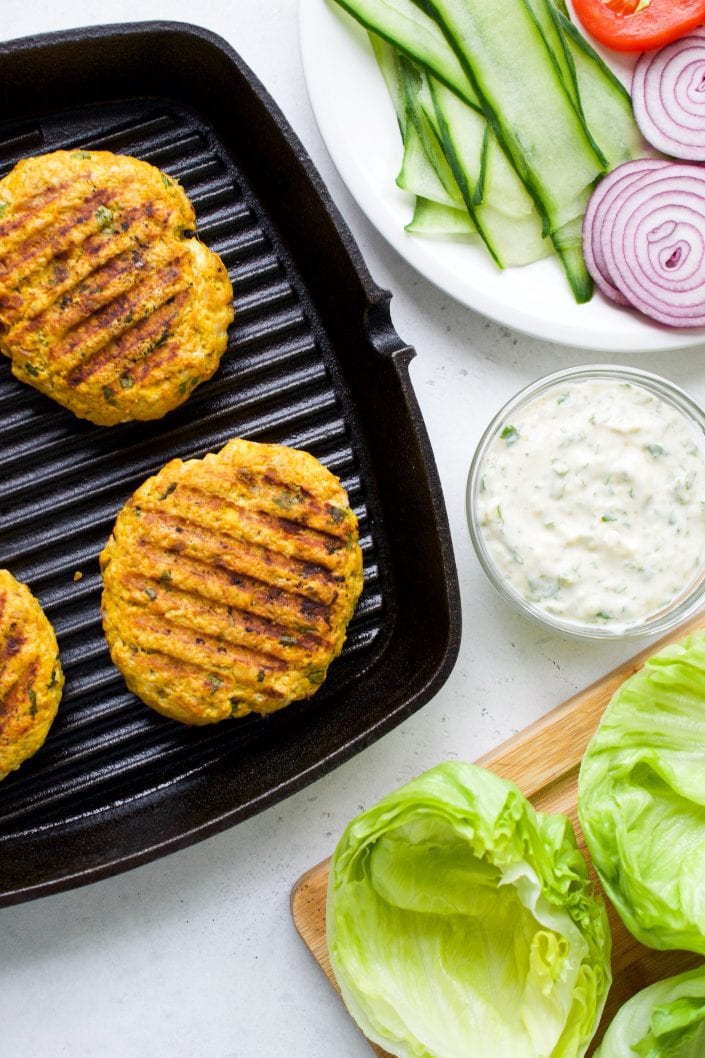 Let's break down what's in these Tandoori Chicken Burgers:
The patties: The chicken patties are really the star of the show and anything but boring! They are packed grated red onion, garlic, ginger, cilantro and lemon plus a combination of tandoori spices (cumin, coriander, paprika and turmeric). You can easily swap the chicken for ground turkey if you prefer. 
The sauce: Tandoori chicken is often served with a yogurt based sauce to help balance out the tandoori spice. This dairy free sauce has a mayonnaise base and is flavoured with fresh mint and parsley, plus ginger and lemon juice.  
Cucumber: Thin slices of cucumber add a wonderful freshness to the burgers. I used a vegetable peeler to cut long thin slices of cucumber, but you can easily cut simple slices of cucumber with a knife, no need to overthink it. 
Red onion & tomato slices: I love the sharp flavour that thin slices of red onion add to a burger. If you aren't a fan of eating raw onion, place the onion slices on the grill for a few minutes to tone down their strong flavour. 
Lettuce bun: I might be bias, but personally I LOVE a lettuce wrapped burger. The lettuce adds a great freshness to the burger while also lightening things up (meaning you won't get that heavy post meal feeling you often get with a traditional burger with a bun).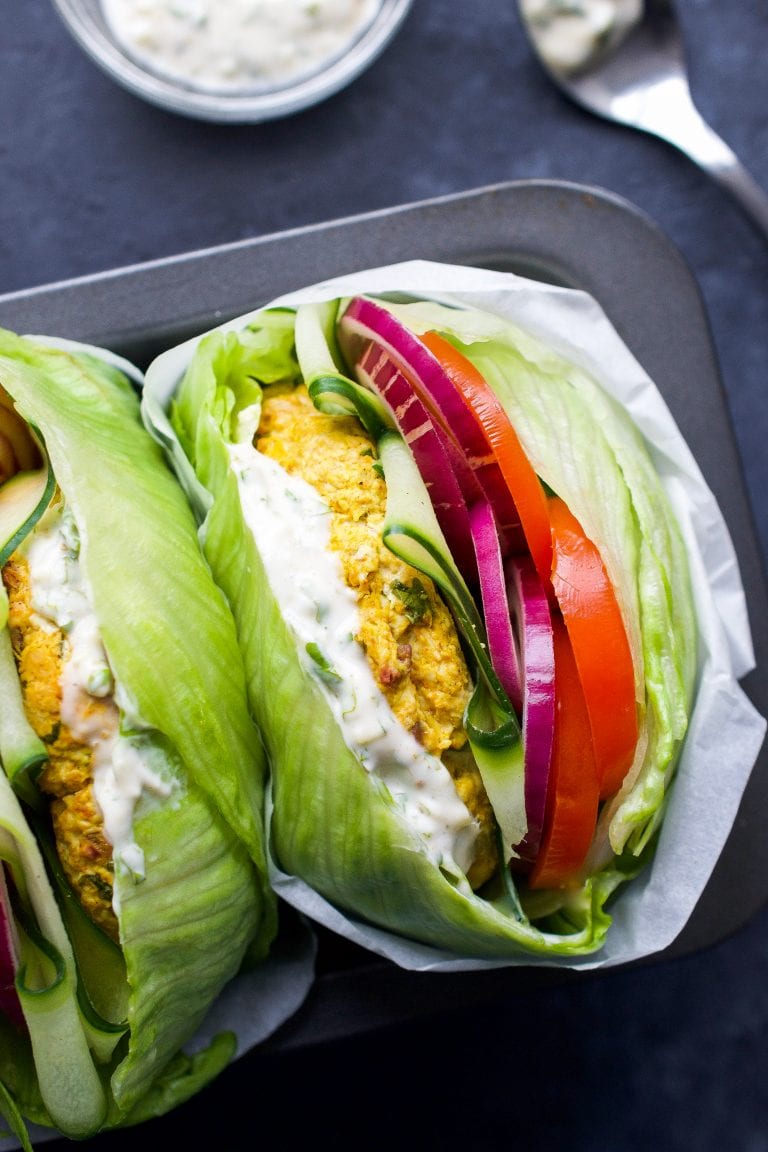 Here are a few other burger recipes that you might enjoy: 
---
If you make this recipe let me know in the comment section below, I would love to hear what you think or take a photo and tag me (@everylastbite_) on Instagram, I love seeing your photos!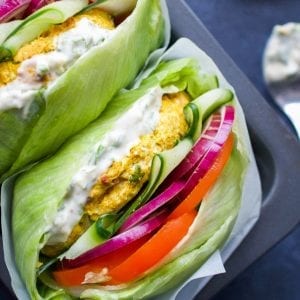 Ingredients
Tandoori Chicken Patties
1 pound ground chicken or turkey
3 cloves garlic minced
1/4 cup chopped cilantro
1 1/2 tbsp grated red onion
1 tbsp grated ginger
1 1/2 tbsp lemon juice
1/2 tsp lemon zest
1/2 tsp cayenne pepper
1 tsp cumin
1 tsp coriander
1 tsp paprika
1 tsp turmeric
1/2 tsp salt
1/2 tsp pepper
Ginger & Parsley Sauce
1/4 cup mayonnaise
1 tsp lemon juice
1/2 tbsp chopped mint
1 tbsp chopped parsley
1 tsp finely chopped ginger
1/4 tsp cumin
For Serving
1 head iceberg lettuce
1 large tomato thinly sliced
1/2 red onion thinly sliced
1/2 cucumber cut into thin slices or ribbons
Instructions
In a bowl combine all of the ingredients for the tandoori chicken patties and use your hands to mix everything together so the spies are well incorporated in the meat. Divide the meat into 4 portions and form into patties.

Heat a barbecue or grill pan on medium high heat. Grill the patties for 5 minutes per side until cooked through.

While the patties are cooking, in a bowl combine all of the ingredients for the sauce and stir until well mixed. Set aside.

Cut the iceberg lettuce into quarters and separate each quarter into two halves.

To assemble the burgers spread the sauce on the inside of the lettuce. Top with 2 slices of red onion, sliced tomato and cucumber and place a tandoori patty on top. Place the other half of the lettuce leaf on top like a sandwich and wrap the burger in parchment paper to make it easier to eat.