Pulled Brisket Sliders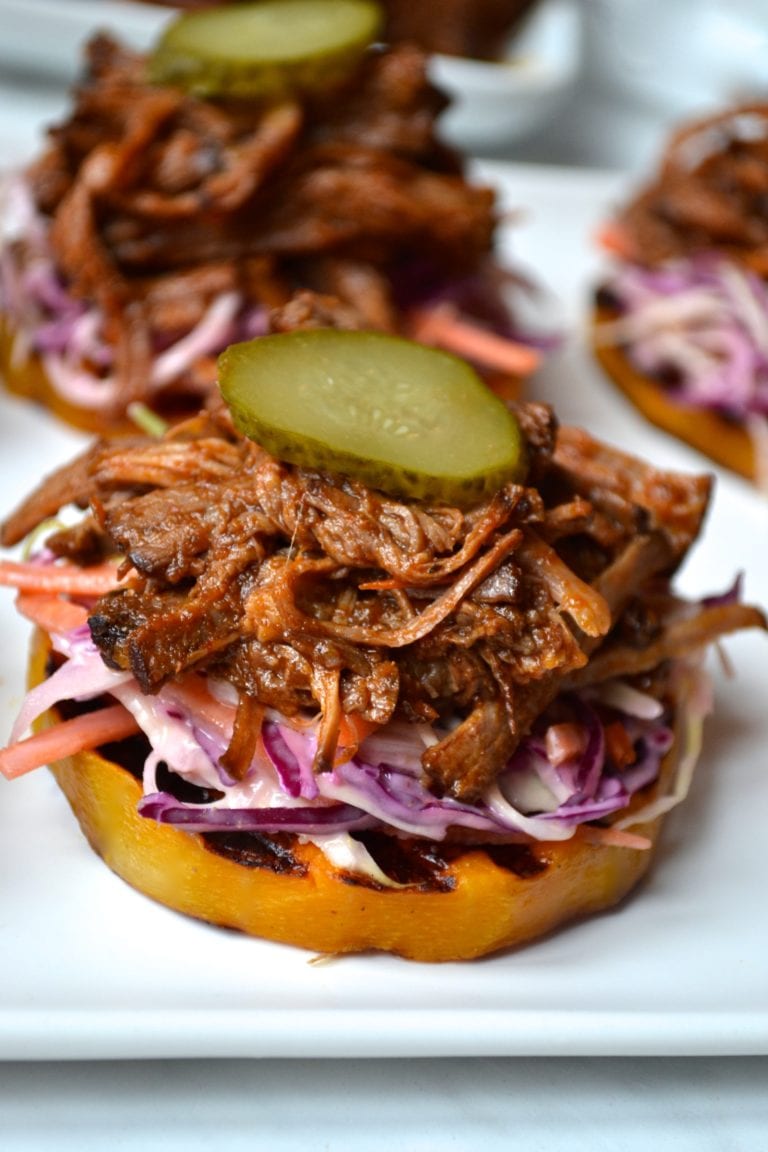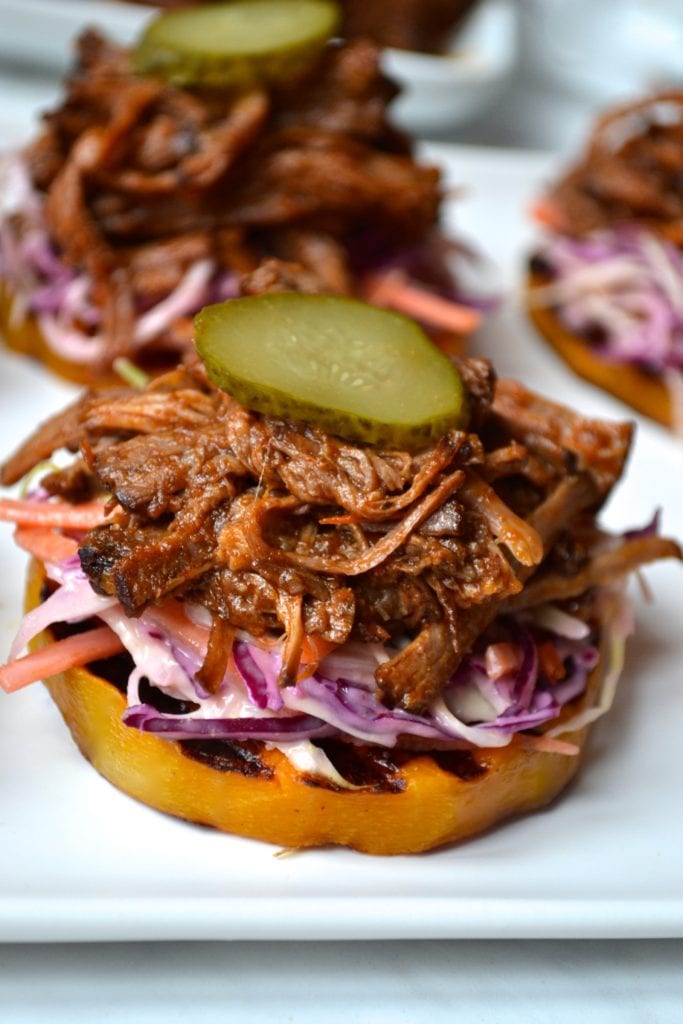 I am sooo excited to share this recipe with you guys. This brisket is RIDICULOUS! There is something about a piece of meat cooked so long that it literally falls apart with a fork, that makes me weak at the knees.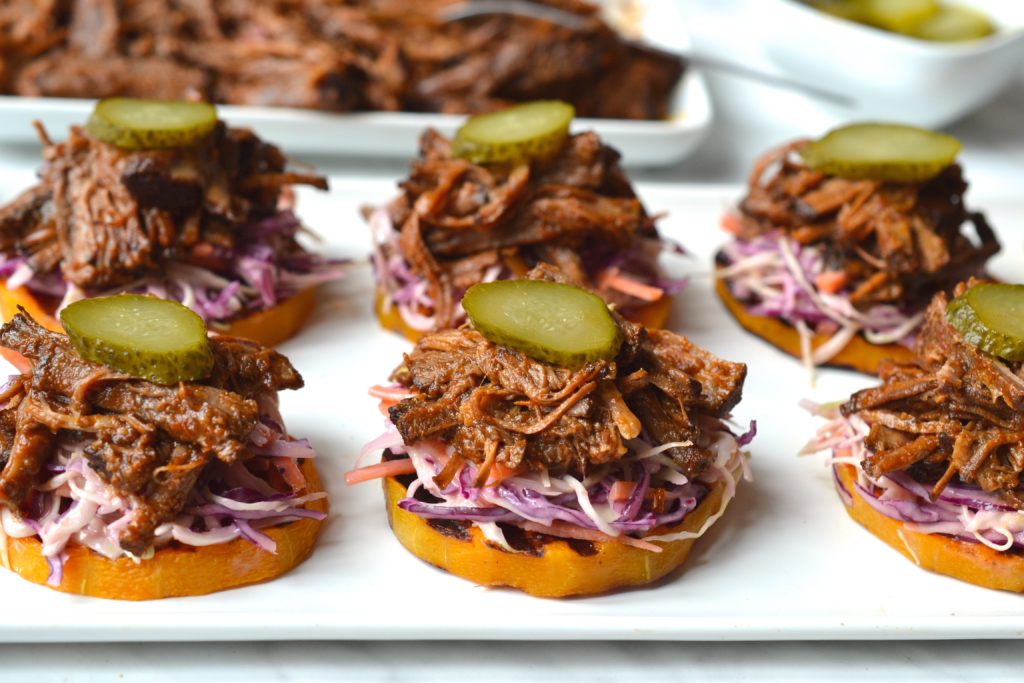 So let me break this down for you. First off is the brisket, which is cooked for 8 hours in the slow cooker in a spicy chipotle and tomato sauce. It becomes insanely tender and falls apart at the touch of a fork. The sauce is spicy with a combination of tomatoes, chipotle peppers, cumin, smoked paprika and coriander and its sooo flavourful. Alternatively you can cook the brisket in the oven for 7 to 8 hours at 150 degrees Celsius (300 degrees Fahrenheit).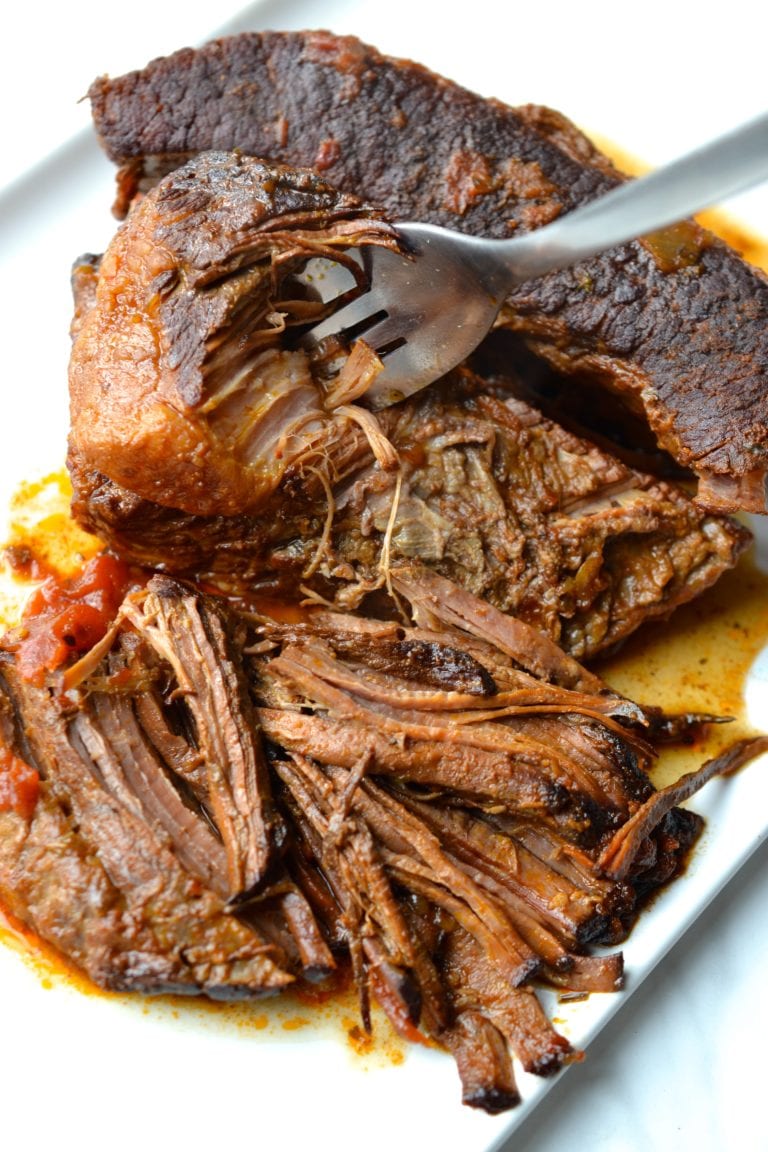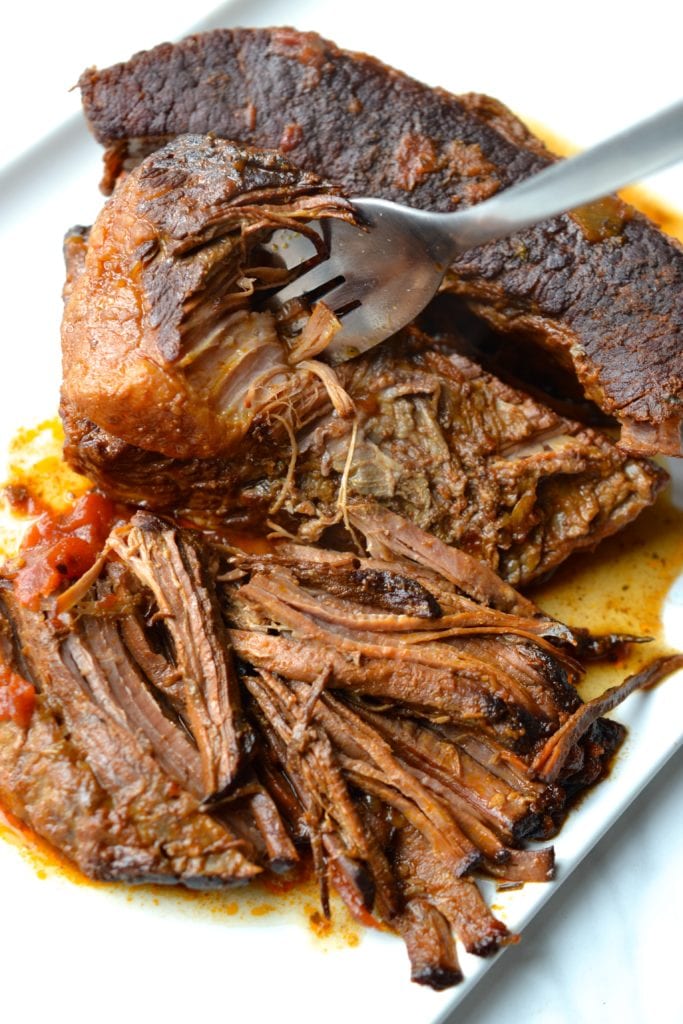 After 8 hours the brisket is shredded into small pieces and then served on top of a grilled slice of butternut squash, with creamy coleslaw and a pickle. I love using butternut squash as a base for dishes like this, because it adds great flavour and is sturdy enough to hold the ingredients when picked up with one hand.

I served these sliders to friends one night, and then had a deconstructed version of the recipe for dinner the following night.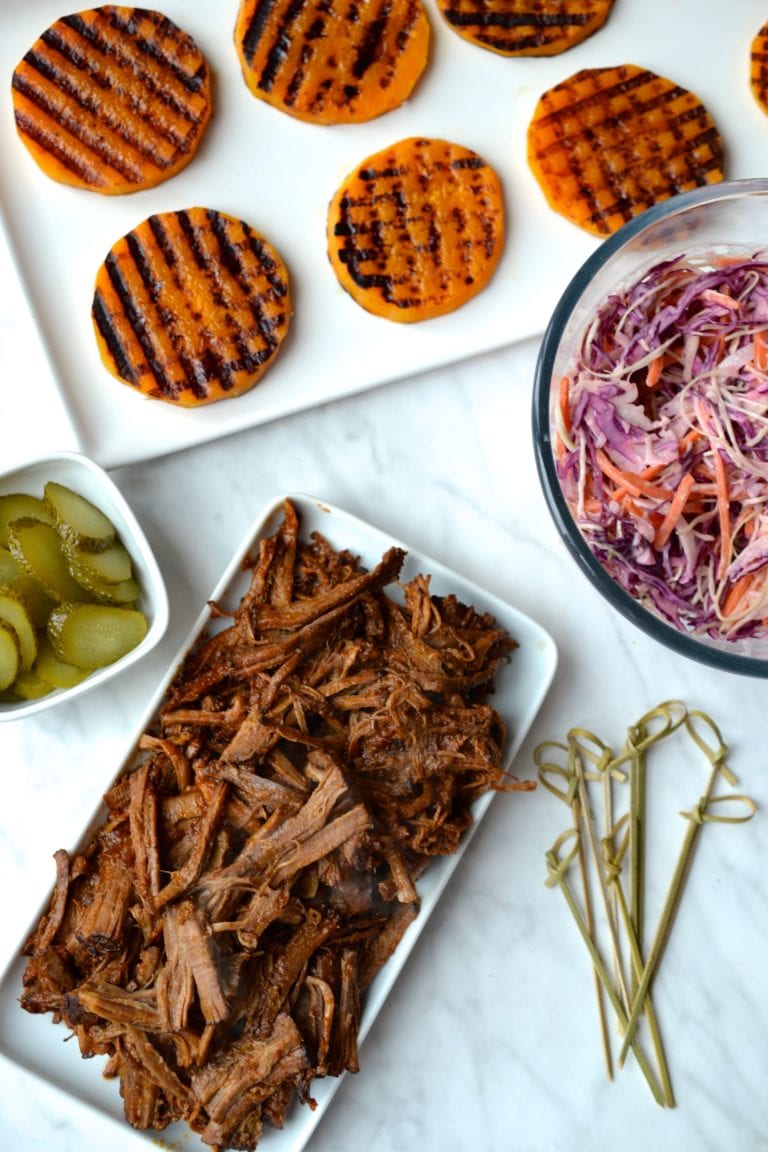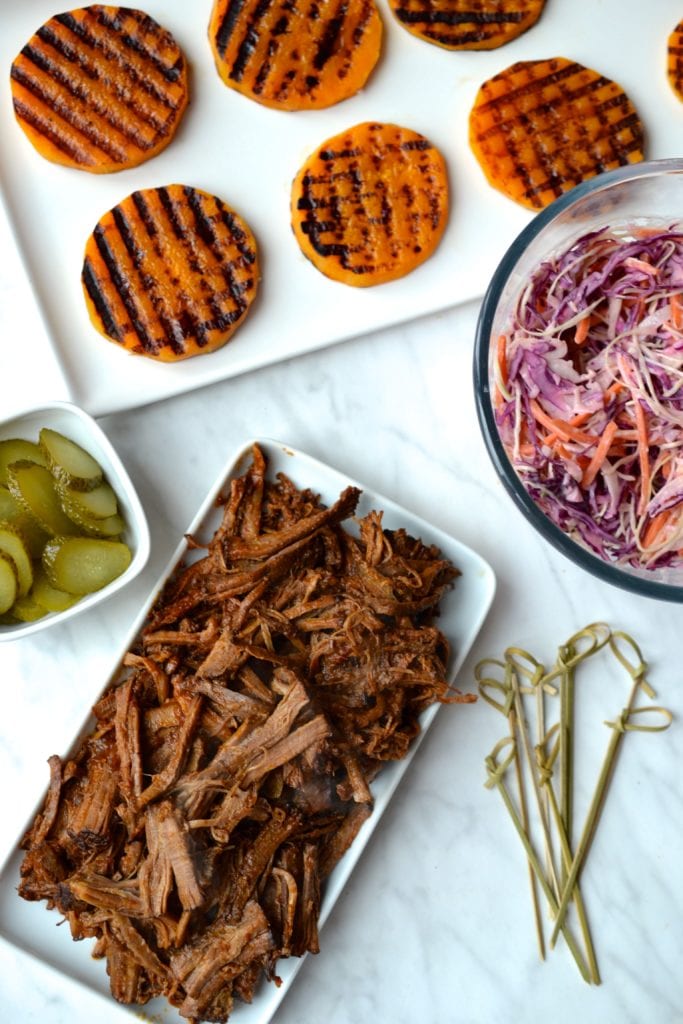 If you aren't a fan of sliders you can serve the shredded brisket with a side of oven roasted cubed butternut squash, coleslaw and pickles as a main course.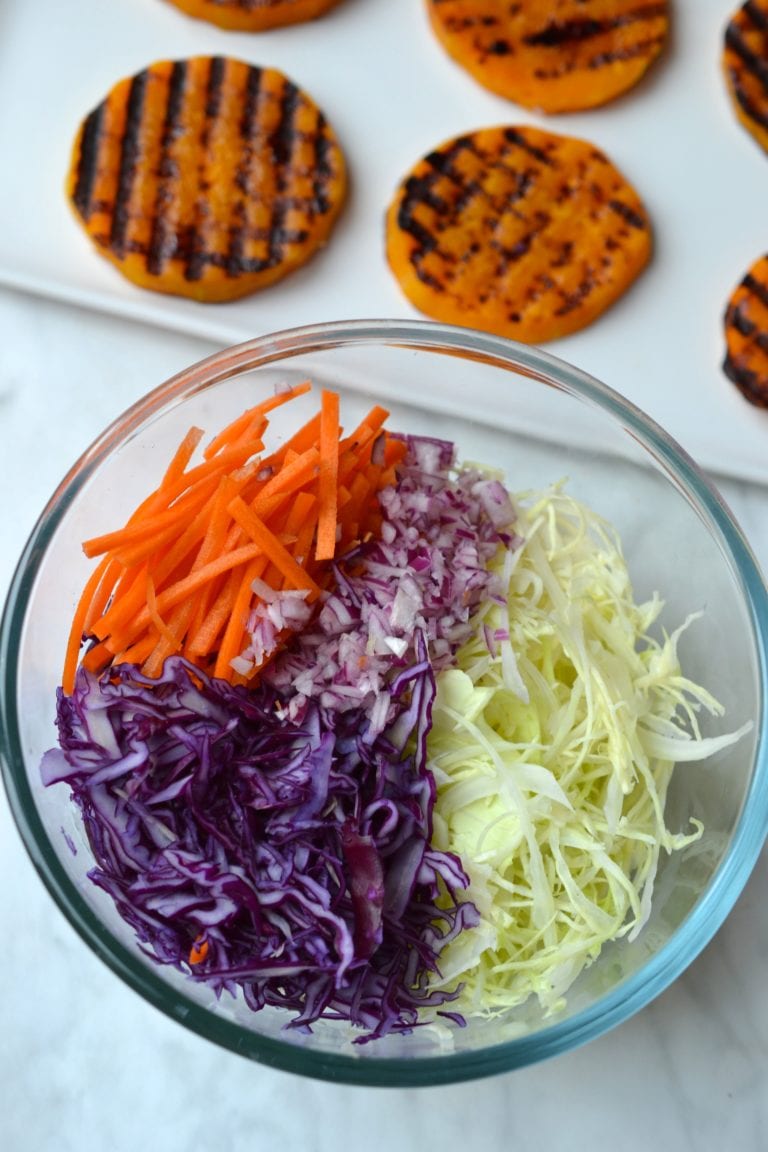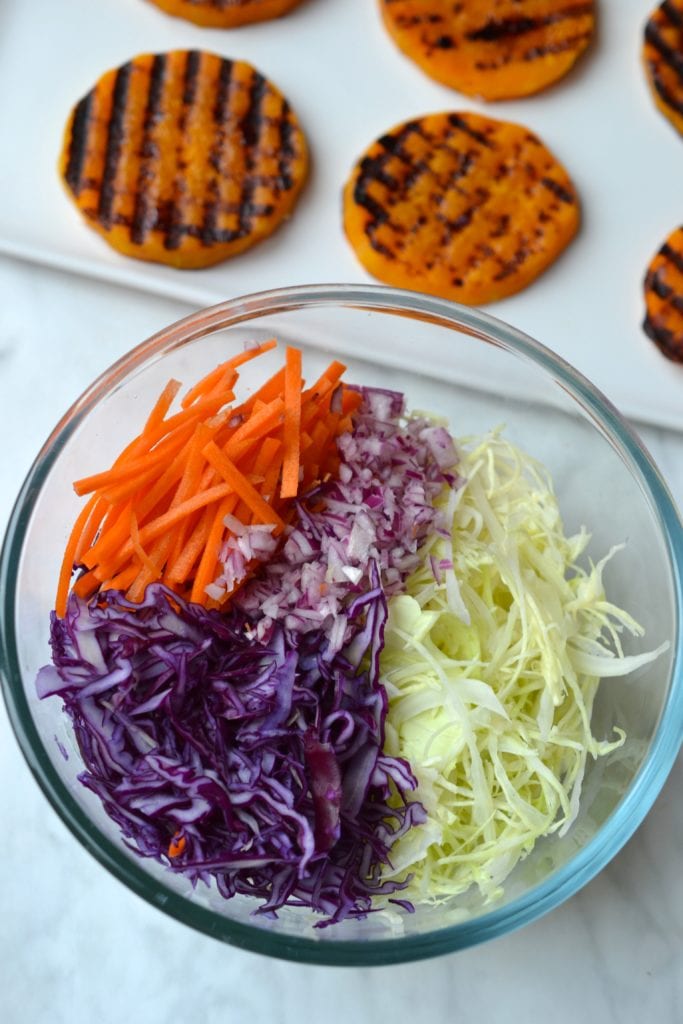 The deconstructed version would be a great casual dinner to serve to friends. No matter which way you enjoy this, the flavours are sooooo good that I guarantee everyone will love it.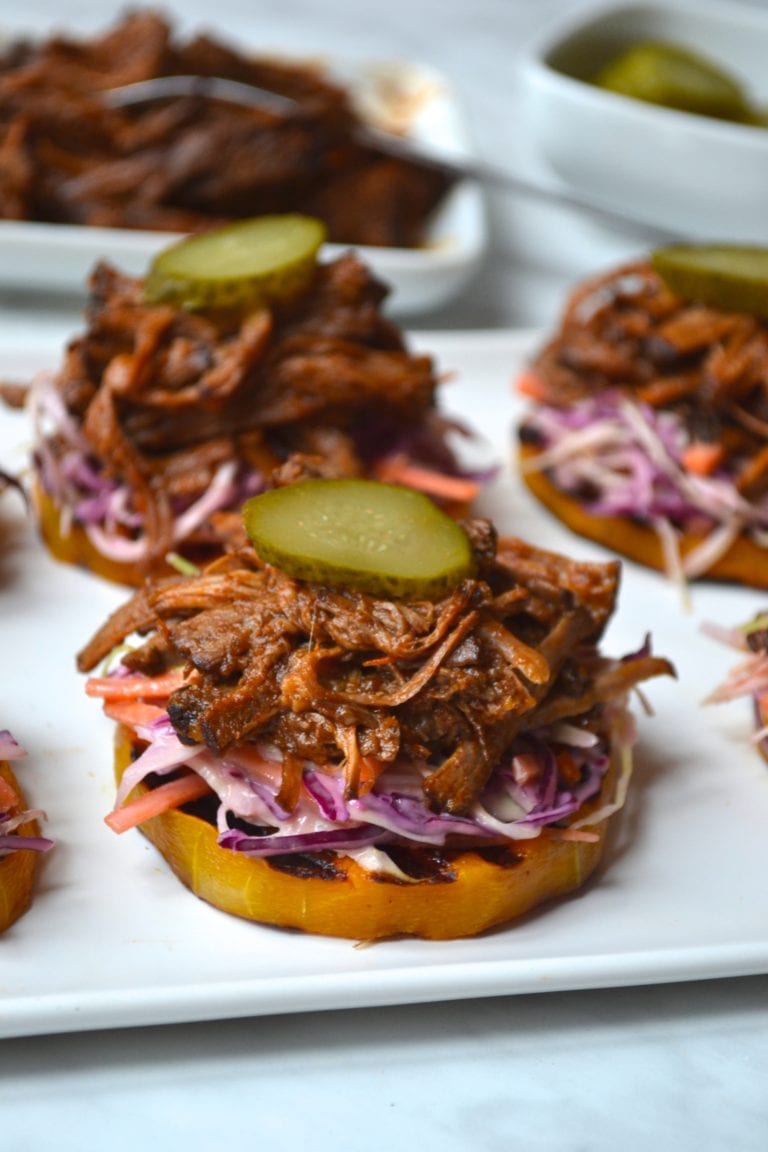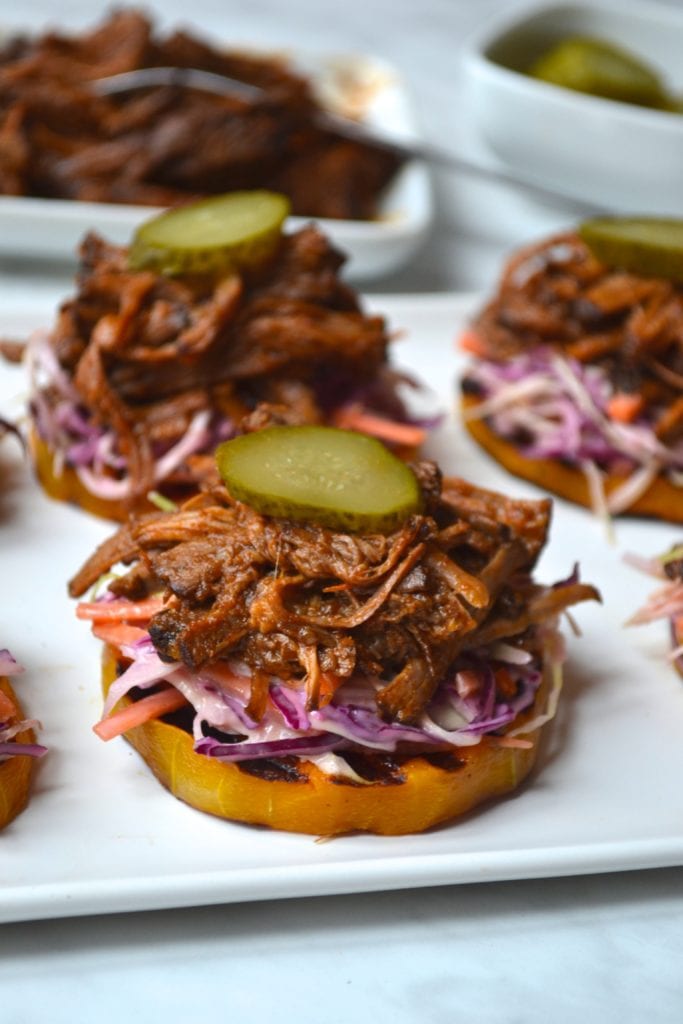 If you make this recipe let me know in the comment section below, I would love to hear what you think or take a photo and tag me (@everylastbite_) on Instagram, I love seeing your photos!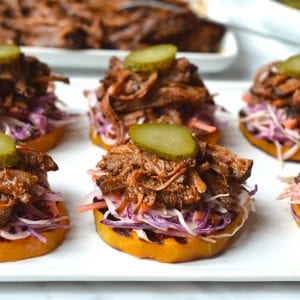 Pulled Brisket Sliders
Ingredients
Brisket
700 g brisket
1 tbsp oil
1 onion chopped
4 cloves garlic finely chopped
2 cups chopped fresh tomatoes
2-3 chipotle peppers soaked in hot water for 30 minutes and then roughly chopped
3 tbsp apple cider vinegar
1 tbsp cumin
1 tbsp coriander
1/2 tbsp oregano
1 tsp smoked paprika
1 large medjool date
1 cup beef stock
Coleslaw
2 cups shredded green cabbage
2 cups shredded purple cabbage
1 cup shredded carrots
1/2 red onion finely diced
2 tbsp apple cider vinegar
1/4 tsp sea salt
1/2 tsp black pepper
1/2 tsp dry mustard
1/2 cup mayonnaise
Sliders
1 Butternut Squash peeled
1 tsp olive oil
3 to 4 Pickles sliced
Instructions
Put the oil in a pot on high heat and sear the brisket for approximately 3 minutes per side until browned. Once seared on all sides remove from the pot and place in the slow cooker.

Lower the heat on the stove to medium and add the garlic and onion. Cook for 2 to 3 minutes before adding in the the tomatoes, chopped chipotles, date and vinegar. Let the mixture simmer for 5 minutes before adding in the cumin, coriander, oregano, paprika and beef stock. Transfer to a blender and blend for 2 minutes until smooth.

Pour the sauce over the brisket in the slow cooker. Cover and cook for approximately 9 hours on low heat.

Once the brisket is done, remove from the slow cooker. Transfer the liquid from the pot into a blender and blend until smooth. Using 2 forks shred the brisket into pieces and then spoon the sauce over top and toss to coat.

To prepare the coleslaw add the shredded cabbage, carrots and red onion to a bowl. In a separate bowl whisk together the vinegar, salt and pepper, mustard and mayonnaise. Toss the slaw with the dressing before serving.

To prepare the butternut squash rounds, cut the peeled squash into approximately ½ inch thick rounds. Lightly brush the circles with olive oil. Heat a grill to medium high heat and grill the butternut squash for approximately 3-4 minutes per side until grill marks appear and the squash is slightly tender. Alternatively turn on the oven to 200 degrees celsius (390 degrees Fahrenheit) and lay the slices on a baking sheet, bake them for 20 minutes, flipping half way through cooking to ensure both sides are golden in colour.

To assemble the sliders, top each butternut squash round with the shredded brisket, coleslaw and a slice of pickle.