Balsamic Caramelized Onion Pork Chops
These Balsamic Caramelized Onion Pork Chops are a great 30 minute one-pan dish that makes them perfect for weeknight dinner. Pork chops are seared and then coated in a rich balsamic sauce that's packed with sweet caramelized onions. These pork chops are Paleo, Whole30, Keto and SCD.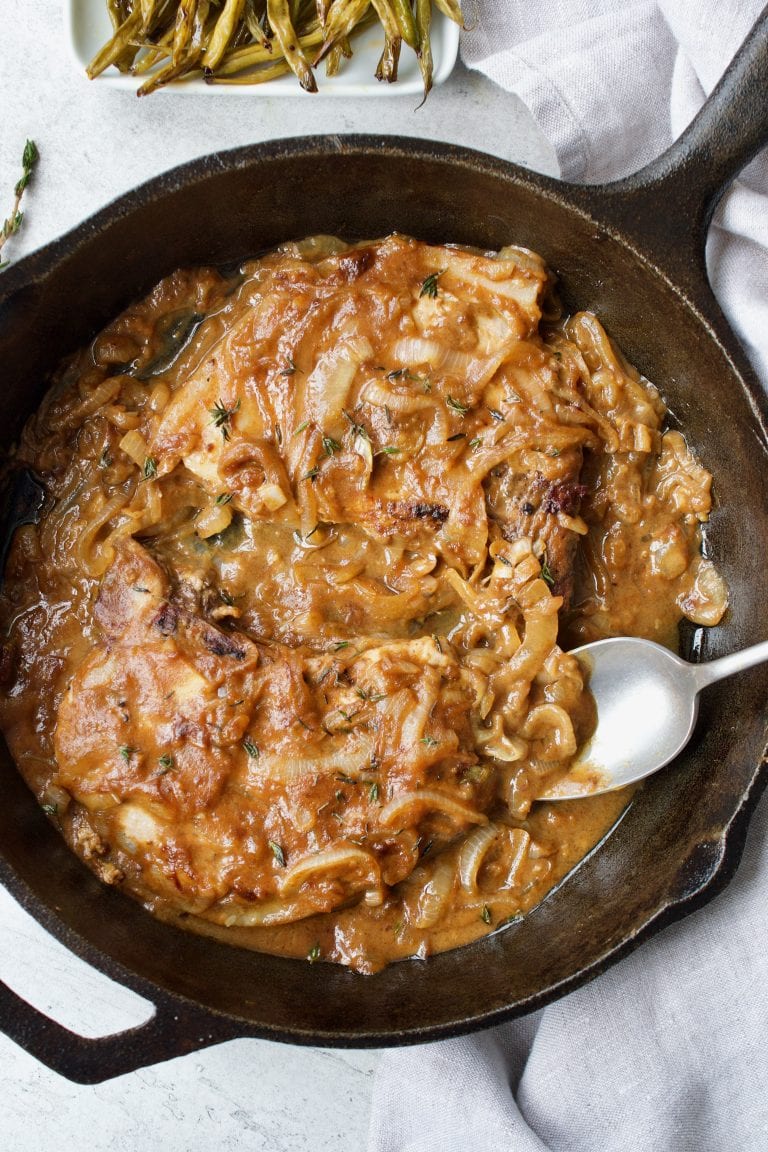 I will be the first to admit that this isn't exactly a pretty looking dish, but when it's this flavour and easy to make, who cares! Pork chops are a fantastic weeknight dinner alternative to chicken. Not only are they incredibly affordable but they are also quick to prepare and relatively foolproof. I love the rich flavours in this simple sauce that's made with just a handful of ingredients. I would definitely recommend serving these balsamic caramelized onion pork chops with a side of cauliflower mash to soak up any excess sauce.
Tips for making these Balsamic Caramelized Onion Pork Chops:
Start by patting the pork chops dry on both sides, this will help them to develop a golden crust when they are seared. 
Seasoning the pork chops with salt and pepper before cooking ensures that they are evenly seasoned rather than just seasoning the sauce. 
When searing the pork chops, don't move them around once you have placed them in the pan, this will help them to become golden in colour
Play it safe and use a meat thermometer, I find this to be the most fail safe way to know when the pork chop is perfectly done.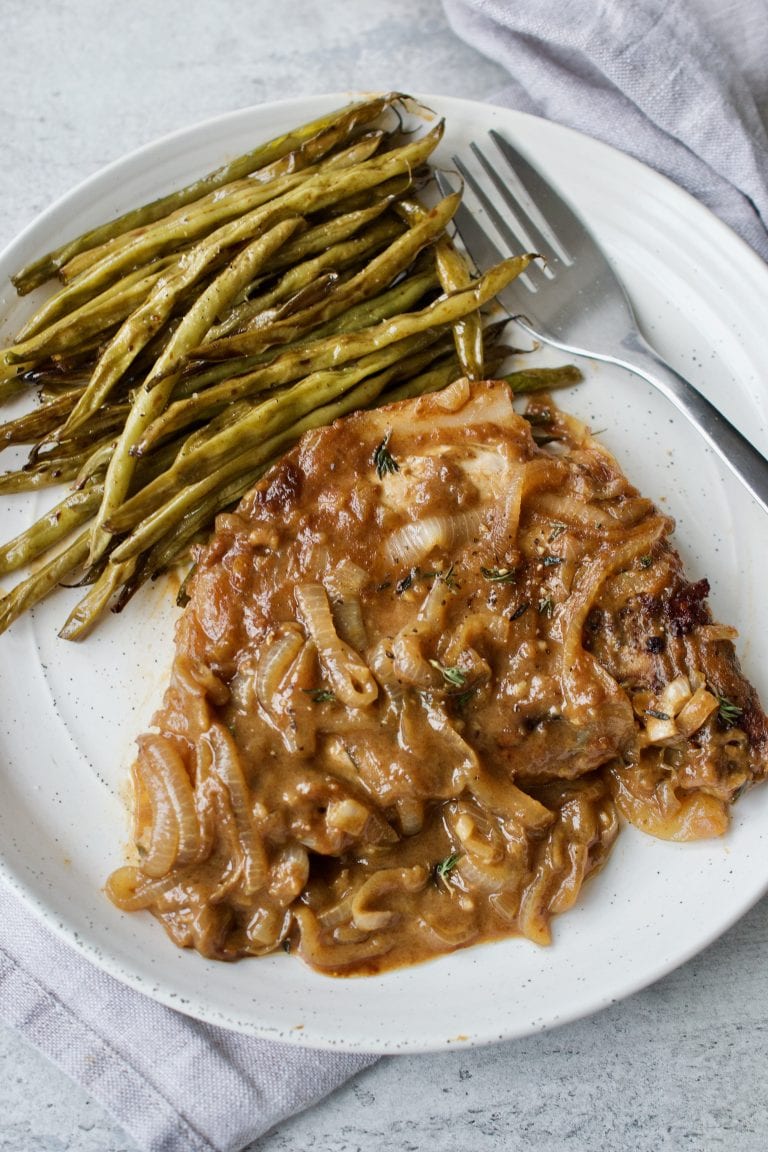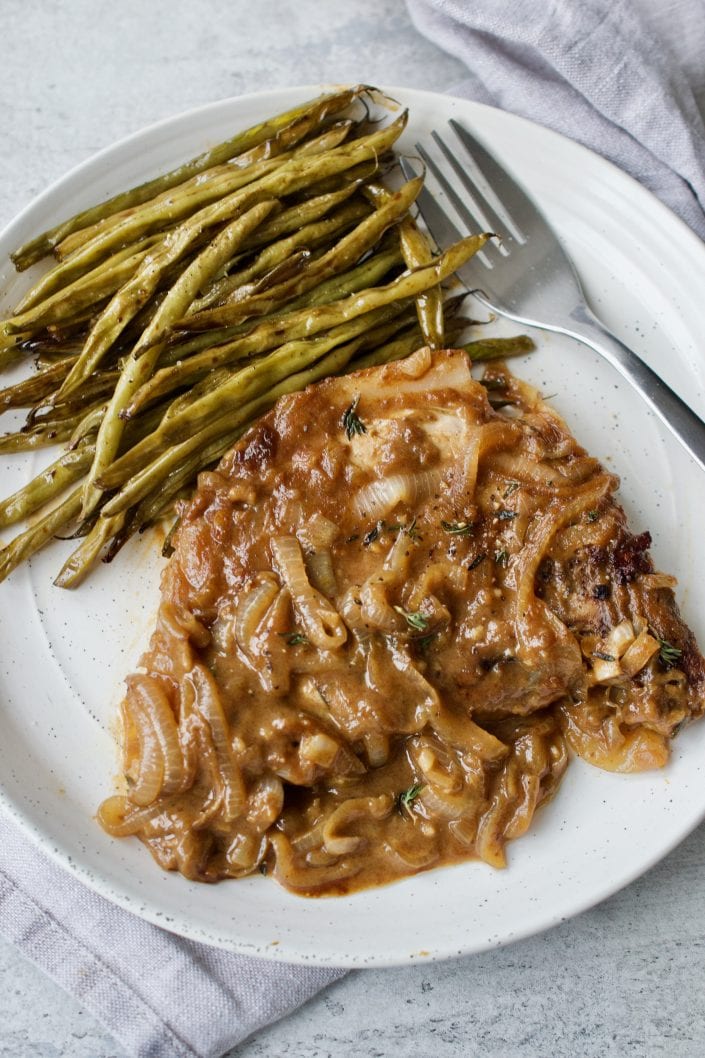 Here are a few other refreshing 30 minute dishes that are great for weeknight dinner…
---
If you make this recipe let me know in the comment section below, I would love to hear what you think or take a photo and tag me (@everylastbite_) on Instagram, I love seeing your photos!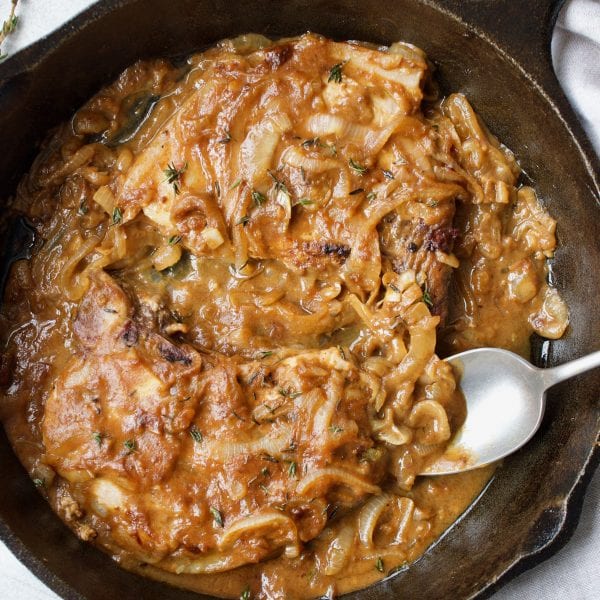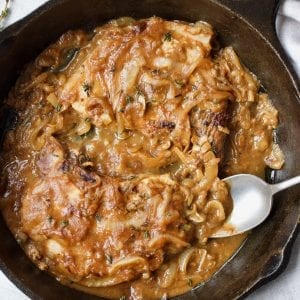 Ingredients
4 pork chops
1/4 tsp pepper
1/2 tsp salt
1/2 tbsp olive oil
1 onion thinly sliced
3 cloves garlic crushed
1 tbsp honey (or 2 medjool dates soaked in hot water for 5 minutes for Whole30)
1/4 cup chicken stock
2 tbsp balsamic vinegar
1 tbsp dijon mustard
1 tsp thyme
Instructions
Preheat the oven to 350 degrees Fahrenheit (175 Celsius)

Pat the pork chops dry with a paper towel and then season them on both sides with 1/4 tsp salt and pepper.

Heat the oil in a cast iron skillet on medium high heat and add the pork chops. Leave the pork chops to sear for 2 minutes without touching them so that they form a nice golden crust before flipping and cooking for another 2 minutes on the other side. Remove the cooked pork chops from the pan and set aside on a plate.

Lower the heat to medium and then add in the onions and garlic. Sprinkle with 1/4 tsp salt and leave to cook for 10 minutes. The onions should be golden in colour and begin to caramelize.

While the onions are cooking, to a blender or nutribullet container combine the honey or medjool dates, chicken stock, balsamic vinegar and mustard and blend until completely smooth.

Pour the sauce into the pan and stir so that the onions are well coated. Return the pork chops to the pan and spoon some of the onions overtop. Bake in the oven for 6-8 minutes until the pork chops have an internal temperature of 140-145 degrees Fahrenheit. Garnish with 1 tsp of thyme before serving.