Vietnamese Pork Lettuce Wraps
These Whole30 and Paleo Vietnamese Lettuce Wraps are packed with fresh flavours and tender marinated pork. With a cook time of under 10 minutes, this is a great loss fuss dish you can prep in advance, and set out to let everyone assemble themselves.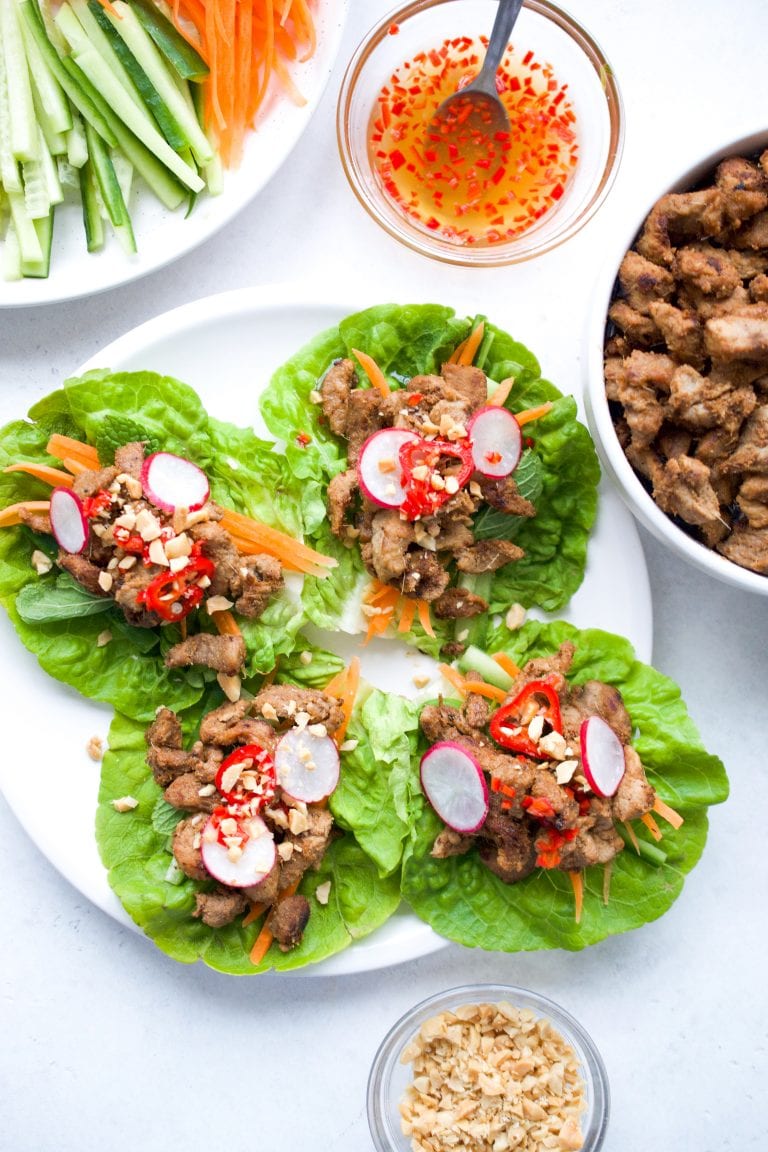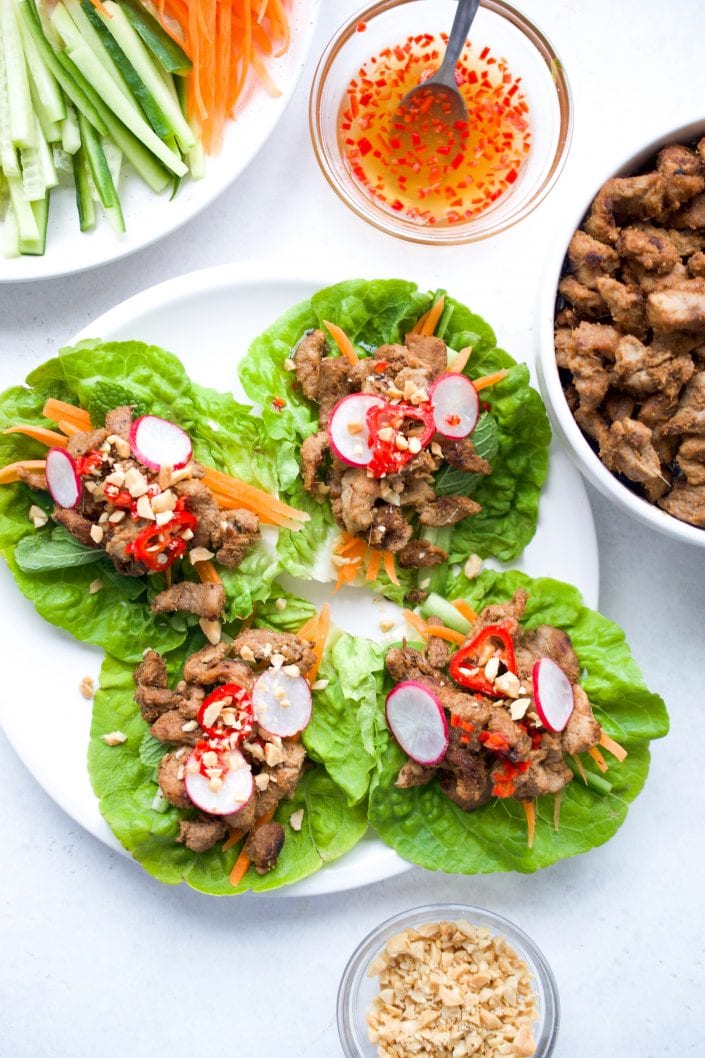 These Vietnamese Pork Lettuce Wraps contain so many of the things I love most about Vietnamese food. Lots of crunchy veggies and fresh fragrant herbs, marinated thinly sliced pork and a light sauce that is both salty and spicy. Are you drooling yet?
This is a great dish to serve to a group. All of the veggies, herbs and sauce can be prepared a day in advance, leaving just the cooking of the pork to be done before serving. I recommend working in batches when you cook the meat so as not to crowd the pan. This ensures the sliced pork is evenly browned and will help the sauce to become slightly caramelized.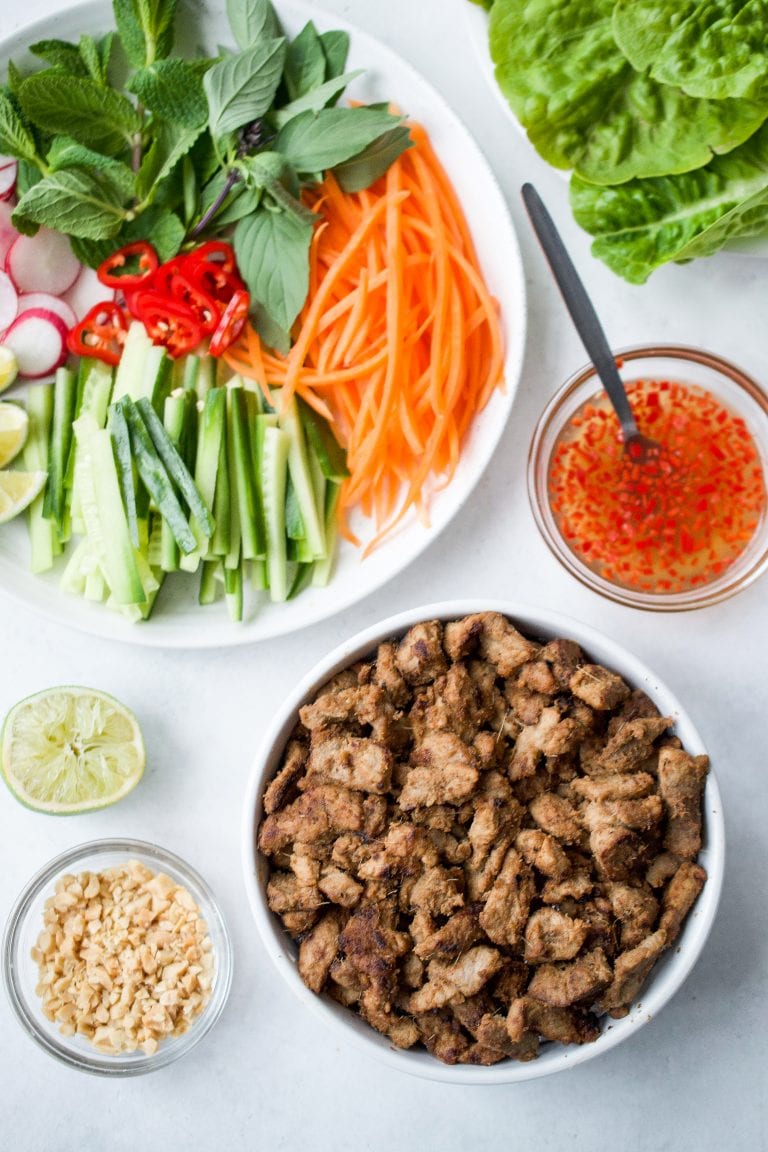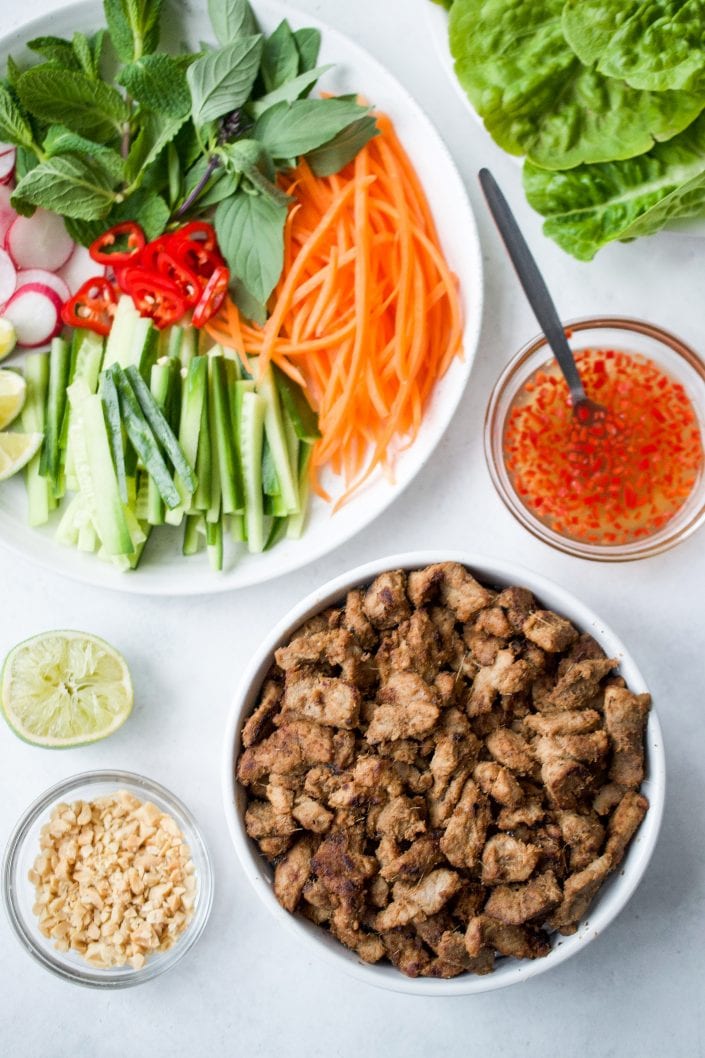 Ways to change up the recipe
Don't eat pork? Replace the tenderloin with thinly sliced chicken thighs or breasts.
Swap the fish sauce with coconut aminos if you aren't a fan of the fishy taste.
Not a fan of eating lettuce wraps? Make this into a big salad instead and using the dipping sauce as a dressing. 
The chopped cashews can be substituted for peanuts for anyone who is not on a Whole30 or Paleo Diet. 
If you can't find Thai Basil, use cilantro instead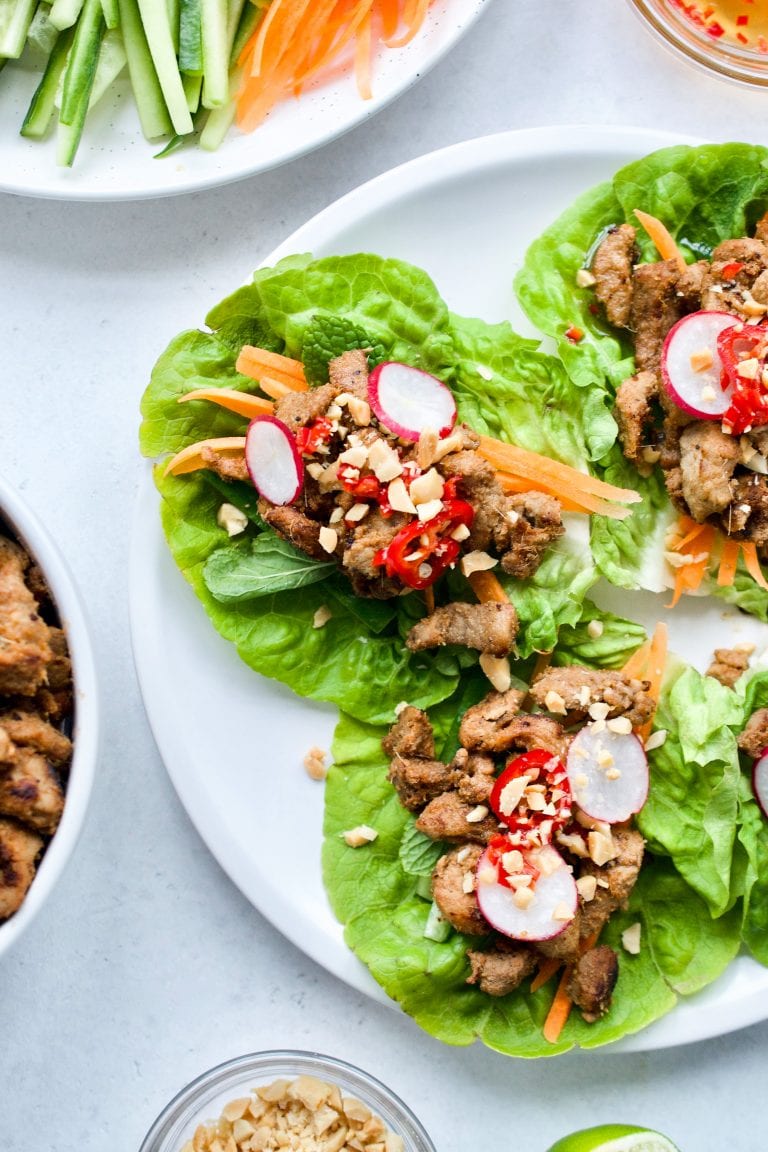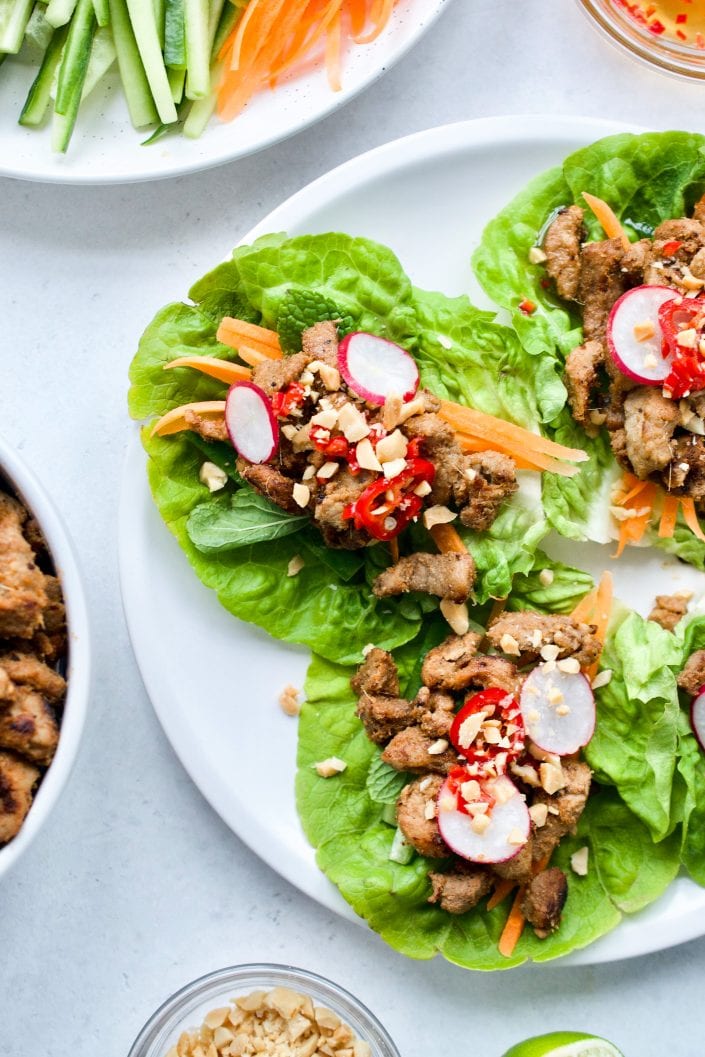 Looking for other recipes for Pork? Here are a few other dishes that you might enjoy:
---
If you make this recipe let me know in the comment section below, I would love to hear what you think or take a photo and tag me (@everylastbite_) on Instagram, I love seeing your photos!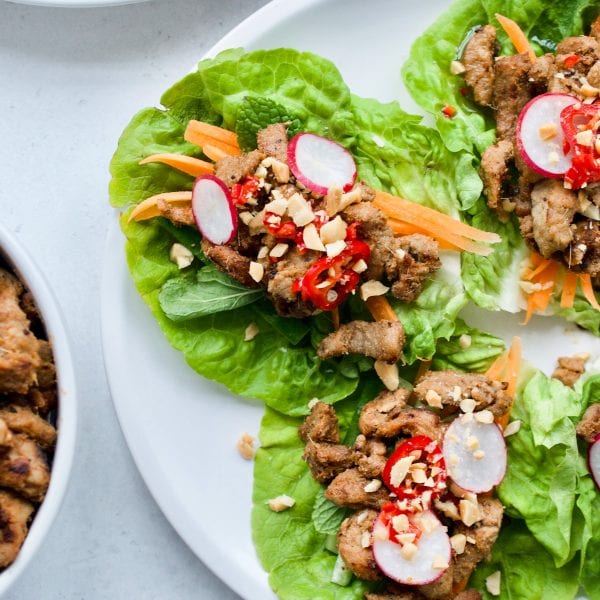 Ingredients
1 lbs pork tenderloin
2 tbsp apple cider vinegar
2 tbsp lime juice
1 tbsp coconut aminos
1 tbsp fish sauce
1 small shallot
2 cloves garlic
1 inch piece ginger
3 medjool dates (or 2 tbsp honey)
4 inch piece of lemongrass
1 tbsp sesame oil (for cooking the pork)
Lettuce Wrap Topping
1 large carrot
1/2 large cucumber
4 small radishes
1/2 serrano chili
1/3 cup fresh mint leaves
1/3 cup fresh thai basil leaves
3 tbsp chopped salted cashews
1 head butter, bibb or gem lettuce
1 lime cut into wedges
Sauce
1 tbsp fish sauce
1/2 tbsp white wine vinegar
1 tbsp lime juice
1 tsp finely chopped red serrano chili
1 tsp honey (optional, omit for Whole30)
Instructions
Cut the pork tenderloin into rounds, and then thinly cut those into 1 inch long thin slices.

In a high speed blender or nutribullet container combine the apple cider vinegar, lime juice, coconut aminos, fish sauce, shallot, ginger, garlic, dates and lemongrass and blend until completely smooth.

Pour the sauce over the pork and transfer to the fridge to marinate for a minimum of 1 hour but ideally overnight.

Prep the veggies. Using a julienne peeler, cut the carrot and cucumber into long thin matchstick sized pieces (or alternatively cut the cucumber and carrot into thin slices and then cut those into julienne sized pieces). Thinly slice the radish and chili. Lay the veggies out on a platter along with the thai basil and mint leaves.

To make the sauce, in a bowl stir together the fish sauce, vinegar, lime juice, diced chili and optional honey. Set aside.

Heat 1/2 tbsp sesame oil in a large pan on high heat. Add in half of the pork and cook it for approximately 5 minutes, stirring regularly to ensure that the meat doesn't burn. Once the pork is evenly browned. Transfer the cooked pork to a plate and cook the second batch of meat.

To assemble place several pieces of mint and thai basil on a lettuce cup, next add 3-4 pieces of cucumber and carrot plus 1-2 slices of radish. Spoon the pork overtop and finally finish with a drizzle of the sauce, a slice of chili and a sprinkle of the chopped cashews. Serve with lime wedges on the side.